Preation Eden Platform Review
By Business.com Editorial Staff
Last Modified: November 5, 2018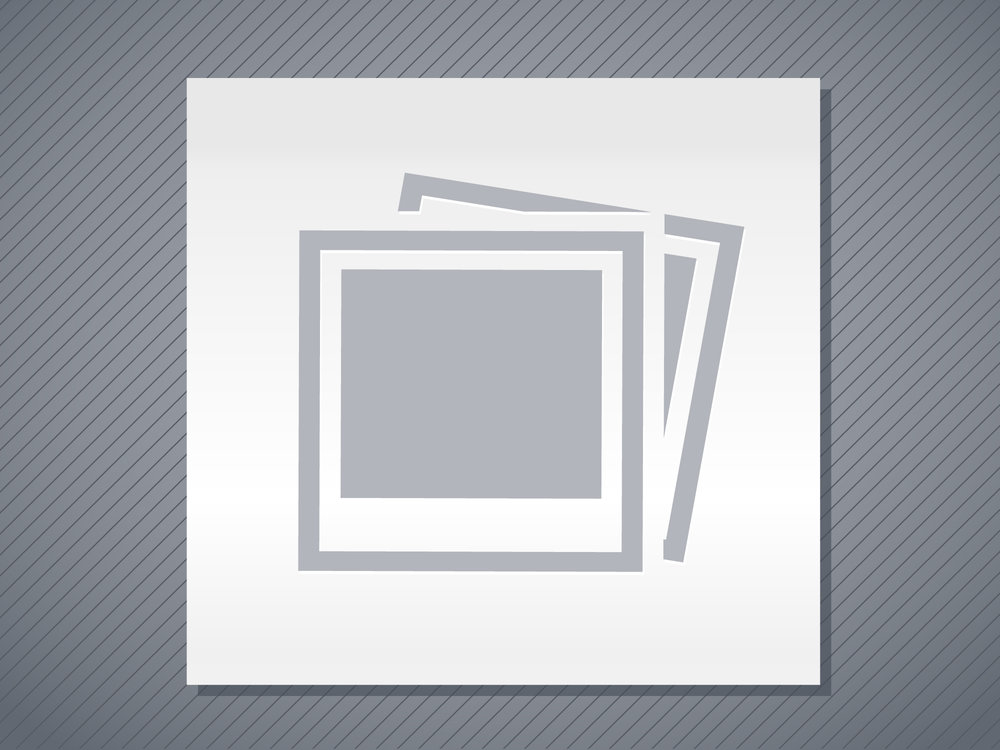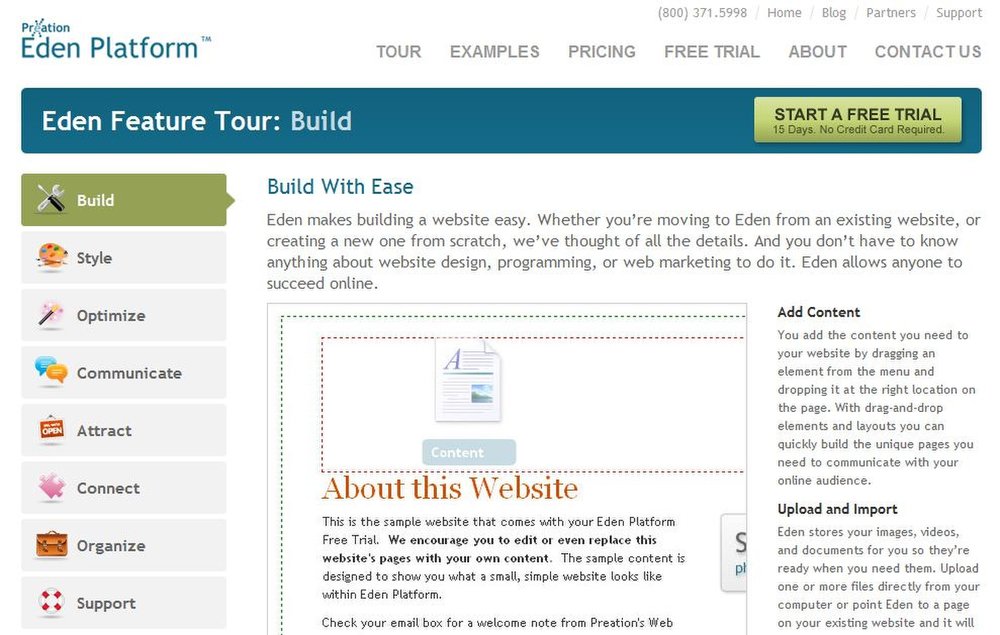 This image displays the Preation Eden Platform website, which offers a tour full of helpful information on using their service.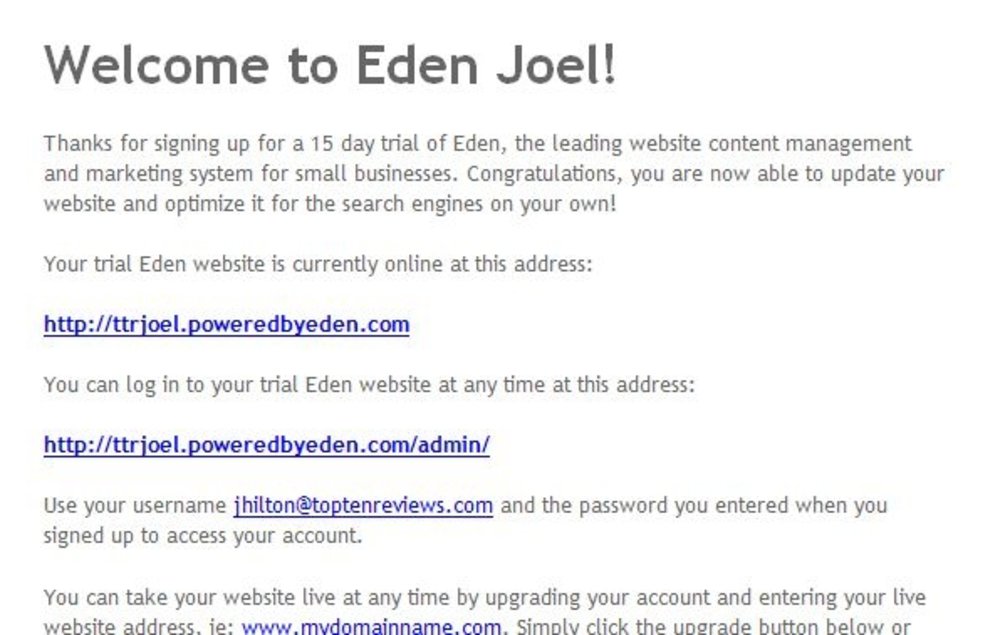 This image shows the welcome email we got from Preation Eden Platform, instructing us on how to use the web content management system.

This image shows the Dashboard, which is the landing page when you log in to Preation Eden Platform.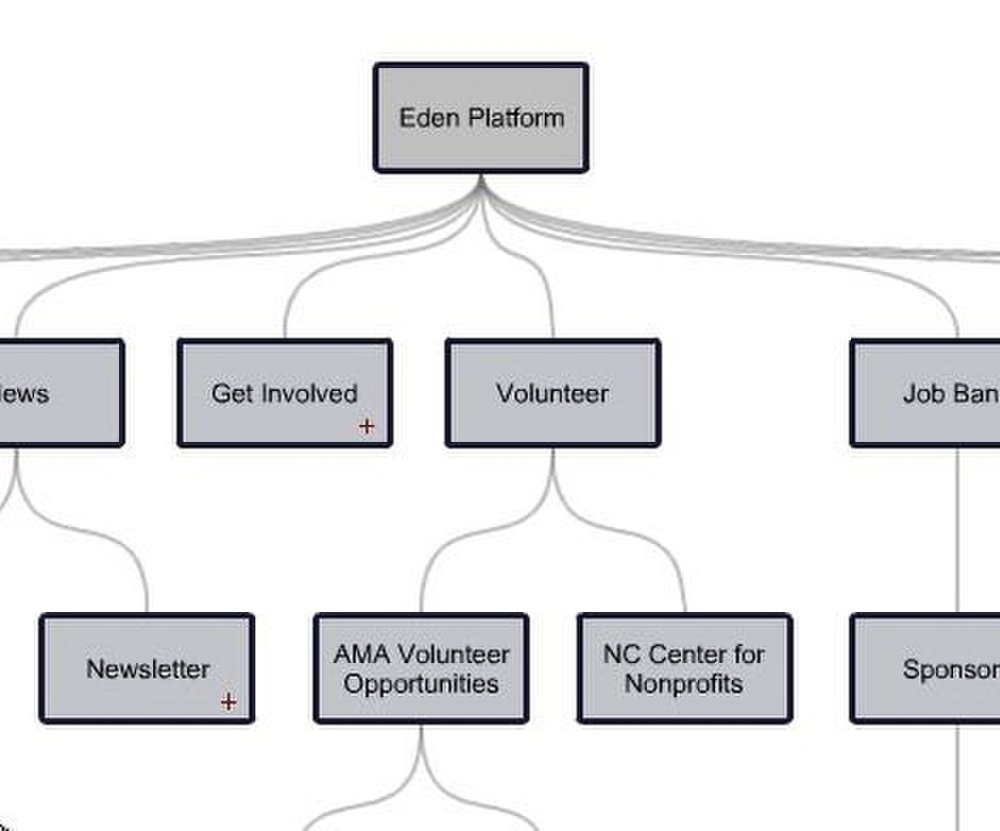 This is an image of the Preation Eden Platform "Pages" section. In this area, you can organize pages and sub-pages by simply dragging and dropping.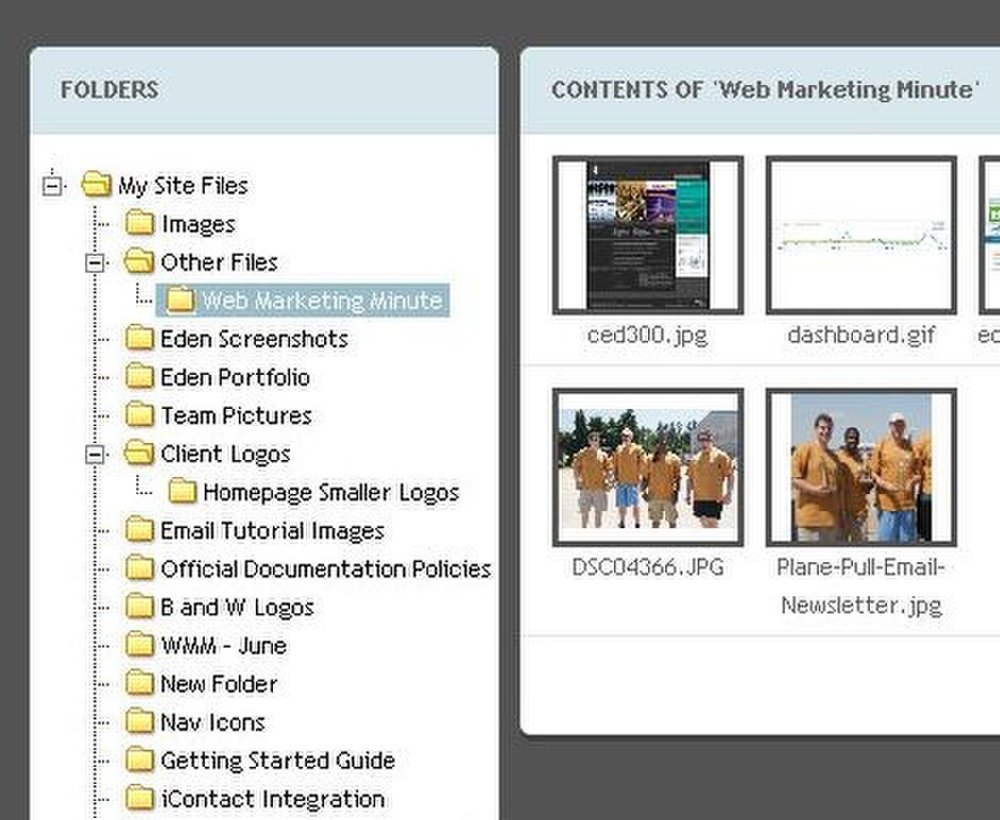 This is an image of the library offered by Preation Eden Platform. After uploading your files, you can organize them into folders and add them to pages on demand.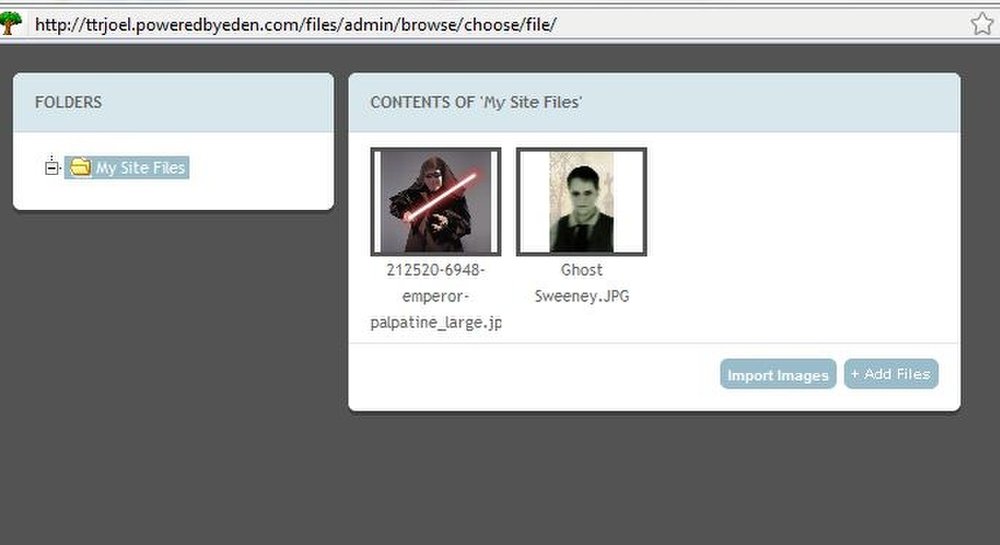 This is an image of the photo library of Preation Eden Platform, where you can import other images or add all of the selected files to a page.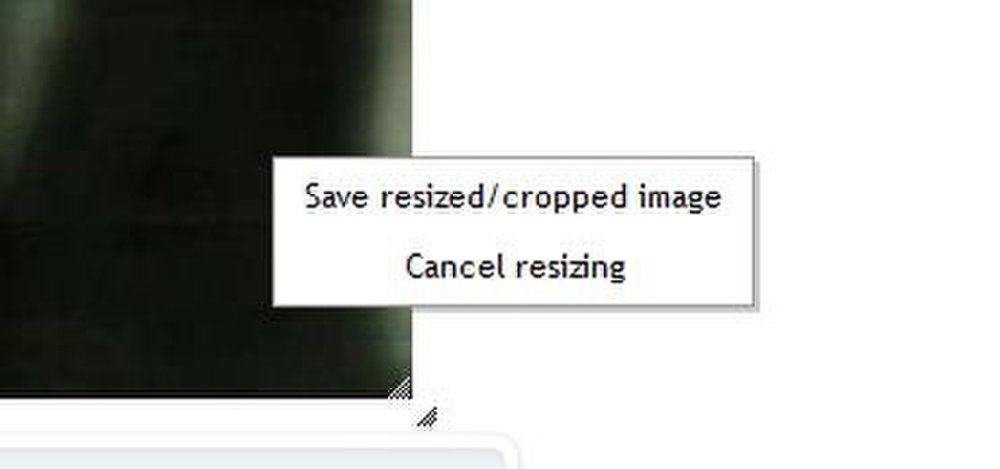 This image shows the on-site photo editing capabilities of Preation Eden Platform. If you have to do additional editing, it is recommended you use a separate application.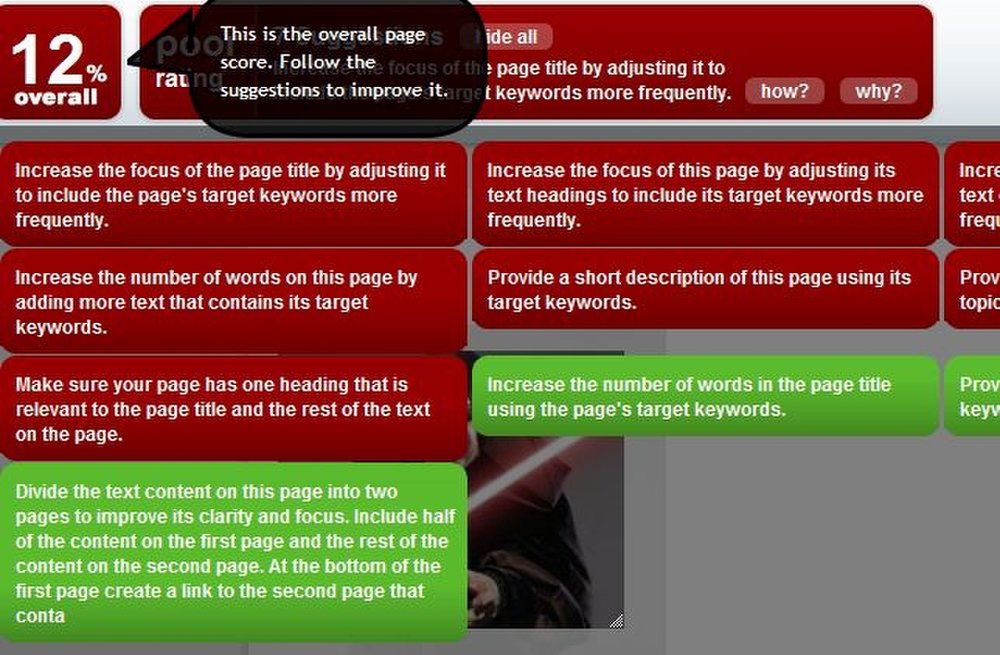 This image of the Preation Eden Platform shows the SEO suggestions that appear as you create your site.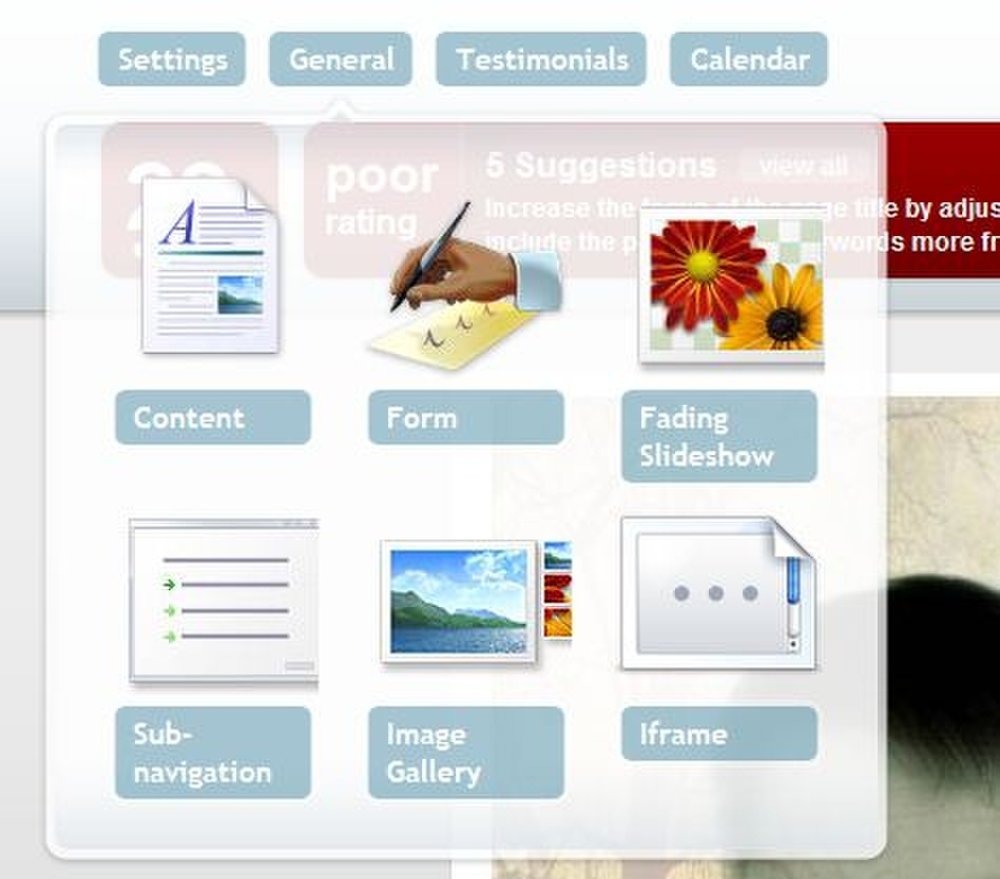 This image of the Preation Eden Platform shows the different types of content you can drag and drop onto any of your pages.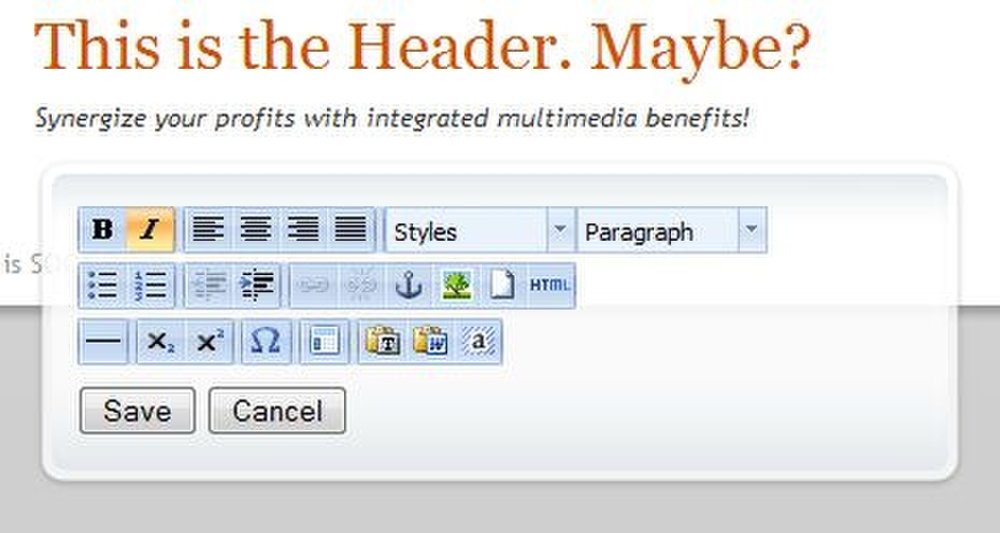 This image shows the different editing options for the text boxes in Preation Eden Platform.
If you're wondering what the world of web content management is all about, take a look at the Preation Eden Platform. This web content management service is everything that a web-based CMS should be. It's easy to use, plus it has a wide variety of tools to help you add, edit and manage web content. If that weren't enough, they also offer search engine optimization features that will help get your site noticed. The Eden Platform also offers excellent SEO tools and best-in-class content management features.
Immediately following your registration with Preation, you can expect to be contacted by the director of client communication, asking if you would like to participate in a 20-minute demo. Then, just after that, you'll get another email from Preation's CEO, welcoming you to Eden and giving you tips on how to get started. This web content management company wants to make sure that their customers are taken care of.

"Unlimited" is a commonly used word when it comes to Preation. In their "Small Business" plan they offer unlimited bandwidth, unlimited file storage space, an unlimited number of pages, an unlimited number of sites and an unlimited number of editors who can work on your site. Also, even though they have a maximum upload size limit of 20MB, you can upload your files in pieces, essentially giving you unlimited upload size. In addition, this web content management system offers email accounts at your domain name through Google Apps, which allows for 50 different email accounts for free. The Eden Platform gives you plenty of room to create the site that you need.
After logging in to Preation's web content management service, you can start creating your site right away. Eden Platform requires you to use Firefox or Internet Explorer to use the administrative features, but visitors can see your site no matter what browser they are using. It took a little time to figure out how to get started on our own, but after a while we got the hang of it and were able to create a variety of interesting web pages. The drag-and-drop editing feature lets you put content right where you want it. Simply hover over the desired tab and a list of content options will appear.
You can upload multiple files at one time, which is helpful if you have a bunch of images and documents to put on a page and don't want to take the time to upload them individually. You can organize all your images and documents into folders. You can later access your online document and image library and add the files to any page. You can also import pictures, videos and other content from other sources on the web. Preation even offers step-by-step instructions on how to direct traffic from a previous account to your current one.
The Eden Platform offers WYSIWYG (What You See Is What You Get) editing. Instead of having to edit on one screen and preview in another, this web content management system lets you edit right on the page you're looking at. So you can see the site exactly how your visitors will see it. This is a very useful tool to get your site the way you want it the first time.
To help you get started, Preation offers a variety of templates with specific layouts, colors and even images. You can customize these templates according to your needs and save them for later use. For those with little website design background, a template can help you get your footing and give you something to work with.
Feedback from customers is imperative for improving your site and helping discover what your customers want. This web content management system allows you to place a form on the website where site visitors can ask questions or makes suggestions. These "Lead" forms can also help you collect data about who is visiting your site.
If you want to add a calendar of events to your site, so your visitors know about upcoming events, Preation lets you drag it and drop it anywhere on your page. These calendars can be used for recurring events and even event registration. This web content management system is also eCommerce ready, so if you're trying to sell a product on your site, your customers can purchase it without having to go elsewhere.
Few things can ruin your credibility faster than a typo on your website. Built-in spell checking services are desirable in web content managers because they keep you from an unfortunate slip of the keys. Preation Eden Platform does not have a built-in spell checker, but the on-page editing system works with all the standard spell-checking functions that come with most major web browsers.
Eden automatically creates an XML sitemap of every website. This sitemap records update frequency, importance of the site, the page title and the URL.
As we mentioned before, Preation web content management wants to make sure their customers are taken care of. They offer a number of tutorials, demos and reading material to help you understand how to use the Eden Platform web content management system. There is a general contact form on their site where you can ask general questions, but for technical support or customer service they recommend using their support ticket system. They have an 800 number for customer support, as well, and the representative we spoke with was very helpful and made sure he understood our questions before trying to answer them.

The tour page and the knowledgebase work as a FAQs page. You can also click on the "Help" icon at the top of the page while you're using the program. We would like to see a searchable support section, instead of having to scroll through pages, but other than that we found their support team to be very informed and ready to help. They answered our email inquiries quickly and efficiently, answering every one of the questions we asked.
Preation truly shines when it comes to search engine optimization. They know what it takes to show up in the search engines and they'll help you each step of the way to optimize your site. In fact, as you work, you'll get helpful SEO hints and suggestions, making your page effective before you even publish it. The sitewide optimization score tracking analyzes the SEO-friendliness of your site and you will get prioritized optimization suggestions on every page.
This web CMS offers optimized URLs by default, ensuring your URL is searchable, readable and memorable. You can also customize your URL. Additionally, this web content manager features 301 page redirects, ensuring your visitors end up at the right URL.
This web application is web analytics ready, so you can further track your traffic through programs such as Google Analytics. If you see a page that needs some improvement, you can look at the suggestions for that page and make adjustments. You can manage the metadata on each page so that you can have the correct keywords associated with it. Eden knows what it is doing when it comes to search engine optimization – and SEO is all-important in the world wide web.
This web content management service wants to ensure your site is safe and secure. Backing up your site is essential, but even the most attentive site creator may forget to do it once in a while. Preation features automated site backups so you can rest well knowing that your entire site will be backed up every four hours.
They also offer the ability to define certain roles for various users. This makes it so you can limit the areas where your editors can make changes. In addition, Preation offers a "Preview Theme" mode where you can test your design changes before actually publishing them. This can help prevent typos and other mistakes from going live for the entire world to see.
If that weren't enough, people using Preation Eden Platform can enable security for online forms or any other secure website content. You just need to purchase a security certificate directly from any SSL certificate provider and they will install it into your Eden website for free. This web content management service knows how important security is on the internet.
Using Eden as your web content management system will give you the tools you need to create a high-quality, dynamic website and also help you manage your content effectively. In addition, it is one of the few web content management services that offer SEO analysis, SEO feedback and SEO suggestions. It is because of their attention to search engine optimization, as well as their easy-to-use interface and helpful support team that Preation Eden Platform is our number one pick for web-based CMS services.

Ready to choose your Best Content Management Systems and Blogging Platforms? Here's a breakdown of our complete coverage:
Business.com Editorial Staff
The purpose of our community is to connect small business owners with experienced industry experts who can address their questions, offer direction, and share best practices. We are always looking for fresh perspectives to join our contributor program. If you're an expert working in your field – whether as an employee, entrepreneur, or consultant – we'd love to help you share your voice with our readers and the Business.com community. We work hard to only publish high-quality and relevant content to our small business audience. To help us ensure you are the right fit, we ask that you take the time to complete a short application: https://www.business.com/contributor/apply/ We can't wait to hear what you have to say!