PrintBoss Review
By Lori Fairbanks
Last Modified: December 16, 2018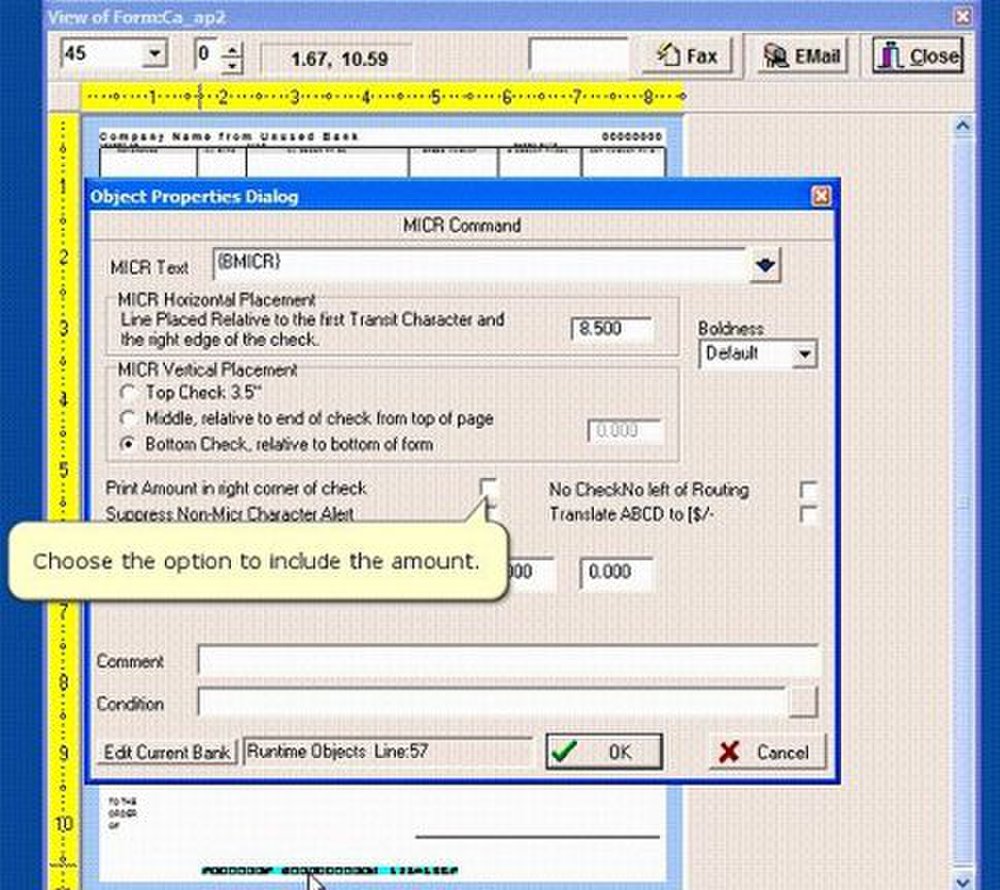 In addition to bank information, you can add the check amount to the MICR line.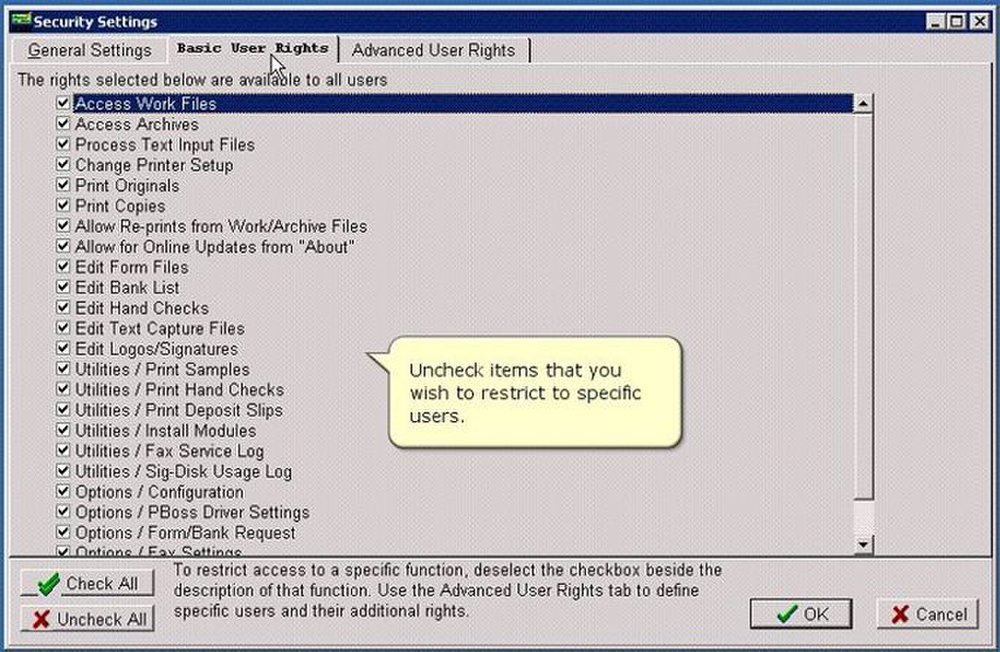 You control which parts of the program your employees can access.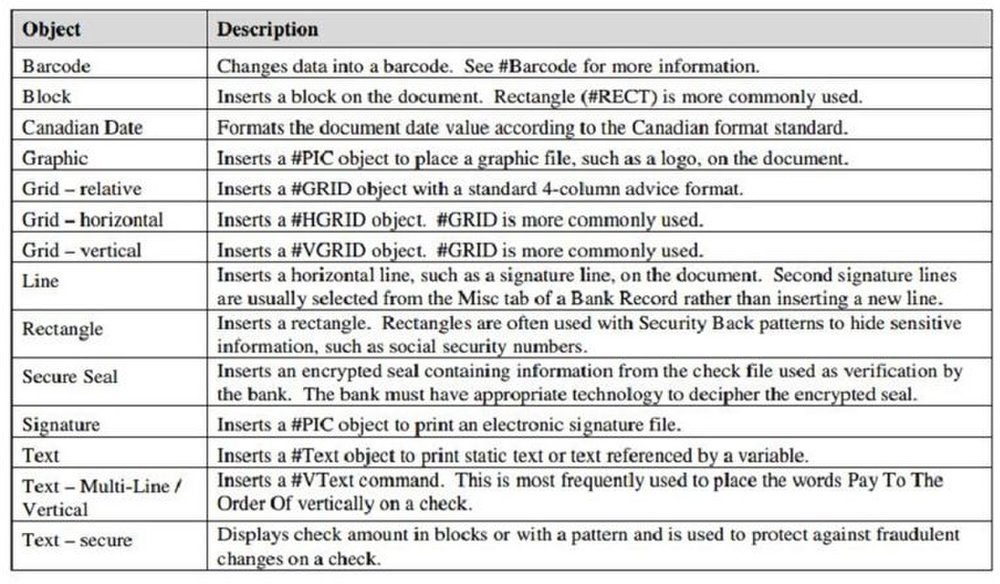 You can insert some unique objects onto the check template, including barcodes and Canadian-formatted dates.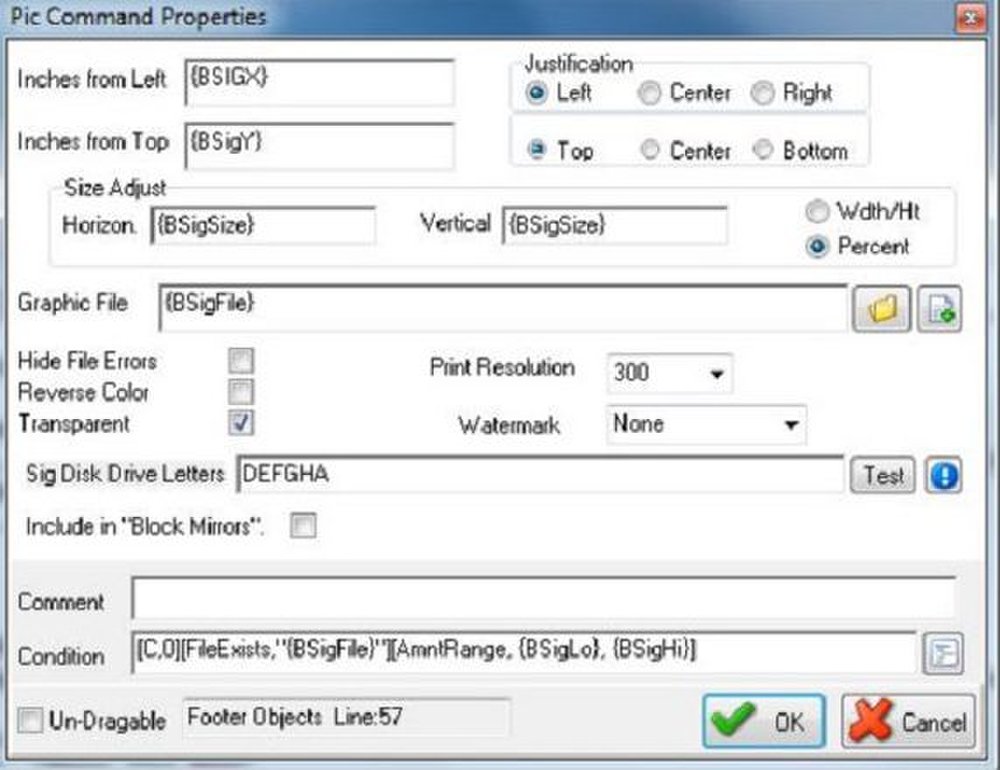 Rather than drag-and-drop or WYSIWYG editing, this check writing software relies heavily on coordinates to set where certain elements appear on the check.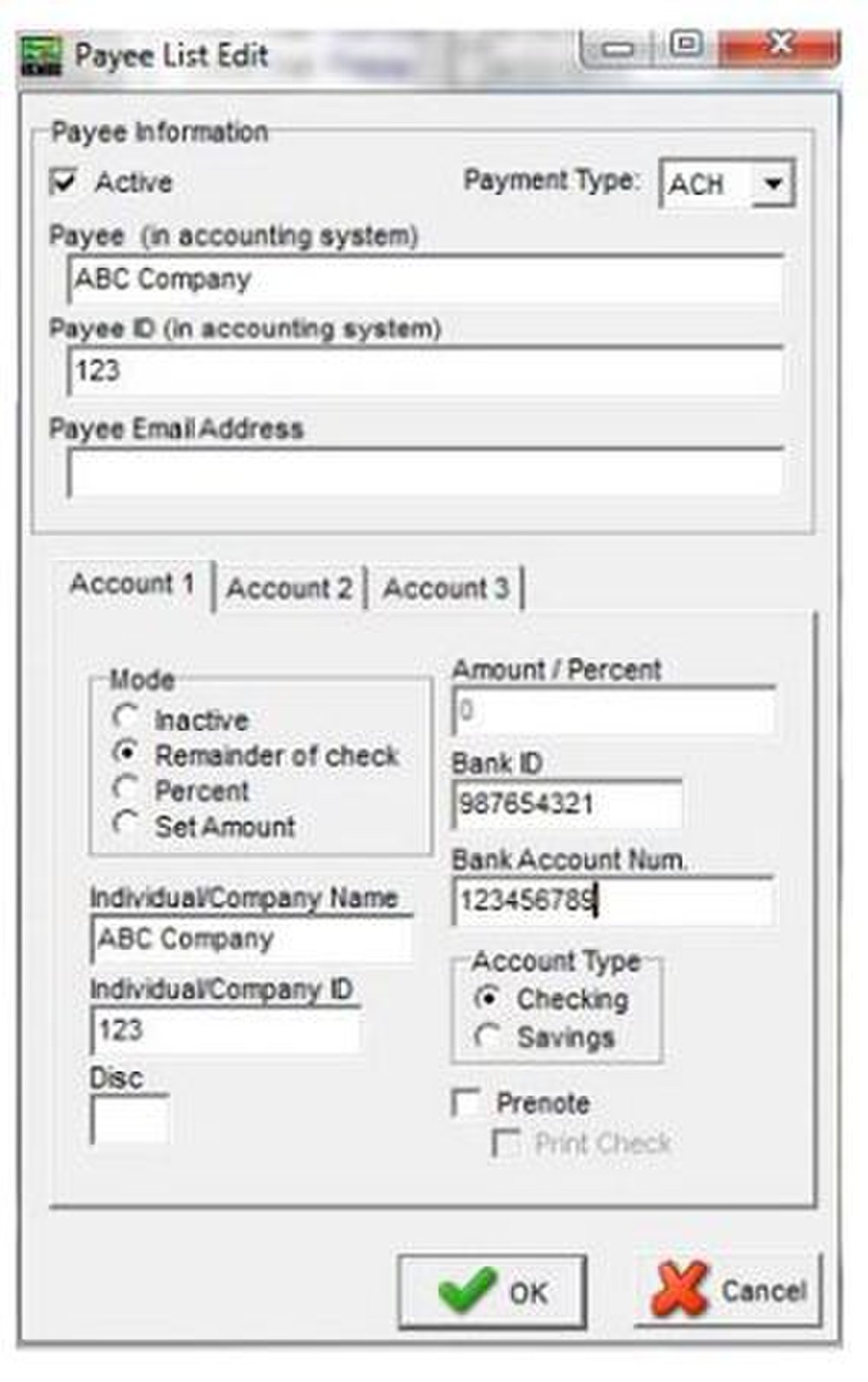 You can set up this check writing software to make ACH payments.
PrintBoss from Wellspring Software allows you to print checks from multiple bank accounts onto blank check stock. Its safety features and ensured compatibility with accounting software make it one of the best check printing software options on the market. In addition to printing, you can create ACH files and submit payments through your bank electronically, generate PDFs, and fax or email documents.

Pricing
PrintBoss pricing is variable, depending on which accounting software you use, the features you need and the number of users. For example, if you use QuickBooks, four options are available. PrintBoss Select costs $150, PrintBoss Standard costs $495, and PrintBoss Enterprise costs $795. PrintBoss Online, for use with QuickBooks Online, costs $8 per month for a single user, $12 per month for two to four users, $16 per month for five to nine users, or $20 per month for 10 or more users. You can also purchase blank check stock, MICR toner and other supplies from Wellspring Software.
If you want technical support and upgrades, an annual service contract costs $100 to $140. If you prefer not to purchase a service contract and experience issues with the software, it costs $75 per incident. What this means is that if you have multiple issues, you may be charged for each one, even if they're resolved during a single call. For this reason, if you run into a problem, it may be more cost-effective to purchase the annual service contract than pay on a per-incident basis.
Ease of Use
Here are some of the features that make PrintBoss easy to use:
You can view printed checks in a checkbook-style register.
The software records payee account information so you can use it for recurring payments.
It stores check signatures and allows you to set rules for when they can be used.
It can handle multiple accounts, and you can set different rules (such as signature rules) for each account.
You can add your logo and design checks in several formats. The unique print design features include font adjustments and void-after statements.
You can choose to print checks by monetary value or in alphabetical or numerical order.
It can create ACH files and electronically deposit payments from your accounts to the bank accounts of your payees.
Timesaving Features
This software has several capabilities to streamline your check writing process.
It can automatically archive the checks you send as PDF files. The archives are searchable, and you can create reports, reprint and sort documents.
When you use it with QuickBooks and other accounting software, this program remembers the last check number you used and starts with the next consecutive check number.
As with most check printing software, you can add an MICR line to the bottom of the check. One unique feature is that you can also add the check amount to the MICR line. This is an additional security feature, but it's a global setting, so once you set it on the template, it will automatically fill in the amount on each check.
You can print to multiple printers, and the software can simultaneously fax and email PDFs of your document.
Other Features
This check writing software offers many designs, including mini copies of the check stub and full-size copies of checks. It also prints to pressure-seal check stock.
It accommodates Canadian requirements, such as check size and Canadian-standard date formatting.
Security features include signature encryption, password-protected bank accounts within PrintBoss, and user permissions that prevent your employees from accessing certain features and accounts.
The check design itself offers extra security printing features, such as watermark patterns and secure block numeric amounts.
You can activate Positive Pay, a fraud-detection tool used in conjunction with banks.
Additional Considerations
This software integrates with 40 different accounting programs. The company posts a compatibility list online that you can check before purchasing the software or downloading the free trial. Custom integrations are available; you can contact customer support for details.
Online support resources include manuals, instructions, a user forum and many videos (we found them in the Training section, however, not on the Videos page). The FAQs mostly focus on QuickBooks.
Drawbacks
This check writing software isn't compatible with Mac OS.
The interface is dated. It's not drag-and-drop or WYSIWYG. Rather, you have to set positions in distances from the edge (X, Y coordinates).
After the first 30 days of using the software, customer support costs extra, so you'll either need to sign an annual service contract or pay per incident if you experience issues.
PrintBoss is feature-rich check writing software that integrates with many popular accounting systems, making it easy to print checks on blank check stock or electronically. Not only can it print from multiple accounts, but it can print in multiple formats and to more than one printer simultaneously. It also has various security features to protect your payments. For these reasons, it's the best check writing software for small businesses.

Ready to choose your Best Accounting Software and Invoice Generators 2019? Here's a breakdown of our complete coverage:

Lori Fairbanks
Lori Fairbanks has years of experience writing and editing for both print and online publications. After graduating from Brigham Young University with a Bachelor of Arts in English, she worked as an editor for Creating Keepsakes magazine and then as a freelance writer and editor for a variety of companies, including marketing firms and a medical university. She now writes for Business.com and Business News Daily.