ProMerchant is our pick as the best processor for emerging businesses, because it works with volatile and highly regulated industries that many other credit card processors avoid.
Pros
ProMerchant offers fair terms and conditions to high-risk businesses that often struggle to find credit card processing services. 
ProMerchant's customer service is highly rated by users.  
Cons
ProMerchant does not produce its own software tools or hardware. 
The software is more basic than some rival platforms and lacks some of the features competitors offer. 
ProMerchant is a relative newcomer to the credit card processing industry. However, the company stands out thanks to its transparent credit card processing fees, low monthly pricing and engaged customer support. Notably, ProMerchant works with businesses in industries typically considered high-risk, making the company an excellent choice for retailers and organizations in highly regulated or otherwise risky industries. 
ProMerchant Editor's Rating:
8.5 / 10
Pricing and fees

9/10

Customer service

9.6/10

Third-party integrations

8/10

Payment options

8.5/10

Added POS tools

7.5/10
Why We Chose ProMerchant as the Best Credit Card Processor for High-Risk Businesses
It's often challenging for businesses to find credit card processors for high-risk industries. Often, amenable credit card processors are few and far between for merchants in highly regulated or high-risk niches. We found that many credit card processors won't work with businesses in industries such as firearms, cryptocurrency, gaming, payday loans, tobacco, dietary supplements and more. 
However, ProMerchant stresses that it's proud to serve nontraditional businesses with robust processing solutions that allow businesses in these industries to accept credit card payments. We also appreciate that ProMerchant provides transparent pricing for all of its clients, including those in high-risk industries. Additionally, ProMerchant's customer support resources impressed us. For these reasons, ProMerchant is our pick for the best credit card processor for high-risk businesses. 
A business also may be considered a high-risk merchant account if it has an extensive history of refunds and charge-backs.
Ease of Use
Unlike some competitors, ProMerchant contracts its interactive software to third-party providers. You can choose from two platforms for processing transactions: Payments Hub and Authorize.Net. We found both platforms easy and seamless to use. Payments Hub, in particular, boasts a modern, clean user interface that's straightforward to navigate. 
While ProMerchant doesn't have its own proprietary dashboard, we're confident that business owners and employees will be able to quickly learn either of these two systems.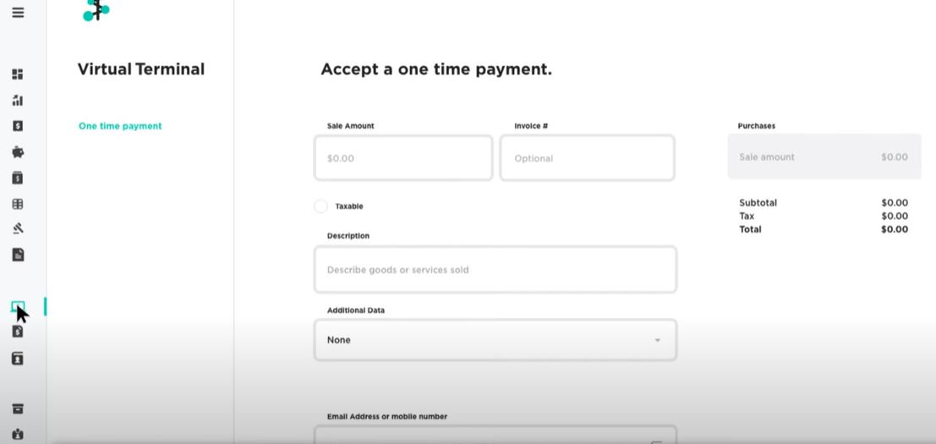 The Payments Hub dashboard is one of two user interfaces offered by ProMerchant. Source: Payments Hub
ProMerchant Features
ProMerchant offers various services and features that high-risk businesses need from a credit card processor. Here's an overview of ProMerchant's key differentiators. 
High-Risk Support
ProMerchant maintains relationships with multiple processors to provide high-risk businesses with credit card processing services. High-risk businesses are often subject to more charge-back claims. Unlike many of its competitors, ProMerchant provides customers with credit card fraud mitigation tools to reduce the number of charge-backs. 
Help prevent charge-backs by clearly describing your products and services and prominently posting your refund and shipping policies.
Payments Hub
Payments Hub is one of two software interfaces users can access through ProMerchant. With Payments Hub, you'll use a virtual terminal to enter credit card information, allowing you to accept credit card payments over the phone. You can also use Payments Hub for many other credit card processing functions, such as running reports, managing receipts and records, and voiding transactions. 
Authorize.Net 
Authorize.Net is the other software interface users can access through ProMerchant. As with most of ProMerchant's competitors, you can use Authorize.Net's virtual terminal to enter transactions over the phone and accept credit cards in person. We like Authorize.Net's additional features, including invoicing tools, QuickBooks integration, recurring billing and automatic update reminders for customers' credit card information.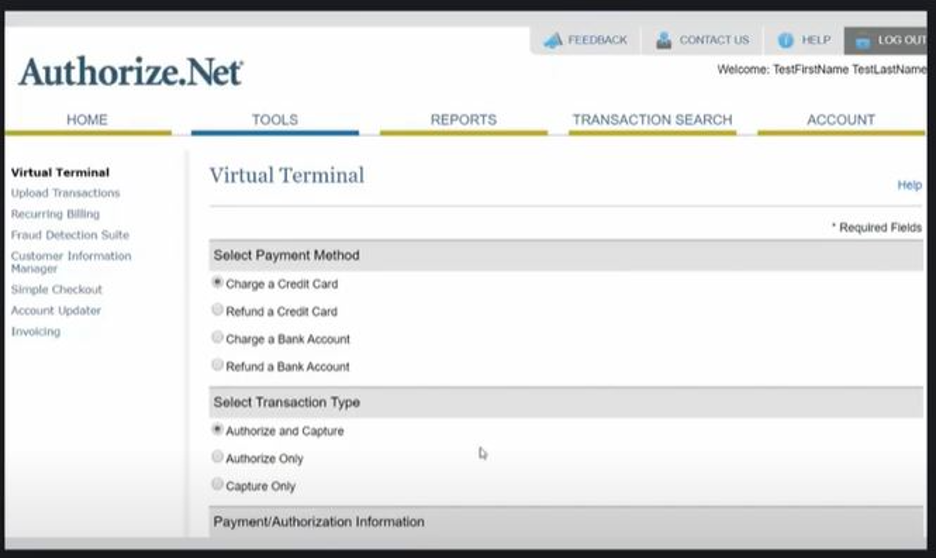 The Authorize.Net dashboard is one of two user interfaces offered by ProMerchant. Source: Authorize.Net
E-commerce 
We appreciate the additional e-commerce tools users can access via ProMerchant. From the Authorize.Net dashboard, you can use the developer tools to set up an online store. These include online shopping-cart integration, an open API, a "buy now" button, and integration with Authorize.Net's virtual terminal. 
Mobile 
Through ProMerchant, you can access the Payanywhere app to accept payments on a mobile phone. The app can be paired with a free Bluetooth credit card reader to process transactions. You can use Payanywhere to collect digital customer signatures, send receipts, view transactions and export data. We also like that you can process transactions even if you're offline; the transaction will clear once you regain internet access. 
Hardware
Whereas some competitors have proprietary hardware, ProMerchant doesn't manufacture hardware. However, it does resell equipment from other vendors. When you sign up for a ProMerchant account, you can gain access to free POS devices. These include the PAX A920 and the Ingenico Desk/3500, which are handheld terminals that are ideal for taking mobile payments in restaurants or on the sales floor. ProMerchant is also an authorized dealer of Clover devices, including the Clover Station, Clover Mini and Clover Flex. 
ProMerchant is an authorized vendor of Clover equipment. See our full review of Clover for more information on its offerings.
Payouts
We like that ProMerchant deposits most transactions into your account within 24 to 48 hours, depending on which program you select.
ProMerchant Pricing
Unlike some competitors, ProMerchant does not publicly disclose its exact prices. To discover what you'll pay with ProMerchant, you must complete an online form on the company's website and provide your contact information, business type, average sales transaction dollar amount and anticipated monthly sales.
Businesses can choose from two pricing models: an interchange-plus fixed-rate plan and ProMerchant's flat-rate plan. 
Interchange-plus: The interchange-plus pricing model consists of the interchange fee set by the credit card company plus a small percentage tacked on by the credit card processor. This plan's primary benefits are low monthly fees and transparent pricing. The rates won't change unless Visa or Mastercard raises its interchange rates. An interchange-plus pricing model makes it easier for businesses to predict future expenses, which is not always the case with other credit card processors. 
Flat rate: The flat-rate plan charges your customers a flat percentage and transaction fee on all credit card transactions. In some instances, this can significantly reduce the cost associated with accepting credit cards by shifting the processing costs away from your business. If you choose ProMerchant's flat-rate pricing model, you aren't charged subscription or membership fees.
We appreciate that neither pricing model has hidden fees and that businesses can pay month to month. We particularly liked that with ProMerchant, you aren't bound by a long-term contract and can cancel anytime without paying an early-termination fee.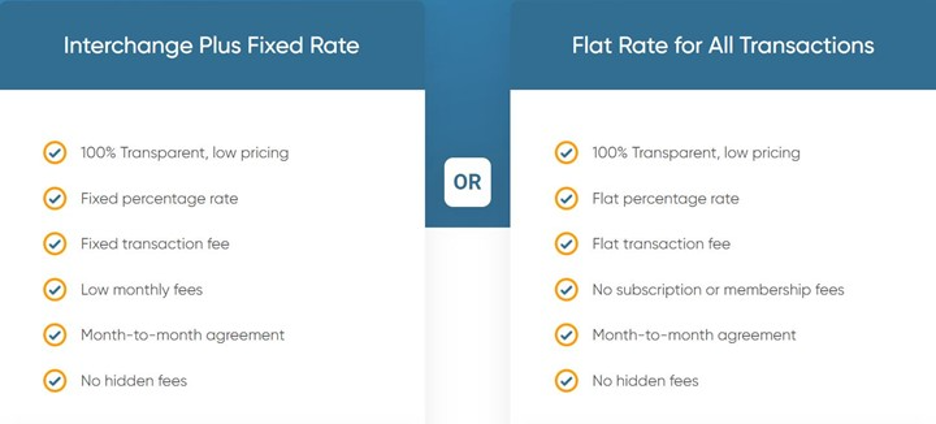 ProMerchant offers two pricing options: an interchange-plus fixed-rate plan and a flat-rate plan. Source: ProMerchant
Implementation and Onboarding
We like that with ProMerchant, you don't need to fill out a bunch of tedious forms to get started. The online application process is quick and easy; once you enter your information, you'll receive a free online quote. There's no obligation to sign up after you receive a quote.
You should know whether your application has been approved within a few days. Most applicants receive a response within 24 hours. According to ProMerchant, the company works with customers with low credit scores — something many competitors don't do. 
Once you've been approved, ProMerchant will send any point-of-sale (POS) equipment via overnight mail — a quick and convenient solution for businesses. That means you can begin processing credit card transactions within days of approval. Additionally, as soon as your account is set up, you can easily access your statements online.
All of ProMerchant's hardware and software solutions are PCI compliant, so you'll have fewer credit card processing laws and rules to worry about. However, you'll still have to submit a PCI DSS self-assessment questionnaire annually.
Customer Service
We found that ProMerchant earned high marks for customer service on independent, user-generated review sites. ProMerchant's excellent customer service reputation is due primarily to its support structure. When you sign up with ProMerchant, the company assigns your business a dedicated support team that stays with you throughout your time working with the credit card processor. 
We appreciate the unique benefits of having a dedicated team that takes the time to learn about your business and give you personalized advice. The support team is available 24/7 by phone or email. Regardless of your location, you can contact a support member and receive answers to your questions. 
Unlike some of its competitors, ProMerchant does not have a live chat feature or a knowledgebase of FAQs.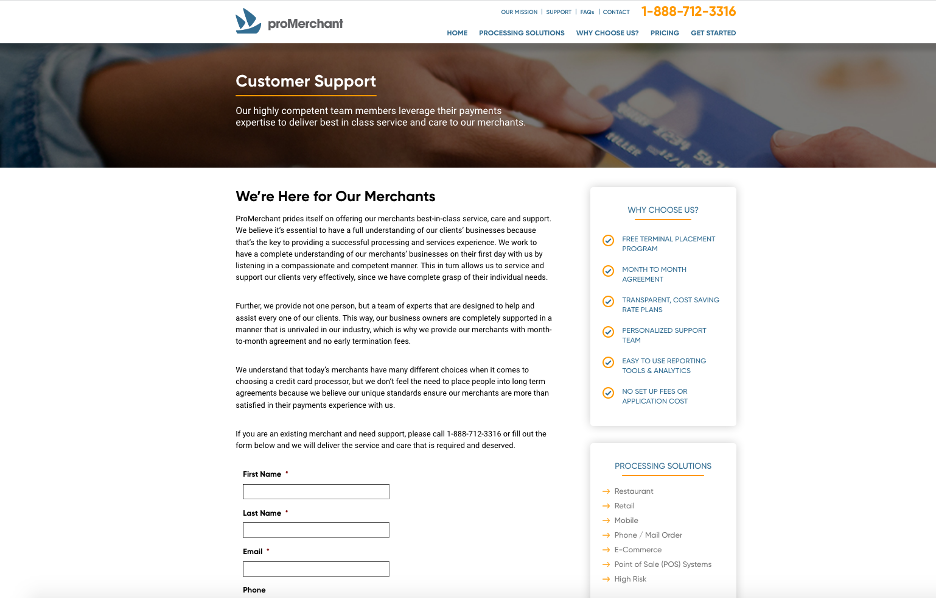 Customers can reach their ProMerchant support team 24/7 via email, phone or an online form. Source: ProMerchant
Limitations
ProMerchant has a few limitations. First, ProMerchant doesn't manufacture its own hardware or produce its own user-facing software tools. Instead, it contracts out software and hardware to third-party providers. 
Additionally, while ProMerchant provides a fantastic service for high-risk businesses, it lacks many of the bells and whistles of some competitors we reviewed. For example, unlike Clover, ProMerchant doesn't have a mobile app; this limitation may be inconvenient for business owners who prefer to work on their smartphones. Business owners who are seeking more from their credit card processor may want to read our full review of Square to learn about a full-featured provider geared toward startups. 
Methodology
We researched and analyzed leading credit card processors to find the best credit card processors for small businesses. Our in-depth analyses included viewing demos, accessing free trials, carefully examining user reviews and interacting with each vendor's customer service team. We assessed the usability of each company's hardware and software offerings and determined how fair the contract terms were to the merchant. Furthermore, we scrutinized the rates and fees charged by each processor. To identify the best credit card processor for high-risk businesses, we paid particular attention to a provider's willingness to work with all types of industries while providing fair pricing. 
FAQs
ProMerchant began offering credit card processing services in 2018. 
Full Payment Card Industry Data Security Standard (PCI DSS) compliance considers multiple factors. Therefore, to become fully PCI compliant as a merchant, you must submit a PCI DSS self-assessment questionnaire annually. Upon approval, you'll receive a PCI validation certificate for your website. 
ProMerchant's contracts are month-to-month, so you can cancel without incurring an early-termination fee. 
Bottom Line
We recommend ProMerchant for …
High-risk businesses that are having trouble finding a credit card processor. 
Business owners who want a high level of customer service. 
We don't recommend ProMerchant for …
Businesses that are seeking additional POS tools and other features in addition to credit card processing services. 
Business owners who are seeking an integrated hardware and software solution.