Propertyware Review
By Business.com Editorial Staff
Last Modified: December 18, 2017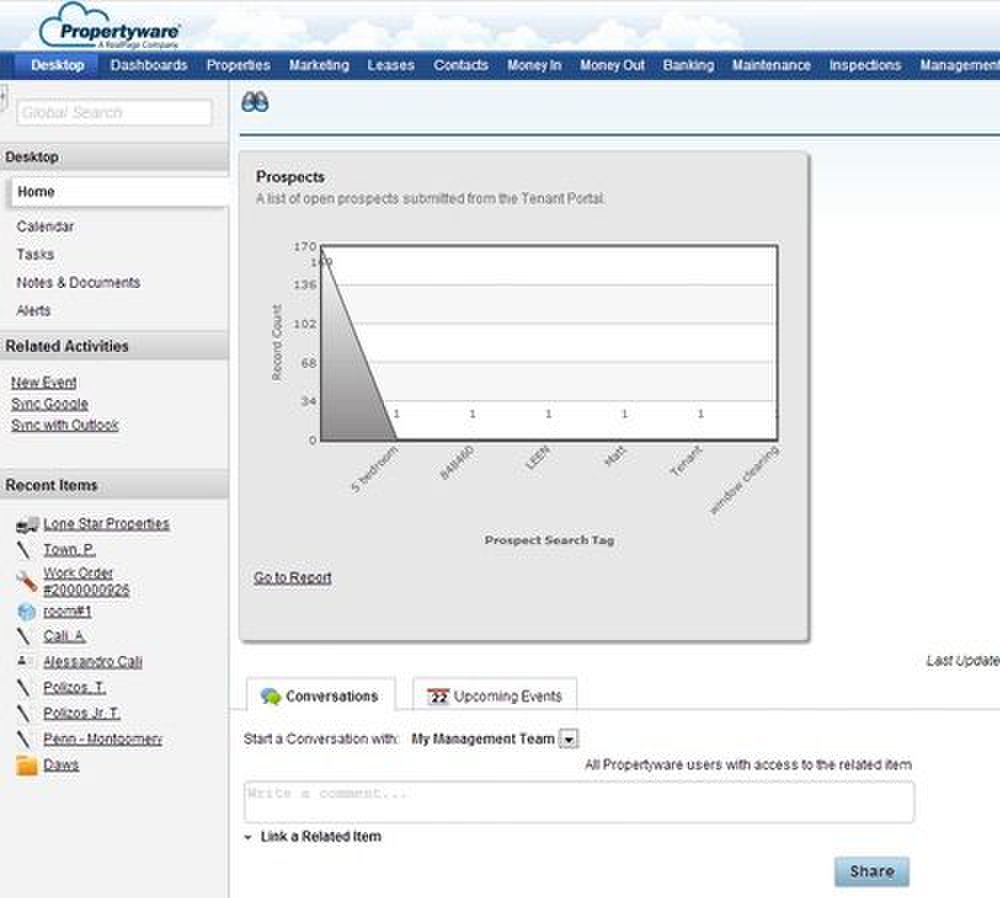 Propertyware image: You can add different dashboards to your desktop for a customized view of your properties.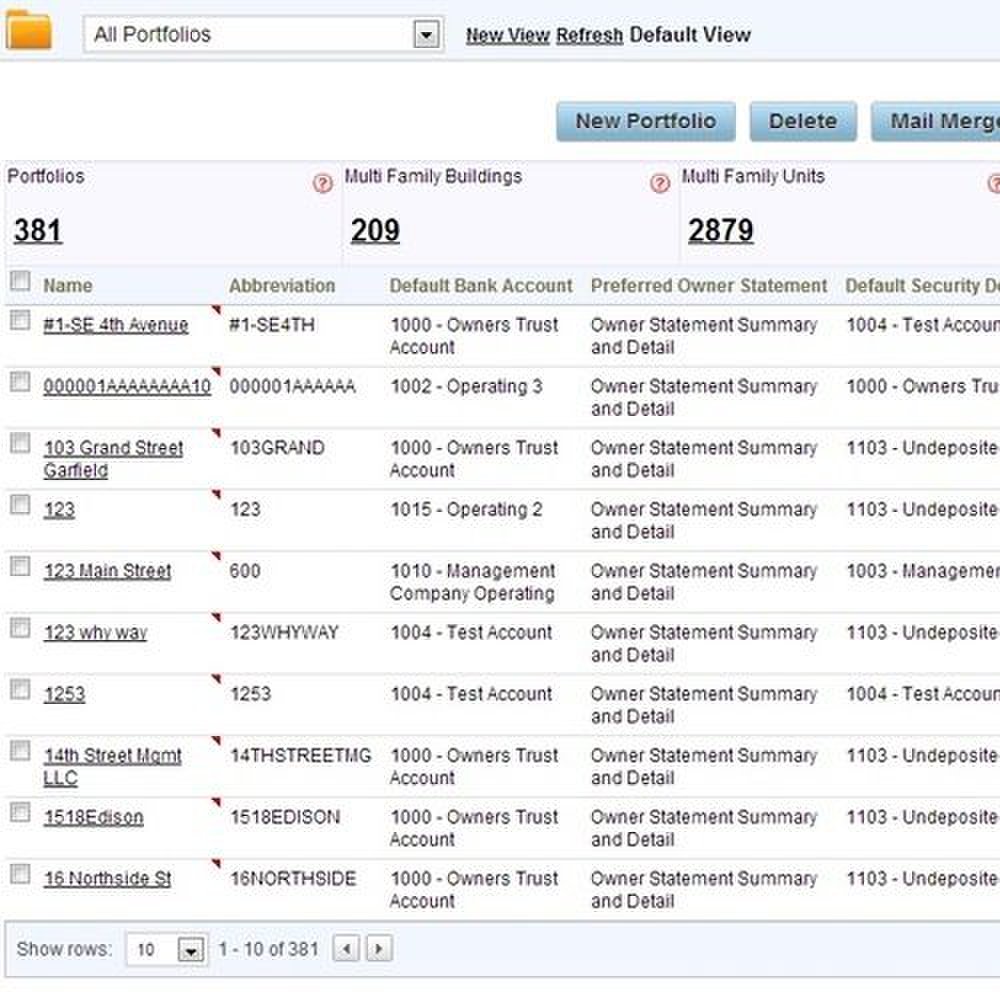 Propertyware image: The Properties tab shows a quick breakdown of every unit that you manage.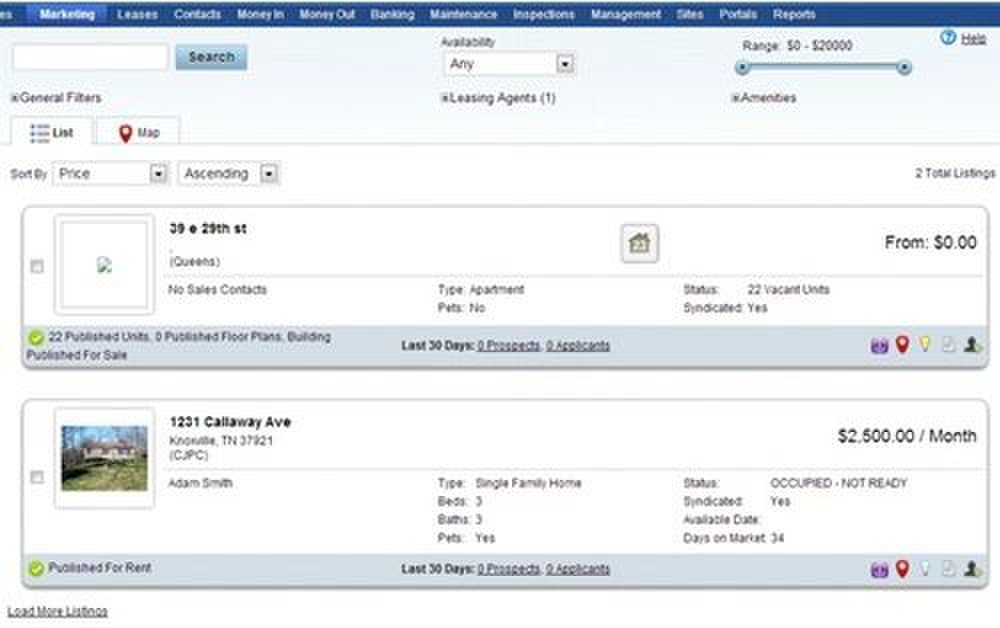 Propertyware image: The Marketing tab displays the status of current rental listings.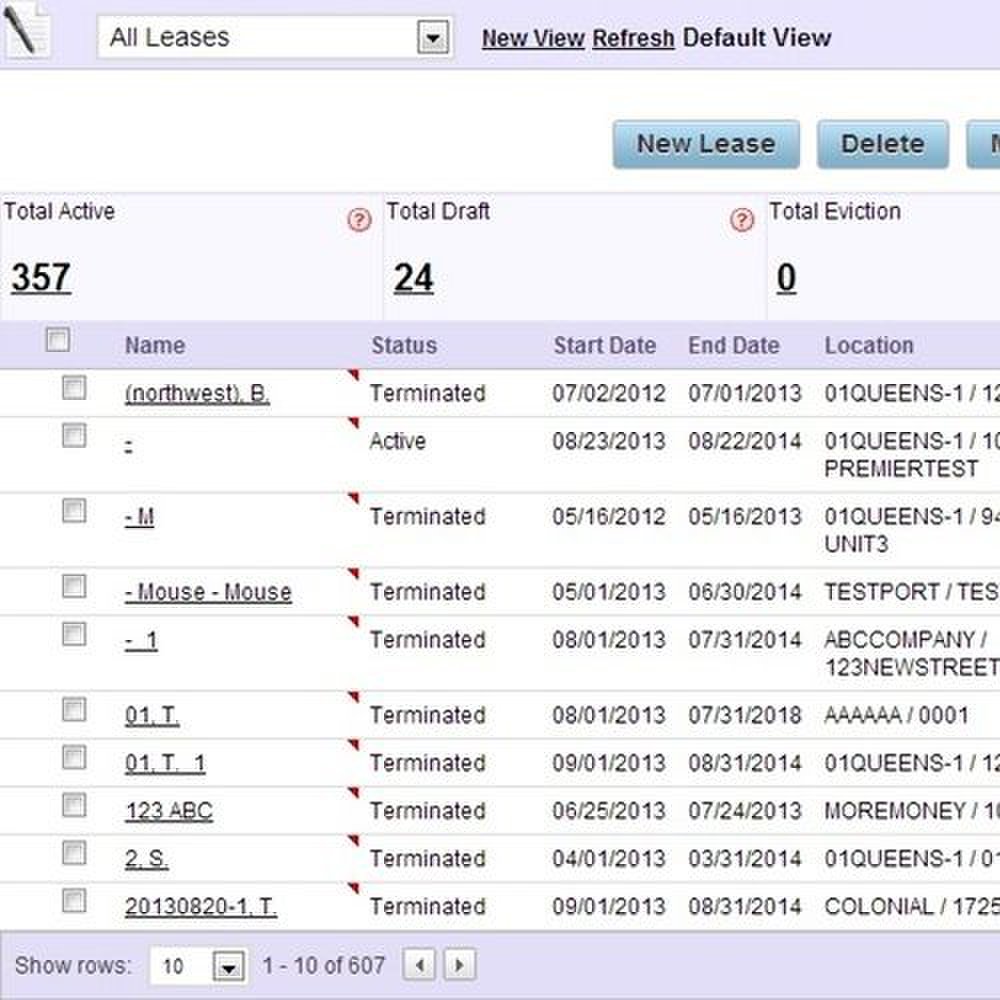 Propertyware image: The Leases tab gives you a quick glance of which leases need to be renewed.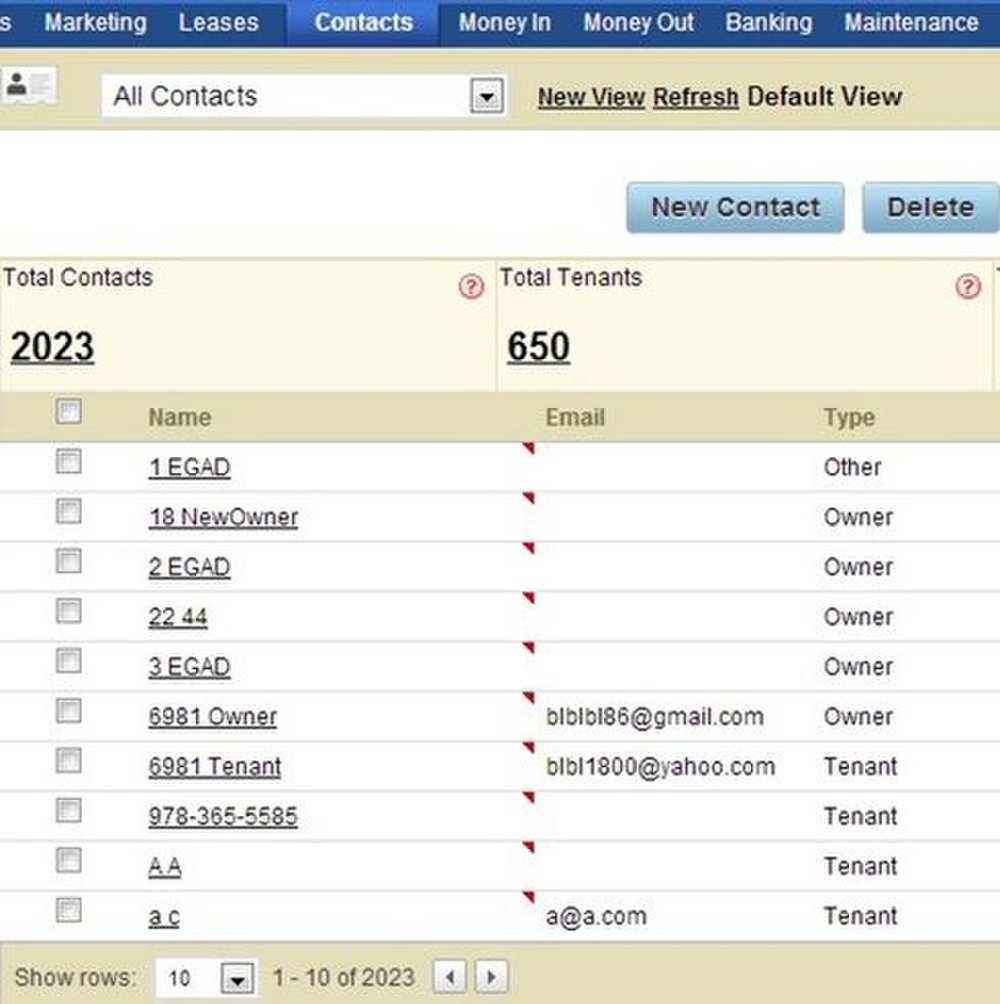 Propertyware image: You can add a variety of information about vendors, employees and clients under the Contact tab.

Propertyware image: Quick Collect helps you quickly add tenant payments and calculate late fees.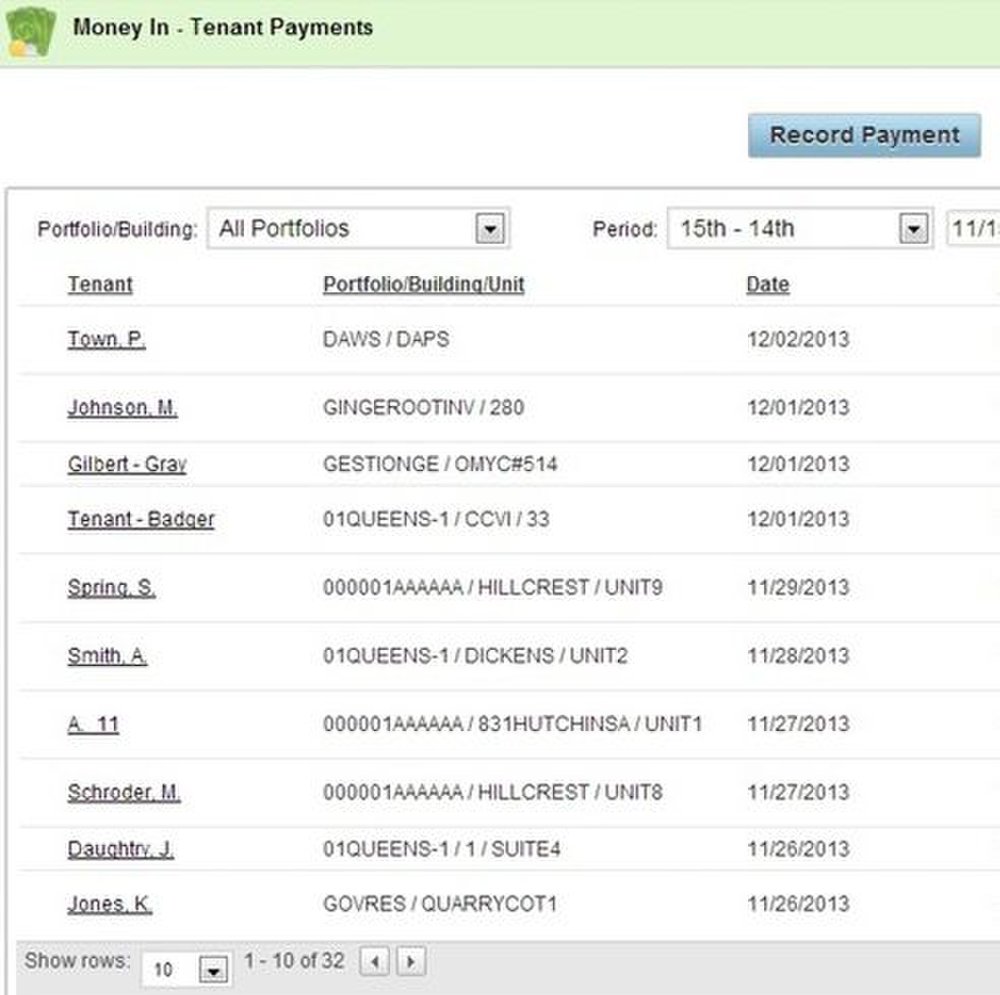 Propertyware image: You can easily record a tenant payment in this property management software.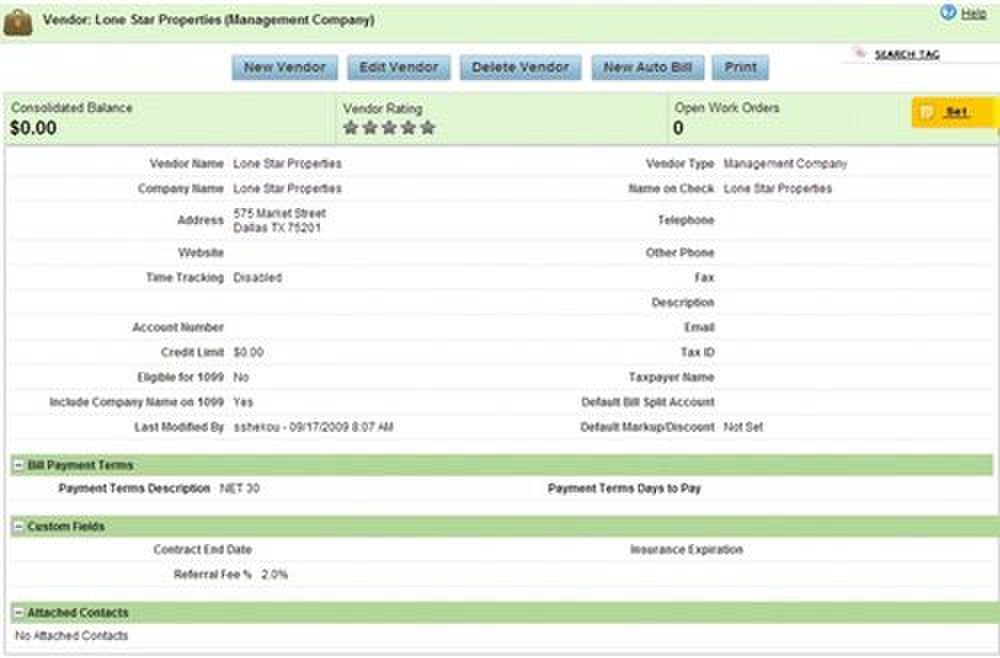 Propertyware image: This property management application helps you track bank deposits.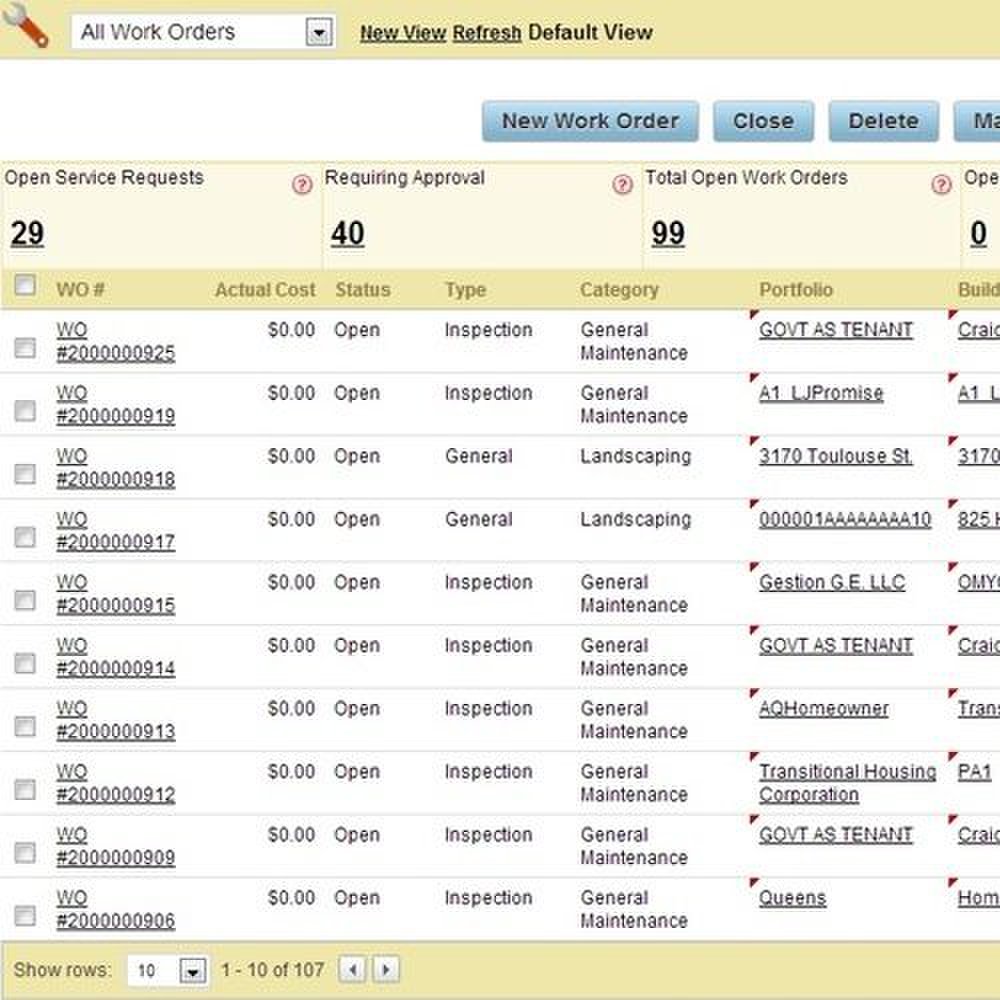 Propertyware image: You can sort work orders by type, status, category and more in this property manager software.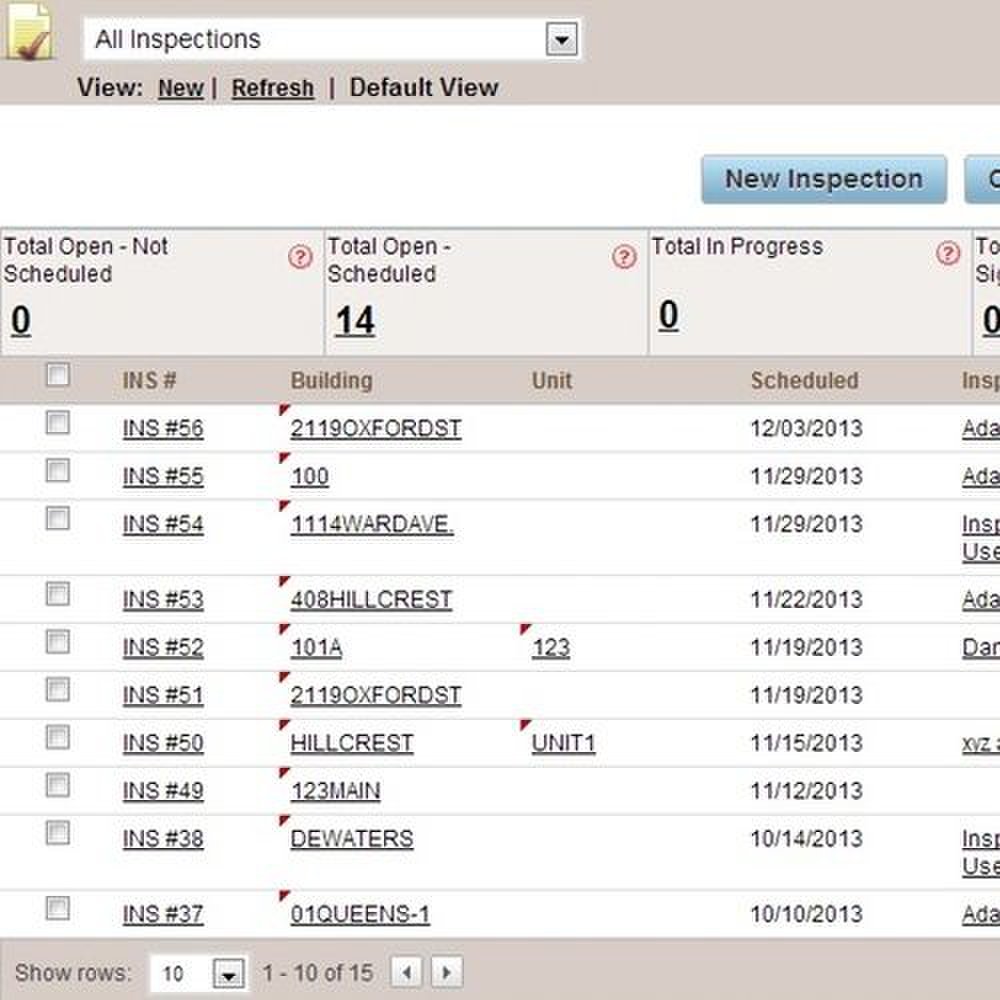 Propertyware image: You can view inspections only in your list of open work orders, which helps you manage work and laborers easily.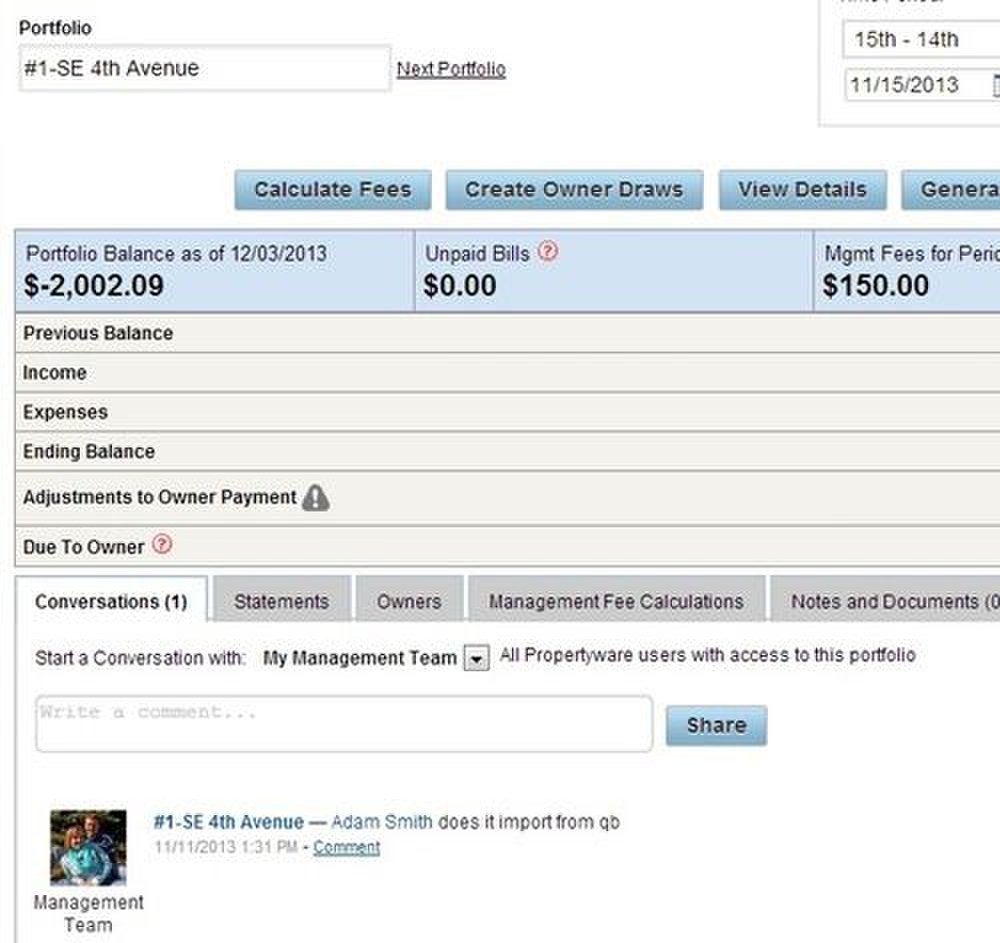 Propertyware image: This property management software lets you track commissions, fees and owner payments.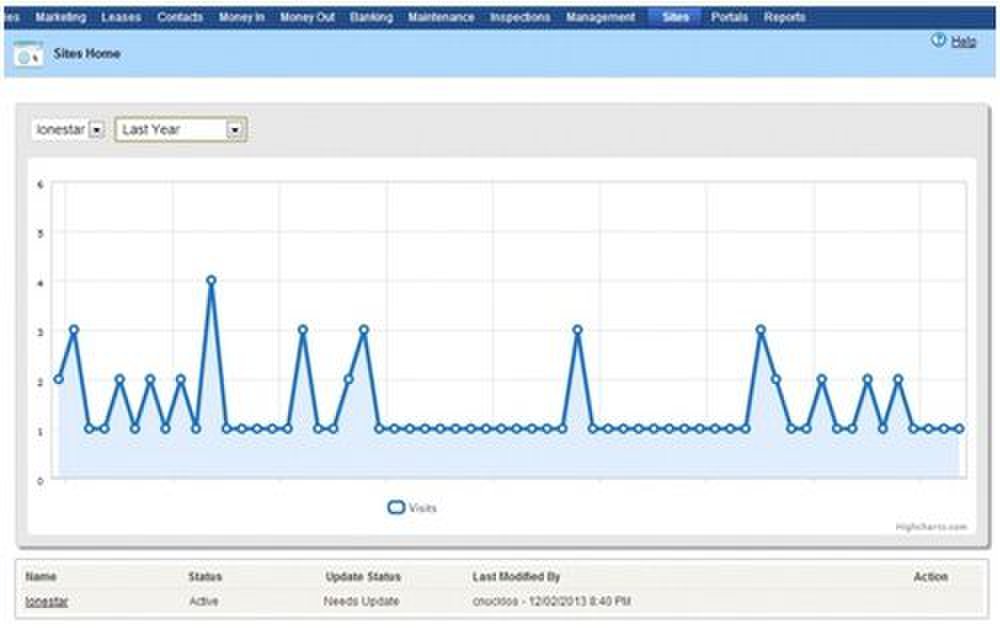 Propertyware image: You can see how often tenants visit your website in the reporting section of this property manager software.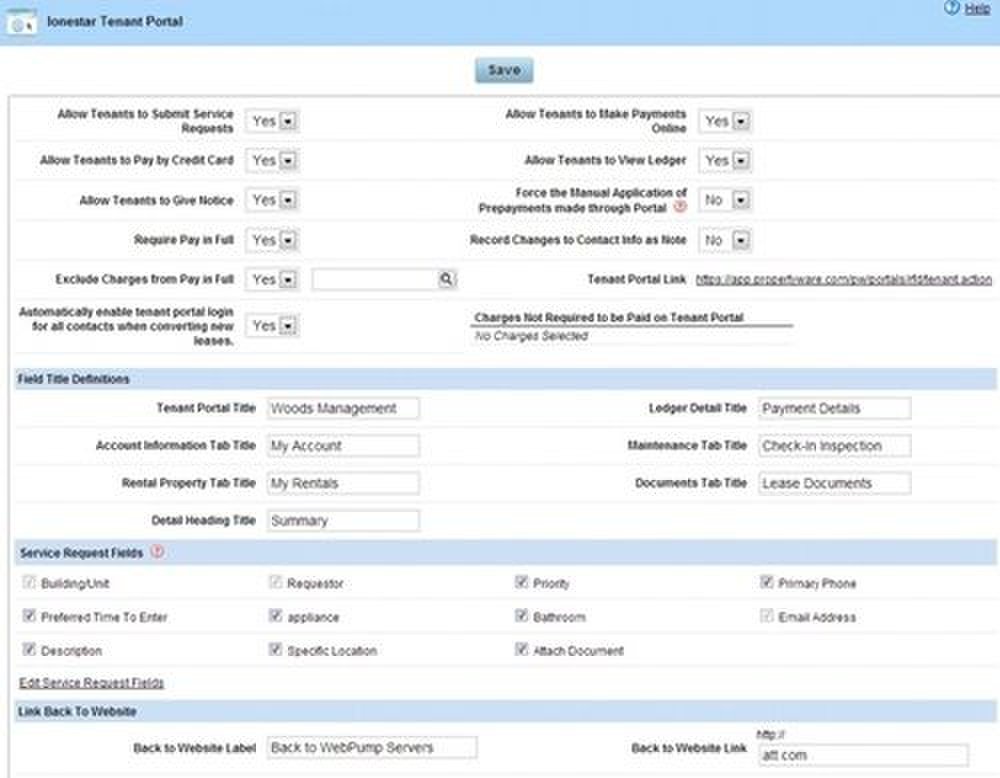 Propertyware image: The Tenant Portal can be customized so tenants to pay rent, give notice and submit service requests online.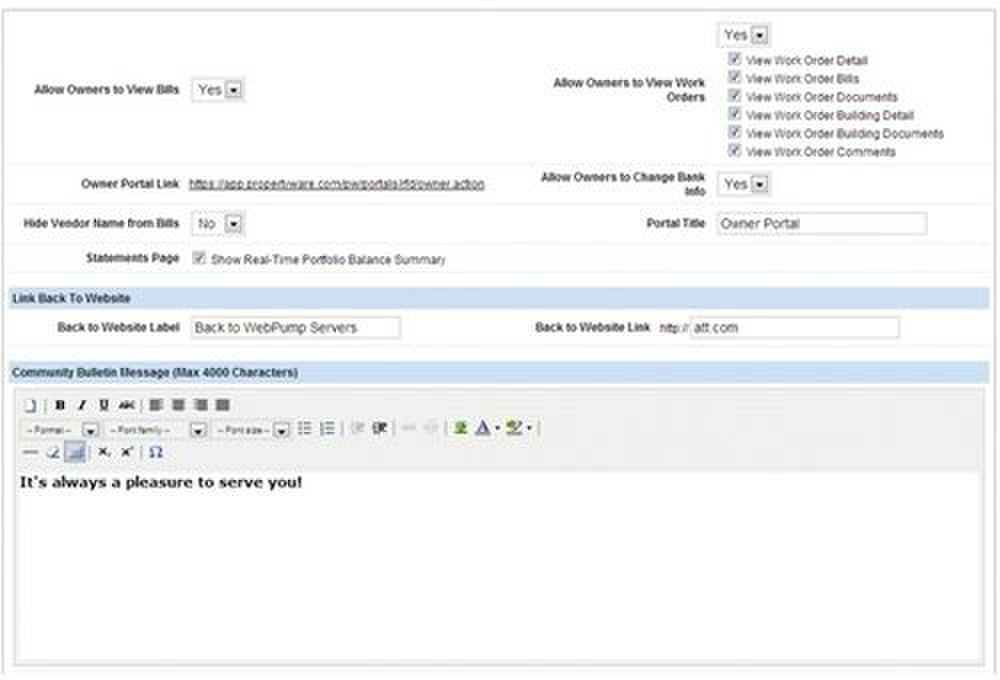 Propertyware image: You can customize the Owner Portal according to your clients' needs.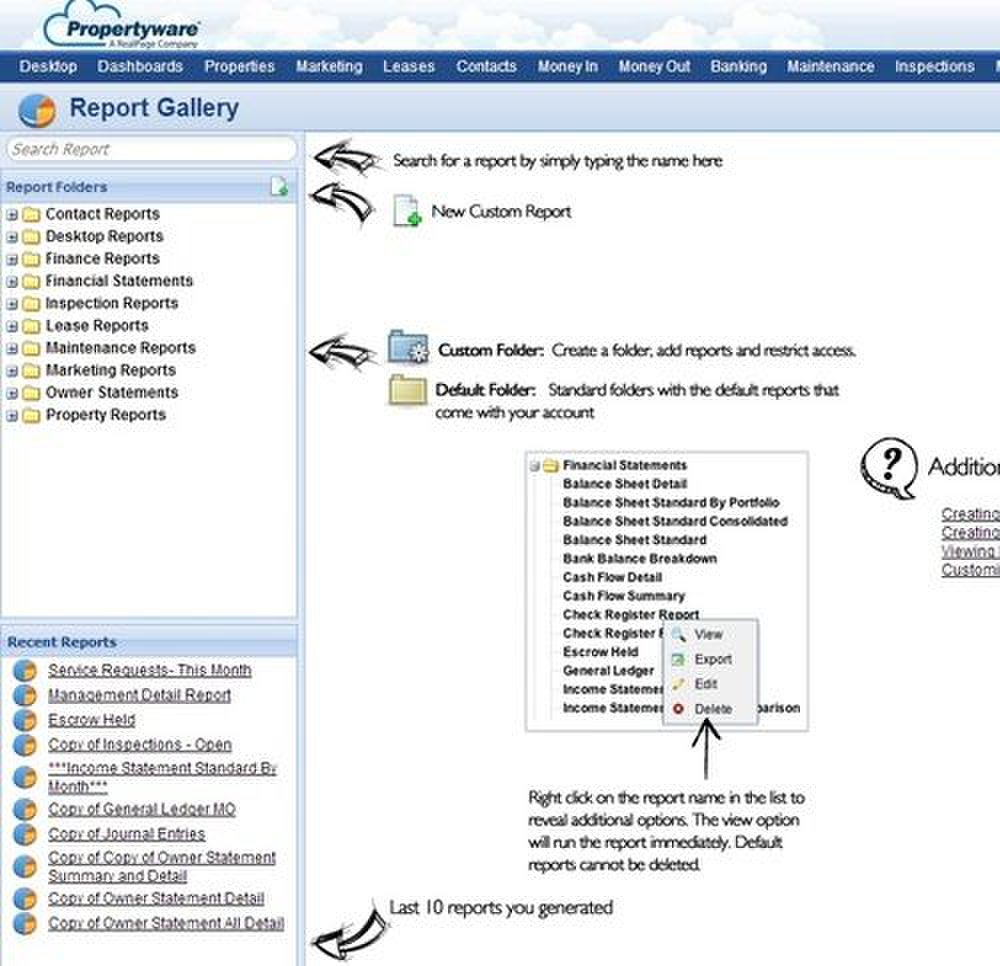 Propertyware image: This property management software lets you create a diverse selection of reports.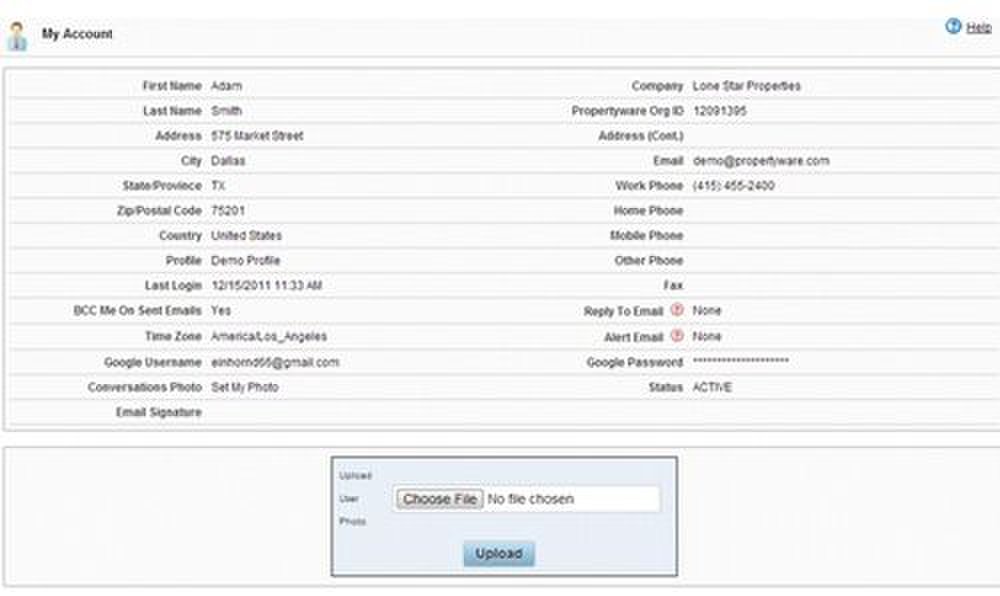 Propertyware image: You can add several personal details in your account preferences.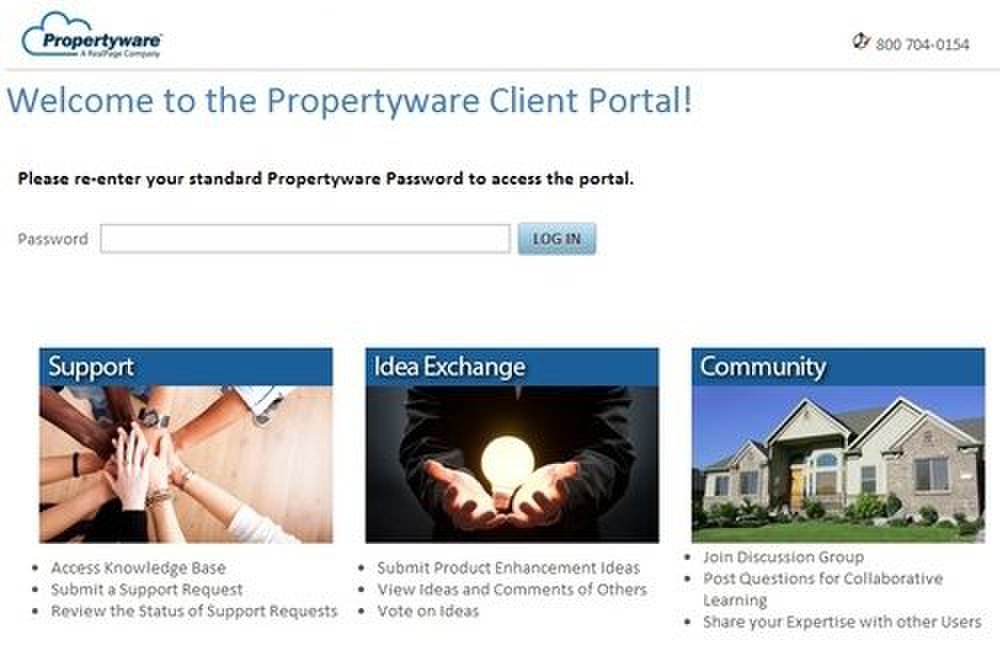 Propertyware image: The Client Portal is where you find access to customer support, a knowledgebase and a forum for other clients.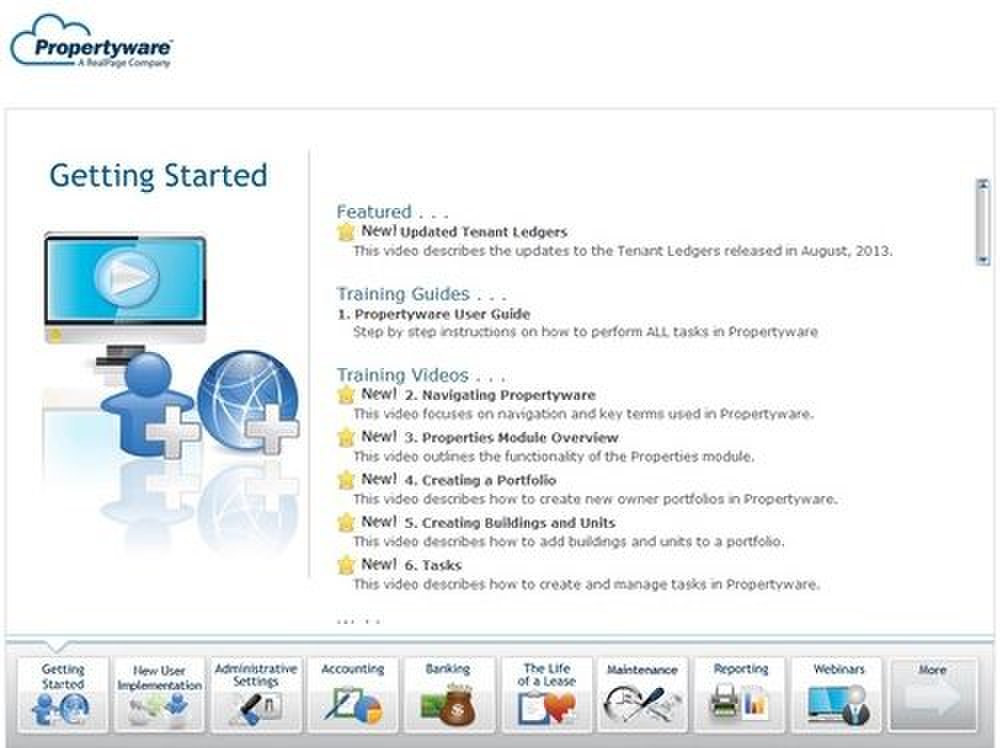 Propertyware image: The user manual covers every aspect of the property management software, and it's organized so you can quickly find the guide you need.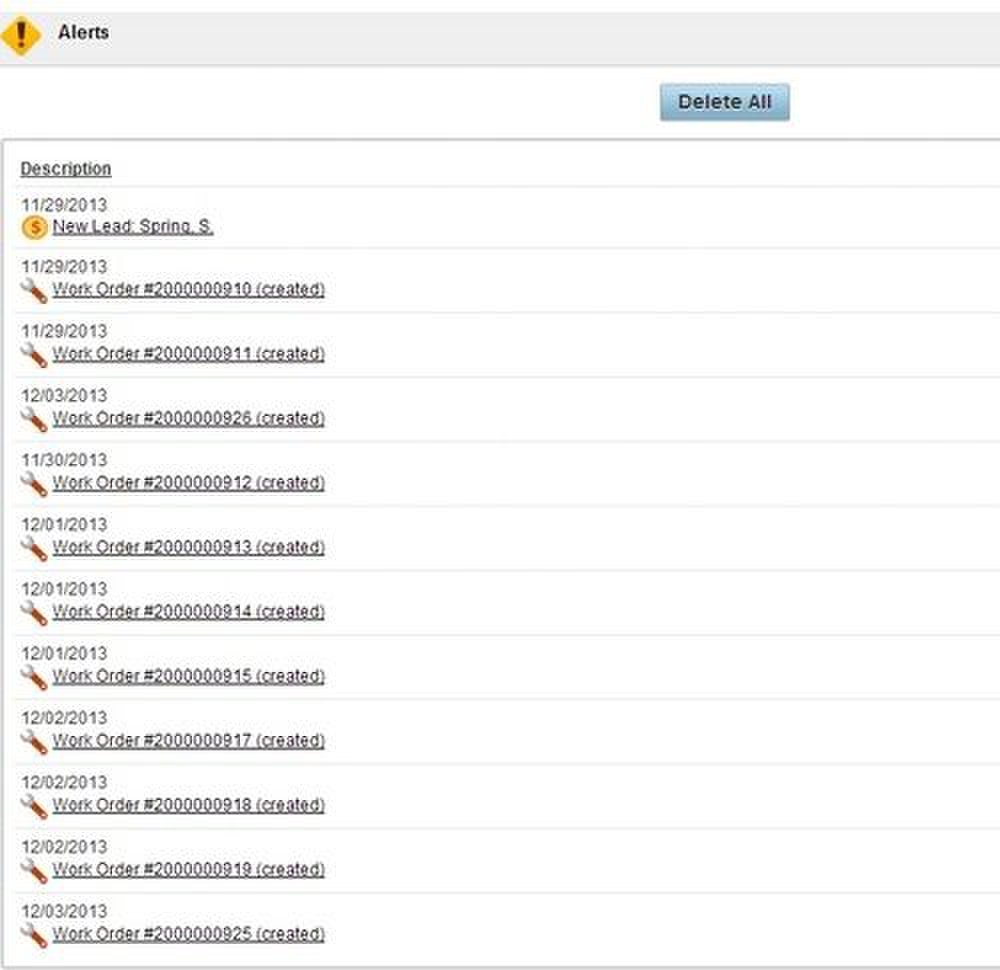 Propertyware image: This property management software alerts you regarding prospects, late payments and work orders.
Propertyware excels at integrating and automating processes that empower you as a professional property manager to attract and retain tenants and owner-clients. This online property management software exists exclusively in the cloud, so there is no software to install, and you won't require on-site updates. Customer data lives on Propertyware data centers that employ industrial-strength firewalls and internet security. Managers, owners, tenants and vendors can access the property management system through web browsers from any location at any time of day.
Propertyware includes all of the tools you need to fill vacancies, maintain assets and property, receive rent payments and make vendor payments electronically. It is Business.com's pick for the best property management software.

Propertyware
Best Property Management
The Verdict
Propertyware gives you almost all the tools you need to manage your properties, and its tenant portal makes paying rent and requesting maintenance easy.
Visit Site ▶
Conceived as a customer relationship manager for property managers, this software integrates all aspects of the property management process into an environment that reflects a comprehensive understanding of the wants and needs of prospects, tenants, property managers and owners. Propertyware's intelligent rental property management software is refreshingly easy to use, and it automates functionality that belies the power of its property management features. In addition to the core property management product, it has four premium add-on modules: Maintenance, Marketing, Management and Website.
Propertyware's tenant portal enables tenants to view ledgers, alerts and shared documents. Tenants can send messages as well as make service requests and electronic payments using credit cards, debit cards and eChecks. Tenants can opt for single or recurring payments. As soon as the payment is processed through the tenant portal, it is recorded in the tenant ledger. Propertyware also automatically alerts tenants to important events.
Alerts display when a lease is about to expire so you can either initiate lease renewal or market the property to a new tenant. It is possible to mass email stored prospects when listings become available. When hard copy communication with prospects or tenants is called for, Propertyware maintains libraries of documents for that purpose.
The software developers understand that tenant management and marketing are intertwined. Tenants who can communicate with responsive managers via the tenant portal are likely to renew leases and refer new renters to the manager.
Propertyware epayments is a suite of web-based electronic payment modules bundled with the self-service tenant portal. The suite gives you the capability to convert paper such as money orders, cashier's checks and personal checks into electronic payments using a check scanner.
Propertyware uses information in the property database to create an HTML listing you can post on any number of websites. When potential tenants begin to explore the online listings, they complete an online guest card that immediately sends you a wireless alert and an email to support timely responses to applicants. Prospects are funneled into the online environment by moving naturally from the listing website to the online application and electronically submitting the application fee.
A central calendar allows you to schedule and track applications and events, such as lease signings and move-in and move-out inspections. Many prospects, however, are not online and prefer to call for information. An automated system captures details of these calls and creates new prospects in the Propertyware account.
There is also a field you can use to track and report whether potential renters have been qualified or converted to a new lease, or to find out if owner prospects have been converted to a client portfolio. Additionally, Propertyware lets you screen new applicants from the software – when you receive the rental application and payment in the Propertyware dashboard, you can order a background check. The results of the background check return to the system to complete the application process. Armed with real-time credit, background and eviction data from TransUnion, you can convert the application to a lease with the click of a mouse without retyping the contact and property details.
Propertyware's manager portal is an excellent way for an owner to view a dashboard that contains real-time information (organized according to almost any whim), which makes for an informed owner with a finger on the pulse of the business. The owner dashboard is a valuable tool for online property management companies to market to prospective owner-clients. Owners can receive alerts automatically when events occur, such as an account deposit notification or a maintenance request notification.
As the property manager, you see every piece of data connected with a property, including unit layouts, utilities, pictures, history of maintenance, scheduled maintenance events and tenant communications. A service request arrives and becomes a work order that can be attached and submitted to a vendor. The tenant can send explanatory pictures that go to the vendor, who can then respond. The vendor can invoice the property management company online and receive electronic bill payments.

Propertyware
Best Property Management
The Verdict
Propertyware gives you almost all the tools you need to manage your properties, and its tenant portal makes paying rent and requesting maintenance easy.
Visit Site ▶
By consolidating financials across all portfolios or by specific property, Propertyware accounting equips your company to track its own investments while tracking financials for owner-client portfolios. It handles multiple bank accounts, manages bank deposits and prints deposit slips while showing all transactions and details. All user actions are subject to audit trails. For those employees who do not require the big picture view, you can restrict access to designated portfolios, buildings and bank accounts.
In support of accounts receivable, customer ledgers track recurring and one-time charges, payments and other items. Propertyware automatically alerts tenants to past-due balances and calculates late fees.
Propertyware automates management fee calculations, too, which frees time for you to focus on property management. It supports complicated management rules, tracks pass-through income, monitors markups of vendor bills and automatically charges one-time fees during lease signing. Management-fee calculations occur continuously and link to the management company finances. Each transaction stores the calculated management fee and description and supports user-defined custom periods. It is possible to track commissions for 1099 employees and pay owner draws by printed check or electronic funds transfer.
This property management software provides a single repository for all vendors, bills, bill payments, notes and scanned documents to provide assistance with controlling property expenses. Your management team can rate vendors to support consistently informed work assignments by all team members. If you need to maintain separate QuickBooks company files for various businesses or specific owners, Propertyware Sync for QuickBooks synchronizes your data with QuickBooks. A sync log provides an audit trail for every transferred transaction.
Product support is included and the manual for this property management service is excellent. The Propertyware website offers free online property management tutorials, training videos and webinars. Custom training sessions are available as well, and online demos are scheduled daily. A 15-day trial version is available and delivered in two versions: one that is populated with sample data and another that accepts the prospect's proprietary data. The support team at Propertyware can assist with migrating your data from a number of other online property management products. They also assist with website design services. The company hosts an online user forum and is active on Facebook and Twitter.
Propertyware is the best property management software that has broken away from the previous generation of platform-specific products to exploit the potential of web-based software. Propertyware's rich online property management features help you manage hundreds – or even thousands – of rental properties.

Propertyware
Best Property Management
The Verdict
Propertyware gives you almost all the tools you need to manage your properties, and its tenant portal makes paying rent and requesting maintenance easy.
Visit Site ▶
Ready to choose your Best Property Management? Here's a breakdown of our complete coverage:
Business.com Editorial Staff
The purpose of our community is to connect small business owners with experienced industry experts who can address their questions, offer direction, and share best practices. We are always looking for fresh perspectives to join our contributor program. If you're an expert working in your field – whether as an employee, entrepreneur, or consultant – we'd love to help you share your voice with our readers and the Business.com community. We work hard to only publish high-quality and relevant content to our small business audience. To help us ensure you are the right fit, we ask that you take the time to complete a short application: https://www.business.com/contributor/apply/ We can't wait to hear what you have to say!