ProTexting lets you text customers from a computer or phone, starting at $49 per month. It has dozens of smart apps and features you can use to drive revenue, but what really stands out is the vendor's stellar customer service.
Pros
ProTexting makes it easy to segment subscribers into different interest groups with keywords.
Individual and group text messages are simple to send.
It has a great selection of apps and integrations.
Cons
ProTexting is expensive compared to its rivals.
It doesn't have many built-in message templates.
The interface is not particularly user-friendly.
Businesses looking to explore the possibilities offered by text message marketing should consider ProTexting when choosing a vendor. Its platform is packed with useful tools business owners need to stay in touch with customers and drive new sales. It's not the cheapest option, and there is a slight learning curve, but if you need help, the provider's support team is responsive, friendly and happy to stay with you until your issue is resolved. That makes ProTexting one of the best options for companies concerned about customer service.
ProTexting Editor's Rating:
8.4 / 10
Pricing

8/10

Ease of use

7/10

Functionality

9/10

Customer segmentation

8/10

Customer service

10/10
Why We Chose ProTexting for Customer Service
ProTexting's platform is slightly more difficult to use than others in this market space, but we found the availability and helpfulness of their customer support team were second to none. At no point did we ever feel hurried or misled in our communications with the vendor's staff. They know their way around the system and can walk you through what you want to do at your own pace. It was a refreshing level of care that isn't always common, which is why we chose ProTexting as the best text message marketing service for businesses interested in top-notch customer service. Some of the features take a little longer to master than others, but when you do become more familiar with the software, you'll be able to take advantage of ProTexting's wide range of marketing tools.
According to Zipwhip, 98% of text messages are opened, compared with just 20% of emails.
Ease of Use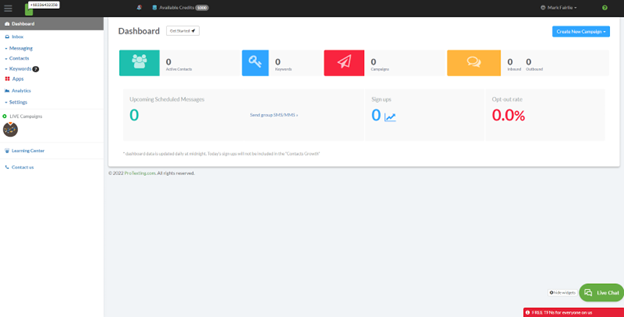 ProTexting's user interface is slick and minimalist whether using the system via your desktop or the mobile app. When you log in to the platform on a PC, you will see the screen above, which has the following information:
Your long-code number, which you use to communicate with customers
A button to turn your notifications on and off
The number of credits you have available to send messages
A link to take you to your account details
The navigation menu on the left is where you can send messages, manage your keywords and contact lists, and add apps and integrations. Most features take you step-by-step onscreen through what you need to do, like "Single Messages" and "Send Groups." However, other tools don't come with these instructions, and new users may struggle with them.
Fortunately, ProTexting's online learning center is very helpful. The tutorials are easy to understand and often supported by video walk-throughs. What bothered us is that the features on the platform that don't include instructions aren't linked to the relevant pages in the learning center that could help you learn what you need to do. This can make the software's usability, or lack thereof, frustrating.
If you're coming to ProTexting from another messaging service, you can upload your existing subscribers and lists via the "Import Contacts" option on the "Contacts" menu, but it's a little complicated. First, you have to download a procedure brief with an opt-in guarantee. You need to print the PDF, sign it, scan it and email it to the vendor or upload it to your account. You then have to wait for permission from the company to upload your contacts. In contrast, competitors allow you to upload your lists directly and trust that you have received permission from your subscribers to send them text messages.
We did appreciate that adding apps and integrations is simple. There are 47 apps you can use across the following categories: "Grow Subscribers and Data," "Run Campaigns" and "Campaign Tools." While most are free, some have costs. In particular, we like the native integrations with VerticalResponse, Mailchimp, Amazon ($49 per month), Shopify and Constant Contact. Developers can use the platform's API to manage coupon codes, short URLs, keywords and more. [Find out whether Shopify or Square is better for your business.]
A ProTexting mobile app is available from the App Store and Google Play, although it doesn't yet offer the same level of functionality as the in-browser control panel. You can easily send (and reply to) single and group messages, but you'll have to use the desktop dashboard for virtually all other tasks.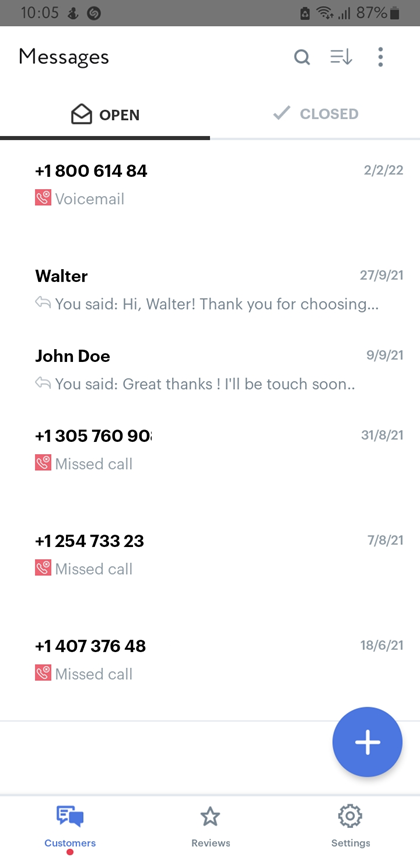 ProTexting Features
ProTexting has all the essential features you'd want in a text message marketing platform to communicate with customers, market products and services, and track your success rate.
Keywords With Auto-Reply
Each ProTexting plan comes with a number of inclusive keywords through which you can group subscribers. Additional keywords will cost you $12.60 each. How does this feature work in practice? Let's say you run a wellness center with a gym, beauty parlor and spa. You know that most gym users probably won't be interested in booking facials. You can use keywords like "gym," "parlor" and "spa" to invite subscribers to opt in to the specific messages they'll be interested in. When someone signs up, ProTexting will send them a welcome message. You can have different greetings for different keywords. If someone accidentally signs up for the same keyword twice, you can set up the Alternative Smart Autoreply to let them know they're already on your list.
Intuitive Messaging
Like most text messaging systems, ProTexting allows you to send bulk messages to subscribers. Make your offers relevant and of interest to recipients by sending them to specific keyword groups. You can group keyword lists by selecting them to create separate distribution lists, which saves time instead of sending group campaigns individually.
Sending single messages is just as easy. You can choose to send either SMS or MMS marketing messages. MMS messages cost three credits at a time and support text, audio and video. You can add short URLs and data tags (allowing you to address someone by their first name, for example) to each individual or group message.
SMS refers to text messages, while MMS is used for messages with pictures or video. We recommend relying on a combination of the two in your text message marketing strategy.
Two-Way Conversations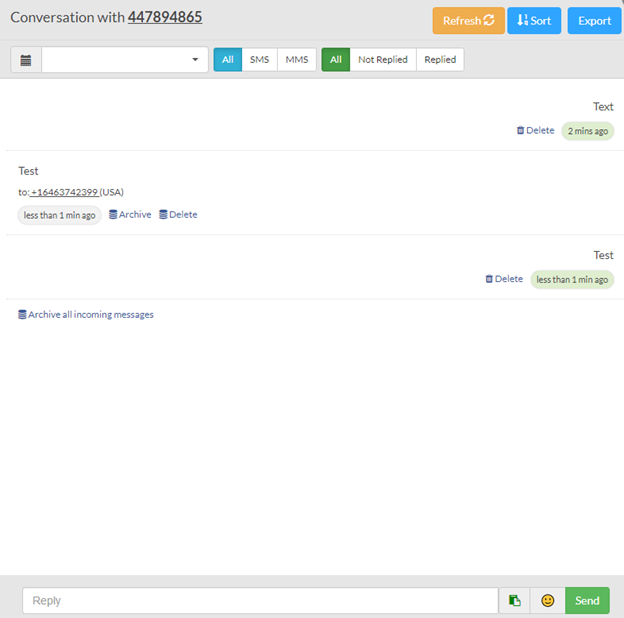 ProTexting lets you have real-time text conversations with customers. All incoming messages appear on your "Inbox" screen. Just click on a message in the inbox and reply via the pop-up, as seen in the image above. You can view all texts to and from individual subscriber numbers on this pop-up, making it easy to review the customer's history before responding. This is a great way to use text messaging for customer service too.
Integrations With Sales and Marketing Apps
We were impressed by ProTexting's ability to sync with both Amazon and Shopify. You can provide support to, resolve issues with and manage returns from Amazon customers (although you can't send marketing messages). With Shopify ($19 per month), you can send automated SMS notifications when a customer places an order, if they change it or when their order has been fulfilled. You can also connect your ProTexting account to more than 4,000 apps via Zapier, but there is a learning curve, so be prepared for that.
Drip Marketing
With ProTexting's drip marketing tools, you can send a series of pre-written text messages to customers at set intervals. This strategy is a great way to win new sales from subscribers. To start a drip campaign, choose a keyword for the audience you want to target and create a welcome message. Then write your future messages, highlighting whatever you want to promote, and schedule them to arrive at various times.
Web Sign-up
It took us less than two minutes to use ProTexting's web sign-up form, which lets potential customers join your subscriber list. You can direct consumers to this form from your website, email signature and social media profiles. Configure the form to get extra information from subscribers, including their email, ZIP code and answers to any custom questions you'd like to ask. If you have multiple keywords, you can also give customers the option of subscribing to more than one messaging list through the forms.
Appointment Reminders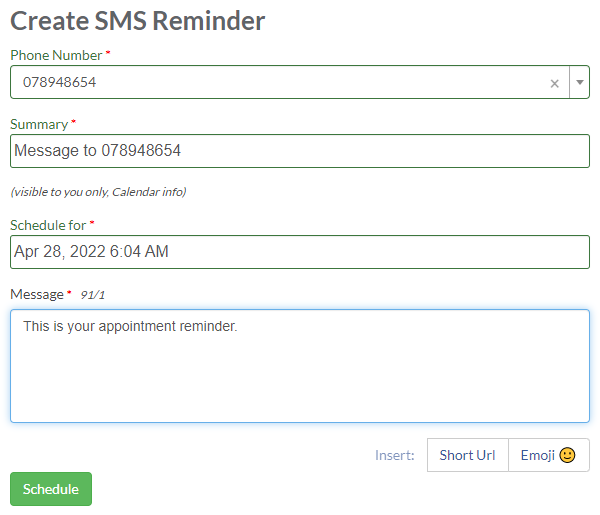 We synced ProTexting with our Google Calendar, and, within a minute, our calendar appointments appeared on the "Appointment Reminders" page of our ProTexting account. This integration is ideal for sending clients appointment reminders via text message. To send a reminder to someone, click on the appointment in your diary. Because ProTexting is a two-way system, customers can cancel or postpone an appointment via texting, giving you time to fill the slot with another client. Hair salons, car dealerships, doctors' offices and many other appointment-based companies would find this really useful. The only issue is that you or a staffer on your team has to remember to send these reminders manually. We'd love to see this valuable asset automated in the future.
Analytics
The marketing analytics tools on the ProTexting dashboard are easy to understand and thorough in capturing vital information. You can measure text performance by keywords and campaigns and monitor the growth of subscribers over time as well as delivery rates. You can track these figures for any period you choose. This data is beneficial for evaluating the success of your text message marketing efforts and seeing where improvement is needed.
ProTexting Pricing
ProTexting offers the following seven packages for businesses. All levels include unlimited incoming messages and replies, unlimited groups, unlimited email and phone support, and MMS. Outgoing messages require the use of text credits; unfortunately, unused credits do not roll over to the next month.
| | | | |
| --- | --- | --- | --- |
| Plan | Monthly price | Text credits | Keywords |
| Startup | $49 | 1,000 | 1 |
| Economy | $79 | 1,700 | 2 |
| Standard | $149 | 3,300 | 4 |
| Business | $299 | 6,700 | 6 |
| Corporate | $499 | 11,000 | 8 |
| Corporate Plus | $899 | 20,000 | 10 |
| Corporate Extra | $1,199 | 27,000 | 15 |
Custom plans are available for companies sending more than 27,000 texts per month. Subscriptions are on a monthly basis, with no contract required. Unlike many of ProTexting's competitors, there is no free trial, but it does offer a free demo. We commend ProTexting for being largely transparent with its pricing. All of its plans, including most of the features and fees, are displayed on the ProTexting website.
However, ProTexting is expensive, with per-message rates between $0.044 and $0.049. See our SimpleTexting review for an alternative platform that offers cheaper texting rates. Also consider our review of Textedly for another inexpensive option.
Decide which software features are most important to you before proceeding with any provider. Some vendors charge extra for certain tools, while others include them in their monthly cost. You could pay more for the same service by choosing a system based on the monthly price alone without factoring in feature-specific fees that drive up the total expense.
Implementation and Onboarding
After signing up for a ProTexting account, you will get an email to confirm your email address. Our account was officially opened within a couple of hours – slower than many of the other platforms we tried.
You don't have to download software to your computer to use the service; everything happens in a browser. While we couldn't configure the layout of the screen to our own preferences, the interface is very clear, and setting up apps and integrations was instantaneous.
You can add subaccounts for your employees and decide the level of access for each individual user. You do need to speak with one of ProTexting's team members to set this up, but again, the customer service is so outstanding that this doesn't feel like an inconvenience.
Customer Service
If you need help, you can contact ProTexting's customer support by phone, email, text message, webchat or web form. The multitude of options is another reason why ProTexting is impressive. Furthermore, customer support is built into the platform's dashboard. There's a green question mark icon at the top right of the screen, linking to FAQs pages, a "What's New" page and a live support webchat.
We tried the webchat twice to see how fast the response was, once asking when customer service was open and once asking if texts rolled over to the following month. The responses were instant and polite. What stood out in comparison to most of the other vendors we reviewed was that, unless it was a well-executed use of artificial intelligence, a real-life person answered us on both occasions.
Live operators are available between 9 a.m. and 6 p.m. ET, Monday to Friday. What makes ProTexting pleasantly unusual is the promotion of its customer service phone number in the dashboard area. This makes you feel like the company actually wants you to call its customer service agents.
Limitations
ProTexting is up to four times more expensive per message than every other platform we reviewed if you want to send more than 2,000 messages a month. Though this is a great system backed up by an amazing customer service team, the premium pricing might be too high for some.
Another drawback is the lack of guides, videos and tips when accessing individual features. For example, there's a feature on the dashboard called "Public Landing Pages." There are four links on the page and no supporting information. When you click on the links, it's not clear what they do because there's no information on them. What's more, if you type in "public landing pages" in the learning center, it comes back with no results. We were flummoxed.
Lastly, we'd like a few more messaging templates and wish they were easier to find in ProTexting's system, but this is a general failing we found with most services we reviewed.
Methodology
We spent several weeks researching the top text message marketing services to determine the best solutions. As part of our analysis, we looked at ease of use, features, pricing, customer support and integrations. To determine the text messaging service that has the best customer service, we considered the number of ways you could get in touch, how fast a company actually responded and onsite information on how to use the app. [Related article: Text Message Laws Every Business Needs to Follow]
ProTexting FAQs
Yes. Many U.S. phone companies have stopped supporting shared shortcodes, so in response, ProTexting has added free toll-free numbers (TFNs) to customers' accounts and offers 10DLC numbers. Like TFNs, 10DLC numbers facilitate two-way SMS communication but allow for a much greater volume of messages after being preapproved by mobile network operators. ProTexting charges $10 per month for 10DLC numbers on top of the cost of your monthly subscription package.
Yes. Businesses may worry about accidentally sending multiple text messages to an individual user over a short time. This could happen, for example, if you send the same message to multiple groups and an individual subscriber's number appears in multiple groups. Thankfully, ProTexting automatically suppresses numbers when it detects that the same message is going more than once to the same number.
You can put links in both SMS and MMS messages, but you cannot embed hyperlinks in images contained within MMS messages. Most cell phones make hyperlinks clickable when they get a message containing one.
Bottom Line
We recommend ProTexting for …
Business owners who are not technically proficient and want regular help from the vendor's customer service team.
Organizations, charities and schools that want to stay in touch regularly with customers, donors, students and parents.
Companies that want to send images and videos by text to promote their products.
We don't recommend ProTexting for …
Businesses with tight budgets.
Larger, more complex companies requiring personalized communication at multiple stages of sale and fulfillment.
Organizations that want automatic messages to go out prior to scheduled appointments.