Record Nations Review
By Business.com Editorial Staff
Last Modified: January 1, 2017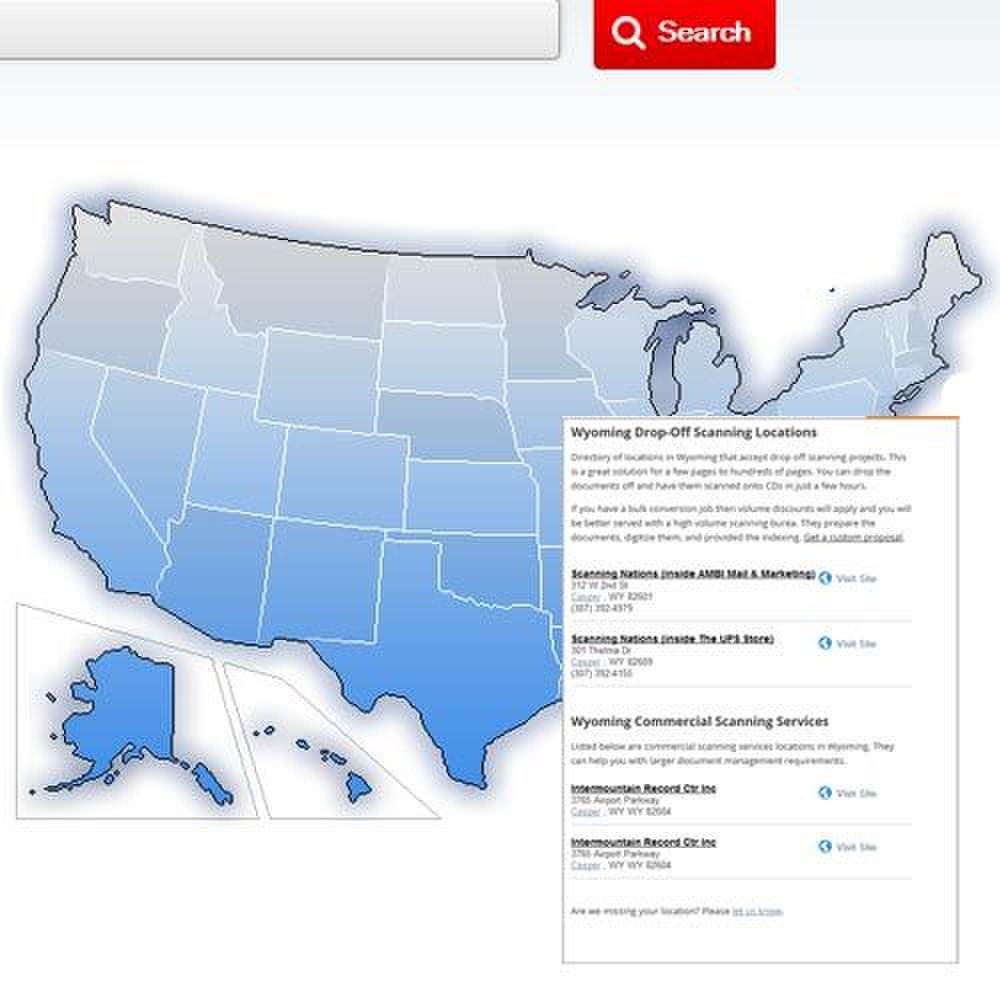 Record Nations image: This service works with affiliate companies across the nation to provide local service for smaller scanning jobs.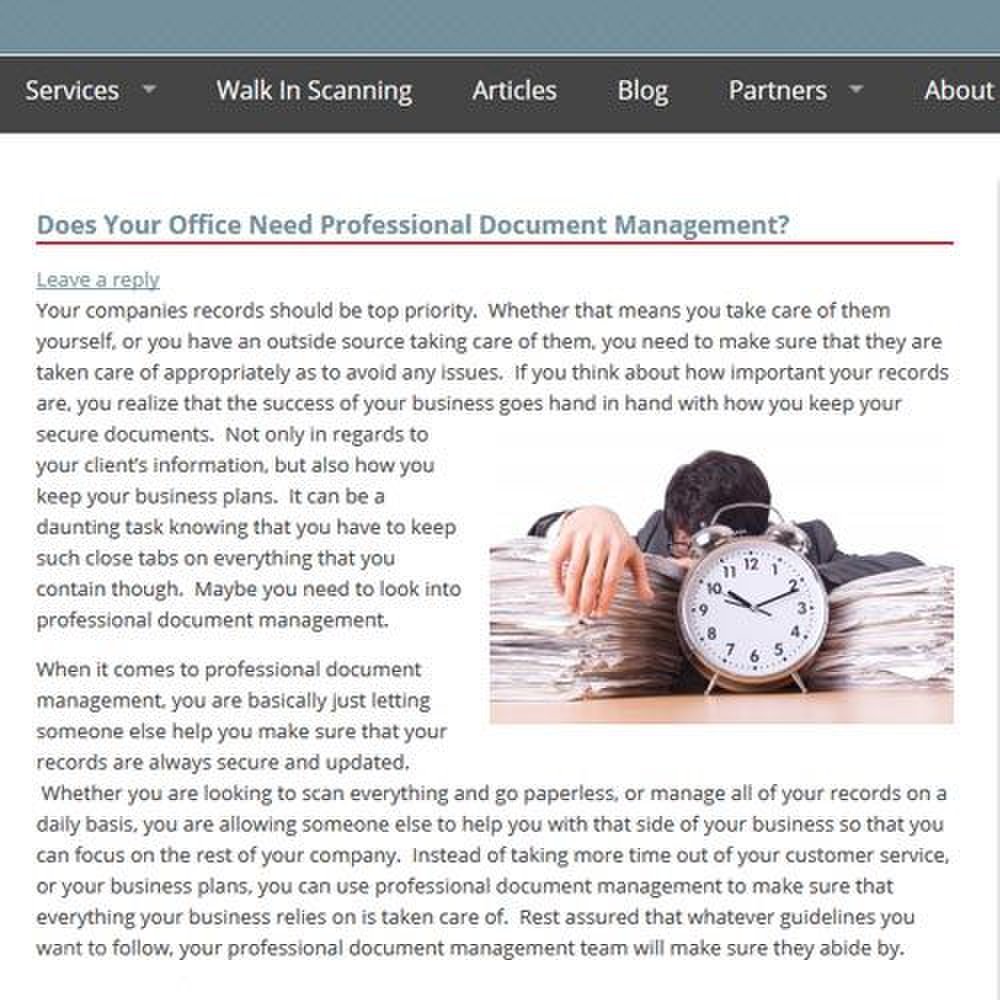 Record Nations image: The Record Nations' blog gives you information about professional document management systems and allows you to leave questions.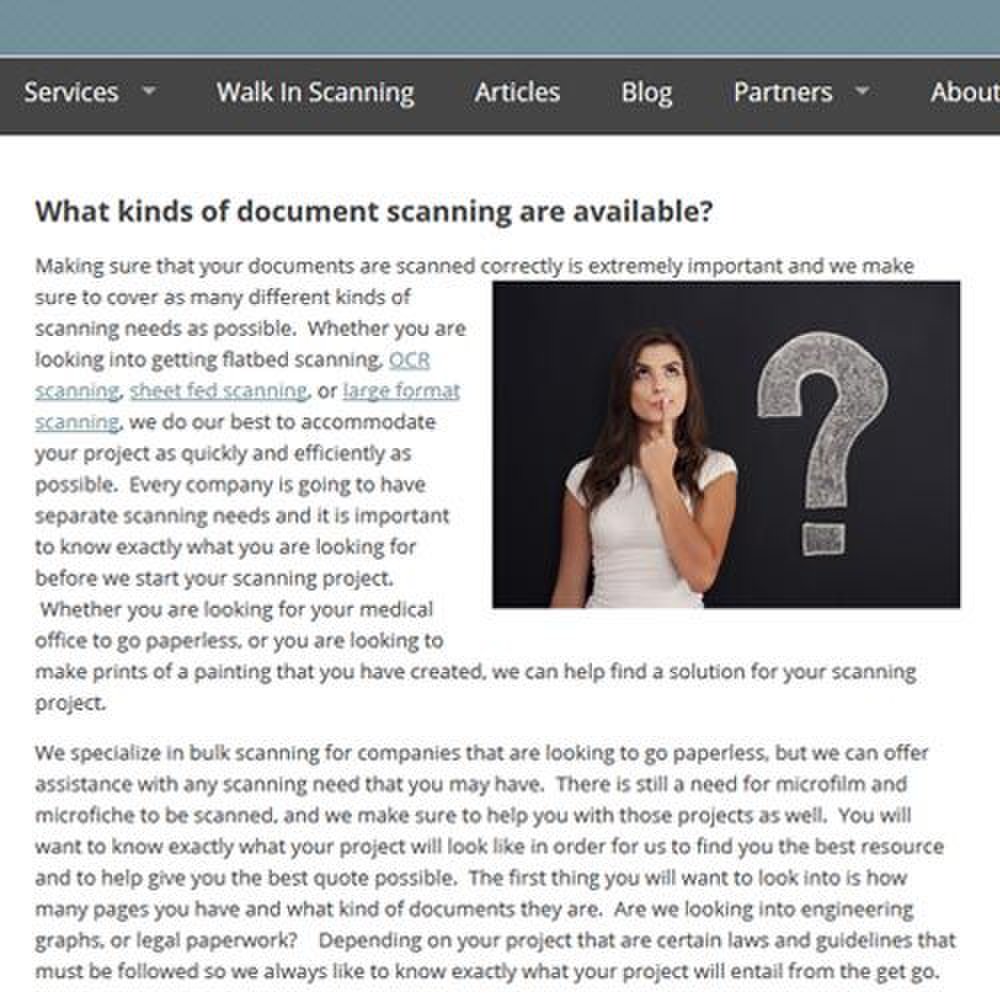 Record Nations image: Record Nations provides a wide range of services, including the ability to convert your microfiche into readable text.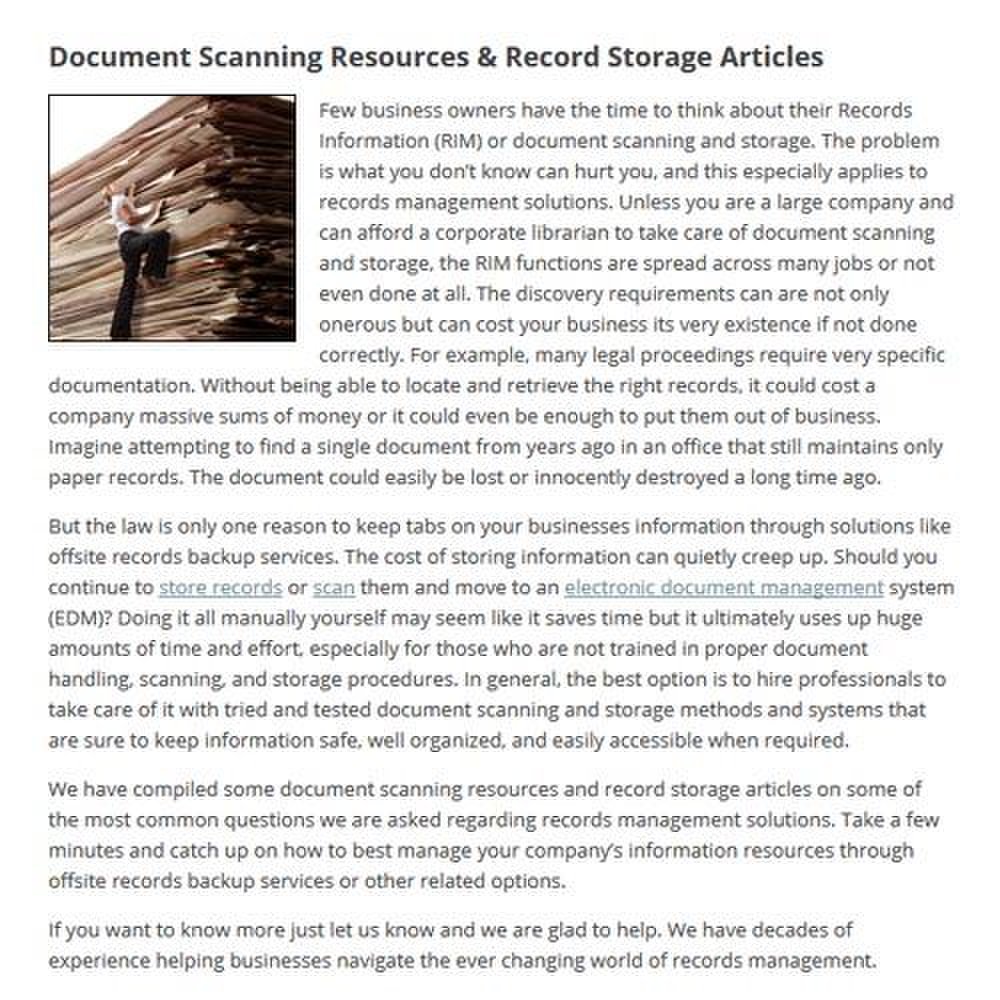 Record Nations image: You'll find a page of useful articles on the Record Nations' website including this one that cautions you that going without properly backed up records puts your company in legal jeopardy.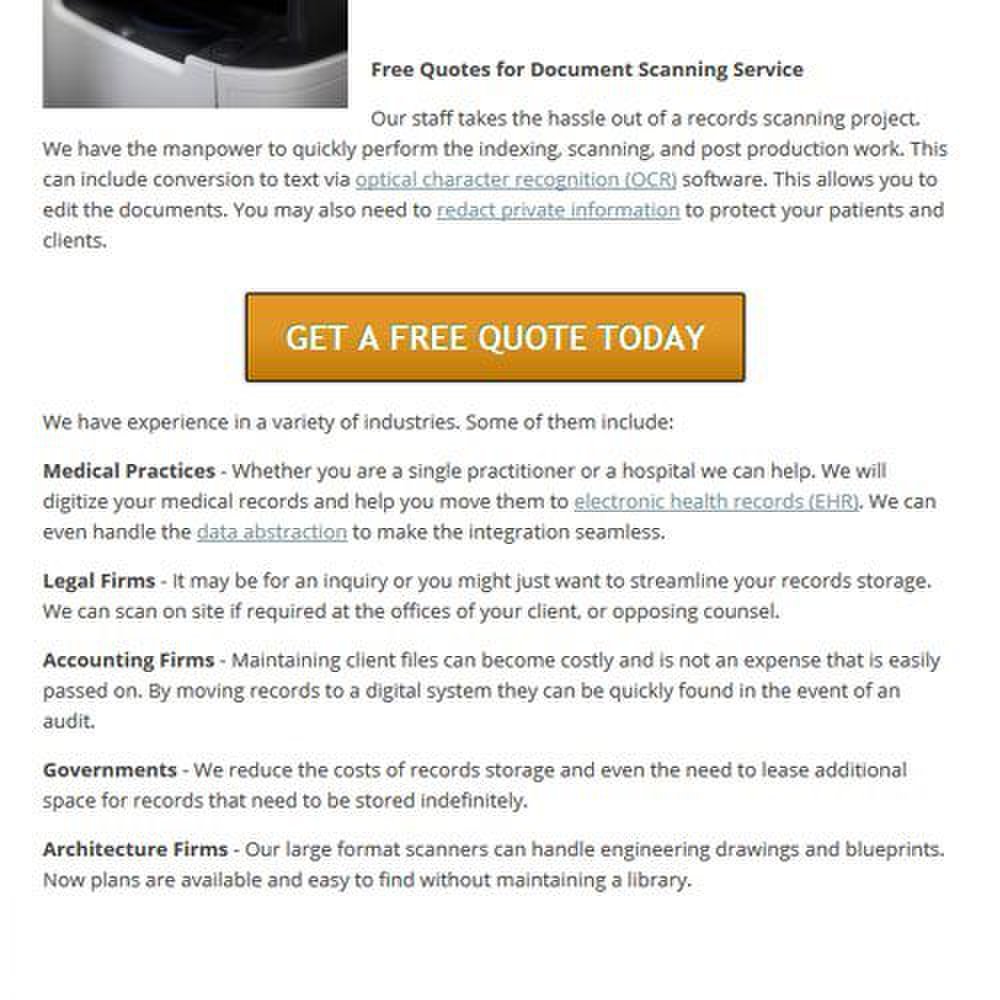 Record Nations image: Industry specialties include medical practices, legal firms, accounting firms, governments and architectural firms.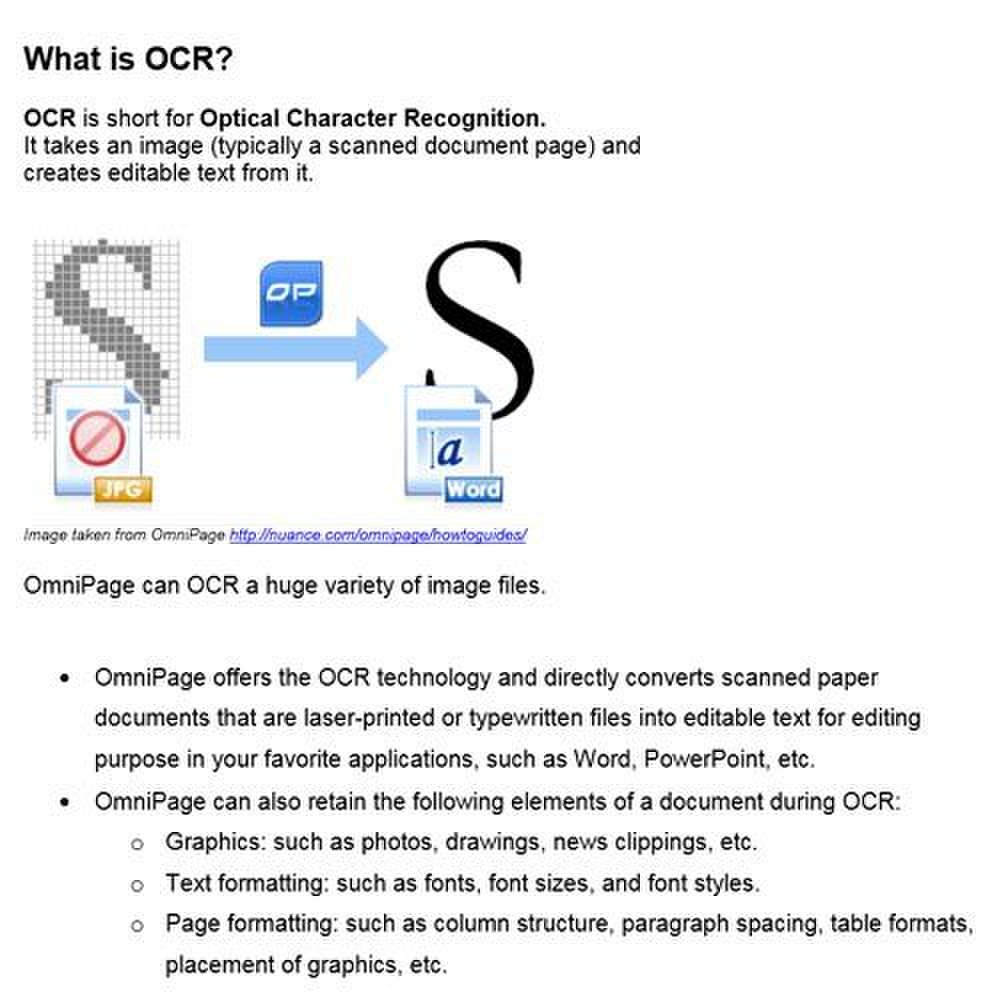 Record Nations image: The company uses Optical Character Recognition (OCR) software to convert photographic images of typed characters into editable text.
Headquartered in West Denver, Colorado, Record Nations has a different business model than most of the document scanning service providers we reviewed. While business-size projects are handled at the company's main facilities, Record Nations has a network of record storage, document scanning, tape rotation and shredding companies throughout North America. All the service providers adhere to Record Nations' security specifications, and if your scanning or document shredding needs are small, it makes sense to have your project handled by the company's affiliate in your area.
Record Nations charges by the page. A full box of documents, including file folders, typically contains about 2,700 single-sided sheets or pages. The company's pricing is basically a la carte with an average price per page of between 7 and 12 cents. This includes some itemized scanning options like secure transit, document preparation and indexing.

Record Nations provides an extremely full set of scanning and related options, such as optical character recognition (OCR), which turns an image into searchable text, and intelligent character recognition (ICR), which turns handwriting into searchable text. It can help implement a server-side or cloud based electronic data management system suitable for your company. This service also offers a Day Forward scanning program in which Record Nations receives and manages your mail each day, scanning it and sending the digital image on to the appropriate recipient. In addition it can provide you with certified document destruction at the end of your project.
Record Nations is HIPAA compliant. The company also ensures that the online or cloud storage it recommends is geared to meet your industry's specific regulations and workflow. Record Nations employees are background checked and the facilities are both guard- and video-monitored 24 hours a day. The company requires its affiliates to meet the same rigorous security standards that the parent company does.
Record Nations has an information-packed website. There is a blog, a FAQs page, industry articles and pages devoted to finding an address if you are looking for a local provider for its Walk In Scanning Service. There are no videos of the Record Nations operation, and while a lot of different product information is available on the website, we did not see industry specific case studies or white papers. Record Nations is available by phone and email. Inquiries are answered promptly and intelligently. However, we are disappointed that there is no live chat function as other companies we reviewed are already providing this useful service.
While Record Nations' specializes in the legal and medical areas, the company has customers in each of the 15 industry types we used to determine the breadth and expertise of the document scanning companies we reviewed. Record Nations also provides scanning of x-rays, blueprints and other large documents.
Record Nations is a dependable and reasonably priced document scanning service. It will transport your paper repository, scan it to suit your needs and offer a variety of ways to store and use your electronic files. Its industry expertise covers many business types and it can offer a migration path to a completely paperless way of doing business.

Ready to choose your The Best Document Scanning Services of 2019? Here's a breakdown of our complete coverage:

Business.com Editorial Staff
The purpose of our community is to connect small business owners with experienced industry experts who can address their questions, offer direction, and share best practices. We are always looking for fresh perspectives to join our contributor program. If you're an expert working in your field – whether as an employee, entrepreneur, or consultant – we'd love to help you share your voice with our readers and the Business.com community. We work hard to only publish high-quality and relevant content to our small business audience. To help us ensure you are the right fit, we ask that you take the time to complete a short application: https://www.business.com/contributor/apply/ We can't wait to hear what you have to say!