Reputation Management Consultants Review
By Chad Brooks
Last Modified: December 3, 2018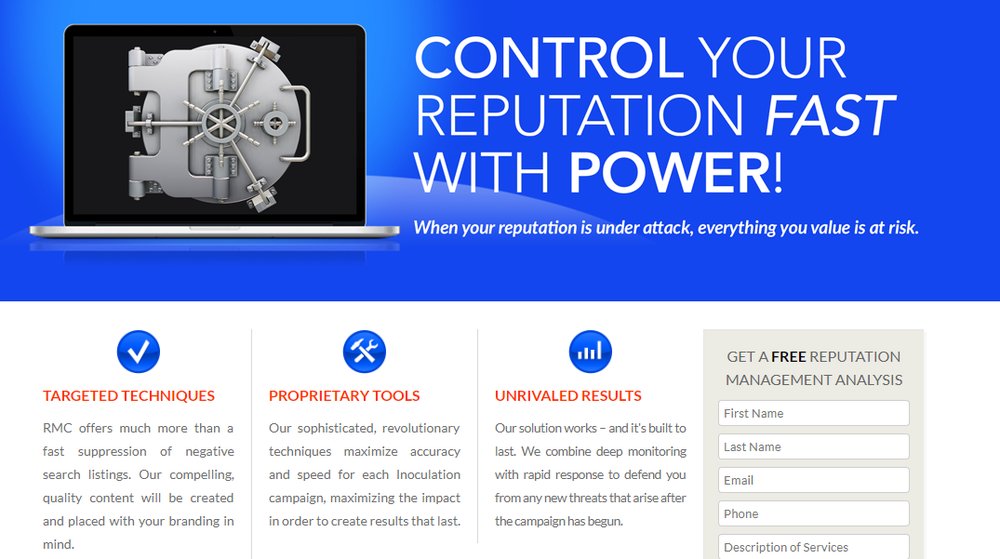 Reputation Management Consultants monitors trends and influences search engine rankings on behalf of clients.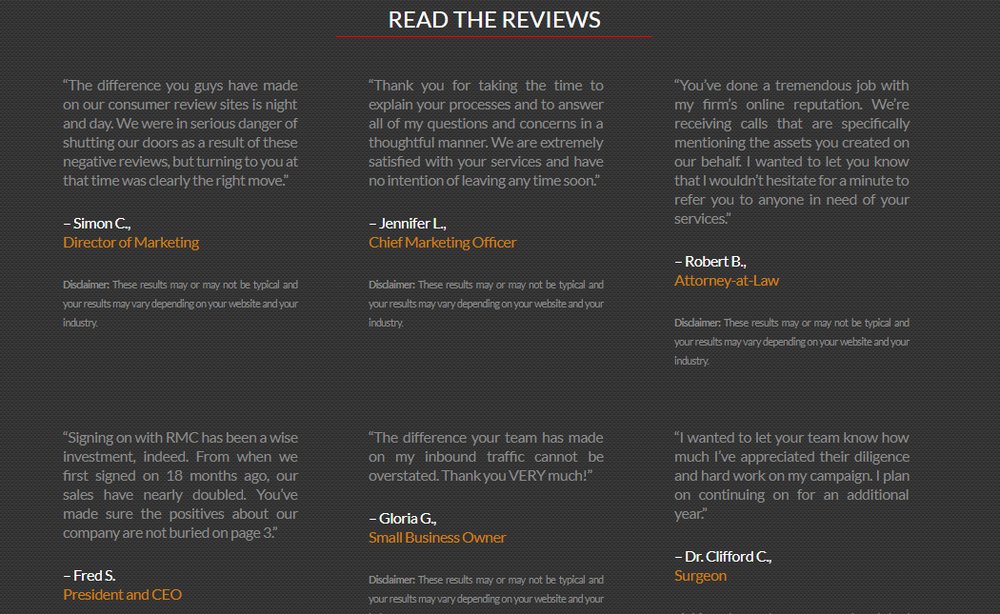 This company has several customer testimonials on its websites, backing up their claims of quality service.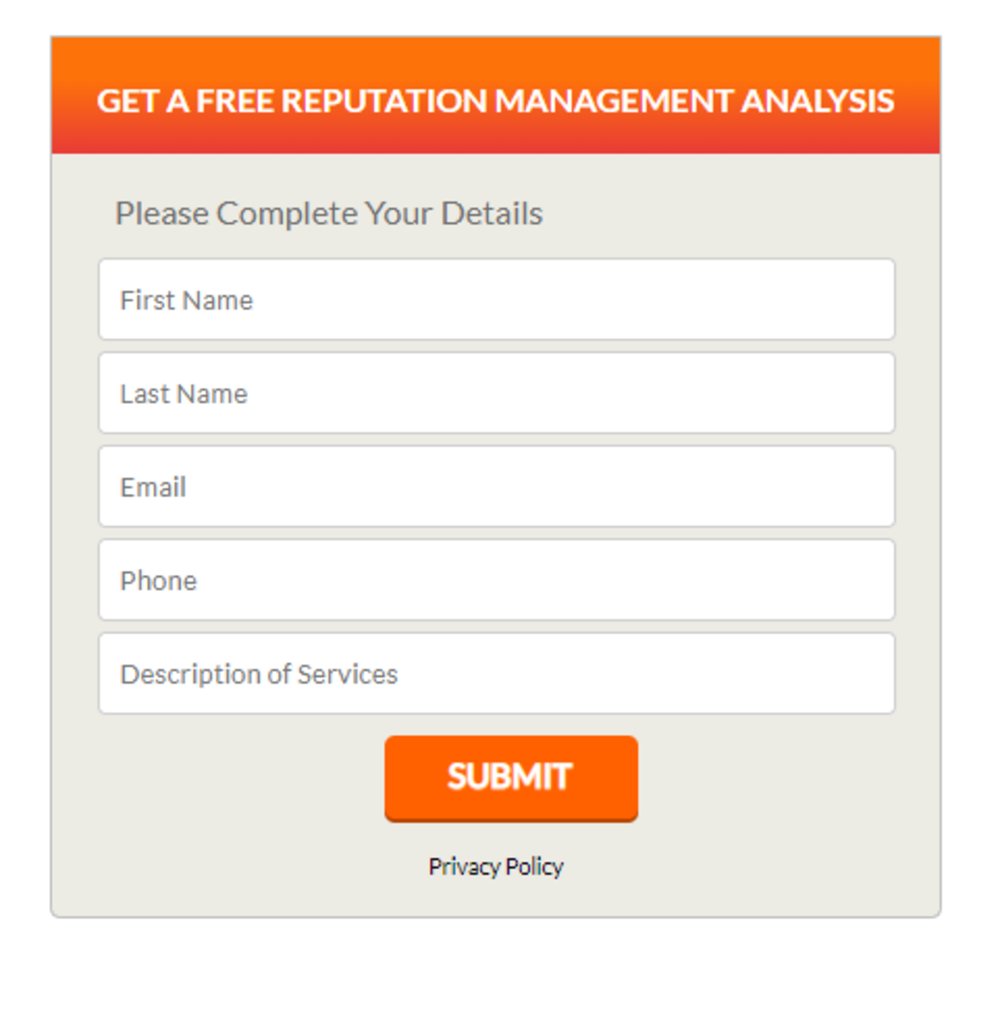 You can contact Reputation Management Consultants for a free analysis before you sign up for their services.
Reputation Management Consultants is an aggressive online reputation management company that hosts a fleet of computers with hundreds of IP addresses to monitor trends and influence search engine rankings on behalf of clients. It has researched algorithms to help move your online assets to the first page of search engine rankings. The company uses manual and automated means to suppress not only negative news and reviews but autosuggested negativities that can exacerbate a problem. Some of its methods involve automated and artificial manipulations of search engines. However, it also generates positive content and creates a safe place for collecting reviews.
View all our recommendations for online reputation management companies on our best picks page.

Pricing
Reputation Management Consultants offers customized services with tailored pricing for each business it works with. The company doesn't have set service plans or packages for its online reputation management services. Before starting any work, Reputation Management Consultants conducts a full analysis of each business's online image. It looks at search results, your website and any negative content associated with your brand to determine the best course of action. Based on what's needed, pricing and contract length are determined.
Online Reputation Management Services
Reputation Management Consultants provides online reputation repair and management services to both businesses and individuals. The company creates new assets to drive out negative reviews and news concerning your company and uses multiple social media monitoring methods to keep tabs on what people are saying about you.
Among the strategies Reputation Management Consultants employs are:
Content creation: This company concentrates on suppressing negative commentary through promotion of positive sites and other content like blogs, videos or social media. It can create up to 150 new sites and syndicate your content through its news and blog networks that cover over 20,000 sites. Another tactic is to create microsites that focus on one aspect of a business. In this way, people who are searching for a specific type of product or service will see that microsite, in addition to the overall advantage of having these specific sites crowd out other sites that might hold negative information about your business.
Social media: Reputation Management Consultants can create and manage social network profiles and the content added to each site, whether that be Twitter, LinkedIn or any other network you think will help promote your business.
Old third-party content: The company works to leverage older positive content on sites not owned by your business that don't currently rank highly on search results.
Asset authority: In an effort to increase the authority of your content, Reputation Management Consultants works to increase citations from other highly-credible sources. These other sites accept Reputation Management Consultants' content, which includes backlinks.
Autosuggestions: Reputation Management Consultants has a fleet of computers whose job it is to replace negative autosuggestions with positive ones. This is an artificial approach and more of a gray hat technique, but it does produce results, and Reputation Management Consultants says that in combination with its other services, it can lead to removal of negative suggestions over the long term.
Reviews: Reputation Management Consultants can create a review site for you where you direct customers to write a review or complaint. Reputation Management Consultants monitors the site, so that it can promote and disseminate positive reviews. Meanwhile, it alerts you to the negative ones, so you can respond to the customer directly. In this way, the dissatisfied customer can vent in an area that does not harm your company and where it's more likely he or she can get a satisfying response.
One minor negative with Reputation Management Consultants is that the company is not an accredited member of the Better Business Bureau. Despite that, the company has an A+ rating and has only had three complaints filed against it in the past three years.
Overall, Reputation Management Consultants has a forceful approach to repairing and enhancing your internet reputation.
Editor's note: Looking for an online reputation management service for your business? Click the Compare Quotes button below to have our vendor partners reach out to you with information.

Ready to choose your The Best Online Reputation Management Providers of 2019? Here's a breakdown of our complete coverage:

Chad Brooks
Chad Brooks is a Chicago-based writer with more than 20 years of media experience. A graduate of Indiana University, Chad began his career with Business News Daily in 2011 as a freelance writer. In 2014, he joined the staff as a senior writer. Currently, Chad covers a wide range of B2B products and services, including business phone systems, time and attendance systems, payroll services, and conference call services. Before joining Business News Daily, Chad spent nearly a decade as a staff reporter for the Daily Herald in suburban Chicago. Chad's first book, "How to Start a Home-Based App Development Business," was published in 2014. He lives with his wife and daughter in the Chicago suburbs.