Reputation Management LLC Review
By Chad Brooks
Last Modified: December 3, 2018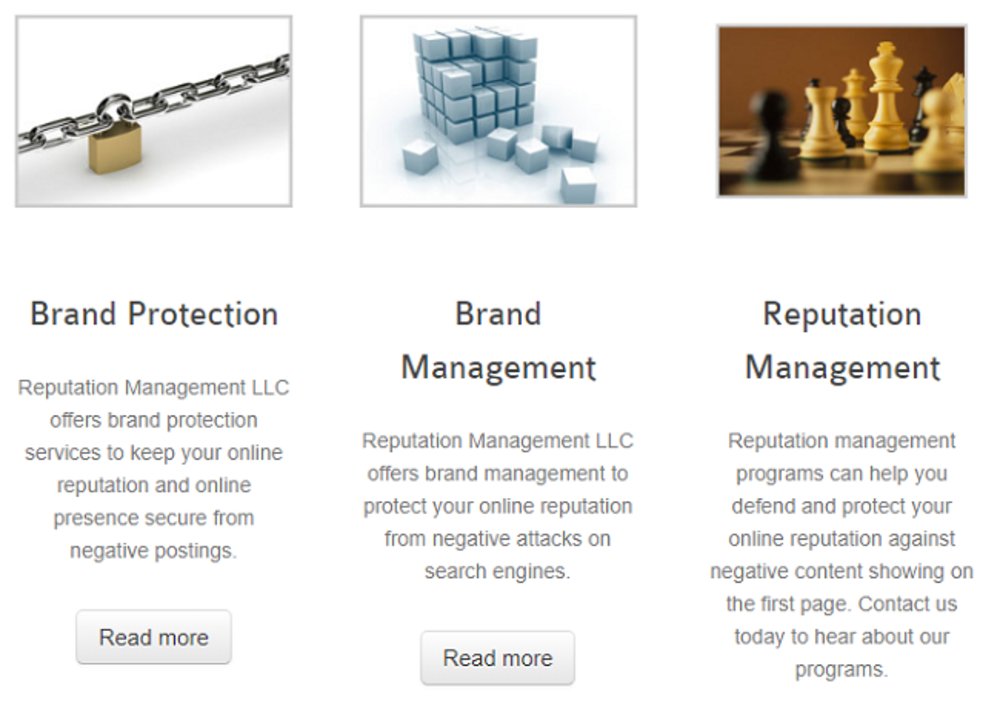 By focusing on boosting positive reviews, Reputation Management can help strengthen the online reputations of its clients.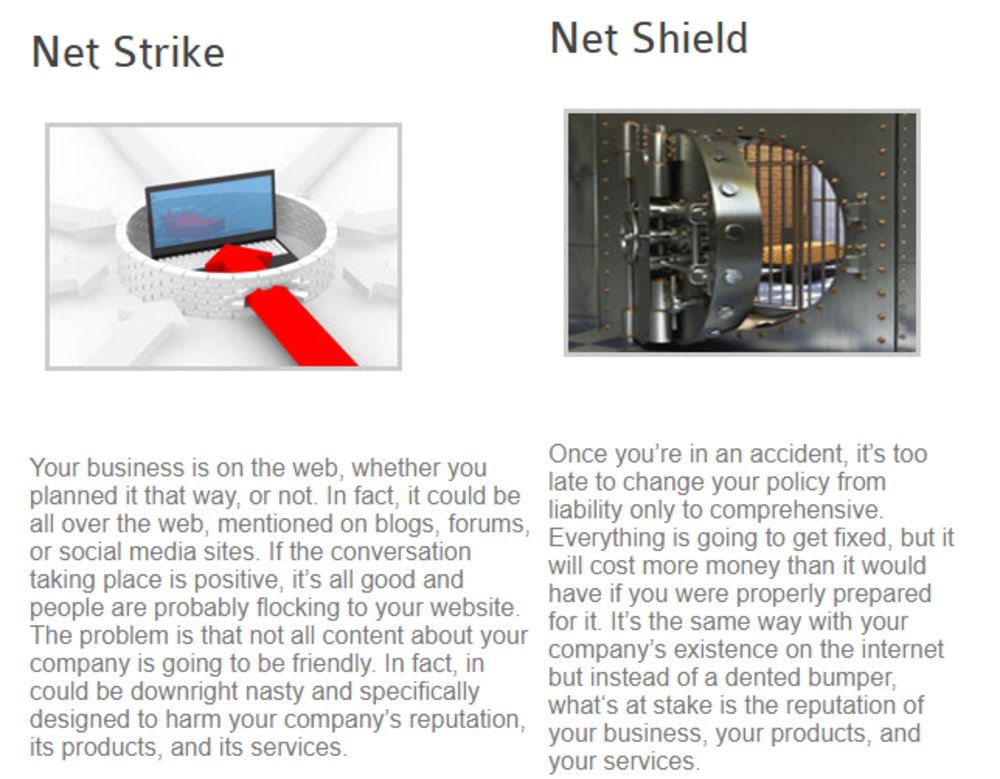 The company's offerings are fairly standard for the online reputation management industry.
The company offers personal online reputation management services as well.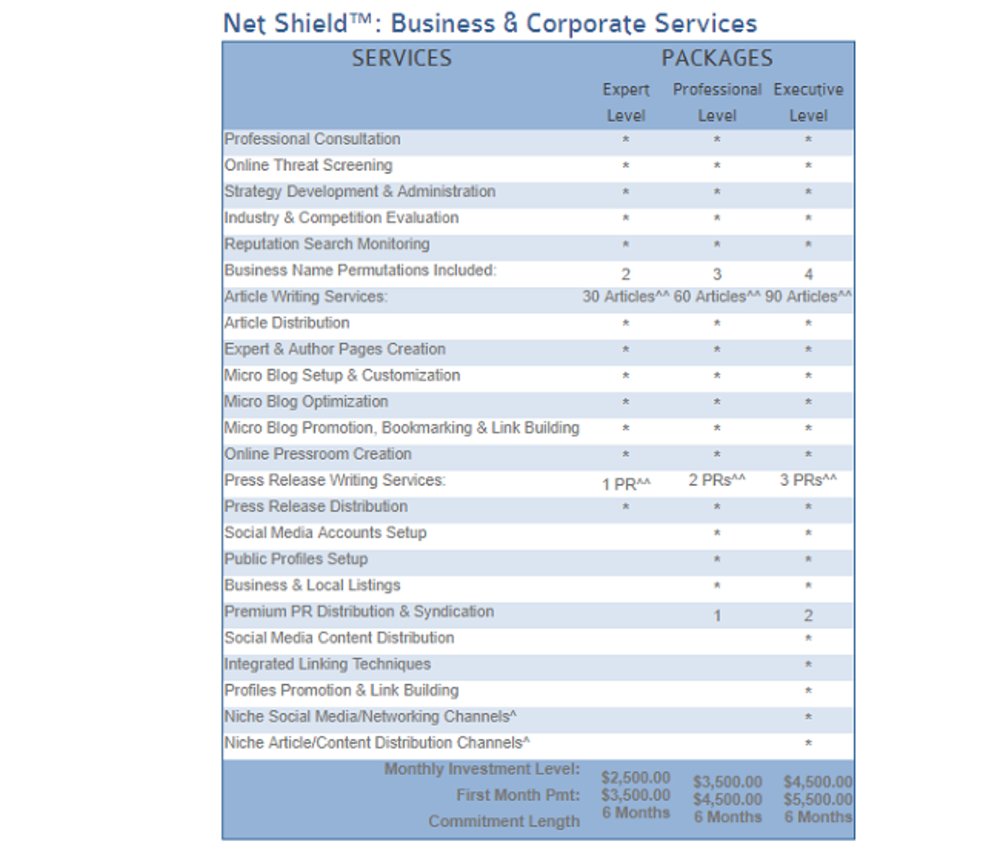 There are three different levels of payment packages for the company's Net Shield service.
Reputation Management LLC is an online reputation management service that does what all other internet reputation companies do: Create positive content and a strong website and social media presence in order to push down negative reviews. Its strength lies in its analysis of negative content on the web, making it a good choice if your company is under attack from competitors.
View all our recommendations for online reputation management companies on our best picks page.

Pricing
Reputation Management offers set service plans and packages for both individuals and businesses. Each service plan has three levels, which differ by price and included features and services. All of the packages require a six-month commitment.
For pricing, there is a larger first-month fee and then smaller monthly fees thereafter. For businesses, there are first month fees of $3,500 for the expert-level package, $4,500 for the professional-level package and $5,500 for the executive-level package. The following months have costs that range between $2,500 and $4,500.
For the individual service plan, first month fees are $2,000 for the entry-level package, $3,000 for the advanced package and $4,000 for the premier package. The ongoing monthly fees range from $1,500 to $3,500.
You can see a full breakdown of pricing and the included features and services in each package on Reputation Management's website.
Online Reputation Management Services
Reputation Management LLC has a strong focus on defending against reputation attacks. The company has two plans: Net Shield and Net Strike. Net Shield concentrates on building positive content, which helps boost rankings on search engines and insulates your company from negative content. Net Strike is designed to counter coordinated attacks on your reputation.
Before getting started, Reputation Management LLC does an in-depth analysis of negative content to see why it's ranking high on search results. If, for example, content is optimized for particular keywords, then Reputation Management LLC creates stronger content with those same keywords.
Like all online reputation management companies, this service monitors social media and the internet, and tracks the progress of the sites and content it has created for you. The company develops blogs, microsites, social media, articles and videos. It also produces press releases for general distribution and through its own network of contacts, and it can promote your RSS feed.
Here some ways in which Net Shield and Net Strike differ:
Net Shield: The plan monitors social media, blogs, forums and other venues to view what is being said about your company. This plan works to create and optimize positive content, so it appears at the top of search rankings. It also drives conversation about your company on social media sites, blogs and forums.


Net Strike: This plan is designed to counter negative attacks against your brand. When negative content is discovered, Reputation Management determines where the attack is coming from, by whom and what other places it could spread to. They then work to respond to the negative content directly with its own commentary and blog postings. It also develops customized search-engine-optimized positive content and links to existing positive content in an effort to push down the negative items, so it is not readily seen on search results. After the situation is resolved, Reputation Management tracks several online resources – blogs, forums, and social media – in real time to respond immediately to any other negative content that comes online.
One downside to Reputation Management is it does not provide a means for encouraging positive reviews or a place to filter reviews. Not every online reputation management site does this, but it is certainly an advantage if negative reviews are the biggest issue for your business.
We were also disappointed that we could not find any record of Reputation Management LLC with the Better Business Bureau.

Overall, Reputation Management LLC focuses on countering attacks made against your company's online reputation and building a strong shield of positive and neutral content. As such, it is especially a good option if you suspect your company's reputation is under a coordinated attack.
Editor's note: Looking for an online reputation management service for your business? Click the Compare Quotes button below to have our vendor partners reach out to you with information.

Ready to choose your The Best Online Reputation Management Providers of 2019? Here's a breakdown of our complete coverage:

Chad Brooks
Chad Brooks is a Chicago-based writer with more than 20 years of media experience. A graduate of Indiana University, Chad began his career with Business News Daily in 2011 as a freelance writer. In 2014, he joined the staff as a senior writer. Currently, Chad covers a wide range of B2B products and services, including business phone systems, time and attendance systems, payroll services, and conference call services. Before joining Business News Daily, Chad spent nearly a decade as a staff reporter for the Daily Herald in suburban Chicago. Chad's first book, "How to Start a Home-Based App Development Business," was published in 2014. He lives with his wife and daughter in the Chicago suburbs.