Ricoh MP C4504ex Review
Ricoh is a Japanese-based company that has built its niche in imaging products and electronics for both consumers and businesses. Consumers might recognize the brand because of its digital cameras and watches while businesses will associate Ricoh with its whiteboards, projectors, video conferencing systems, in addition to its printers and copiers. In addition to its digital imaging products, Ricoh offers commercial-grade products and solutions.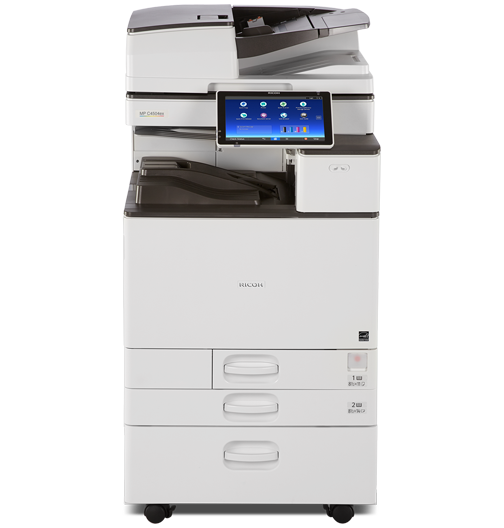 Ricoh MP C4504ex
The Verdict
While it may be too expensive for some smaller organizations, the Ricoh MP C4504ex could be ideal for companies with heavy production loads.
To view all of our recommendations for copiers, visit our best picks page.
Plans and Pricing
The Ricoh MP C4504ex has an MSRP of $18,059, which may be out of reach for smaller businesses; however, Ricoh offers managed print services (leasing), a more affordable option that can drive cost efficiencies in addition to saving you time when the copier needs to be serviced.
Features
The Ricoh MP C4504ex is a color multifunction laser printer. It comes with different accessories so you can choose the configuration that fits your business best. We focused on the base model, which is targeted at mid-sized workgroups. A multifunction machine allows users to copy, print, scan and fax.
The MP C4504ex stores 1,200 pages, but this can be expanded to 4,700 sheets using optional paper trays. It prints and copies at a fast 45 pages per minute in both black and white and color. Total warm-up time for the MP C4504ex is 24 seconds, and the first page out takes less than six seconds.
The MP C4504ex is packed with design touches that help users easily navigate the machine's menus. To scan documents, users can use a built-in, one-touch workflow. Shortcuts are all customizable, which can speed up daily, repeated tasks. The machine comes with a 10.1-inch touchscreen (standard), which is larger than the touchscreens of most multifunction printers we evaluated. And, like everything else with this copier, the home screen, too, is completely customizable. Users can decide which apps or widgets they want to see.
The MP C4504ex comes with many commercial-style options. You can print on a range of paper sizes and stocks, plus there's the ability to print in large format (say, poster size) or magazine-style, which may take an image and span it over several pages. Plus, multiple finishing options offer even more flexibility. For example, users can choose a stapler finish or even a stapleless finish, which gives in-house print jobs a professional look and feel.
The machine offers cloud connectivity via the Ricoh app. In addition, you can access documents stored in the cloud and print them directly from your phone or laptop, from anywhere. Administrators can restrict users, groups or even restrict access to certain features. And, one feature, Locked Print, protects confidential documents from being seen after they've been printed.
Ricoh backs its color copier with several great support features. The Ricoh @Remote service uses the internet to remotely manage your printer and copier. If your machine breaks down, the copier will transmit a message indicating that the unit requires servicing. Ricoh promises speedy service. It pledges to call you back within one business hour and follow up with an onsite visit within four hours after your call for service is placed. Online you'll find manuals, drivers, how-to videos and FAQs where you can look up troubleshooting issues for free.
Drawbacks
An obvious setback is price – the MP C4504ex may be too expensive for many smaller businesses. But larger businesses that print a lot of materials – schools, law offices, design firms – may appreciate the ease of printing professional-looking jobs in-house.
And with a managed print services option (leasing), toner, maintenance and paper can be bundled at a reasonable cost.
Editor's Note: Is your business looking for a copier? Click the Compare Quotes button below to have our sister site BuyerZone connect you with vendors that can help.
Image Credit: Getty Images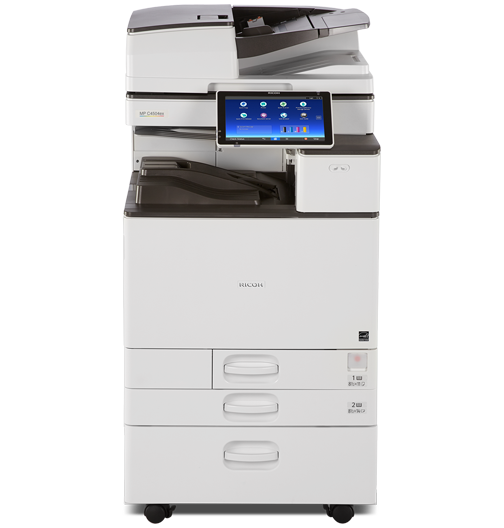 Ricoh MP C4504ex
The Verdict
While it may be too expensive for some smaller organizations, the Ricoh MP C4504ex could be ideal for companies with heavy production loads.

Joanna Furlong
business.com Contributing Writer
Joanna Furlong is a freelance writer and content strategist based in Southern California. Her background is in digital marketing, but she's been writing professionally for more than 10 years. She partners with startups, technology companies and small businesses across the U.S. to tell their brand stories through compelling content. And, she loves to report on the intersection where business, management and technology collide.