Ricoh IM C4500 MFP Review
Ricoh has earned a number of prestigious awards, including the 2019 Energy Star Partner of the Year and is among International Data Group's CIO 100 award winners. Ricoh's multifunction printers (MFPs) vary in terms of speed, size and capabilities. Units are built with recyclable plastics to minimize the environmental footprint. Its models offer energy saving modes, motion sensors and toner bottle recycling. Cloud-based connections, customizable apps and touchscreen technology are some of their most notable features.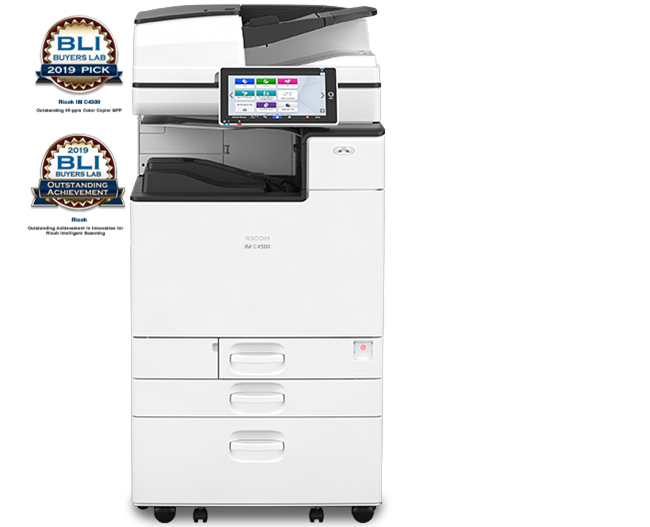 Ricoh IM C4500 MFP
The Verdict
Ricoh's IM C4500 is a color laser multifunction printer that will thrive in a midsize office.
To view all of our recommendations for copiers, visit our best picks page.
Pricing
The IM C4500 costs approximately $18,059, but there is an option to lease the unit. You can request a price quote online. [Need more details on the differences between buying and leasing a copier? Check out this article on our sister site Business News Daily.]
The IM C4500 is a laser printer, and, as such, you will need toner cartridges. The colored toner cartridges yield approximately 22,500 pages, and the black cartridges yield around 33,000 pages.
Cartridges cost $100 to $250 to replace.
Ricoh IM C4500 Features
Ricoh's IM C4500 measures about 23 x 27 x 37.9 inches and weighs 223.5 pounds. This printer is ideal for midsize offices that need an efficient, reliable and secure printer. The IM C4500 is equipped with Ricoh's Always Current Technology, which means that any new features, applications and upgrades are applied immediately, and security software is always up to date with this digital copier.
This model has multiple functionality – print, copy, scan and fax (optional). Printing and copying speeds are 45 pages per minute for both black and color pages. Black pages take approximately 3.6 seconds, and color pages are printed in approximately 5.4 seconds. It has automatic duplexing, a standard paper capacity of 1,200 sheets and a duty cycle of 200,000 pages per month. Users can add more trays that boost the paper capacity to 4,700 sheets.
The IM C4500's resolution for printing and scanning is 1200 dpi, while the resolution for copying is 600 dpi. This model comes with a standard memory of 2GB RAM and 320GB hard disk drive. For an additional cost, you can expand the memory to 4GB.
Cloud-based services such as Box, Google Drive, SharePoint are all easily accessible. You can scan to these cloud applications, as well as the Ricoh Content Manager, email, a designated folder, USB or SD card. You can easily connect mobile devices via Ricoh's Smart Device Connector to print, scan, share, and access documents at any time and location. The printer's 10.1-inch touchscreen panel is where you can easily select the settings, view tasks, use the applications and connect to cloud services.
Faxing can be installed for an additional cost, as well as a G3 interface unit and a fax memory unit that increases the memory to 4,800 pages. Other options include a banner paper guide tray to support banner printing, a punch unit for hole punching, and a 2,000-sheet booklet finisher. Also, there's an OCR unit available that allows users to search PDF files by keywords, additional paper feed units and trays to expand paper capacity, and an NFC card reader for user authentication.
System Security
Security features of the IM C4500 include Ricoh's DataOverwriteSecurity System (DOSS), which overwrites specific areas of the hard drive that are used for processing images after each job.
The copier has other valuable security features as well, such as user authentication and HDD encryption.
User authentication controls restrict who can use the machine and when it is used. A job will not be completed until a user swipes their card or enters their code. Along with these features, this model benefits from a Ricoh-only operating system, which protects against OS-specific attacks on more common systems.
Ricoh Customer Support
Ricoh offers a number of different avenues of customer support. First, its customer support center is available 8 a.m. to 5 p.m. (CST), Monday through Friday. You can also reach a sales representative using a contact form on the company's website.
Ricoh@Remote is the company's remote management system that notifies Ricoh service reps when the unit needs to be serviced. It also updates the unit's firmware and drivers.
MyRicoh is where you'll find support for your printer, supplies for purchase and more. Ricoh's Application site allows you to download apps that best fit your business needs. Some of the applications include toner gauge, smart integration advanced, ID card scan and copy, plus a number of apps that help you scan and print documents in a number of applications, includingG Suite, Office 365, DocuWare, etc.
You can find a product brochure, how-to videos and product warranty registration online. To get the best support for your printer, you'll want to register it online. You'll want to keep some information close by, e.g., receipt or invoice, when you fill out the warranty registration form. It asks for purchase and product information as well as information about your company.
Limitations
The IM C4500 is designed for a midsize office, and, as such, the price is higher than smaller MFPs. This copier can be quite expensive for a business with a small budget. In addition to it higher cost, this printer takes up more space than a home or compact office printer, and the weight – over 220 pounds – means it will be a group effort to move the unit.
Another drawback is this model only comes with the standard PostScript3 Emulation and PDF Direct Print Emulation. It does not come with Adobe PostScript3, like most other MFPs.
PostScript is available as an option, but it will bump up the costs of this unit. If your business uses Photoshop, Illustrator and PDF/X, you'll likely want to pay extra for PostScript 3.
Editor's note: Looking for the right copier for your business? Fill out the below questionnaire to have our vendor partners contact you about your needs.
Image Credit: Getty Images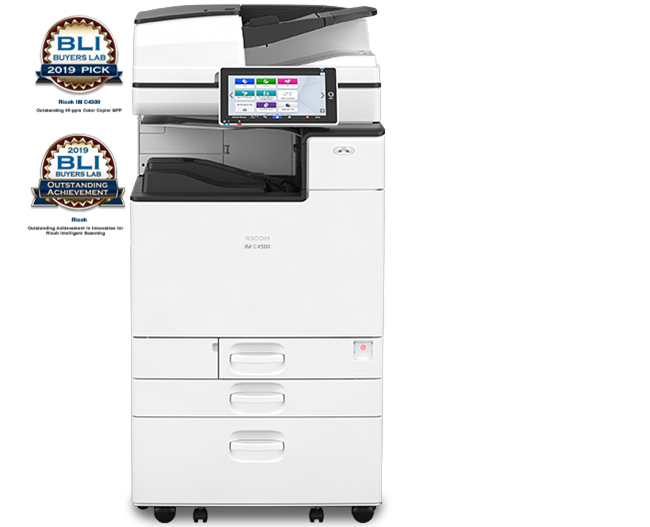 Ricoh IM C4500 MFP
The Verdict
Ricoh's IM C4500 is a color laser multifunction printer that will thrive in a midsize office.

Kayla Harrison
business.com Contributing Writer
Kayla Harrison is a current Writing Arts graduate student at Rowan University and editor at The Urban Howl. She began freelancing during her junior year of college and fell in love with it. You can learn more on her blog, insearchofthewritedirection.weebly.com.