Roland Texart XT-640 Dye-Sublimation Printer Review
The Roland Texart XT-640 Dye-Sublimation Printer is our best pick for fabric printing. This large-format printer can produce prints anywhere from 10.2 to 64 inches wide, and its versatility makes it a top option in the industry.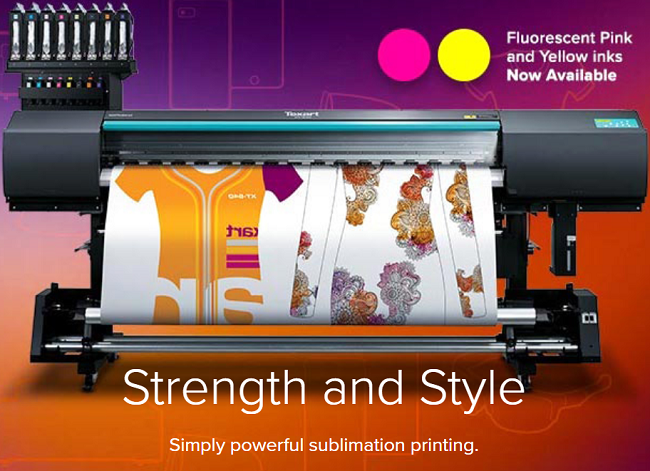 Roland Texart XT-640 Dye-Sublimation Printer
The Verdict
Thanks to its versatility, colors and durability, the Roland Texart XT-640 is business.com's best pick for fabric printing.
The prints are transferrable, which means the machine creates a print that is then transferred onto clothing or merchandise. The versatility of the printer and the dye-sublimation transfer printing make the XT-640 a great option for companies printing a lot of merchandise or clothing.
To view all our recommendations for wide-format printers, visit our best picks page.
Pricing
Unsurprisingly, this massive printer is expensive. It costs $29,995 to buy it, and leasing it costs $600 a month for 60 months. Depending on where you purchase it from, the leasing terms may vary.
The price and features take a standard small business working from an office out of the customer pool, but clothing shops, Etsy stores and businesses generating a lot of merchandise should consider the Texart XT-640.
Product Specs
At 111.7 x 32.7 x 65 inches and 471.8 pounds, the Texart XT-640 is on the larger side of the wide-format printers available. It can print at speeds of 1,098 square feet per hour, which is about 18.3 square feet per minute. (That's the printer's highest speed – not all prints will take that short a timeframe.) It supports media of up to 110 pounds.
The printer uses Texart ink, which comes in four- and eight-color packages. The wide range of colors, listed below, helps the printer produce eye-catching fabrics and clothing materials:
Cyan
Magenta
Yellow
Black
Light cyan
Light magenta
Orange
Violet
Fluorescent pink
Fluorescent yellow
By using so many different colors, especially fluorescent colors, the XT-640 produces eye-popping prints. These prints are ideal for transferring to fabrics, as the different colors create gorgeous patterns on clothing and merchandise. Most printers we researched don't offer the same variety of colors as this Roland model. By including fluorescents, orange and violet, you can create exceptionally bright and vibrant prints.
The maximum resolution on this printer is a respectable 1,440 dpi. This isn't the highest resolution of the printers we've seen on the market, but it's plenty good enough for producing prints for clothing. This type of printer doesn't require the same resolution or accuracy as printers designed for mapmaking or line drawings.
To save power, the printer has a setting that allows it to automatically shut off. This is helpful if you plan to use the printer intermittently. The printer does require about 5-20 minutes to warm up after being turned on, so turning the machine on and off will likely cause some delays in the production process.
When you order the printer, you will receive stands, a power cord, media clamps, a media holder, a software RIP, a replacement blade for the separating knife and a manual. This is a standard set of items to receive with a printer order.
Features
The Roland Texart XT-640 is designed for dye-sublimation transfer printing. That, unsurprisingly, is where it excels. If you're looking to use dye sublimation and transfer those prints onto merchandise or different fabrics, this printer is a quality option.
For those unaware, sublimation printing requires the use of transfer paper. By printing the designs or colors on a special transfer paper, you can then move the designs onto your desired fabric. This process normally involves a heat transfer, as sublimation inks rely on heat to create the desired color. Your initial print might not accurately reflect the eye-catching colors in the final product, as the heat transfer with the transfer paper and fabric will bring out those colors.
The transfer can make the entire printing process more complicated than using other printers, but the added difficulty is often necessary to create colorful designs on fabric. With the XT-640, the extra work is worth the end result.
We consider this the best wide-format printer for fabric printing because you can transfer the designs onto sportswear, soft signs and even items like couch cushions. That versatility in fabric printing makes it an excellent option for anyone producing clothing, merchandise or furniture designs.
The printer uses dual printheads and seven-droplet technology, both of which are designed to speed up the production process while also ensuring efficient and effective color creation. You can expect quality prints in a timely fashion with this printer.
The seven different dot sizes – which you won't find in many printers – help the XT-640 create detailed prints with staggering displays of color. Whether you're creating sports jerseys or merchandise, the ability to transfer vivid colors onto different fabrics is a big plus. Given the printer's great color gamut, using multiple dot sizes to showcase the different colors is a good decision by Roland, helping the XT-640 produce high-quality graphic images.
A unique offering of the printer is its four- and eight-ink modes. If you're looking to print quickly, you can use the four-ink mode and go with more basic prints that come out in a timely manner. The automatic bulk ink-switching system is particularly noteworthy when you use the four-ink mode. Once a packet of ink runs out, the printer automatically switches in the new ink, which keeps the print process running quickly. If you want greater detail and coloration and don't mind waiting a bit longer, the eight-ink mode is more effective.
The iPad printer assist is another feature users may enjoy. Coupled with the automatic ink switching, this feature allows the XT-640 to print without being constantly monitored. This can save businesses valuable time, as employees don't have to worry about switching the inks or adjusting the printer frequently.
To use the iPad printer assist feature, all you need to do is download Roland Printer Assist, a free app in the App Store. This allows you to manage the printer from an iPad, which can be a convenient way to take care of printing needs without monitoring the printer from right next to it.
A new media feed is another selling point for this printer. It accepts a range of thin to thick papers, which is an important feature if you're looking to transfer prints onto fabric. The printer uses a vacuum to keep the paper flat as it's being loaded into the machine.
The XT-640 is one of the better sublimation printers on the market. The image quality, color range and versatility are among the best you can find. While the high price might keep some small businesses away, renting the printer can ease the financial burden. It's a top wide-format printer whose numerous features set it apart from the competition.
Customer Support
Roland offers a two-year warranty on this printer, which is one of the best warranties of any printer on the market. To ensure you get the second year of the warranty at no charge, you need to register your printer within 60 days of the purchase, and you must exclusively use Roland inks for the duration of the warranty. Both are standard warranty requirements, and some companies include those same guidelines to receive just a one-year warranty. While you likely won't buy a printer because of its warranty option, the additional year of a free warranty is a nice bonus on top of this printer's other features.
Image Credit: wir0man / Getty Images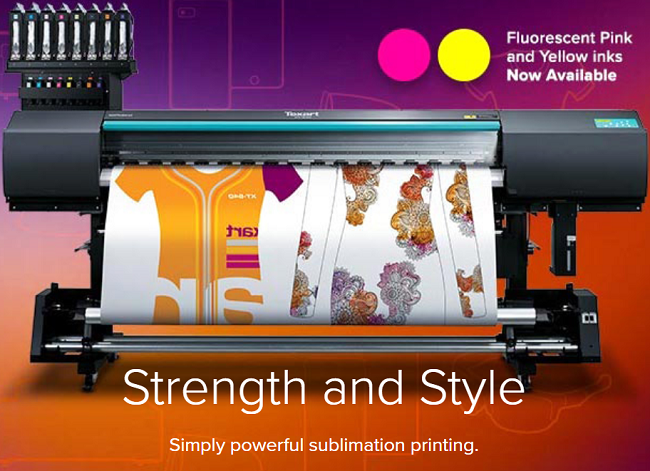 Roland Texart XT-640 Dye-Sublimation Printer
The Verdict
Thanks to its versatility, colors and durability, the Roland Texart XT-640 is business.com's best pick for fabric printing.

Andrew Martins
business.com Staff
Andrew Martins has written more than 300 articles for business.com and Business News Daily focused on the tools and services that small businesses and entrepreneurs need to succeed. Andrew writes about office hardware such as digital copiers, multifunctional printers and wide format printers, as well as critical technology services like live chat and online fax. Andrew has a long history in publishing, having been named a four-time New Jersey Press Award winner.