Sage Payroll Review
By Chad Brooks
Last Modified: January 24, 2019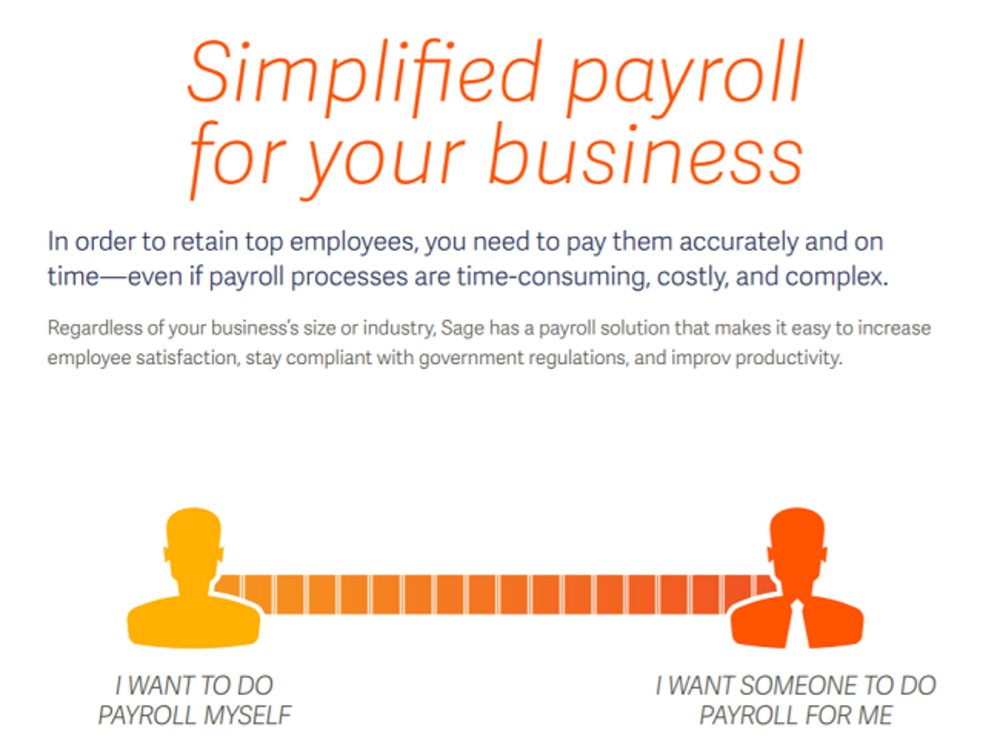 Sage aims to simplify the payroll process for businesses, handling all your payroll tasks for you – including all payroll tax obligations if you choose.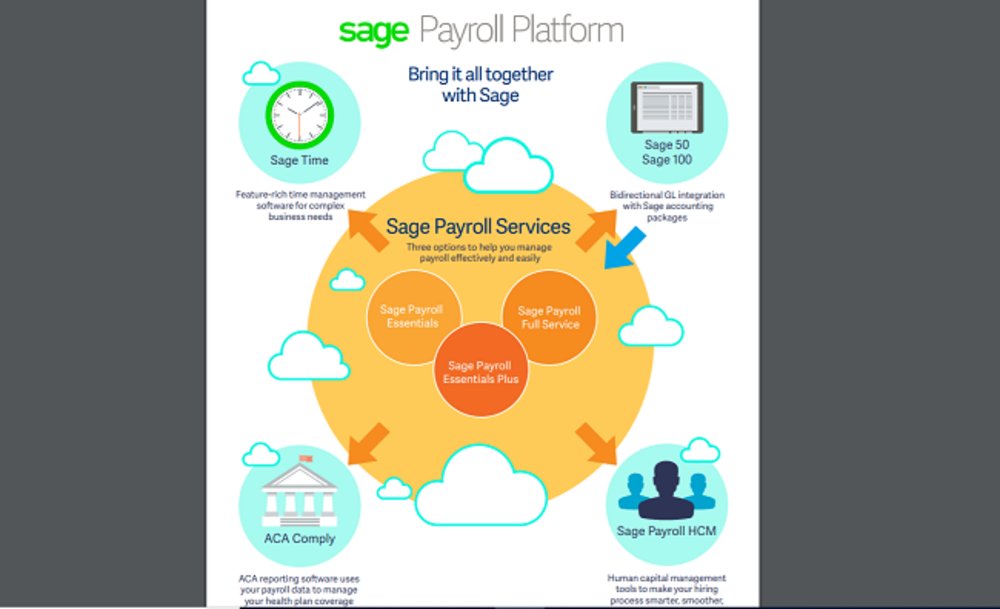 Sage's payroll software seamlessly integrates with multiple other services to streamline the process.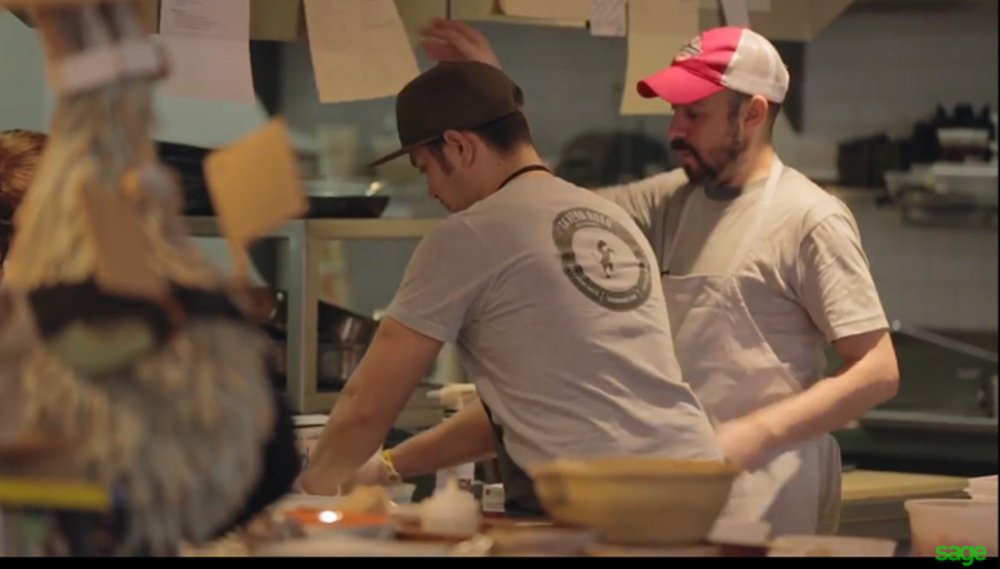 The company's website features a short video that showcases a satisfied customer.
With Sage, you have the option of a plan that handles only payroll processing or both payroll processing and payroll taxes. The system seamlessly integrates with the company's accounting software as well as other services, such as time and attendance systems and retirement plans.
Read our reviews of other top payroll companies, see answers to online payroll frequently asked questions and review a complete vendor list on our online payroll best picks page.

Pricing
Pricing for Sage Payroll depends on your service plan. Pricing for the Essentials Plus Plan is $49.95 per month for up to 10 employees. For businesses with more than 10 employees, there is an additional charge of $1.75 per employee per month.
Pricing for the Full Service plan is based on number of employees and how often you run payroll. Unlike the Essentials Plus Plan, the Full Service plan charges on a per-payroll basis. For a business with 10 employees, we were quoted a price of about $57 per payroll. For each additional employee, the cost increases by about $2 per payroll.
With all payroll options, Sage charges fees for its year-end tax service. There is a base fee of $50, plus $5.50 per employee.
Sage Payroll Service Plans
Sage Payroll is available in three service plans: Essentials, Essential Plus and Full Service.
The Essential and Essentials Plus plans are designed for employers with 10 employees or fewer. That being said, Sage representatives told us that the Essentials plans can support more than 10 employees if need be. Both plans include full payroll processing. Payroll data can be entered online or via mobile devices, and employees can be paid by direct deposit, paper check or prepaid debit card.
The biggest difference between the Essentials and Essentials Plus plans is the handling of payroll taxes. The Essential plan does not include any payroll tax service, while the Essentials Plus plan handles all payroll tax obligations. This includes calculating, filing and paying your payroll taxes to the proper agencies. Both of these plans allow for 11 predefined deductions, five predefined departments, 26 standard payroll reports, integrations with Sage accounting software, a QuickBooks interface and access to the HR compliance center.
Sage's Full Service plan is designed for organizations with more than 10 employees. It handles all payroll processing and payroll tax obligations. The plan also allows businesses to submit payroll information via phone and fax, and it offers an unlimited number of deductions, more robust department options, a wide array of reports, expanded general ledger exporting capabilities, and direct access to a dedicated payroll expert with the American Payroll Association.
The Full Service plan also provides more of a personal touch when it comes to setting up the software. On this plan, Sage handles all of the work. With the Essentials plans, businesses are responsible for inputting all of the information on their own.
Additional Considerations
These other features make Sage a strong payroll service option:
All of the service plans allow employees to log in to the system to view their paystubs and year-end tax forms.


All service plans include phone and online chat support, plus access to the company's online knowledgebase.


The system integrates with Sage's time and attendance system. It tracks paid time off, overtime and tardiness.


Sage offers a variety of other services to payroll users, including employee screening, pay-as-you-go workers' compensation, retirement plan administration and flexible spending administration.
We were happy with the customer service we received from Sage when we reached out by phone, posing as a small business owner interested in payroll services. Our call was answered immediately by a helpful representative, who was friendly and answered all of questions thoroughly. By the end of the call, we had a clear understanding of what Sage Payroll offers, how it works, the differences between the service plans and how much each plan costs.
Drawbacks
Sage's Full Service plan charges on a per-payroll basis. This means that you pay for each payroll you run. This can get costly, depending on how many times you process payroll each month.

We were frustrated with Sage's live chat help tool. It took over 20 minutes for a representative to chat with us. When they did connect with us, they weren't able to answer any of our basic questions.
It's also disappointing that Sage is not an accredited member of the Better Business Bureau and has an F rating. As of September 2018, Sage has had eight complaints filed against it.

Ready to choose your The Best Online Payroll Services 2019? Here's a breakdown of our complete coverage:

Chad Brooks
Chad Brooks is a Chicago-based writer and editor with nearly 20 years in media. A 1998 journalism graduate of Indiana University, Chad began his career with Business News Daily in 2011 as a freelance writer. In 2014, he joined the staff full time as a senior writer. Before Business News Daily, Chad spent nearly a decade as a staff reporter for the Daily Herald in suburban Chicago, covering a wide array of topics including local and state government, crime, the legal system and education. Chad has also worked on the other side of the media industry, promoting small businesses throughout the United States for two years in a public relations role. His first book, How to Start a Home-Based App Development Business, was published in 2014. He lives with his wife and daughter in the Chicago suburbs.