Sekure Merchant Solutions Review
By Lori Fairbanks
Last Modified: May 20, 2019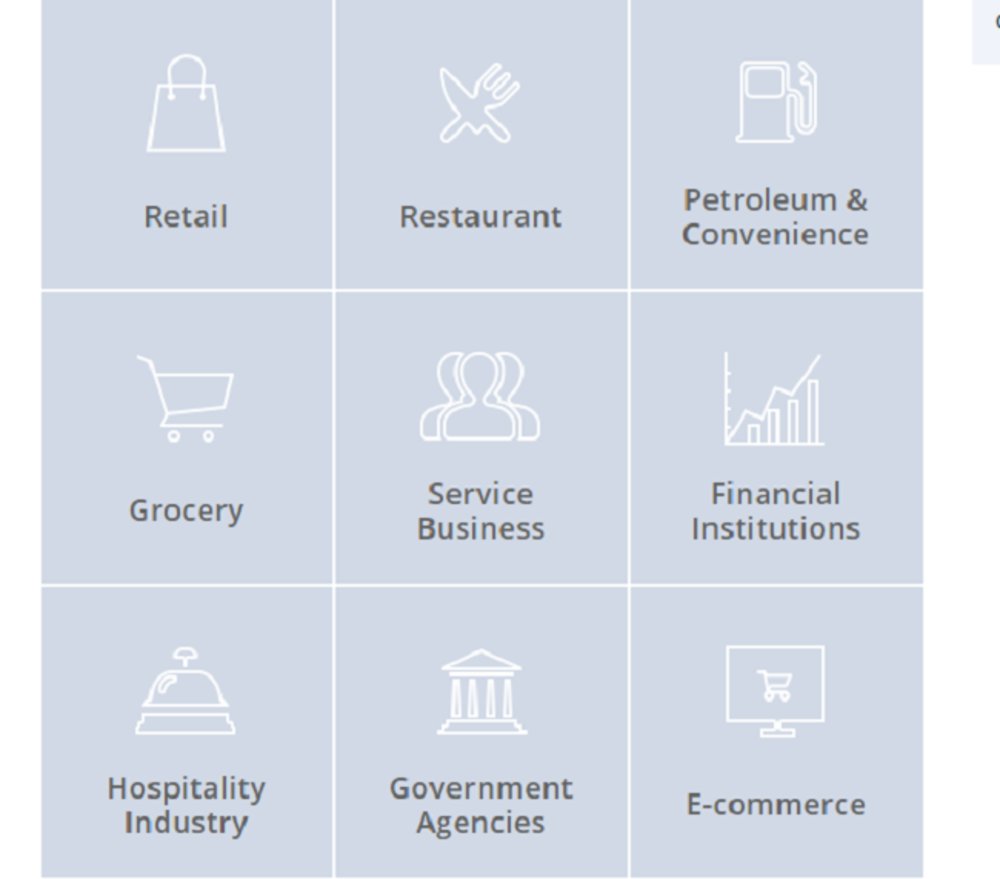 Sekure Merchant Solutions works with several processors to offer in-person, mobile and online credit card processing to businesses in many industries, including retail, restaurants and service-based businesses.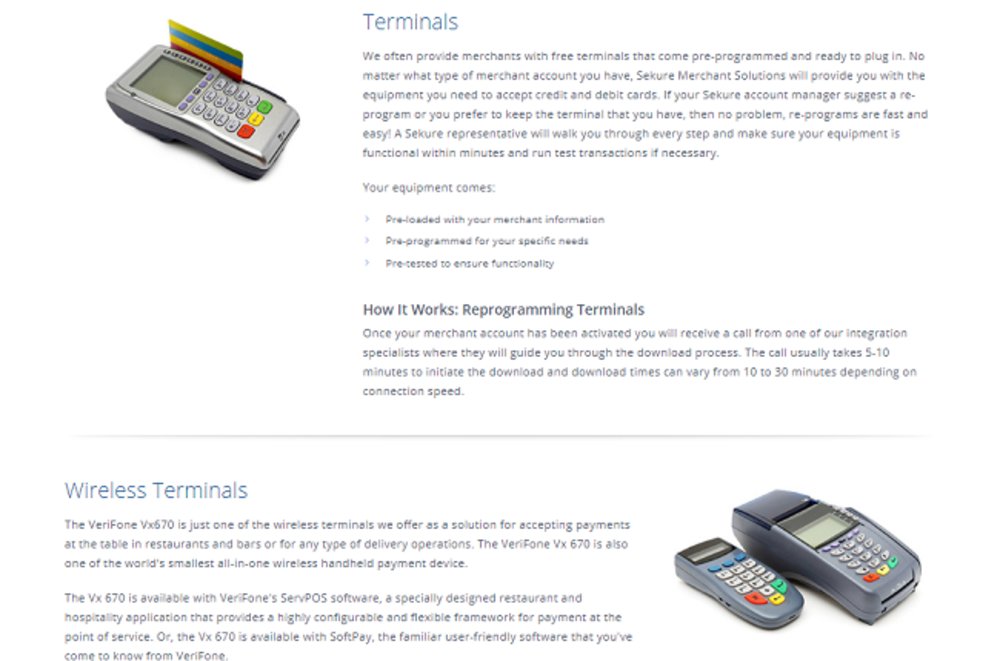 This processor can set you up with terminals or possibly reprogram your existing processing equipment.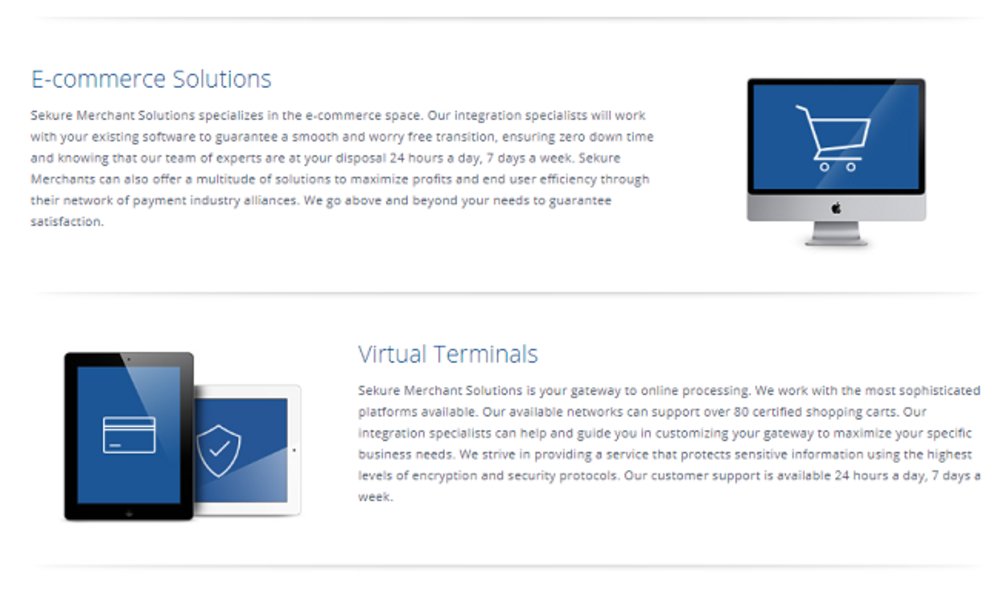 Online credit card processing solutions are also available from this processing company.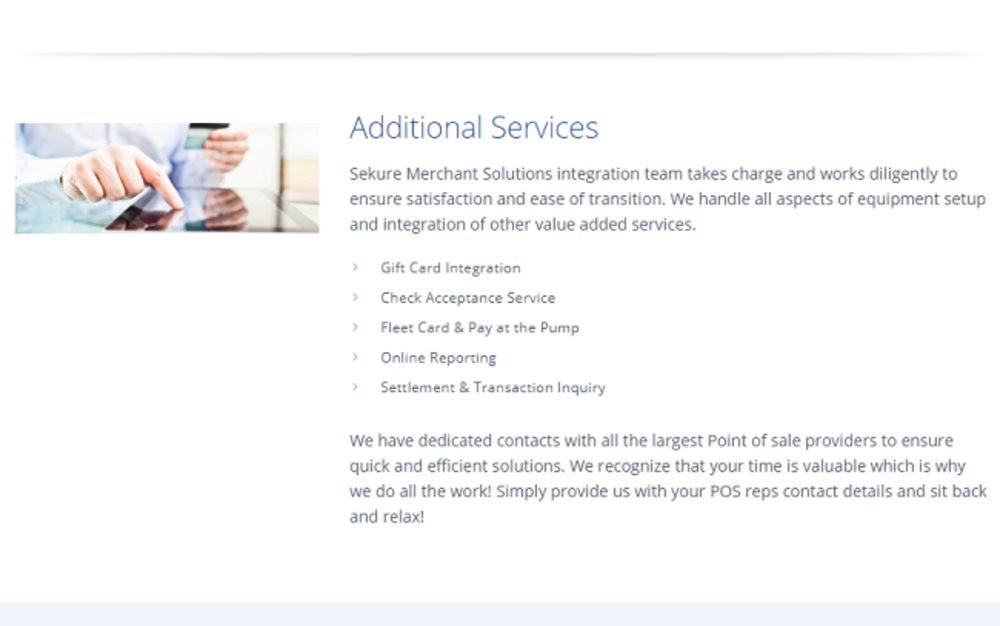 You can add other services to your account, such as check acceptance, gift cards and loyalty programs, and merchant cash advances.
Sekure Merchant Solutions, also known as Sekure Cost Review, is a credit card processing company that's been in business since 2006 and serves more than 20,000 businesses. It's headquartered in Montreal and also has a New York address. It works with multiple processors to provide in-person and online credit card processing services. Sekure Merchant Solutions pairs its merchants with a dedicated account representative and seeks to offer them long-term processing solutions with competitive pricing. You need to be currently processing to work with this company.
Visit our best picks page to see all our recommendations for credit card processing companies.

Pricing and Terms
Sekure Merchant Solutions' website says it can get you the lowest credit card processing rates, but it doesn't disclose any information about its rates, fees or terms online. You must contact the company directly for a pricing quote, and sales reps review your current processing statement or 1099-K form before they provide you with a pricing quote so they can beat your current rates.
Rates
This credit card processing company can offer you either tiered or interchange-plus pricing, whichever is the best fit for your business. When we contacted the company as a small retail business, we were quoted 0.5 percent plus 25 cents above interchange. The sales rep stressed that they could give us a better, more accurate pricing quote if we provided our current processing statement for them to review.
Fees
We were also quoted a $25 monthly fee and told that, depending on the processor the company set us up with, there may be a monthly minimum. Some of the processors Sekure works with charge setup fees up to $99, but you may be able to waive this fee. PCI compliance fees range from $65 to $119 per year, though some processors prorate it and charge it monthly instead of annually.
Terms
This company works with processors that have standard merchant service agreements with 36-month terms. If you choose to exit your contract before the end of the term, there is an early cancellation fee.
Features
Sekure Merchant Services can set you up with a merchant account from several processors, and you can accept credit cards in person at a brick-and-mortar location, on the go and online. It works with businesses in many industries, including retail, restaurant, fuel, grocery, hospitality, professional services and e-commerce.
Processing Equipment Options
Countertop terminals, POS systems and mobile credit card readers are available. Specific equipment and costs depend on the processor Sekure Merchant Solutions sets you up with. The rep we spoke with said the company tries to set you up with a processor that has a free placement program.
Keep in mind that if you accept free equipment or participate in a free placement program, you may be required to sign a lengthy processing contract, and there may be an additional monthly fee for insurance, service or maintenance. You'll want to read the contract to make sure you understand exactly what you're agreeing to and how much it will cost you. In most cases, you'll be required to return the equipment if you close your account, so you'll want to ask about restocking fees and wear-and-tear penalties.
Processing Equipment Reprogramming
If you already own a credit card terminal or point-of-sale hardware, Sekure Merchant Services may be able to reprogram it for you so you can continue using it.
Other Services
Sekure Merchant Solutions offers additional services to help you run your business, such as check acceptance, gift cards and loyalty programs. Merchant cash advances are also available to qualified merchants.
Additional Considerations
Sekure Merchant Services offers 24/7 customer support, and live chat is available on the company's website from 8 a.m. to 5 p.m. EST. When you initiate a chat, the form asks for your merchant identification (MID) number, which is somewhat unusual, but all you need to supply is your name to begin the chat. The representative we spoke with was reluctant to provide pricing information unless we provided processing statements, but polite and patient in answering our questions.

Drawbacks
Sekure Merchant Services doesn't work with businesses that aren't already processing, so if your business is new or doesn't yet accept credit cards, this isn't the processing company for you.
The company lacks pricing transparency. It doesn't disclose its rates online and isn't as forthcoming as other companies with its pricing when you request a quote. It also requires you to provide more information than other processors to provide this quote. Where most processors ask a few questions about your business type, industry, monthly processing average and ticket size, Sekure requires you to submit your previous processing statement.
Editor's note: Need a credit card processing solution for your business? Click the Compare Quotes button below to have our sister site Buyer Zone connect you with vendors that can help.

Ready to choose your The Best Credit Card Processors of 2019? Here's a breakdown of our complete coverage:

Lori Fairbanks
Lori Fairbanks has years of experience writing and editing for both print and online publications. After graduating from Brigham Young University with a Bachelor of Arts in English, she worked as a magazine editor and then as a freelance writer and editor for a variety of companies, including marketing firms and a medical university. She now writes for Business.com and Business News Daily about financial systems and services for small businesses, such as accounting software, credit card processing and point-of-sale systems.