SiteGround Review
By Matt D'Angelo
Last Modified: January 4, 2019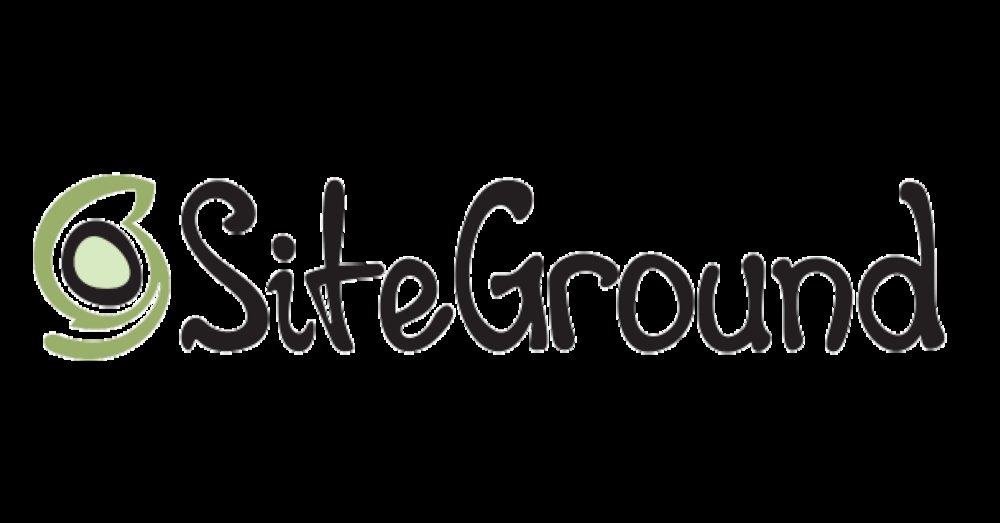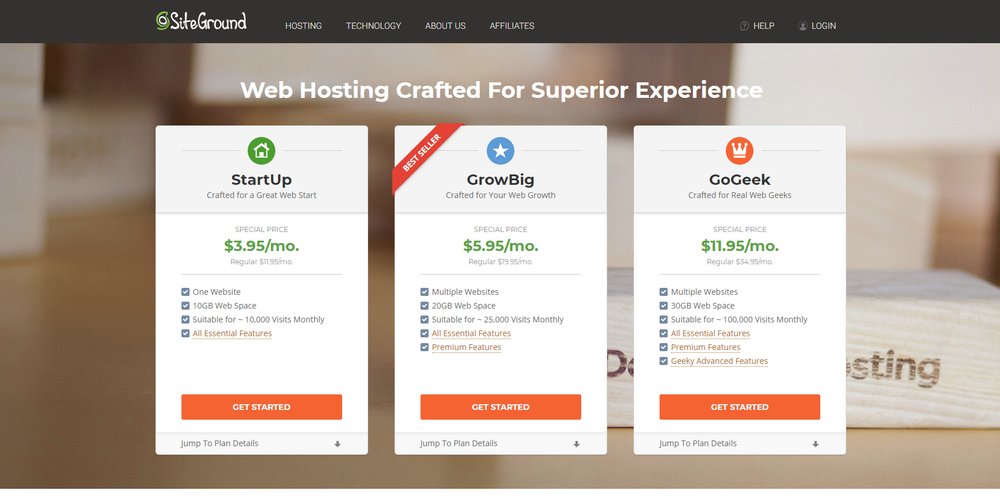 SiteGround has three shared hosting solutions available that range between 10GB and 30GB. All plans include a drag-and-drop builder, free site transfer and email accounts.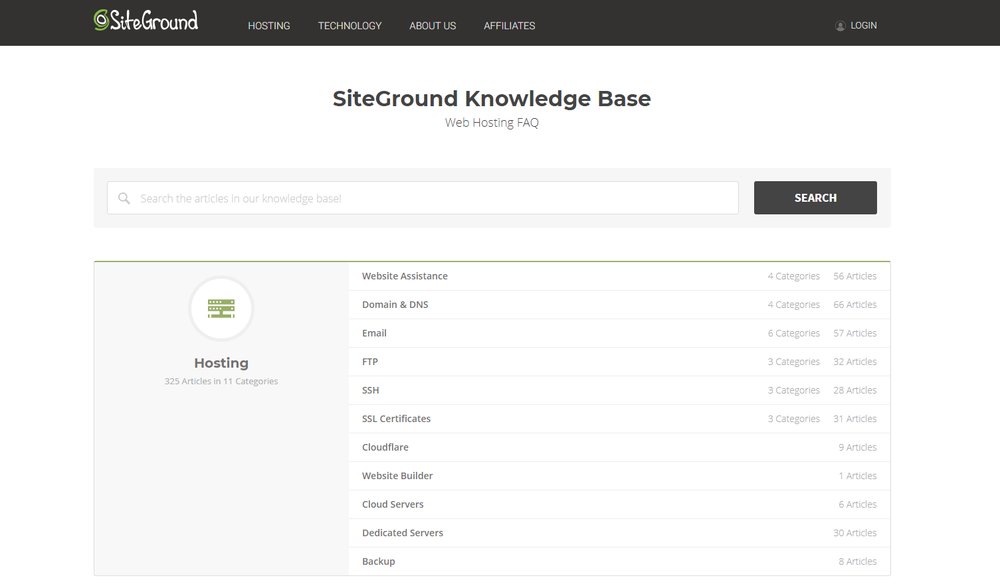 In addition to its phone and live chat support, SiteGround also has a knowledgebase, tutorials, a blog and webinars on its website to help answer questions.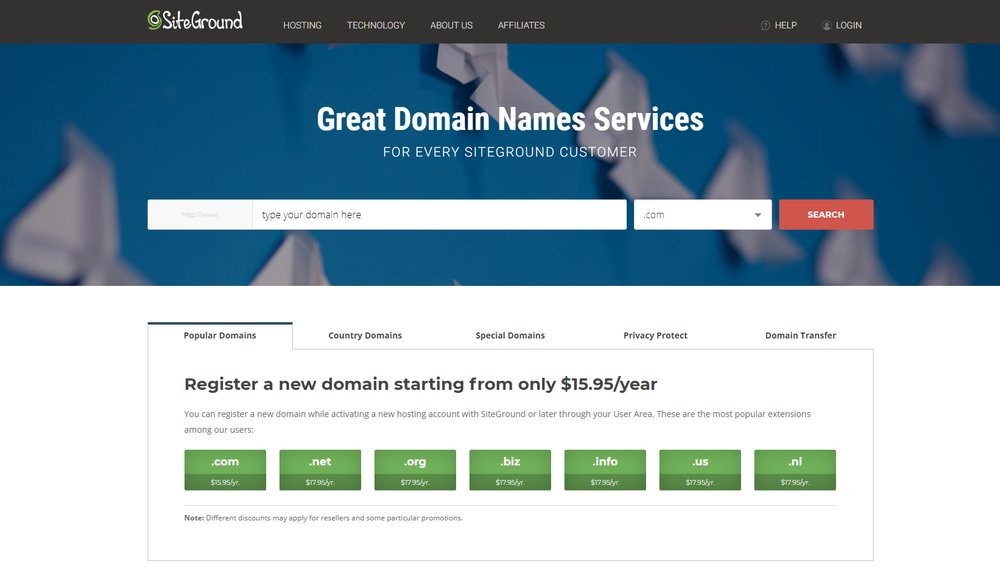 Like most web hosting services, SiteGround can help you register for a domain name. However, new domain names start around $15.95 at SiteGround, while other solutions typically offer a free domain name for a year.
SiteGround provides various web hosting services to small businesses and enterprises. If you partner with SiteGround, you'll have access to shared hosting, dedicated servers, cloud hosting, reseller hosting and enterprise hosting. This is a full-fledged offering. A lot of web hosting companies we reviewed will only offer a handful of these services. Each type of service includes multiple plans and structures to choose from, so you'll have multiple options when you're ready to sign up.
View all our recommendations for web hosting services on our best picks page.

SiteGround is one of the few companies we reviewed that actually breaks things down for its customers. Instead of pegging its bandwidth as "unlimited," it breaks down what plan is ideal for what number of monthly visitors. This added effort separates SiteGround from competitors.
SiteGround has a good online reputation and presence. It earned an A with the Better Business Bureau and has solid reviews online. SiteGround has been providing businesses with web hosting services since 2004. If you sign up for SiteGround's services and aren't satisfied, you can get a full refund if you cancel within the first 30 days. This type of offering is typical of other web hosting companies but still a nice perk. Overall, SiteGround provides solid services on multiple plans for small businesses.
Pricing
SiteGround provides three plans for its shared hosting services. There's a StartUp, GrowBig and GoGeek plan. The StartUp plan is the least-expensive plan. It's listed at $3.95 per month. The GrowBig and GoGeek plans are for larger businesses that need larger sites and are priced at $5.95 and $11.95.
All of these price points are promotional pricing. Almost every company we reviewed offered promotional pricing to attract new customers. The regular prices are $11.95 for StartUp, $19.95 for GrowBig and $34.95 for GoGeek. SiteGround doesn't detail what the difference is between its promotional and regular pricing.
Some companies will charge customers the promotional pricing for the first year and then raise prices. Others raise prices after the first month. Some companies provide the promotional rate for the entire term of the contract, even if it's multiple years. Regardless of your situation, if you're interested in SiteGround's services, this is a good question to be aware of and ask the company before you sign up.
SiteGround offers terms ranging from 1 to 3 years. The company lists all the features for its plans here. It's transparent about most of the features it provides. All the plans have essential features, like SSD storage, free app installs and unmetered traffic. The GrowBig and GoGeek plan have advanced features like free backup restores and other features. All plans include access to 24/7 support via phone, chat or an email ticketing system.
You can sign up for a month's trial service for a reduced rate and setup fee. The rate doesn't change based on the term you sign up for, but according to SiteGround's purchase page, you could enjoy the promotional pricing on the three-year contract term.
Should you cancel your service, you won't be charged any additional fees for cancellation. Depending on your agreement with SiteGround, you may be responsible for leftover fees and charges. As with the overall pricing structure, fees are another good topic to work with SiteGround representatives on.
SiteGround details all the information related to pricing, fees and cancellation in its terms of service agreement. You can view those documents by clicking the links on this page from SiteGround's website.
Features
SiteGround offers robust features and provides a solid breakdown of what is included in each plan. Besides some minor differences, all of the plans are fairly similar.

Businesses can enjoy unmetered data transfer, a free drag-and-drop builder, email accounts and basic security features. All of the plans have access to the same support levels. Some companies we reviewed tiered support where higher-level clients have access to better support options.
Storage and bandwidth: SiteGround is one of the few companies we reviewed that actually defines its storage and bandwidth. While it lists the bandwidth as "unmetered" (which is consistent with most web hosting companies), it breaks down what each plan supports in terms of monthly visits. The StartUp plan supports roughly 10,000 monthly visits, the GrowBig plans supports 25,000 monthly visits, and the GoGeek plan supports around 100,000 monthly visits. Storage varies between 10, 20 and 30GB for each plan. This kind of transparency is a major draw to SiteGround's services. Instead of trying to shroud its offering in promotional language, it tells its customers outright what it offers.Many companies list both storage and bandwidth as unmetered and then later detail that if a company goes over its allotted usage, it may have its service suspended until it comes back down. This is because servers are shared – there are several other companies with websites on your server. While SiteGround is not immune to overloaded servers, it lists a ballpark number for each plan so you can plan accordingly. It's not clear what happens if you exceed your allotted storage and bandwidth.
Security – For as much information as there is about storage and bandwidth, SiteGround doesn't provide a lot of details about its security features. Some companies include SSL encryption information, DDoS protection details and RAID 10 information. Siteground provides SSL encryption, but there isn't a lot of information about other types of security. It offers power redundancy, hardware redundancy, LXC-based stability and anti-hack systems. It also has SPAM prevention. Overall, it's a good offering, but more information, especially around DDoS protection and RAID 10 redundancy, would be ideal for small businesses.
Cancellation policy – SiteGround won't charge you additional fees if you cancel your service before your contract fees. You may, however, have to pay outstanding fees and charges associated with your account. Cancellation depends largely on your own business's situation and agreement with the company.
Pre-installed apps – SiteGround provides solid integrations. You'll have access to the latest version of cPanel to control and monitor your website. SiteGround also partnered with Softaculous, which allows users to install more than 300 different apps. This includes applications like WordPress, Joomla and Drupal, as well as many more. SiteGround's integrations are another area where it excels. Not all the companies we reviewed provide access to Softaculous.
Types of hosting offered
In addition to shared hosting, SiteGround provides cloud hosting, dedicated servers, reseller hosting and enterprise hosting. They also provide WordPress hosting. The above pricing and terms are specific only to its shared hosting plans. However, the company provides a good mix of services and plans for its other types of hosting.
There are multiple cloud hosting plans, ranging from $80 to $240 per month. The dedicated servers also range by cost and plan. As with cloud hosting, these plans are much more expensive than shared hosting.
Reseller hosting takes on a completely different structure and is different from cloud hosting and dedicated servers. WordPress hosting is on a par pricewise with the shared hosting plans. Overall, SiteGround offers robust services and has an answer for any business's hosting needs. Even enterprise companies can sign up for hosting with SiteGround.
Domain transfer
SiteGround provides free site transfers for its GrowBig and GoGeek plans. StartUp plan members may still have to pay to transfer their sites. Customers may also have to pay a yearly fee for their domain name. This is standard with other web hosting companies as well.
According to SiteGround's purchase page, it costs around $16 for domain registration. As with some of the other aspects of SiteGround's services, this is a good thing to talk to a sales representative about before signing up. The answer will vary based on your plans and needs, so it's a good idea to check in and see what your business will be on the hook for should you sign up.
Reported Uptime
SiteGround, like all web hosting companies, claims to have 99.9 percent uptime. While this could be true, the reality of shared hosting plans means that you may experience some downtime. SiteGround is one of the few companies we reviewed that is committed to bettering your service if it falls short of its 99.9 percent uptime goal.
In the terms of service agreement, the company says it will provide one month of free hosting for uptime that falls from 99.9 percent down to 99.0 percent. You can receive a month of free hosting for every additional 1 percent of uptime lost.
There are some stipulations, which you can review here under section 5.2, but SiteGround's commitment separates it from competitors. Many other companies won't provide credits or free hosting for downtime.
Reputation and customer service
SiteGround has a solid online reputation. It earned an A with the Better Business Bureau and has a 4.26 rating. It also only had 16 total customer complaints. This is impressive considering its BBB file has been open since 2010. Other companies we reviewed did not score nearly as high with the Better Business Bureau.

Drawbacks
The only drawback of SiteGround's service offering is it's more expensive than some of the other companies we reviewed, although not by much. If you're interested in the service offering and the cost isn't an issue, SiteGround provides solid web hosting services.

Ready to choose your The Best Web and Cloud Hosting Services of 2019? Here's a breakdown of our complete coverage:

Matt D'Angelo
Matt D'Angelo is a Tech Staff Writer based in New York City. After graduating from James Madison University with a degree in Journalism, Matt gained experience as a copy editor and writer for newspapers and various online publications. Matt joined the staff in 2017 and covers technology for Business.com and Business News Daily.