SlickText Review
By Business.com Editorial Staff
Last Modified: March 13, 2019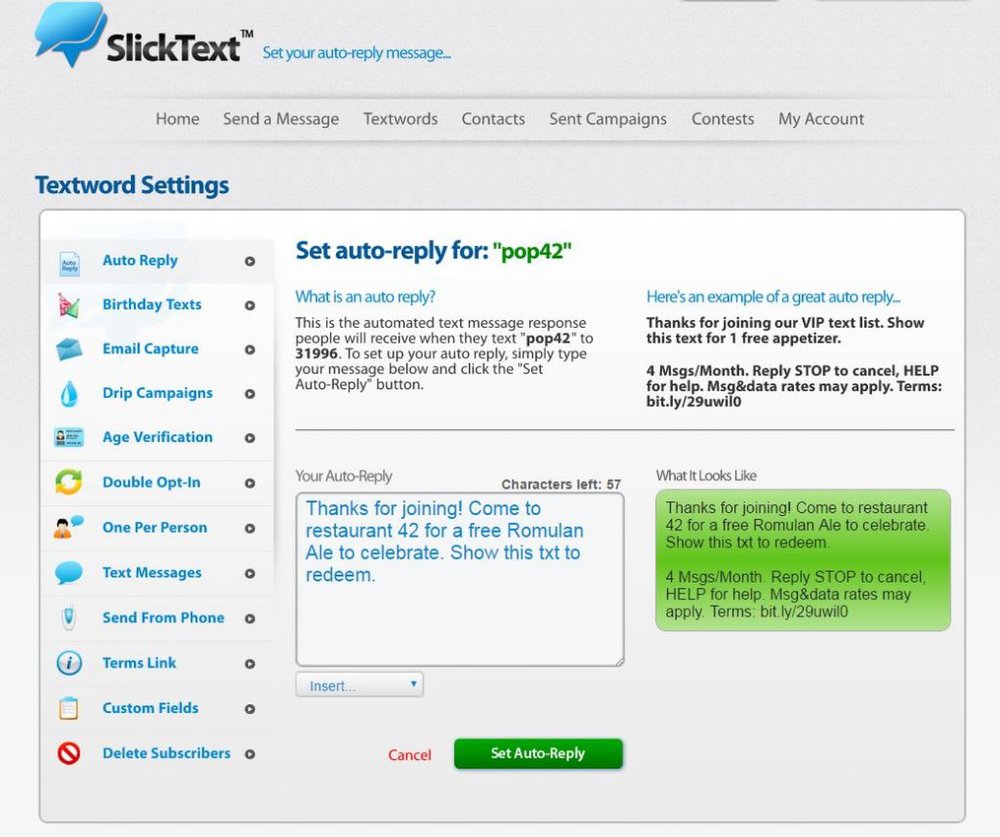 SlickText image: You can add an auto reply that customers will receive when they respond to your keywords.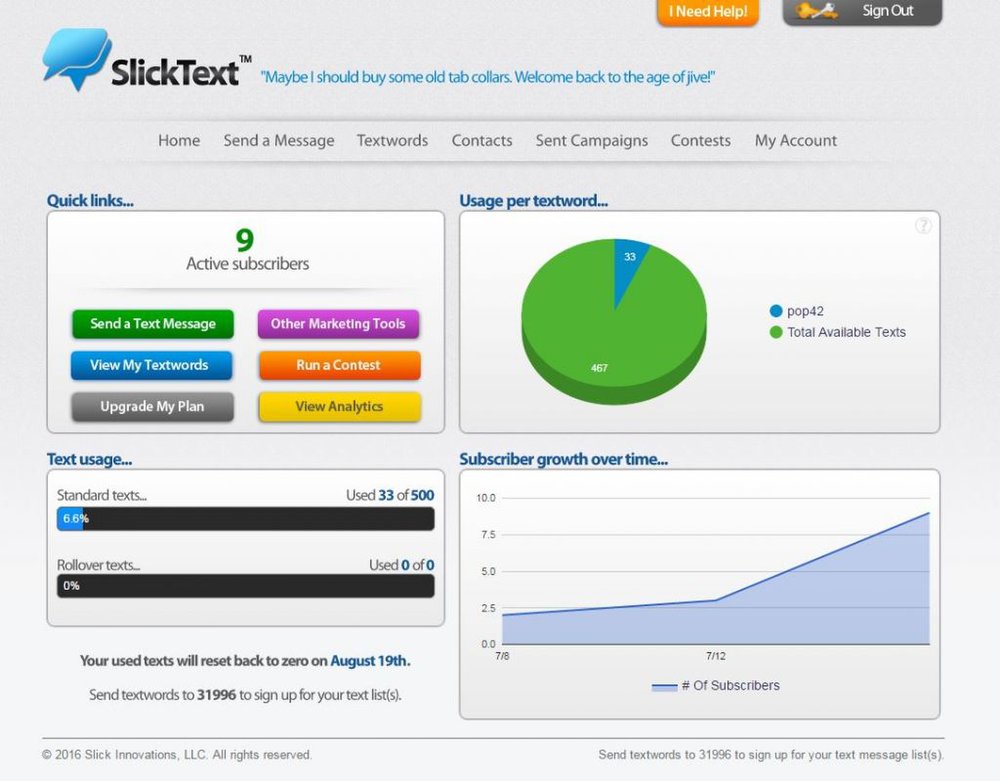 SlickText image: The user dashboard shows your active subscribers, text usage and usage per each keyword.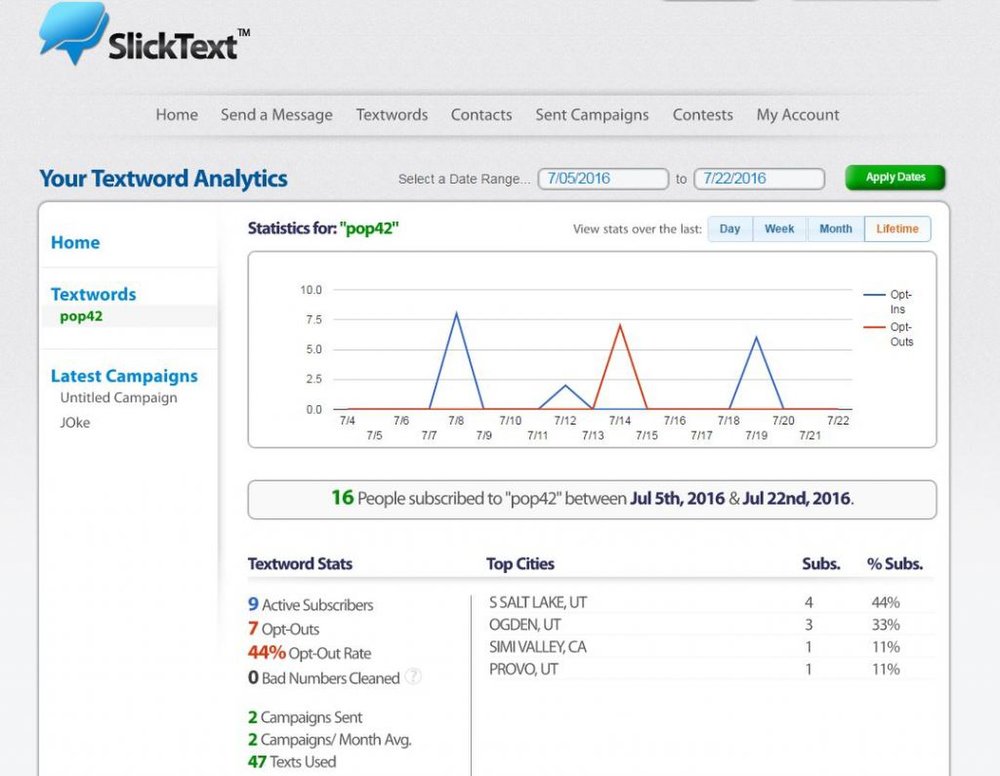 SlickText image: The text analytics show you stats and top cities where your subscribers are.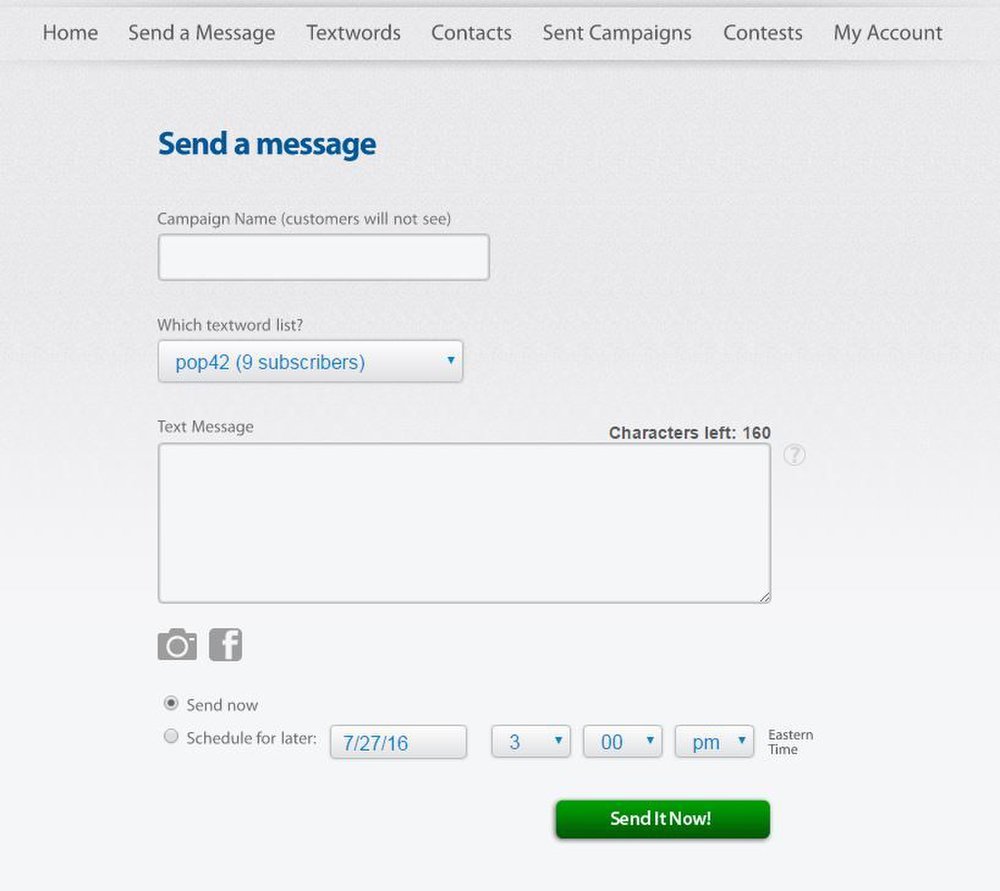 SlickText image: You can send specialized messages to customers and groups.
This SMS marketing service offers an array of text message marketing features and reporting functions that allow you to ramp up your marketing efforts. Through SlickText's easy-to-use interface, you can manage your mobile marketing campaign and facilitate greater two-way communication with your contacts. This service brings features like voting and polling, personalization, keyword management, and more to your marketing campaign to help you achieve your business goals.
When we reviewed SlickText's SMS services, we evaluated its Step Up plan, as it is comparable to the plans we reviewed for other services in our review. This plan allows for 1,000 outbound messages per month; inbound messages are free. You are also allowed up to four keywords, which are what customers text in to your short code to receive a prewritten response. SlickText's Step Up plan is competitively priced, making it affordable for many small businesses.

SlickText provides a variety of communication features intended to cultivate two-way communication with your contacts. When creating a marketing plan, it is not enough to push out messages randomly to consumers, which makes features like message personalization especially important.
With message personalization, you can create messages for consumers who haven't stopped by in a while or send a targeted message to people on their birthdays. You can also set up automated messages and drip campaigns, which allow you to plan text messages in advance.
Additional features include auto-reply, voting and polling, and multimedia messaging. In our tests, Slick Text received high scores in all three messaging areas, earning two 100 percent scores and a 90 percent in multimedia messaging. These higher scores make SlickText one of the most reliable SMS text services we evaluated. This is important, since you can rely on SlickText to deliver your campaigns to your subscribers.
Campaign management features include the ability to add unlimited contacts and groups. Group tracking is an especially useful feature that allows you to segment your contacts so you can target separate audiences instead of blasting everyone with messages that may not be relevant.
This SMS software offers a broad range of reporting features that enable you to track your mobile marketing campaigns. You can see which keywords are garnering the most traffic and adding contacts to your list.
Additionally, you can view subscription information, which lets you track opt-in and opt-out information, which is especially important since the Mobile Marketing Association (MMA) guidelines recommend that you keep this information for at least six months. However, SlickText does not provide reports on inbound responses, so it isn't readily apparent which of your customers are interacting with you, and what they are interested in and responding to.
Help and support provided by SlickText is enough to get your SMS service set up and provide answers for any questions you might have. You can reach a support representative via phone and email. Live chat is also available from 9 a.m. to 5 p.m. Eastern Standard Time weekdays (Monday through Friday), which is helpful if you need immediate help, though you'll have to look for answers by other means if you need help after hours or on a weekend.
You can also search the online knowledgebase and read the FAQs page for general answers and tips on setting up your text message marketing campaign. Video tutorials are available to give you additional assistance. These video guides can be especially helpful since they show you exactly what to expect in the program and how to answer common questions.

SlickText is a very strong platform. Its reliable service gives it a worthy position in our top three text message marketing services. You can count on SlickText to deliver your campaigns to your customers and subscribers. SlickText also offers extensive features to help you manage your campaign, keep track of your subscribers and facilitate a two-way interaction with your contacts. This service is quite easy to use and comes with strong support options. All of these features and its reliability make SlickText a top contender for a text message marketing service.

Business.com Editorial Staff
The purpose of our community is to connect small business owners with experienced industry experts who can address their questions, offer direction, and share best practices. We are always looking for fresh perspectives to join our contributor program. If you're an expert working in your field – whether as an employee, entrepreneur, or consultant – we'd love to help you share your voice with our readers and the Business.com community. We work hard to only publish high-quality and relevant content to our small business audience. To help us ensure you are the right fit, we ask that you take the time to complete a short application: https://www.business.com/contributor/apply/ We can't wait to hear what you have to say!