NetVizor Review
By Business.com Editorial Staff
Last Modified: August 22, 2018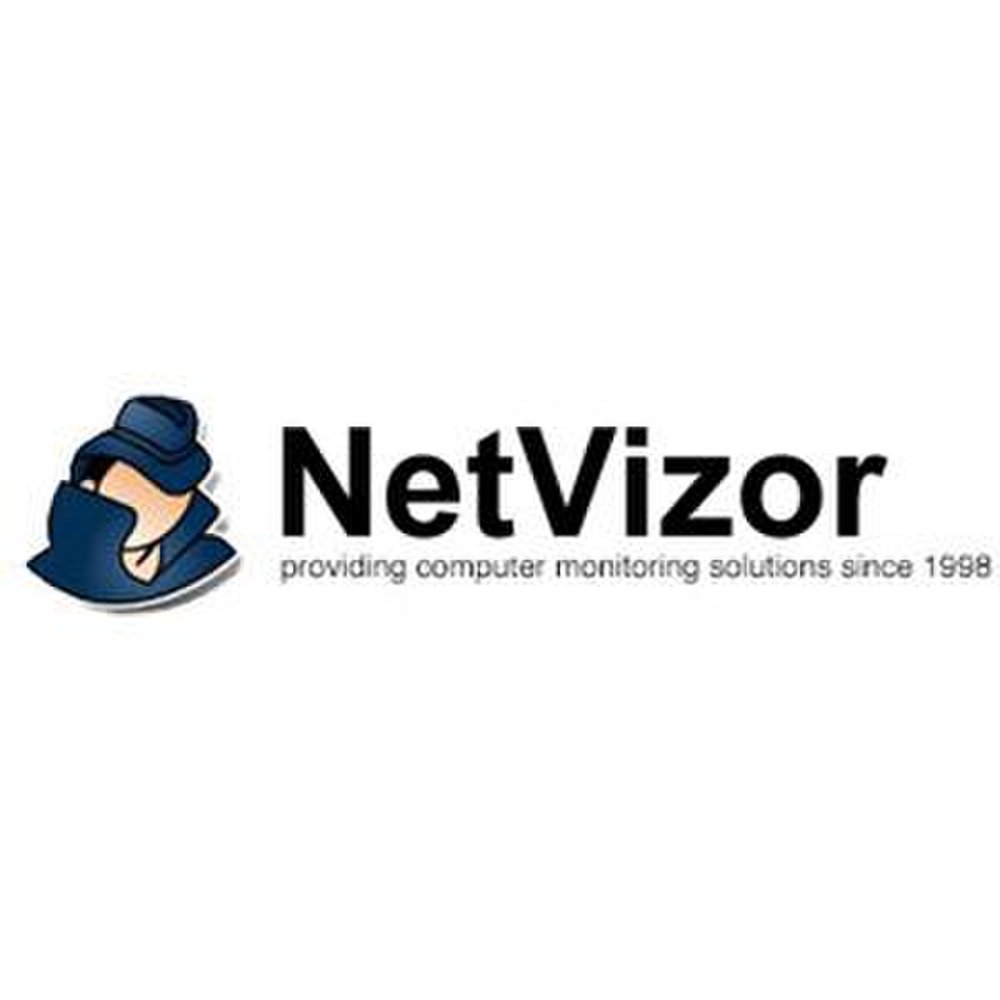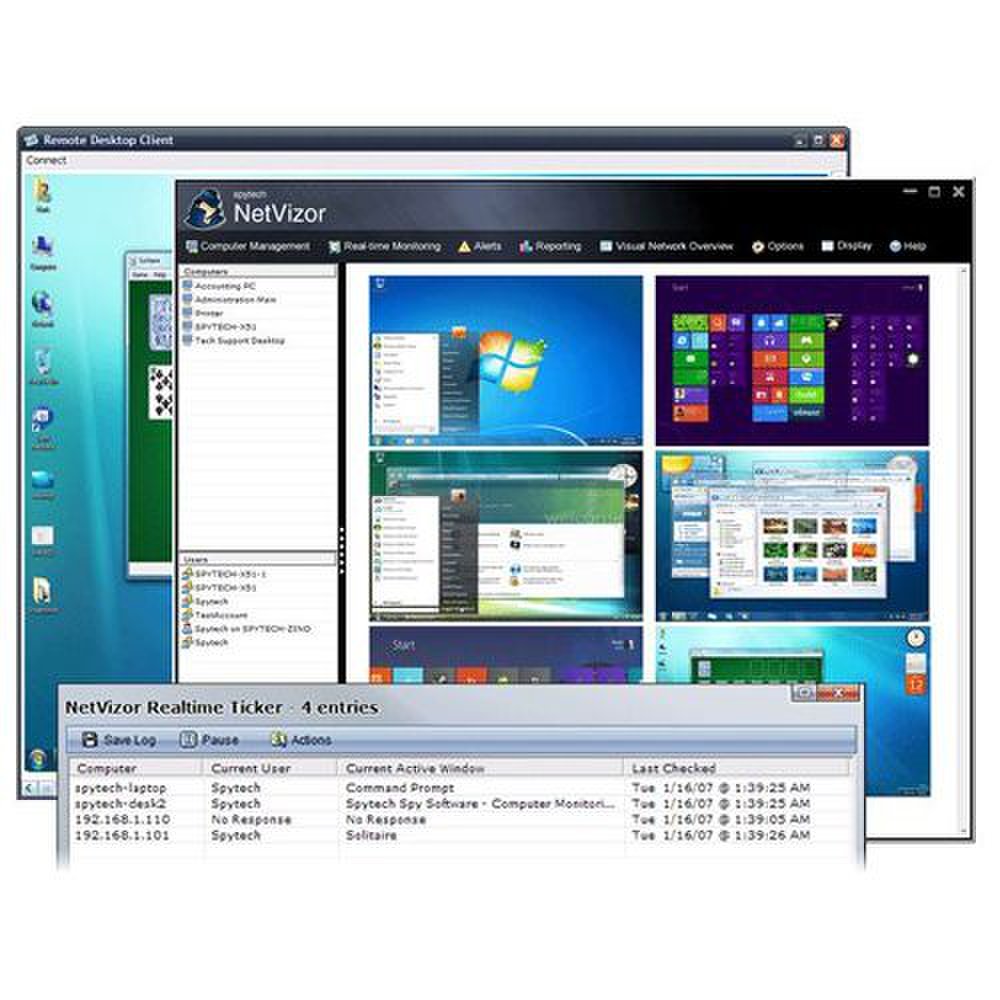 NetVizor image: This program lets you monitor several employee activities at once.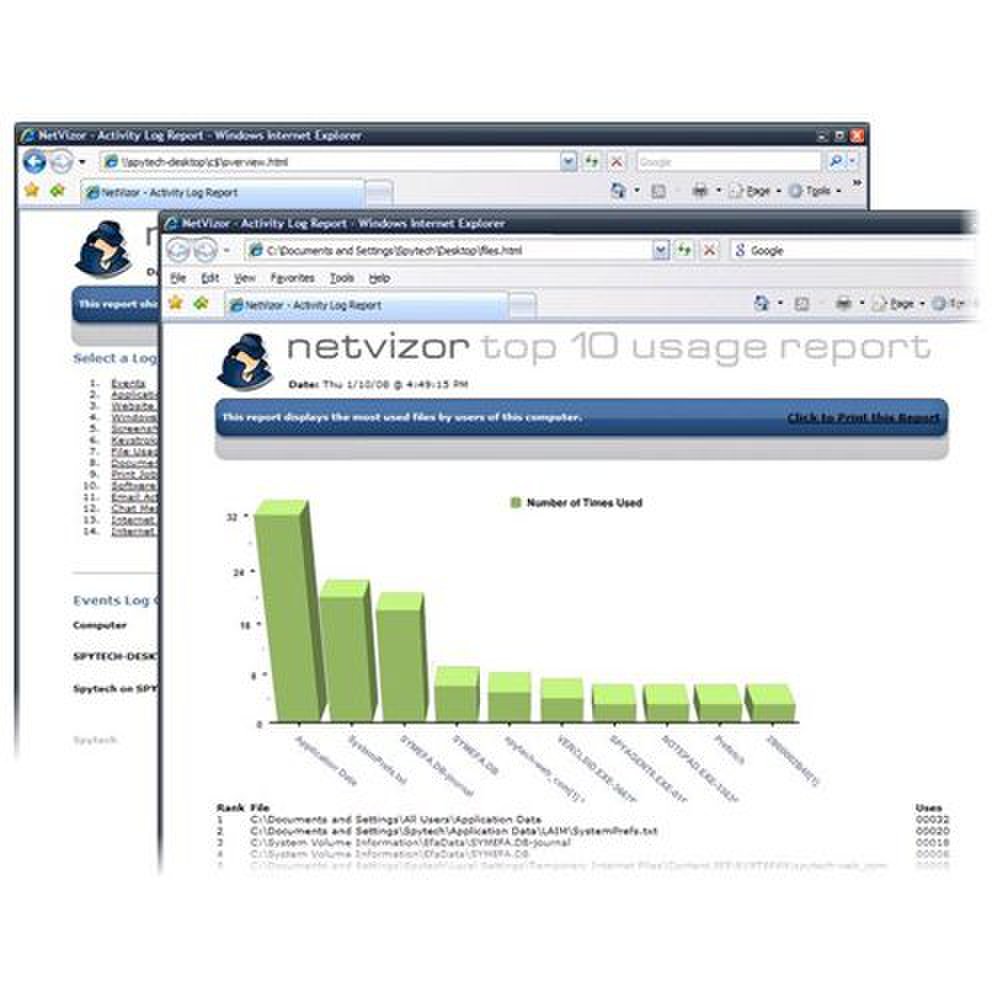 NetVizor image: Each report is customizable to show information according to computer, employee or activity.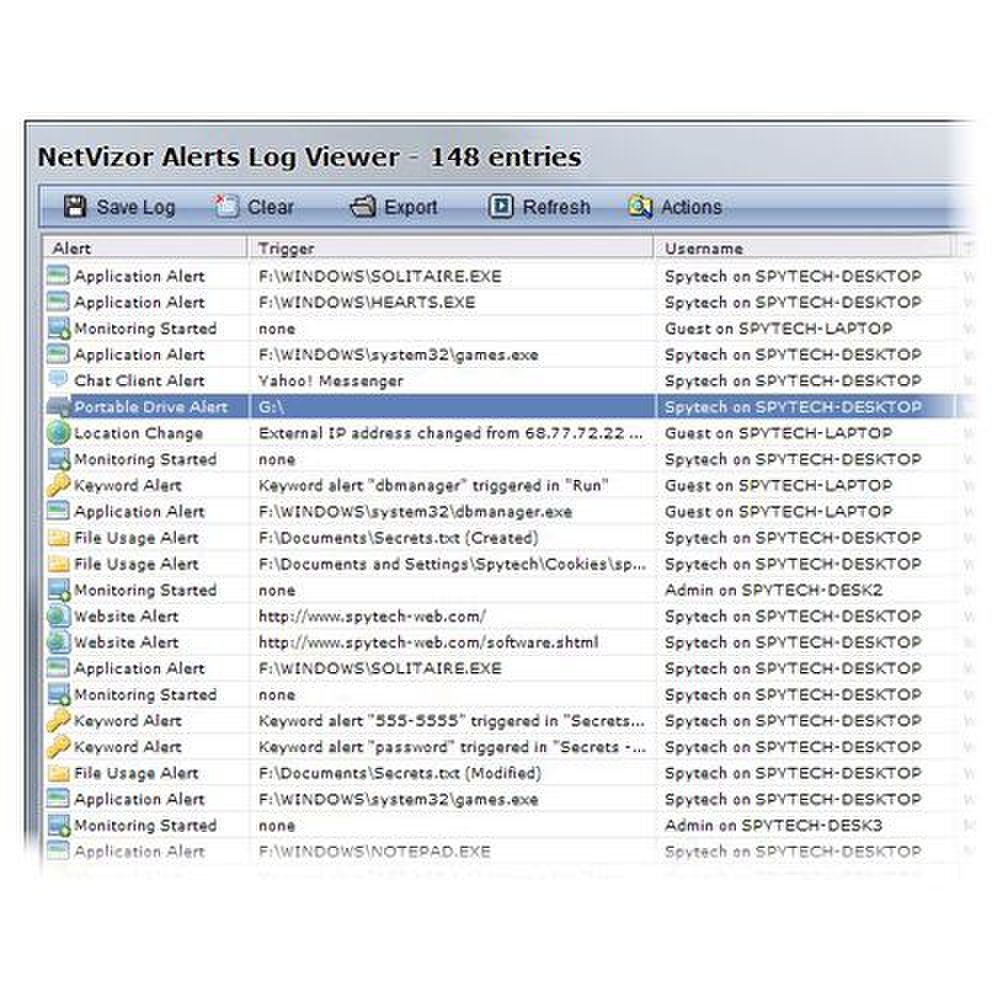 NetVizor image: You are alerted when restricted websites are accessed or keywords are searched.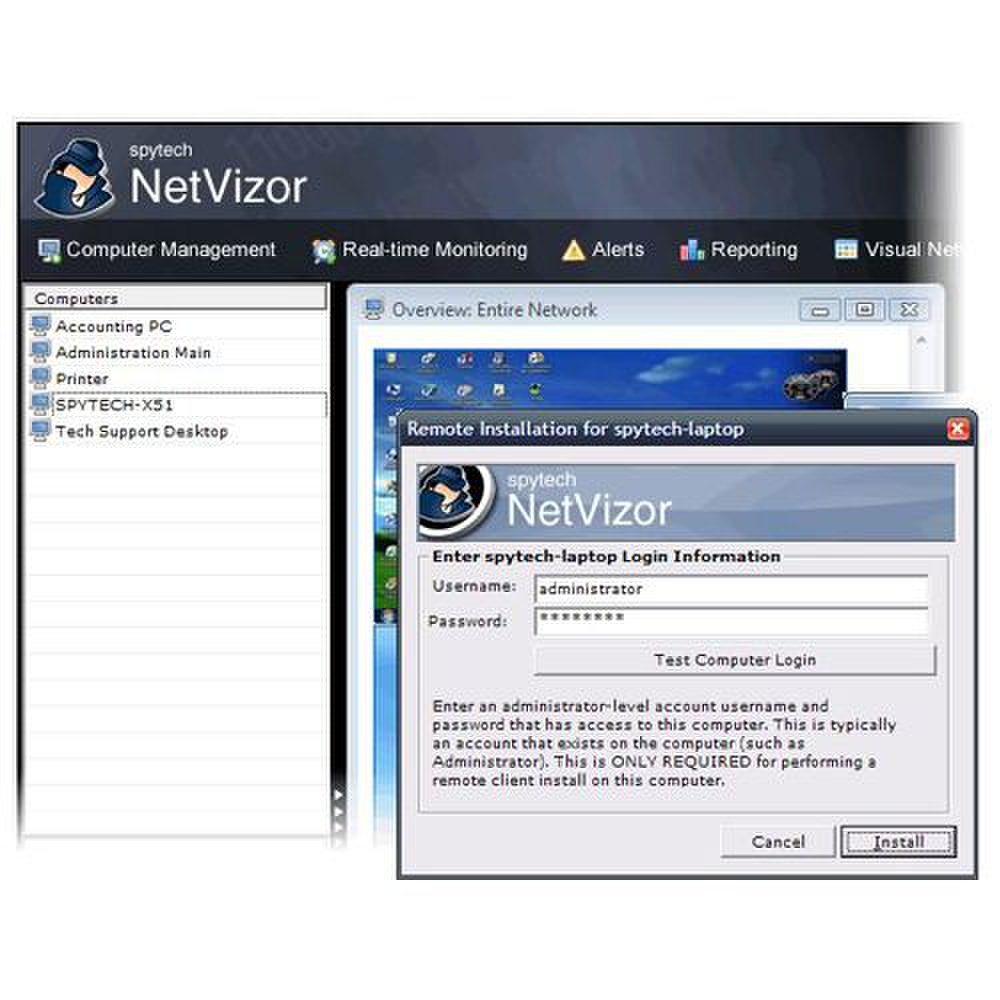 NetVizor image: This program runs in stealth mode.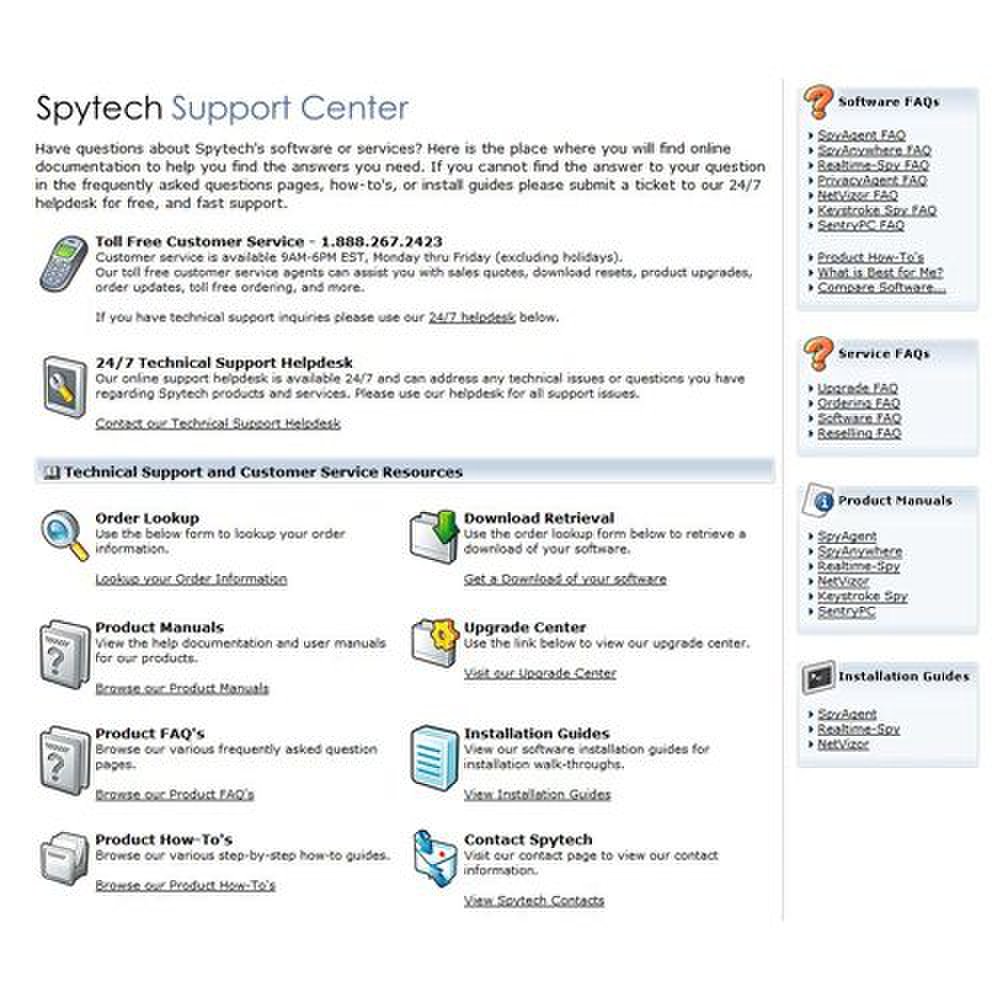 NetVizor image: The support offered through Spytech is extensive.
NetVizor is one of the best employee-monitoring systems that we reviewed. It includes basic tracking features and advanced monitoring functions to help you increase employee productivity and safeguard sensitive company information. It also has control tools so you can not only track but also block access to websites and applications on your company's work computers.
Some activities are more efficiently monitored in silent, or stealth, mode. This means your employees don't know they are being watched and can't disable the program. Other activities, and some state laws, require transparent employee monitoring. NetVizor is capable of doing both. It also has remote monitoring, so you can view employee activity from your own computer rather than having to access it from the monitored device.

NetVizor
Employee Monitoring Software
The Verdict
NetVizor is a top-notch employee-monitoring system that lets you track activity and block websites to help keep employees focused and on task.
Visit Site ▶
NetVizor employee monitoring software is capable of monitoring inactivity, so you can see if employees stay for a while on a single website, which may indicate idle sitting at their desk. NetVizor also lets you track employee attendance, so you can see how much time employees devote to their work and when they are showing up and leaving work.
This software includes a keylogger so you can see what your employees are sharing in email messages, through instant chat and on social media networks. NetVizor is able to track documents and files that are downloaded, saved, deleted or retrieved. It will also alert you when these are saved to removable devices, such as USB drives, or attached and sent along with an email message. You can also see when documents are printed rather than electronically moved. This feature is rare among employee-management systems.
Another feature that not all employee-monitoring software includes is the ability to monitor social media access, but NetVizor does. This means you can see when these sites are accessed and if employees are sharing information or being critical of your company in ways that could be damaging to your business's reputation.
Installing NetVizor was straightforward until it came to connecting the administrative and client computers in order to begin silent monitoring. We needed to employ the help of our IT department to include some additional programing, per NetVizor's instructions, in order to work around the firewalls installed to help protect computers.
In addition to monitoring PC activity, NetVizor gives you control functions to help keep temptation at bay. You can both filter and block certain websites from being accessed by employees from company computers. You can also set alerts to automatically pop up to warn employees if they attempt to access restricted sites. It also allows you to block storing data on removable devices, such as USB drives, which is a critical activity to monitor. One feature that isn't available, however, is time control that lets you restrict access to websites or PC applications during specified times during the work day.
NetVizor, part of the Spytech family, has many help and customer support options available to you. It is one of the few programs we reviewed that includes support telephone numbers and email addresses prominently displayed online. FAQs, extensive knowledgebase and user tutorials are also available for you to access. The only support tool we didn't see was an online chat feature.
NetVizor is a powerful business tool dedicated to employee monitoring. It doesn't have some features, such as time controls to help with web filtering, but it does closely monitor web activity; PC-application use; email messages (both sent and received), and the creation, deletion and retrieval of sensitive files.

NetVizor
Employee Monitoring Software
The Verdict
NetVizor is a top-notch employee-monitoring system that lets you track activity and block websites to help keep employees focused and on task.
Visit Site ▶
Ready to choose your Employee Monitoring Software? Here's a breakdown of our complete coverage:
Business.com Editorial Staff
The purpose of our community is to connect small business owners with experienced industry experts who can address their questions, offer direction, and share best practices. We are always looking for fresh perspectives to join our contributor program. If you're an expert working in your field – whether as an employee, entrepreneur, or consultant – we'd love to help you share your voice with our readers and the Business.com community. We work hard to only publish high-quality and relevant content to our small business audience. To help us ensure you are the right fit, we ask that you take the time to complete a short application: https://www.business.com/contributor/apply/ We can't wait to hear what you have to say!