Statco Review
By Business.com Editorial Staff
Last Modified: December 11, 2018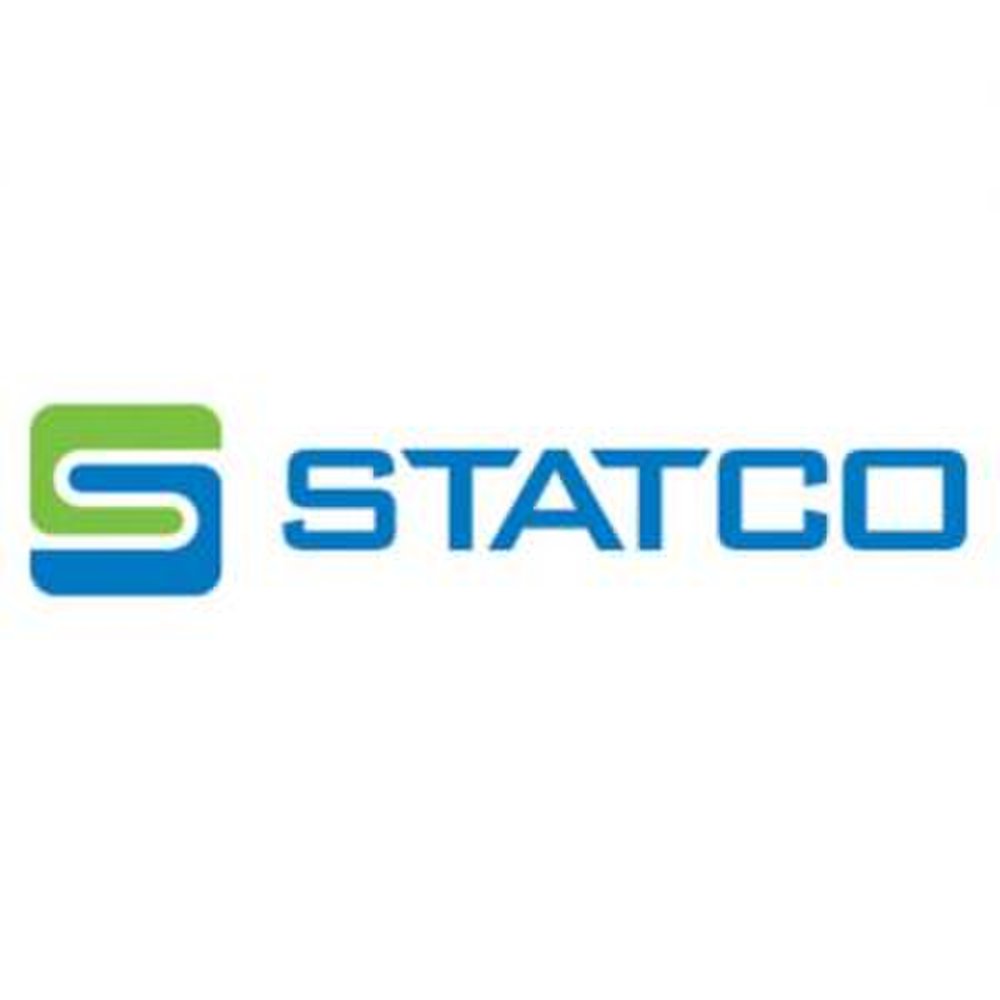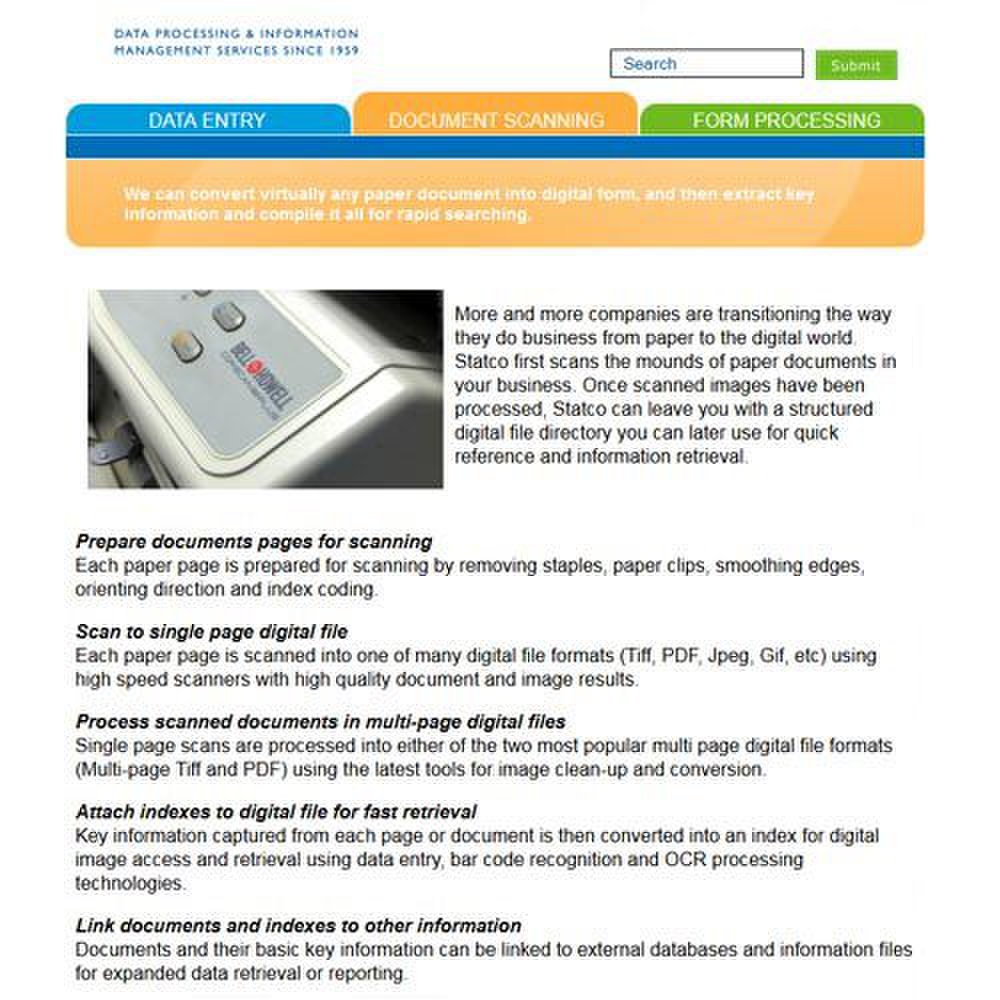 Statco image: Statco's basic imaging services include document preparation.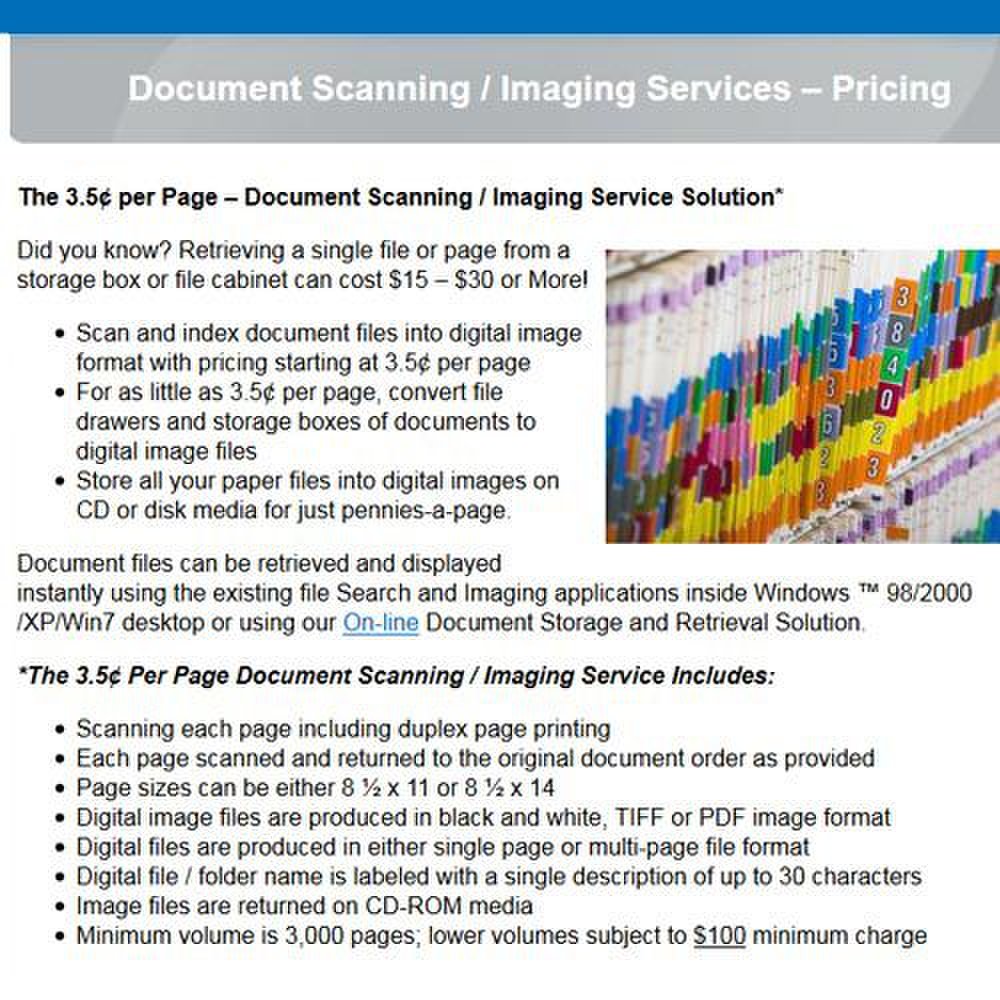 Statco image: Statco pricing starts at a basic 3.5 cents a page.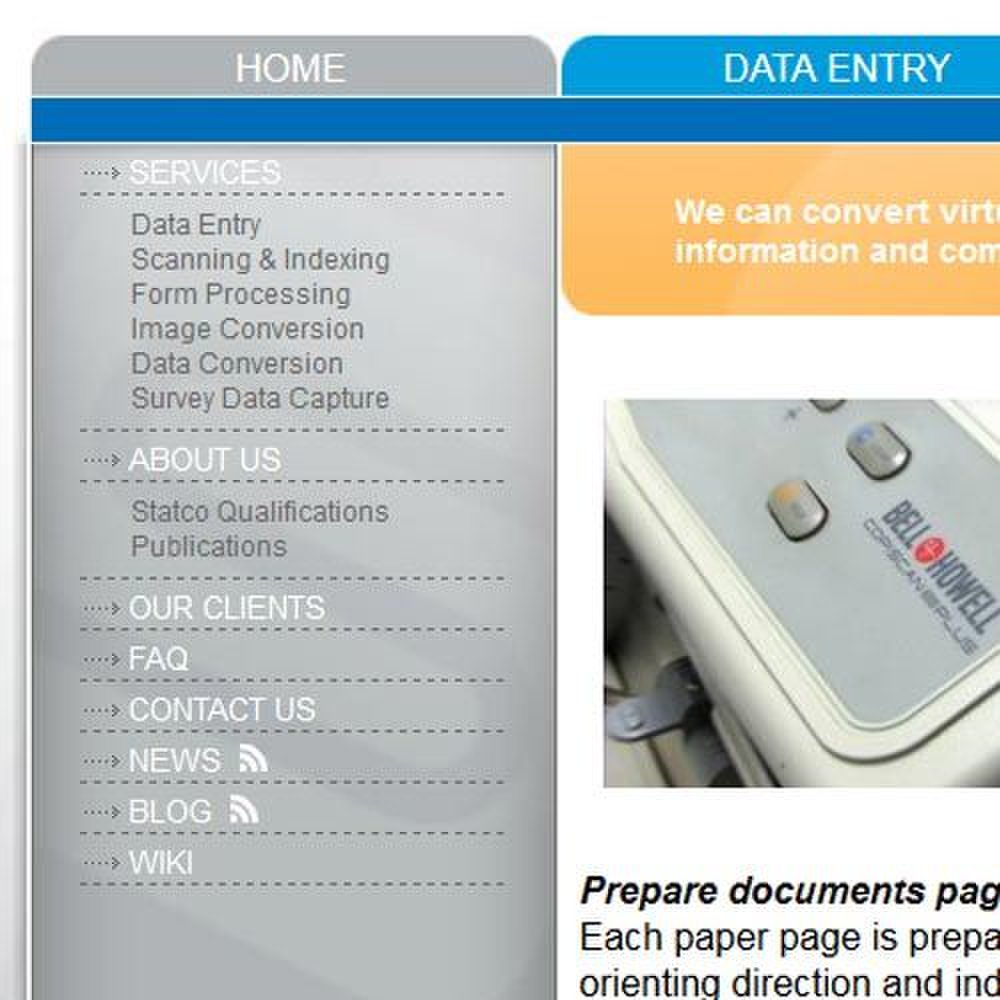 Statco image: The company website includes a FAQs page, news forum, blog and wiki.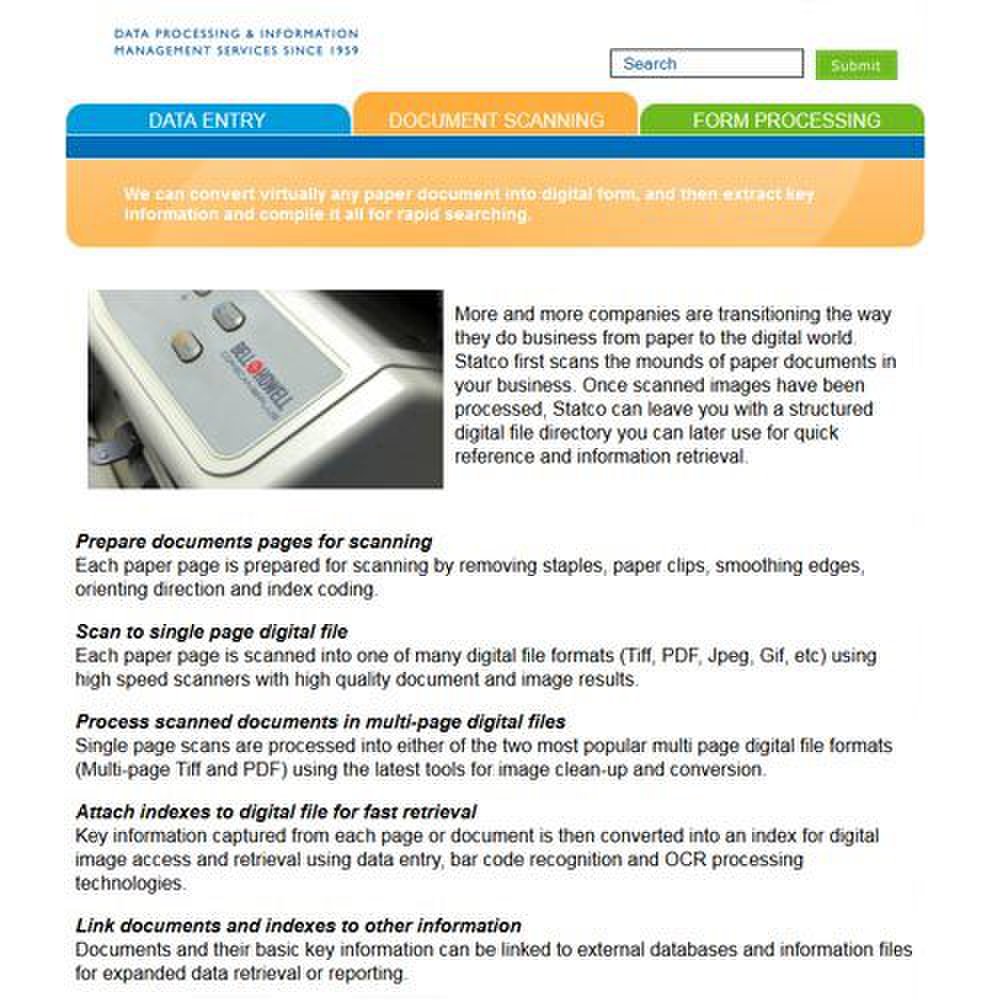 Statco image: Data capture is a larger service that involves scanning along with manual data entry.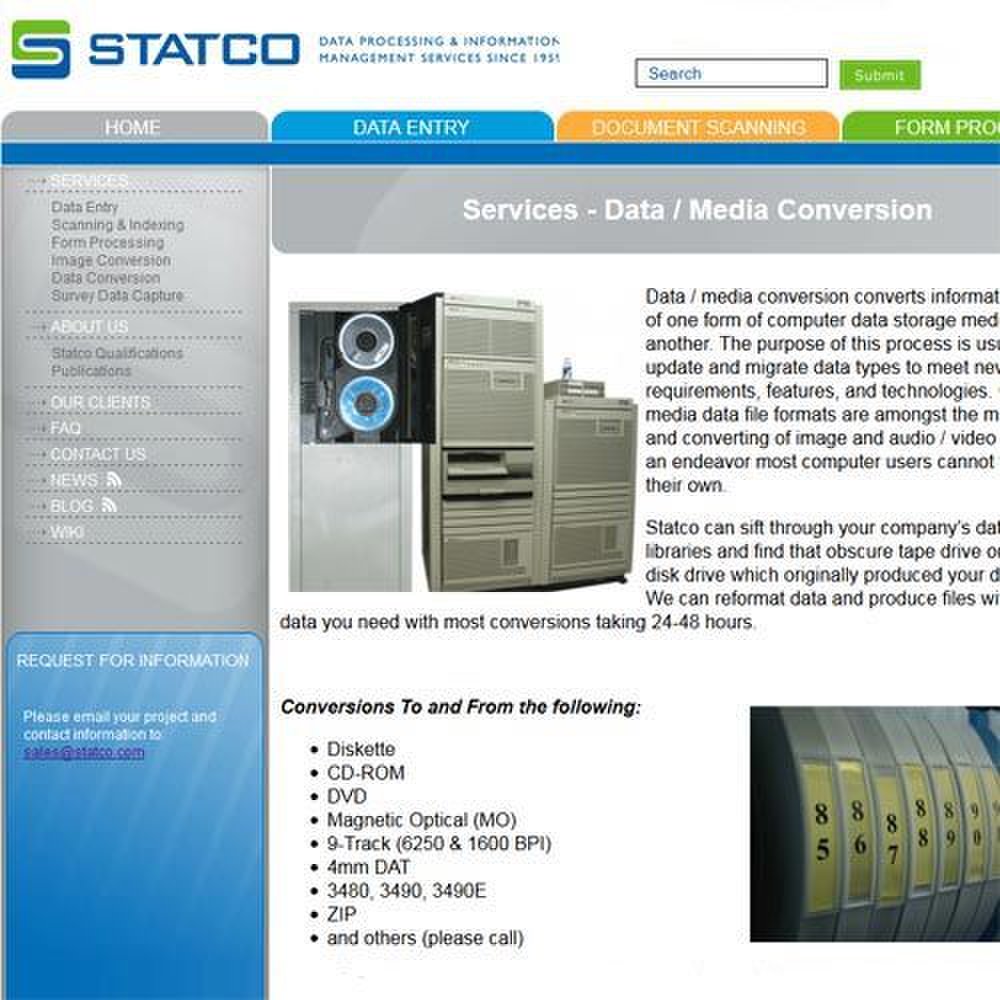 Statco image: The company can perform conversions from one media format to another.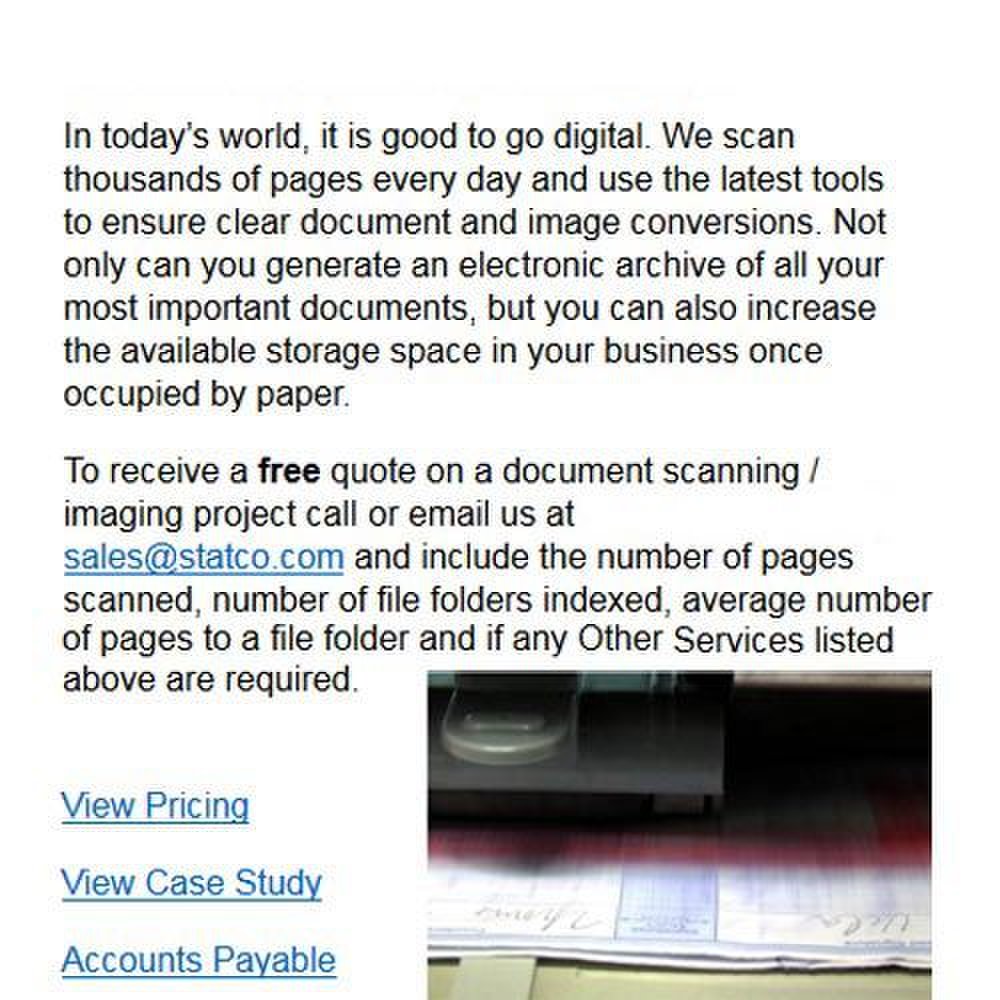 Statco image: Clear document scans and conversions are standard at Statco.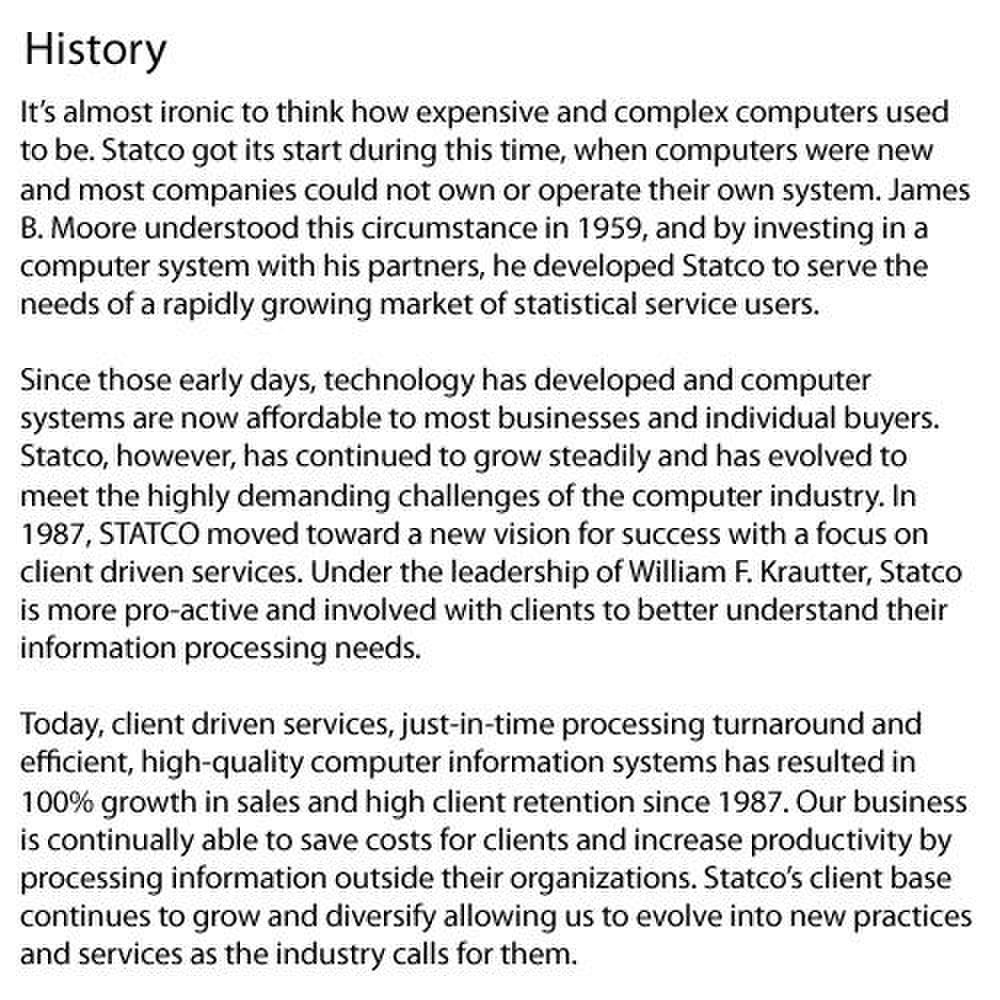 Statco image: The Statco company was started in 1987.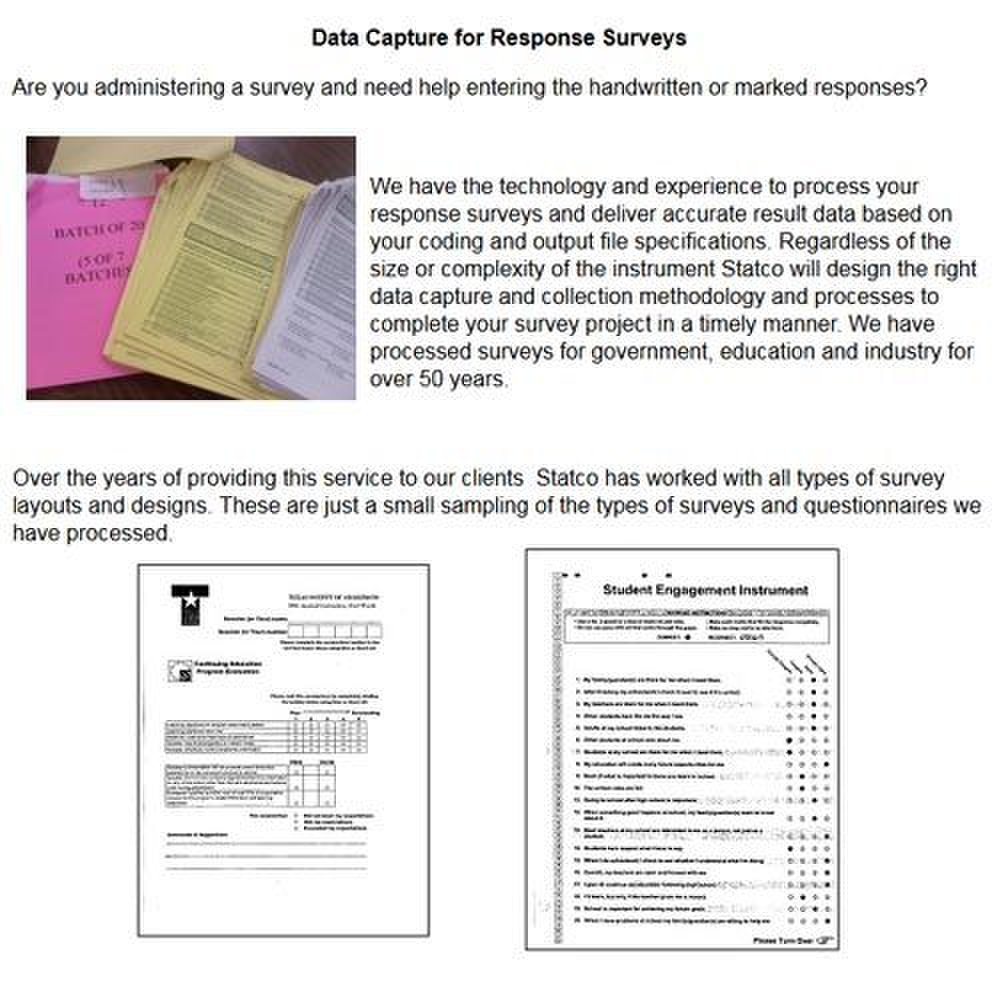 Statco image: Optical Mark Recognition (OMR) is a way of reading student tests and surveys.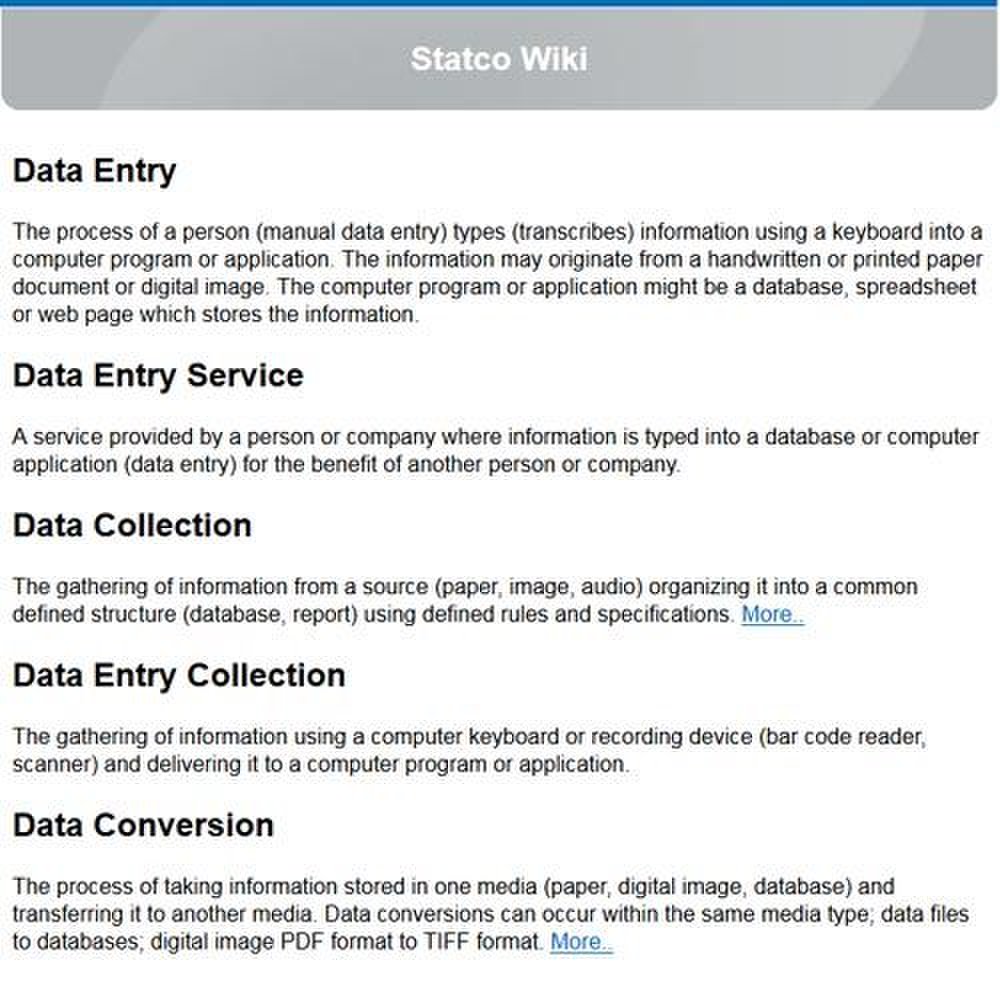 Statco image: Part of Statco's Wiki is a glossary for industry terms.
Statco image: This provider can prepare your documents for scanning, so your staff does not have to.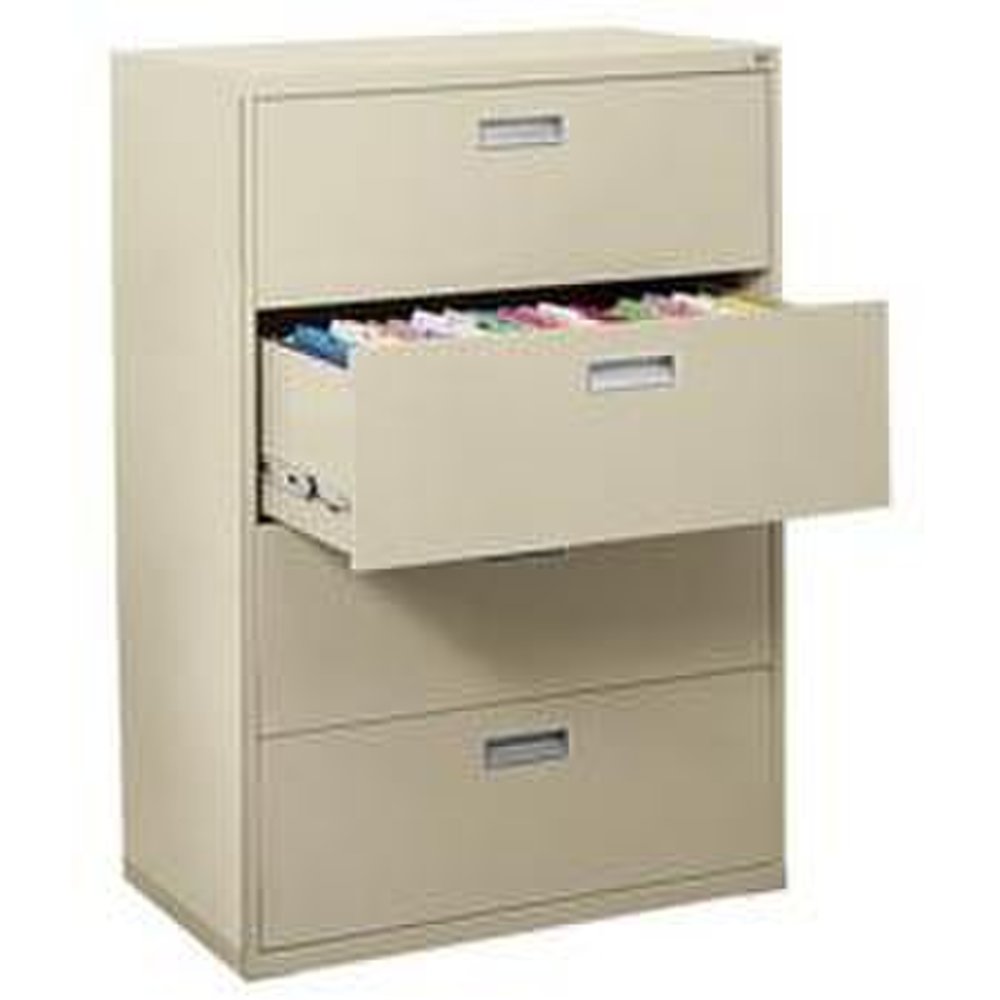 Statco image: Your paper files can be safely destroyed so you no longer need to store them.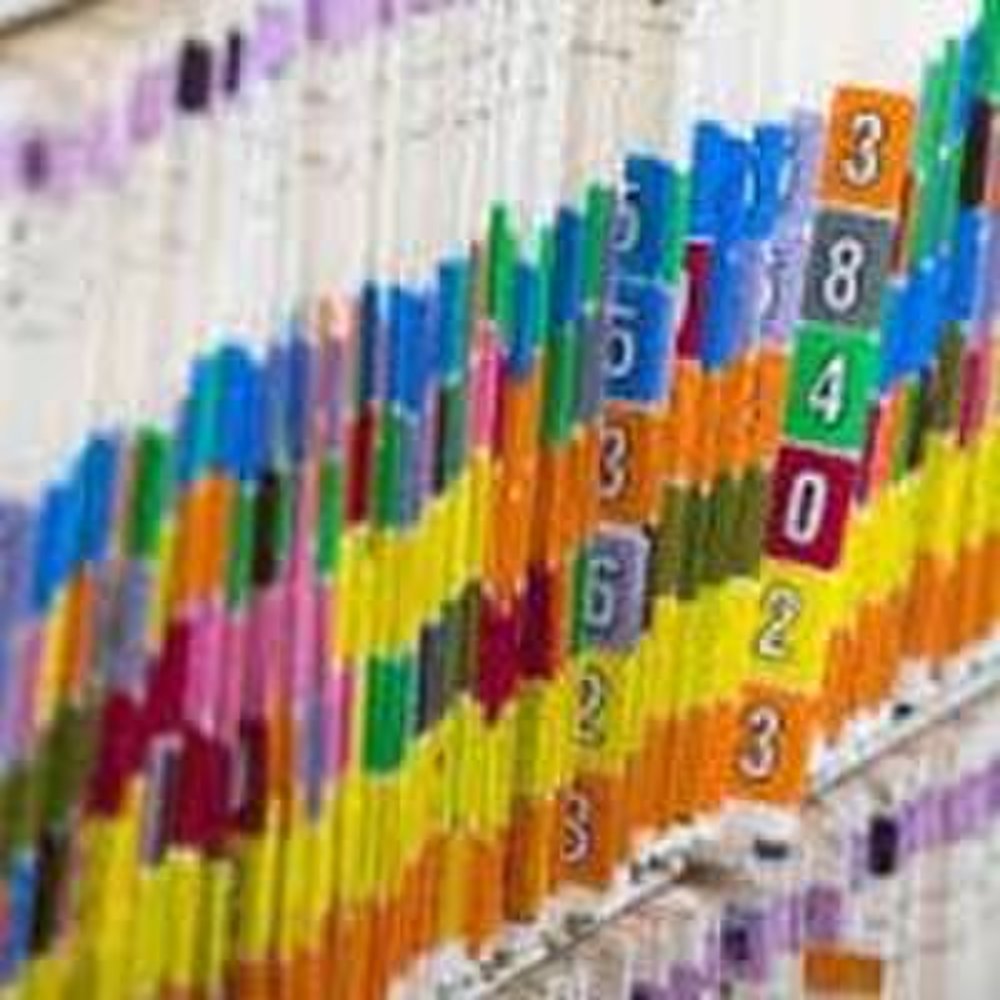 Statco image: The company has in-depth experience in many industry areas including medical.
Statco's breadth of industry expertise, innovative pricing model and national reach makes it a good candidate if you are searching for basic document scanning services with just a few additional or unusual ones. The company earns our Bronze Award for its high quality, low pricing and rigorous attention to security. Statco's customers include companies such as the American Cancer Society, Dell and IBM along with many local, state and federal government agencies.
Statco offers an easy-to-calculate pricing approach to document scanning. Its basic rate is an inexpensive 3.5 cents per page. Unlike other scanning services where line items are not always broken down in the bid, each aspect of Statco's pricing is clear. Services include scans of single- or double-sided documents, 30-character indexing, returning documents to boxes in their original order and outputting your electronic documents to CD-ROM. It does not provide long-term storage of your paper files.

Although priced separately, Statco offers myriad additional services. It can prepare your documents for scanning so your staff does not have to. And while most OCR scanning can convert your scans to a block of searchable text, Statco can also turn your page into a PDF file, allowing the image to remain the same while the text becomes searchable. Statco can transform handwriting into usable, searchable text files. It can also capture specific information, such as invoice numbers or addresses from your source documents, and deliver the data in a spreadsheet or database.
Statco can capture addresses from your pages and correct them to standard United States Postal Service format. If your company has an existing electronic document management system (EDMS), Statco can integrate scans into your current system or start a "day forward" scanning program to add your incoming paperwork to your electronic documents.
Statco has processed confidential documents for government and private industry for over 50 years. It can arrange for secure pickup or shipping. It will also come to your facility to scan, if your security policies prevent documents from leaving their original corporate location. After your documents are scanned, you can use Statco's cloud storage service for your digital media so that your documents can be accessed from anywhere with a secure internet connection. And, once your digital files are scanned and your electronic files verified, Statco can perform a security-sensitive destruction of your original paper documents.
Access to Statco's national facilities is monitored 24 hours a day. Each employee undergoes a rigorous background check and is required to sign a stringent non-disclosure agreement. All of Statco's business processes are HIPAA compliant and the company invites prospective customers to come and evaluate the Statco facilities to assess the security controls that protect business documents.
We chose 15 diverse and representative industries to assess the breadth of experience offered by the service providers we reviewed. Statco's customers include many in every one of these 15 industry types. Industry-specific workflows and knowledge of pertinent legal regulations are some of the ways Statco meets the needs of its various customer types.
Statco offers customer support through phone and email. Both were answered in a timely and knowledgeable manner. Many sources of information are also available to customers and prospective customers including a wiki with useful industry definitions, a FAQs page, a blog and a newsroom containing articles from Statco experts.
Statco's document scanning services are especially good value if you require basic services with a few additional or unusual services. You can rely on its strong security throughout the process, from secure logistics to disposing of traceable documents. With a base pricing model of 3.5 cents a page and an array of optional services like converting handwritten addresses into electronic data, this company may be one to consider when you're ready to scan your documents and go paperless.

Ready to choose your The Best Document Scanning Services of 2019? Here's a breakdown of our complete coverage:

Business.com Editorial Staff
The purpose of our community is to connect small business owners with experienced industry experts who can address their questions, offer direction, and share best practices. We are always looking for fresh perspectives to join our contributor program. If you're an expert working in your field – whether as an employee, entrepreneur, or consultant – we'd love to help you share your voice with our readers and the Business.com community. We work hard to only publish high-quality and relevant content to our small business audience. To help us ensure you are the right fit, we ask that you take the time to complete a short application: https://www.business.com/contributor/apply/ We can't wait to hear what you have to say!