Sterling Review
By Skye Schooley
Last Modified: August 2, 2019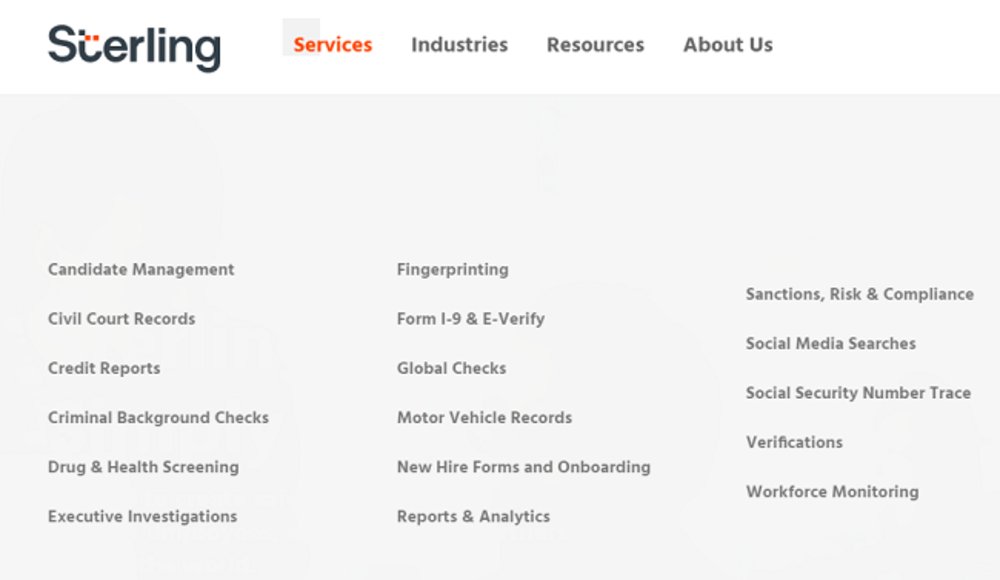 Sterling offers several background check services for pre-employment screening.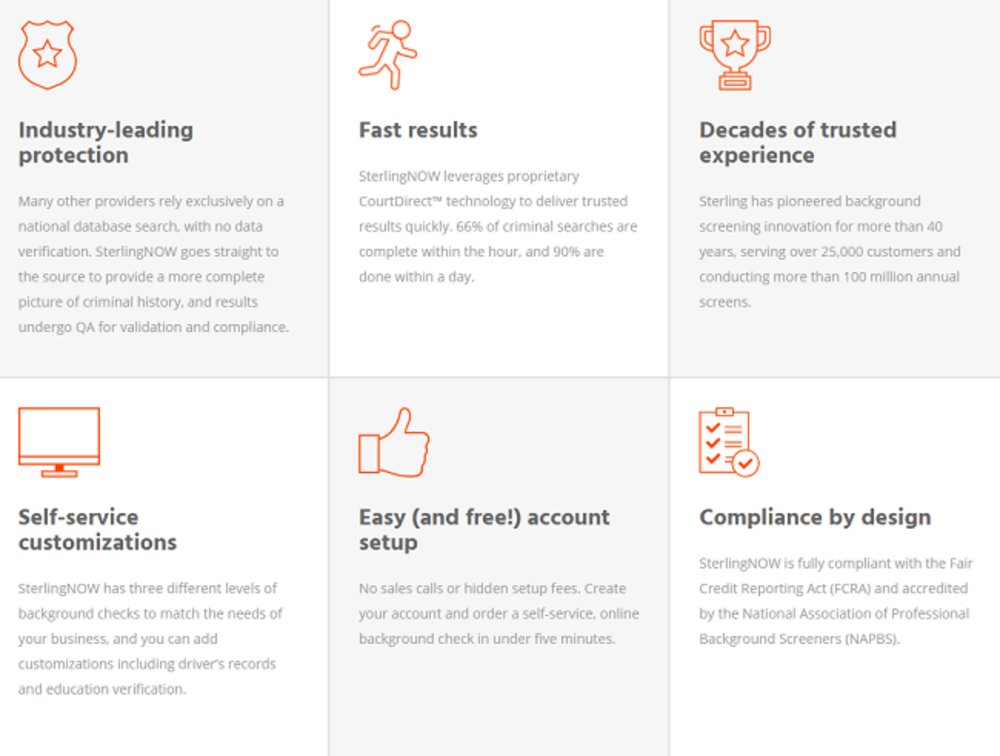 There are several benefits to choosing Sterling as your background check company.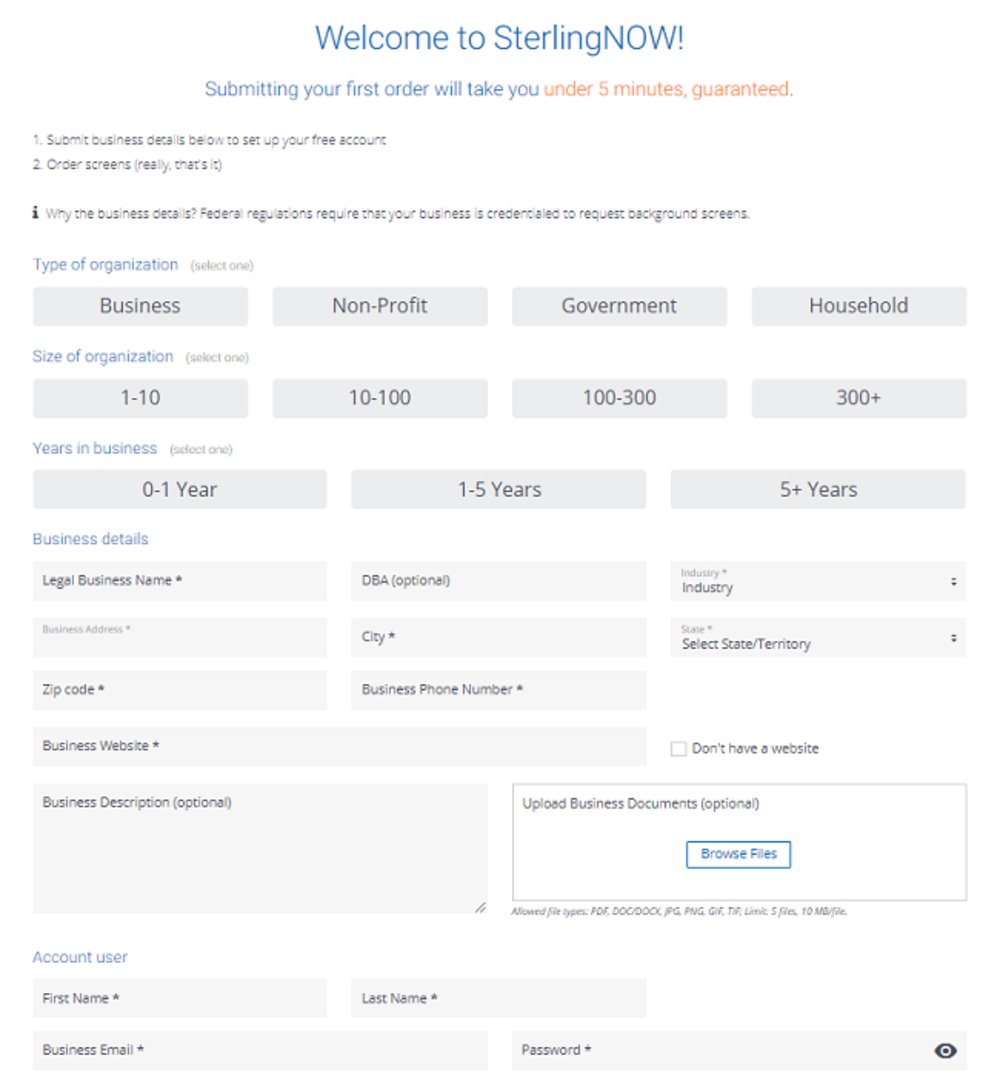 Quickly set up your free account with SterlingNOW to start ordering your self-service background check reports.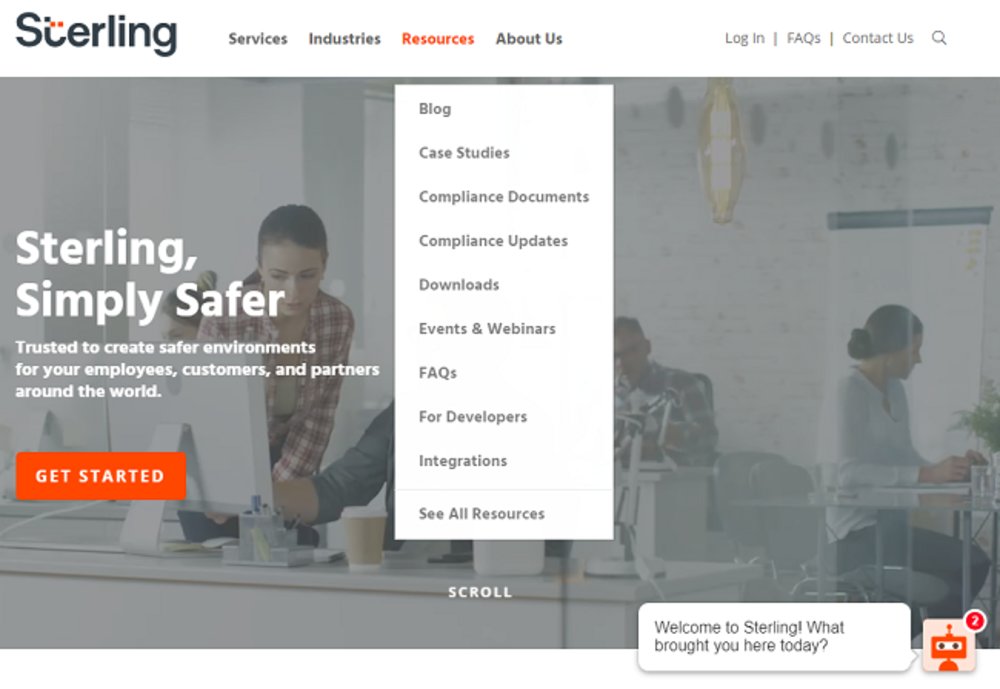 For questions regarding background reports, access one of Sterling's many resources, including its chat bot feature.
Sterling offers a variety of pre-employment screening options. The self-service division of the company, SterlingNOW, is especially convenient for small- and medium-sized businesses who want to order quick, reliable background checks on their own terms. With its online portal, self-service customization options and fast results, the agency is our pick as the best background check company for self-service.
View all our recommendations for background check services on our best picks page.

A variety of businesses in the financial services, healthcare, hospitality, manufacturing and transportation industries, to name just a few, can benefit from SterlingNOW's self-service opportunities. Businesses that benefit the most from SterlingNOW are those that need quick, self-service background checks and typically require fewer than 100 checks per year.
Sterling Pricing and Services
SterlingNOW offers three unique screening packages – Basic, Preferred and Pro. The price of each plan is per report basis, and you can add extra services for additional fees. You may also be charged additional fees, like court processing fees, on a state-by-state basis. For example, the fees in Maine will cost an additional $20 while New York may cost upward of $65. These additional fees are common in the background check industry and should be expected.
Basic Plan
Cost: $29.95 per check
What it includes: Social Security number trace, multistate instant criminal check with verification, Department of Justice sex offender search and single-county criminal search
Preferred Plan
Cost: $59.95 per check
What it includes: Social Security number trace, multistate instant criminal check with verification, Department of Justice sex offender search and single county criminal search, county criminal record search, federal criminal district search, and Office of Foreign Asset Control (OFAC) terrorist watchlist
Pro Plan
Cost: $79.95 per check
What it includes: Social Security number trace, multistate instant criminal check with verification, Department of Justice sex offender search and single county criminal search, county criminal record search, federal criminal district search and OFAC terrorist watchlist, and federal district criminal record search
Additional checks (and their fees) include:
Driver's record ‒ $9.95
Education verification ‒ $19.95
Employment verification ‒ $19.95
SterlingNOW offers the option to create your own customized plan, should your background check services require unique parameters. For businesses that need customized screening packages, it's recommended that you contact a Sterling representative.
Pros of Using Sterling
In researching this agency, three features, in particular, impressed us, including its:
Helpful demo – SterlingNOW's online demo thoroughly explains the background check process and the screenings and checks it does. If you've never used a background check service before, the video single-handedly answers any questions you may have about Sterling and background checks in general.
Convenient online portal – The online portal lets busy business owners quickly order background checks and review the results when they come in. Sterling says that 66% of criminal searches are closed within an hour, and 90% are closed within one day. In addition to report summaries, you can see a list of all the checks you've run.
Variety of screenings – Besides standard background checks, Sterling offers other screenings and searches, including candidate management, civil court records, credit reports, drug and health screenings, executive investigations, fingerprinting, global checks, motor vehicle record searches, social media searches, and workforce monitoring. They also offer extensive verifications like professional license and certification verifications, military employment verifications, DOT verifications and professional reference checks. The comprehensiveness of Sterling's capabilities makes it a convenient one-stop-shop for businesses needing a quality, reputable pre-employment screening agency.
Cons of Using Sterling
A couple of potential drawbacks to be aware of with Sterling include:
Expensive pricing – Although the prices of Sterling's bunded plans are in line with the industry standard, the cost of its additional verifications are slightly more expensive than its competitors. However, since Sterling offers such a range of additional services, the extra cost may be offset by the amount of information you're able to receive. If, though, your business only needs a standard background check package, the price of the add-ons is a nonissue.

Limited online pricing transparency – If you need to run a credit report or order and drug and health screening package, you'll need to contact Sterling; pricing for these services isn't listed on its website. It's not terribly inconvenient, but a lot of businesses owners want to know the price upfront without having to call the agency.
Customer Service and Support
Running a self-service background check through SterlingNOW takes less than five minutes. First, you submit info about your business to set up a free account. Keep in mind that you'll have to provide proof about your business. (Federal regulations require that a business be credentialed to request background screenings.) Once you have an account, you can order the services you need.
Besides its demo, the agency offers FAQS, white papers, webinars and case studies. If you still have questions about Sterling, SterlingNOW or background checks, you can reach the company by phone or live chat.
We posed as a small business owner and reached out to Sterling's support team to ask questions about their services and test their customer support. Representatives were helpful and polite. When we reached out via the online chat option, we initially reached the SterlingBot and were then directed to a live chat representative for specialized assistance. Although the live chat seemed delayed, representatives answered every question and did not push to make a sale. Partnering with a background check company that has a helpful customer support team is essential when for a self-service background check company.

Ready to choose your The Best Background Check Companies of 2019? Here's a breakdown of our complete coverage:

Skye Schooley
Skye Schooley is an Arizona native, based in New York City. After receiving a business communication degree from Arizona State University, she spent nearly three years living in four states and backpacking through 16 countries. During her travels, Skye began her blog, which you can find at www.skyeschooley.com. She finally settled down in the northeast, writing for Business.com and Business News Daily. She primarily contributes articles about business technology and the workplace, and reviews remote PC access software and collection agencies.