Stitch Review
By Business.com Editorial Staff
Last Modified: October 27, 2018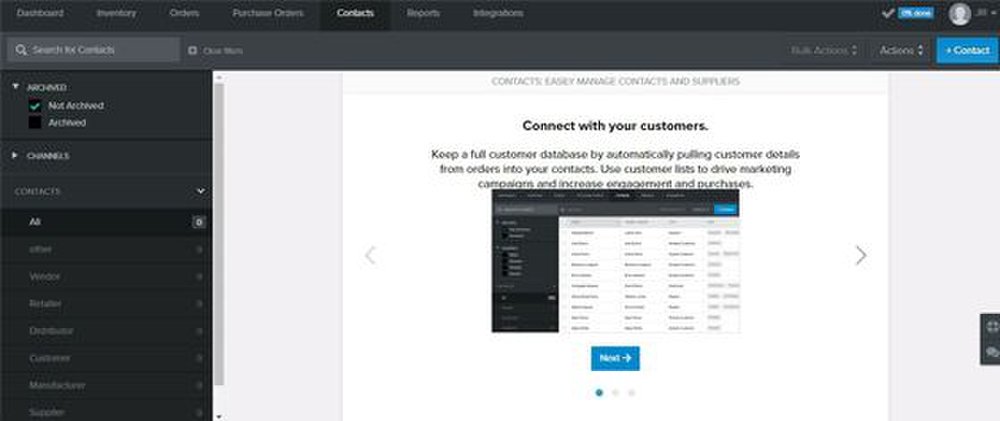 Stitch image: The customer database lets you keep information to use in marketing campaigns.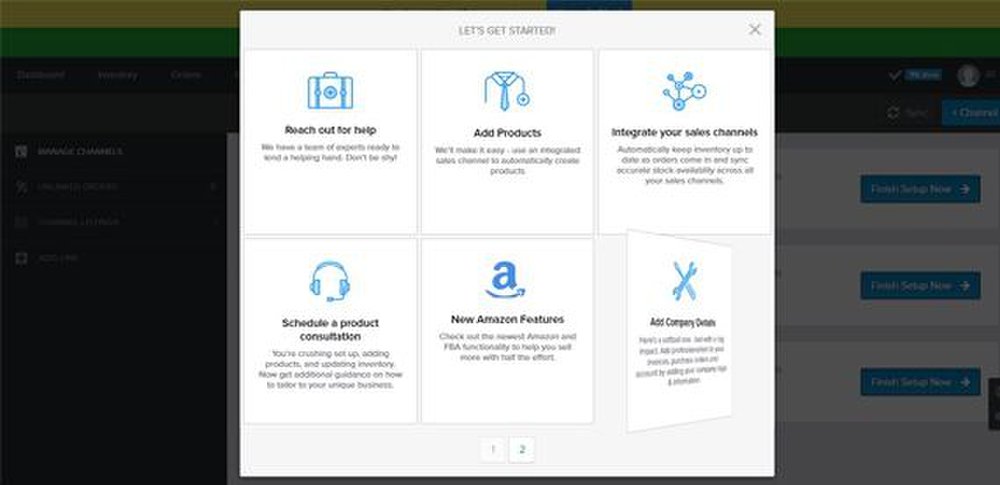 Stitch image: The Getting Started menu walks you through several options.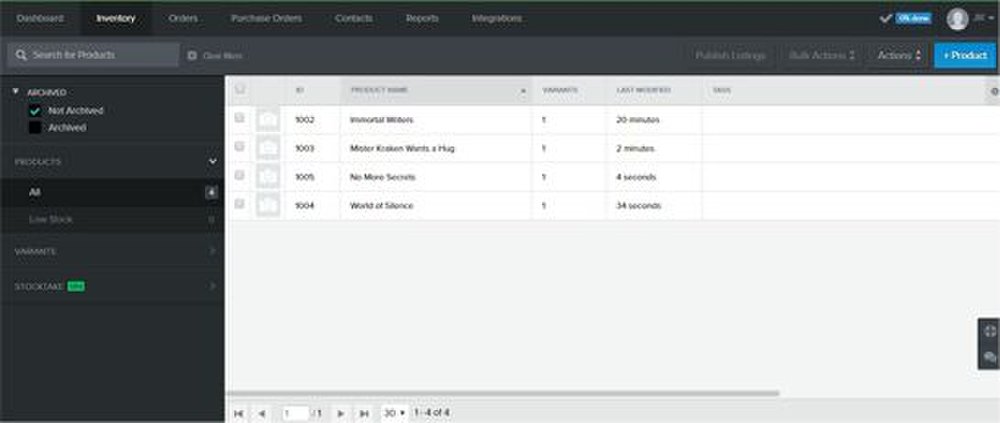 Stitch image: The interface is clean and simple.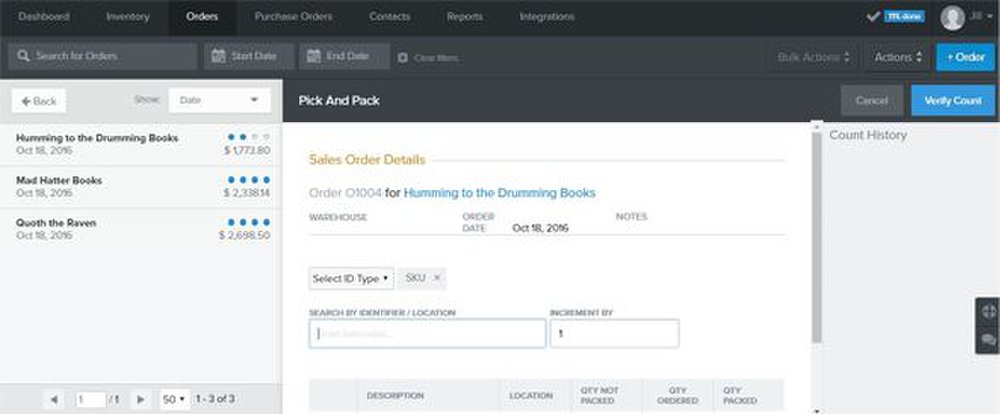 Stitch image: This inventory software also prints packing slips.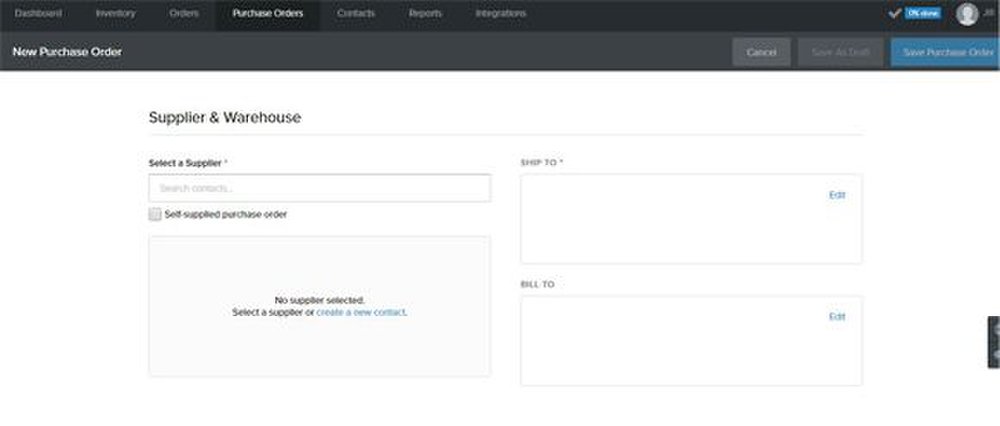 Stitch image: You can create purchase orders.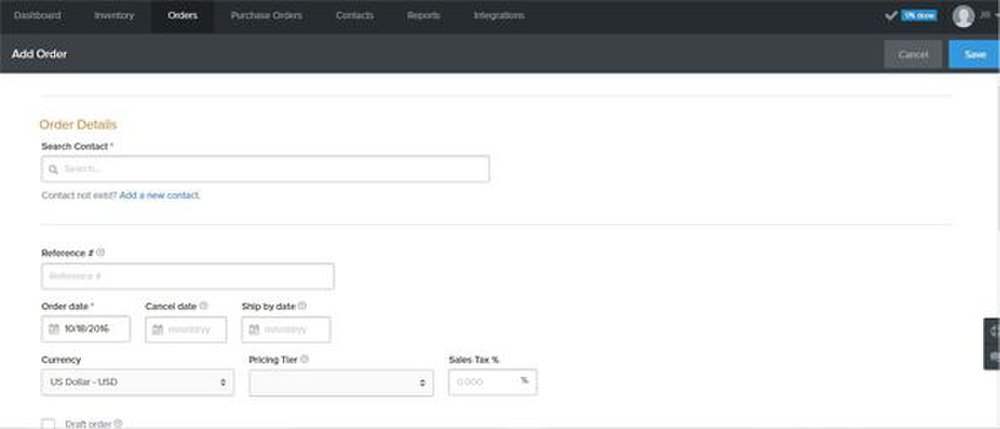 Stitch image: It's easy to create sales orders.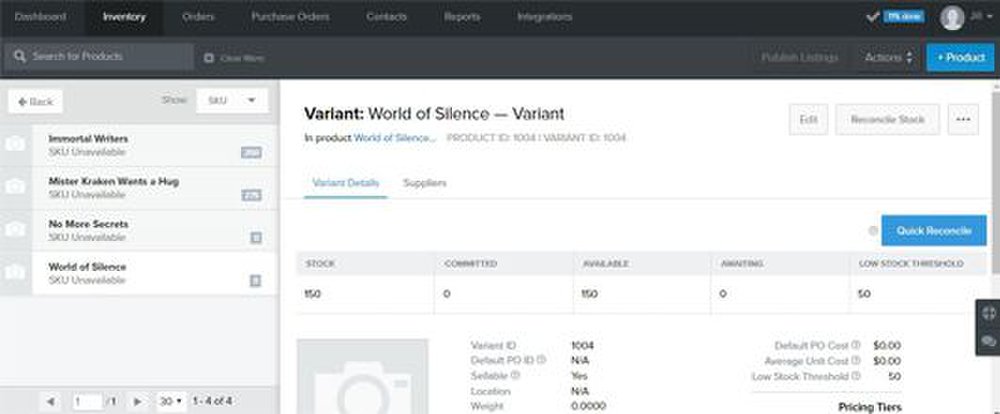 Stitch image: This inventory management software lets you add variants of products for better categorization and inventory control.
Stitch inventory management software integrates with multiple eCommerce platforms, QuickBooks and other useful programs, making it easy to track inventory and sales across all channels. It doesn't allow for multiple currencies, which can be a problem if you deal with international sales or supplies, nor does it automatically process recurring orders or returned items. Even so, if you have a brick-and-mortar business and an online store that sell the same products, it's a good choice for inventory software.
Its compatibility with other eCommerce and accounting software make it stand out. You can use it in conjunction with multiple sales platforms like Shopify, Magento and BigCommerce. It works with QuickBooks. Because of this, however, it favors importing products via online channels, making it a chore to add products if they are not already on the cloud.

Stitch
Best Inventory Software
The Verdict
Stitch offers user-friendly inventory management software that's especially useful for businesses with online and physical stores.
Visit Site ▶
Stitch works as a barcode inventory system and has connectivity tools for shipping programs. One unique and useful feature in this regard is its ability to print shipping labels.
In addition to inventory management, you can track non-inventory-related expenses, like travel, trade show and other expenses. Having all of this combined into one master software makes managing your accounts and your inventory easy.
This inventory control software is among the most versatile of those we reviewed. In addition to the standard features for adding products, you can add notes, photos, lot numbers and more. It offers low-inventory alerts so you don't run out of stock. You can see your inventory at a glance and pull up specific reports so you know where you stand in terms of stock and sales. The reports are customizable, although you cannot create custom reports whole cloth. This inventory program handles kits and perishable items but does not create bills of materials.
Another standout feature is the ability to add tags to products. This makes searching for a specific item easy, even if you cannot remember the specific item name. This lets you search your inventory by specific attribute, such as color or general category, and can make it easy for employees to find a particular product even if they cannot remember the product name or code.
It does not work with multiple currencies, which detracts from its usefulness when selling to customers in other countries. It does not handle partial or recurring orders. Since it integrates with other software, you may be able to work around these issues using your eCommerce or accounting programs.
The software is easy to use, with a more modern interface than what many of the programs we reviewed offer, although it did spontaneously end the session during testing. The knowledgebase is thorough and searchable and offers illustrations. It lacks phone support, but chat support is free and the people managing it are prompt and helpful, giving links to further information as well as direct answers.
Stitch's interconnectivity makes it an excellent choice for businesses with multiple online sales channels, although it is a chore to add products if they are not loaded elsewhere. Even so, this inventory management software offers many excellent features that make it a good choice.

Stitch
Best Inventory Software
The Verdict
Stitch offers user-friendly inventory management software that's especially useful for businesses with online and physical stores.
Visit Site ▶
Ready to choose your Best Inventory Software? Here's a breakdown of our complete coverage:
Business.com Editorial Staff
The purpose of our community is to connect small business owners with experienced industry experts who can address their questions, offer direction, and share best practices. We are always looking for fresh perspectives to join our contributor program. If you're an expert working in your field – whether as an employee, entrepreneur, or consultant – we'd love to help you share your voice with our readers and the Business.com community. We work hard to only publish high-quality and relevant content to our small business audience. To help us ensure you are the right fit, we ask that you take the time to complete a short application: https://www.business.com/contributor/apply/ We can't wait to hear what you have to say!