Storage Guardian Review
By Andreas Rivera
Last Modified: December 21, 2018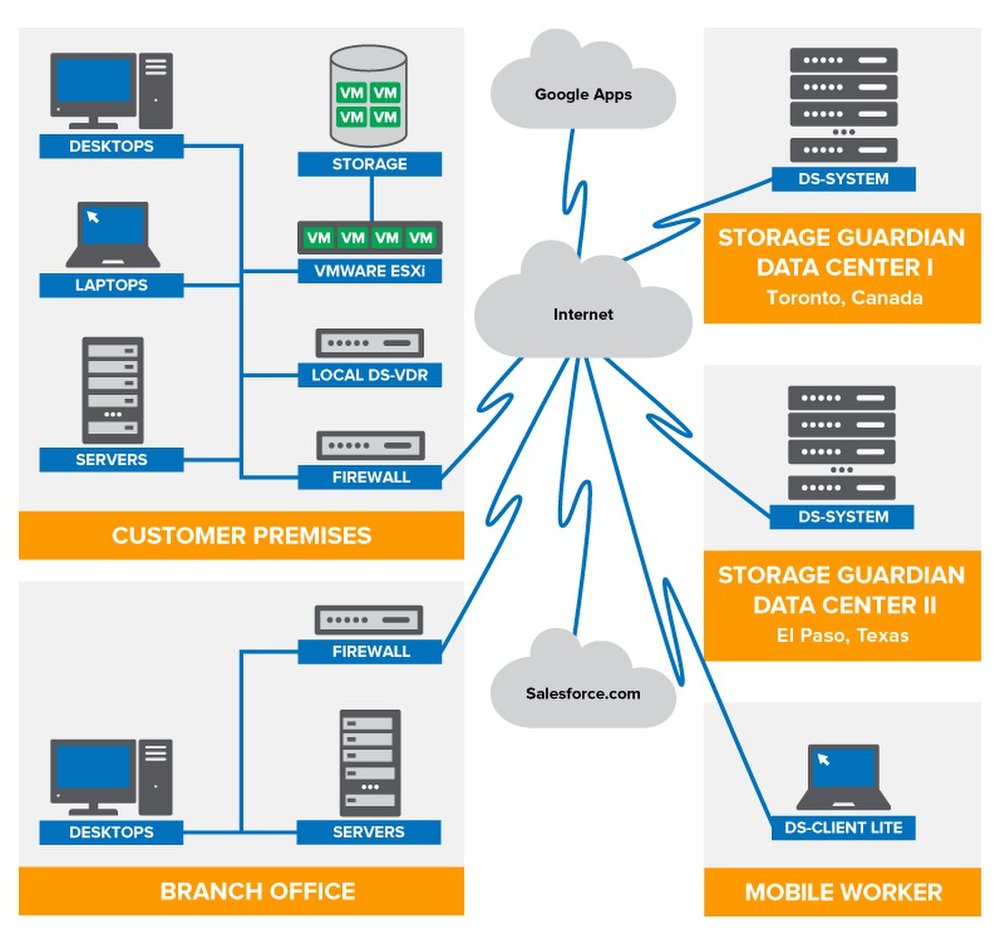 Storage Guardian can be setup into several different configurations, backing up virtual machines and SaaS to the cloud, a local device or both.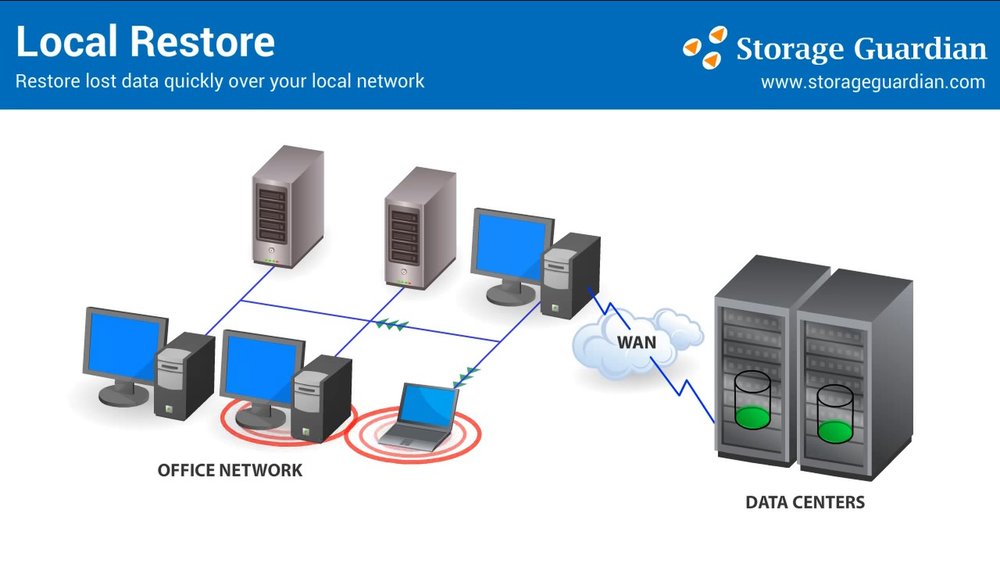 Storage Guardian is most efficient when you use it for hybrid backup. Your data is kept safe in the cloud, but it can be restored even faster if you have it locally backed up.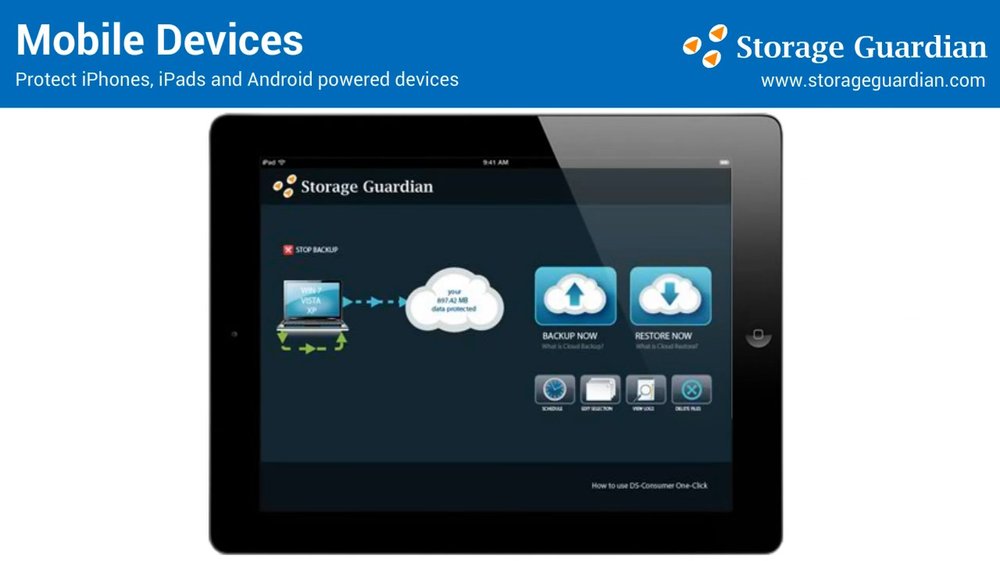 Storage Guardian customers have access to their backup system through their mobile client, so you can manage and backup your mobile devices like laptops and smartphones.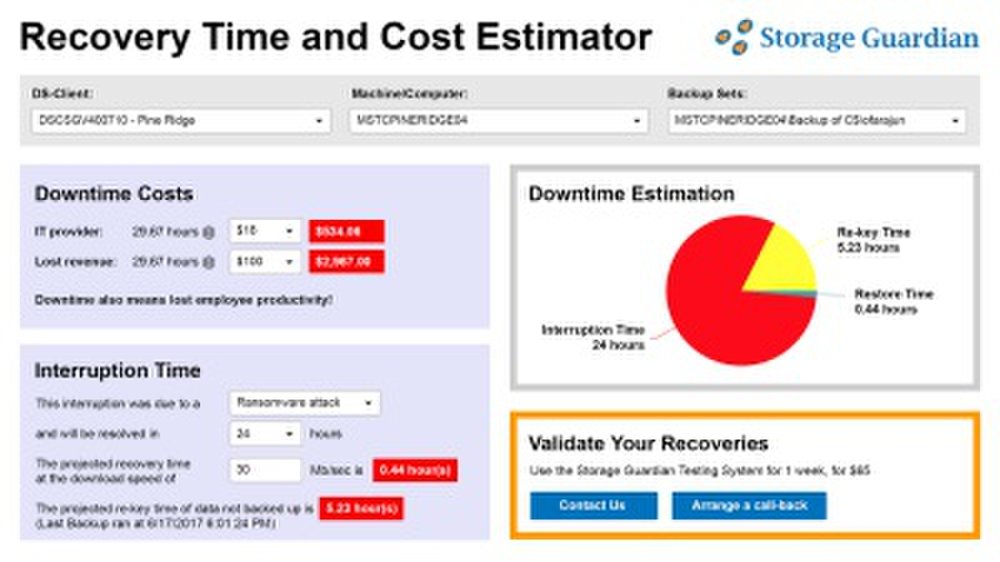 Storage Guardian's cost estimator shows you just how much downtime and interruptions could cost your business.
Storage Guardian is a cloud data protection service that features enterprise-level backup features, including large storage capacities, advanced retention policies and bare metal recovery. This software-as-a-service platform supports hybrid systems for faster recovery in the event of an internet outage. It can also backup virtual machines and several other cloud storage and file sharing platforms including Microsoft Office 365 and Google Drive.
To view all our recommendations for cloud storage and backup services, visit our Best Picks page.

Plans & Pricing
Pricing for this cloud backup service is a simple pay-as-you-go plan. It starts at $50 per TB stored per month, which also includes software support and professional services. You'll work with sales representatives to customize your system, including hybrid options and other integrations.
Features
Storage Guardian specializes in bare-metal restoration, meaning that the service will back up your entire system including servers, computers and mobile devices, so that the exact system can be recovered into brand-new hardware. This is useful for when both data and the hardware it was stored on are compromised. Disasters such as fires and floods can destroy your data and entire system architecture, but it can be brought back the way it was as soon as you have the new hardware in place. In most cases, a bare-metal restoration requires identical hardware to restore to, but Storage Guardian's system allows you to restore to different hardware.
Thanks to Storage Guardian's high storage capacities, you can keep multiple versions of your system and set retention policies for as long as you like. If your system is compromised by malware such as ransomware, you can wipe your current hardware and restore it to its state before it was infected.
This backup system is automated and will provide you with status reports and notify you of any important events like errors or backup failures. The system resolves to correct any errors on its own, allowing you and your staff to concentrate on other things. Backups are ongoing, with proactive monitoring detecting when major changes happen and require a new backup.
If you choose to set up a hybrid system with Storage Guardian, it's possible to do a local restoration from your local backup hardware, which is must faster than from the cloud or having your data shipped to you on a physical device.
Storage Guardian protects your data by transferring and storing data with a 256-bit AES encryption and by abiding by several security and auditing standards such as HIPAA. It protects its datacenters with around-the-clock staff, surveillance, backup power and temperature control.
Drawbacks
Since Storage Guardian is purely a backup solution, it's not set up for file sharing or collaboration purposes, so don't expect to use it for short-term storage or editing documents from the cloud. The website doesn't have a searchable knowledgebase or FAQ, so you'll have to rely on their live chat or technical support number for help and questions.
Editor's Note: Looking for a cloud storage solution? Click the Compare Quotes button below to have our sister site Buyer Zone connect you with vendors that can help.

Ready to choose your The Best Cloud Storage and Online Backup Services of 2019? Here's a breakdown of our complete coverage:

Andreas Rivera
Andreas Rivera graduated from the University of Utah with a B.A. in Mass Communication and is now a staff writer for Business.com and Business News Daily. His background in journalism brings a critical eye to his reviews and features, helping business leaders make the best decisions for their companies.