stratustime Review
By Chad Brooks
Last Modified: December 12, 2018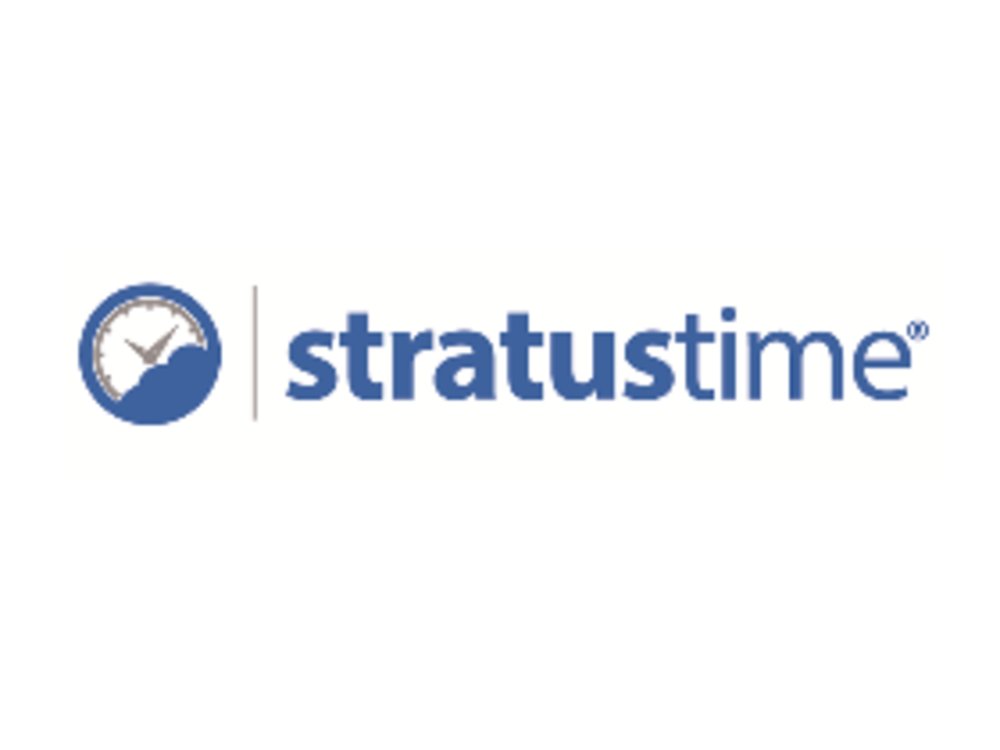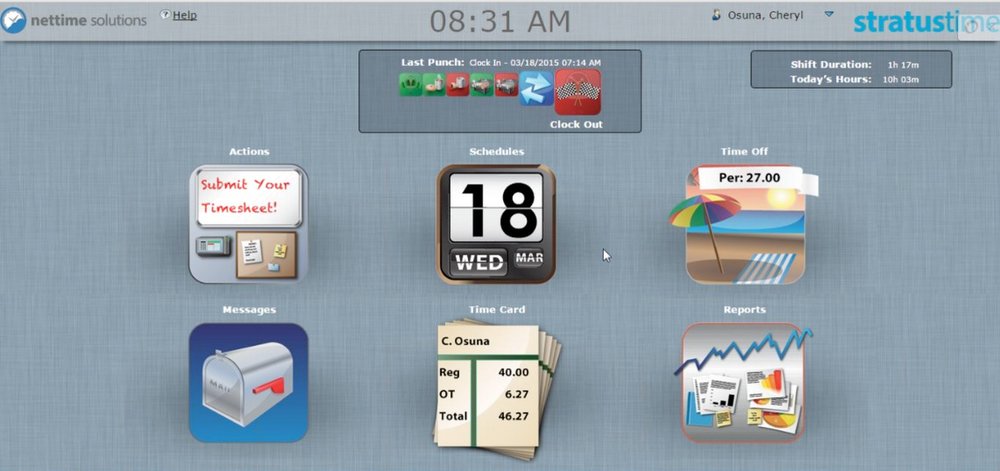 The stratustime employee dashboard is simple to navigate. It features large icons that make it easy to find what you need, when you need it.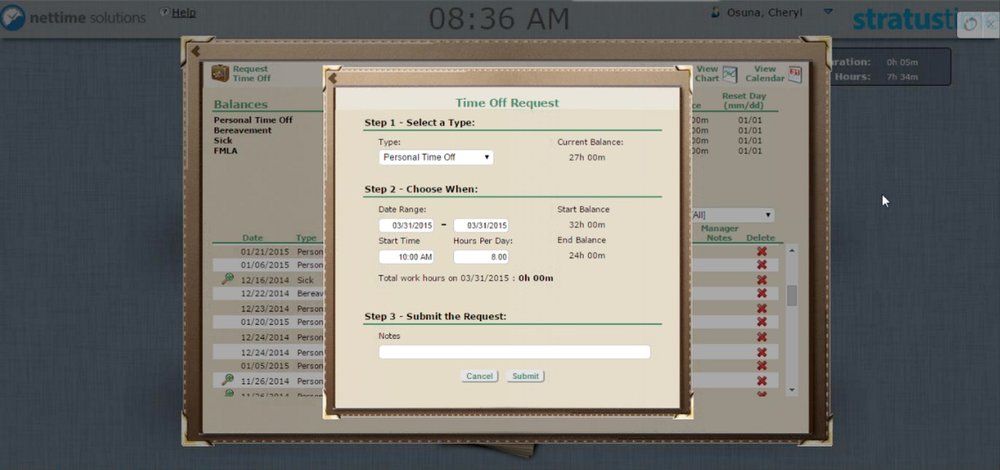 stratustime includes complete paid time off management. The system tracks accruals and allows employees to ask for days off and managers to approve or deny those requests.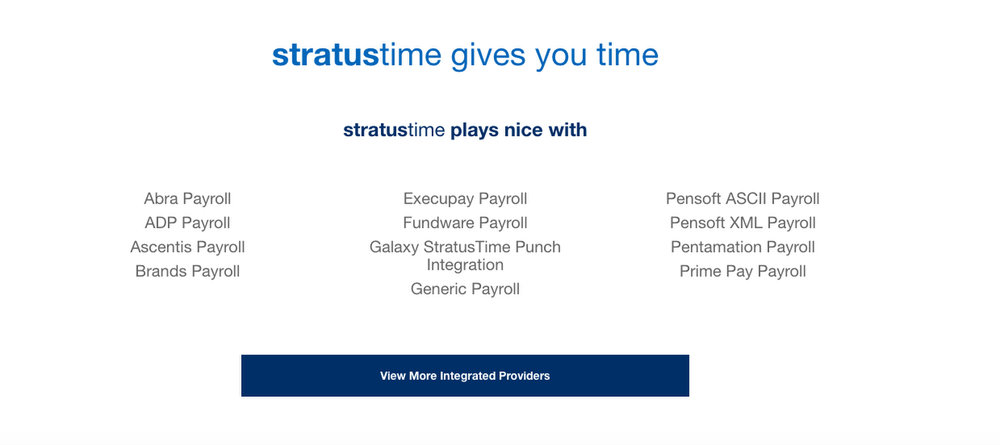 stratustime integrates with more than 60 payroll services.
Stratustime from nettime solutions has all the features businesses of any size would want in a time and attendance system. The cloud-based system tracks when employees come and go, when they take breaks, how long they work on certain projects, and how much paid time off (PTO) they've accrued. The system's easy-to-use interface and scheduling tools are among the other factors that what make stratustime our top time and attendance system for small businesses.
View all our recommendation for time and attendance systems on our best picks page.

Pricing
Stratustime charges a monthly, per employee fee for the system. There is a base monthly fee of $4 per employee. Included in the base costs are the time and attendance tracking features, scheduling tools, employee self-service options, and labor reports. Some additional features, such as PTO management, mobile access and automatic alerts, cost an additional 10 to 50 cents per employee, per month. However, we were told by company representatives that there are times when they can waive the added fees for the extra services.
Besides the monthly costs, stratustime charges a one-time setup and installation fee based on how many employees you have. For a business with between 20 and 25 employees, we were quoted setup costs of between $1,200 and $1,500. For this cost, stratustime creates and configures the system for your specific needs. They also add your employees into the system, set up accrual information and create notifications for situations when employees forget to clock in or out or when they're nearing overtime. The only other cost to consider is for the stratustime timeclocks. Those cost, on average, about $2,500. No long-term contracts are required.
Features
Stratustime has an easy-to-use interface that makes it simple for both employees and managers to complete their tasks. It offers numerous helpful features for businesses seeking a time tracking solution:
Multiple time tracking methods. Employees have a variety of ways they can clock in and out with stratustime. Among the options are via traditional timeclocks, internet connected computers, the mobile friendly website, telephones and a web kiosk.
Mobile-friendly website with geofencing. The stratustime website, which works on all mobile devices, not only lets employees clock in and out, but also allows them to submit time cards and request time off. Managers can log into the mobile website to see who is currently working and view and approve time cards and time off requests. In addition, the mobile website uses geolocation technology to record the specific locations where remote workers are clocking in and out from. This gives employers assurances that employees are working from where they are supposed to be.
Cloud-based clocks. The stratustime timeclocks are cloud-based and can collect information via fingerprints, magnetic stripes, bar codes, proximity badges and touchscreens. When using a timeclock, all of the time collection data is instantly transferred into the software.
IVR clock-in. The IVR option allows employees to clock in and out from any telephone. The IVR also lets staff members transfer their hours, submit time sheets, and check PTO balances. Employers can also restrict access to the IVR by allowing employees to only access it from specified numbers.
Project-based time tracking. The system tracks how long employees work on specific projects. This can be helpful for employers that bill clients by the hour, such as consultants and law firms.
PTO management. Stratustime tracks how much time off employees have earned and how much they have used, allows staff members to request time off, and lets managers approve or deny those requests. This is all handled within the system and keeps everything organized in one central location.
Scheduling tools. The system has a variety of scheduling tools. Managers can generate schedules for individual employees, departments or shifts. In addition to designating when employees should start and end their shift, the scheduling tool also lets managers insert when breaks should be taken. For quick assignments, there is a click and drag option that allows managers to move schedules from one employee to another.
Points tracking system. With stratustime's points tracking system, organizations can create point charts for things like clocking in late, missing a shift, forgetting to punch in or out, etc. This allows employers to quickly see which employees are abiding by the attendance rules and which ones aren't. The points tracking module allows you to set your own point tracking rules, monitor points according to the baselines you've established, and export data to Microsoft Office.
Labor reports: Stratustime offers a wide range of detailed labor reports, such as those for projected wages, hours paid, weekly schedules and labor distributions. Managers can also set the system to automatically have reports emailed to them. This can be helpful if there is a report they access each week. By having it automatically emailed to them, the report is waiting for them in their inbox when they need it.
Payroll integrations: The system integrates with more than 60 payroll providers. This allows you to have your time and attendance data automatically inserted into your payroll system. Among some of the payroll systems stratsutime integrates with are ADP, SurePayroll, Paycor, Sage, QuickBooks and Prime Pay. Besides the integrations, stratustime is also offered within the Paychex online payroll service. Paychex owns nettime solutions and offers stratustime on its payroll platform, along with a variety of other HR services.
Stratustime Dashboards
Stratustime's employee and manager dashboards can be accessed via any internet connected computer or mobile device. The employee dashboard is broken up into six different sections: Actions, Schedules, Time Off, Messages, Time Card and Reports. For these different sections, staff members can clock in and out, submit time sheets, check their schedules by day, week or month, and ask for time off, see a company-wide vacation schedule, send messages, and review previous time cards. Besides being able to access each section, the employee dashboard features several small icons near the top of the page that allow employees to quickly clock in and out.
The manager dashboard is a bit more sophisticated. When logging in, managers see an overview of the system. There is an in and out board that shows which employees are clocked in, as well as details on which employees clocked in or out most recently and the total number of hours all staff members have worked so far that week. There is also a notifications bar at the top of the page that highlights messages managers may have, employees who have forgotten to punch in or out and pending PTO requests that need their attention.
The manager home page is completely customizable for each users' needs. Besides the homepage, managers can access five different sections of the system: employees, time cards, schedules, time off and reports. From these different sections, supervisors can see details of staff members, including the hours they have worked and their schedules, approve time cards, review time off schedules in order to approve or deny any pending time off requests, see if any employees have missed punches and see which employees are currently clocked in.
Additional Considerations
The cloud-based system requires no software to install and is totally maintained and updated by the nettime solutions. If there is a problem with the system, stratustime is responsible for fixing it. Additionally, you don't have to pay for any updates that are added to the system.
We were impressed with the customer support stratustime offers. We contacted the company numerous times posing as a business owner interested in the system. Each time we called, helpful representatives provided us with detailed answers to all our questions that left us with a clear understanding of how the system worked and its cost. stratustime offers support to its customers via phone and email from 9 a.m. to 7 p.m. (EST) Monday through Friday.
Employees and managers also have access to a variety of help options, such as tutorials and help videos, as well as the "walk me" feature, which assists users in real time while the system is being used.
Drawbacks
The biggest downside to stratustime is the one-time implementation charges. Not all providers charge set up fees. Having this added cost really commits you to the system. You wouldn't want to pay thousands of dollars for the system and then decide to switch to a new provider in a few months. The positive side of this fee is that is does provide you with a system that is built and customized for your specific business. The implementation charge also includes training, which not all providers offered.

Other drawbacks are that customer support isn't available on the weekends and there isn't a live chat tool to get questions answered quickly.
Editor's Note: Looking for a time and attendance system? Click the Compare Quotes button below to have our sister site Buyer Zone connect you with vendors that can help.

Ready to choose your The Best Time and Attendance Services and Software 2019? Here's a breakdown of our complete coverage:

Chad Brooks
Chad Brooks is a Chicago-based writer and editor with nearly 20 years in media. A 1998 journalism graduate of Indiana University, Chad began his career with Business News Daily in 2011 as a freelance writer. In 2014, he joined the staff full time as a senior writer. Before Business News Daily, Chad spent nearly a decade as a staff reporter for the Daily Herald in suburban Chicago, covering a wide array of topics including local and state government, crime, the legal system and education. Chad has also worked on the other side of the media industry, promoting small businesses throughout the United States for two years in a public relations role. His first book, How to Start a Home-Based App Development Business, was published in 2014. He lives with his wife and daughter in the Chicago suburbs.