SubmitEdge SEO Review
By Chad Brooks
Last Modified: December 3, 2018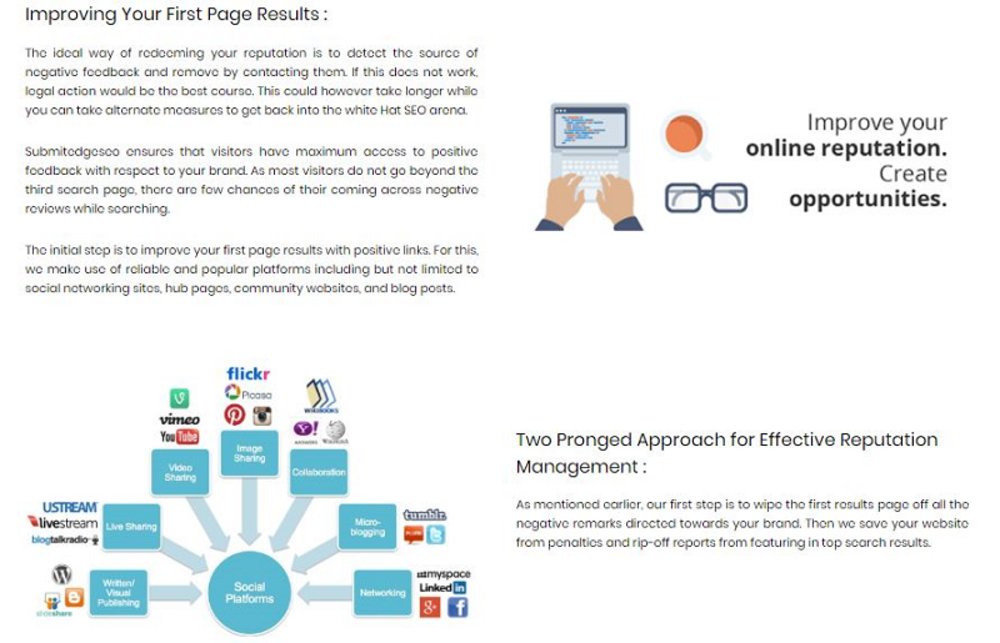 SubmitEdge pushes negative content about your brand out of the top search results while also helping positive content float to the top.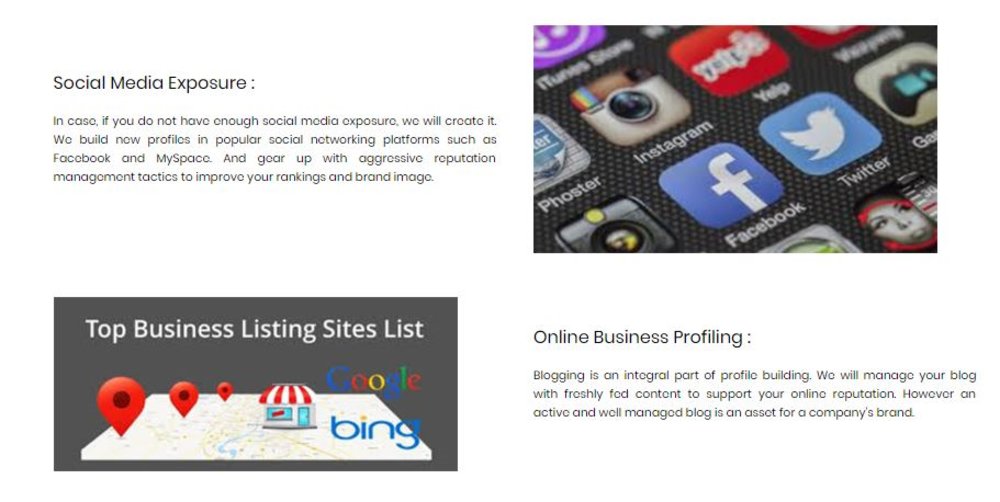 SubmitEdge helps you cultivate an image online through social media and blog content.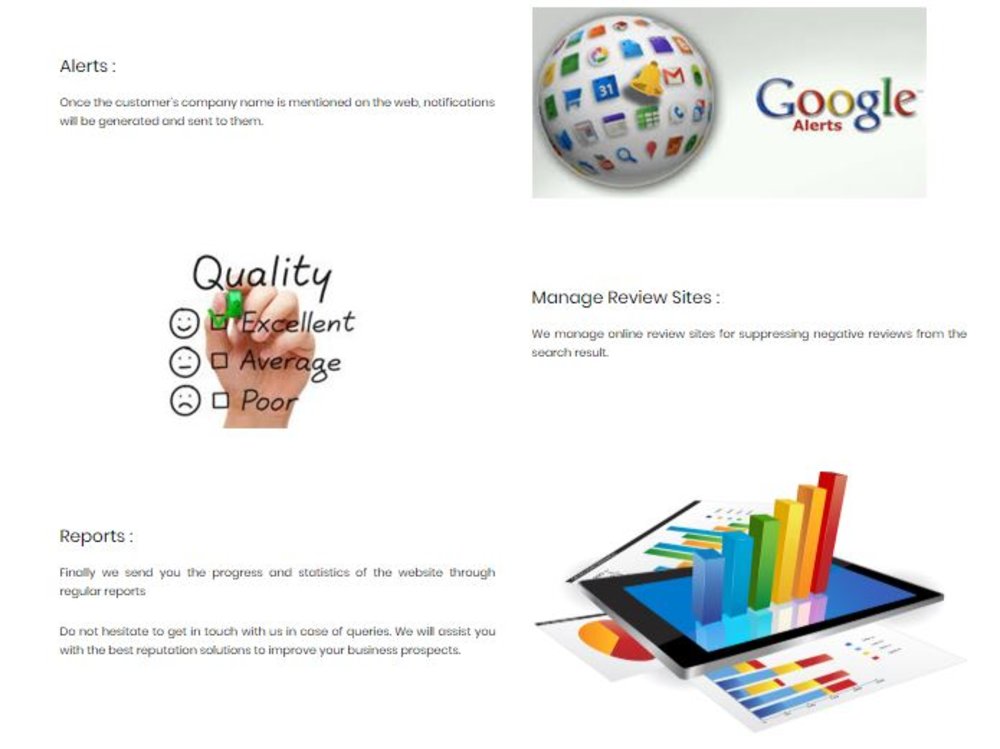 Each time a mention of your brand goes online, SubmitEdge will see it. It also manages your online reviews and send you regular reports of your performance across the web.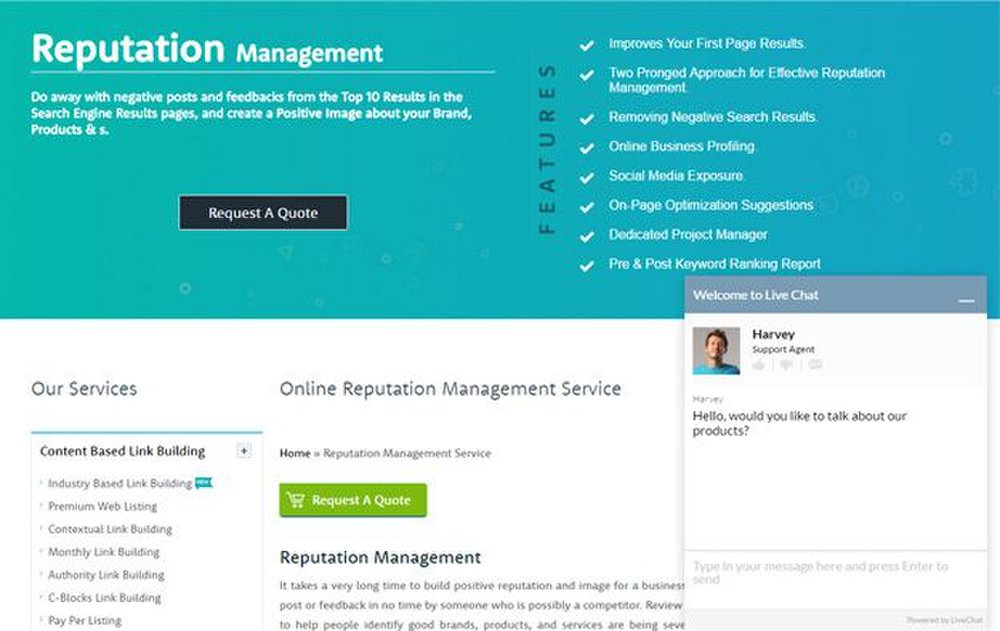 You can get more information about this company's services via live chat on its website.
Online reputation management is just one SubmitEdge SEO's many specialties. Founded in 2006, it has served over 15,000 clients in areas such as content creation and distribution and dealing with negative reviews. It's a solid service that uses a wide range of tactics to repair and maintain a business's online reputation. The company works to remove negative search results about your brand while also gathering more positive online reviews.
View all our recommendations for online reputation management companies on our best picks page.

Pricing
SubmitEdge SEO provides customized pricing for its online reputation management services; it does not have set service plans or packages. The company works with you to determine the current state of your online image and the best strategies to put in place. SubmitEdge SEO then determines your pricing and contract length. To learn more about the costs involved, we would encourage you to contact SubmitEdge SEO directly for a personalized price quote.
Online Reputation Management Services
SubmitEdge SEO uses a two-pronged approach to reputation repair and enhancement. First, it works to drive down the negative reviews from the top 10 search engine results about your company. Next, it builds up the SEO of your website and related content so that they maintain a high ranking. This helps protect you against future negativity.
To accomplish these goals, you need relevant content that is optimized for search engines and has a strong backlink score. Backlinks tell search engines that this is an authoritative site, as other sites refer to it. SubmitEdge SEO specializes in these activities as separate services and can apply them to your situation as well. ItSubmitEdge offers content writing services to create or assist you in creating microsites, blogs, press releases and a company wiki. It creates backlinks to your professional content via social networks and blogs, which increases your website credibility and generates traffic from potential customers.
These are some of the specific strategies this company employs:
Sister sites: SubmitEdge creates microsites that target specific keywords connected to your brand and services. It promotes these sites to add more positive content that drives down any negative content on the first pages of search results.
Social media: The company helps you build profiles on popular social networks, like Facebook.
Blogs: SubmitEdge will build you a blog and manage it to ensure fresh content is regularly posted.
Wiki sites: Knowing that anyone can post anything on Wikipedia, SubmitEdge will help you build your own company wiki, controlled solely by your business. This ensures that there is always a wiki site online that won't have any negative content about your brand.
Multimedia: SubmitEdge doesn't focus solely on written contentSubmitEdge. It also develops plans to add positive videos and images online to help you build a well-rounded internet reputation.
Online reviews: SubmitEdge manages the reviews posted about your business on various sites, in an attempt to prevent negative reviews from reaching the top of the search engine results.
Once it develops a campaign for you, SubmitEdge sets up a system to immediately notify it when a mention of your brand, product or service hits the web. This ensures that you can quickly handle any negative mentions.
Added Services
In addition to its online reputation management services, SubmitEdge SEO provides a full selection of digital marketing services. As the company name suggests, it specializes in SEO services, including content-based link building (such as pay-per-listing), backlinking strategies, pyramid services, niche listing services, industry-based link building, blogger outreach and contextual link building. These services start at $450 per month.
SubmitEdge's local services SubmitEdgeinclude citation building and local SEO. These services start at $250 per month. Submission services are also available. These include premium directory listings, directory and article submissions, and social bookmarking.
Website design, on-page optimization, social media maintenance and marketing, infographic creation and promotion, video creation, and website content writing are among the other services SubmitEdge offers.
Additional Considerations
We were pleased when we conducted our own online search of SubmitEdge that we didn't find any negative articles or reviews on the first two pages of the results. If it can ensure no negative content is immediately popping up about itself, it has the ability to bring those same results to you.
One downside is that we could not find a record of SubmitEdge SEO with the Better Business Bureau. We would have liked to see if the company had any complaints filed against it.

Editor's note: Looking for an online reputation management service? Click the Compare Quotes button below to have our vendor partners reach out to you with information.

Ready to choose your The Best Online Reputation Management Providers of 2019? Here's a breakdown of our complete coverage:

Chad Brooks
Chad Brooks is a Chicago-based writer with more than 20 years of media experience. A graduate of Indiana University, Chad began his career with Business News Daily in 2011 as a freelance writer. In 2014, he joined the staff as a senior writer. Currently, Chad covers a wide range of B2B products and services, including business phone systems, time and attendance systems, payroll services, and conference call services. Before joining Business News Daily, Chad spent nearly a decade as a staff reporter for the Daily Herald in suburban Chicago. Chad's first book, "How to Start a Home-Based App Development Business," was published in 2014. He lives with his wife and daughter in the Chicago suburbs.