Takeuchi Review
The Takeuchi TB216 Compact Excavator is a hydraulic micro excavator from a leading Japanese heavy machine manufacturer. This mini excavator weighs 3,902 pounds.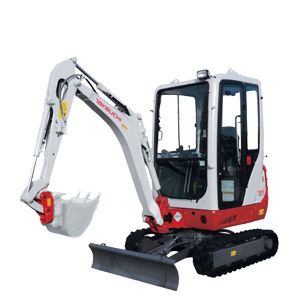 The Takeuchi TB216 has a maximum dig depth of 7 feet 10 inches, maximum dump height of 8 feet 10.5 inches, and a maximum reach of 13 feet 5 inches. It also has a ground clearance of 8.1 inches and a tail swing radius of 3 feet 6.3 inches. Although it is a compact excavator, the Takeuchi TB216's tail overhangs its track by a few inches. This may make it not as nimble as zero tail swing excavators, but its retractable undercarriage helps.
This Takeuchi mini excavator uses 9-inch rubber tracks that are gentler than steel tracks on delicate surfaces and pavements but not as sturdy on rough grounds. The excavator also has triple flanged rollers in its tracks that uphold their structural integrity on any surface. Each track is 9 inches wide and 3 feet 9.5 inches long.
Overall, the T216 applies a ground pressure of 4.3 pounds per square inch, making it quite lightweight for landscaped job sites. The tracks' frames can also expand and retract. When fully extended, the width of the undercarriage is 51.2 inches, and the excavator is most stable in this mode. However, it can also retract to 38.6 inches when you need the excavator to go through narrow openings.
Underneath its hood, the Takeuchi TB216 carries a three-cylinder, 60 cc Yanmar engine with an EPA Final Tier 4 rating. This engine delivers 15 horsepower and has a maximum speed of 2,400 rpm. It drives the compact excavator to top speeds between 1.4 mph and 2.6 mph. This mini excavator sports simple quick-release side panels just below the operator's station. With these, you can quickly access the radiator, fuel filter and other parts that require regular maintenance.
Takeuchi makes the TB216 in cab or canopy options. In both models, the operator's station is spacious and comfy; it has large adjustable arm rests to help address operator fatigue. Other conveniences for the operator include a suspension seat, hydraulics-controlled foot pedal, retractable seat belt and visual display units that show important information such as engine rpm, fuel, hour meter and battery charge. The Takeuchi TB216 lacks in-cab features such as heater, air conditioning, radio and full-color display. Available attachment options for this mini excavator are few and include an auger, buckets and a breaker.
The Takeuchi TB216 is not an especially fast or a very powerful mini excavator, but it is plenty powerful and speedy for its weight class. Even though it is a conventional tail swing excavator, its retractable undercarriage makes it maneuverable in tight spaces.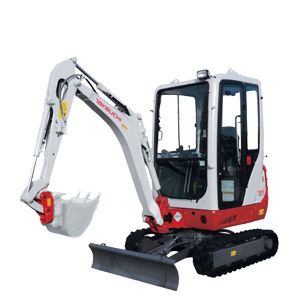 business.com editorial staff
business.com Member
The purpose of our community is to connect small business owners with experienced industry experts who can address their questions, offer direction, and share best practices.