Toshiba Portege Review
The Toshiba Portege A30 is a basic business notebook that places extra emphasis on basic. The laptop brings up the tail-end of our review thanks to a limited number of upgrade options, mediocre performance, and a feature set that feels four or five years out of date.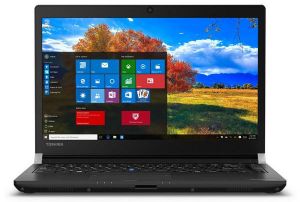 Toshiba Portege
The Verdict
The Toshiba Portege A30 is a basic work laptop that doesn't offer the sort of performance or feature set we expect from a business notebook.
The Portege A30 comes with an Intel Core i5-6200U processor and 8GB of RAM. Aside from a 16GB option, there is no opportunity for upgrade at purchase. Both the processor performance and graphics capabilities of the laptop are fairly limited, earning a C and C-minus, respectively. The laptop's only storage option is a 500GB hard drive - a traditional spindle drive instead of the solid-state drives more common in competitors. Because traditional hard drives are more prone to damage when moving, they aren't well suited to use on the go.
Unlike most features on the Portege, the laptop's design is rather nice. A magnesium lid and palmrest offer stability and have a rather luxurious feel for a basic office laptop. Weighing 3.06 pounds and measuring 0.8 x 12.4 x 9.0 inches, the overall design is fairly portable, so long as the laptop is powered down. A spill-proof keyboard means you don't have to worry about a spilled drink at your desk, while a pointing stick offers more navigation options than the touchpad alone.
The laptop's 13.3-inch display didn't impress, with its dated looking 1366 x 768 resolution display. Touch capability is optional. Considering the full HD (1920 x 1080) resolution that is standard in competing work laptops is available only as an upgrade, you may be disappointed by the Portege A30's display. The brightness is a fairly dim (274 nits), and the color was a bit off (DeltaE of 9) when we measured it with our colorimeter.
The laptop is outfitted with three USB 3.0 ports, an Ethernet port and an SD card slot. It has no advanced ports, but that's no surprise given how much of the design feels like a throwback to a few years ago. It's also the only laptop in our review that comes standard with an optical drive, and one of the few that still carries a VGA video connector, which is helpful if you need to connect to an older monitor or projector. It also comes with an integrated fingerprint reader and docking connection.
Toshiba covers the Portege A30 with a basic one-year warranty, which comes with free phone support and the option to extend coverage out to three years. Onsite support and accidental coverage are both available for an additional fee. Toshiba's tech support ranked ninth out of 10 major brands in Laptop Mag's independent testing.
The Toshiba Portege A30 feels like a system from four or five years ago, with a low-resolution display and traditional hard drive that feel less like a throwback and more like being held back. The laptop itself is well made, but the combination of mediocre performance and an out-of-date feature set may leave you wanting more from a professional laptop.
Image Credit: Getty Images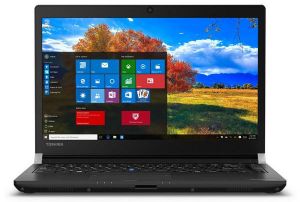 Toshiba Portege
The Verdict
The Toshiba Portege A30 is a basic work laptop that doesn't offer the sort of performance or feature set we expect from a business notebook.

business.com editorial staff
business.com Member
The purpose of our community is to connect small business owners with experienced industry experts who can address their questions, offer direction, and share best practices.