Total Management Review
By Business.com Editorial Staff
Last Modified: December 18, 2017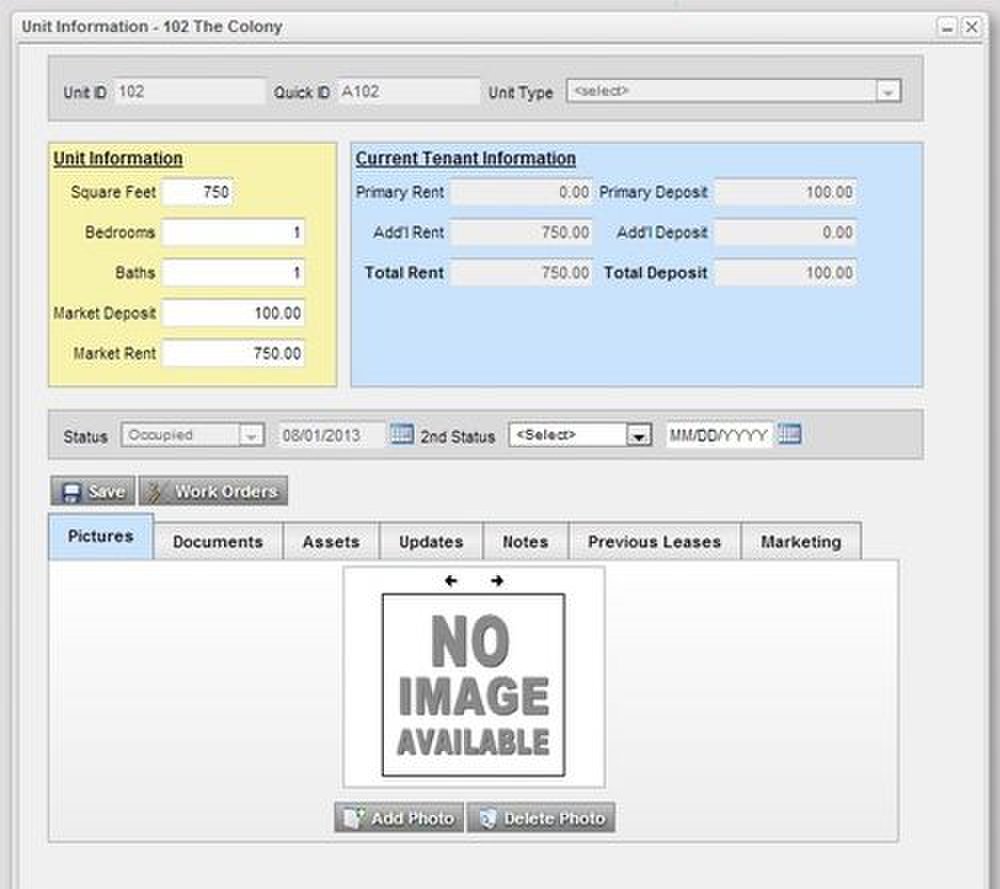 Total Management image: Unit information keeps track of square footage, rent amount and current tenant information.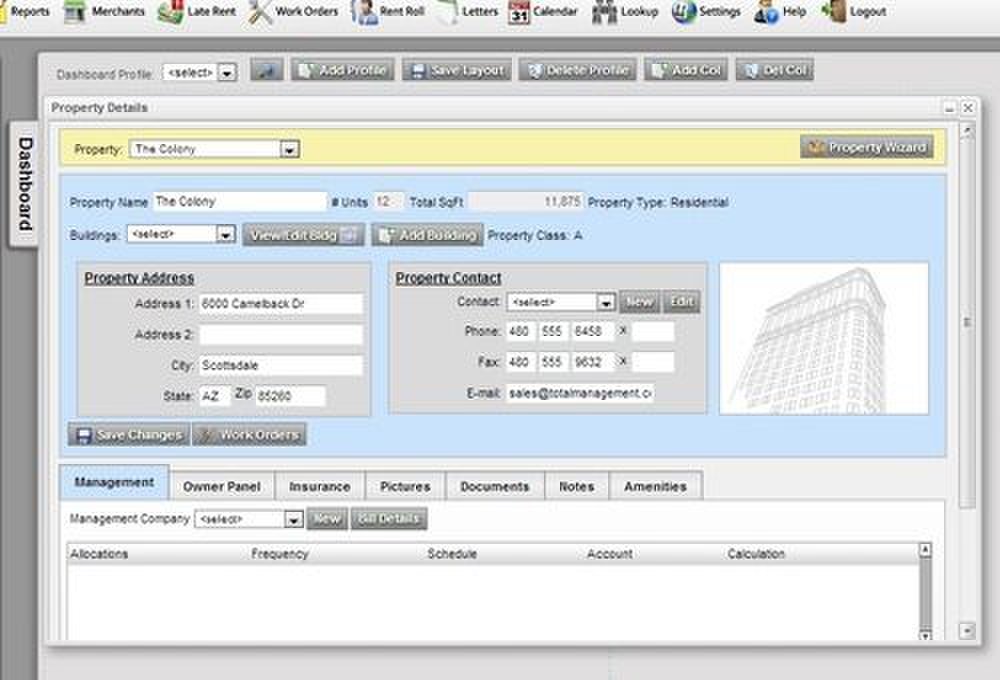 Total Management image: You can make changes to and maintain extensive property details through this property management software.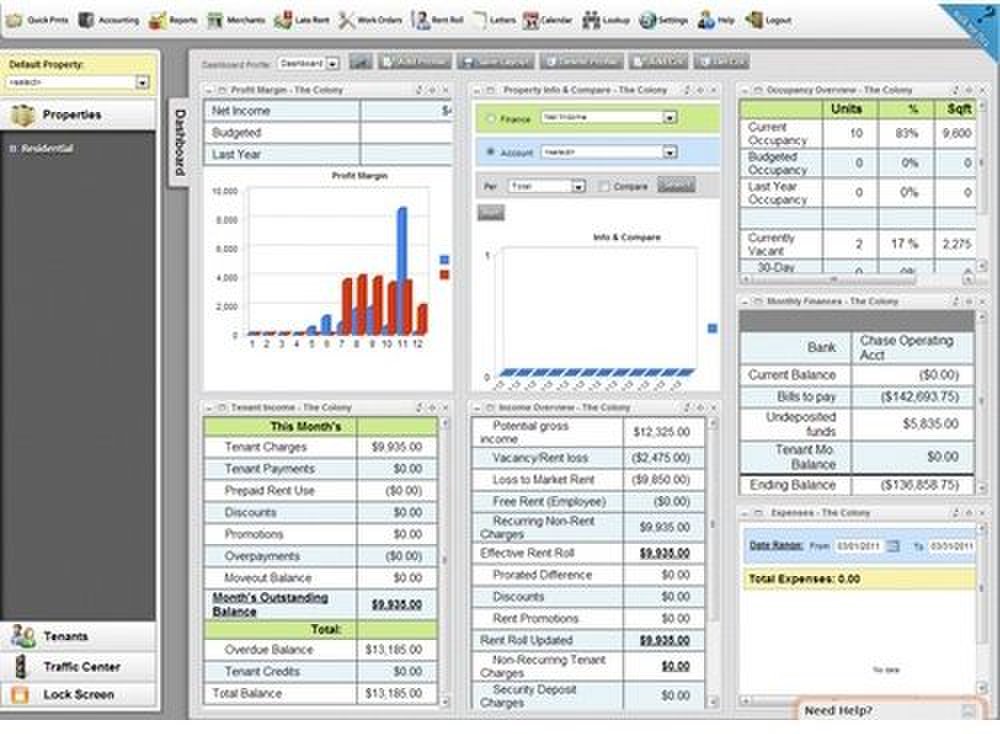 Total Management image: The dashboard can be customized according to your needs to cut down on time spent clicking and finding tools.
Total Management is a good example of how form can triumph over function. This property management software is easy to use and offers every feature you could want in online property management. Even though Total Management is a very graceful system, its functionality sometimes lacks the polish that defines its interface.
This online property management software has good marketing features that allow you to find new tenants and even have them submit electronic applications for your vacant properties. Tenants have access to an effective tenant portal that lets them pay rent online, submit work orders and view documents such as newsletters or lease agreements. The owner portal doesn't offer the same functionality that the rest of the system has. However, it still allows you to effectively communicate with owners and managers.

Total Management
Best Property Management
The Verdict
Total Management lets you manage accounting functions and payments from its system, so you have no need for other programs.
Visit Site ▶
There are many efficient features for managing facilities in this property manager software. The system tracks maintenance requests and open work orders. Not only can your maintenance staff access these anywhere, your tenants can also get progress reports so they know when to expect the work to be completed.
Total Management has one of the most effective accounting systems in our review. Whether you use accrual or cash-based accounting practices, Total Management has you covered. Other useful functions include bank account reconciliation, 1099 tax reports, check printing, and the ability to import and export data in a variety of formats. The management features also give you the ability to automatically calculate fees and commissions before sending payment to owners.
The customer service provided by Total Management is hard to beat. Representatives are available by phone, email or live chat to answer any question you might have. If you need training, you can get live remote assistance, or you can delve into the self-guided walkthroughs to learn how to better use the rental property management software.
Total Management is a solid competitor and competes well against the best property management software if you're looking for an easy and elegant interface backed by intelligently designed accounting features. This efficient system may have some quirks, but it has a lot to offer to property managers and landlords.

Total Management
Best Property Management
The Verdict
Total Management lets you manage accounting functions and payments from its system, so you have no need for other programs.
Visit Site ▶
Ready to choose your Best Property Management? Here's a breakdown of our complete coverage:
Business.com Editorial Staff
The purpose of our community is to connect small business owners with experienced industry experts who can address their questions, offer direction, and share best practices. We are always looking for fresh perspectives to join our contributor program. If you're an expert working in your field – whether as an employee, entrepreneur, or consultant – we'd love to help you share your voice with our readers and the Business.com community. We work hard to only publish high-quality and relevant content to our small business audience. To help us ensure you are the right fit, we ask that you take the time to complete a short application: https://www.business.com/contributor/apply/ We can't wait to hear what you have to say!