TradeGecko Review
By Business.com Editorial Staff
Last Modified: January 24, 2019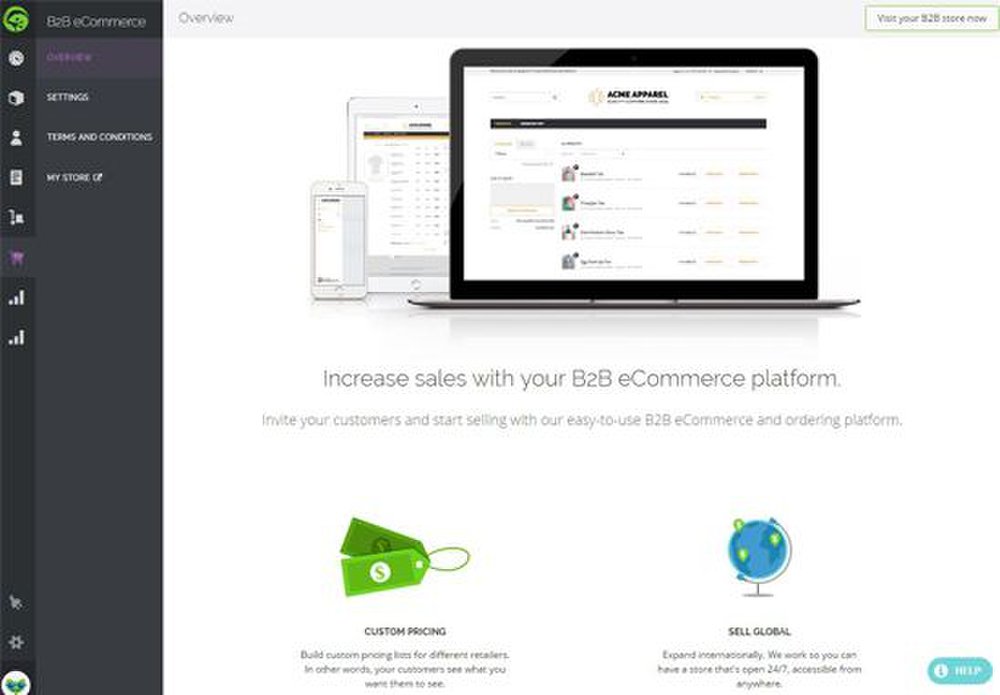 TradeGecko image: In addition to helping you with inventory tracking, TradeGecko can also help you create an online B2B store.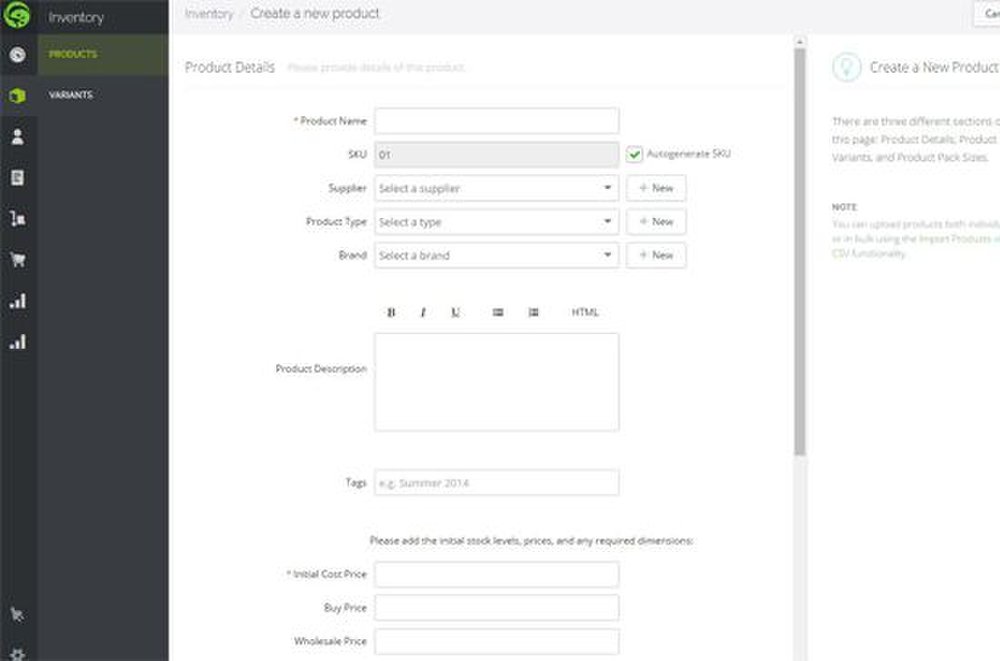 TradeGecko image: While you manually add products, TradeGecko can auto generate a unique SKU to help you keep track of your inventory.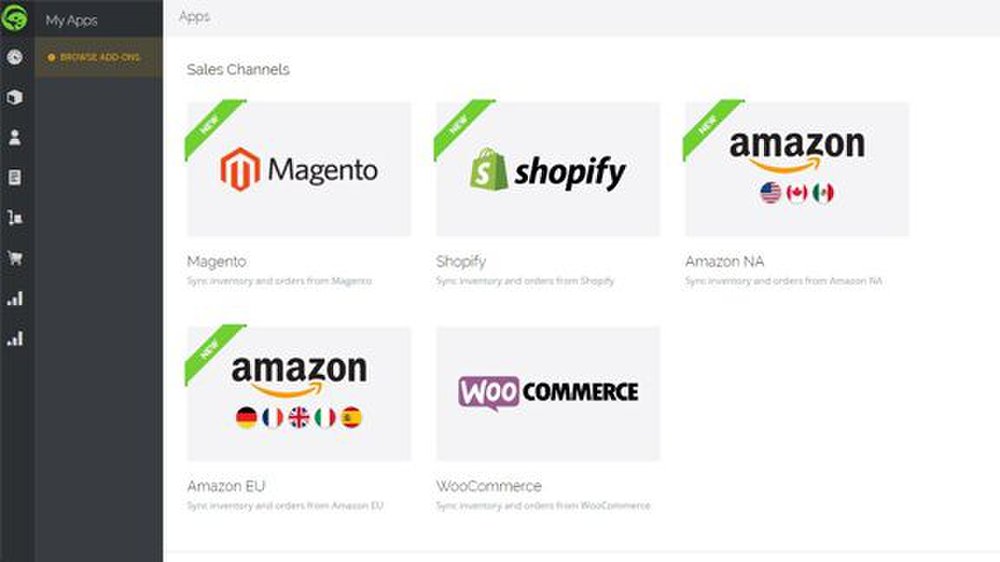 TradeGecko image: TradeGecko can integrate with many apps, including Magento, Shopify, Amazon and WooCommerce.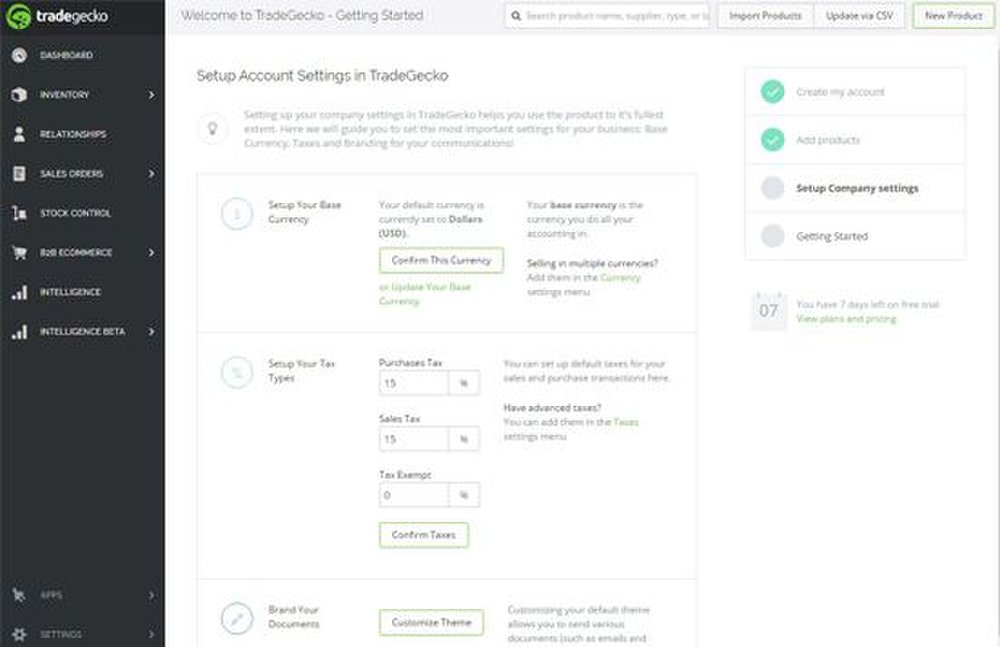 TradeGecko image: The dashboard can guide you as you set up your account.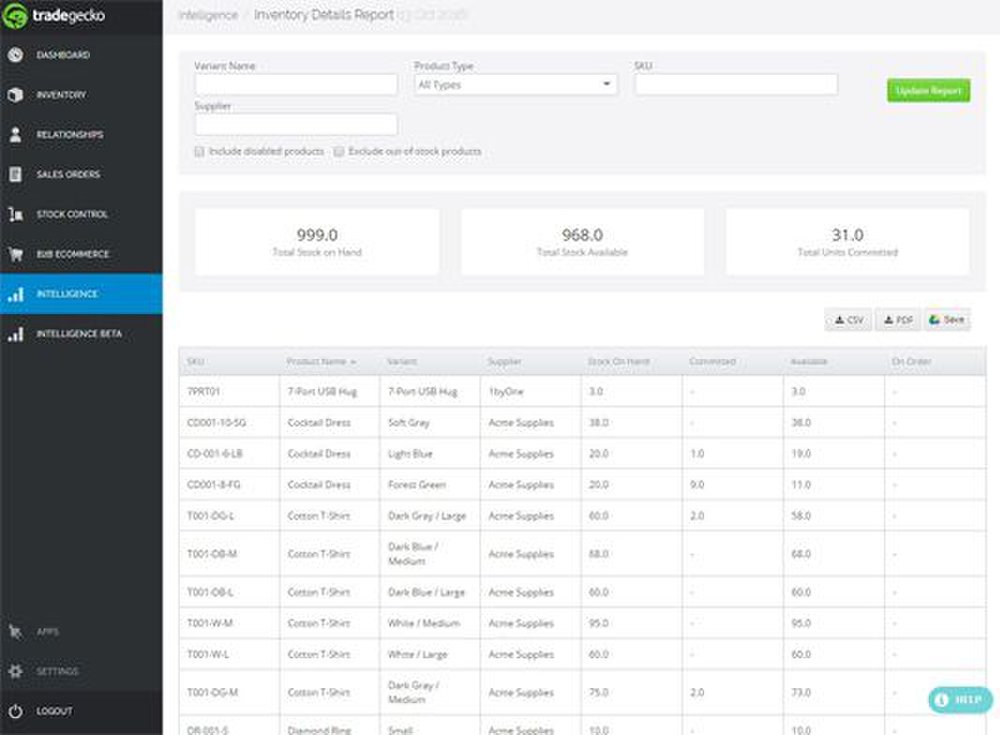 TradeGecko image: TradeGecko offers various reports, including an inventory report, which can help you keep track of the stock you have available.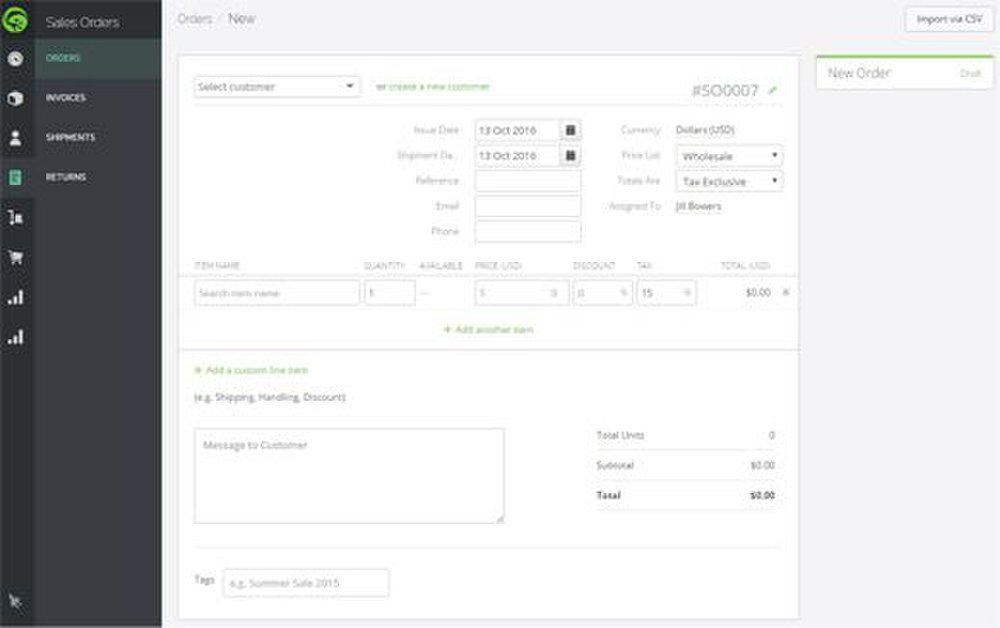 TradeGecko image: You can easily create new sales orders with this platform or upload multiple orders via a CSV file.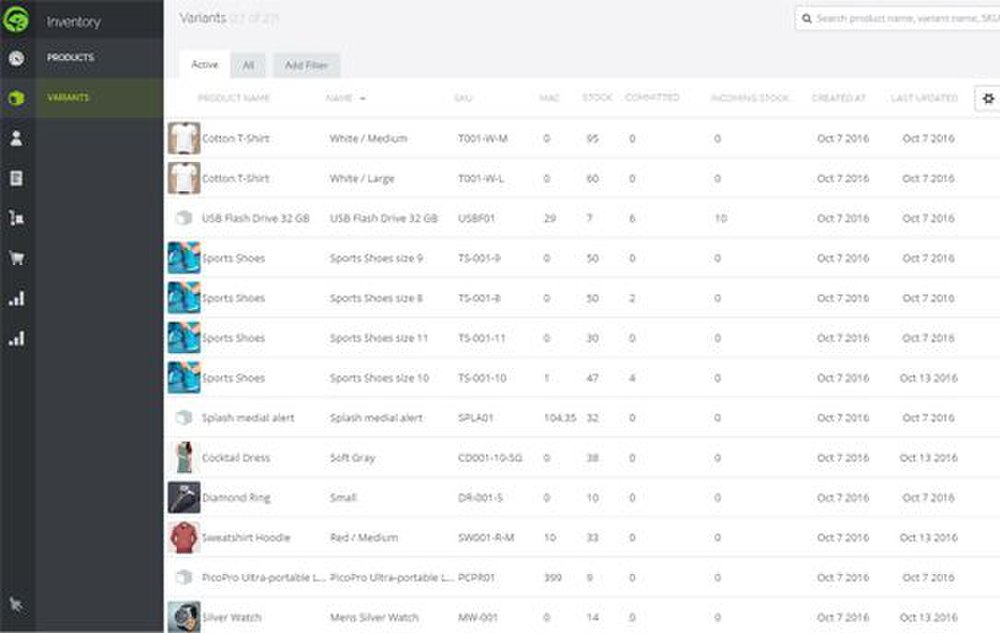 TradeGecko image: This software lets you track product variants, such as different colors, styles or sizes of a particular product.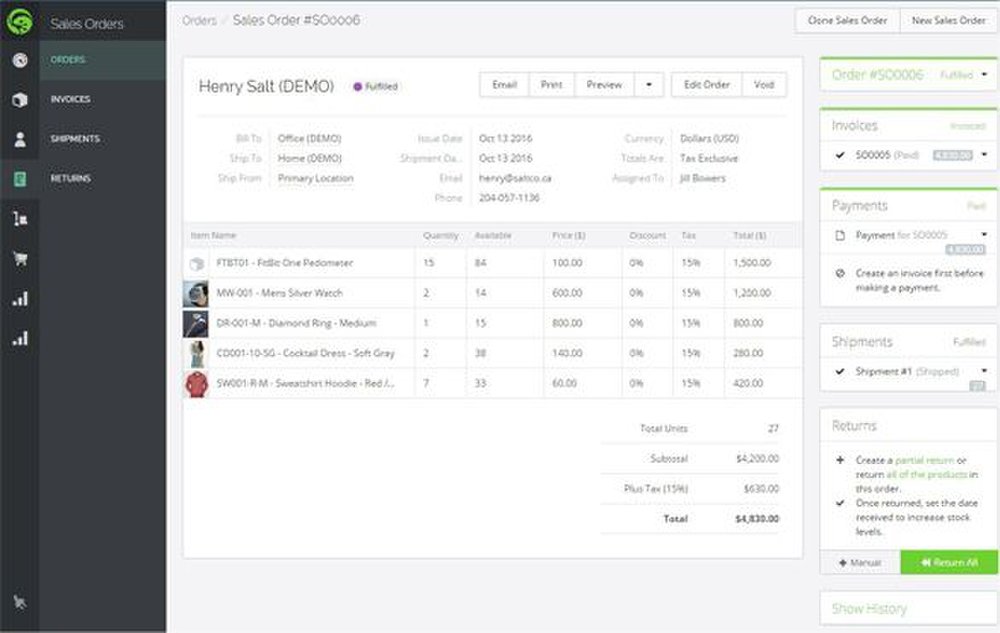 TradeGecko image: After you create a sales order, you need to mark it as paid and shipped before the platform will update the number of stock items available.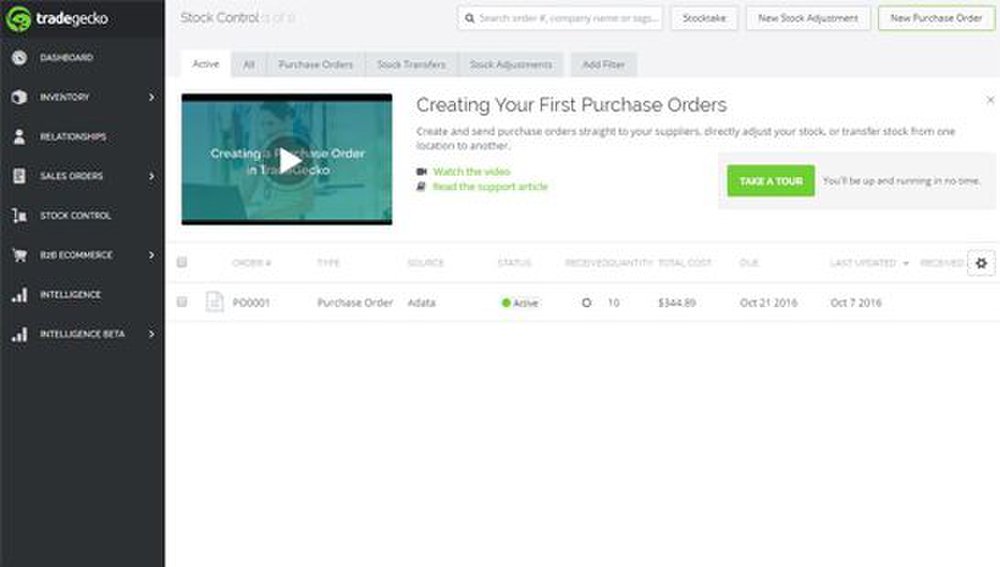 TradeGecko image: Helpful tutorial videos are available so you can learn how to use the TradeGecko platform.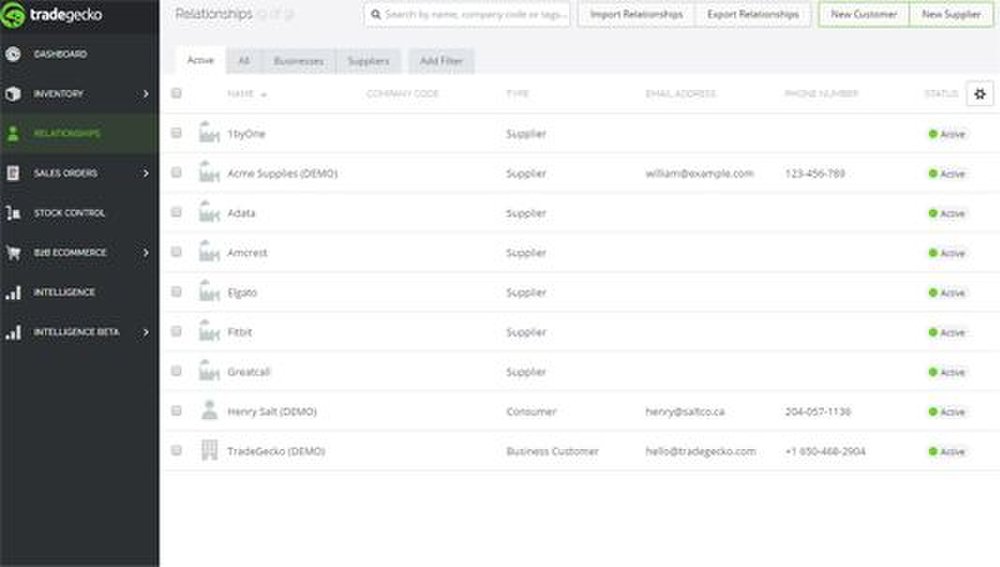 TradeGecko image: You can track your customer and vendor information from the Relationships tab.
Of the inventory programs we tested, TradeGecko is one of the easiest to master, with its clean user interface and impressive product-importing features. Although it lacks a few features – some critical, like low inventory warning – and relies on a third-party point-of-sale (POS) system.
With TradeGecko you can export data in the most common format, CSV, as well as the format used by QuickBooks. You can set different access levels for employees to view and use the necessary functions of the software, and you can set it up to generate custom reports at scheduled times. TradeGecko is only available in English.

We gave TradeGecko our highest rating for efficiency. The user interface won us over for its clean design, straightforward functions and up-to-date feel. Importing products is a breeze. You can enter products into the system with the barcode scanning function or by importing a spreadsheet.
TradeGecko also integrates with various sales channels. The only thing missing is inputting products by lot and/or serial numbers, which would be useful if you were tracking and picking specific products. We also experienced a few hiccups with the auto-fill function when creating new product orders.
This inventory software program can integrate with a multitude of platforms, including eCommerce sites like Shopify and online marketplaces like Amazon, which is helpful if you sell your products online. Oddly, it doesn't have a low inventory warning, which is standard for similar platforms. Rather than notify you when a product or item is getting low, the onus is on you to track items and reorder them before you run out. It also doesn't include a bill of materials tracker, so this application isn't a viable option for manufacturers.
One issue to be aware of with TradeGecko is that you'll need to integrate it with a third-party POS system. Aside from that, it comes with all the essential features for sales tracking, including the ability to keep track of partial orders, which occurs when portions of an order have shipped and others are pending shipment. This inventory management software can deal with multiple currencies, which is a plus if you have customers from different countries. In addition, it has a helpful customer database. It is very easy to store and call up customer information.
You can reach TradeGecko's support staff via email, phone and live chat. On the website, there's an extensive knowledgebase to help you further master the software and even train you on other aspects of running your business.
TradeGecko is a browser and mobile-based platform you pay a monthly subscription for; there is no actual software to install on your computer. This comes with its advantages and disadvantages depending on your business's needs. On the one hand you're able to access your business's inventory from anywhere in the world there's an internet connection; however, it's problematic to access it if there's no internet connection available.
TradeGecko is one of the most efficient inventory management solutions we've reviewed. A beautiful and responsive user interface goes a long way, and with plenty of product-importing options, it's a viable choice for nearly any business. There is no dedicated POS sale system; however, there's still plenty of integration options, including with QuickBooks. The cloud-based system could be handy if you travel frequently and need quick access to your inventory from any computer or mobile device.


Business.com Editorial Staff
The purpose of our community is to connect small business owners with experienced industry experts who can address their questions, offer direction, and share best practices. We are always looking for fresh perspectives to join our contributor program. If you're an expert working in your field – whether as an employee, entrepreneur, or consultant – we'd love to help you share your voice with our readers and the Business.com community. We work hard to only publish high-quality and relevant content to our small business audience. To help us ensure you are the right fit, we ask that you take the time to complete a short application: https://www.business.com/contributor/apply/ We can't wait to hear what you have to say!