TSheets Review
By Chad Brooks
Last Modified: December 12, 2018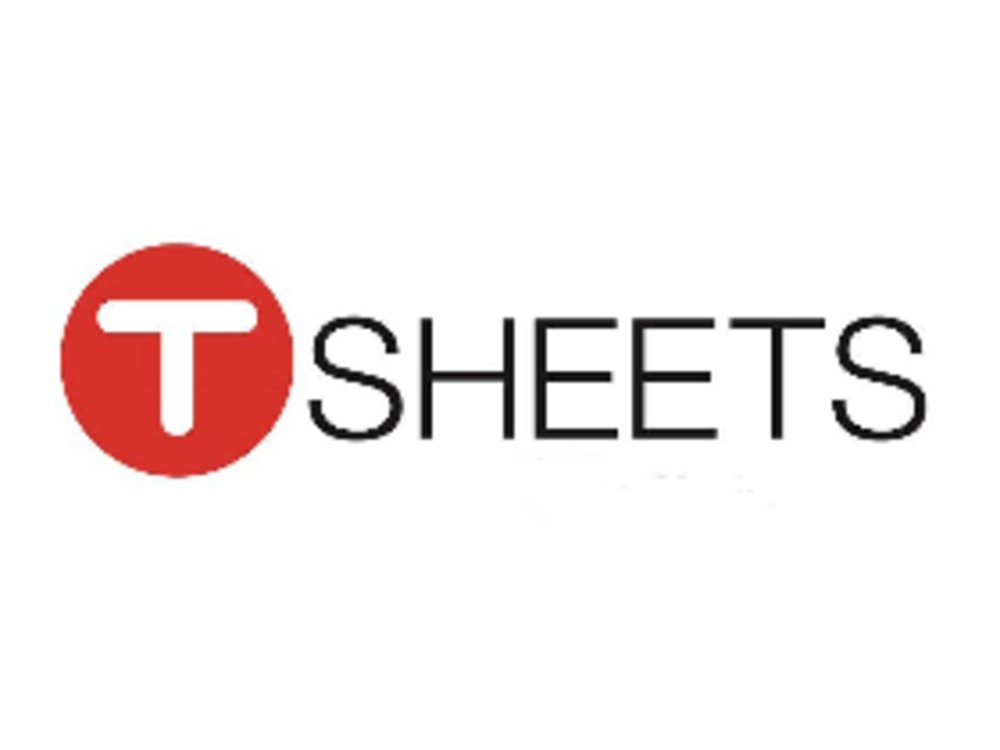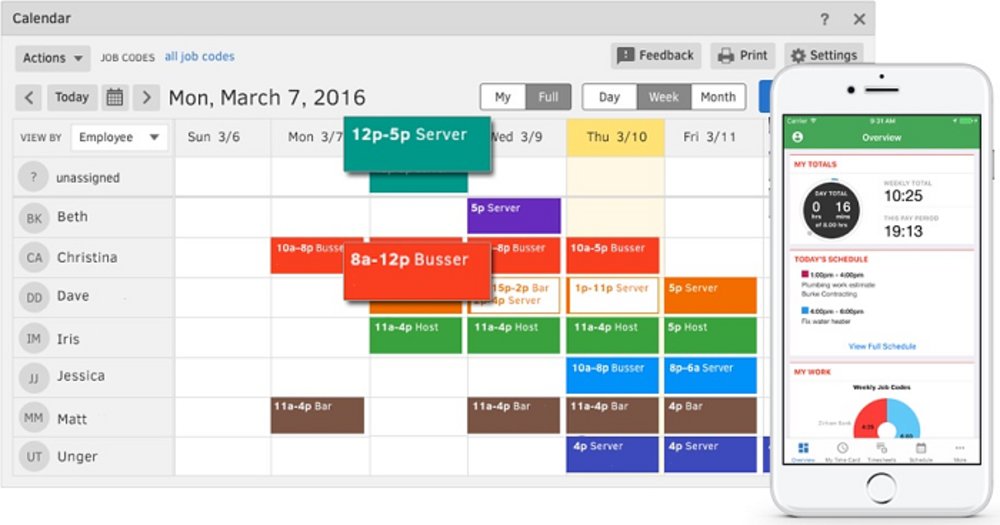 TSheets includes full scheduling capabilities. In addition to creating schedules on their computers with the drag-and-drop tools, those in charge can create and edit schedules from their mobile devices.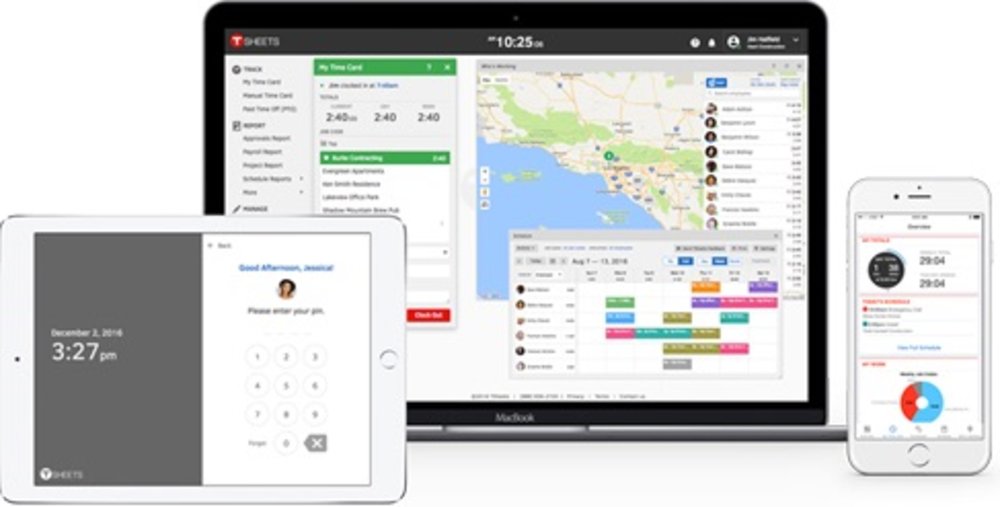 TSheets is accessible from a variety of devices, including computers, smartphones and tablets.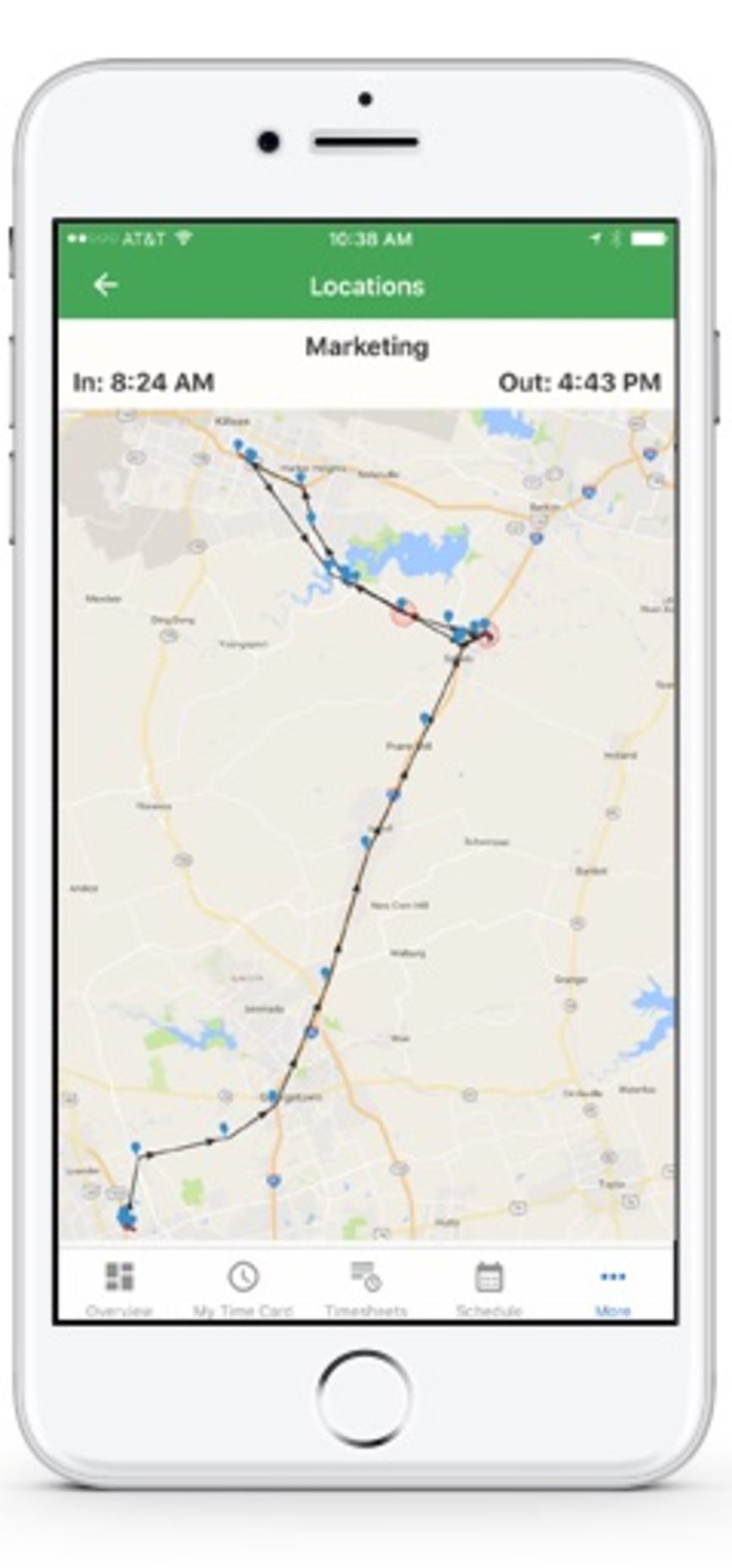 The TSheets mobile app not only records where employees clock in and out from, it also logs their locations throughout the day.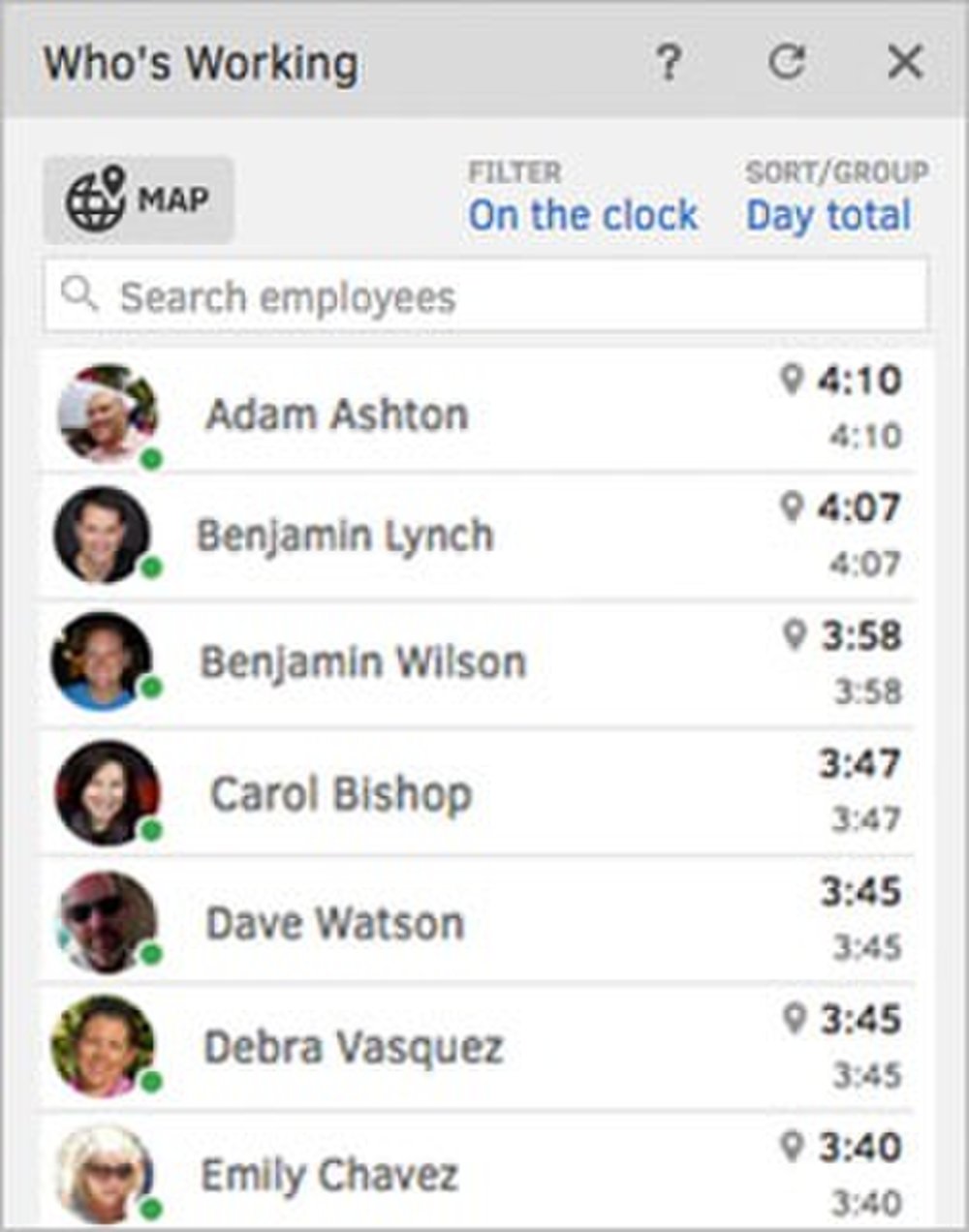 TSheets includes a digital in-and-out board that provides a real-time look at the employees who are clocked in and how long they've been working.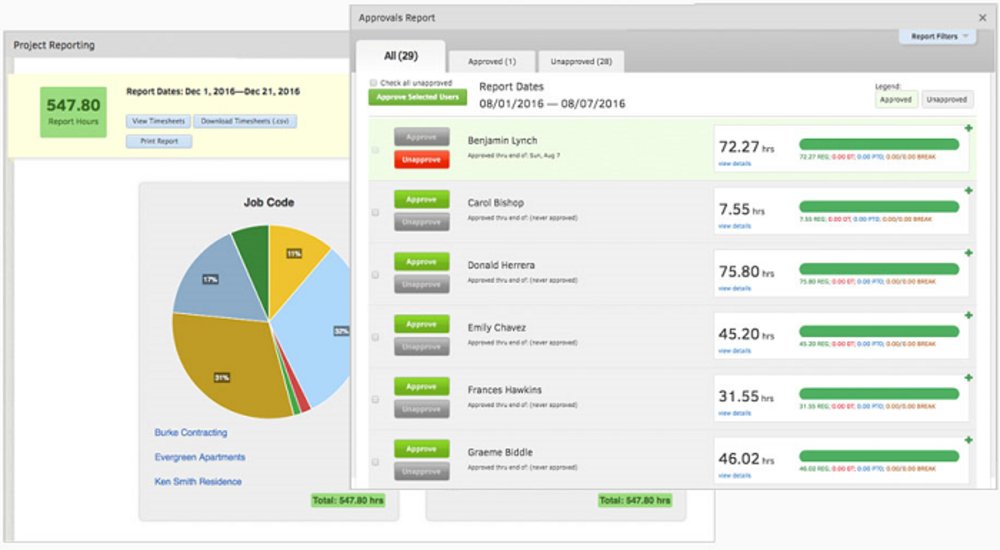 TSheets provides employers with an array of labor, payroll and attendance reports.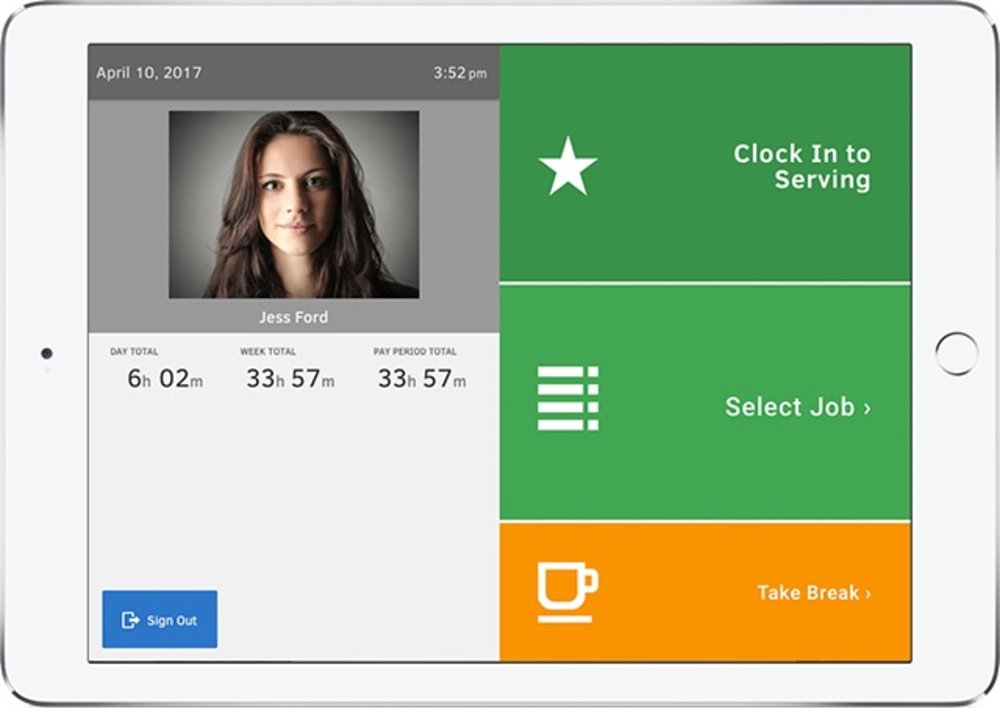 Employers can use any tablet as a kiosk for employees to clock in and out from. Employees can punch in and out using a four-digit PIN.
For the numerous ways they can clock in and out and for its mobile app that can track remote workers' locations throughout the day, TSheets is our choice as the best time and attendance system for offsite employees. The system allows remote workers to clock in and out via the mobile app, laptop computers, telephones, text messages and Twitter. In-office employees can manage their time via TSheets kiosk or web browser. The system also tracks accruals of paid time off and includes comprehensive scheduling tools.
View all our recommendation for time and attendance systems on our best picks page.

Pricing and Terms
TSheets is a cloud-based system that charges monthly per-employee fees. That's it. There are no setup, implementation or training fees. TSheets just charges $5 per employee per month, with a monthly base charge that depends on the size of your business. For businesses with fewer than 100 employees, there is a $20 base fee. The base fee is $100 for businesses with more than 100 workers. Access to the scheduling software is an extra $1.25 per user per month.
TSheets does not require contracts. However, businesses that pay for a year in advance save 20 percent. When paying monthly, you can cancel at any time for no additional cost.
Features
The options TSheets offers employers and offsite workers make it an excellent solution for organizations with a large remote workforce.
Remote clock-in: TSheets is an ideal system for businesses with employees who always or sometimes work outside the office because of the variety of ways to manage time and attendance remotely. Remote employees can clock in and out using the TSheets mobile app, laptop computers, telephones, text messages or Twitter.
Mobile app: In addition to punching in and out, employees can use the mobile app, available on iOS and Android devices, to track how long they work on specific projects, view their timesheets, see a digital board of who is working, and review their schedules. Besides logging the specific location where employees clock in and out, the mobile app records the location of remote employees every 10 minutes. With this feature, managers can view a map to see where their remote workers have been. The map is also beneficial for businesses that send employees out on service calls. They can easily look at the map to see which offsite workers are closest to the next job. While the app has to be running for the tracking to work, TSheets says it is not a drain on a smartphone's battery. The company says the app uses less battery in a day than a social media app uses in five minutes.
Field management: The mobile app also has a special feature for those in charge of managing an entire crew while out in the field. With this tool, supervisors can clock an entire group of workers in and out at one time. This tool works even if the smartphone being used is out of a cell service area. In those instances, the timesheet data is stored offline. When cell service returns, the supervisor can click the "sync" button to immediately send the timecard data for the entire crew back to the system.
Worker data: The system includes an in-and-out board that shows which employees are clocked in, their total time on their shifts and which projects they're currently working on. You can also sort employees by groups if you are trying to check on an entire crew.
Digital kiosk: In-office employees can clock in and out online from any web browser or the TSheets kiosk, which can be set up using any computer or tablet. With the kiosk, employees can punch in and out using a four-digit PIN. In addition to clocking in and out, employees can use the kiosk to switch job codes. To help prevent buddy punching, the kiosk has photo-capture capabilities. The kiosk snaps a photo each time an employee punches in and out. This ensures that staff members aren't clocking in and out for their colleagues. · Scheduling: TSheets offers an extensive set of scheduling tools. Managers can use the drag-and-drop tools to create schedules for each employee and assign jobs. These tools also make it easy to modify and change schedules. In addition to creating tools from their computers, those in charge can create and edit schedules from their mobile devices. Employees can view their schedules by logging in to the system online or via the mobile app. Staff members can also receive alerts through text, email or push notifications when their schedule has changed.
PTO management: The system can track all vacation, sick and holiday time accruals. You can also authorize employees to submit their own PTO hours or have administrators or managers do it for them. If you allow employees to submit their own hours, their managers will receive notifications when they do so.
Intuitive portal: The online portal is easy to navigate, with each section clearly labeled. For employees, sections include My Time Card, to clock in and out and review the hours they've worked; Who's Working, to see which of their co-workers are on the clock; and Submit Time, to send managers completed timecards. Supervisors have access to additional sections, including Manage Employees, which allows them to add employees into the system, set overtime rules and determine which parts of the system each worker has access to; Paid Time Off, which lets them add in vacation or sick hours; and Reports, which allows them to view labor-management data. It's simple to add new employees in. Instead of managers or HR personnel inputting all of the employee data, new staff members handle this task on their own. They can view a welcome video that explains the system and add in their details.
Alerts: The system can be set up to notify employees and their managers or administrators when they're approaching overtime. Additionally, it alerts you if any punches have been missed. The notifications can come through email, Twitter or text messages.
Break deductions: TSheets has an automatic break feature for employees who take consistent breaks each day. Rather than having them try to remember to clock in and out for those breaks, the system will automatically deduct a predefined break period from their timesheets.
Integrations: TSheets has a wide selection of integrations for various payroll, accounting and other popular programs. These include QuickBooks, ADP, Xero, Sage, Gusto, Square, Expensify, Namely, Rippling, simPRO, TravelBank, Justworks, Wagepoint, Breezeworks, Qvinci, Reckon, PaymentEvolution, Karbon, Knowify, Flint, Results, Activehours and Cougar Mountain.
Reports: TSheets offers timecard, payroll, approvals and project reports that each include customizable filters. Reports can be displayed from a company overview perspective or drilled down to the details of an individual employee.
Additional Considerations
TSheets offers excellent customer service. We tested the support by calling the company numerous times, posing as a small business owner interested in a time and attendance system. Each time we called, we received outstanding service. The representatives were always friendly and answered our questions thoroughly. At no time did they pressure us to sign up for the service. They always simply encouraged us to call back with any questions.
In case you need help setting up or using TSheets, it has an extensive knowledgebase on its website that includes FAQs and a user guide that walks you through basic features and processes. You can reach support personnel by phone between 6 a.m. and 7 p.m. (MST) Monday through Friday and via live chat between 6 a.m. and 6 p.m. (MST).
TSheets is an accredited member of the Better Business Bureau with an A rating. As of March 2018, only five complaints had been filed against TSheets over the past three years.
Drawbacks
The biggest drawback of TSheets is that it doesn't work with traditional timeclocks. However, the TSheets kiosk can serve some of those same needs.
Another negative is that employees can't request time off within the system. Other systems we looked into not only allow employees to ask for time off, but also give managers the option to approve or deny those requests.
Editor's Note: Looking for a time and attendance system? Click the Compare Quotes button below to have our sister site Buyer Zone connect you with vendors that can help.

Ready to choose your The Best Time and Attendance Services and Software 2019? Here's a breakdown of our complete coverage:

Chad Brooks
Chad Brooks is a Chicago-based writer and editor with nearly 20 years in media. A 1998 journalism graduate of Indiana University, Chad began his career with Business News Daily in 2011 as a freelance writer. In 2014, he joined the staff full time as a senior writer. Before Business News Daily, Chad spent nearly a decade as a staff reporter for the Daily Herald in suburban Chicago, covering a wide array of topics including local and state government, crime, the legal system and education. Chad has also worked on the other side of the media industry, promoting small businesses throughout the United States for two years in a public relations role. His first book, How to Start a Home-Based App Development Business, was published in 2014. He lives with his wife and daughter in the Chicago suburbs.