uAttend Review
By Chad Brooks
Last Modified: December 12, 2018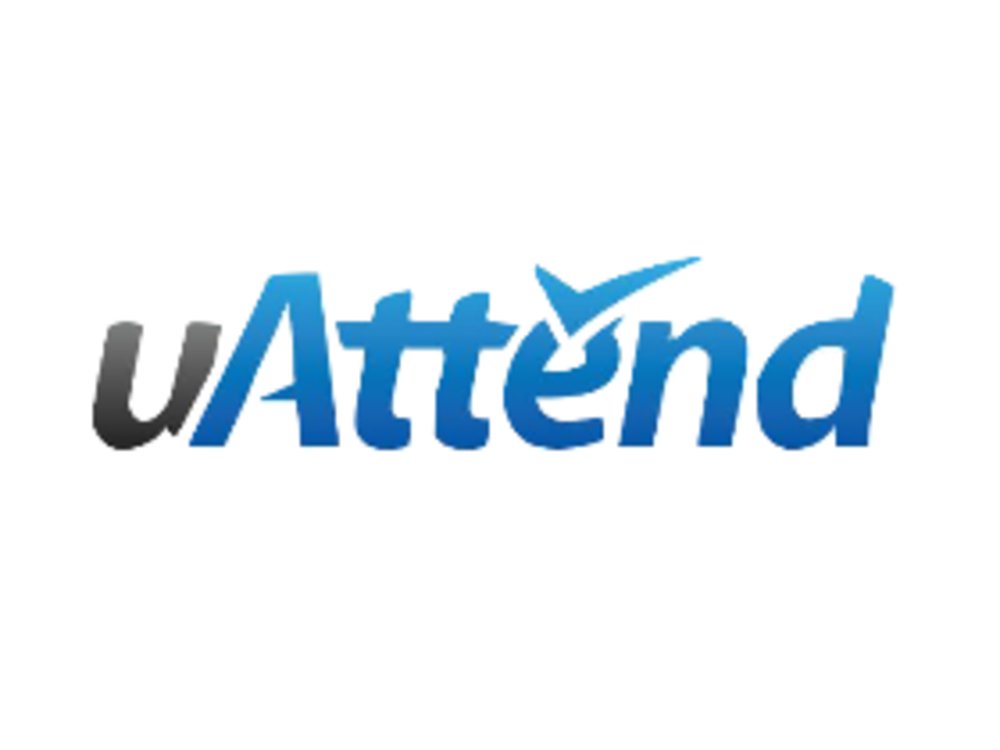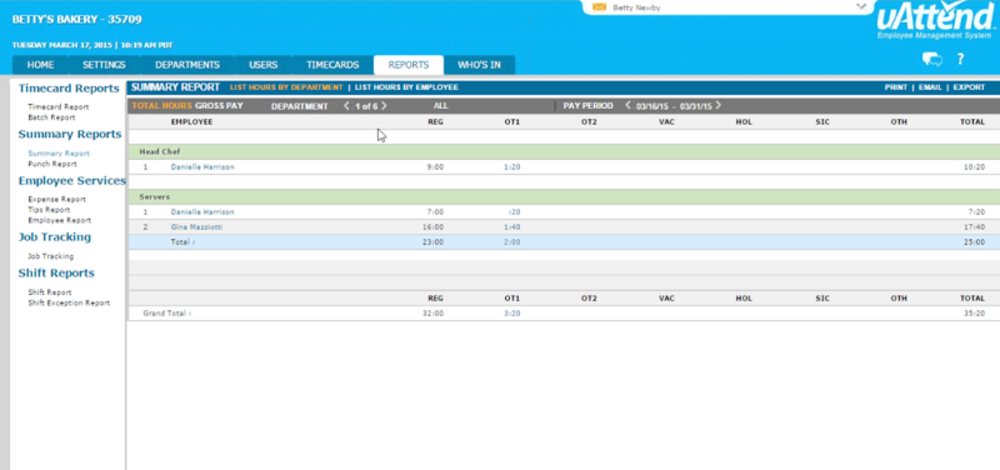 uAttend offers an easy-to-use interface that makes navigating and understanding the software a simple task.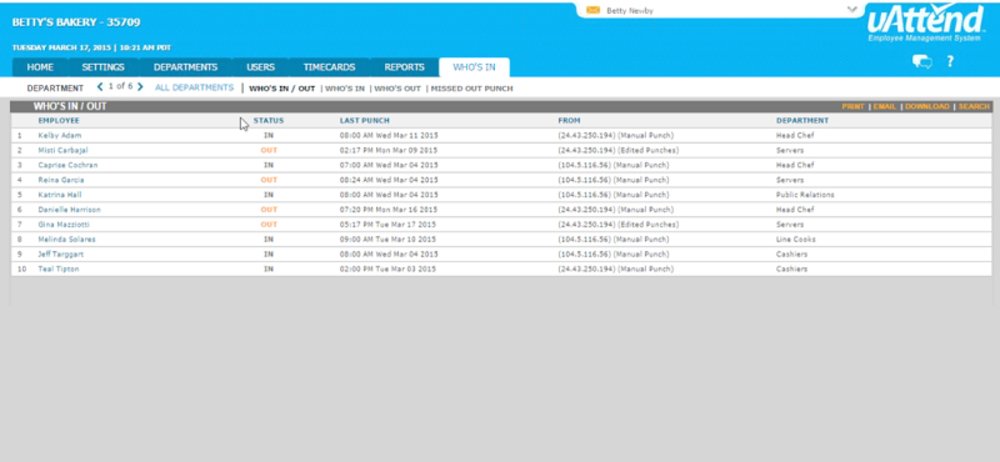 uAttend features a digital in-and-out board that provides a snapshot of the employees who are clocked in.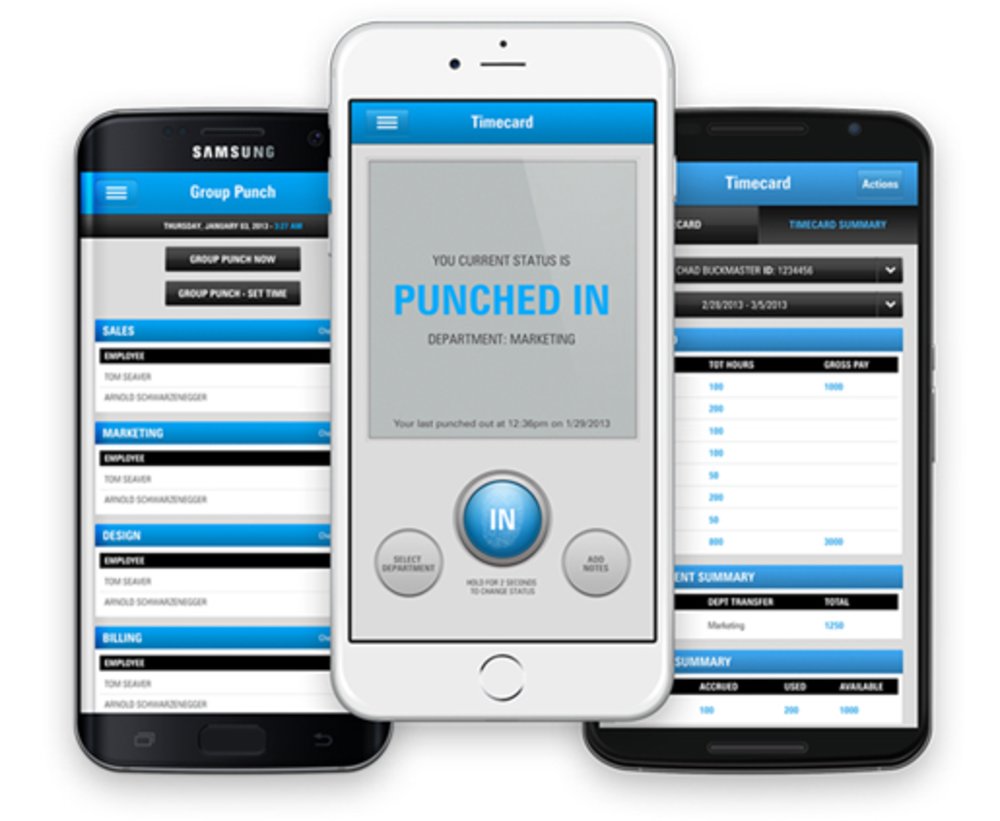 uAttend offers a mobile app for iOS and Android devices. With the app, remote employees can manage their time from anywhere.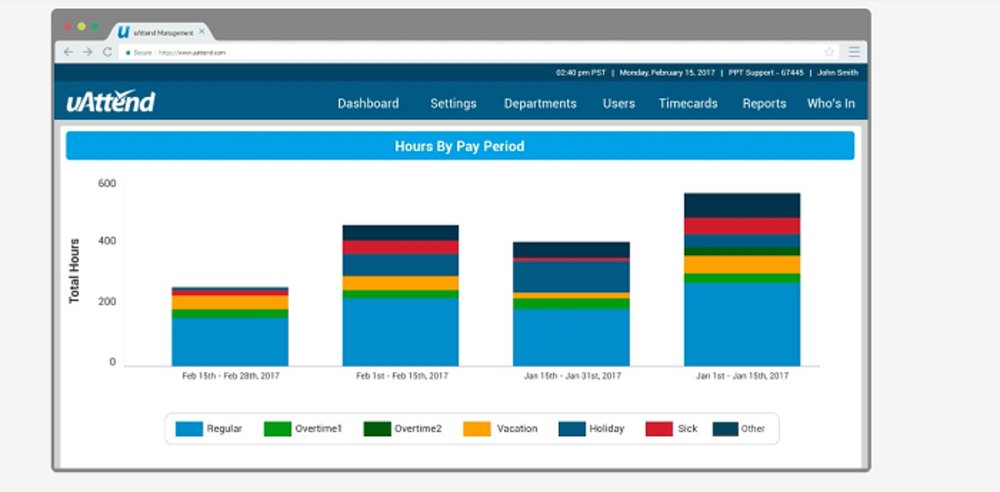 uAttend offers employers a number of valuable labor reports that offer insight into how the organization is running.

uAttend is compatible with a wide selection of wall-mounted timeclocks, including biometric clocks that require fingerprint scans to punch in and out.
uAttend is a cloud-based time and attendance system that is our choice as the best for very small businesses because it handles all time-tracking needs. The system records when employees come and go, manages paid time off, and features a scheduling tool. In addition, the system is compatible with a wide selection of wall-mounted timeclocks that allow employees to clock in and out, request time off, and receive messages from their managers.
View all our recommendation for time and attendance systems on our best picks page.

Pricing and Terms
Instead of charging per user, uAttend has membership plans based on a range of employees. There are five different membership plans:
1-9 employees: $18 per month
10-19 employees: $29 per month
20-49 employees: $49 per month
50-99 employees: $79 per month
100+ employees: $99 per month
This structure can help smaller businesses control their costs. For example, if you have five employees and decide to bring on a sixth on, your costs will stay the same under this fee structure. You may incur several other costs with uAttend, such as 6 to 8 cents each time a staff member clocks in or out via a telephone, $10 per timeclock if you have more than two, and $6 per month for additional administrators. Businesses exporting data to any payroll file other than CSV or Processing Point files are charged $5 per month.
uAttend's timeclocks are much more affordable than some of the systems we looked into. The clocks range from $119 to $249. There are no setup, implementation or training fees with uAttend.
There are no contracts with uAttend. All memberships are paid on a monthly basis. You can cancel at any time for no cost. If you cancel within the first 30 days, you will receive a complete refund.
Features
uAttend is an easy-to-use time and attendance system that can handle all of a company's time-tracking needs.
Multiple clock-in methods: To clock in and out, employees can use wall-mounted timeclocks, internet-connected computers, mobile devices and telephones. What's nice about this system is that employees can punch in or out from any of the options at any time. For example, an employee can clock in in the morning from a timeclock and clock out in the afternoon from their computer or mobile device. The system can be used without a timeclock; businesses have the option to only allow employees to punch in via their computers, mobile devices or telephones.
Timeclock selection: Many of the systems we looked into for very small businesses do not work with traditional timeclocks. uAttend, however, offers a variety of timeclock options. The timeclocks it offers work with PIN codes, ID badges and biometrics. Biometric options utilize fingerprints and facial recognition. The fingerprint-scanning clocks allow you to register up to 5,000 employees, while facial-recognition clocks allow for the registration of 200 employees. The RFID clocks allow unlimited employee registration.
Easy-install clocks: The clocks are extremely easy to set up. You plug the clock into a power outlet and connect it to the internet via Wi-Fi or LAN. The Ethernet-connected timeclocks plug directly into your network, while the Wi-Fi clocks connect wirelessly to your system. The final step is to select your monthly membership plan. After that, the clocks are ready for use. Additionally, all of the clocks come with a lifetime guarantee. Should one of the clocks stop working, you can call a customer service representative, who will troubleshoot the issue and send a replacement for free if it can't be fixed. You can also add your company logo to any clock.
Mobile app: The mobile app, available on iOS and Android devices, lets employees punch in and out and review their timecards. Managers can use the app to see who is on the clock, approve timecards and review productivity charts. The app uses geofencing to designate areas employees can clock in and out from. This prevents workers from trying to start or end their day from places they're not supposed to be.
Alerts: The system can send email or text message alerts to any manager, supervisor or administrator when employees are approaching overtime. You can track individual employees or entire departments. Alerts can also notify those in charge when employees clock in and out or when they punch in late or out early.
PTO management: The system manages all paid time off. It tracks vacation and sick time accruals and allows employees to request time off and managers to either approve or deny those requests. Besides logging in to the system via their computers to request time off, staff members can also ask for vacation time directly from a timeclock.
Worker tracking: uAttend can log the exact number of hours and minutes employees spend working on specific projects or tasks. The Who's In/Out board provides a snapshot of the employees who are currently working and the exact times they clocked in.
Easy-to-use interface: The system's clean interface is clearly labeled, which makes using the system very simple. There wasn't one aspect of using the software that we found difficult. If you don't have problems filling in boxes or clicking through dropdown menus, you shouldn't have any trouble using this system.
User portal: The employee self-service feature allows staff members to log in to the system to not only clock in and out, but also to submit timecards, review PTO accruals, ask for time off and check their schedules. Managers can log in to the system to add employees in, choose which methods each employee can use to clock in and out, set PTO accruals, approve or deny time-off requests, create shift schedules and assign employees to them, and review, edit and approve timecards. In addition, you can send employees secure messages via the timeclock. When clocking in and out, employees are notified if they have a waiting message.
Integrations: uAttend integrates with dozens of payroll services, including ADP, Paychex and QuickBooks. In addition, you can access more than 200 different exports for a variety of payroll systems.
Reporting: uAttend offers a wide selection of reports. You can run reports on punches, timecards, pay period, average hours worked, expenses, jobs tracked, and a host of other labor and employee information. These can all be sorted by date, department or individual employee. Also, besides clocking in and out, employees can use the timeclocks to enter tip and expense report information.
Additional Considerations
We were impressed with uAttend's customer service. We contacted the company numerous times, posing as a business owner interested in time and attendance systems. Each time we contacted uAttend, our calls were immediately answered by a helpful representative who was willing to take as much time as needed to answer our questions. We also received a high level of service when we used the live chat tool. The company provides customer support via phone, live chat and email from 9 a.m. to 8 p.m. (ET), Monday through Friday.
We also received a highly informative online demonstration from a company executive. She walked us through every aspect of the system, making sure we knew all of its ins and outs. We appreciated the level of detail in the demonstration.
The system itself has a built-in help guide. It offers step-by-step instructions on how to use the software, with screenshots to illustrate the steps. The guide offers assistance on a wide variety of topics, including how to set up the timeclocks, add employees into the system, create schedules and generate labor data reports.
uAttend's parent company, Processing Point, is an accredited member of the Better Business Bureau with an A+ rating. As of April 2018, only one complaint had been filed against the company within the past three years, and that complaint wasn't even about the uAttend system. It was in regard to Processing Point's payment processing service.
Drawbacks
uAttend doesn't offer a free trial. Some of the other systems we looked into allow businesses to test them out free for 14 to 30 days. However, if you cancel your uAttend service within the first 30 days of signing up, you can receive a complete refund.

Another negative is the customer support isn't available on weekends. Some small business owners spend time on the weekends working on administrative tasks like this, so not having the ability to receive support on a Saturday or Sunday could be a problem for some.
Editor's Note: Looking for a time and attendance system? Click the Compare Quotes button below to have our sister site Buyer Zone connect you with vendors that can help.

Ready to choose your The Best Time and Attendance Services and Software 2019? Here's a breakdown of our complete coverage:

Chad Brooks
Chad Brooks is a Chicago-based writer and editor with nearly 20 years in media. A 1998 journalism graduate of Indiana University, Chad began his career with Business News Daily in 2011 as a freelance writer. In 2014, he joined the staff full time as a senior writer. Before Business News Daily, Chad spent nearly a decade as a staff reporter for the Daily Herald in suburban Chicago, covering a wide array of topics including local and state government, crime, the legal system and education. Chad has also worked on the other side of the media industry, promoting small businesses throughout the United States for two years in a public relations role. His first book, How to Start a Home-Based App Development Business, was published in 2014. He lives with his wife and daughter in the Chicago suburbs.