UPrinting Review
By Business.com Editorial Staff
Last Modified: January 7, 2019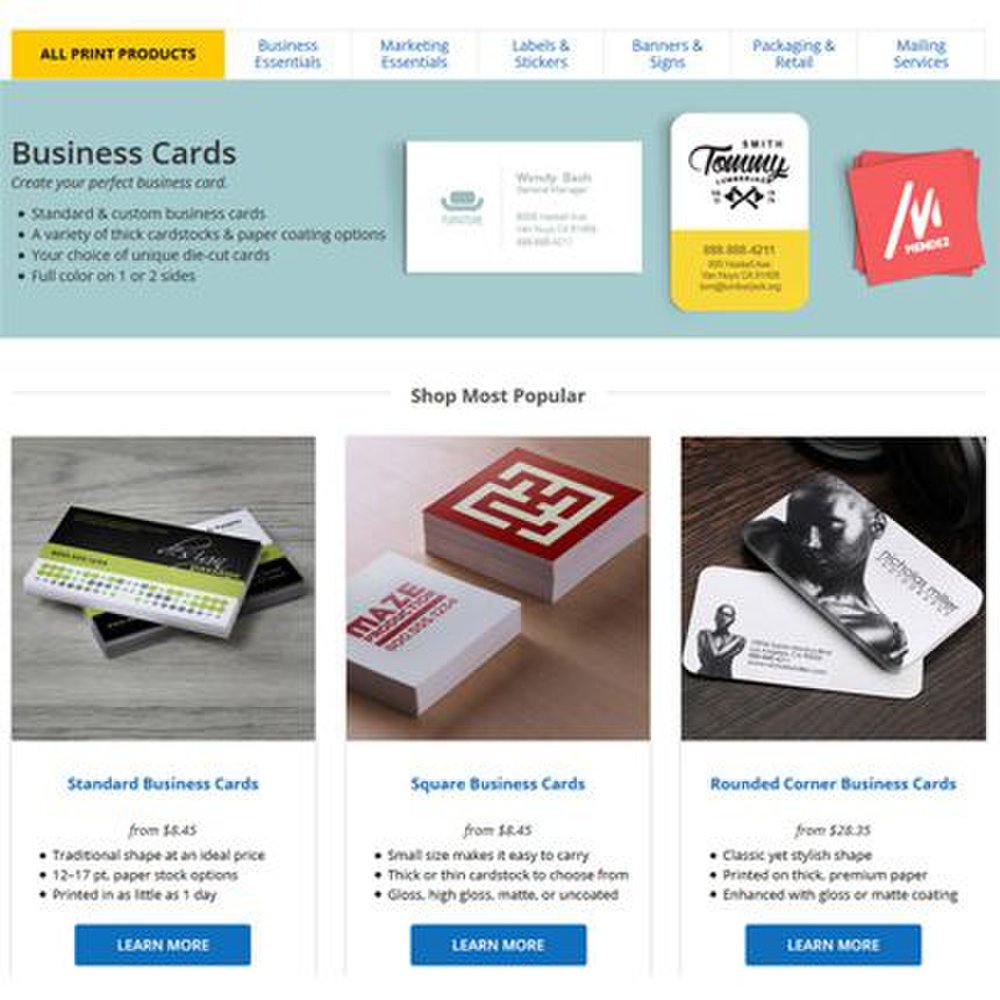 UPrinting image: This service has several specialty shapes you can use for your business card to help it stand out.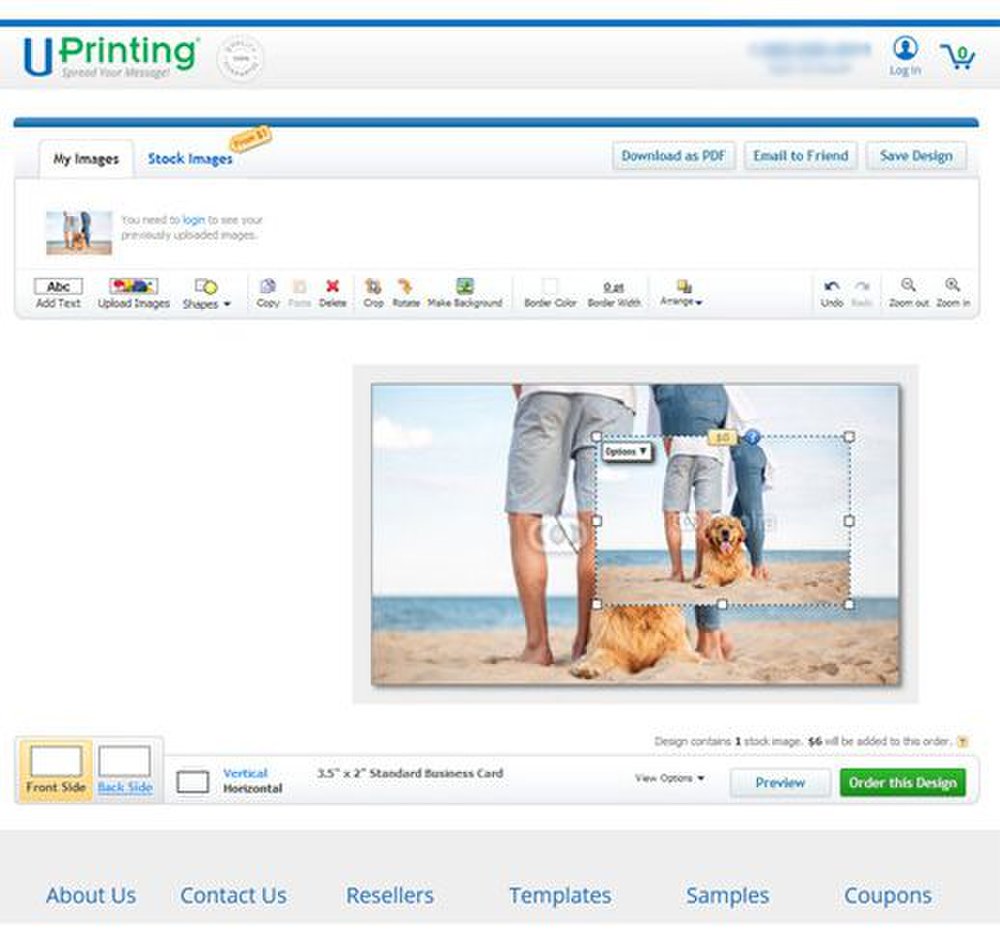 UPrinting image: The online design tool is straightforward, making it easy to design your business card.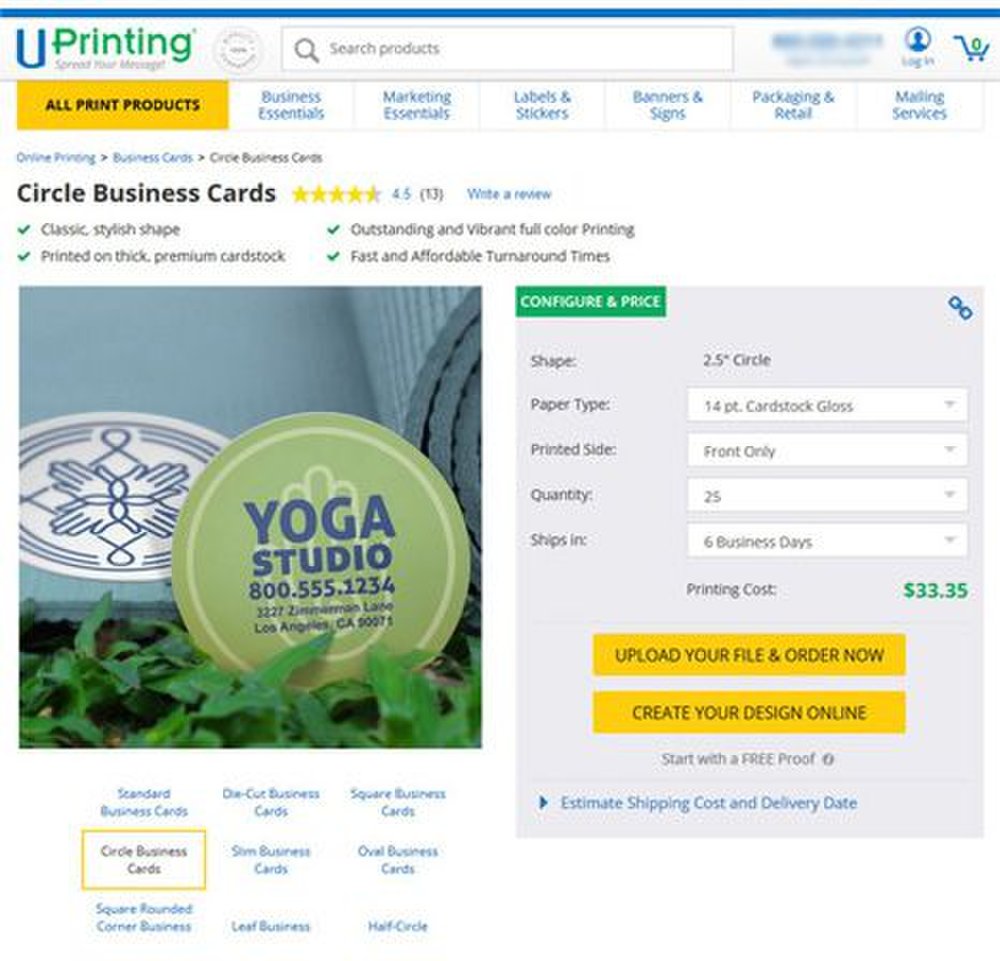 UPrinting image: After you select which shape you want your business cards to be, you can decide paper type and quantity.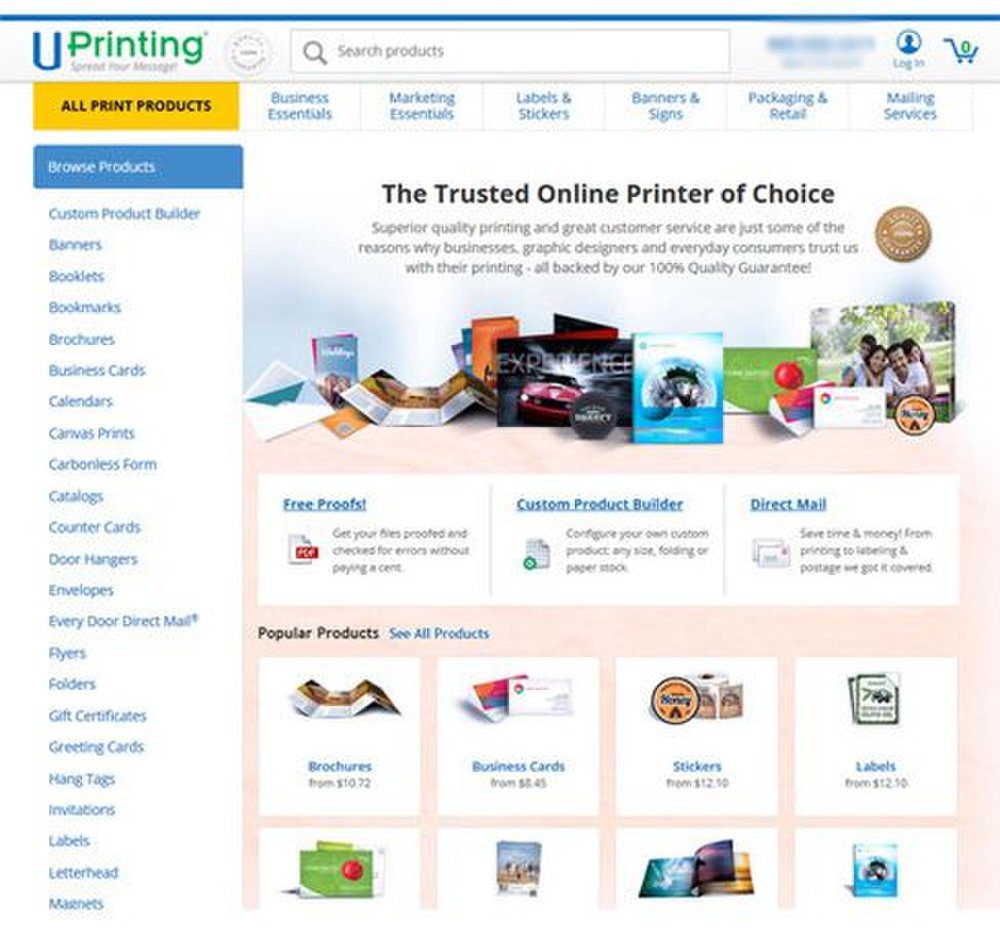 UPrinting image: In addition to business cards, this service offers printing options for a variety of other business-related products.
UPrinting is an online business card printing company that has been in the print business for over 25 years. The print quality of it cards is clear, bright and definitive. In addition to business cards, UPrinting can handle your other business print needs, such as flyers, brochures, envelopes, address labels, banners and signs.
The samples we reviewed from UPrinting were very bright with good picture print quality. The overall finished quality depends on the type of paper and finish you choose. UPrinting has a matte finish and a gloss finish, which help your cards stand out. It also has a good selection of paper options, including traditional cardstock, linen and even recycled paper.

This printer uses both digital and offset printing. Both are very good and produce high-quality business cards, though offset printing is best if you have a specific color you need printed. To use offset printing, you need to purchase a lot of cards, though, since UPrinting only uses it for business card orders of 250 or more.
You can print full-color business cards, or if you need bleeding edges or double-sided cards, UPrinting can do that too. Its standard turnaround time from the time your design is approved, printed and out the door is five days. We received our order within that time frame, plus confirmation and shipping details.
It's one of the only printing services we reviewed that can create business cards in virtually any shape: circles, ovals, squares and leaf-shaped cards, giving you a large design selection for your business cards. You can select from several different finishes to give your card a reflective look and help it stand out.
This business card printer has a database of templates but charges you a small fee to use them. Fortunately, UPrinting has other design options that don't cost extra, including printing from your own uploaded files and a simple design tool if you need to create a business card from scratch.
The design tool is very basic. You can create a simple logo by choosing a shape from the pull-down menu and changing the border and fill color. You can't change the background color, but you can choose the color for any text you add to your business card.
The best way to insert an existing logo or image onto your business card is to upload it from your own files. UPrinting has stock photos available, but like the pre-made template, you are charged to use them. If you want to bypass the design tool altogether, you can upload an existing design. It accepts TIF, AI, PDF, PSD and JPEG in addition to several other file formats.
UPrinting also has custom design services, which is especially helpful if you want something unique. Their designers can help you create a unique card that is sure to stand out. If you need customer support, you can contact UPrinting by phone, email or live chat. We found the support staff was helpful; however, it took longer for them to respond than other service's support teams.
UPrinting offers only a few professionally designed templates, which you must purchase in order to use them. But it compensates by printing your cards on high-quality paper and using finishes that add a special touch. If you can't find a style you like, you can make use of its graphic designers so your cards are as unique and professional as your small business. Aside from the lack of templates and the simplicity of the online design program, UPrinting's finishing options, paper selection and customer support services are quite excellent.

Business.com Editorial Staff
The purpose of our community is to connect small business owners with experienced industry experts who can address their questions, offer direction, and share best practices. We are always looking for fresh perspectives to join our contributor program. If you're an expert working in your field – whether as an employee, entrepreneur, or consultant – we'd love to help you share your voice with our readers and the Business.com community. We work hard to only publish high-quality and relevant content to our small business audience. To help us ensure you are the right fit, we ask that you take the time to complete a short application: https://www.business.com/contributor/apply/ We can't wait to hear what you have to say!