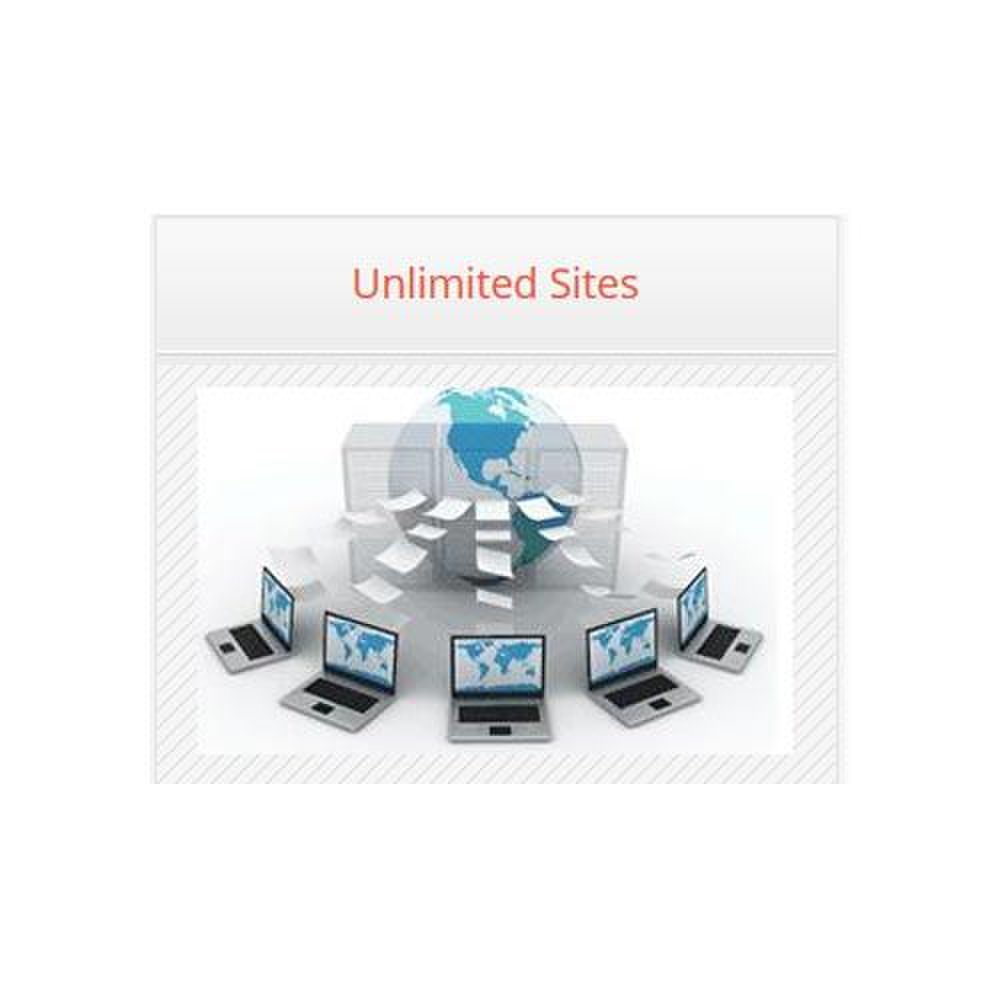 Velaro image: One agent can chat with several customers at a time from an unlimited number of websites.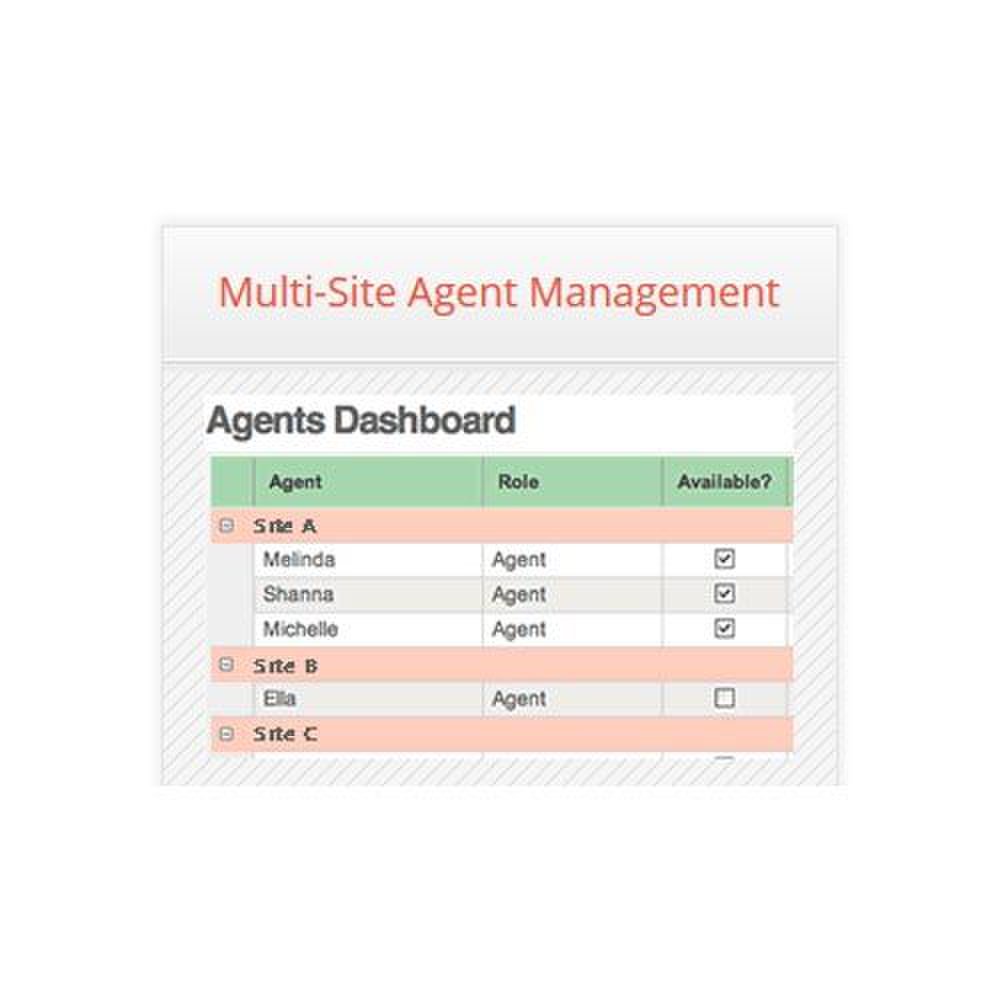 Velaro image: The dashboard for agents supporting multiple websites is organized and easy to use.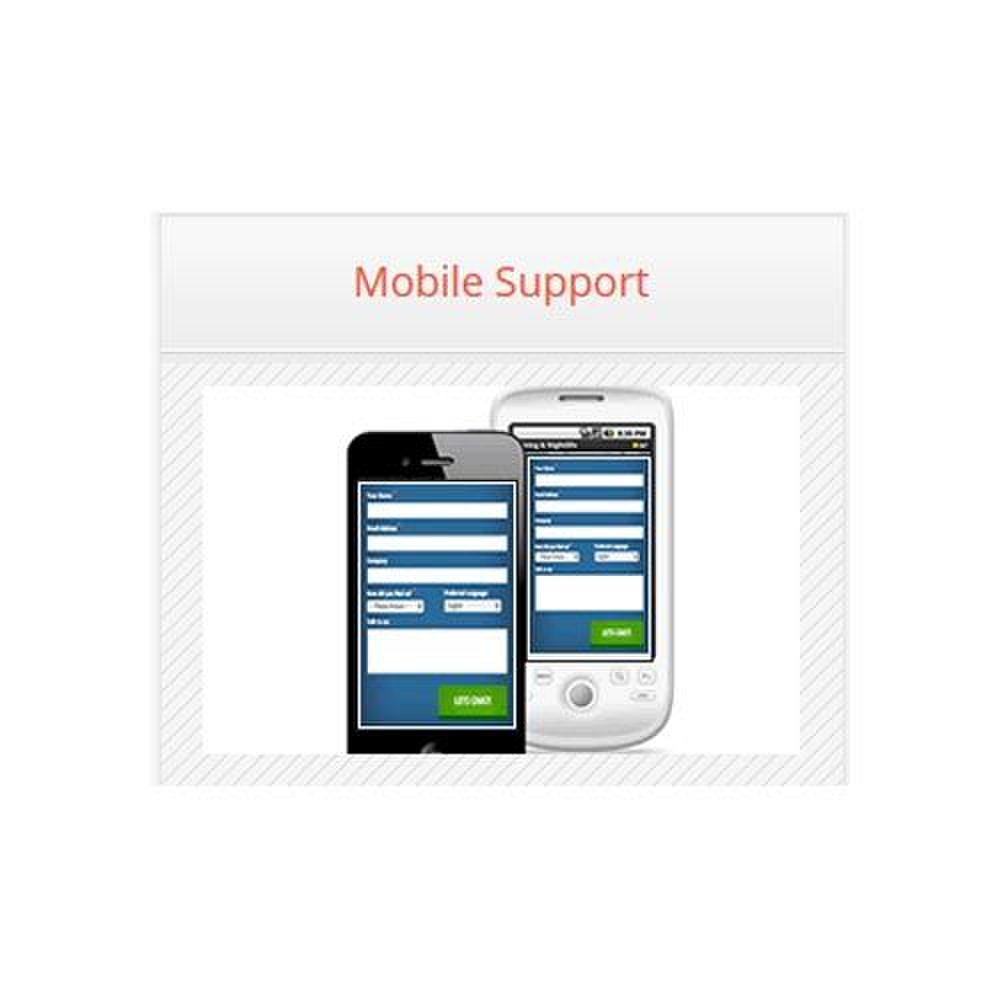 Velaro image: The application supports mobile computing for customers and agents.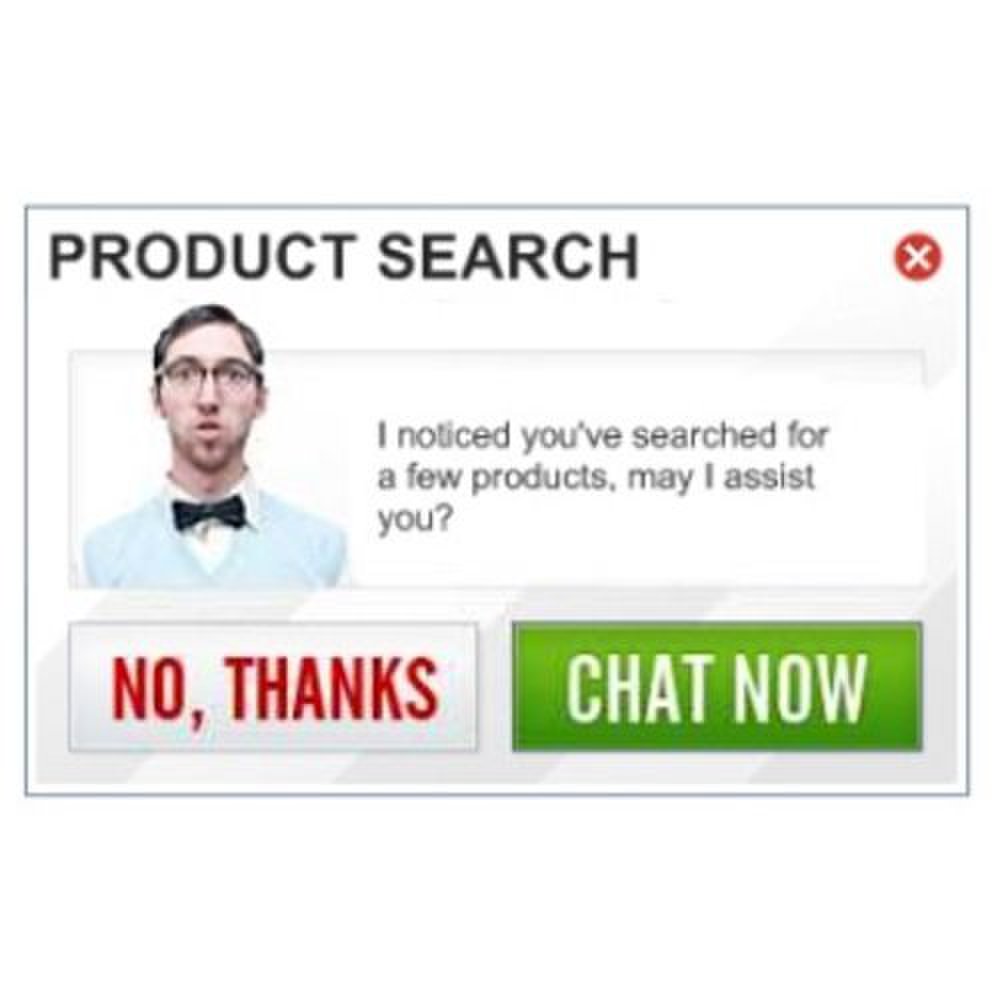 Velaro image: Proactive chat windows can be individualized for each customer.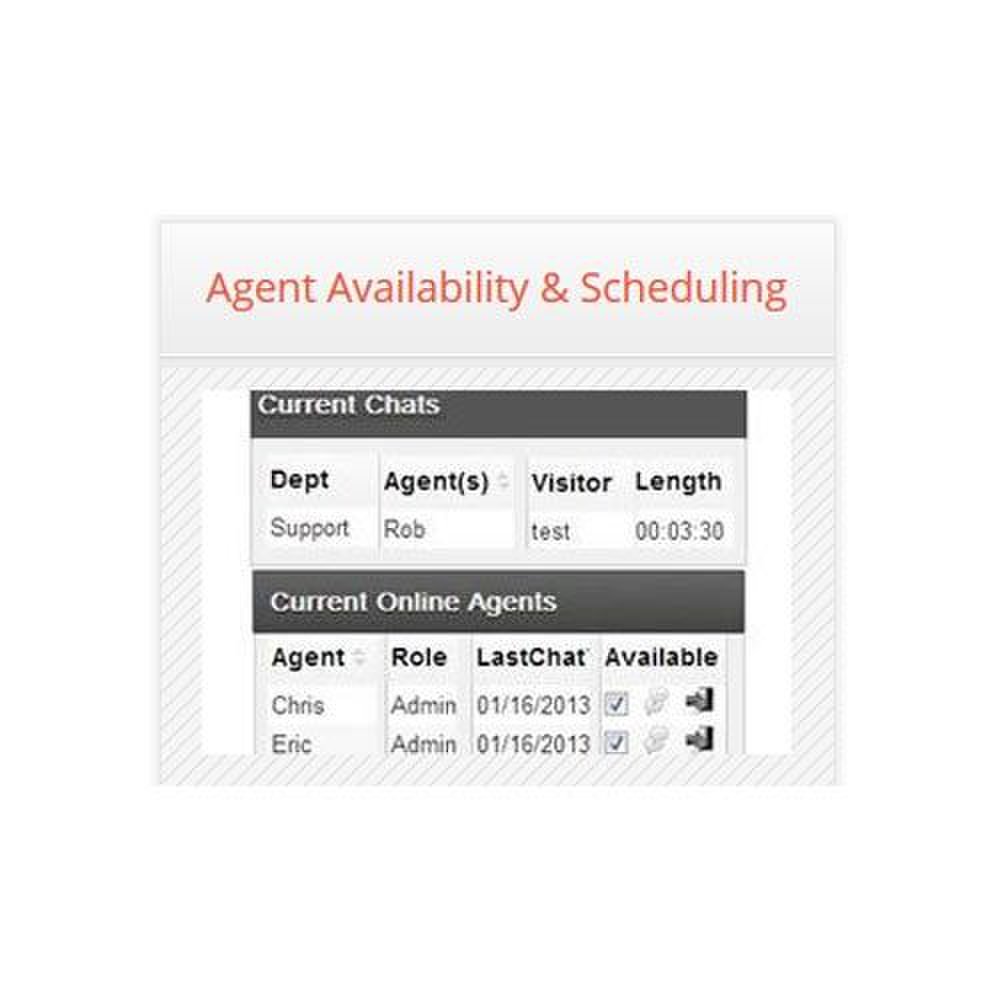 Velaro image: Agent availability and scheduling are easy to implement and manage.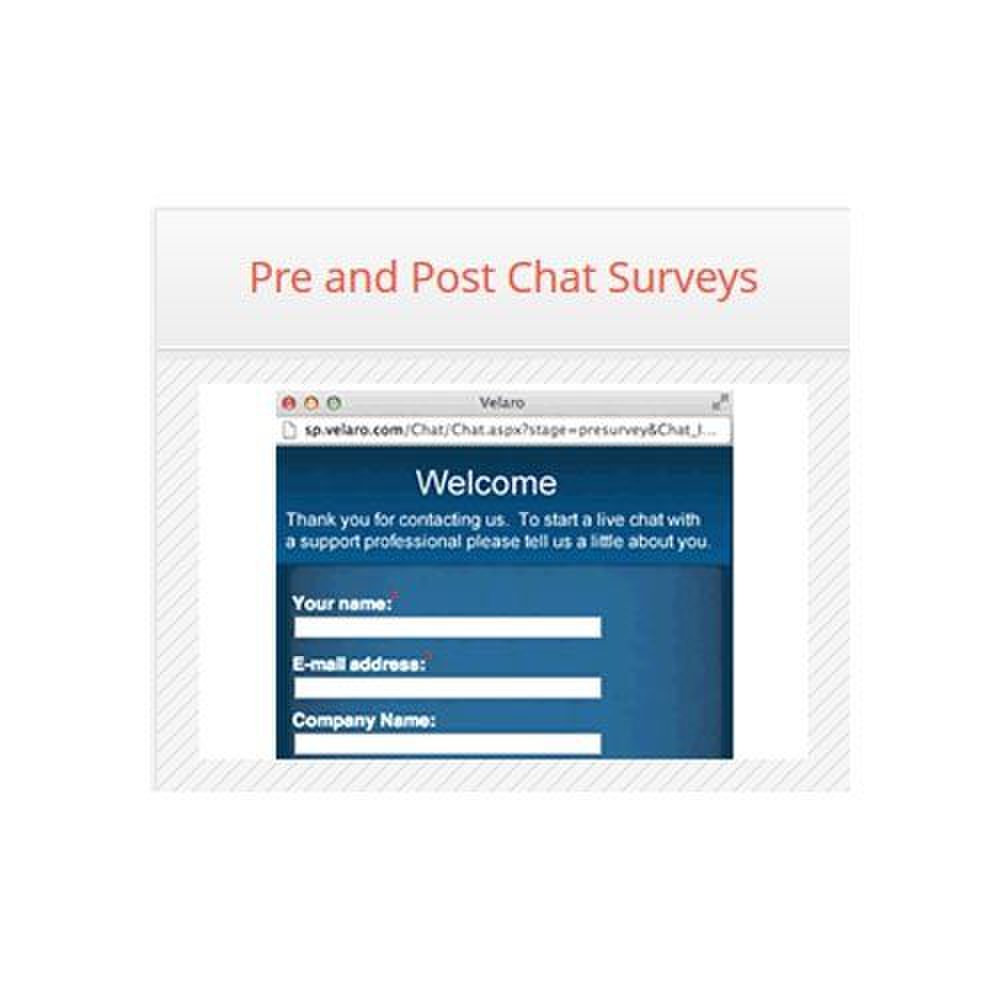 Velaro image: Measure the effectiveness of your agents by using surveys after each live chat.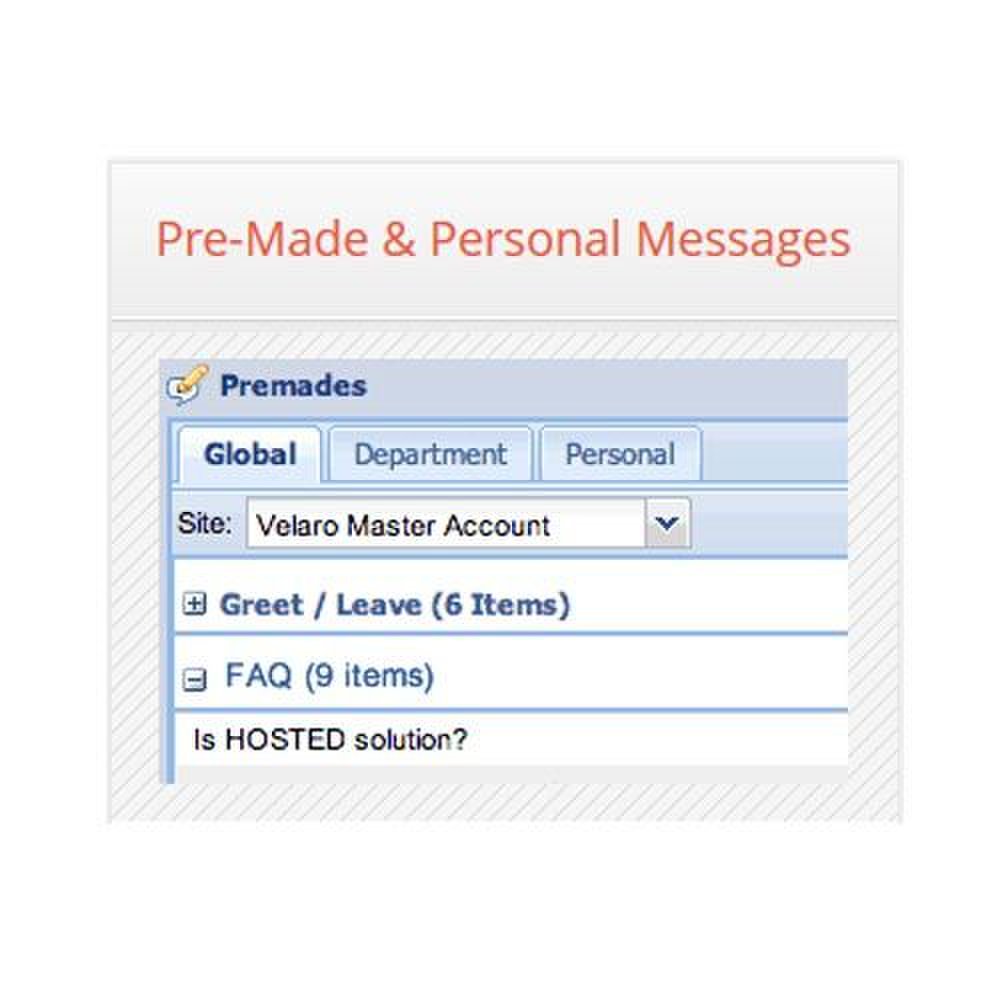 Velaro image: Make chats go faster with canned messages that answer the most frequent customer questions.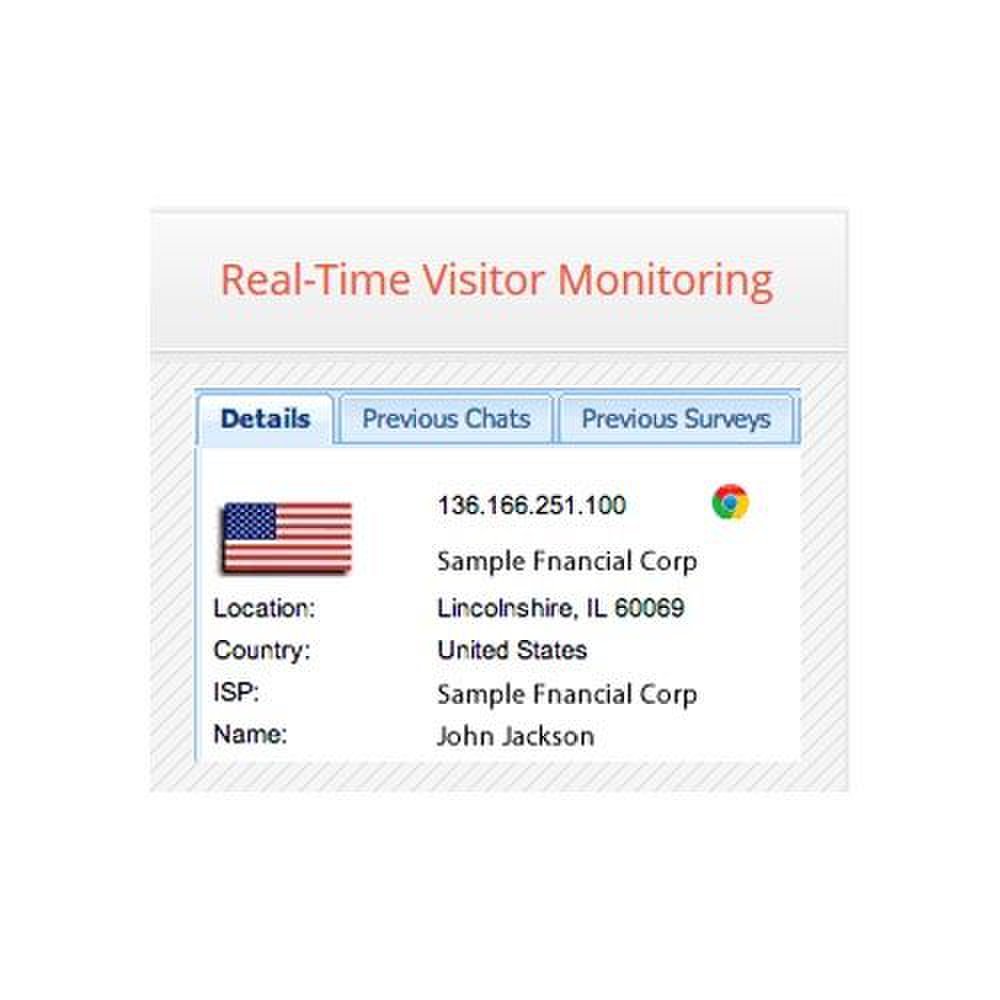 Velaro image: The Details tab gives agents a quick way to see a customer's profile.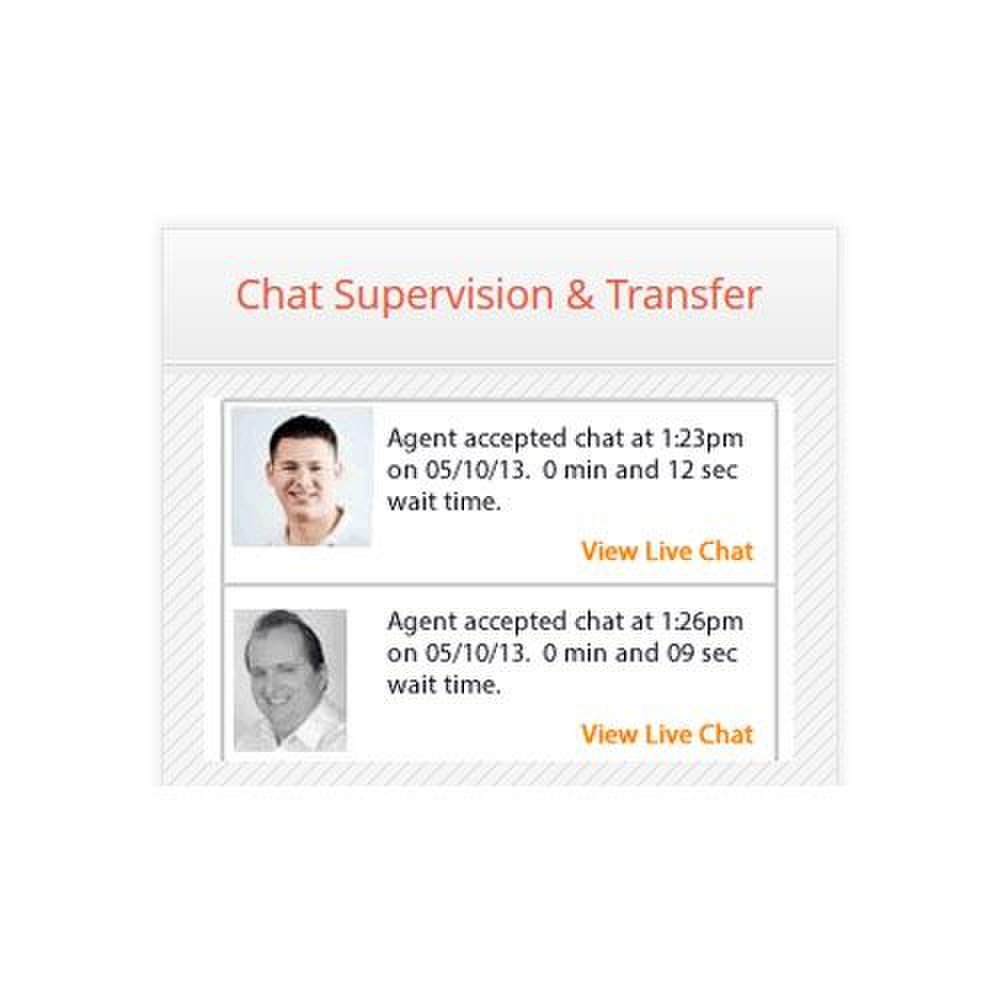 Velaro image: Chats can easily be transferred to other agents or managers.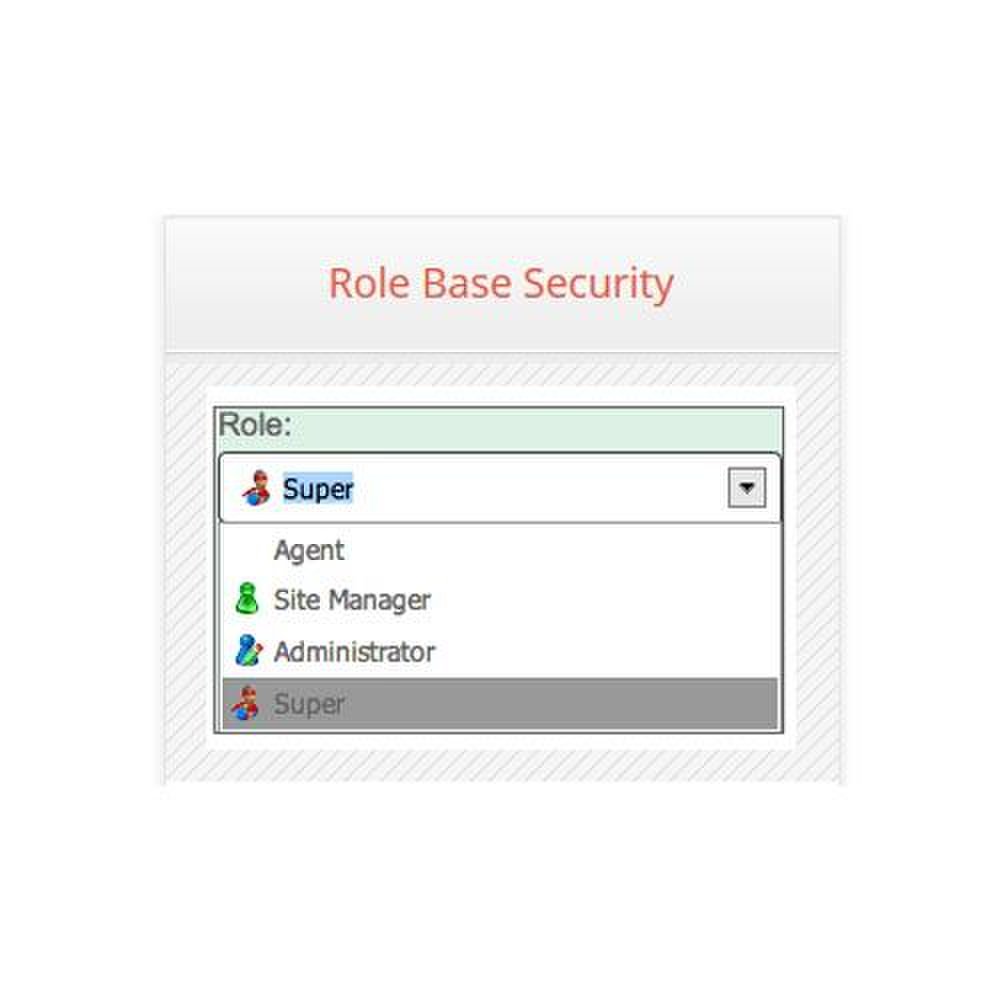 Velaro image: You can assign your agents roles or add them to specific teams.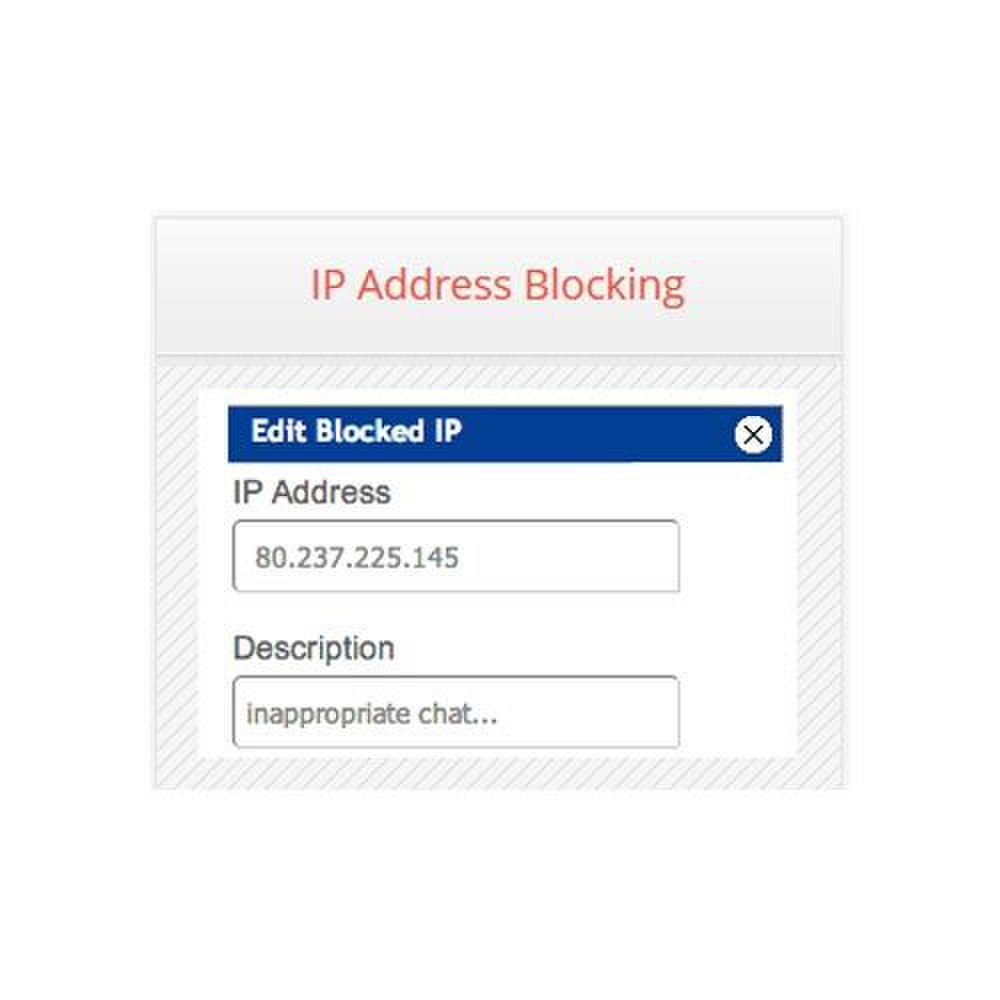 Velaro image: To prevent spam or inappropriate chat, agents can block specific customer's IP address.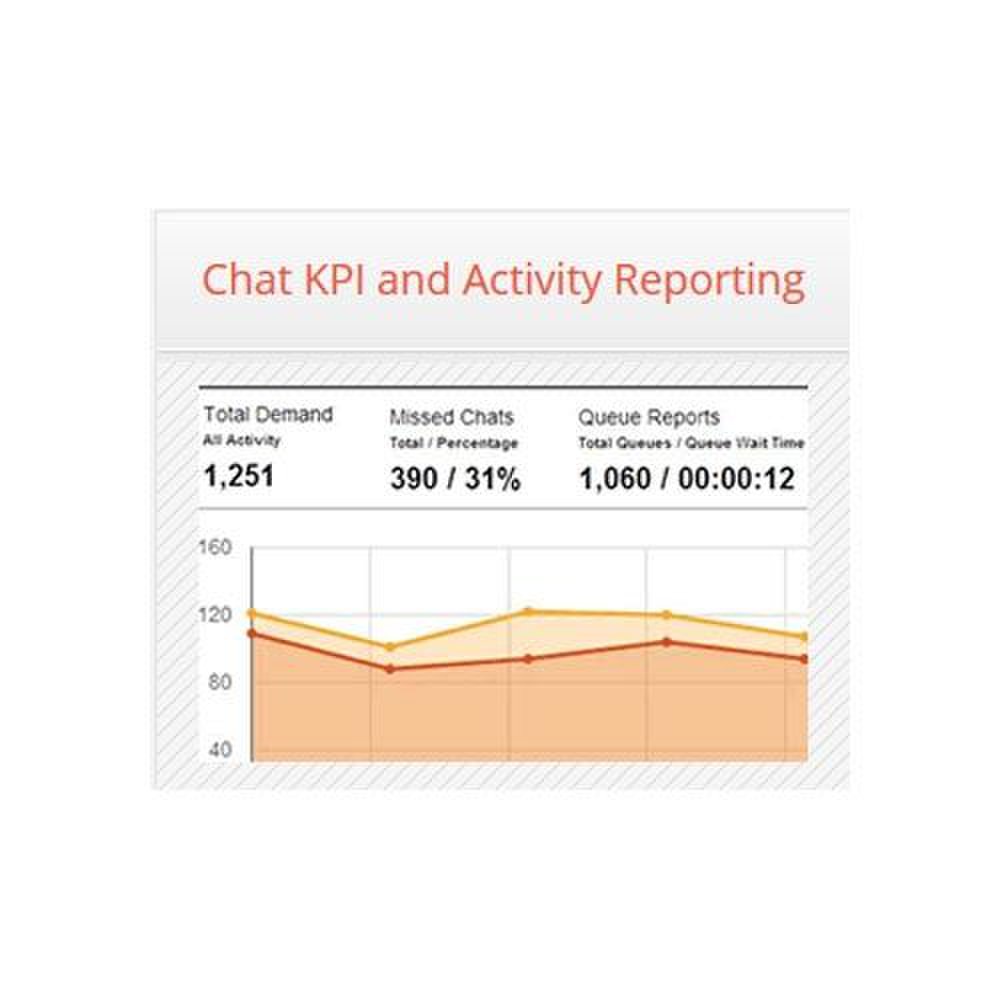 Velaro image: Reports are available to help guide your chat-staffing needs.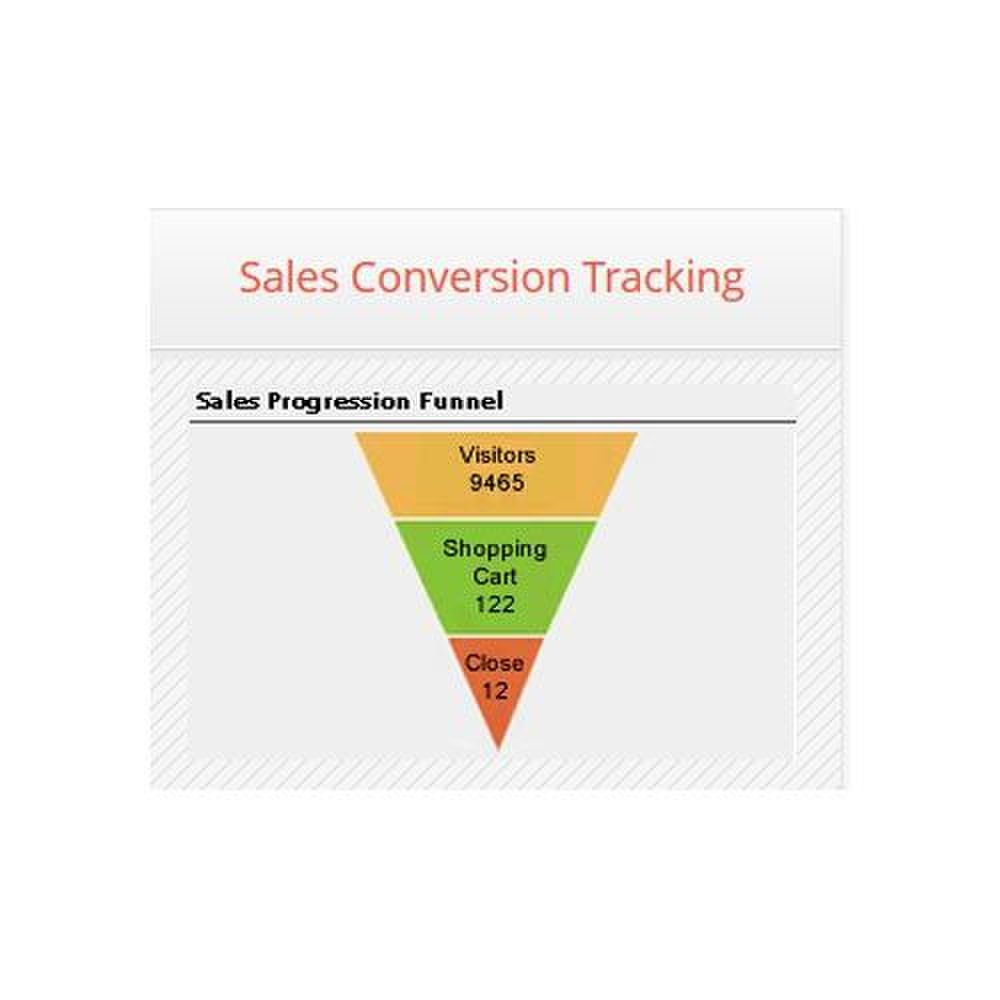 Velaro image: Reports can provide information about how chats translate to completed sales.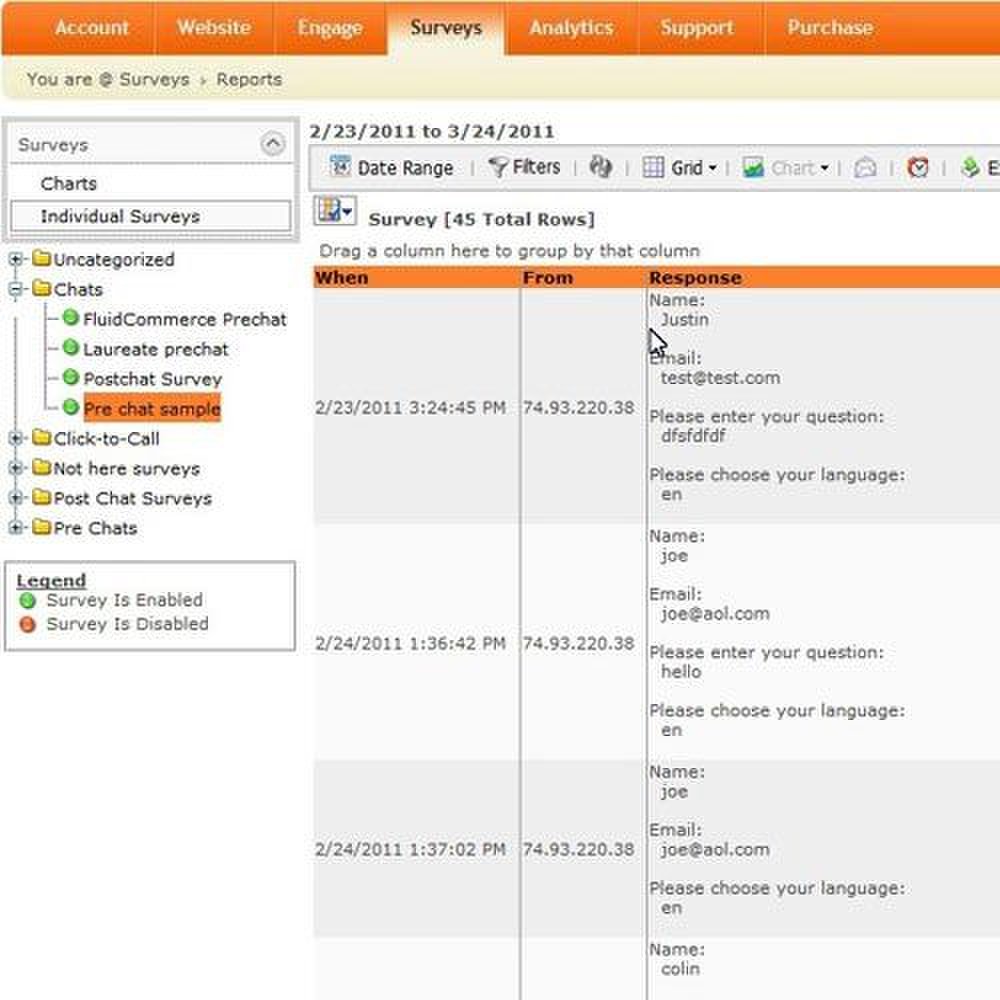 Velaro image: The operator portal allows agents and customers to select their preferred language.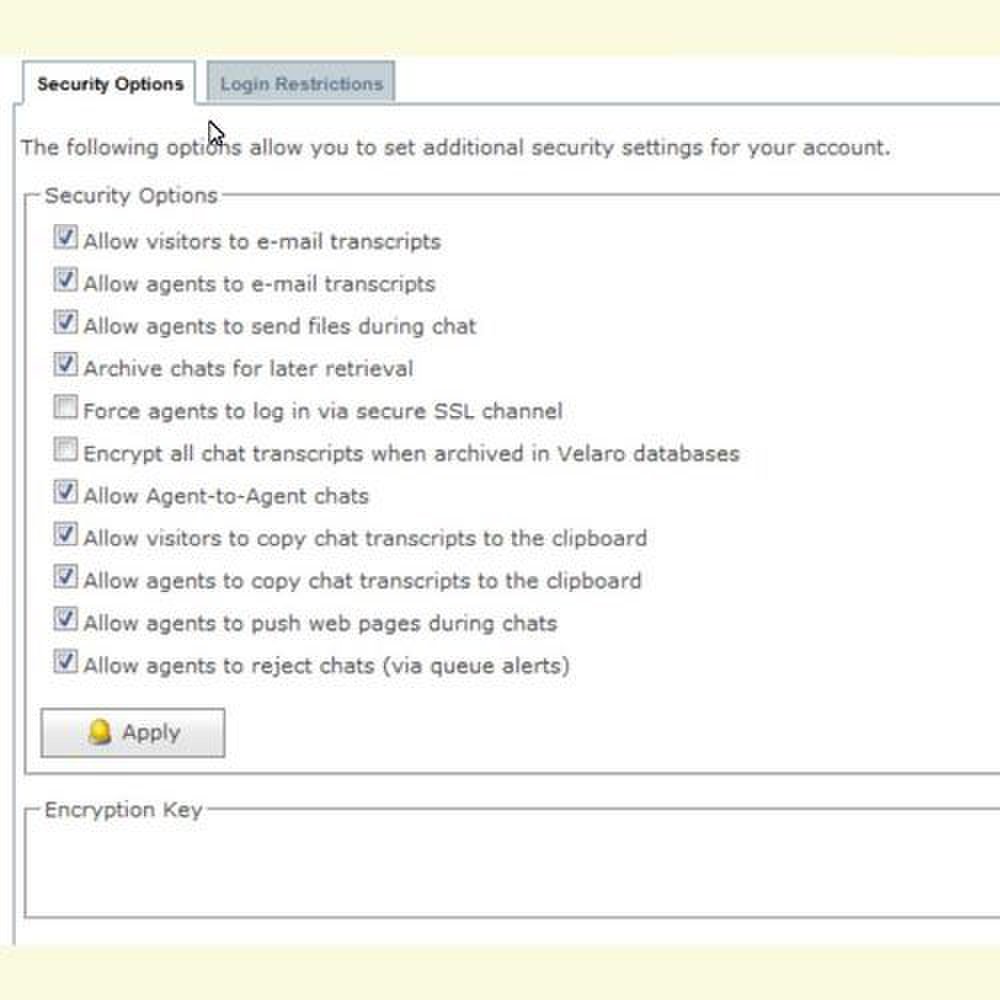 Velaro image: A list of check boxes allows administrators to easily change security parameters.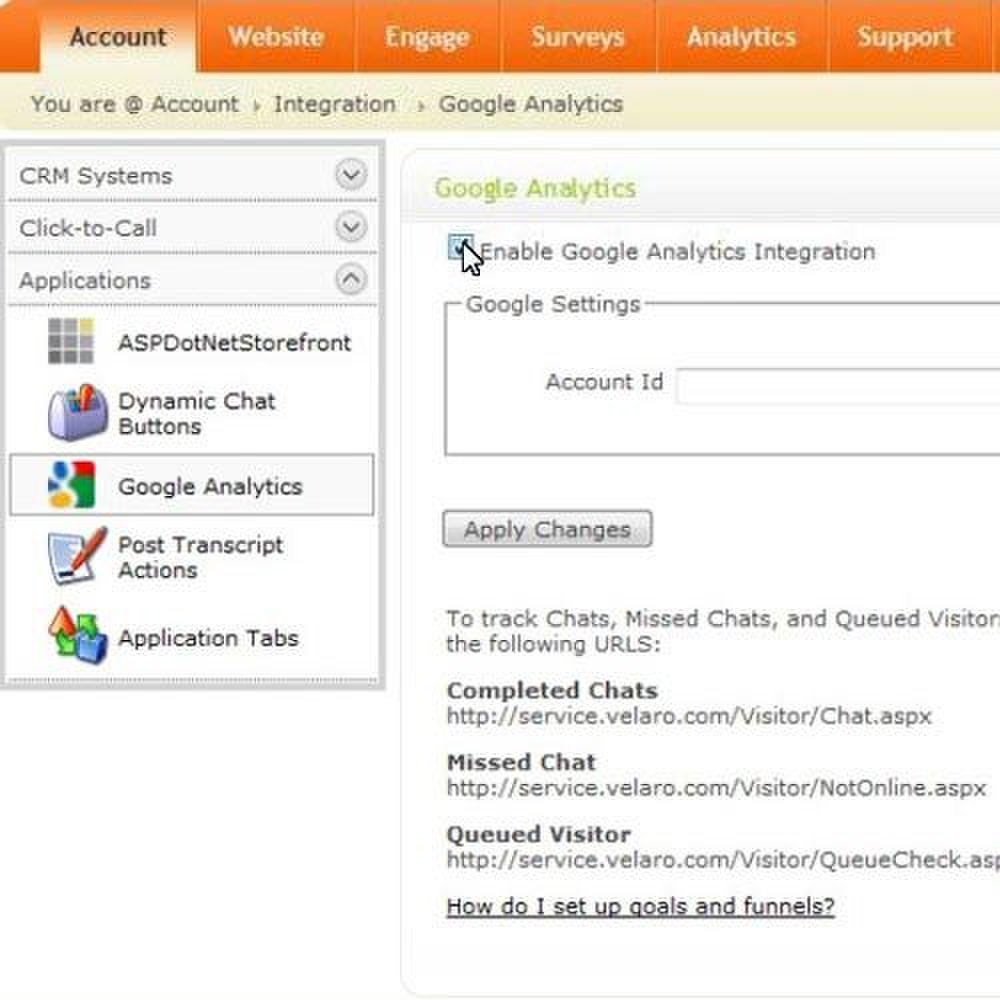 Velaro image: Google Analytics is just one built-in tool to help you track your business.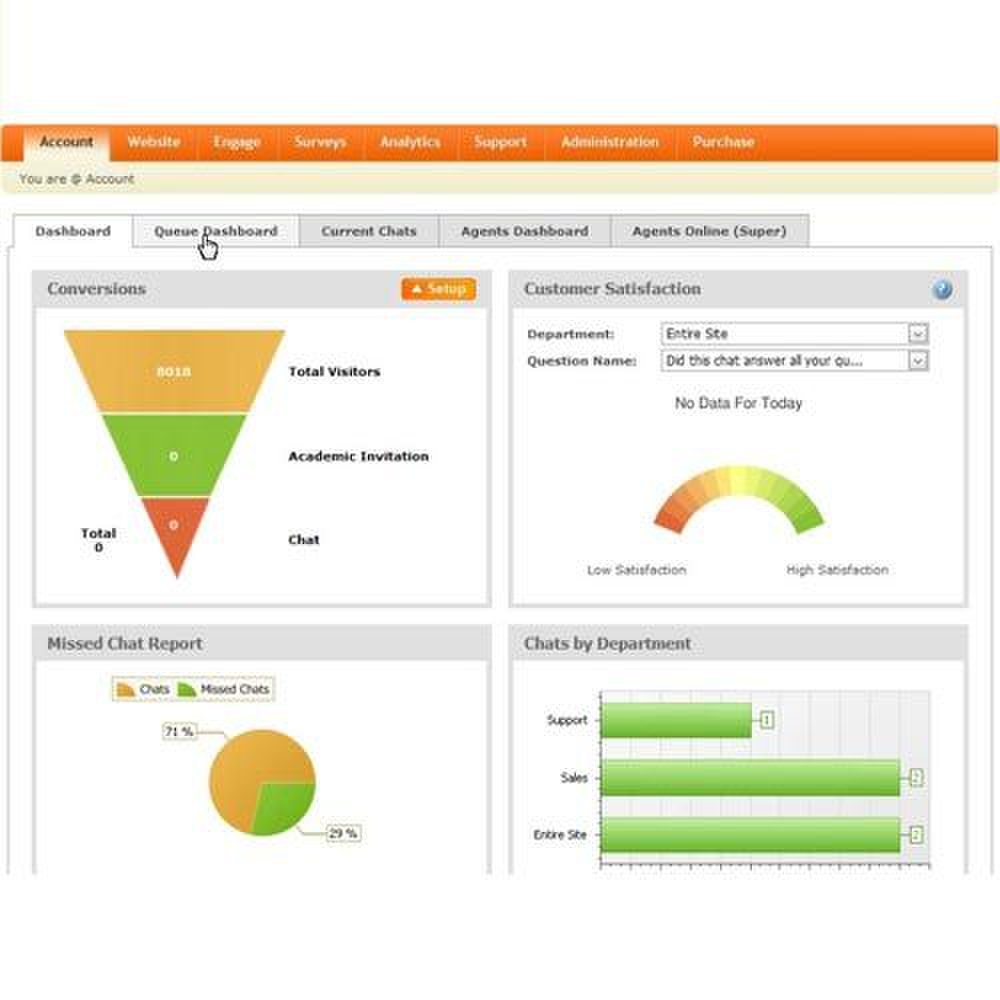 Velaro image: Reports can be displayed in many ways.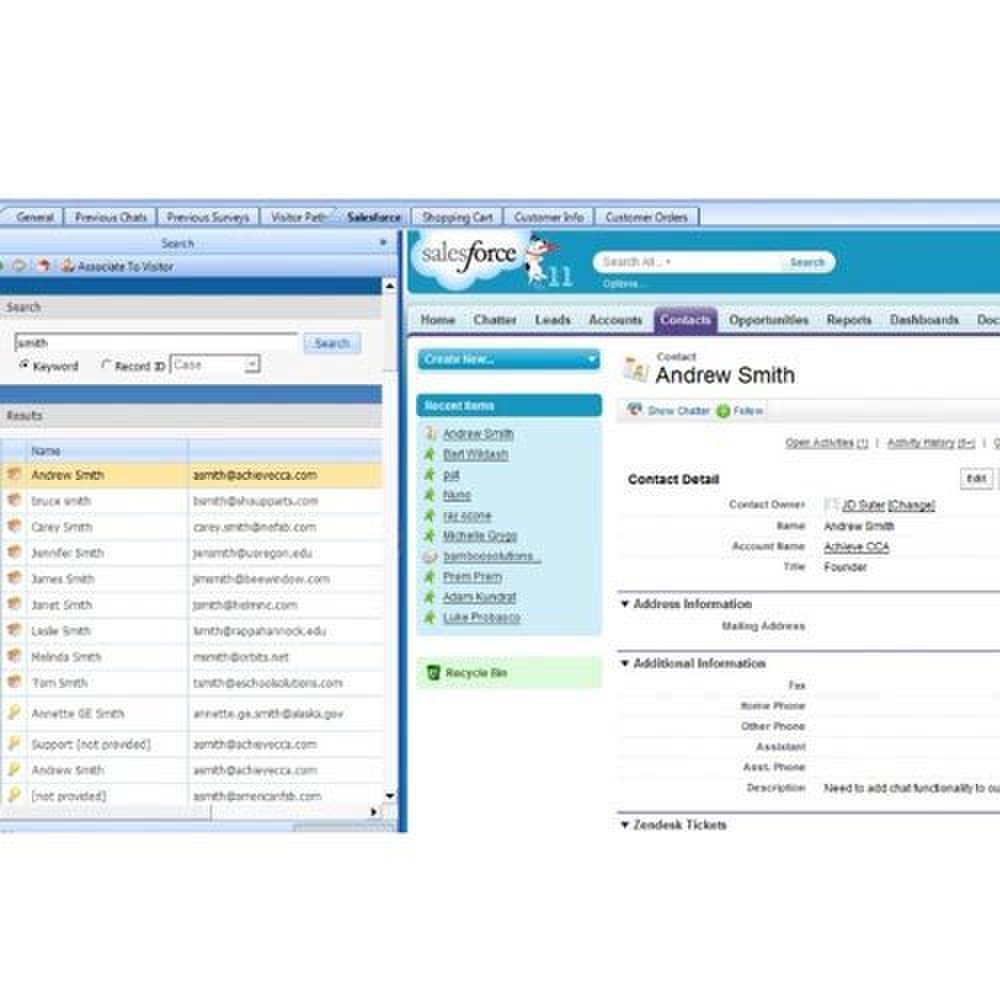 Velaro image: If you are using Salesforce, it shows up in your application.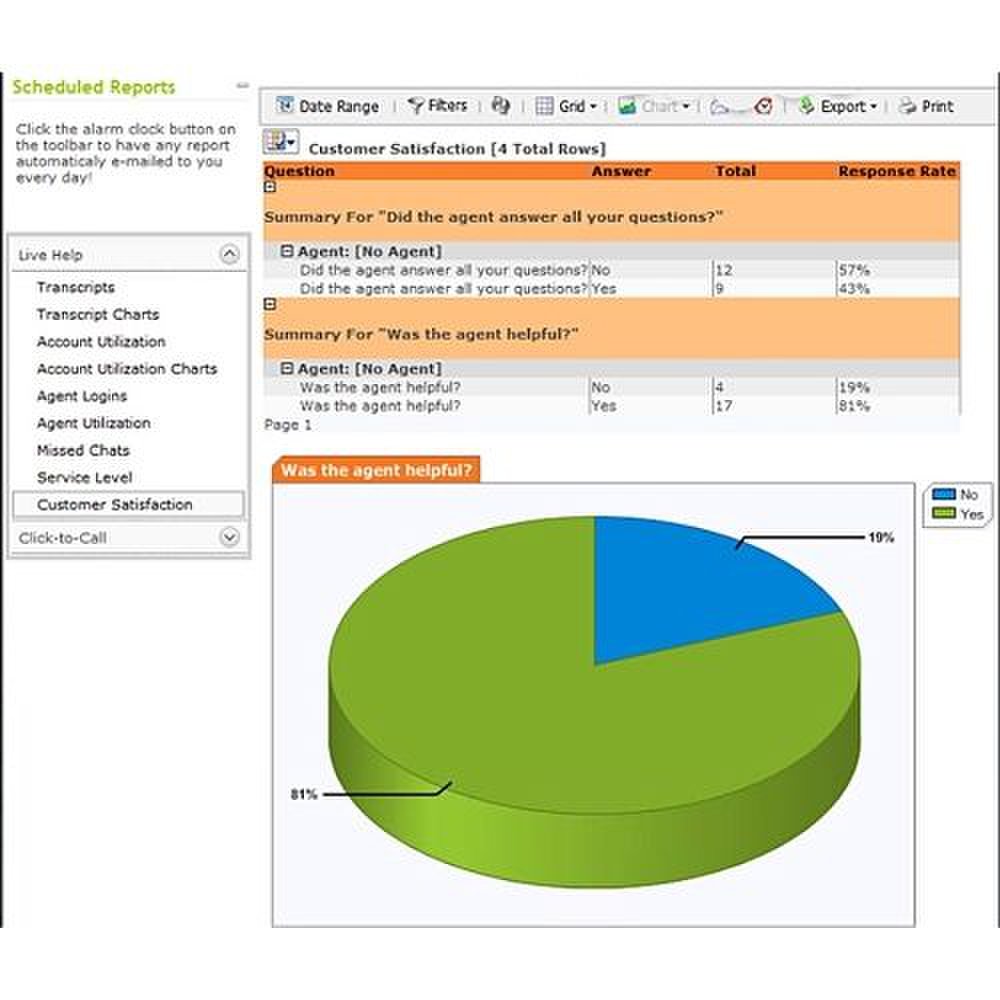 Velaro image: You can use information like Velaro's Customer Satisfaction report to better train and manage your support teams.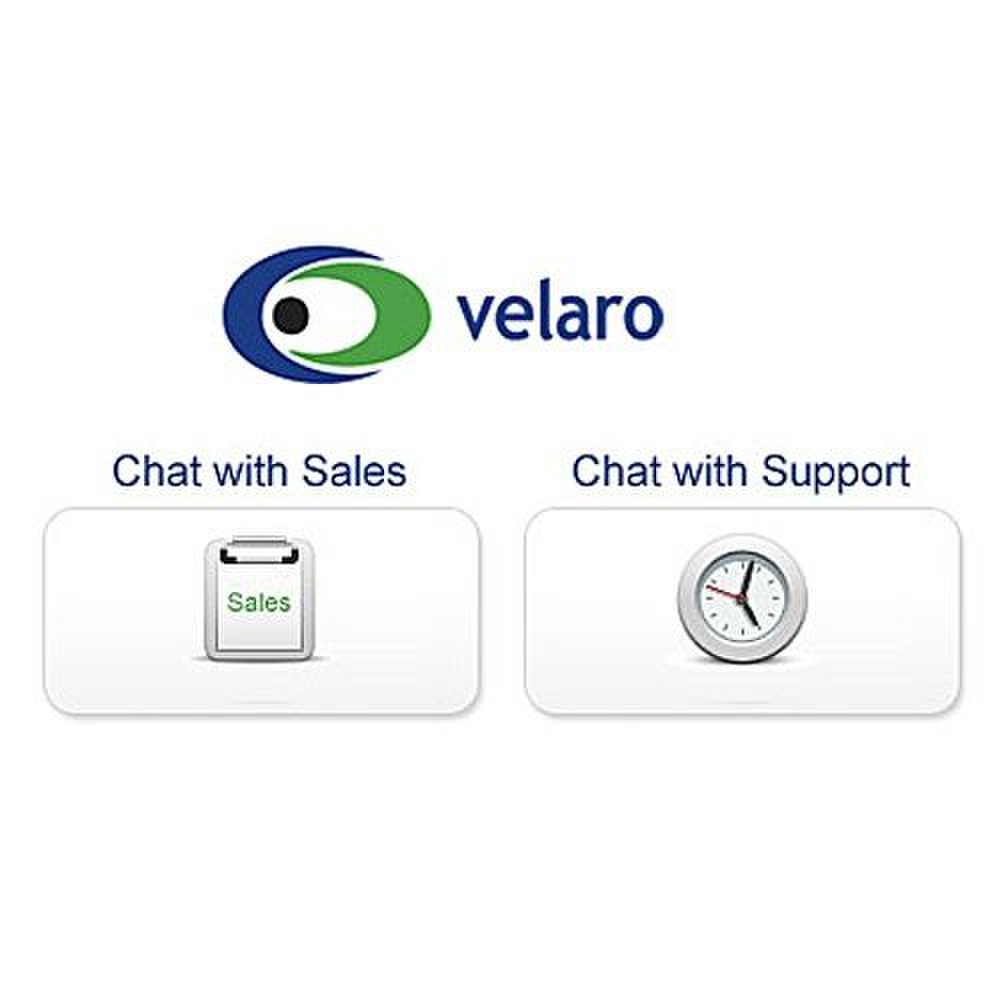 Velaro image: On the Velaro customer support homepage, you have the option to chat with a representative from sales or support.
Velaro offers exceptionally easy-to-use chat software for all levels of business, but the robust data-collection and business-reporting tools that come with its Enterprise Omni plan make it the ideal chat application for large companies. Because this review is focused on enterprise-level business, we only considered the features found in the Enterprise Omni plan. This Velaro plan has impressive security, reporting and monitoring abilities.

The nature of live chat means that operators are typically entrusted with sensitive data like names, email addresses, company names, previous shopping cart purchases and payment information. These metrics, along with your own company's data, needs careful protection. Velaro helps with enterprise security that is impeccable. The application is built on a Microsoft ASP.NET framework and stores data in a Tier 1 SAAS Type II secure data center. Alternatively, you can store data on the server of your choice. Other security features include the ability to disable file transfers as well as record and archive chat transcripts and email. You can also encrypt chat transcripts or ban a user by blocking their IP address.
The Velaro host environment is easy to tailor to your enterprise-level business needs. Chat windows, buttons, pre- and post-chat surveys, triggers, keywords, reporting, canned messages and more are all customizable. Velaro also offers exceptional shopping cart and customer relationship management (CRM) integration. If your organization uses eCommerce activities to generate revenue, this integration is especially important, because it encourages customers to complete the checkout process, which increases your company's bottom line. Velaro's powerful shopping cart tools enable your enterprise chat agents to monitor shopping cart activity right from their dashboards. They can tell what kind of purchases the customer has made previously and be alerted if the current shopping cart contains high-value items. If the sale is not completed promptly, the software allows the operator to send an incentive or coupon to help sway the customer to complete the transaction.
Integration with the top CRM, help desk systems and eCommerce applications, such as Salesforce, NetSuite, Magento, Microsoft CRM and Zendesk, are all effortless. (Velaro does not integrate with Sugar CRM; however, it integrates with many custom-built CRMs.) Agents can create and view leads, contacts and support cases – all without leaving their chat window. They can also identify visitors from their IP addresses and link existing records to a customer's account information. And, because the application programming interface (API) is open and customizable, your company also has the option to integrate with many other third-party CRM or eCommerce apps you might be using. The integration allows for live chat ROI reporting, which is updated hourly.
Tiered chat routing is another major component of the Velaro host environment. Most enterprise-level corporations have support teams in several departments, each with the expert knowledge the department requires. Tiered chat routing allows administrators to categorize agents according to their department specialty or level of expertise. Chats can easily be routed to the agents best qualified to handle them. If the customer's problem is not immediately solved, this functionality also allows the chat to be escalated to an agent or manager with even more in-depth knowledge of the topic. If an agent simply needs some assistance, managers and operators are also able to initiate Chat Shadowing, a sidebar discussion inside the same chat window, which is invisible to the current customer.
Convenient chat services certainly build customer loyalty, but they also glean a wealth of important behind-the-scenes data. Velaro collects this data and offers over 50 in-depth and fully customizable reports, each pulled from hundreds of individual metrics. These instant, on-demand reports help ensure your company's success. You can determine your conversion rates, assess individual operator performance and anticipate seasonal staffing peaks. With all this data in useable form, it's easy to share reports with the various groups that contribute to the success of your corporation – including your investors, managers and operators.
In addition to strong implementation and management tools, the functionality behind Velaro's Enterprise Omni edition is helpful and efficient. If a customer is having an issue filling out a form or working through the checkout process, your agent can initiate a co-browse chat request, which allows the agent and visitor to share the web-browsing process. Velaro's co-browse feature does not require additional plugins, and it is the perfect solution for customers in need of direct, visual support. If the customer needs even more help; for instance with a tech support problem, Velaro also allows desktop sharing. With the customer's permission, the agent takes over the customer's computer and can open installed applications, fix technical issues or help a visitor complete a process they are struggling with.
Velaro provides robust real-time visitor monitoring. This allows you to customize your operators' Velaro Desktop view and set filters that enable them to see useful visitor information quickly and efficiently. When you employ filters, for example, your agents are able to see which customers would benefit from live chat support and then deploy a proactive chat invitation. Velaro also employs "Intelligent Engagement," a marketing tool that gives your chat operators the freedom to view information about your web visitors. Right from the operator dashboard, an agent can see the customer's name, browser, country and the webpages they are visiting from.
The agent can also apply filters. Filters highlight a customer's specific needs and act as a robust marketing tool. With this corporate chat software, your marketing team can methodically track the search engines and keywords that bring customers to your site.
On the operator's side of the chat window, the software's efforts focus on those visitors who have lingered on a certain page, set off various SEO or site triggers, have high-volume shopping carts, or have trouble with shipment information or filling out a membership form. Whatever your visitors are doing on your site, your operators are informed and alerted immediately.
Google Translate is also fully integrated into this software. This allows operators who receive queries in a foreign language to instantly translate those questions into English, reply in English and have the reply returned to the customer in their own language.

Velaro's Enterprise Omni plan has an excellent host environment, operator capabilities, security, reporting and visitor monitoring. If your company is investigating business chat software as an addition to your support services, Velaro's offering is one we're confident you'll want to consider.

Ready to choose your The Best Chat Software of 2019? Here's a breakdown of our complete coverage:

Business.com Editorial Staff
The purpose of our community is to connect small business owners with experienced industry experts who can address their questions, offer direction, and share best practices. We are always looking for fresh perspectives to join our contributor program. If you're an expert working in your field – whether as an employee, entrepreneur, or consultant – we'd love to help you share your voice with our readers and the Business.com community. We work hard to only publish high-quality and relevant content to our small business audience. To help us ensure you are the right fit, we ask that you take the time to complete a short application: https://www.business.com/contributor/apply/ We can't wait to hear what you have to say!