Vision Service Plan Review
By Business.com Editorial Staff
Last Modified: August 20, 2019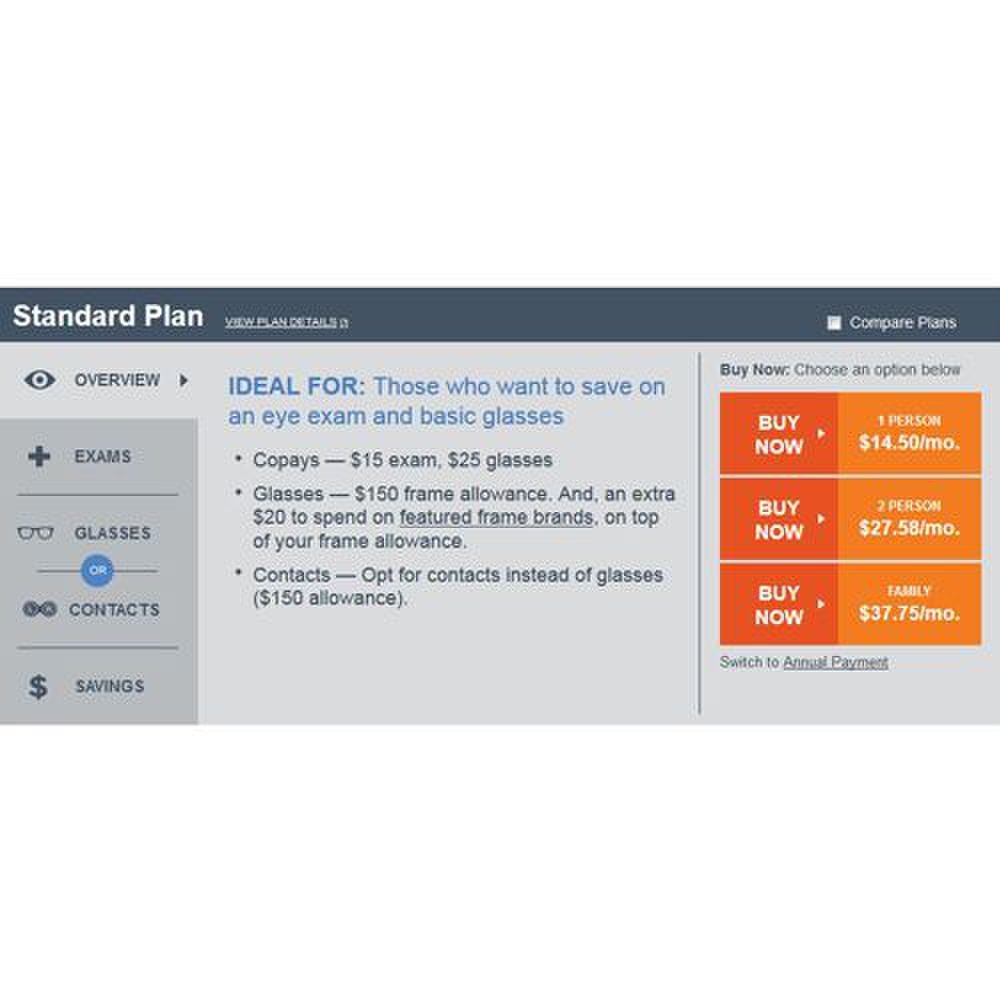 Vision Service Plan image: The basic plan available through VSP is the Standard Plan.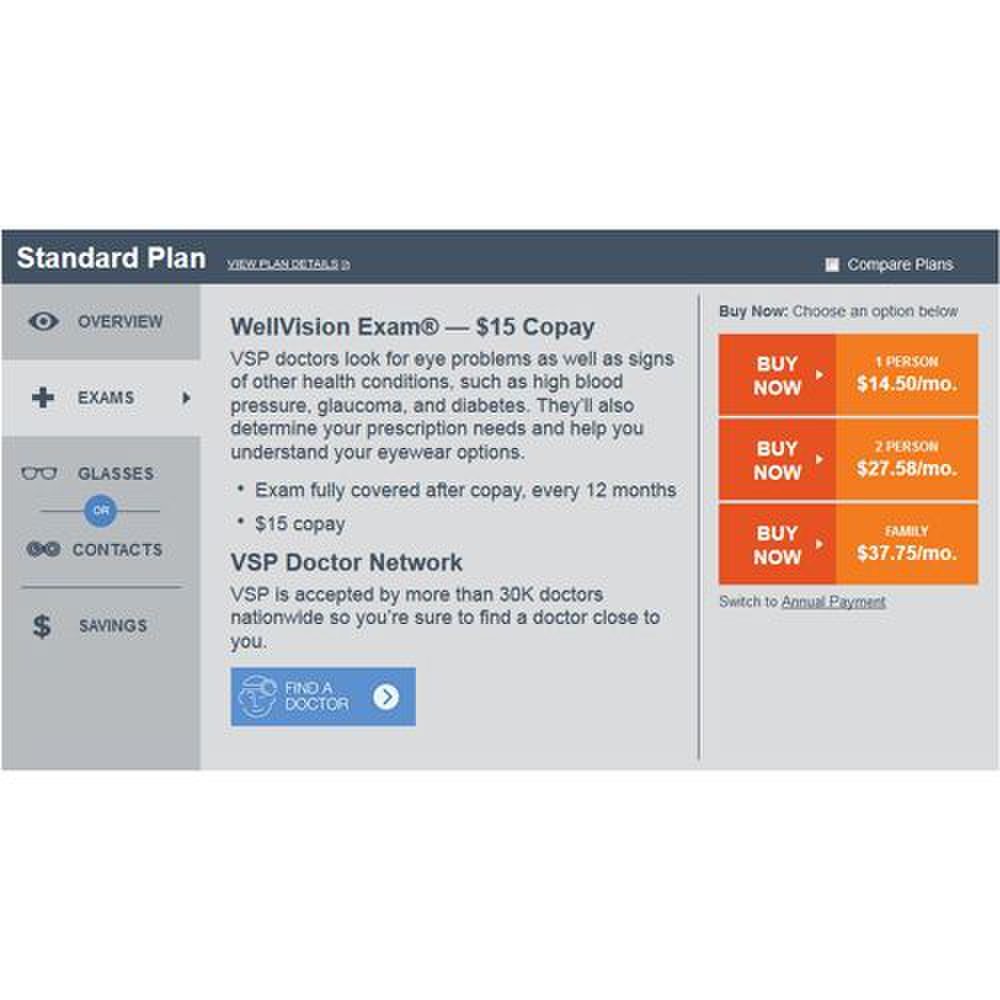 Vision Service Plan image: The Standard Plan covers a yearly regular eye exam for a minimal copay from you.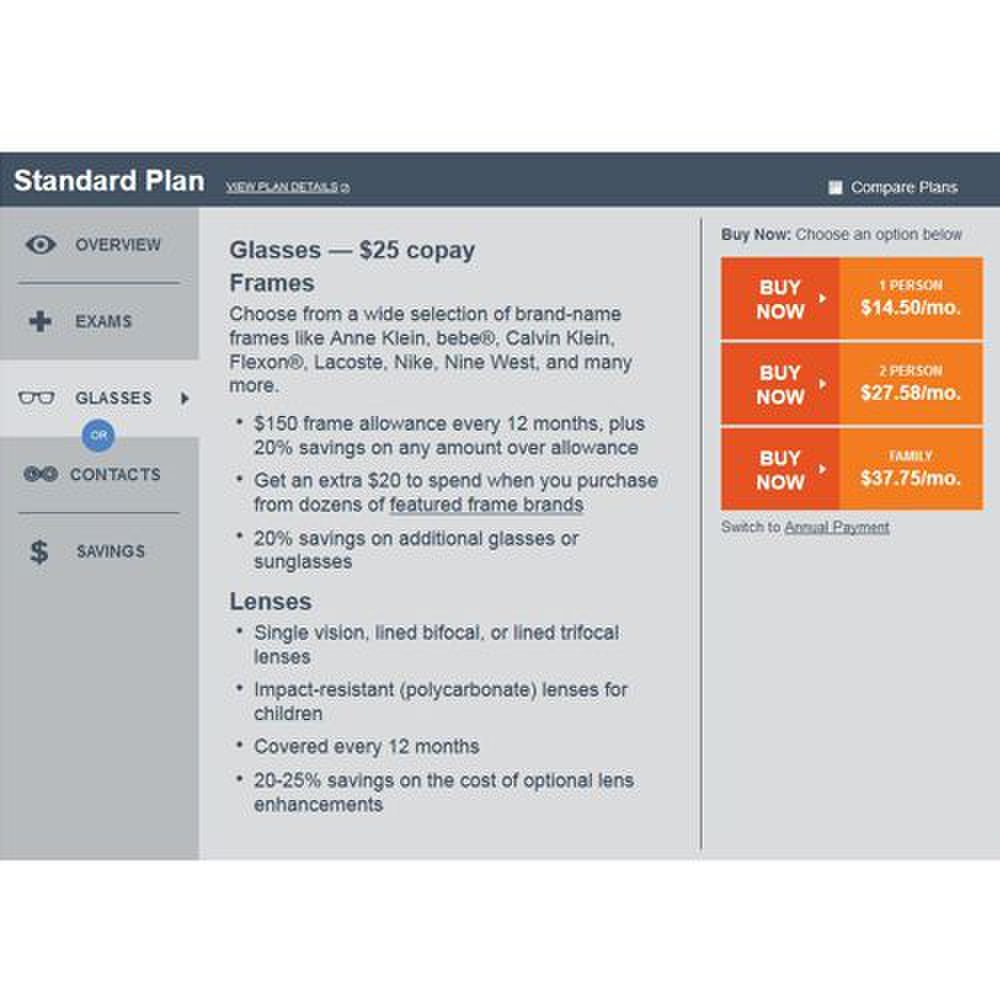 Vision Service Plan image: You have allowances that you can use to purchase new frames and lenses for your glasses every 12 months.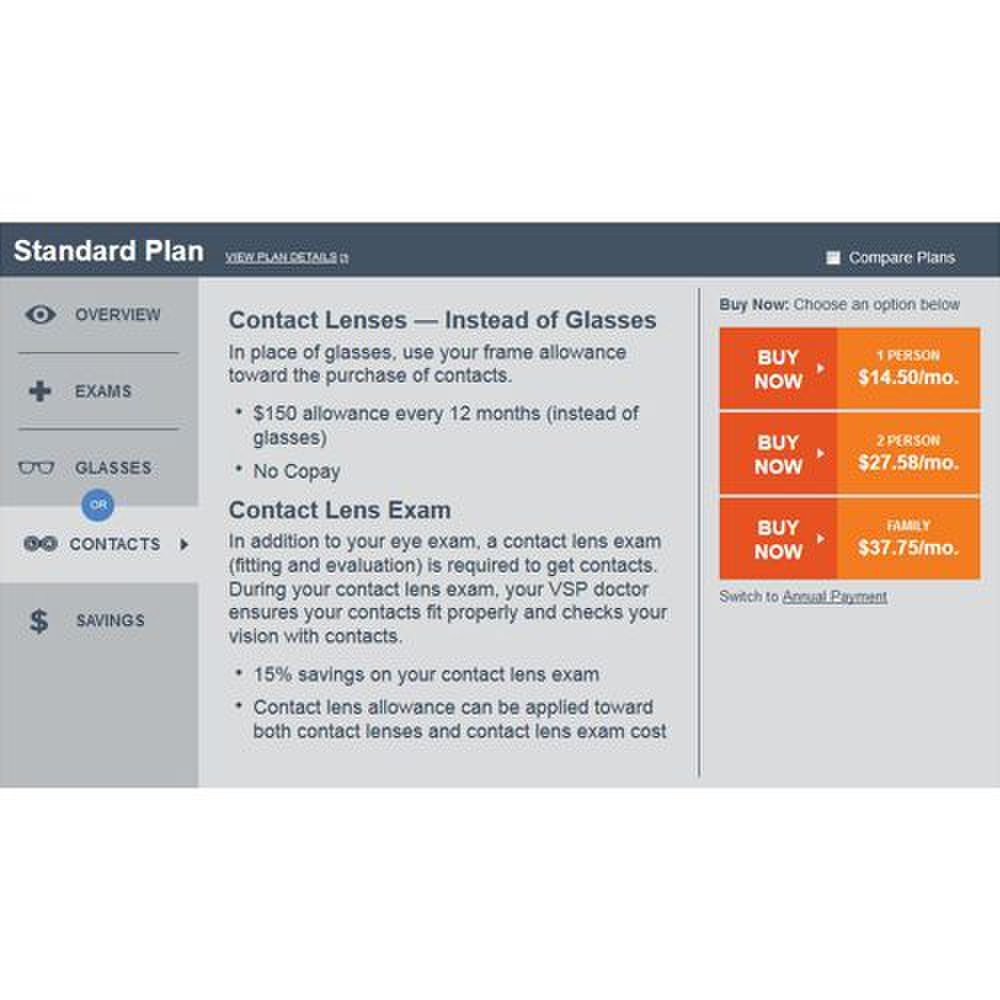 Vision Service Plan image: If you prefer to have contact lenses, you can choose to use your allowances towards contacts instead of glasses.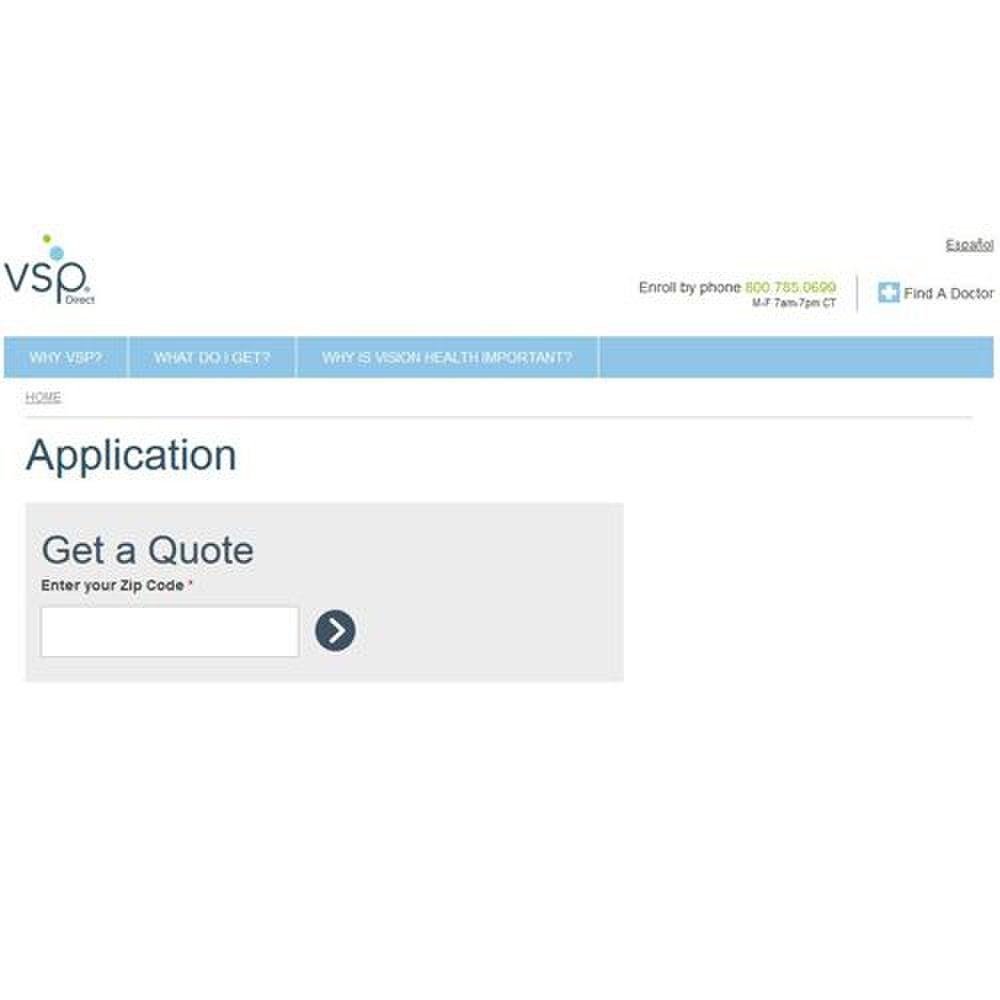 Vision Service Plan image: You can find out the insurance rates and plans available from VSP in your area by entering your zip code into the company's site.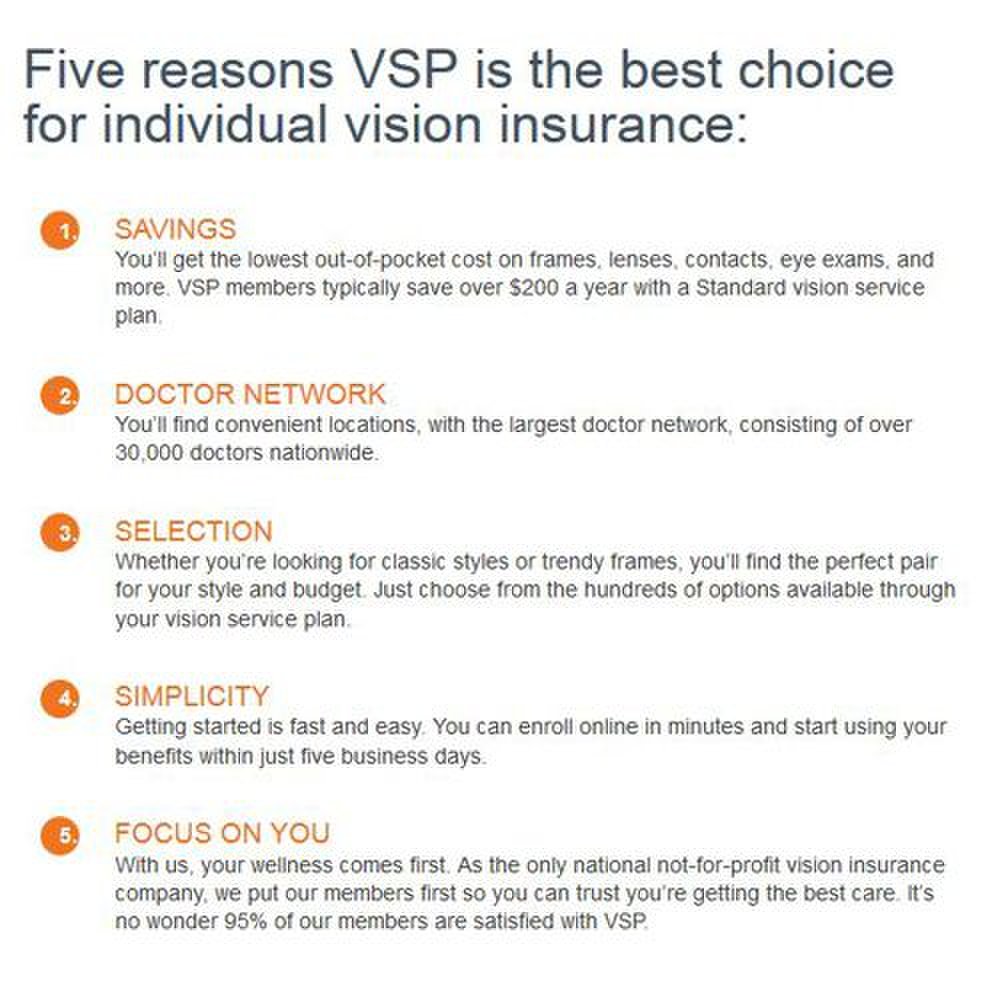 Vision Service Plan image: VSP's network includes over 30,000 providers.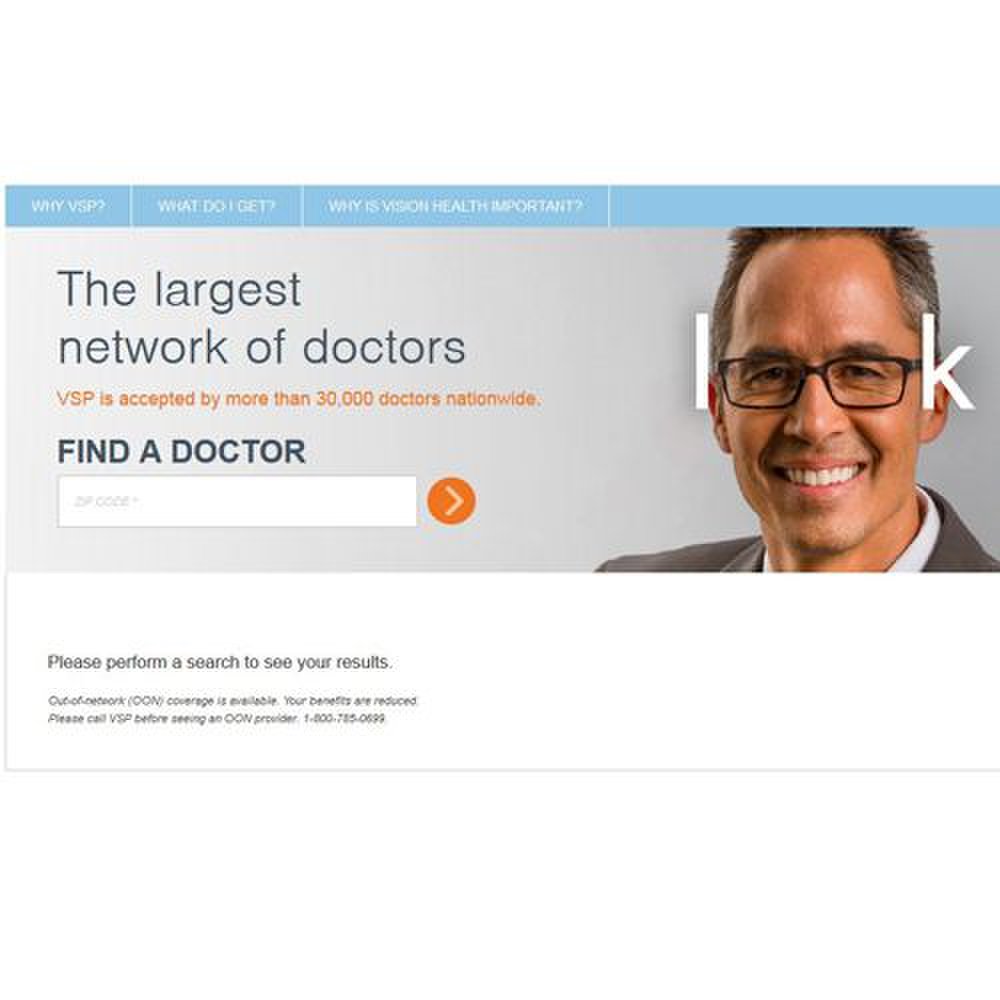 Vision Service Plan image: You can search for local in-network providers through the company's online doctor search.
Vision Service Plan image: It is not required for you to have an ID card in order to use VSP's vision care plans.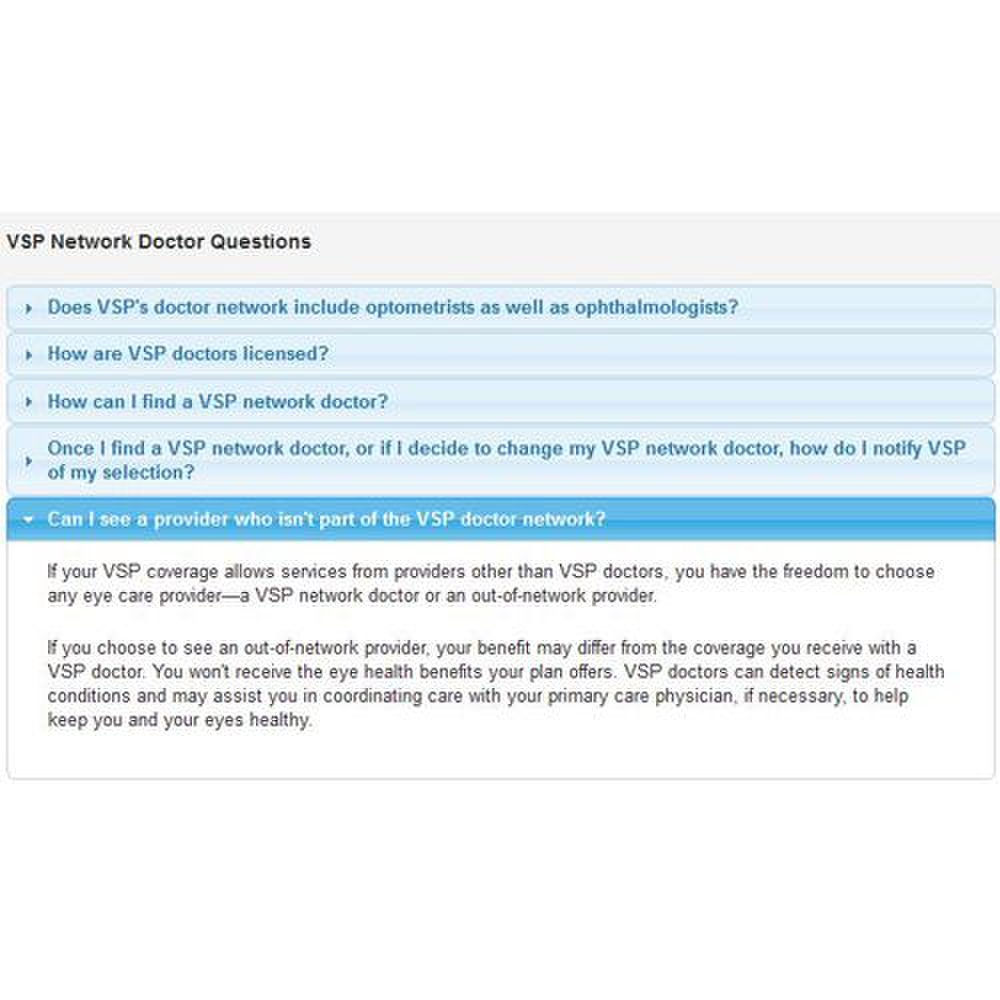 Vision Service Plan image: Some VSP plans offer the option to go to out-of-network providers for differing copay and allowance amounts.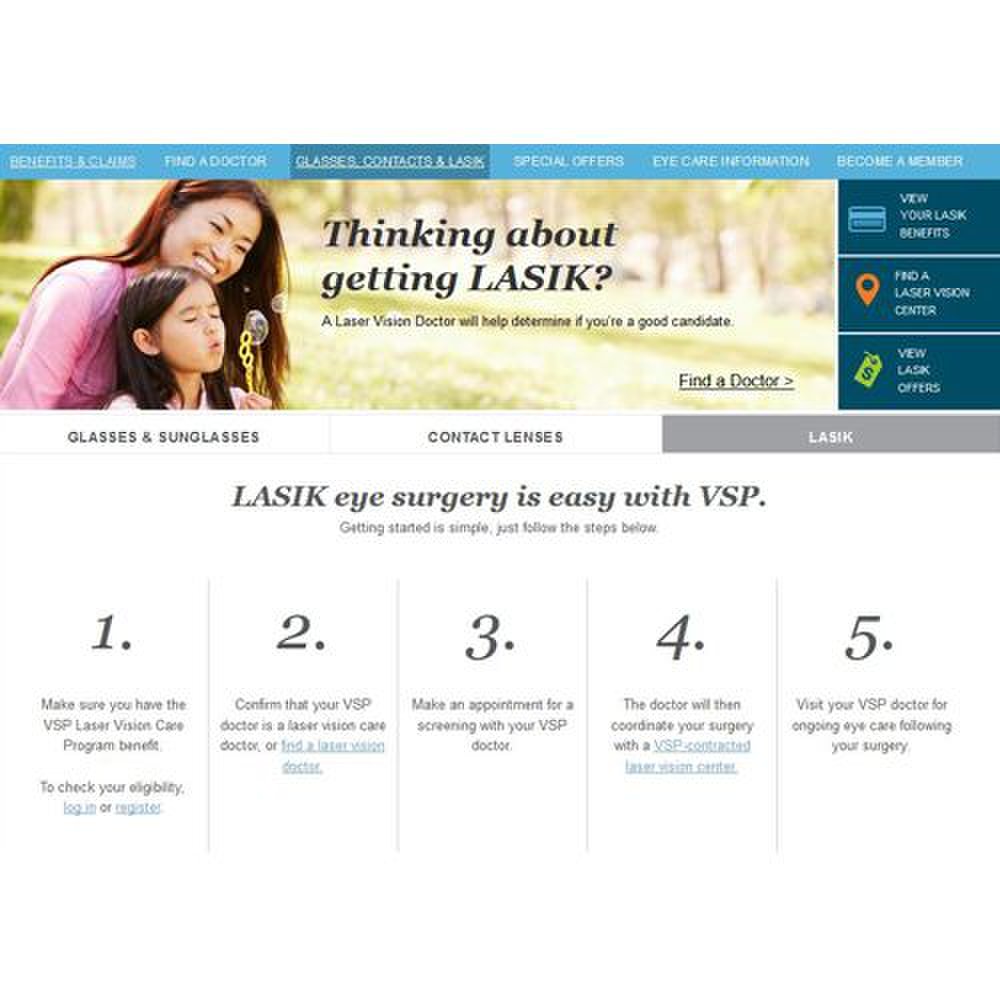 Vision Service Plan image: VSP also offers allowances and resources that cover LASIK procedures.
VSP Individual Vision Plan is Vision Service Plan's vision insurance option for individuals who want or need to enroll in vision care on their own instead of through their employer's insurance. The company offers several plans, and its base Standard Plan covers all the basics you need to manage your vision care. With exceptional features and high overall quality, VSP Individual Vision Plan is one of the best vision insurance options and offers thorough coverage for yearly eye care and equipment for either a monthly or an annual cost dependent on where you live.
Costs
The Standard Plan covers a WellVision Exam, which is a comprehensive eye exam that checks your vision level and for any medical issues that might impact your vision. Each member on your plan can go in for an eye exam every 12 months for a minimal copay fee. Once every 12 months is standard in the industry, but some services allow unlimited visits for exams.

Allowances
VSP Individual Vision Plan's Standard Plan offers allowances for either frames or contact lenses for a minimal copay. If you choose to purchase glasses for the year, you can use your set monetary allowance to buy new frames every 12 months. If the allowance doesn't cover the entire cost of the frames, then the plan offers a percentage off on the remaining amount not covered. The company also offers a bonus allowance amount if you choose a set of frames from one of its partner brands.
This vision care plan covers single vision lenses for your glasses as well as lined bifocal and trifocal lenses every 12 months. If you need a second pair of glasses, such as new prescription sunglasses, the plan also gives you 20 percent off the second pair's price.
If you prefer not to get glasses, you can use your allowance to purchase contact lenses with no copay required. If you have not had contact lenses before, you may be required to go through an additional contact lens exam to make sure the contact lenses work for you. The Standard Plan offers a percentage discount on this contact lens exam, and you can also choose the option to pay for the lens exam by using your contact lenses allowance. You can only use your 12-month allowance for either glasses and frames or contact lenses; if you need both, you need to pay on your own or wait for the next 12-month cycle.
Options
The plan includes copay coverage for optional lens enhancements, such as tinted lenses, UV protection, anti-glare coating or no-line bifocal lenses.
This VSP Individual Vision Plan also offers an allowance for a LASIK procedure. The VSP site offers thorough resources you can reference if you are deciding if you want a vision correction procedure. You can use the company's site to search for a local laser vision physician, who examines you to make sure you are a candidate for the surgery and then works to coordinate the procedure with a local surgical center.
More than 36,000 vision care providers accept VSP Individual Vision Plan's insurance. You can find local eye care centers or independent providers through an online doctor search that VSP provides on its website. The search tool lets you look for physicians based on what type of insurance plan you have as well as more specific criteria, such as what type of services or products a provider offers. VSP Individual Vision Plan does offer some limited out-of-network options, but the coverage and allowances are greatly reduced.
With VSP Individual Vision Plan, it's not required to have an ID card. However, you can choose to have one if you want or need it on hand to refer to your vision care plan's benefits. All you have to do to get coverage when seeing an in-network provider is to let the doctor's office know of your status as a VSP insurance holder. The office will take care of collecting your copay and submitting reimbursement claims to the vision insurance directly, so you don't have to worry about submitting any reimbursement claims yourself.
VSP Individual Vision Plan is a top vision care insurance company that offers affordable and thorough coverage regardless of if you go through an employer or enroll on your own. VSP Individual Vision Plan offers a Standard Plan that includes great allowances that cover most eye care needs for you and your family members, including eye exams and the choice of new contact lenses or glasses every 12 months with over 36,000 eye doctors. The insurance company has a wide network of eye care providers across the United States, so you are very likely to find one located conveniently near you. Overall, VSP Individual Vision Plan's options are the best option if you are a looking for an all-around good plan that you only need every 12 months.

Ready to choose your Business Employee Benefits & Insurance Plans? Here's a breakdown of our complete coverage:

Business.com Editorial Staff
The purpose of our community is to connect small business owners with experienced industry experts who can address their questions, offer direction, and share best practices. We are always looking for fresh perspectives to join our contributor program. If you're an expert working in your field – whether as an employee, entrepreneur, or consultant – we'd love to help you share your voice with our readers and the Business.com community. We work hard to only publish high-quality and relevant content to our small business audience. To help us ensure you are the right fit, we ask that you take the time to complete a short application: https://www.business.com/contributor/apply/ We can't wait to hear what you have to say!