Wacker Neuson Review
The Wacker Neuson Compact Excavator 1404 is a mini excavator with rubber tracks and a Yanmar engine. It belongs in the 1.5-ton class and is available in two models with a long and short dipper stick.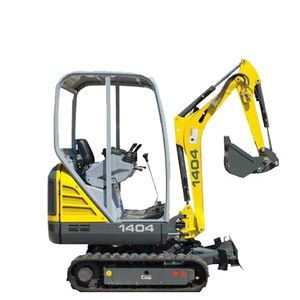 The Wacker Neuson 1404 weighs 3,373 pounds and is 144 inches long, 39 inches wide and 90 inches tall. It has a maximum digging radius of 146 inches, maximum digging depth of 88 inches and maximum dumping height of 93 inches. The excavator has a rated noise level of 93 decibels and sports a large operator station for its size. You can quickly remove its engine and side covers to get immediate access to all the parts that need regular servicing.
Powering this Wacker Neuson mini excavator is a water-cooled, three-cylinder diesel Tier 4 engine that generates 17.9 horsepower and revs up to 2,200 rpm. This engine takes the excavator to a top speed of 1.6 mph. It is, therefore, not a fast excavator and it does not have two selectable travel speeds like some compact excavators do. Besides the engine, there is also a 45 Ah battery, a 6.25-gallon fuel tank and a 5.25-gallon hydraulic system.
The hydraulic system uses a gear pump and generates a pressure of 2,901 pounds per square inch to drive the traction system, boom and arm of the mini excavator. It is also governed by a load-sensing system that delivers just the right amount of power for smooth and precise control of the hydraulic-driven parts via the pilot joystick controls.
This mini excavator does not quite have zero tail swing, but its housing does not significantly overhang its tracks. This makes it suitable for digging in tight spaces. Even more important is its telescopic undercarriage that can extend to 52 inches in width for stability and improved lifting power but also retract to 39 inches when moving through narrow doorways and corridors. The Wacker Neuson 1404 has rubber tracks and these are gentler on paved surfaces than steel ones, but they are not as rugged as steel tracks.
The Wacker Neuson 1404 comes standard with a canopy and not a fully enclosed cab. Therefore, although it provides the operator with a shade, it does not fully protect against the weather. However, it is also available with a heated, enclosed cab with a radio but no air conditioning. The excavator has an adjustable driver's seat and an optional 3-inch seat belt, as well as a boom-mounted work light, horn and an instrument panel with indicators for battery level, pressure, coolant temperature and fuel.
Overall, the Wacker Neuson 1404 is a compact excavator well suited for tight spaces. It is, however, not the most powerful or fastest mini excavator in its class. It may not have the most comfortable operator station but its adjustable undercarriage and minimal tail swing design significantly make it a nimble compact excavator.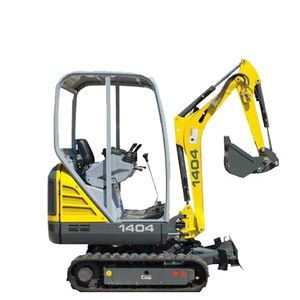 business.com editorial staff
business.com Member
The purpose of our community is to connect small business owners with experienced industry experts who can address their questions, offer direction, and share best practices.