Wave Financial Review
By Lori Fairbanks
Last Modified: September 25, 2018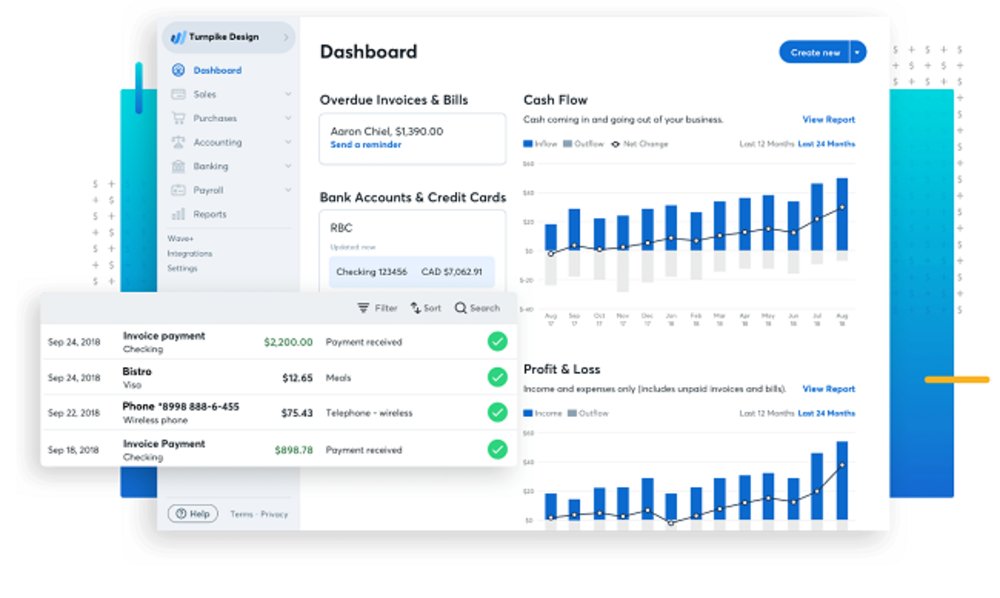 The business's detailed dashboard remains easy to navigate, which makes monitoring cash flow as well as profit and loss numbers a breeze.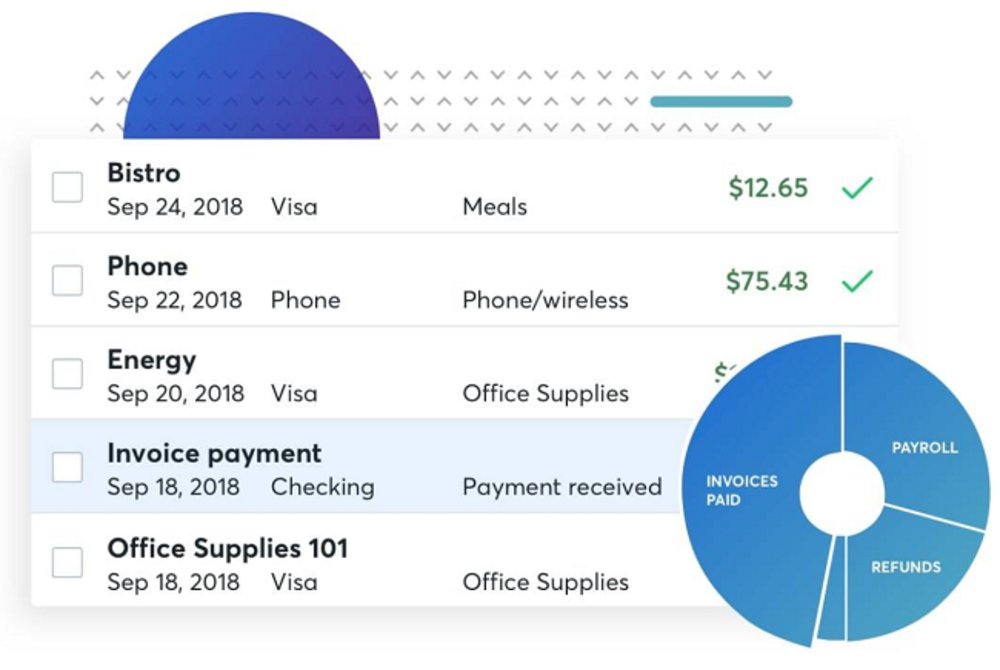 Detailed accounting statements make it easy to track how your business is doing.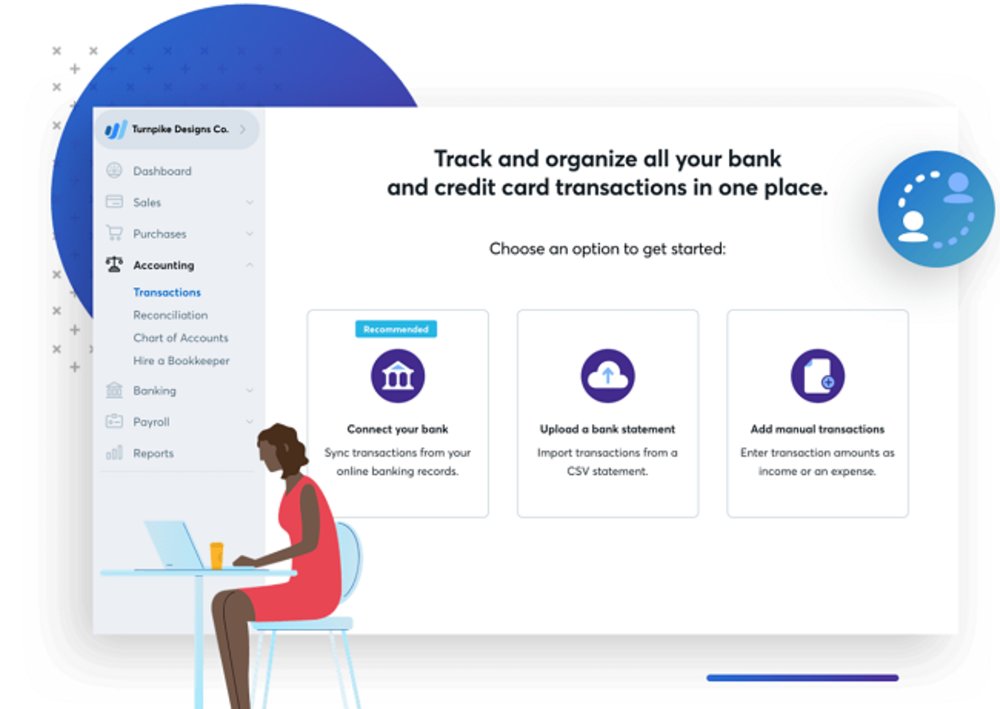 You can monitor all bank and credit card transactions using Wave's accounting software.
Wave Financial is the best free web-based accounting software designed for small businesses. Its pricing structure is different from most: Instead of charging a monthly fee, the company makes its money from its ancillary services, though you can use the software without them. Wave is easy to use and has a good selection of features for managing your business financials, including invoicing, expense tracking and reporting. Mobile apps for sending invoices and recording receipts are available for iOS and Android phones. It supports multiple businesses and unlimited collaborators you can invite to the software, though its user controls are limited.

Pricing
Wave is free, which is unusual for nicely designed, cloud-based software with mobile apps. There's no monthly or annual fee and no software license to purchase. The only costs are for the company's add-on services, which are optional. For example, if you choose to accept invoice payments online through Wave, it costs 2.9 percent plus 30 cents per credit card transaction or 1 percent, with a $1 minimum fee, for ACH bank transfers. The company's payroll service costs $20 or $35 per month (depending on your state) plus $4 per employee. It also offers small business loans through its partnership with OnDeck.
Ease of Use
Wave is easy to set up and requires minimal information about your business to create an account. You can upload your logo, choose between three invoice templates and add an accent color. You can further customize invoices from the Invoice Creation screen, clicking the Edit Columns button to decide what to name columns and which columns to include or hide. You can also add footer text to your invoices. Invoices and other transactions are extremely easy to create in this software.
Timesaving Features
When you create an estimate, you can convert it to an invoice in just two clicks. If you want to rearrange the line items on an invoice, you just drag and drop them into place.
You can set up the system to automatically send out recurring invoices, which is a useful feature if your business sells subscription-based goods or services.
The automatic payment reminder allows you to schedule when a follow-up email is sent to your customer. You can send reminders manually at any time. Wave has a prewritten email that you can use as is or customize, and you can preview the message before sending it.
Wave connects with your bank and credit card accounts and automatically downloads your transactions. You can also link your PayPal account to sync transaction data but not to accept payments.
Other Features
Wave can track your expenses and allows you to upload receipt images using your computer or a mobile device with Wave's receipt app. You can also email receipt images to this bookkeeping software. Wave uses optical character recognition to translate images into text for expense transactions, and it estimates 70 percent accuracy. It attaches the receipt image to the expense transaction so you can view it later if needed.
This online accounting software allows you to manage vendors and track bills.
You can generate several different reports using Wave, including a general ledger and an aged receivables report.
Additional Considerations
Wave supports multiple businesses, which is a useful feature if you run more than one company.
There's no set limit on the number of collaborators (accountants, business partners, etc.) you can invite to your account. However, the user access controls are more limited than in other programs, so you'll want to be very selective about who you add to your account.
Customer support is available via email, and the website has several resources for answers to your questions, such as a knowledgebase, blog, user forum, getting-started guides and video tutorials.
Wave integrates with ADP, Etsy, PayPal, Shoeboxed and Zapier.
Drawbacks
Although you can capture receipts and create expenses, you can't convert the expense transaction to an invoice. If there's a charge you need to pass on to a client, you have to manually add a line for the expense to an invoice.
You cannot track billable hours using Wave. You would have to manually add that information to an invoice as well.
Wave doesn't track inventory quantities. The knowledgebase offers suggestions for workarounds for companies with limited inventory, but these workarounds are not ideal for businesses needing real-time information about how many products they have in stock.
The software doesn't manage fixed assets. Workarounds are available, but the software doesn't calculate depreciations for you.
Wave lacks the ability to create purchase orders and print checks to pay vendors.
Wave has a reconciliation feature, but it doesn't suggest matches between your bank transactions and those you've entered into the system.
Wave is a good online accounting application for small, service-based businesses and new companies, and it's the best free option we found in our research. Although it doesn't have tools to track time and inventory, it's easy to use and has mobile apps for invoicing and receipts. It can create estimates and invoices, track expenses, and automatically send recurring invoices and payment reminders. It can also track bills and manage vendors.
Editor's Note: Looking for accounting software for your business? Click the Compare Quotes button below to have our sister site Buyer Zone connect you with vendors that can help.

Ready to choose your Best Accounting Software and Invoice Generators? Here's a breakdown of our complete coverage:

Lori Fairbanks
Lori Fairbanks has years of experience writing and editing for both print and online publications. After graduating from Brigham Young University with a Bachelor of Arts in English, she worked as an editor for Creating Keepsakes magazine and then as a freelance writer and editor for a variety of companies, including marketing firms and a medical university. She now writes for Business.com and Business News Daily.