X-Cart Cloud Review
By Business.com Editorial Staff
Last Modified: March 26, 2019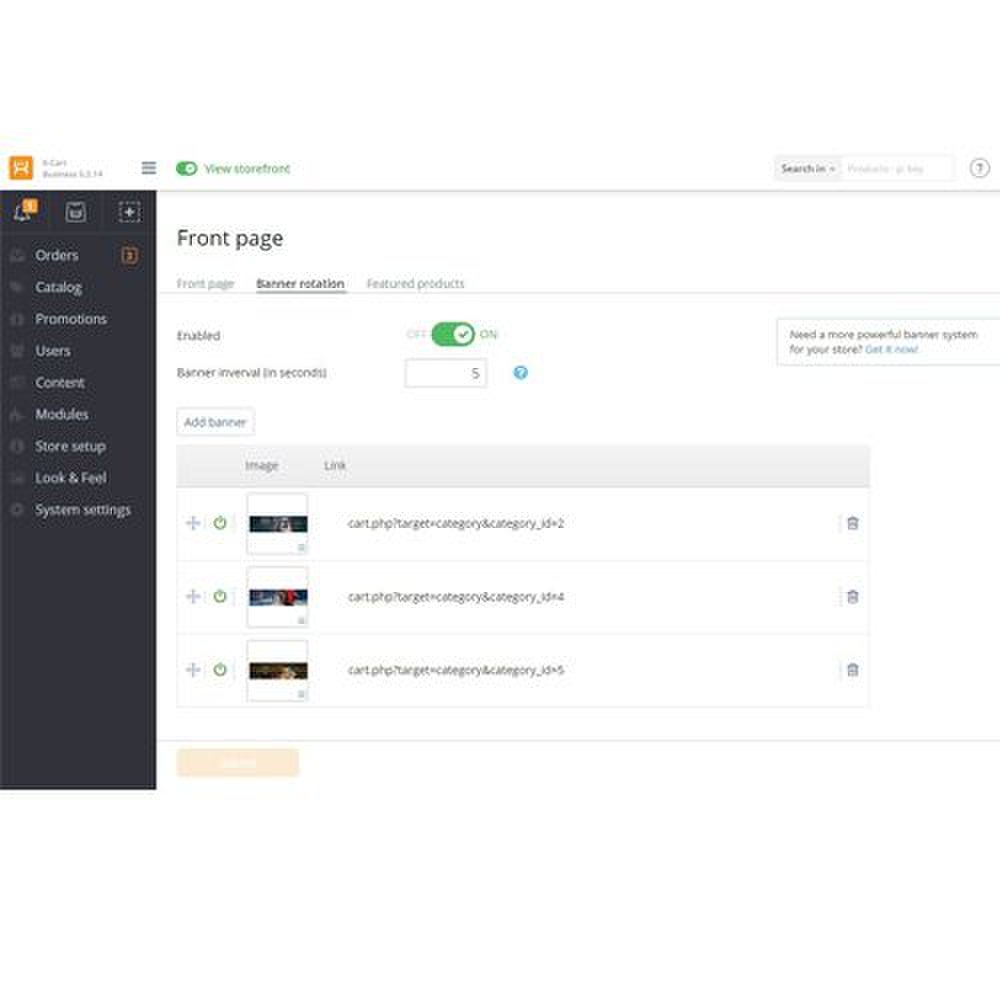 X-Cart image: You can choose which images appear on your website's home page banner.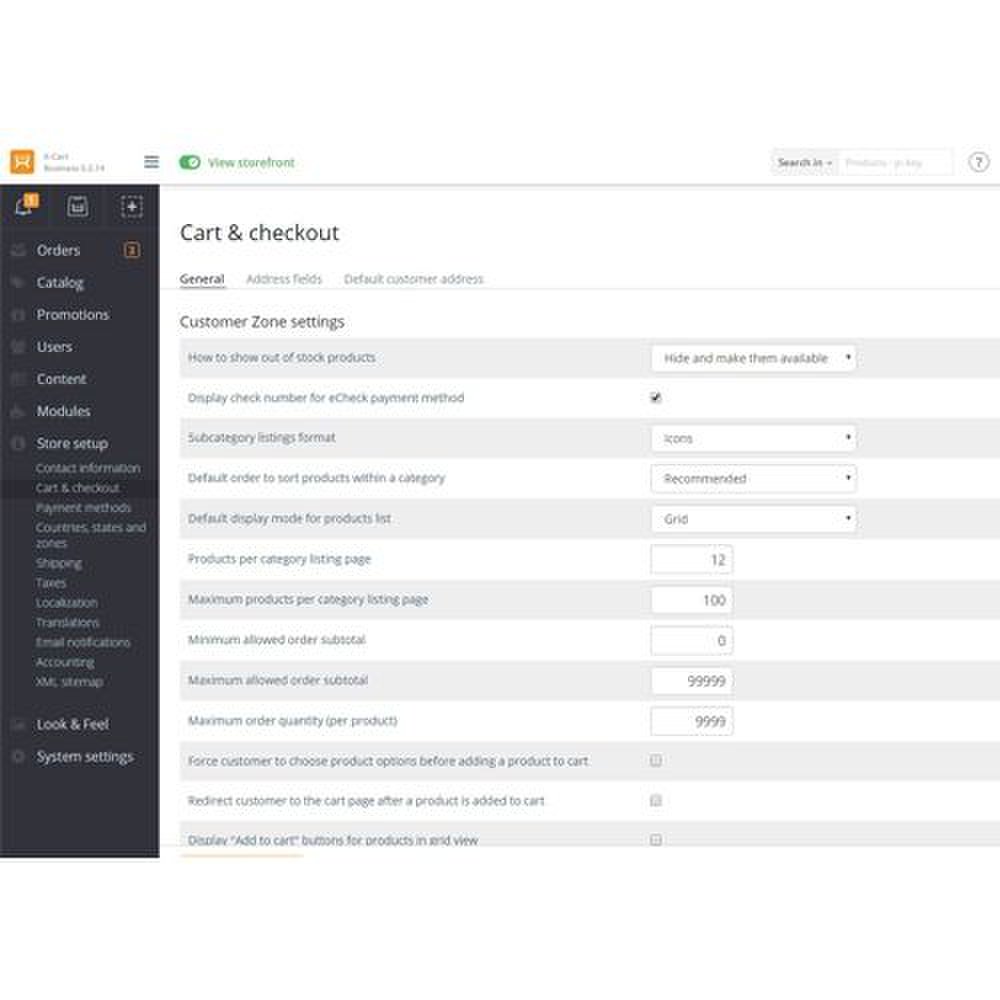 X-Cart image: You can customize your customers' checkout experience.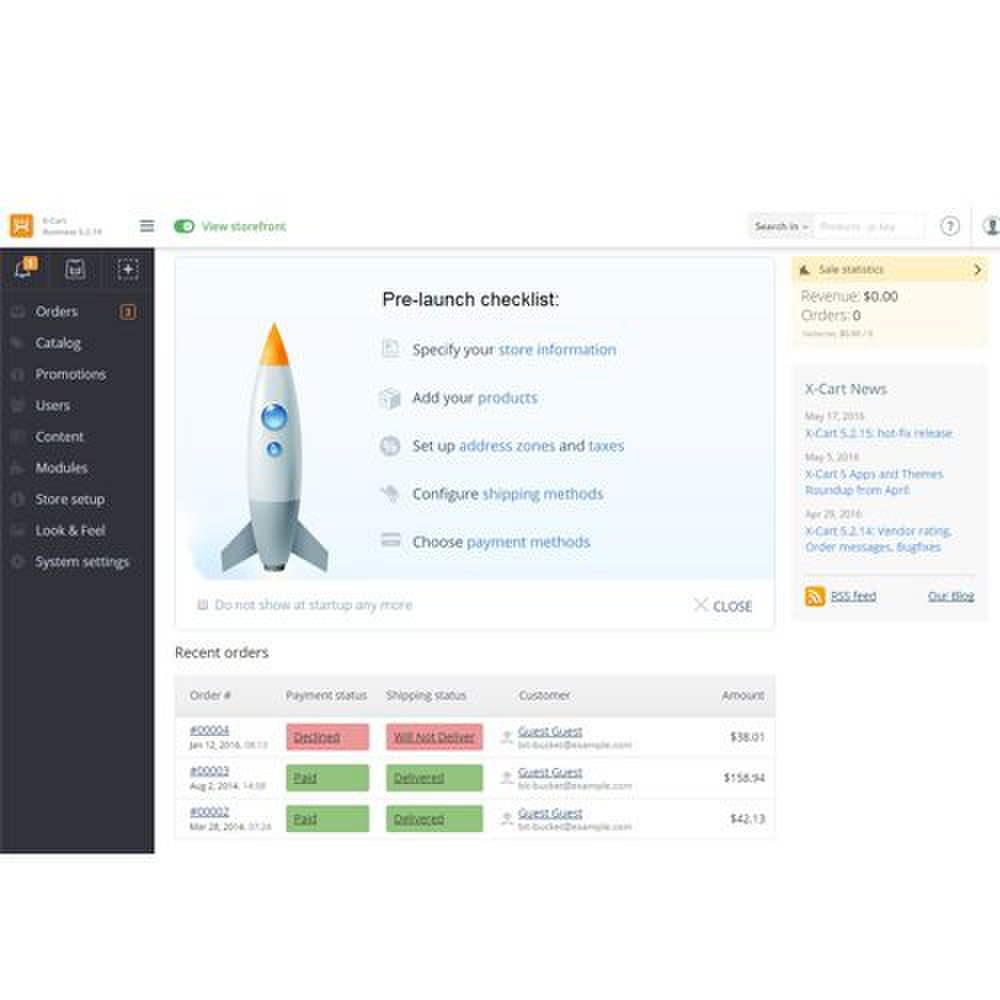 X-Cart image: X-Cart provides you with a checklist to help you prepare your website for launch.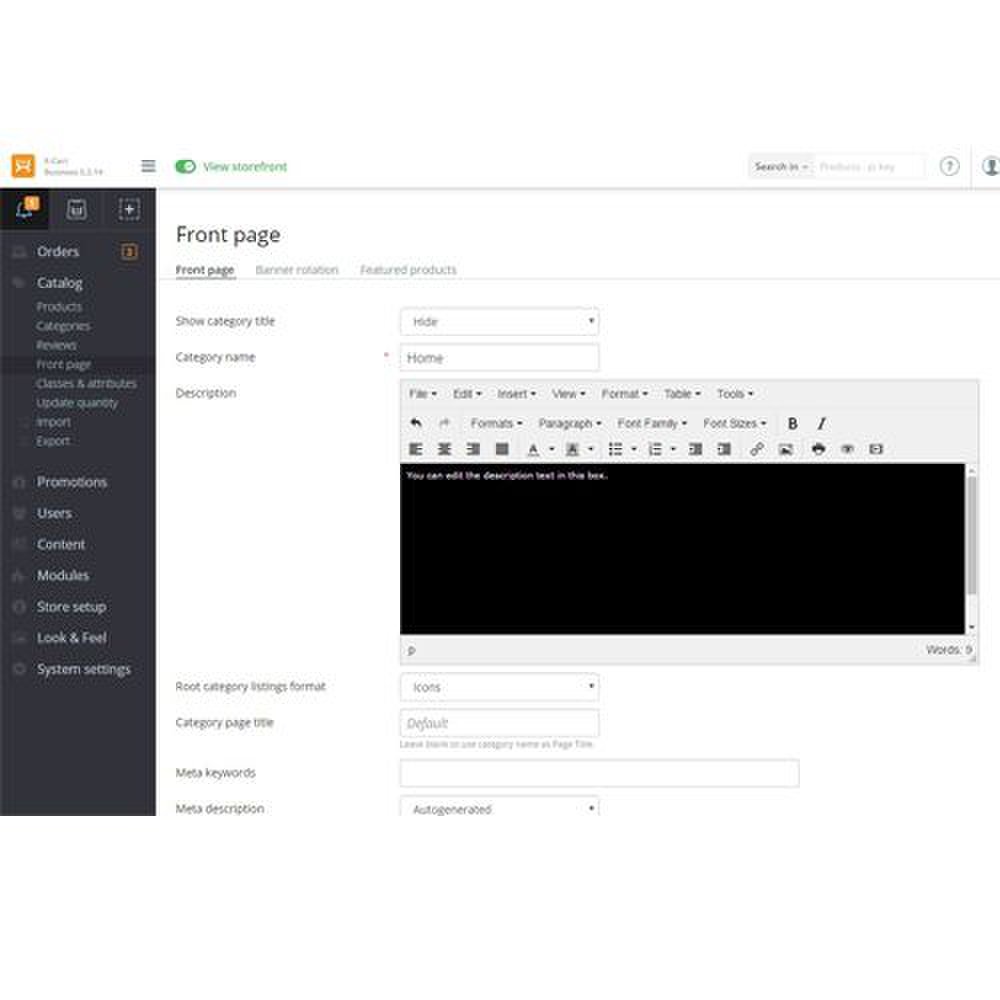 X-Cart image: You can edit your web pages easily with the X-Cart eCommerce platform.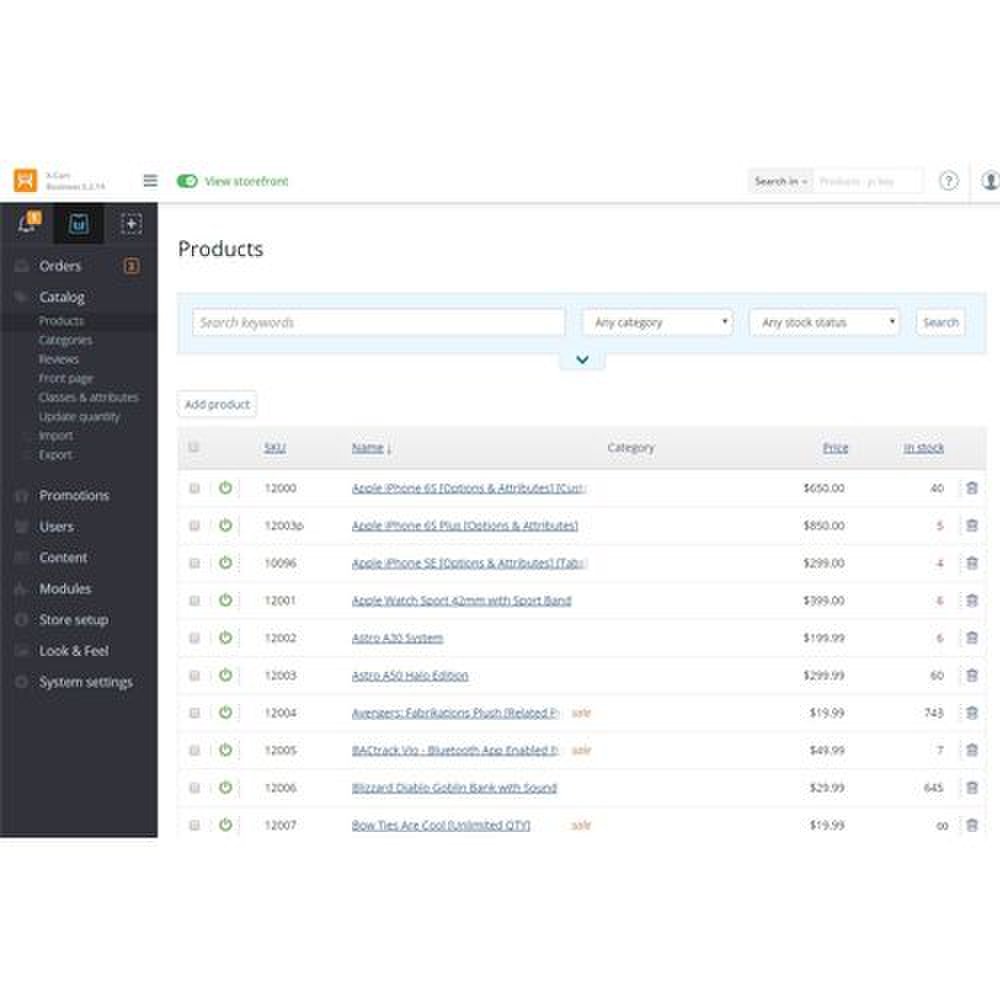 X-Cart image: The Products section of X-Cart'x software lets you add, edit and delete products on your website.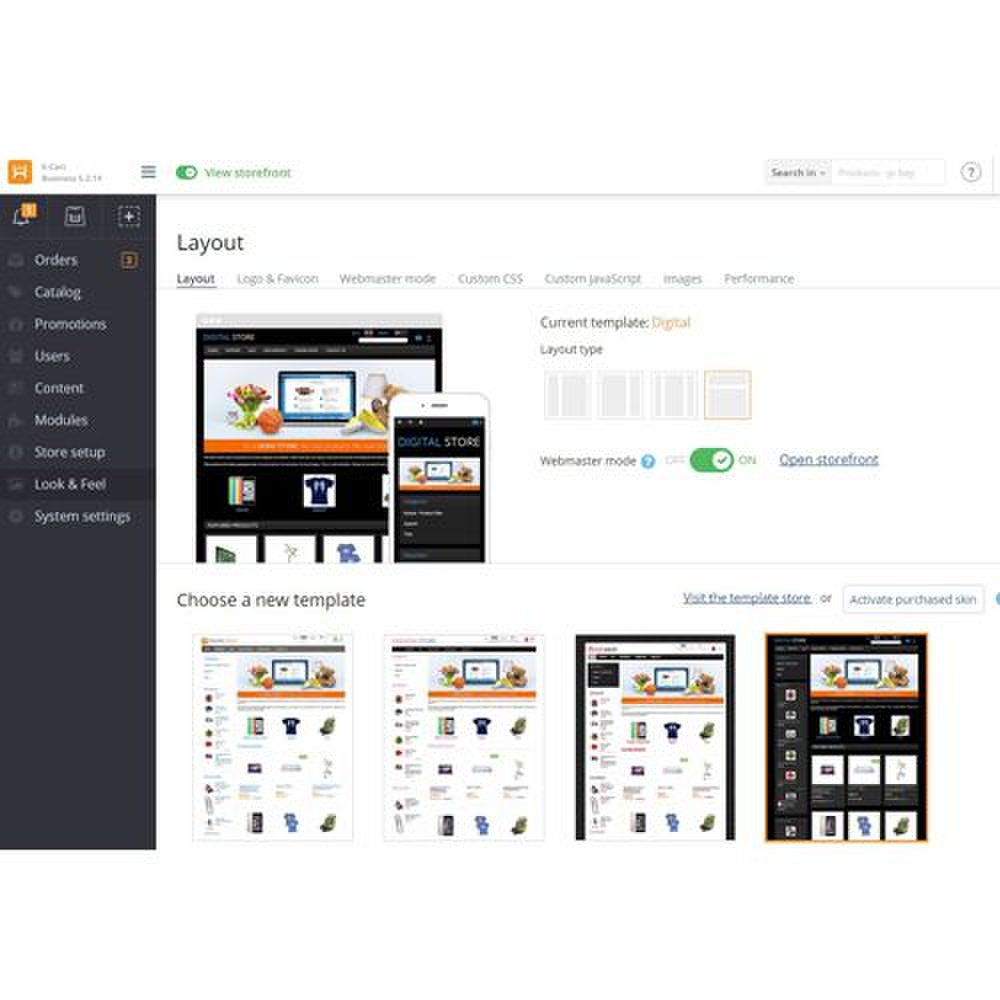 X-Cart image: You can choose and customize pre-made templates to give your site a unique look and feel.
X-Cart's eCommerce software offers most of the features we looked while reviewing the best eCommerce software. However, it works differently than the other services on our lineup. This service needs to be downloaded, and it is available for Macs and PCs. In addition to paying a monthly hosting plan, you also need to purchase a lifetime license when you purchase the software. No setup or transaction fees are charged on top of these costs.
We reviewed the business license under the Standard hosting plan provided by X-Cart. With this plan, only 2GB of storage is available, which is low compared to most other services in our review. There is no bandwidth or product limit, however, which is a plus.

Adding products with this web store builder is easy and straightforward, and it's simple to change text and images in these areas. Changing images and text in other areas of your website is less intuitive, however. You can preview your site with X-Cart. You can use an HTML and CSS editor to customize your site, but you can't edit directly on the preview.
X-Cart only offers four free website templates, and you can purchase premium templates if the free templates don't suit your business. This platform offers a built-in blog and WordPress integration. If you want to use a content delivery network (CDN), which helps your website download faster for customers in different areas, you must pay an additional fee. Additionally, X-Cart does not provide unique domains, but you can register your own. If you don't know how to register your own unique domain, you can hire X-Cart to find and register a domain for you, though again, this is an additional charge.
Checking out with sites built by X-Cart is straightforward, and checking out with a mobile device is simple as well. However, the customers aren't always redirected to the cart after they add a product to it, which can be confusing.
X-Cart is compatible with over 75 payment gateways, which is a large number in our review. This means you're more likely to be able to work with your payment processor with X-Cart. If you want to keep your current payment gateway, you should be sure it's on X-Cart's list before you sign up for the service.
This service integrates with online stores like Amazon and eBay, so if you want to sell through those outlets, you can do so and easily keep track of those sales. You can also translate your store into languages other than English.
Support is not available 24/7 with X-Cart, and you must pay an additional fee for support as it does not come with this plan. Live chat is available on the website though, and an online knowledgebase is available as well. X-Cart also offers fraud detection and a built-in POS system, and you can have an unlimited number of email accounts with this service. X-Cart is also the only company in our review that offers TLS 1.2 encryption, which means that it is the only company on our lineup whose current encryption will still be PCI compliant in 2018, which is when SSL certificates will no longer be valid for PCI compliance.
X-Cart offers most of the features we looked for in eCommerce software, but you must pay extra for several of these features. Additionally, you must pay extra for support and for a monthly hosting fee as well as a one-time fee to purchase the lifetime license. All of these fees can add up quickly, which is something you may need to be aware of. However, if money is not an issue for your small business in regards to building an eCommerce website, X-Cart is a good choice.

Ready to choose your The Best Ecommerce Platforms and Shopping Cart Software of 2019? Here's a breakdown of our complete coverage:

Business.com Editorial Staff
The purpose of our community is to connect small business owners with experienced industry experts who can address their questions, offer direction, and share best practices. We are always looking for fresh perspectives to join our contributor program. If you're an expert working in your field – whether as an employee, entrepreneur, or consultant – we'd love to help you share your voice with our readers and the Business.com community. We work hard to only publish high-quality and relevant content to our small business audience. To help us ensure you are the right fit, we ask that you take the time to complete a short application: https://www.business.com/contributor/apply/ We can't wait to hear what you have to say!