Xact Telesolutions Review
By Adam C. Uzialko
Last Modified: December 28, 2018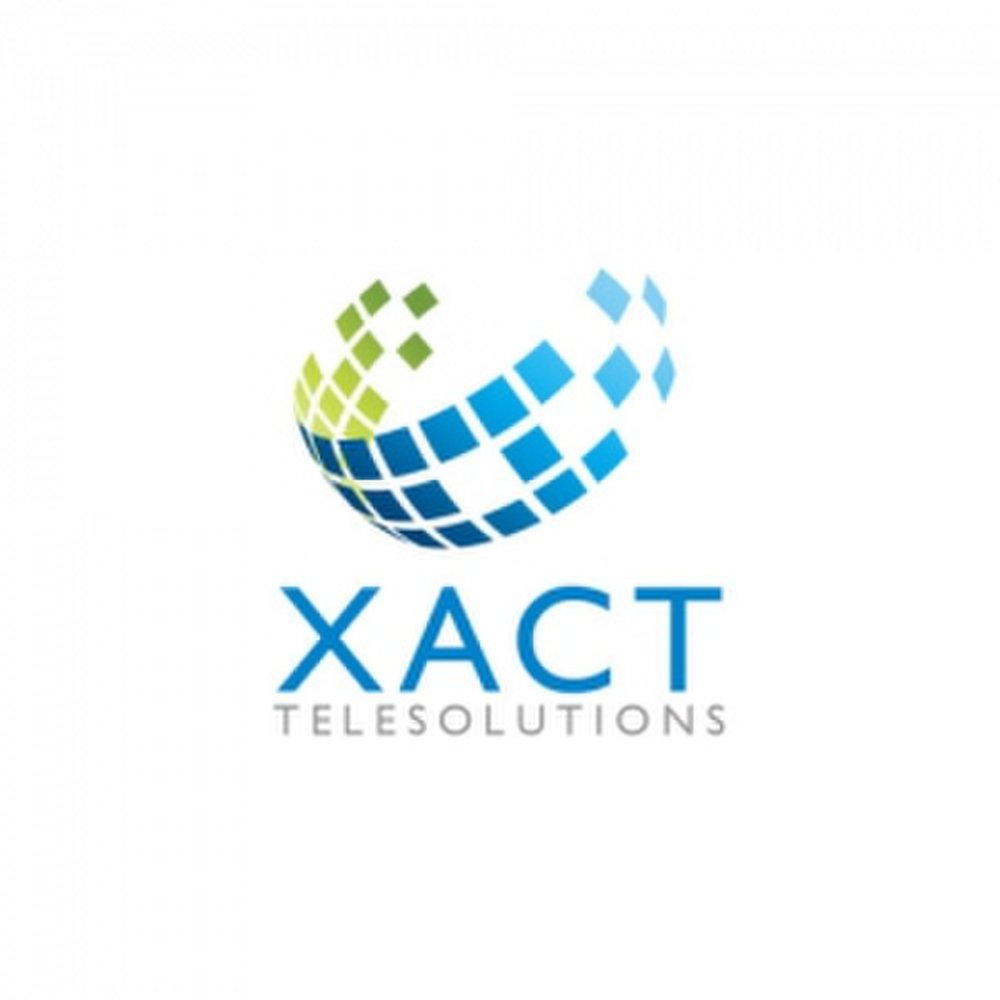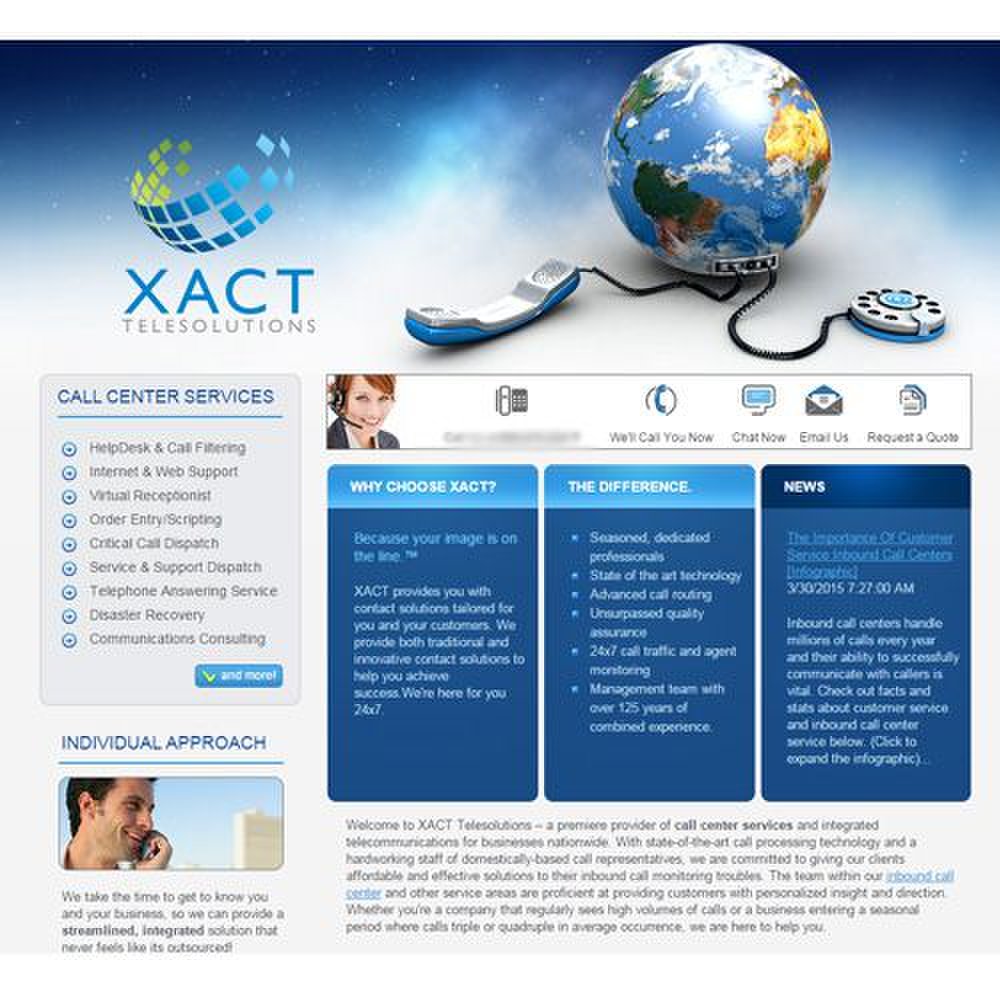 Xact Telesolutions offers many services, including a virtual receptionist, order entry and web support.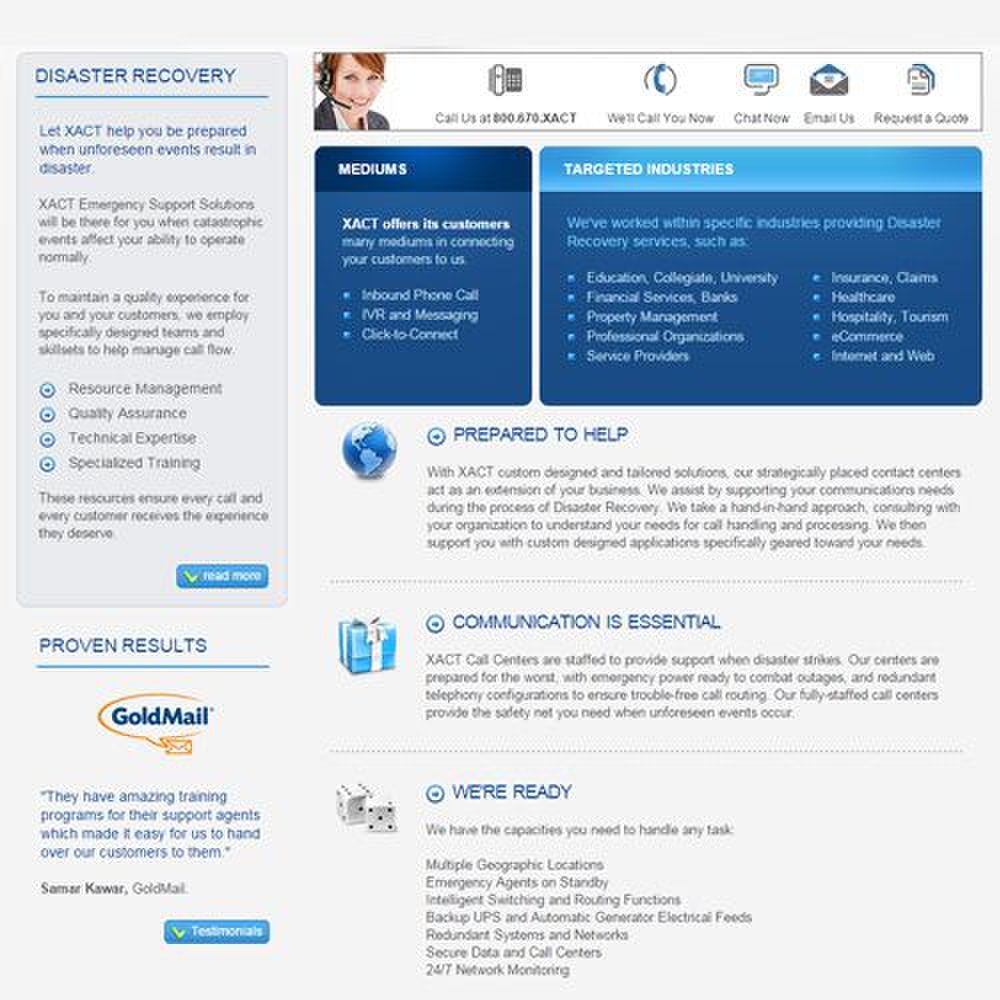 In the event a disaster occurs in your area and you are unable to answer the phone, Xact Telesolutions can answer calls for you.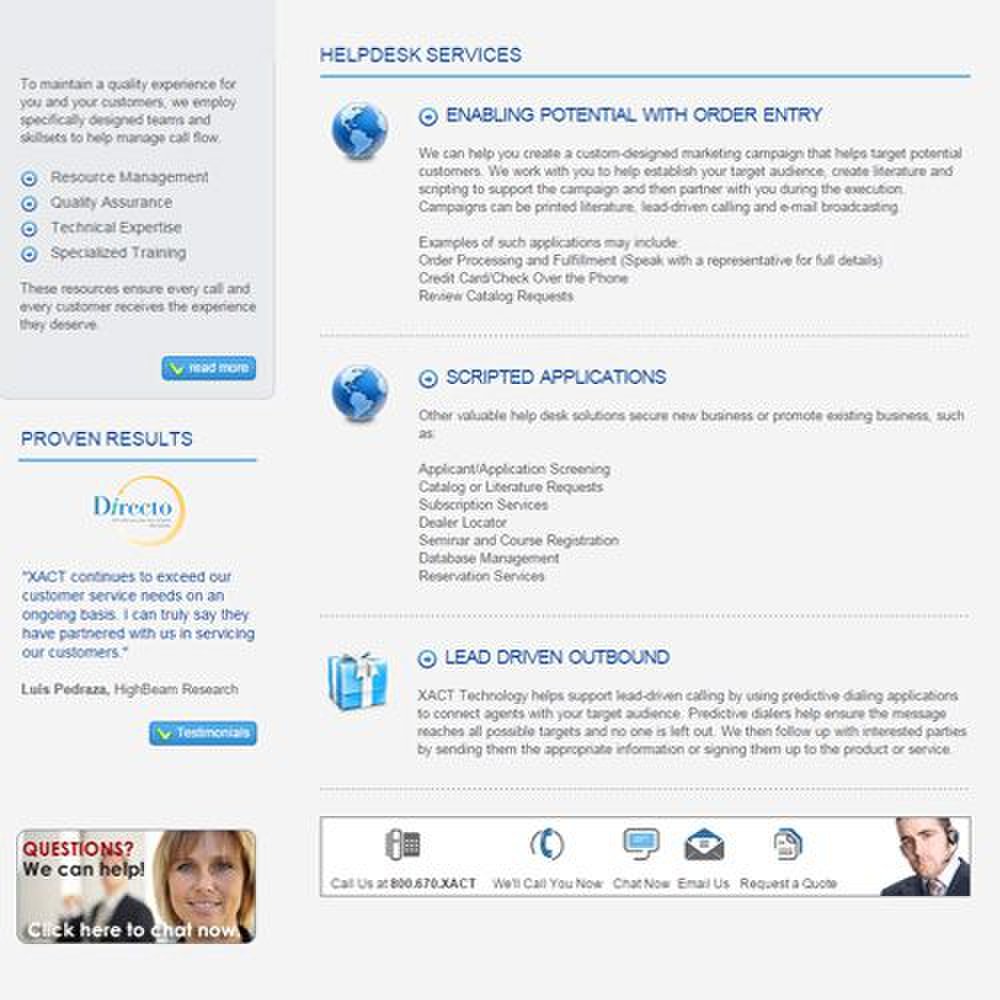 Xact Telesolutions has scripted applications and outbound lead-generation services to find new customers for you.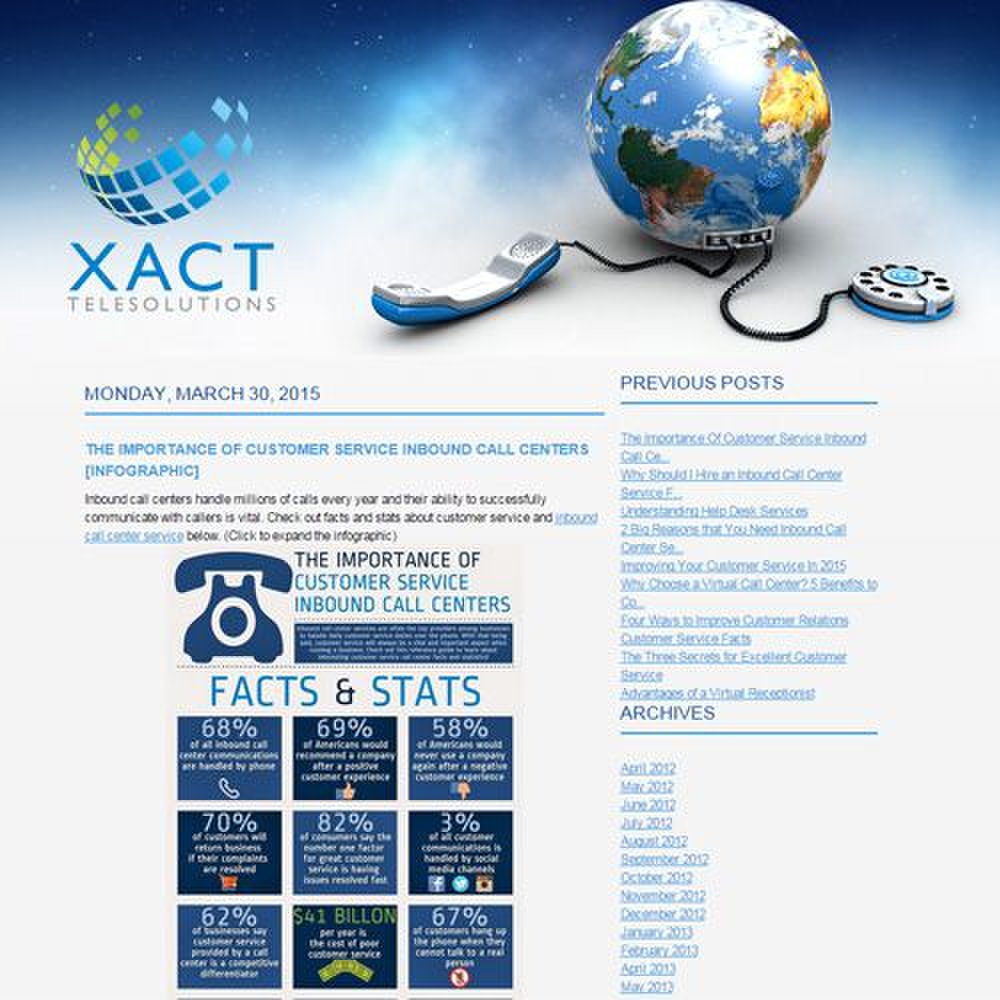 You can read the Xact Telesolutions blog for more information on call centers.
Xact Telesolutions is our best pick for the most flexible call center service. It offers wide-ranging pricing options to support nearly every call volume, making it a great option for both small and large businesses. Xact Telesolutions offers a multifaceted solution to handle both inbound and outbound calls and tailors its programs to precisely suit your company.
For our other call center service recommendations, visit our best picks page.

Xact Telesolutions
Best Call Center Services
The Verdict
Despite lacking some calling features, Xact Telesolutions has a dynamic range of features for both inbound and outbound call center services that make it worth looking into.
Compare Quotes ▶
With Xact Telesolutions, you are guaranteed personalized service and the flexibility to meet any inbound and most outbound services your company needs. With over 19 years' experience, Xact is a call center you can scale your business with.
Pricing and Fees
Xact Telesolutions offers both shared agents that work on your account in addition to Xact's other clients as well as dedicated agents, which work solely for your company. Naturally, dedicated agents are much more expensive but can perform more advanced services and go off script. Shared agents are suitable for companies with more basic needs and lower call volumes.
Shared agents start at $0.89 per minute for monthly plans ranging from 2,500 minutes to 10,000 minutes. For plans ranging from 10,001 minutes to 25,000 minutes, shared agents cost $0.85 per minute. These costs are slightly above average based on the other call center services we evaluated, but they are not excessively high.
Monthly fees for two to 10 dedicated agents equal $26.95 per agent per hour, while teams of 11 to 25 are priced at $25.95 per agent per hour. If you require a team of 26 or more dedicated agents, you'll need to obtain an individual quote from the company.
In addition, Xact Telesolutions charges setup and programming fees at a rate of $75 per hour. Setup commonly takes about 10 hours, for a total of $750, which was comparable with the other services we reviewed. Agent training is $22 per hour, which could ultimately cost around $1,000, according to a company representative. This makes upfront expenses to launch a program with Xact Telesolutions higher than the average for the call centers we reviewed.
Call Center Services
Inbound Services
Xact Telesolutions inbound call center representatives can conduct feedback calls and gather information on customers as well as scheduling follow-up calls. The call center can help with disaster recovery services if your business is threatened with a natural disaster that could disrupt phone service or prevent you from answering incoming calls, such as a tornado or hurricane.
You can also outsource receptionist duties for scheduling appointments and answering questions for customers. This service uses automated services such as voicemail and voice messaging. In addition, you can have agents take and process orders for you.
Agents are available all day, every day throughout the year, so you'll have someone ready to take your calls at any time. Xact Telesolutions hires English speakers with neutral accents who can communicate clearly and effectively. They can also provide fluent Spanish-speaking representatives. For other language needs, agents connect with a third party that offers interpretation services. Other services Xact Telesolutions offers include email management support and live web chat services.
Outbound Services
For outbound services, agents work with you on lead-generation efforts that target potential clients. This call center company can conduct many different types of customer surveys and gather feedback on the service consumers received, whether they liked a product or service, and what can be done to enhance their experience with your company. However, Xact Telesolutions does not offer cold-calling services. Xact mostly performs outbound services for clients that already work with the company on inbound services, essentially augmenting the program that the company is already performing for your business with an additional level of service.
Reporting
Xact Telesolutions offers a robust reporting function to help you keep tabs on your outsourced call center operations. Reporting is sent daily, or you can purchase a license to view the database in real time, just like Xact's manager do.

Xact Telesolutions
Best Call Center Services
The Verdict
Despite lacking some calling features, Xact Telesolutions has a dynamic range of features for both inbound and outbound call center services that make it worth looking into.
Compare Quotes ▶
Reporting includes information about the number of calls answered, the average speed of the answer, the abandonment percentage, outbound calls made, average length of each call and a breakdown of call category (e-commerce, customer support, etc.) Xact forwards you the reporting data through whichever channel you choose: text, email or web portal. These include daily, weekly or monthly reports.
Customer Service
Our customer support experience with Xact Telesolutions was exceptional. Although we left a voicemail the first time we called, our call was promptly returned. We then had a highly informative and pleasant conversation with a company representative, one of the co-founders of the company. She offered us even more detail than we requested and asked questions about our company to ascertain our needs or to further explain how Xact Telesolutions might be a potential fit. She also followed up with a very comprehensive packet that spelled out Xact's services, agent training policies, pricing and more.
Assistance is available for Xact Telesolutions clients anytime by phone, so you get help for any issue immediately. The company also provides live chat service every day, but it has limited hours, and the live chat representatives only collect your information to have someone call you.
We reached out via live chat several times, and each time, we were referred to a sales representative via phone instead of having our questions answered directly. You can connect with support representatives by email if needed.
Limitations
Xact Telesolutions biggest limitation is its upfront expenses, which are significantly higher than most other call center services in our review. At nearly $2,000 for setup, programming and training, Xact demands a little bit of capital investment upfront before launching service.
However, Xact Telesolutions bills for agent training to ensure that every agent is properly prepared to manage your account at a high level prior to launch. In other words, you get what you pay for.
Whether your company is a five-person catering service or a blossoming online retail store, Xact Telesolutions' call center services can help you do more outreach, check with customers to see how pleased they are with your firm, or simply handle incoming calls in a courteous and professional manner. It is highly versatile and supports the needs of both small and large companies, making it our best pick for flexible call center services.

Xact Telesolutions
Best Call Center Services
The Verdict
Despite lacking some calling features, Xact Telesolutions has a dynamic range of features for both inbound and outbound call center services that make it worth looking into.
Compare Quotes ▶
Ready to choose your Best Call Center Services? Here's a breakdown of our complete coverage:

Adam C. Uzialko
Adam C. Uzialko, a New Jersey native, graduated from Rutgers University in 2014 with a degree in Political Science and Journalism & Media Studies. In addition to his full-time position at Business News Daily and Business.com, Adam freelances for a variety of outlets. An indispensable ally of the feline race, Adam is owned by four lovely cats.