Xerox WorkCentre 7535 Review
In today's modern workplace, top color copiers need to be effective multitaskers. On any given day, your employees might have to produce high-quality photos or print documents for an office meeting. The Xerox WorkCentre 7535 incorporates many of the functions of the best color copiers, offering features that accelerate your office's productivity and help your employees work efficiently.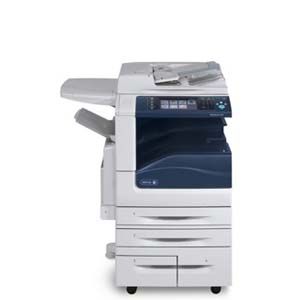 Xerox WorkCentre 7535
The Verdict
The Xerox WorkCentre 7535 is a reliable printer built for enterprise applications.
Security is a high priority when you're running a business. With user authentication and secured printing functions, you can see which employee is using the copier and the material that they create. To further secure your settings, you can modify or restrict the functions that each employee can access.
The dimensions of the copier can also play an important role into your purchasing decision. With dimensions of 41.9 x 27 x 44.4 inches and a weight of 308 pounds, the WorkCentre possesses the necessary heft to be a workhorse copier.
For office networking and connectivity options, the 7535 includes standard Ethernet and USB 2.0 support. This allows your employees to quickly print documents from a USB thumb drive and connect the WorkCentre to an office network. For alternative workplace configurations, the 7535 can also support wireless printing over 802.11b with the purchase of a third-party adapter.
With a manufacturer-listed resolution of 1,200 x 2,400 dots per inch (dpi), the WorkCentre's image fidelity is competitive with the best copiers. The 7535's scanner also has support for a variety of file export formats.
These standards include JPEG, TIFF, PDF and text-searchable PDF files. In an office environment, this versatility is useful in situations where you are scanning either photos or text-heavy documents. Copier-specific features include limited storage support and automated two-sided printing.
If you're running a business, the production capabilities of your photocopier need to be considered. The WorkCentre has a maximum paper capacity of 4,180 pages, so many employees will be able to regularly print documents on a fully configured 7535 without losing time for tray refills. At its base configuration, the 7535 comes with a 520-sheet tray that is suitable for smaller businesses. Special media support and multipurpose paper trays provide versatility for general tasks, such as printing marketing materials or office reports.
If your business relies heavily on your copy machine, the 7535's duty cycle of 110,000 pages per month is an added benefit. You can get a lot of use out of your copier before reaching the maximum recommended print volume. You can decide if the duty cycle is right depending how many copies your company produces per month on average. While the 7535's duty cycle is modest compared other free-standing color copiers, which average around 150,000 copies, this color copier printer's listed print and copy speeds of 35 pages per minute in black and white or color means that pages will be produced reasonably fast for a business-caliber printer.
Whether you're considering leasing or purchasing this copy machine for your office, help and support can make a big difference. You can contact Xerox by email or directly by phone. Xerox's dedicated 7535 online support hub also hosts resources such as documentation and driver downloads for the printer. Additionally, Xerox's customer support forum allows you to directly provide and receive troubleshooting assistance from other Xerox users.
You can add several premium accessories to the base configuration of the WorkCentre. These upgrades cost extra, but they will add additional functionality that is beneficial in an office environment. In addition to basic features such as scanning and fax support, optional add-on cabinets provide support for tasks including hole punching, stapling and automated document folding.
To stay ahead as a business, you need a photocopier that combines speed and performance for optimal output. On specifications and scale, the Xerox WorkCentre 7535 is part of a high-end color copier series that delivers on image quality and production value. With its deluxe paper capacity and performance ceiling, this color copier can capably handle all of your company's needs.
Image Credit: Getty Images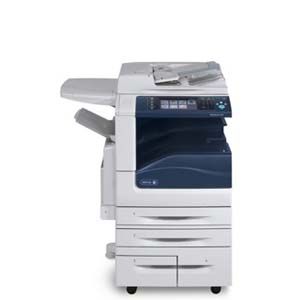 Xerox WorkCentre 7535
The Verdict
The Xerox WorkCentre 7535 is a reliable printer built for enterprise applications.

business.com editorial staff
business.com Member
The purpose of our community is to connect small business owners with experienced industry experts who can address their questions, offer direction, and share best practices.