Xerox WorkCentre 6515 Review
Xerox WorkCentre 6515 is the best color copier for small businesses. This multifunction printer is easy to use, reliable and secure. It features a simple user interface and comes equipped with mobile printing functionality, cloud-connected apps, and environmentally friendly features. On top of all of these features, the WorkCentre 6515 offers top-quality color with its color management tools. The WorkCentre 6515 features PANTONE® color technology, which ensures your business is printing collateral materials in uniform, consistent colors. In addition, Xerox Color Correction technology ensures top-notch quality with the images in your printed documents.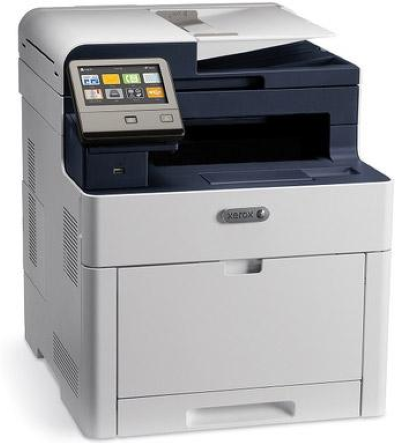 Xerox WorkCentre 6515
The Verdict
The Xerox Work Centre 6515 is the best color copier for small businesses. It offers exceptional speed, quality, and is ideal for small creative teams.
To view all of our recommendations for copiers, visit our best picks page.
Pricing
The Xerox WorkCentre 6515 costs $549. A rebate is currently available, and Xerox offers leasing options as well.
You can choose from two models: the 6515/DN (automatic duplexing) or the 6515/DNI (Wi-Fi connectivity). After the rebates have been applied, the prices drop to $319 for the 6515/DN and $339 for the 6515/DNI. Extras, such as cartridges, additional paper trays or wireless network adapters, will bump up the final costs of this copier. [Need more details on the differences between buying and leasing a copier? Check out this article on our sister site Business News Daily.]
Toner and drum cartridges, if purchased through Xerox, range from $90 to $168 depending on the type of cartridge your business needs. Drum cartridges yield around 48,000 pages. Standard black print cartridges yield 2,500 pages, while the standard cyan, magenta and yellow print cartridges print 1,000 pages. The high-capacity black print cartridges print 5,500 pages, and colored print cartridges yield 2,400 pages, while extra-high capacity colored print cartridges print 4,300 pages.
Xerox WorkCentre 6515 Features
Built for small work teams, the WorkCentre 6515 color laser printer is best for smaller businesses or home and startup businesses. It is one of the smallest MFPs of its class, measuring 16.5 x 19.9 x 19.7 inches and weighing 67.7 lbs.
For its small size, this MFP can print up to 30 pages per minute and 50,000 pages per month. These specifications make the WorkCentre 6515 stand out. Competing copiers, costing around $700 to $3,000, have similar print speeds, but this model is as productive and more efficient but costs less.
The WorkCentre 6515 comes equipped with a few environmentally friendly features. First, it has separate print cartridges so businesses can maximize the life of each ink cartridge. Additionally, the 6515 uses Xerox's EA (emulsion aggregate) toner that is designed to reduce toner waste and extend the life of the unit.
A variety of paper types can be used with this MFP. Businesses that create booklets, banners, posters, business cards, envelopes, labels, letterheads, etc., will benefit from this model. It can print up to 1200 x 2400 dpi and copy/scan up to 600 x 600 dpi. It holds 850 sheets, but for an additional cost, you can purchase paper trays that bump the tray capacity up to 1,400 sheets.
Connectivity and Memory
Wi-Fi is optional with this particular model, however, the WorkCentre 6515 comes equipped for cloud printing and scanning to Apple AirPrint and Google Cloud. It comes with 2GB of print memory and 4GB of fax memory.
Xerox's Print Service Plugin for Android is free in the Google Play Store and helps make mobile printing easy for users. Once connected to your printer through the wireless network, you can print directly from mobile devices. The Xerox Mobile Link App, available for free in the Google Play Store and Apple App Store, allows users to scan, email, and fax from any mobile device. Along with these apps, Xerox Workplace Suite and Xerox Workplace Cloud offer print management and mobility solutions right from mobile devices.
Security
The WorkCentre 6515 has an embedded web server that allows employees and IT to manage access, perform detailed status checks and administer system settings. This model offers simultaneous HTTP and HTTPS support, 802.1x authentication, S/MIME, secure fax receive, LDAP (SASL) and network authentication. It is also equipped to keep your documents secure with IPsec, SNMPv3, IP filtering and secure print.
Xerox Customer Service and Support
Xerox strives to ensure customers are satisfied and that the service and products it delivers are high quality.
Phone assistance is available Monday through Friday, 8 a.m. to 8 p.m. (EST). Email assistance is also available through a contact form online.
The WorkCentre 6515 comes with a one-year warranty, and should problems arise, a service technician will come to your office to repair the machine.
Limitations
The Work Centre 6515 is not suitable for large or growing businesses, especially those that produce large quantities of prints, copies, scans or faxes. The printer only has 2GB of memory, which, again, if you print or copy a lot of items, you'll experience delays as the unit prepares each print or copy job.
Another drawback is the cost of toner. The cartridges for this model yield anywhere from 1,000 to 4,300 pages, so if you think you will exceed this amount per month, you'll spend a hefty amount replacing toner cartridges more frequently than you may need to.
Editor's note: Looking for the right copier for your business? Fill out the below questionnaire to have our vendor partners contact you about your needs.
Image Credit: Getty Images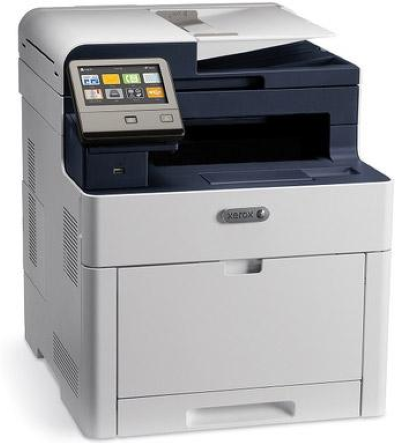 Xerox WorkCentre 6515
The Verdict
The Xerox Work Centre 6515 is the best color copier for small businesses. It offers exceptional speed, quality, and is ideal for small creative teams.

Kayla Harrison
business.com Contributing Writer
Kayla Harrison is a current Writing Arts graduate student at Rowan University and editor at The Urban Howl. She began freelancing during her junior year of college and fell in love with it. You can learn more on her blog, insearchofthewritedirection.weebly.com.