Yanmar Review
The Yanmar ViO17 Mini Excavator is a compact excavator with zero tail swing that is most suited for navigating tight spaces. This mini excavator weighs 3,836 pounds and has a variable undercarriage.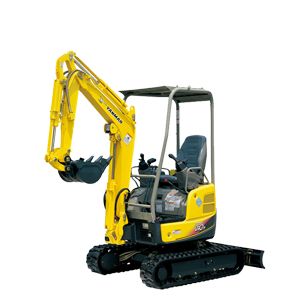 The Yanmar ViO17 has a three-cycle, water-cooled Interim Tier 4 diesel engine that puts out 13.5 horsepower. The engine gives the compact excavator a maximum lifting capacity and bucket digging force that rivals those of excavators twice its size. The engine not only powers the boom and arm but also drives the excavator to a top speed of 2.7 mph.
This mini excavator uses joystick pilot controls and has a valve you can quickly reach to switch it from excavator to backhoe control. There is also a well-placed hatch that gives you access to the engine and every component that needs regular maintenance.
Beneath the Yanmar ViO17, there is a pair of rubber tracks. These help keep its weight down and maintain its small footprint. Rubber tracks tread lighter than steel tracks and are more suited for driving on pavements and digging up landscaped areas. However, they are not as sturdy as steel tracks for rough terrains. Just as important as the rubber tracks mounted on the undercarriage of the ViO17 is the excavator's ability to retract its tracks. This variable undercarriage design has a default width of 49 inches but can also hydraulically retract to 37 inches when you need to drive the excavator through gates and narrow passageways.
Just like the undercarriage, the excavator also has an expandable blade with hinged wings. This blade ensures that not only can you maneuver into tight spaces, but that you can also work there. Another feature that makes the Yanmar ViO17 usable in tight spaces is its zero tail swing design. This ensures the operator housing does not overhang the tracks. Therefore, you can swivel the housing around with no part of it jutting out over the tracks. This minimizes damage to the mini excavator and the job site and also provides better visibility and improved access.
The ViO17's operator housing not only swivels freely but also has a walkthrough four-pillar canopy design that allows for quick entry and exit. However, the compact excavator is only available with a canopied housing. Without a fully enclosed cab, the operator is not completely protected from inclement weather and flying debris. While the canopy design means that features such as a heater and air conditioning are missing from the operator's housing, you still get a high-back seat with adjustable armrests and a seat belt.
The Yanmar ViO17 is a true zero tail swing mini excavator. This, along with its retractable tracks and expandable blade, make it very useful for digging in tight, narrow spaces. However, it is not the most powerful compact excavator you can find, and its housing leaves the operator exposed.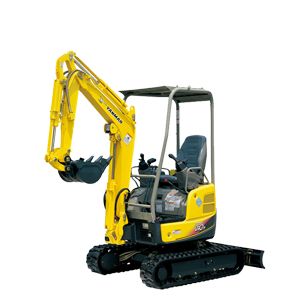 business.com editorial staff
business.com Member
The purpose of our community is to connect small business owners with experienced industry experts who can address their questions, offer direction, and share best practices.