Zoho Invoice Review
By Lori Fairbanks
Last Modified: October 27, 2018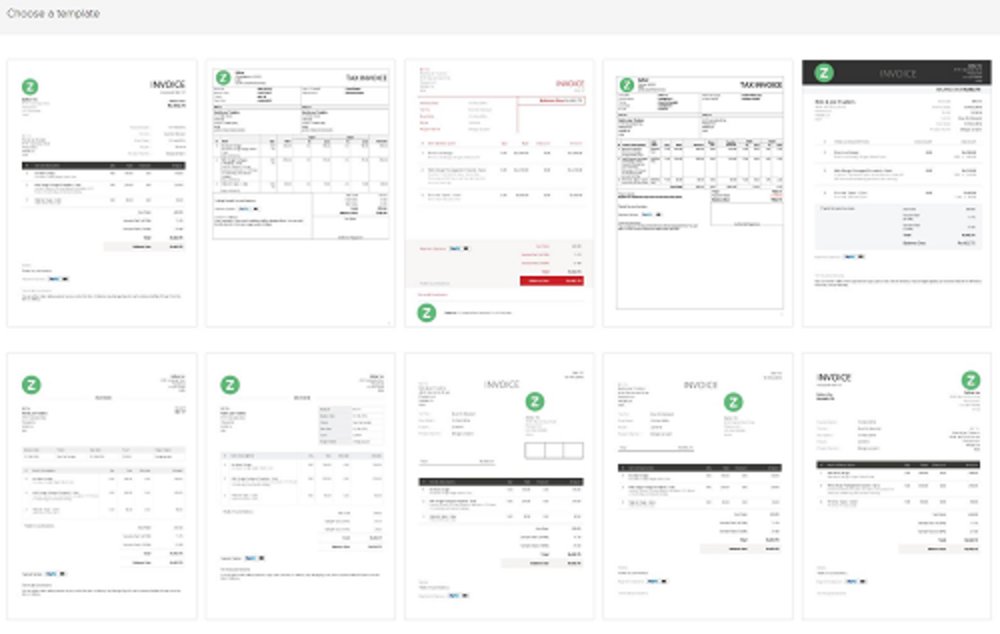 This software offers multiple templates, which you can edit to your liking.
You can set up the system to automatically generate recurring invoices, which is useful if your business sells goods or services on a subscription basis.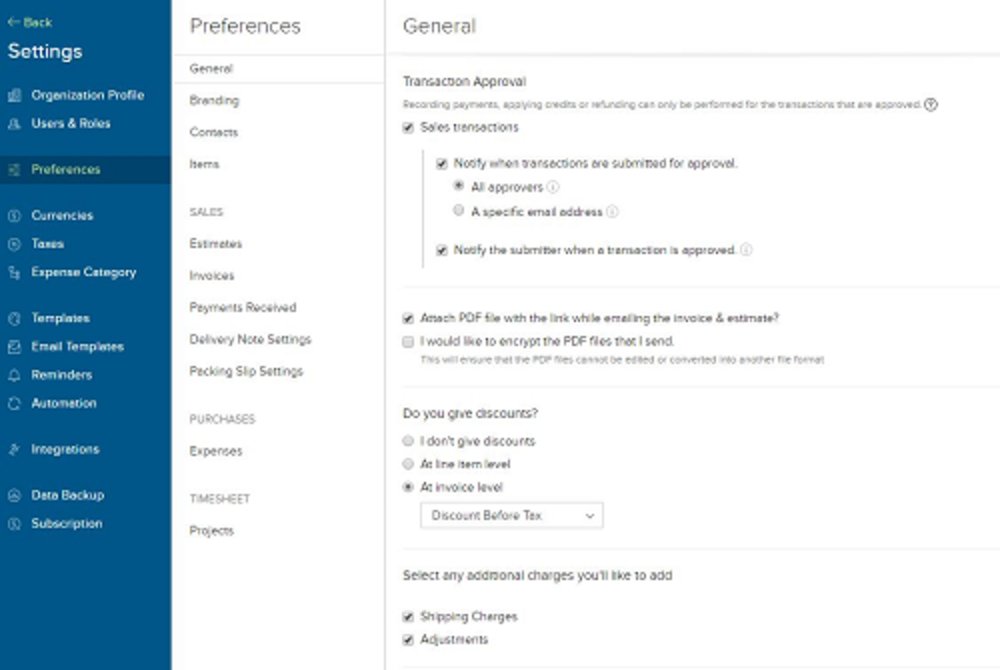 If you want to review the estimates and invoices your employees create before they go out to your customers, you can turn on the Transaction Approval feature from the Preferences menu.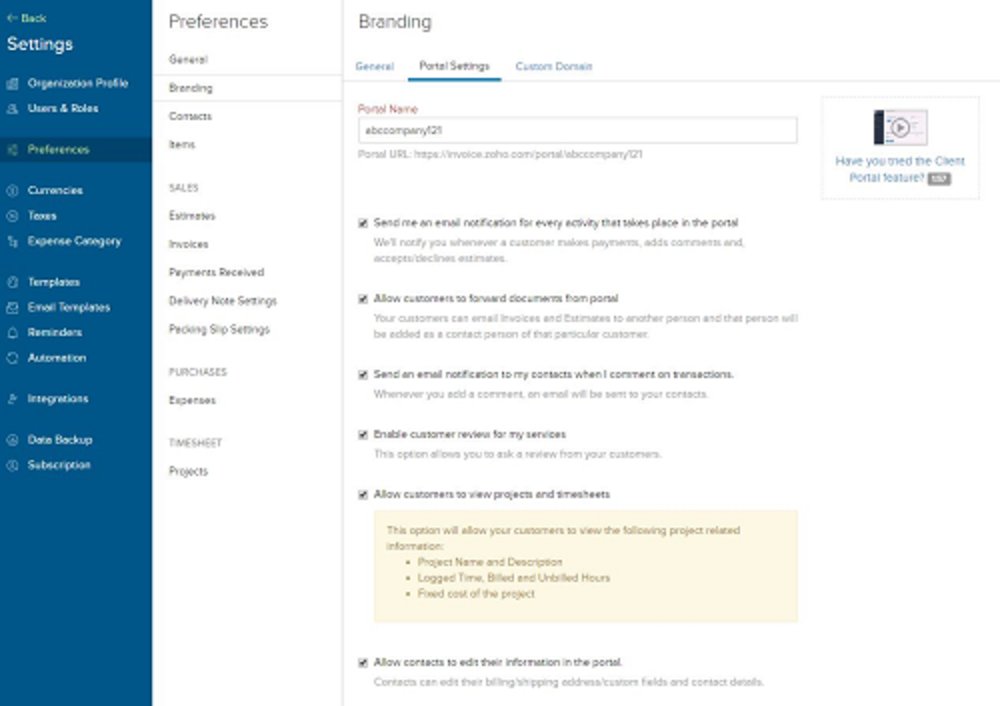 The client portal lets your customer see and pay their invoices online. You can set it up to allow your customers to view projects and timesheets, email invoices and estimates from the portal to another party, and provide you with feedback.
You can set up to three payment reminders to be automatically emailed to your customers.
Zoho Invoice is the stand-alone billing module from Zoho, an online business management platform that offers multiple services to help you run your business. With it, you can easily create and customize estimates and invoices, track time and expenses and attach them to invoices, and accept invoice payments online. It has several automated features to save you time as you tackle your invoicing tasks, and it has a mobile app so you can create bill your customers on the spot, whether you're on the job or on the road.

Pricing
Zoho Invoice has four pricing plans. All plans are full-featured; the difference between them is the number of people who can use the software and the number of customers you can invoice per month. It's one of the few applications that includes a free tier, which is a nice bonus for very small businesses. If you choose to subscribe annually rather than monthly, a discount is available.
The Free plan supports one user and allows you to invoice up to five customers.
The Basic plan costs $9 per month, supports one user and allows you to invoice up to 50 customers.
The Standard plan costs $19 per month, supports three users and allows you to invoice up to 500 customers.
The Professional plan costs $29 per month, supports up to 10 users, allows you to invoice an unlimited number of customers and provides you with a custom domain.
It's worth mentioning that Zoho Books has identical pricing, so you won't save money using Invoice instead of Books unless you opt for the Free plan. It also has all the features of Zoho Invoice, plus banking, additional reporting and inventory management (Professional tier) features. However, you can easily upgrade from Invoices to Books.
Ease of Use
Zoho Invoice is easy to use, and it takes just a few minutes to set up your account and start sending invoices. It welcomes you with a short video that walks you through the software and provides you with a list of tasks to help you start using the program.
The interface is simple to navigate, with a logically organized left menu bar. At the top of the screen, you'll find a search bar and a Quick Create menu with action items that help you quickly add a customer, create an estimate and accomplish other top tasks. The dashboard includes an overview of your finances, showing your receivables, sales and expenses, projects, top expenses, and sales, receipts and dues. At the bottom of the screen, you'll find a live chat box and links to support resources and other Zoho apps.
Timesaving Features
Several Zoho Invoice features can help you get your billing done quickly:
With just a click, you can convert estimates to invoices. You can see a transaction history at the top of each document that shows when it was created and converted, along with the dates and usernames for each action.
You can set up this software to automatically send recurring invoices.
It allows you to send payment reminders manually or automatically, and you can enable up to three automatic reminders emailed a specific number of days before, on or after the due date.
If you set up or connect to a payment gateway, customers can pay their invoices from their client portal. Customers with recurring invoices can choose to have their credit cards automatically charged.
With the Zoho Invoice mobile app, you can create and send estimates and invoices, track billable time, snap pictures of expense receipts, and view reports at any time, from any place. The app is available for iOS and Android devices, including smartwatches, as well as for Windows phones.
Other Features
Invoices and other documents are highly customizable. Zoho Invoice's template gallery offers several options for estimates, invoices and payment receipts. You can add your logo, toggle fields on and off, select a color theme and font, and set a background image.
It allows you to use multiple currencies from a single account, which isn't an option that many billing programs offer.
Zoho Invoice comes with more than two dozen reports. You can run sales reports by customer, sales representative or item. Receivable reports detail balances, invoice aging and estimates. Other reports include payments received, sales tax liability, projects, timesheets and activity logs. You can view reports in the program; export them to Excel, CSV or PDF; or print them out as hard copies for your records.
Its Transaction Approval setting allows you or one of your managers to review and approve documents created by your employees (such as invoices, estimates, credit notes and retainer invoices), giving you a chance to fix any billing errors before they're emailed to your customers.
It integrates with multiple payment gateways, including PayPal, Square, Authorize.Net and Stripe, so you can accept invoice payments online. It also integrates with Zoho apps and a few select third-party apps, such as Slack, Google's G Suite and Microsoft Office 365.
Additional Considerations
To learn more about using the software, you can view webinars or book a one-on-one demo.
A blog and What's New page keep you up to date with changes, and the knowledgebase, user guides and forum serve as good resources for tips on specific features.
You can call customer service 24 hours a day, Monday through Friday. You can also reach the company via email and live chat.
Drawbacks
Although reasonably priced, it costs the same as Zoho Books, which includes all invoicing tools plus accounting features.
It doesn't integrate with as many third-party software and services as many of its accounting software competitors.
While it allows you to add goods and services to the system, and you can create price lists, it doesn't manage inventory; businesses that want this feature will need to upgrade to Zoho Books.
It doesn't connect with your bank and credit card accounts.
Zoho Invoice is stellar as stand-alone online invoicing software. It offers the features we consider important for billing software, and setting up your company, creating invoices and processing payments are all smooth processes. If your business is growing and you need additional features, you can easily upgrade to Zoho Books or add other Zoho apps or third-party integrations that help you manage your business.

Ready to choose your Best Accounting Software and Invoice Generators? Here's a breakdown of our complete coverage:

Lori Fairbanks
Lori Fairbanks has years of experience writing and editing for both print and online publications. After graduating from Brigham Young University with a Bachelor of Arts in English, she worked as an editor for Creating Keepsakes magazine and then as a freelance writer and editor for a variety of companies, including marketing firms and a medical university. She now writes for Business.com and Business News Daily.