The last two years have been a period of unprecedented disruption. In our brave new world, which business products and services have become indispensable? To answer that question, we surveyed over 600 business owners and leaders across a variety of industries. Respondents provided business.com with their top three most indispensable technology-enabled services. The results were surprisingly broad, with nearly 350 different products and services represented. 
Here's a look at some of the most interesting trends that we uncovered during our analysis. 
Big tech still leads
Overall, our survey revealed that businesses of all sizes still largely depend on longtime tech stalwarts for their most essential functions. Of the more than 1,800 responses we received, Microsoft, and its suite of products (Excel, Word, Outlook, PowerPoint and so on) was the clear leader, with a nearly 20% share of the services named most essential. Excel alone accounted for one-third of the company's share. 
Not surprisingly, Google, and its free suite of products received the second-largest number of responses, with 10% of the total. Although Google is best known for its search engine, its Gmail service and suite of free office apps such as Drive, Sheets and Docs also proved popular in our survey. 
Gmail is the most popular web client in the world today, accounting for over one-third of email opens, according to marketing service Mailchimp.
Not far behind Microsoft and Google was Intuit, the company behind the popular accounting software QuickBooks, as well as TurboTax, Quicken and Mailchimp. Most of Intuit's share is attributable to its QuickBooks accounting and bookkeeping software, which proved to be the single most essential product in our survey with an 8.7% share. 
A highly fragmented market 
Perhaps it's unsurprising that longtime incumbents such as Microsoft, Google and Intuit still provide the largest number of tools and applications that are considered essential by business owners and managers. These giants have been dominant in their fields for most of the last 15 years, and that seems unlikely to change overnight. 
But our analysis shows that companies have diverse needs, as evidenced by the 'long tail' of smaller business technology products and services that dominated the results. Of the close to 350 individual companies and products named as essential by our respondents, fewer than 60 appeared more than three times. Over half of the survey's responses went to companies that, individually, accounted for 3% or less of the total. Extremely niche business software, technology and services (i.e., those that were only listed once or twice) accounted for 28% of the tools that owners and managers view as indispensable.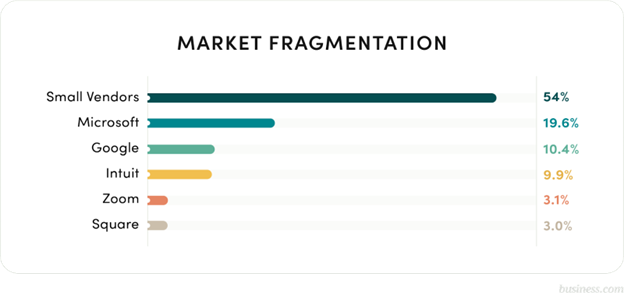 Indispensable categories
Our survey also allowed us to extract insights on a more granular level. After sorting the 1,800 answers into categories, we found that a few areas emerged as particularly indispensable for businesses. 
Financial management
The most cited category overall was financial management, which includes accounting, bookkeeping and tax preparation software, as well as other finance-focused tools. Accounting software is especially important for businesses, allowing them to manage books, send invoices, accept payments, and track important financial metrics. 
Intuit QuickBooks was by far the leading product in this category with an 86% share (and was also the single most cited product in our survey overall). For two decades, QuickBooks has been the market leader for accounting and bookkeeping software in the U.S. The popular software is designed as a one-size-fits-all solution with over 650 integrations, and it is offered at an affordable price point. Learn more in our full review of QuickBooks.
Payments
Another indispensable category for businesses in our survey was payment tools, which includes both credit card processing services and POS systems. Many companies, especially smaller businesses, seek low-cost and uncomplicated solutions for accepting payments. Square led our survey with a 56% share of payment services. The company's suite of hardware and services has made it a popular choice for small businesses seeking payment solutions and simple POS services. In second place was PayPal, which offers credit card processing, payment transfer, and a variety of free and easy-to-use business services, with 24%. For more information, check out our complete review of PayPal.
Communication
In a world that has gone increasingly remote, it isn't surprising that communication tools such as email clients, messaging applications and video conferencing software were named as vital by many of our respondents. Zoom, which became a household name almost overnight in 2020, led the communication category with a 40% share. It is both intuitive and affordable, making it one of the best video conferencing services on the market. Instant messaging application Slack, which has become popular among many companies for internal communications, took the runner-up spot in the category with 23%. 
Graphics
Many industries rely on specialized graphic design and rendering software, including those in media, construction and product design. For the purposes of this analysis, we grouped various creative-focused software and services together under one category. Canva, an online tool used to create social media posts and other graphics, came in first with 44% of the category's share. The software focuses on automating social media posting and empowering people with no design experience to create great-looking graphics. Long-running photo editing application Adobe Photoshop came in second place with 35%. 
Canva is a freemium service that offers a powerful free version, as well as premium features for paid members.
Conclusions
In some ways, our new hybrid/remote work world looks very much like the pre-pandemic one. One-size-fits-all products such as Gmail, Excel and QuickBooks remain enormously popular and indispensable for businesses of all sizes. Microsoft and Google – two of the world's largest companies – still provide the lion's share of business productivity and office software. 
Yet our survey also shows that the market for business technology and services is highly fragmented. The majority of tools named as indispsible by our respondents are from companies that maintain a small market share on an individual basis. Our analysis also shows that certain products and services dominate their niches, which further underscores the diversity of opinion in what different businsses consider essential. 
An increasingly complex world requires a varied set of tools to meet the needs of individual companies. It seems clear from our data that the future of business productivity lies in a more specialized set of tools. 
b. Essentials List 2022
Of the nearly 350 companies, products and services that were named in our survey, here are all the brands cited most often as being essential to business operations. All of these companies and tools were named by at least several business owners and leaders, earning them a place on our 2022 b. Essentials List.