Positive job figures dominate headlines as the economy continues its post-COVID recovery. New job creation and openings left by the Great Resignation have driven unemployment down, wages up, and some industries scrambling for workers.
It should be a dream job market for the class of 2022, yet a recent experiment conducted by Business.com suggests recent grads are encountering frustrating new factors in their employment searches.
Many entering the workforce are disheartened as companies ghost them, revoke employment offers, and post misleading or scammy job descriptions.
For an inside account of what it's like to find a job after graduation in 2022, Business.com joined forces with its departing intern class to meticulously document their job-hunting processes. Tracking the fate of hundreds of online applications exposed just how grueling and futile the pursuit can feel.
Key findings:
---
Nearly 90 percent of more than 300 online job applications submitted by recent graduates didn't get any response from employers. In many cases, the only responses applicants received were notices that the positions were filled.
Only five percent of all applications were met with interest from employers. This rate was the same among jobs that were explicitly entry-level, and in cases where applicants met more than 90 percent of the job qualifications.
Only two percent of online applications resulted in interviews, and none led to job offers.
Applications for in-office positions received twice as much interest from employers than applications for remote roles, which suggests that competition may be higher for remote jobs.
Online applications submitted in the afternoon generated twice the interest than those submitted in the morning.
Application Numbers Paints Grim Picture for New College Grads
In the U.S., there are two job openings for each unemployed person, yet college graduates are struggling to fill those positions. Even worse, their applications may go ignored.
In a telling experiment, Business.com tracked the journey of graduating interns as they sought employment through an array of online job listings (learn more about our methodology here). The results were eye-opening.
Armed with strong academic records, work experience, and professionally polished resumes, they sent out hundreds of applications for mostly entry-level jobs. However, not one application led to employment, only a handful led to interviews or offers, and the vast majority garnered no response from employers at all.
Diminished Returns: Very Few Applications Make the Cut
---
Only 12 percent of more than 300 job applications got any type of response from employers, and oftentimes, they only responded with notice that the positions had been filled. Among the five percent of employers who expressed interest in our applicants, more than half went dark before arranging an interview.
Employers' Responses to Job Applications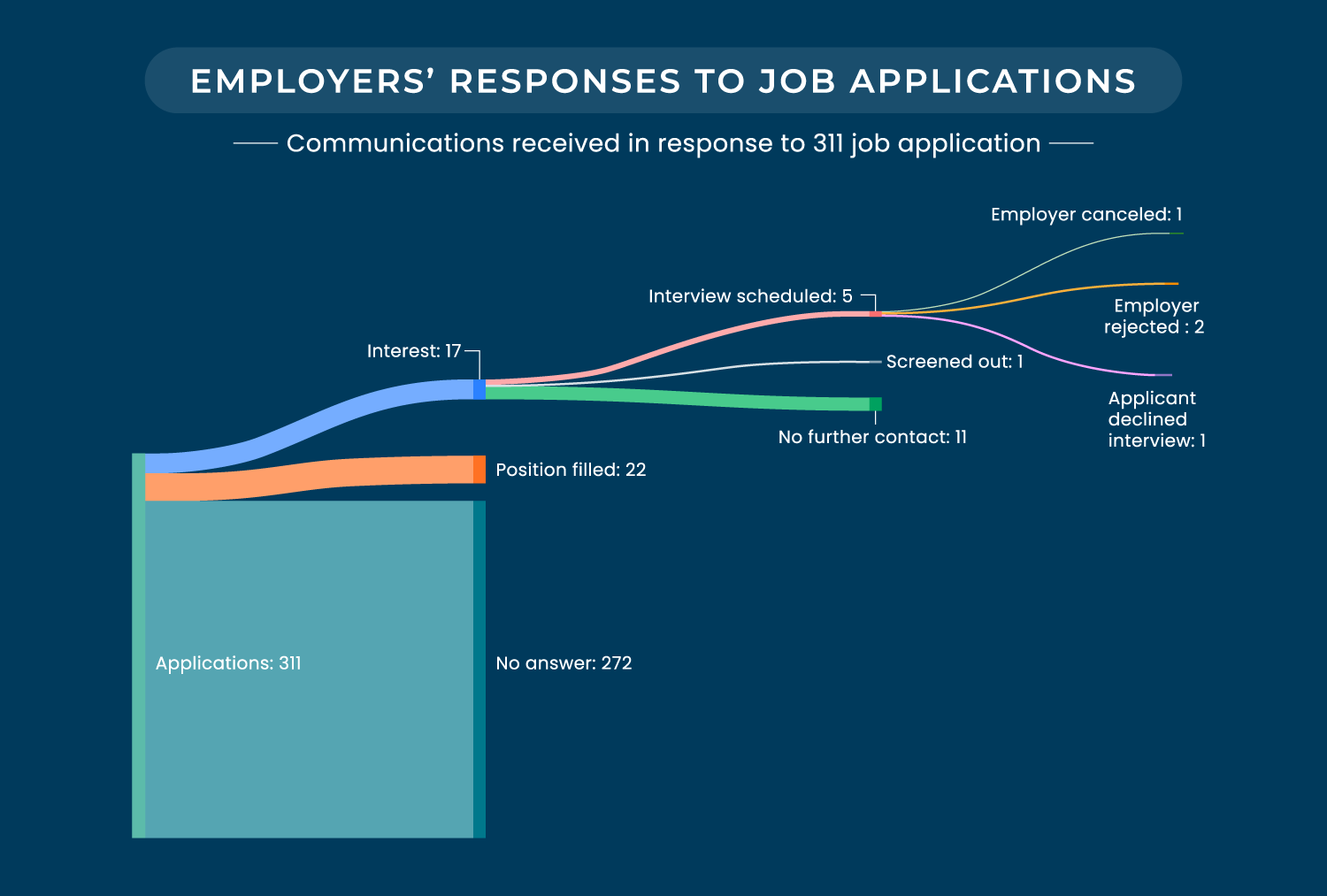 That response rate remained constant regardless of job requirements or the experience level employers desired. Applications for entry-level positions still drew interest only five percent of the time, and so did jobs in which applicants met more than 90 percent of the qualifications.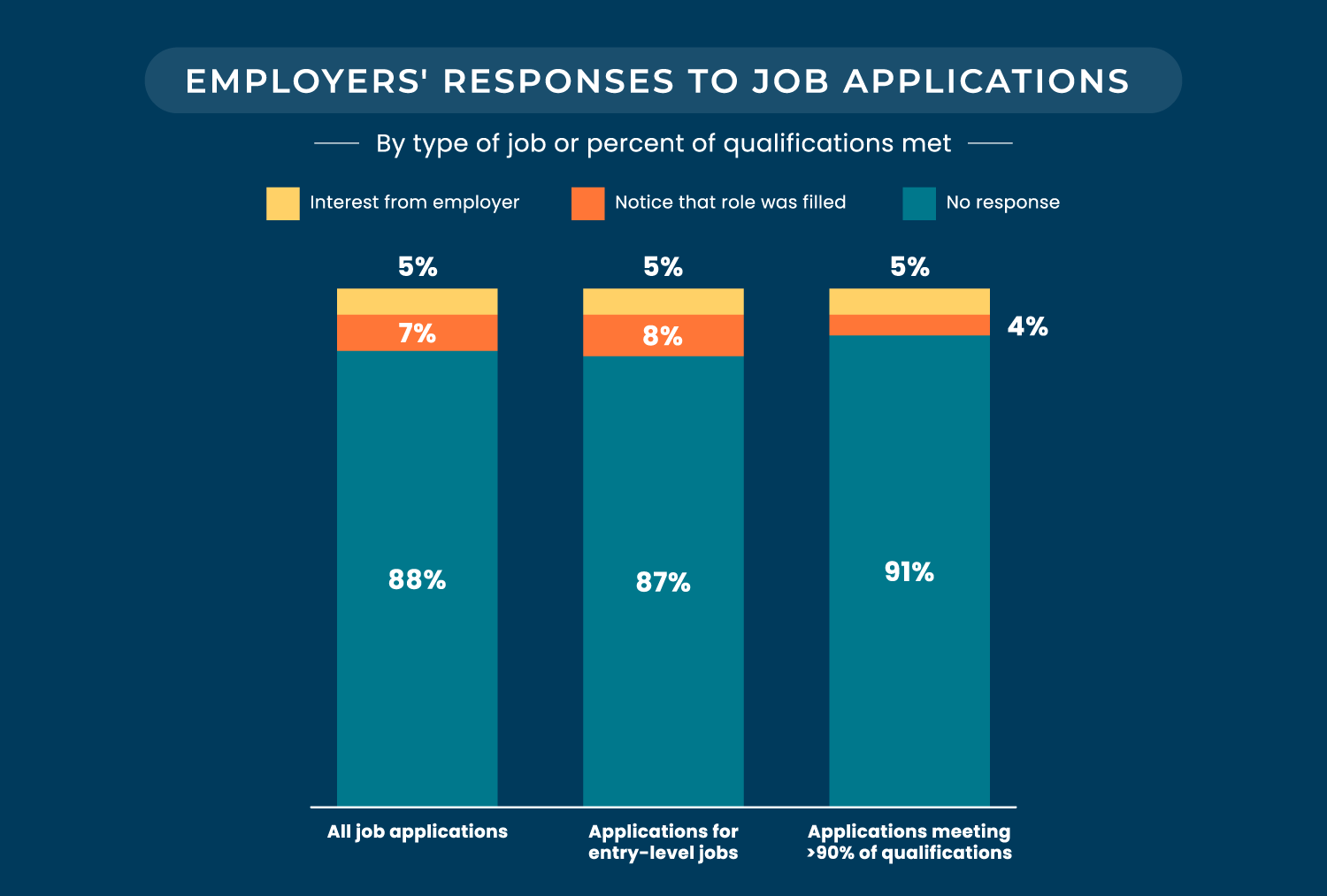 While highly qualified candidates didn't typically garner interest from employers, our experiment suggests that in-person availability and optimal submission timing can boost a resume's chances.
Applications targeting on-site positions drew employer interest twice as often as submissions for remote or hybrid jobs. In an economy where many workers want to stay home, those willing to work in an office may have a slight leg up on the competition.
We also found that applications sent in the afternoon received double the interest of morning submissions. Perhaps avoiding a flooded overnight inbox and catching a hiring manager rejuvenated by lunch may mark the sweet spot of the day.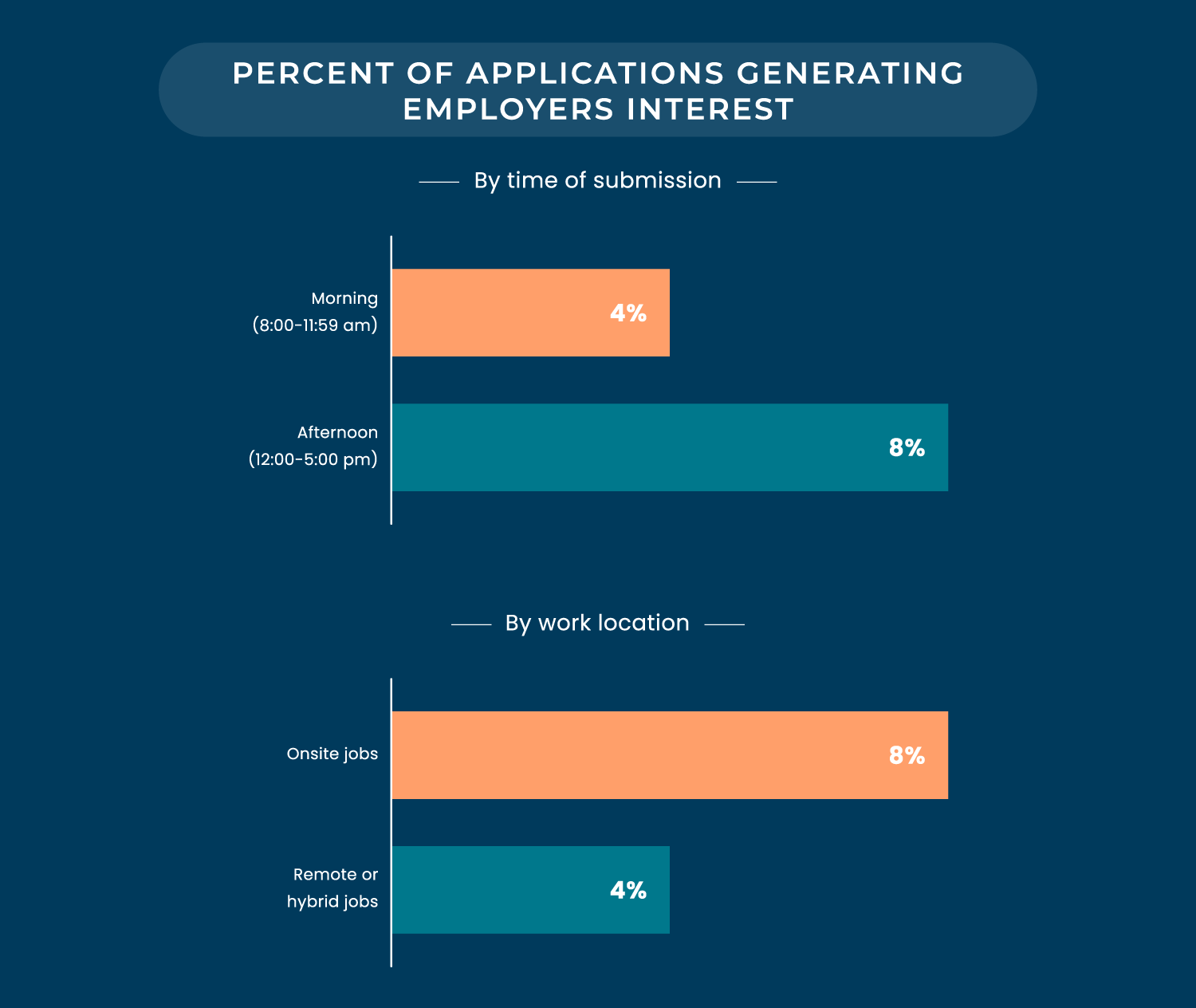 Even with these advantages, less than 10 percent of applications generated a positive response. If so many jobs are available, why are so few college grads receiving employment offers?
Emerging Conditions Keeping New Grads out of Work
Our job-hunting graduates all possessed relevant work experience, respected academic credentials, professionally-polished CVs, and qualifications matching the positions they sought, so why did they receive so little interest from employers?
Industry trends suggest several logistical and technological factors may be to blame.
High Volume of Applications
---
Attractive job openings generate overwhelming responses, turning the selection process into a veritable lottery. Online listings simplify the application process, but encourage mass submissions over selectivity.
The average corporate job posting receives 250 applications, and only four to six candidates receive invitations to interview. That ratio equals the soul-crushing proportion encountered in our experiment and leaves frustrated applicants feeling like they're throwing resumes into the void.
Intern Darius Wilson, who recently graduated from Dillard University with a degree in urban planning and public policy, found this to be the most sobering aspect of the process. "I was surprised by the lack of responses from employers even when I met their qualifications and experience. It's extremely frustrating to wait for employers to get back to you, if they ever do," he said.
Halley Dyaanand recently graduated from Georgia State with a marketing degree. She managed to keep her chin up despite the discouraging job figures she faced. "I've learned not to take rejection personally," Dyaanand said. "Applying to jobs today is very much a numbers game, and the process has little to do with who you are as a person."
Artificial Intelligence Vetting
---
With so many online applications to evaluate, many employers now use algorithms to conduct their initial vetting. Automating the process increases efficiency but eliminating the human element creates blind spots that omit talented candidates. Algorithms sometimes penalize candidates with work gaps, undervalue practical experience, overemphasize keywords, or even bring unintended discrimination into the screening process.
Smaller Professional Networks
---
Research suggests that personal networks help job hunters expedite employment searches and locate better jobs. Younger professionals may not have cultivated many connections, yet networking can be especially important to new grads since they have had fewer opportunities to forge professional relationships.
Linda Shaffer, Chief People Operations Officer for checkr.com, encouraged new grads to get out and network in their job search. "Get connected with as many people as possible, especially those who work in your desired field. Some think this is old and obsolete advice, but I beg to differ," she explained.
Even casual connections can help job seekers find employment. A recent study showed that loose acquaintances are more valuable in a job hunt than close friends or family.
Misleading Listings
---
Entry-level positions sometimes require years of experience or even a willingness to work in person. These hidden requirements often exclude recent grads who haven't yet accumulated years on the job.
Dyaanand encountered this issue while applying for full-time roles. "As a fresh graduate, it's disheartening to find 'entry-level' openings seeking 4-7 years of working experience. Instead of filtering out new grads without that specific background, employers should weigh the whole picture of applicants' unique skills, internships, and extracurricular activities," she said.
Employers should keep in mind certain noteworthy benefits of hiring new graduates over seasoned workers. They often have up-to-date skills, teachable attitudes, lower compensation requirements, and strong motivation for growth.
Phantom Listings and Job Scams
---
Some hiring managers admit to listing "phantom jobs" that don't exist or that will never be filled. It's a commitment-free way to collect attractive resumes and maintain workforce flexibility.
People who apply to these imaginary openings can't tell they're not real, and never hear back about the roles. However, these postings aren't as harmful as outright scams disguised as job postings. Candidates who submit resumes to these openings never get job offers, but may find their identities stolen or names added to spam call lists.
Intern Trinity Lee, who will graduate from Lehigh University with a degree in anthropology in December 2022, had to remain vigilant and avoid these schemes throughout her months-long job search. "If you let your guard down just once and apply to a scam opening, it opens you up to a flood of other undesirable connections and recommendations," she cautioned.
Expert Tips for New Job Seekers
Our experiment shows that qualified graduates rarely receive positive responses to their applications. Increasing the odds in a crowded field of candidates requires applicants to stand out, sell themselves, and avoid mistakes when submitting a resume.
To aid in those pursuits, we asked several experts in the field to share their best advice for new grads entering the workforce.
How can recent college graduates entering the job market stand out?
Add endorsements to your resume or website.
---
"Include a short endorsement from a manager or college professor onto your resume. It adds credibility. While everyone else is vouching for themselves, you have someone else vouching for you."
– Rowan O'Grady, President of Americas at Frank Recruitment Group
Invest in your personal brand online.
---
"Creating a personal online brand is a great way to stand out in the job market. Any social media presence helps, but active profiles crafting a personal brand really make recruiters take notice. As technology advances, a resume in a lot of cases is not enough. Taking the time to make your LinkedIn look professional, including work examples and creative content, really helps recruiters to get a better understanding of who you are as a person."
– Jim Sullivan, CEO of JCSI recruitment
Highlight your high-tech skills.
---
"As a recruiter, I always suggest that recent graduates highlight the latest in-demand industry-relevant skills in their resumes and during their interviews. With constantly evolving technologies in almost all industries, I believe fresh grads familiar with modern methods and changing industry trends have the edge over seasoned workers using age-old techniques."
– Anjela Mangrum, founder of Mangrum Career Solutions
What's the main thing you look for when reviewing resumes and job applications?
Frontload your resume with specific job requirements.
---
"Instead of supplying a generic list of merit and talents, candidates should emphasize skills, education, and experience targeted to the position. Work backward from the job posting when preparing a resume – first, highlight the requirements that best match your credentials then fill in supporting details."
– Archie Payne, president of CalTek Staffing
Don't be afraid to boast.
---
"Don't be shy about highlighting examples of working hard and working well. It's good to boast on your resume about awards and accomplishments, especially if you lack a lot of work experience."
– Anjela Mangrum, founder of Mangrum Career Solutions
What's the biggest mistake new graduates make when applying for jobs?
Don't mass-mail your resume.
---
"New graduates' biggest mistake is failing to tailor applications to fit each role. If you haven't carefully read the job description and demonstrated why you're the best candidate, you won't receive serious consideration."
– Caitlyn Parish, CEO of Cicinia dress company
Don't aim too low.
---
"The biggest mistake new graduates make when applying for jobs is not applying for a job because they think they are underqualified or don't fully understand what is being asked of them in that role. We understand especially with new graduates that there will be extensive training involved and they are not expected to be experts on day one."
– Brett Reasoner, director of talent acquisition at PCL Construction
But don't aim too high.
---
"Candidates don't need to meet every single qualification to match a fitting role, but they also shouldn't aim for senior management positions without first accumulating work or leadership experience. The ideal role would be a lower-level position that would allow for new graduates to develop skills they'd use in a more advanced role."
– Archie Payne, president of CalTek Staffing
Job Outlook for New Grads
With the aid of our interns, Business.com documented the frustrations facing newly graduated job-seekers. We found that most applications are ignored, and only 2 percent lead to interviews despite a market overflowing with openings. The situation will only get worse if the economy sours.
So far, employment numbers have held steady in the face of recession fears, but slowing growth may indicate worse conditions ahead. Some major employers are already seizing such omens to cut their workforces and drastically slow down hiring.
To maximize the chance of landing a gig in a market of overwhelming numbers, algorithms, and ghosts, recent graduates must be diligent. Experts advise candidates to pointedly sell themselves, stand apart from the crowd, and avoid the common mistakes of their peers. Above all else, they will need to practice patience.
In the uplifting words of intern Halley Dyaanand, "Don't be discouraged! The results of this experiment are sobering but can also be empowering. Fight through rejection and always remember that we are more than a resume or cover letter."
Methodology
All four participating members of Business.com's departing paid intern class graduated or will graduate from accredited American universities in the calendar year 2022. Each had prior internship, work, and leadership experience and GPAs over 3.0 (out of 4.0).
Our study tracked the progress and results of their joint job search. Collectively, they submitted 311 online applications between June and August 2022. Job postings were located on LinkedIn, Indeed, other reputable job search engines, and employer websites, though most applications were submitted via LinkedIn.
Before applying, all postings were screened for appropriate experience and skill requirements: 67 percent of the jobs were identified as entry-level, and applicants met 83 percent of the specified qualifications for all jobs on average. Applicants received professional coaching on their resumes before submitting applications. Coinciding with the interns' fields of interest, most positions fell across the sales, marketing, nonprofit, and public policy employment sectors. After application submission, all subsequent communications and activities were logged, compiled, and analyzed in August 2022.