Xero Review
By Lori Fairbanks
Last Modified: October 27, 2018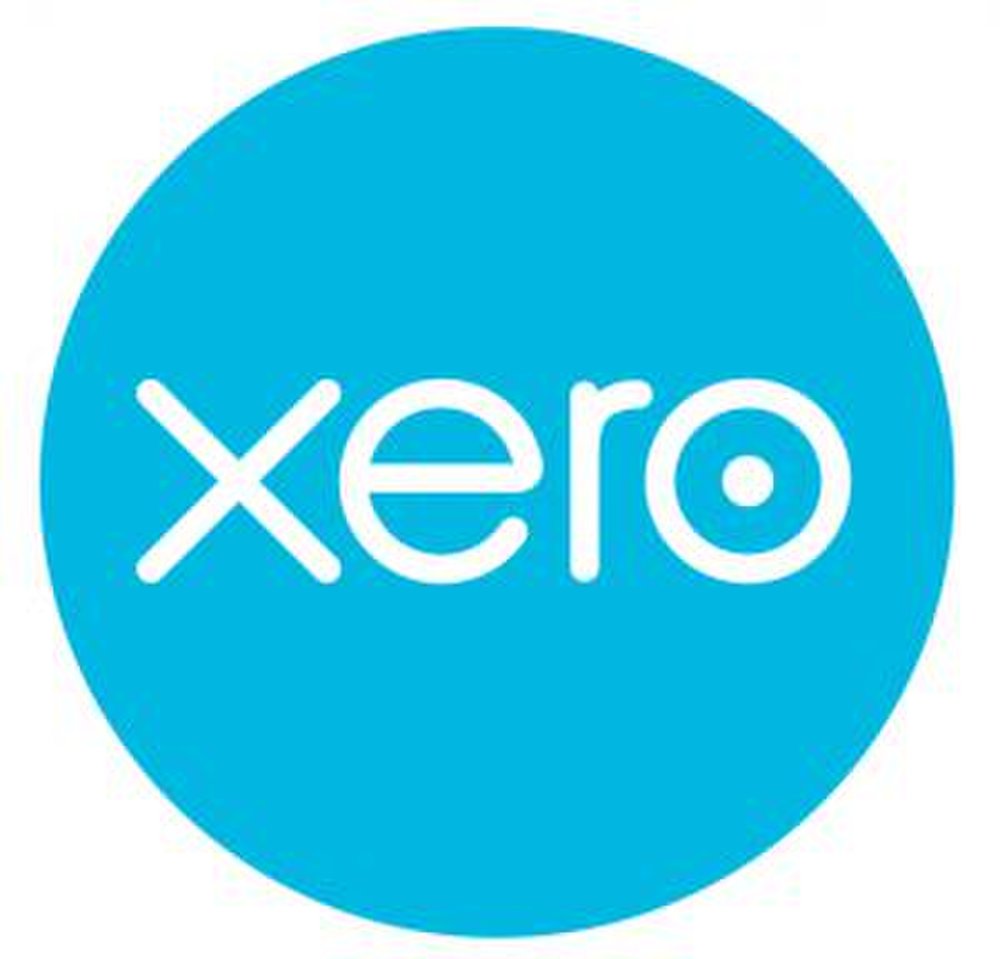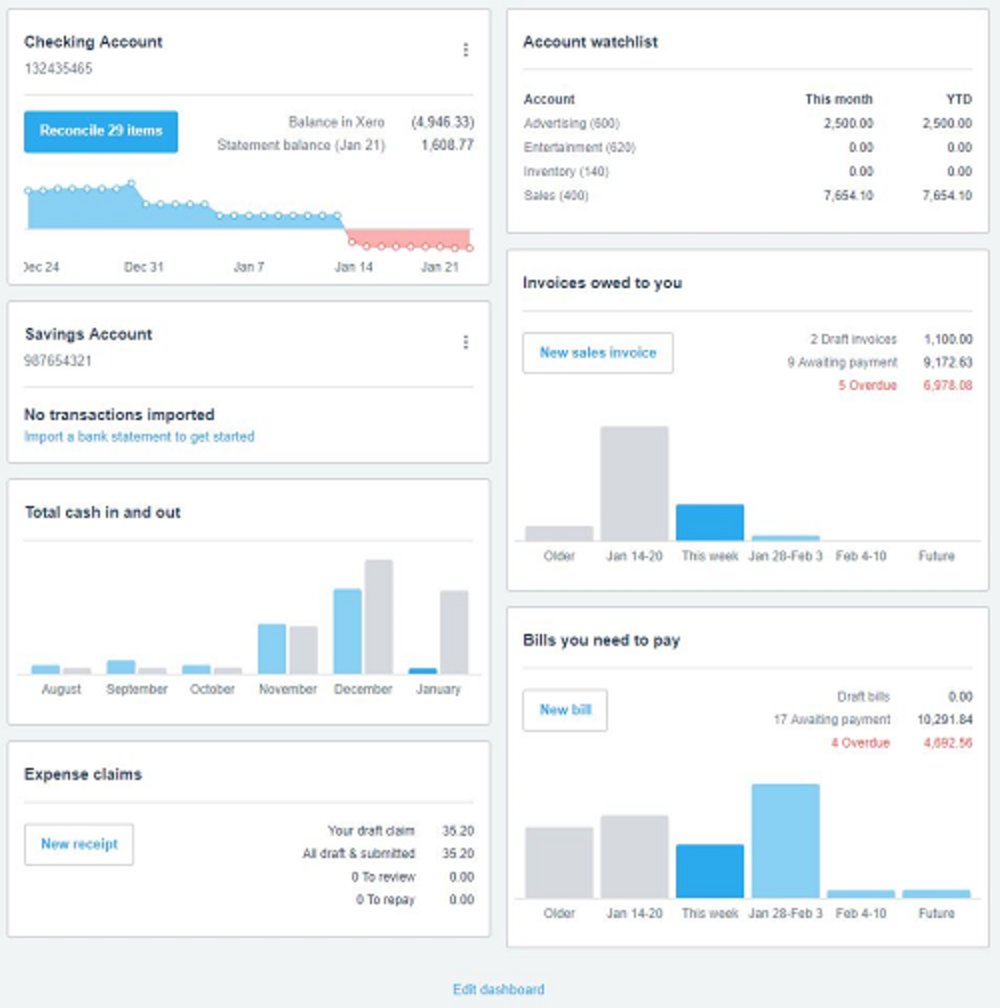 The main dashboard shows you an overview of your accounts, both payables and receivables.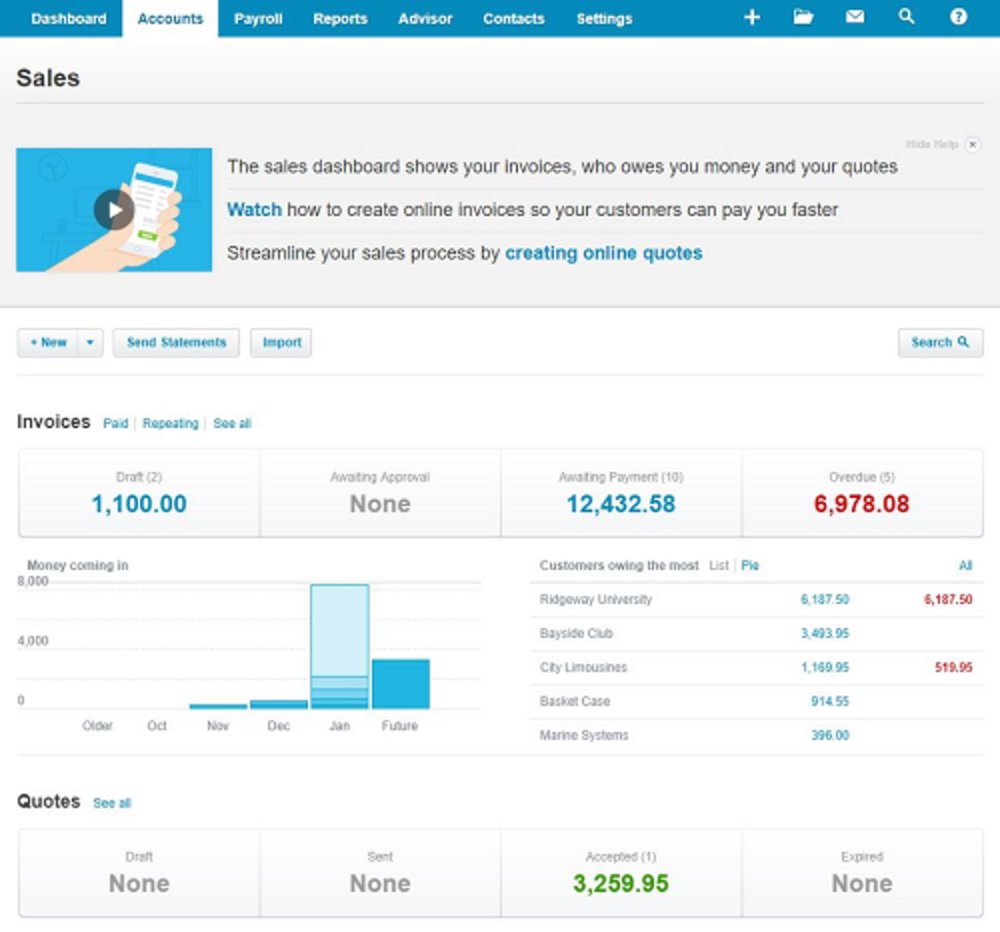 From the sales dashboard, you can create a new invoice or quote, send a statement, and see the status of your open invoices and quotes.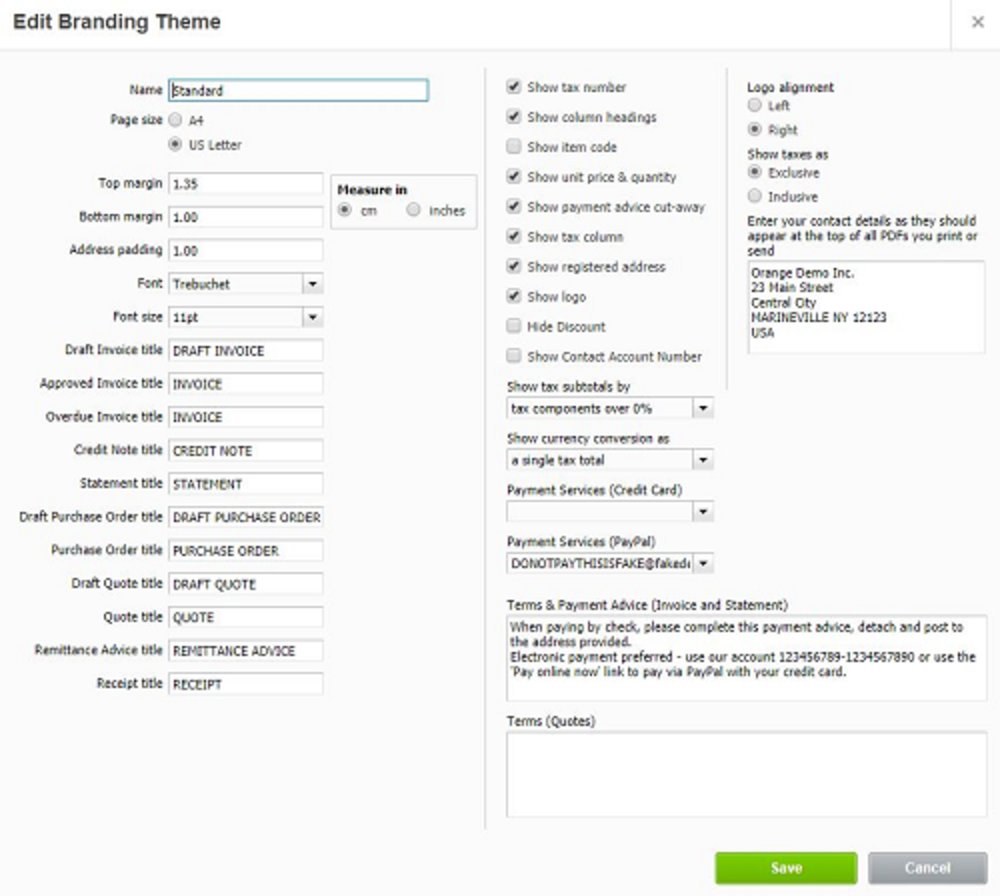 To customize the look of your documents, you create branding themes. You can upload your logo, set margins, choose a font and rename fields.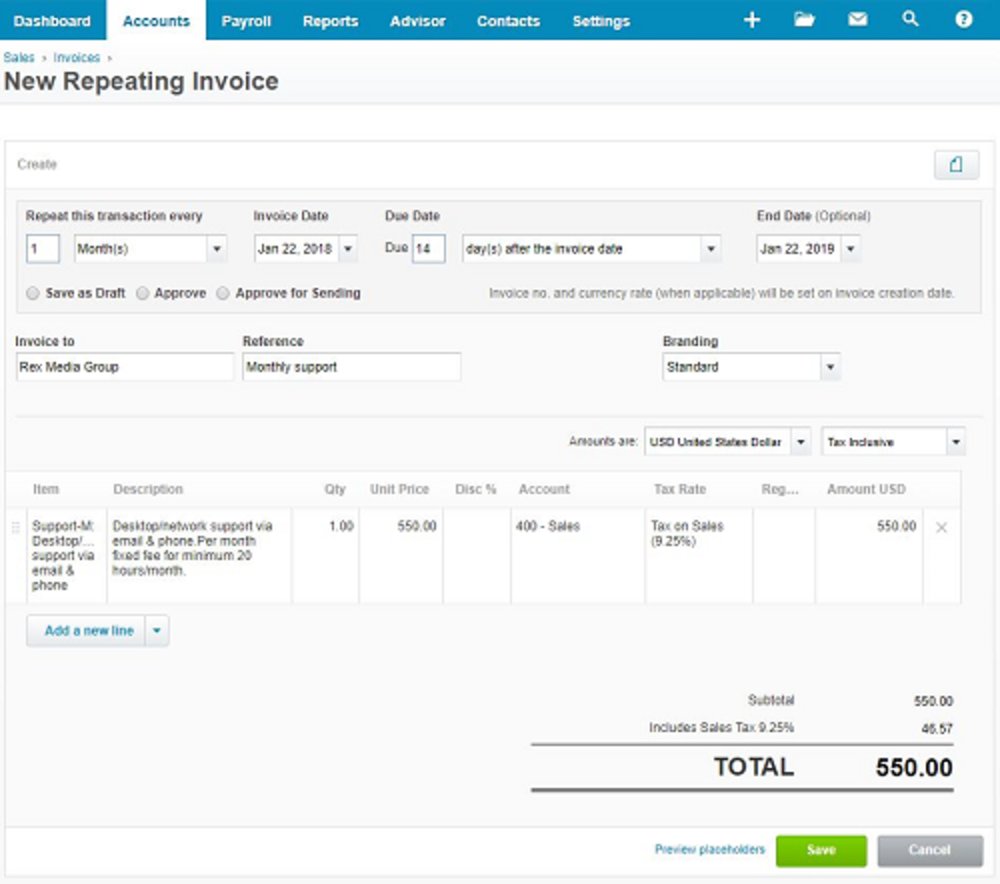 You can create recurring invoices using Xero, which saves time if you sell goods or services as a subscription.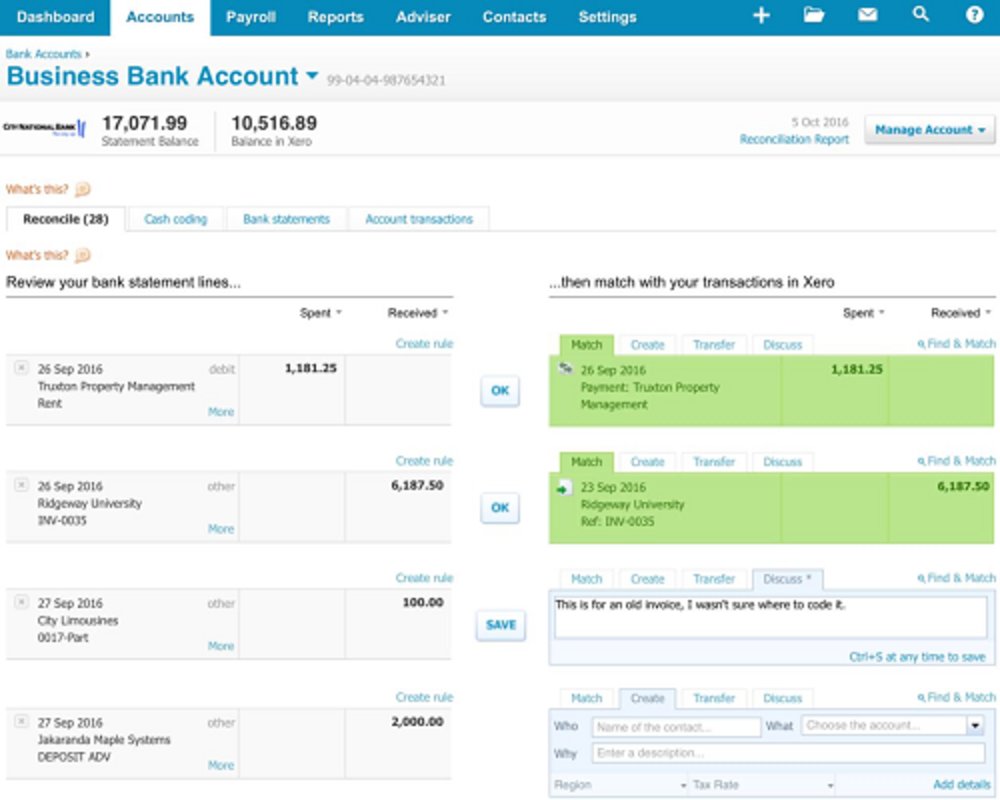 Xero's smart reconciliation tools predict matches between your bank transactions and those you've recorded in the software, making it easy to stay on top of this accounting task.
Xero is the best small business accounting software for Mac because it's cloud-based and accessible from any computer or device with a browser, so Mac users experience no loss of features or usability. Its mobile app is also well suited for Mac users, as it works on the iPhone, iPad and Apple Watch. Xero's plans are full-featured and allow you to invite an unlimited number of users to the software, and the top two plans include payroll, which is a nice bonus. It integrates with more than 600 applications, so you can connect to the business programs you already use or add features to customize the program to your business's needs.

Xero Accounting Software
Best Accounting Software and Invoice Generators
The Verdict
Xero's full-featured accounting software is a great choice for most small businesses, including nonprofits. It has an impressive suite of integrations that allow you to customize the program if you need additional functions.
Compare Quotes ▶
Pricing
Xero is a good value for small businesses because all of its plans include nearly every feature – including accounts payable and inventory management tools, which are frequently only available in top-tier plans. Each plan supports an unlimited number of users, and payroll is included in its mid- and top-tier plans; these features usually cost extra.
The Starter plan costs $9 per month and limits you to five invoices, five bills and 20 bank reconciliations per month.
The Standard plan costs $30 and includes payroll for up to five people.
The Premium 10 plan costs $70 per month, includes payroll for up to 10 people and can handle multiple currencies, which can be useful if you have an international client base.
Ease of Use
It's easy to set up an account with Xero. It gives you several starting tasks to acquaint you with the program, such as connecting your business bank account and creating your first invoice and first expense claim. Many of the pages have how-to videos and link to a step-by-step guide in case you need additional help. The interface is well designed and easy to navigate. Features are more nested than in some programs but are easy to access from the dropdown menus across the top of the screen.
Timesaving Features
Xero helps you accomplish financial tasks faster with the following features:
You can email invoices directly from the software and accept payments online. Xero integrates with PayPal, Stripe, Square and more. You can convert a quote to an invoice with a few clicks, and drag and drop invoice lines to reorder them on the invoice.
You can schedule recurring invoices (here called repeating invoices) by setting the send date, frequency and end date.
Automatic payment reminders save you the time of generating the emails manually. You can also set up the system to email your customers receipts or thank-you notes after you receive and record payments.
Smart reconciliation tools simplify the reconciliation process by matching bank transactions with those you've entered into the software. It uses machine learning to predict more matches the more you use this feature. It also has bank rules and cash-coding features to make the reconciliation process easier.
Mobile apps allow you to accomplish accounting tasks on the go. Xero has apps for Apple and Android phones and tablets and for the Apple Watch. With them, you can view your cash flow, access customer and vendor contacts, capture images of receipts, record expenses, reconcile transactions, create invoices, and track invoice status.
Other Features
The interactive dashboard shows you graphs and charts for key information such as invoices due, bills you need to pay and a history of your bank account balance, with a button telling you how many items you need to reconcile. The information is displayed on movable cards that allow you to arrange the dashboard to your liking. The cards also have quick buttons for tasks like creating an invoice or a new bill.
You can track expenses and add them to invoices to rebill to your customers if needed. You can also attach files to invoices, which is helpful if you need to attach a document or a photo of the work you completed.
You can manage vendors, create purchase orders and track inventory. When you're creating a quote or invoice, it shows you how many items you have in stock. If you enter more than this number, it alerts you with a red pop-up box. If you have complex inventory needs, such as if you stock more than 4,000 items, you can purchase advanced inventory integrations. Xero can also manage fixed assets, track bills and print checks.
It can run more than 70 different reports, including an aged receivables report and a general ledger. Many reports are customizable and allow you to change titles, rearrange columns, show a chart, set a date range and apply filters. In addition to printing reports, you can archive them or export them as PDF, Excel or Google Sheets files.
The History & Notes Activity Report at the bottom of every transaction screen lets you monitor information about the document, such as if the invoice was copied from a quote, who created and approved the invoice, and when. If you've sent an automatic payment reminder for the invoice, the date, time and email address it was sent also appear on this screen. You can add notes such as the expected payment date.
Xero's Add-on Marketplace has more than 600 integrations that allow you to augment this accounting software's capabilities by connecting it to other business systems and services you already use.
Additional Considerations
Xero connects to your bank and credit card accounts and imports data daily.
It protects your data with bank-grade encryption. You can choose two-factor authentication to make your login more secure and set user permissions so you can control the data your employees can access.
Xero can support multiple businesses for an additional fee, and a discount is available if you have multiple subscriptions.
Online support resources include a knowledgebase with step-by-step guides and videos, a blog, podcasts, Xero TV, and Xero U, which offers video courses. It has user communities for businesses and developers. You can contact the company for support via email or live chat. If an issue can't be resolved over email or chat, a customer support agent may call you.
Drawbacks
The Starter plan is very limited, as it allows only five invoices, quotes and bills, and 20 bank transaction reconciliations per month. Even very small businesses will likely need to subscribe to the Standard plan, even if they don't require payroll.
Xero doesn't track time or billable hours. However, it integrates with time-tracking software like TSheets.
Invoice customization isn't as intuitive as it is in other programs that have templates you can tweak. Within the program, you can add your logo, change the font, set margins, toggle fields on and off, and rename labels, but if you want to make aesthetic changes (colors, borders, etc.), you have to use Word.
Xero is the best small business accounting software for Mac that we reviewed. It's well designed and easy to use with a full selection of accounting features, making it suitable for most small businesses. It also integrates with more than 600 apps, which makes it possible for you to further customize the software to fit your business's accounting needs. However, few businesses will find the Starter plan a good fit; most will need a higher tier. It also lacks the ability to track billable hours, so you'll need to use a workaround or add an app to the system if you need this feature.

Xero Accounting Software
Best Accounting Software and Invoice Generators
The Verdict
Xero's full-featured accounting software is a great choice for most small businesses, including nonprofits. It has an impressive suite of integrations that allow you to customize the program if you need additional functions.
Compare Quotes ▶
Ready to choose your Best Accounting Software and Invoice Generators? Here's a breakdown of our complete coverage:

Lori Fairbanks
Lori Fairbanks has years of experience writing and editing for both print and online publications. After graduating from Brigham Young University with a Bachelor of Arts in English, she worked as an editor for Creating Keepsakes magazine and then as a freelance writer and editor for a variety of companies, including marketing firms and a medical university. She now writes for Business.com and Business News Daily.