ADP Payroll Review and Pricing
ADP is our choice for the best payroll software for growing businesses. We love that the company offers plans that meet the needs of businesses in various stages of growth. That way, you can scale the service as you scale your business. It's also helpful that ADP's plans and modules can be customized to fit your business's particular needs. That's extremely valuable for an evolving organization.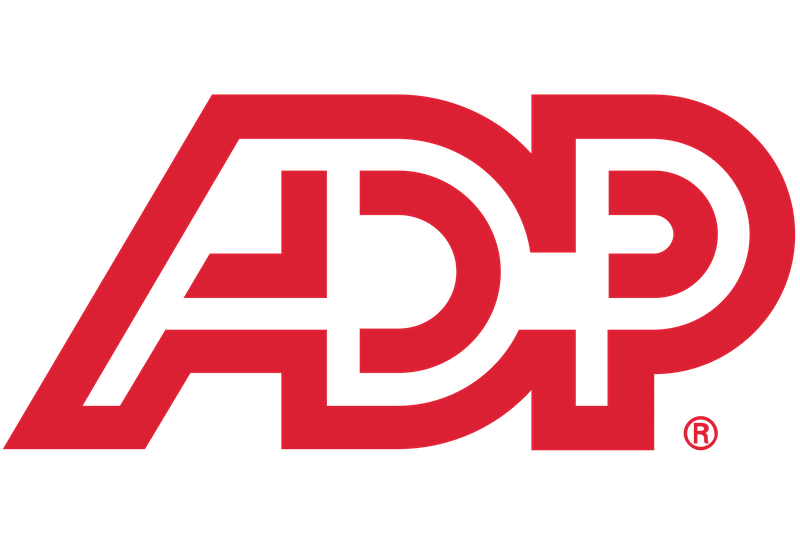 ADP Payroll and Pricing
The Verdict
ADP is the most popular payroll service among business.com readers and has a strong reputation as a payroll industry leader, earning our best pick for a popular payroll service.
ADP Editor's Score: 9.3/10
| | |
| --- | --- |
| Pricing | 8.5 |
| Customer service | 9.7 |
| Third-party integrations | 9.3 |
| User interface | 9.7 |
| Added HR tools | 9.1 |
Why We Chose ADP as Best for Growing Businesses
With a 70-year track record in the payroll industry, ADP comes with a storied reputation as a leader in the field. The breadth of its services is impressive, and ADP features a variety of services and tools for complex businesses operating in multiple states or highly regulated industries. According to an Apps Run the World survey, ADP boasts the largest market share among payroll software vendors.
Although ADP is best known for serving multinational companies, it actually offers plans for businesses of all sizes. Customers can choose from three distinct packages geared toward small, midsize or large businesses, each featuring multiple modules with different tools. This ability to easily scale up the platform based on your evolving needs makes ADP our pick as the best online payroll company for growing businesses.
A biweekly schedule is the most common payroll cycle for employers. Learn more about how often you should run payroll.
ADP's user interface is intuitive and allows small businesses to easily run payroll. Source: ADP
What We Like About ADP
ADP's customizable plans allow business owners to tailor the service to their needs.
ADP's Run mobile app lets you run payroll and manage other HR functions on the go.
Customer service from ADP's payroll professionals is available 24/7, along with email support, an online FAQ and other web resources.
What We Don't Like About ADP
Pricing is not readily available, and business owners must call a sales representative for a quote.
The per-payroll pricing structure may prove too expensive for business owners with a limited budget.
ADP doesn't have a free trial or a website demo, although customers can contact a representative for a full walk-through of the software.
Ease of Use
We found ADP's online payroll service extremely easy to use. We paid particular attention to the vendor's Run platform, which is geared toward small businesses. The interface is minimalistic and user-friendly, with a clean design that's easy to navigate. The main dashboard displays your upcoming payroll, as well as your calendar, recent payrolls, to-dos and other key information that payroll administrators need at their fingertips.
With Run, you can process payroll in just minutes. All you need to do is review employee time cards for accuracy, preview the payroll totals for the pay period and approve the payroll. If your employees are salaried or work the same number of hours each pay period, ADP's "Run and Done" feature can fully automate the process. With this setting, payroll automatically processes each pay period without any additional input on your part.
As a cloud-hosted system, we love that ADP doesn't require you to install or maintain any special software. You can access the system from any web browser or from the mobile app, which is available on iOS and Android devices.
ADP Features
For a growing small business, it can help to have a payroll service that can grow with you. ADP is a complete payroll solution with the features and tools businesses of all sizes should look for in a payroll platform and add on to their system as needed.
Payroll Processing
ADP offers multiple options for running payroll, including online through a desktop browser, on the go via the ADP mobile app for iOS and Android devices, and over the phone. Once you enter each employee's hours into the system each pay period, ADP calculates each employee's paycheck based on their wage rate or salary. The software also computes payroll taxes, deductions, withholdings, employer contributions to FICA and unemployment taxes, and garnishments (if applicable). In some cases, ADP can file payroll taxes with relevant government authorities on your behalf.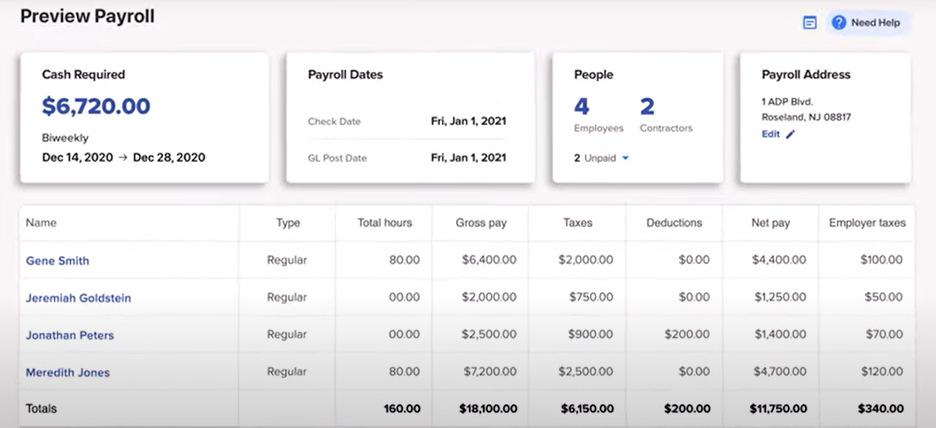 ADP's payroll interface shows you how much cash you need on hand to process payroll. Source: ADP
Payment Options
You can pay employees via direct deposit, prepaid debit card (payroll card) or paper check. For business owners who prefer old-fashioned paper checks, ADP delivers the presigned checks to your office in advance of payday. This allows you to eliminate printing and mailing expenses for pay statements and other paperwork.
Regarding electronic payment methods, ADP can integrate with an existing enterprise resource planning (ERP) or payroll solution – even one that isn't part of the company. This flexibility is important in an era where employees increasingly expect to be able to choose how they get paid.
Payroll Taxes
ADP's SmartCompliance solution takes care of tax filing and remittance, which can help business owners spend less time learning how to file employee payroll taxes. The software provides access to filing methods for different localities, and it can respond to communications from government agencies on your business's behalf. ADP calculates your payroll taxes; fills out and files the proper forms; makes the required payments to local, state and federal agencies; and responds to any questions from the taxing agencies about the forms or payments.
At the end of the year, ADP files, creates and distributes the required W-2 and 1099 forms for your employees. A separate W-2 management module simplifies much of the hassle around this form by automating processes. Employees can access their W-2s online through ADP's portal. The business can also receive paper W-2s in the mail or send them directly to employees.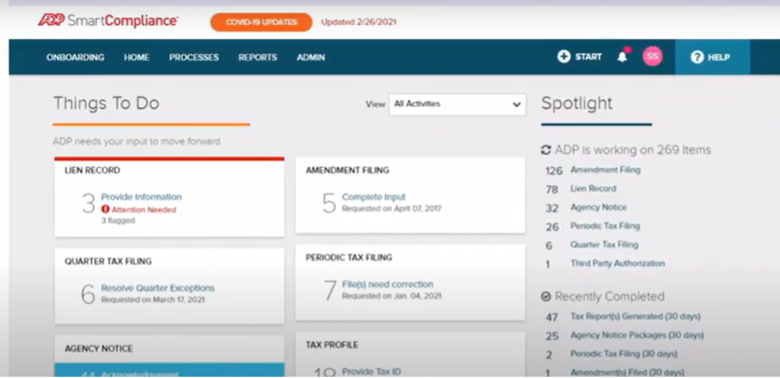 ADP's SmartCompliance interface provides a useful overview of to-do items to ensure you always remain in compliance. Source: ADP
Integrations
ADP offers integrations with a variety of leading business software products. For accounting, the payroll software allows you to export journal entries from ADP into QuickBooks Online, Xero, Wave or a generic output file without manually inputting the data. ADP also integrates with Sage, Oracle, SAP, Workday and others for managing compliance requirements, such as employment tax, wage garnishment and W-2s. Integrations for many products related to time and attendance, recruiting and onboarding, learning, benefits, productivity and collaboration, and point-of-sale systems are also available on the ADP Marketplace. [Check out our detailed software review of QuickBooks Online to learn more about integrations.]
New-Hire Reporting
U.S. law requires that employers submit information about new hires to states within 20 days of the start date, although some states have their own, even shorter deadlines. Fortunately, ADP removes the stress of keeping track of various laws. Most of its Run packages handle the process of reporting any new hires to the proper state and federal agencies. The company fills out and files all the necessary paperwork on your behalf.
Payroll Reports
Regardless of your plan, you'll have access to multiple payroll and HR reports. Payroll reports include data on gross and net wages, tax withholdings, deductions, and other compensation details. Information can be pulled for either an individual employee or the entire organization. ADP also lets you view and customize the reports in any way you need.
Payroll reports are an important element of business operations because the information is used to file quarterly and annual forms with tax authorities. ADP's reports can assist with filling out Form 941 (the employer's quarterly federal tax return), Form 940 (the employer's annual federal unemployment tax return) and a whole slew of others.
Mobile App
We were impressed by ADP's free mobile apps, which many other payroll vendors don't offer. ADP Mobile Solutions is an HR app that assists both employees and managers. Employees can use it to view their pay details and statements as well as manage their retirement accounts and other benefits. Managers can also use the app to set schedules, approve time-off requests and perform other HR functions. The ADP Run app allows you to process payroll on the go. You can complete payroll, add new employees, manage taxes, and view reports and notifications from anywhere.
Both apps are highly rated by users. As of this writing, the Apple App Store shows a rating of 4.7 (out of 5) for the Mobile Solutions app, while the Run app boasts a rating of 4.9. These offerings have clean and intuitive user interfaces, so it's easy to see why customers love them.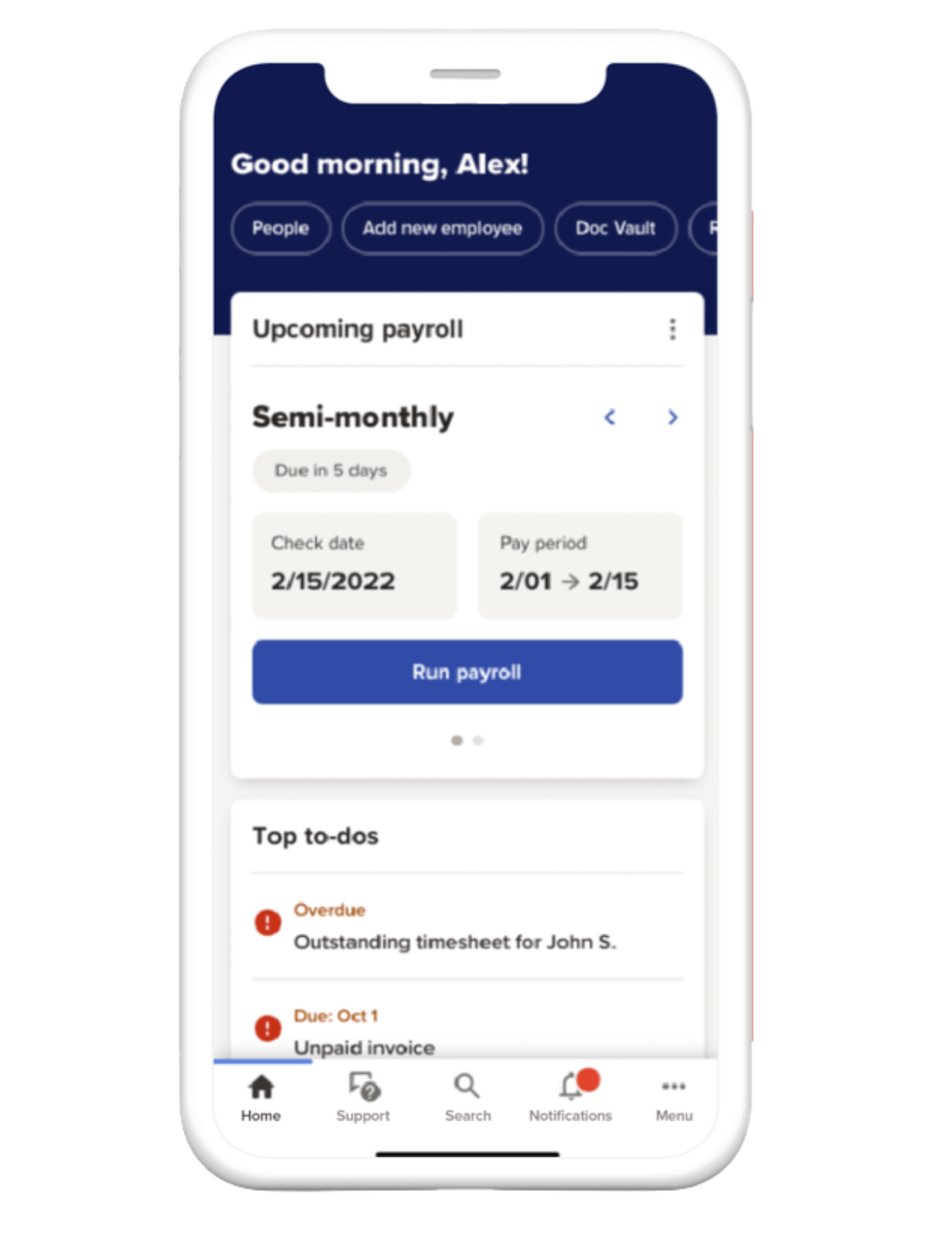 ADP's Run app has an almost-perfect score on the Apple App Store based on user reviews. Source: ADP
Additional Services
Other functions available through the ADP platform that work in tandem with the payroll services are human capital management, talent management, HR management, benefits administration, and retirement and insurance services.
Businesses on the Complete and HR Pro plans have access to additional HR resources and tools. These include the ability to post jobs to ZipRecruiter and conduct background checks. ADP also offers an employee handbook wizard, new-hire onboarding, a job description wizard, a complete library of HR forms and documents, guides to best HR practices, and an HR compliance database.
ADP Pricing
One advantage of ADP is that it offers a variety of plans for businesses in different stages of growth and maturity, making it an ideal choice for growing businesses. However, one inconvenience of this approach is that you must contact an ADP representative for a custom quote.
ADP provides comprehensive payroll solutions to businesses with fewer than 50 employees through its Run platform. Four different service plans are available: Essential, Enhanced, Complete and HR Pro. These plans vary in price and features, but all four include ADP's core payroll processing, which allows you to run your payroll online, over the phone or from the ADP mobile app. Additionally, ADP calculates, files and pays all payroll taxes on your behalf and provides year-end W-2 and 1099 forms for your employees on all four plans.
Here is how the plans otherwise break down:
The Essential plan allows employee self-service and lets you pay employees via direct deposit, prepaid debit cards or paper checks delivered to your office. It includes new-hire reporting and access to a wide range of other payroll-related reports. This plan also features a general ledger interface that allows you to export journal entries into QuickBooks, Xero, Wave Financial or a generic output file. In addition, the package includes onboarding tools and a small business marketing toolkit.
The Enhanced plan includes everything in the Essential tier, plus state unemployment insurance management and the option to have ADP sign and stuff paper checks for you. With the Enhanced package, you can also run background checks on new hires and post job openings with ZipRecruiter.
The Complete plan includes all the services and tools at the Enhanced level and an array of HR services, such as an employee handbook wizard, job posting and applicant tracking, five background checks per year, HR forms and documents, and HR training and toolkits. The package also grants businesses phone and email access to a dedicated support team of HR professionals who can answer HR-related questions.
The HR Pro plan is the highest-level offering. Besides everything in the Complete plan, this package includes enhanced HR HelpDesk support, more employee handbook support, employer or employee training, and sexual harassment prevention training. Legal assistance from Upnetic is also included.
ADP uses a per-payroll cost structure, which means you pay fees each time you process payroll, so you cannot process an unlimited number of payrolls each month. Some other providers we reviewed charge only a monthly fee, which allows you to process as many payrolls as you want each month for the same price. Business owners need to consider how many times per month they want to run payroll in order to determine which structure offers them the best value.
ADP has two parts to its pricing: a base fee and a per-employee fee. You're charged both fees each time you run payroll. Our inquiries with ADP representatives suggested that a business that runs payroll weekly for 10 employees can expect to pay approximately $39 per payroll on the Essential plan.
On the plus side, setup fees are zero, and ADP offers three free months of payroll after you've been with the vendor for three months.
If you want to sign up for one of the other Run service plans or have a larger business that would use the ADP's Workforce Now or Enterprise platforms, the costs will differ. Business owners should contact ADP directly to get an exact quote.
Many of ADP's rivals offer unlimited payroll runs for a flat monthly fee. See our review of Gusto for one such example.
Implementation and Onboarding
Prospective customers should get in touch with ADP for individualized details on onboarding. Unlike some competitors we evaluated, ADP doesn't offer a free trial. The vendor's website merely touts a basic demo, although you can schedule a more extensive, customized demo with an ADP representative.
Once you formally sign up with the company, ADP presents a straightforward implementation process. Although different businesses will have unique needs that factor into the setup, a new client can generally expect several onboarding benefits from ADP. For example, an implementation team will help you get set up for the first time and/or transition from another payroll company. It will also provide training and individualized attention for you and your employees. Some businesses can be completely set up in less than 10 days, while more complex organizations may need several weeks.
Customer Support
We really appreciated ADP's customer support. To test its quality, we contacted the company numerous times to make inquiries about the software, and we found the representatives friendly and helpful. They focused on our needs, listened to our questions and didn't try to push us into the most expensive package. In contrast, some competing vendors we spoke with consistently recommended the highest-tier plan. In that respect, ADP certainly earned our respect.
We were also pleased that each time we reached out over email, whether it was a day after our initial call or six months later, we always received prompt responses with clear and detailed answers to our questions. Business owners will also like that ADP offers access to certified payroll professionals 24 hours a day, seven days a week. In addition to the personal phone assistance, ADP's website has several valuable resources, including a knowledge base where both administrators and employees can get answers to a wide range of questions.
Limitations
We found ADP isn't as transparent as other payroll providers when it comes to pricing and demos. It's clear that one of ADP's great strengths is that it offers a plan for every type of business and these can often be tailored to your individual needs, but this also adds a lot of complexity to the sign-up process because you need to contact a representative for a customized quote. And with no free trial available, a rep is also needed to give you a detailed walk-through of the software. If you're seeking a vendor that lists costs upfront and has a free trial, we recommend checking out our review of QuickBooks payroll.
It should also be noted that ADP's per-payroll pricing structure means businesses that frequently run payroll might not get as much bang for their buck compared with alternatives that allow unlimited payroll runs. For some business owners that run payroll less frequently, though, ADP's approach might offer better value.
Methodology
To find the best online payroll services, we reviewed software features such as payroll procedures, user interface, third-party integrations, report generation and additional HR tools. We also assessed each vendor's pricing structure, as well as the availability of a free trial or online demonstrations. Additionally, we studied customer reviews for independent opinions on the different products, and we interacted with the various companies as if we were customers ourselves. To determine the best payroll option for growing businesses specifically, we focused on criteria like value, user-friendliness and how well the platform could scale alongside the business.
FAQs
How long does ADP take to pay?
ADP takes three business days to pay on most funding schedules. However, apps available on the ADP Marketplace, such as DailyPay, can give employees access to their funds before their paycheck arrives.
How often does ADP pay?
ADP pays as often as you want it to. You can specify as many as 52 pay periods in a year or as few as 12. For a biweekly schedule, employees will receive 26 paychecks a year, or one every other week.
Does ADP mail paper checks?
Yes, ADP mails paper checks. If you prefer hard copies instead of electronic payments, ADP can send paper checks to your office.
Bottom Line
We recommend ADP for …
Growing businesses that want a payroll system that can scale up through different phases of growth.
Business owners that want dedicated apps to run payroll and manage their workforces on the go.
Small companies that run payroll less frequently, allowing them to benefit from ADP's per-payroll pricing structure.
We do not recommend ADP for …
Small businesses on a budget that need to run payroll frequently.
Business owners that want the hands-on experience of a free trial before committing.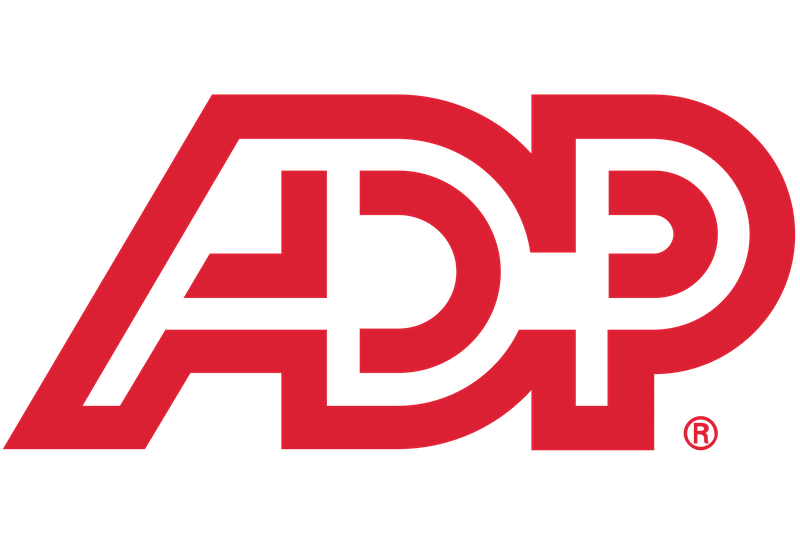 ADP Payroll and Pricing
The Verdict
ADP is the most popular payroll service among business.com readers and has a strong reputation as a payroll industry leader, earning our best pick for a popular payroll service.

Mike Berner is a staff writer at business.com and Business News Daily specializing in finance. Mike has a deep background in the financial world, having written hundreds of articles and blog posts on financial markets, business and investing. He holds a B.A. in economics and a B.B.A. in finance, both from the University of Massachusetts, Amherst. Prior to his writing career, he performed quantitative analysis and research as an economic analyst.