ADP scales with your company to meet your needs, whether that means basic payroll services or a proactive HR support team. This makes it the best payroll solution for growing businesses. It's an industry leader and remains a popular choice among business.com readers.
Pros
ADP supports multiple pay rates and jurisdictions, which is perfect for companies that plan to add new locations and job types. 
The payroll provider offers several health insurance and retirement plan options.
The platform lets organizations access free or discounted legal services and employee assistance resources.
Cons
Since pricing varies based on your business size, payroll frequency and other factors, it can be a challenge to compare ADP's costs to other payroll providers.
Unlike Zenefits, ADP does not include time tracking and attendance tools with Run by ADP plans. 
Some small business payroll services like ADP lack document management storage, which rivals Gusto and OnPay offer.
Access to HR services and payroll management tools allows expanding businesses to better support their employees and complex everyday human resources workflows. As a payroll service provider, ADP works equally well for startups and established companies. On top of automating payroll processing and tax filings, ADP enhances hiring, onboarding and attendance tracking processes. The customizable, multijurisdictional payroll plans scale with your organization, making ADP the best full-service payroll software for growing businesses.
ADP Payroll Software Editor's Rating:
9.2 / 10
Pricing

8.6/10

Customer service

9.5/10

Third-party integrations

9.3/10

User interface

9.4/10

Added HR tools

9.3/10
Why We Chose ADP for Growing Businesses
As a vendor, ADP brings more than 70 years of experience to the table. Its cloud-based human capital management (HCM) solutions unify payroll software, attendance tracking, HR tools and benefits administration. ADP's track record and powerful technologies make it a top choice for businesses in highly regulated industries as well as those that operate in multiple states. 
But ADP's payroll software isn't only valuable to large organizations. It covers every size of company, whether you need payroll for one employee or enterprise services for 1,000+ people. Business owners can choose from seven service plans — four through Run Powered by ADP and three through ADP Workforce Now. This scalability is why ADP is our pick for the best payroll service for growing businesses. 
ADP's flexibility extends to payroll processing options, allowing HR administrators to run payroll via a mobile app, computer or phone. You can add an applicant tracking system and an employee handbook wizard as your business expands. Plus, we love how ADP Workforce Now strategically approaches payroll and HR objectives. It incorporates digital recordkeeping and workforce management features, which are ideal for scaling your company while keeping costs low.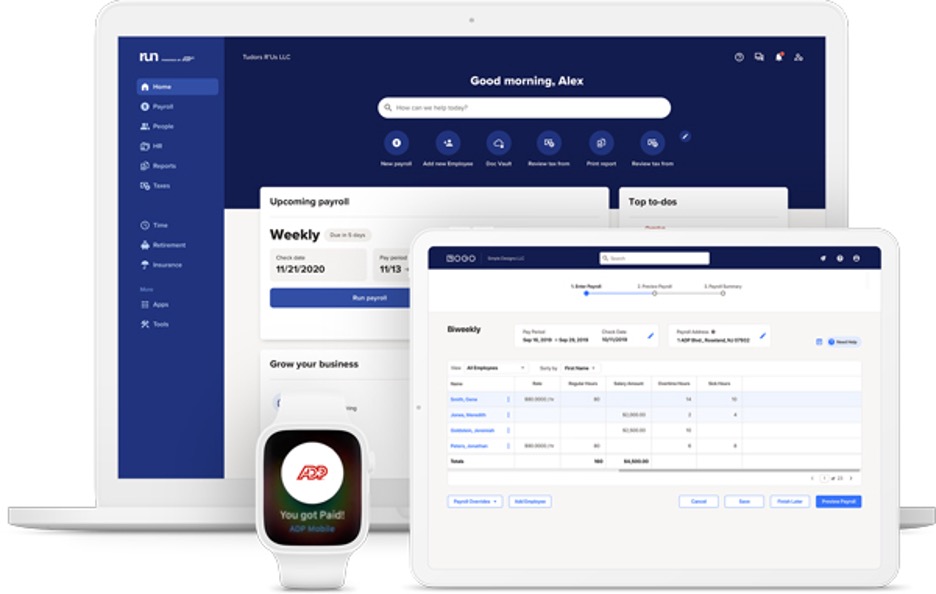 Run Powered by ADP puts payroll information at your fingertips, whether you're at the office or on the go. Source: ADP
If ADP makes an error when calculating your payroll liabilities or filing taxes, the company will pay any fines or penalties on your behalf.
Ease of Use
When we tested the system, we were pleased with ADP's user-friendly dashboard that put payroll data at our fingertips. The Run Powered by ADP platform is easy to navigate, with shortcuts at the top and a left sidebar with access to payroll, taxes and HR categories. For small business payroll, the main screen displays a to-do list, calendar and recent and upcoming payrolls. 
However, the display doesn't show key payroll facts, like how much you will be debited from your bank account for upcoming payroll. Nor can you adjust the tiles. In comparison, Paychex Flex provides these features on its small business entry-tier plan. [See our review of Paychex to learn how it supports larger companies.]
We liked how the payroll dashboard flags employee records requiring attention before payroll can proceed. Also, whereas most competitors require users to enter contractor payroll on a separate screen, with ADP Payroll software, you can add it alongside salaried or hourly employees. It's a real time-saver. 
Larger organizations using ADP Workforce Now can configure the homepage setup to their liking. We found this online payroll service a bit more challenging to navigate, as it offers several additional features and tools. For example, ADP Workforce Now can support complex payroll and HR needs, from expense reimbursements to third-party sick pay and benefits administration. Notably, businesses can connect high-quality accounting software and establish automated payroll cycles with both ADP systems.
ADP Features
ADP is a complete payroll solution for basic and advanced services. With seven service plans and the capacity to handle one to 1,000+ employees, most businesses can take full advantage of the vendor's paperless payroll benefits. Below are the features that stood out to us during our in-depth examination of ADP's payroll services.
Payroll Taxes and Compliance
Like competitors, ADP calculates payroll taxes and remits payments to federal, state and local agencies. We appreciate that ADP guarantees it will pay any fines or penalties if it makes a tax filing error. In addition, ADP can communicate with government agencies on your company's behalf and offers expert regulatory and compliance support. As your business expands, you can use built-in error detection and alerts to ensure your payroll and HR practices meet current standards.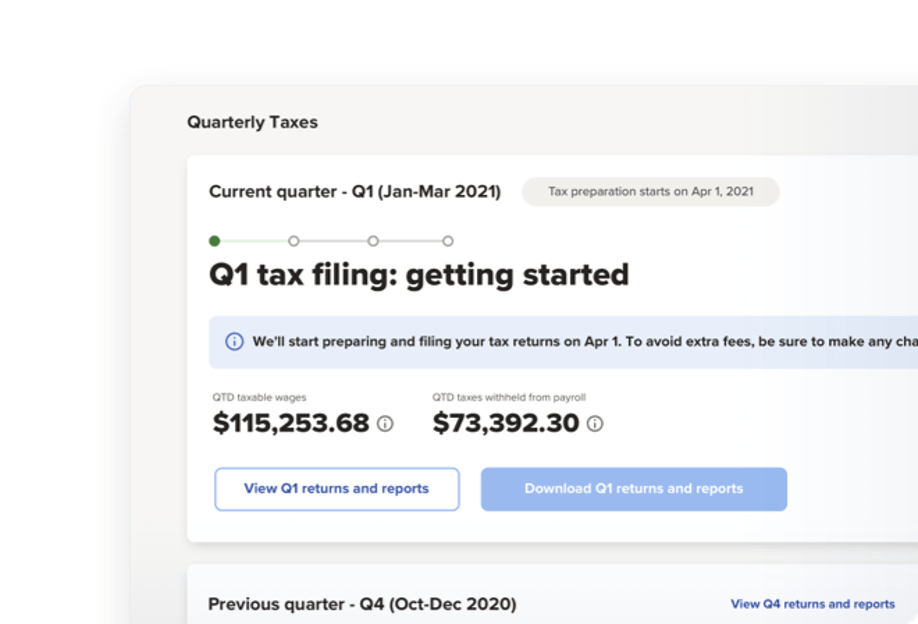 You can easily view your quarterly tax reports and forms in the ADP platform. Source: ADP
Payroll Processing
Most payroll providers allow manual or automated payroll runs through a web application. We like that ADP lets you process payroll over the phone or via iOS and Android mobile apps. While Run by ADP computes deductions and payroll taxes, ADP Workforce Now can assign compensation to funding sources or reconcile multiple pay rates.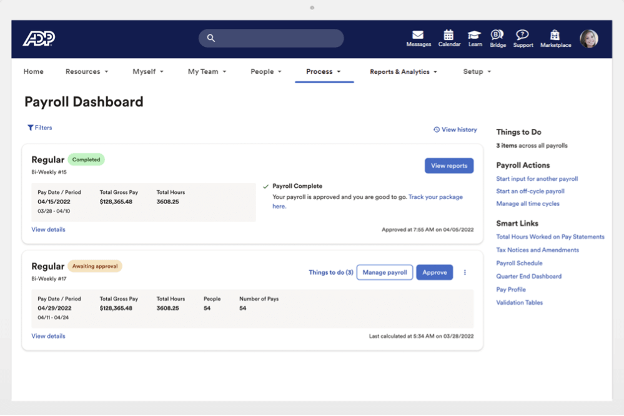 Growing businesses can manage payroll and view reports from the ADP Workforce dashboard. Source: ADP
Payment Options
Businesses can pay employees via direct deposit or by printing paper checks using most payroll software. ADP requires companies to use pre-printed check stock, or the vendor can deliver checks to your office, eliminating the hassle of printing them yourself. As a direct deposit alternative, ADP offers payroll cards to employees through Wisely. Also, the software integrates with enterprise resource planning (ERP) platforms for a flexible, streamlined solution for growing organizations.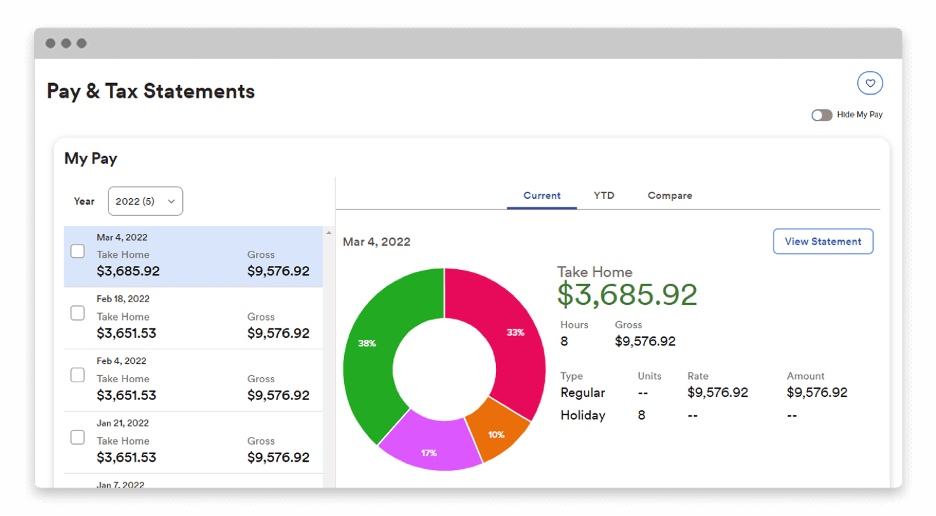 ADP's Workforce tools help employees understand their wages and compare income between pay periods. Source: ADP
Payroll Reports
Not all payroll providers offer insights to support a growing business, but we were impressed with ADP's basic and advanced analytics tools. Smaller companies can view and customize compensation and tax information. As your business expands, you can leverage several unique payroll reports and features, including a Turnover Probability Explorer, compensation and workforce benchmarks, and a Pay Equity Explorer. With rapid report creation, we love that you can create and run a report in three steps.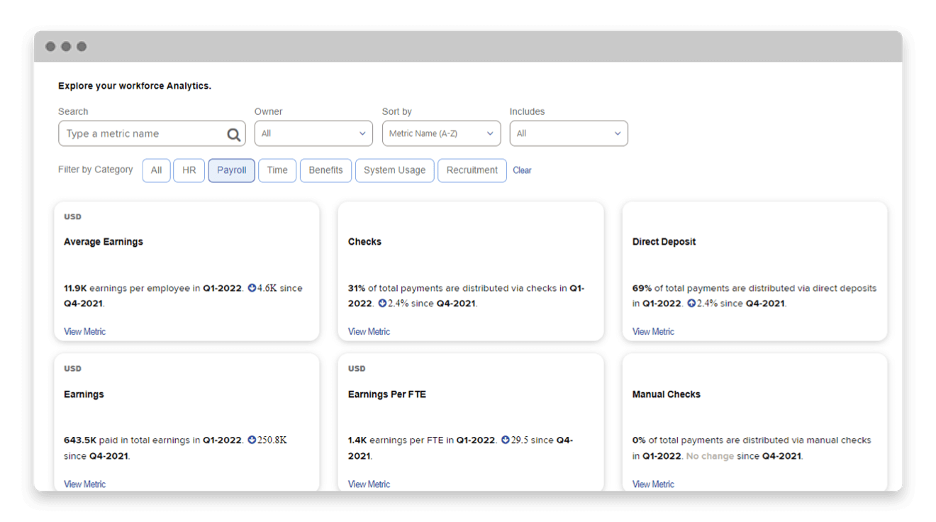 Stay informed with key payroll insights in ADP Workforce Now. Source: ADP
Integrations
While several rivals integrate payroll with accounting software for small businesses, ADP stands out for its rich integrations with enterprise-level applications like Sage and Oracle, alongside QuickBooks Online, Wave or a generic output file. We also found that you can connect to hundreds of third-party point of sale (POS), time and attendance, benefits, productivity and collaboration, and recruiting and onboarding tools through the ADP Marketplace. [Check out our review of QuickBooks Online to learn more about integrations, or check out our review of the QuickBooks payroll service.]
Like ADP, Rippling integrates with more than 500 software applications, which allows businesses to automate HR and payroll workflows. Learn why we found it to be the best payroll service for automation in our detailed Rippling review.
Mobile App
Surprisingly, several payroll services lack mobile apps. However, ADP's Mobile Solutions support employees and managers. The employee self-service app shows check stubs, time tracking tools and benefit plan information. Managers can approve time off and view team calendars. During our investigation, we discovered these apps receive higher ratings among Android and iOS users than similar mobile payroll tools offered by ADP's competitors.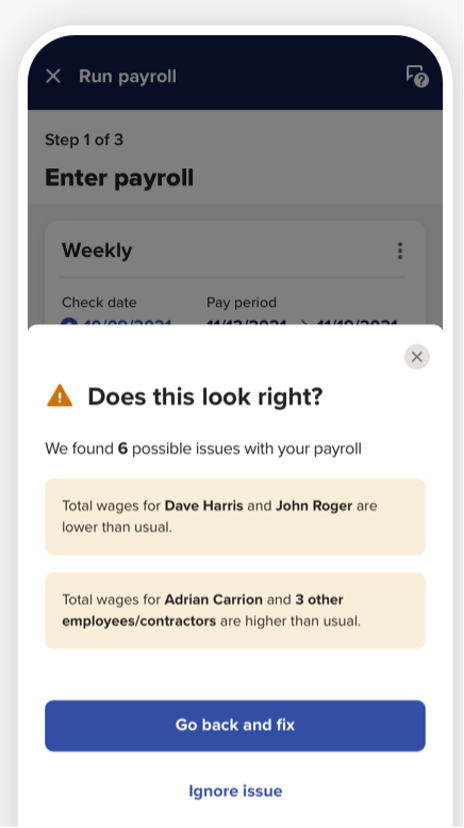 View payroll issues and fix them via ADP's payroll software — even if you're away from the office. Source: ADP
Additional HR and Payroll Services
Several payroll solutions like Rippling, Gusto and Justworks offer payroll and HR features or add-ons. In comparison, we especially like the breadth and depth of ADP's platform. It offers HR management, benefits administration, and retirement and insurance services. You can access enhanced employee handbook support and a complete library of HR forms and documents. 
Other HR services include background checks and a job description wizard. Growing businesses can customize onboarding experiences, store records digitally and track employee development through the ADP payroll and HR software. Also, ADP was the only payroll service we reviewed to offer Upnetic legal services, which can fill a gap during rapid expansion.
Want to customize your HR and payroll software? Consider iSolved, which lets you choose from dozens of products and features to build your own custom system. See our comprehensive iSolved review for more information.
ADP Pricing
Most full-service payroll vendors charge a base amount and a monthly fee per employee for unlimited payroll runs. However, ADP's payroll costs vary based on several factors, including payroll frequency. The lack of upfront pricing transparency makes comparing ADP's costs with competitors challenging. 
While our previous inquiries indicated that ADP's pricing for 10 employees was similar to what we found in our review of Gusto and Paychex, larger organizations must work with sales representatives to understand how their desired features affect costs. At any rate, all subscriptions include automated payroll processing, new hire reporting and tax filings. 
Small business owners with 50 or fewer employees can select from four Run Powered by ADP packages, which break down as follows.
Essential Payroll: Along with online, phone and mobile payroll processing, Essential users can export journal entries to their accounting software, receive single-county background checks, and pay employees via direct deposit, paycards or paper checks. ADP also provides a small business marketing toolkit.
Enhanced Payroll: This tier adds additional check and direct deposit pay stub security measures, state unemployment insurance management, and labor law poster compliance. It lets you post job openings through ZipRecruiter as well. 
Complete Payroll & HR Plus: At this level, administrators can access various HR services, including an employee handbook wizard, salary benchmarks, HR forms and documents, and HR training and toolkits. This package provides access to a dedicated support team of HR professionals as well.
HR Pro Payroll: With enhanced employee handbook support, legal assistance from Upnetic, live marketing advice and access to HR business advisors, HR Pro Payroll provides the most hands-on care. The plan also includes an applicant tracking system, a learning management system and sexual harassment prevention training.
Unlike Zenefits, ADP's payroll service doesn't include time tracking, but you can add it to any Run Powered by ADP subscription. ADP also offers retirement services, workers' compensation and health insurance. Certain features, like the vendor filing W-2 forms on your behalf, can cost extra. 
Once your company grows beyond 50 employees, ADP lets you choose the features you want with its all-in-one Workforce Now platform. There are three standard packages (Select, Plus and Premium) and several add-ons available, including performance and learning management, HR assistance, and talent acquisition tools. 
All of the Workforce Now solutions facilitate integrations, background checks, new hire reporting, automated payroll processing and federal, state and local tax filings. The base plan offers employee surveys and digital recordkeeping, whereas Enhanced adds benefits administration tools like mobile enrollment, employee decision support and a management dashboard. With Premium, users get workforce management tools, including employee scheduling capabilities and mobile time collection.
Implementation/Onboarding
In general, we found that ADP offers a more hands-on onboarding experience than other online payroll service providers. For starters, the ADP implementation team and service representatives consider your unique needs and goals to ensure the system is installed properly. They assist with payroll setup and transitioning from another payroll provider. 
Then, depending on your company's size, ADP can provide in-person and online training. The simulations made it easier to understand various payroll processes before deployment. While the process of entering payroll data is always time-consuming, we appreciated the extra level of support and 24/7 customer service ADP offers.
Additionally, the system's employee self-service tools streamline some aspects of onboarding, as you can send workers an invite to enter their direct deposit and benefits information. The simple user interface means fewer questions and confusion on their end, which makes implementing the payroll software company-wide more straightforward.
Customer Support
Whereas several payroll services only offer customer support during business hours, we love that ADP provides assistance 24 hours a day, seven days a week. Regardless of whether you have the entry-tier plan or the highest-priced version, you can reach customer service via phone or through your client administrator portal. 
The bonus of partnering with ADP versus another payroll provider is that the level of support increases to an ever greater extent with the upper-tier packages. In addition to the 24/7 customer service, you'll get access to HR professionals, business advisors, marketing experts and even legal help. And besides the personal phone assistance, ADP's website has several valuable resources, including a knowledge base where both administrators and employees can get answers to a wide range of questions.
Limitations
ADP's scalability sets it apart from competitors, but it isn't the cheapest payroll service nor the most transparent. We preferred how OnPay lists all features and prices on its website, eliminating confusion or unexpected charges. But OnPay only offers one plan, whereas ADP has seven. Compare pricing and more in our OnPay review before selecting a payroll vendor. 
Also, we were disappointed that the Run by ADP plans don't include time tracking tools. Our review of Zenefits notes that scheduling and attendance features come with all of its subscriptions, making the provider an excellent choice for companies wanting an all-in-one solution. Then again, Zenefits lacks mobile apps, one of our favorite parts of ADP's payroll systems. 
Methodology
When determining the best options for businesses choosing a payroll provider, we considered several factors, including payroll and HR features, integrations, and usability. Our analysis compared dozens of platforms and consisted of interactions with vendor representatives and customer service agents. We reviewed user opinions and tested payroll software ourselves to see how the systems worked. To assess scalability for growing businesses, we looked at the number of plans offered and how the features changed to fit the needs of expanding companies as they add employees and have increasingly complex HR workflows.
ADP FAQs
Roll by ADP is a chat-based payroll and tax filing system for companies with 100 or fewer employees. Although you can't administer benefits or perform HR tasks, Roll by ADP costs less than other payroll solutions and is a great option for small teams.
ADP offers earned wage access to employees through Wisely, which means your company does not pay any fees or need to alter its payroll process for you to get on-demand payments. You can run payroll as usual, and Wisely will handle the rest. 
Yes, ADP provides benefits administration across the United States. The vendor works with more than 700 insurance carriers and financial institutions, and has direct integrations with Cigna, Aetna and Prudential. 
Bottom Line
We recommend ADP for …
Organizations looking for a long-term payroll partner that they won't outgrow.
Business owners who want to run payroll and manage their workforce from smartphones.
Fast-growing startups that need scalable HR features and support. 
We don't recommend ADP for …
Solopreneurs who only pay contractors or a handful of employees. 
Small companies in need of payroll features combined with native time tracking tools. 
Entrepreneurs that prefer to design their own payroll package.