Salesforce CRM Review
By Mona Bushnell
Last Modified: May 22, 2018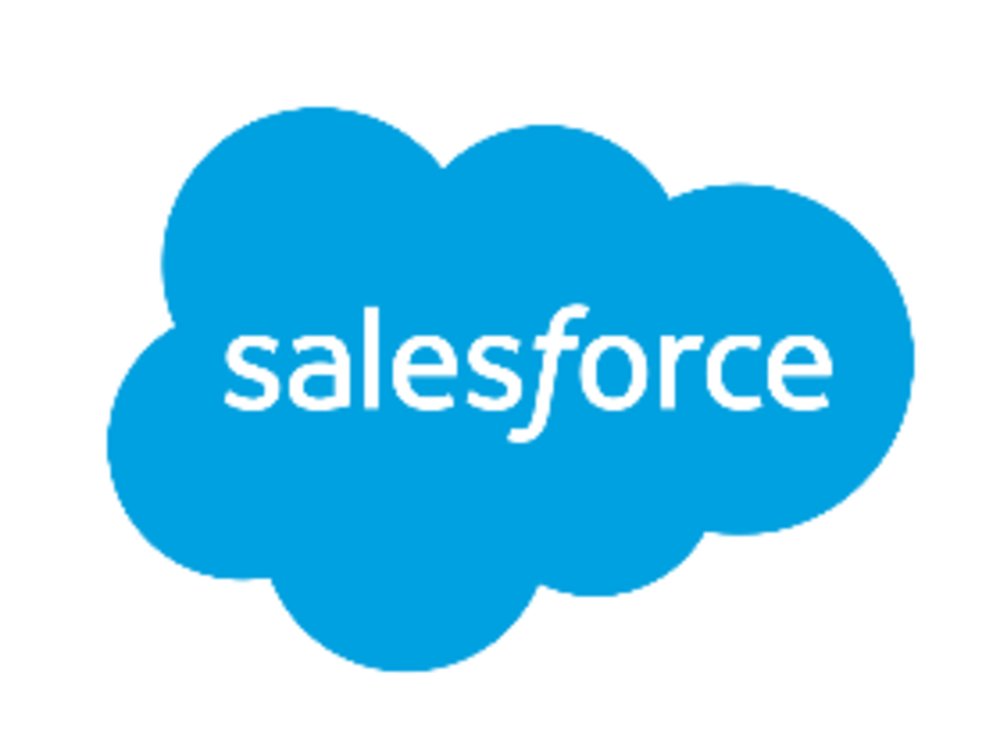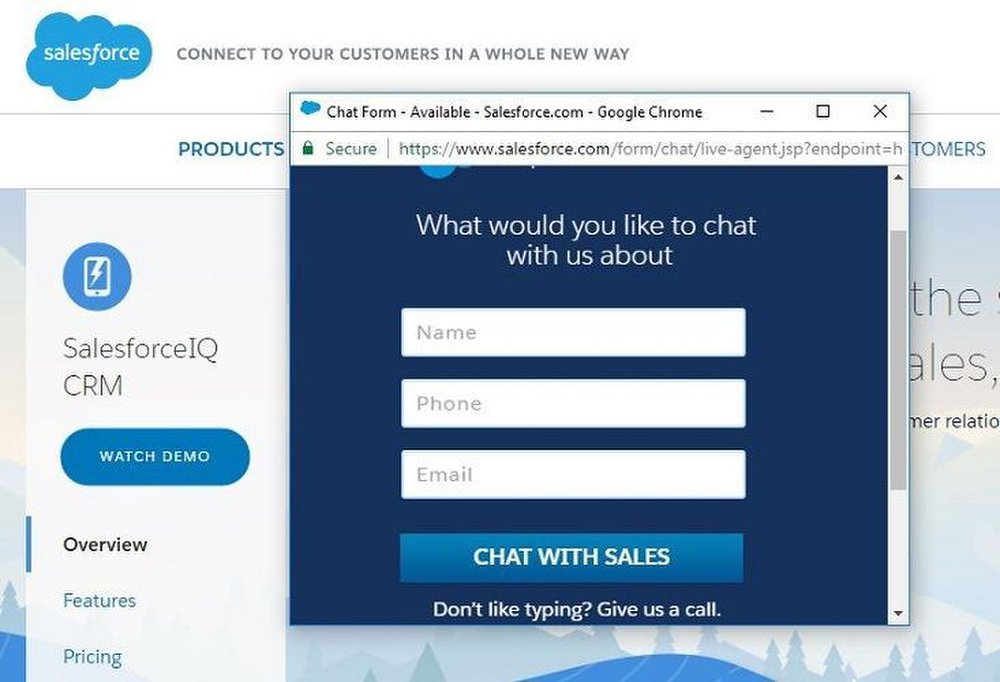 You can chat live with Salesforce agents on the company's website.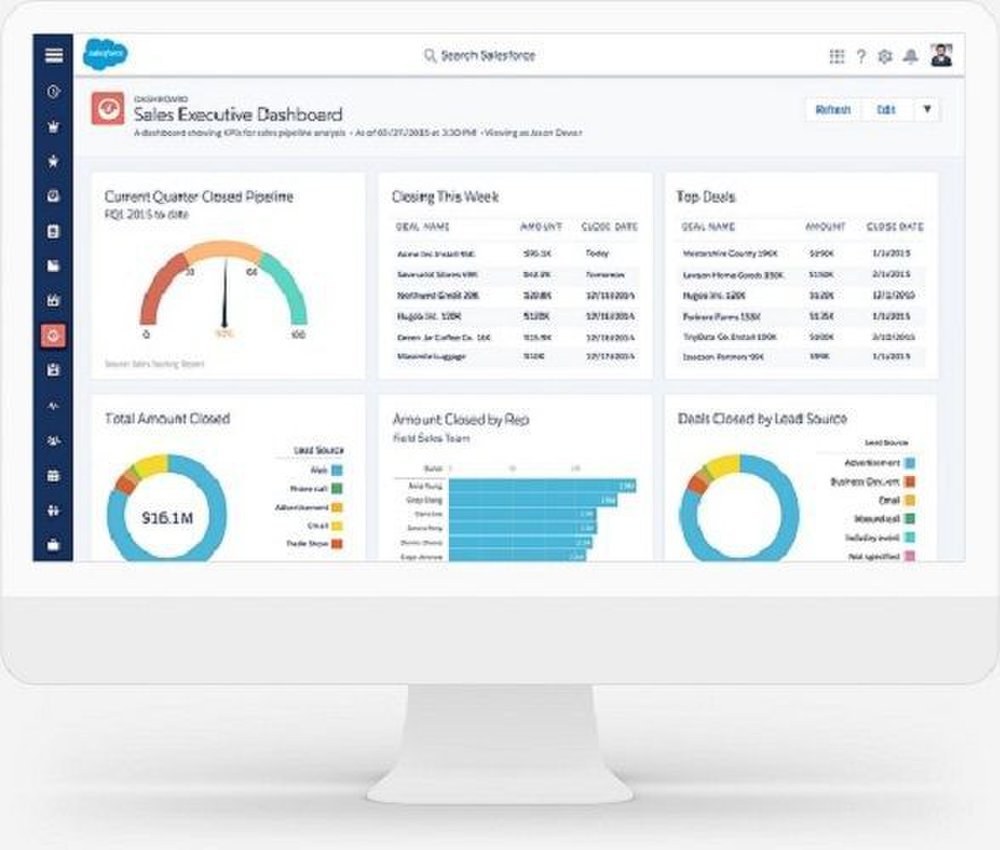 You get a clear overview of your business on the dashboard.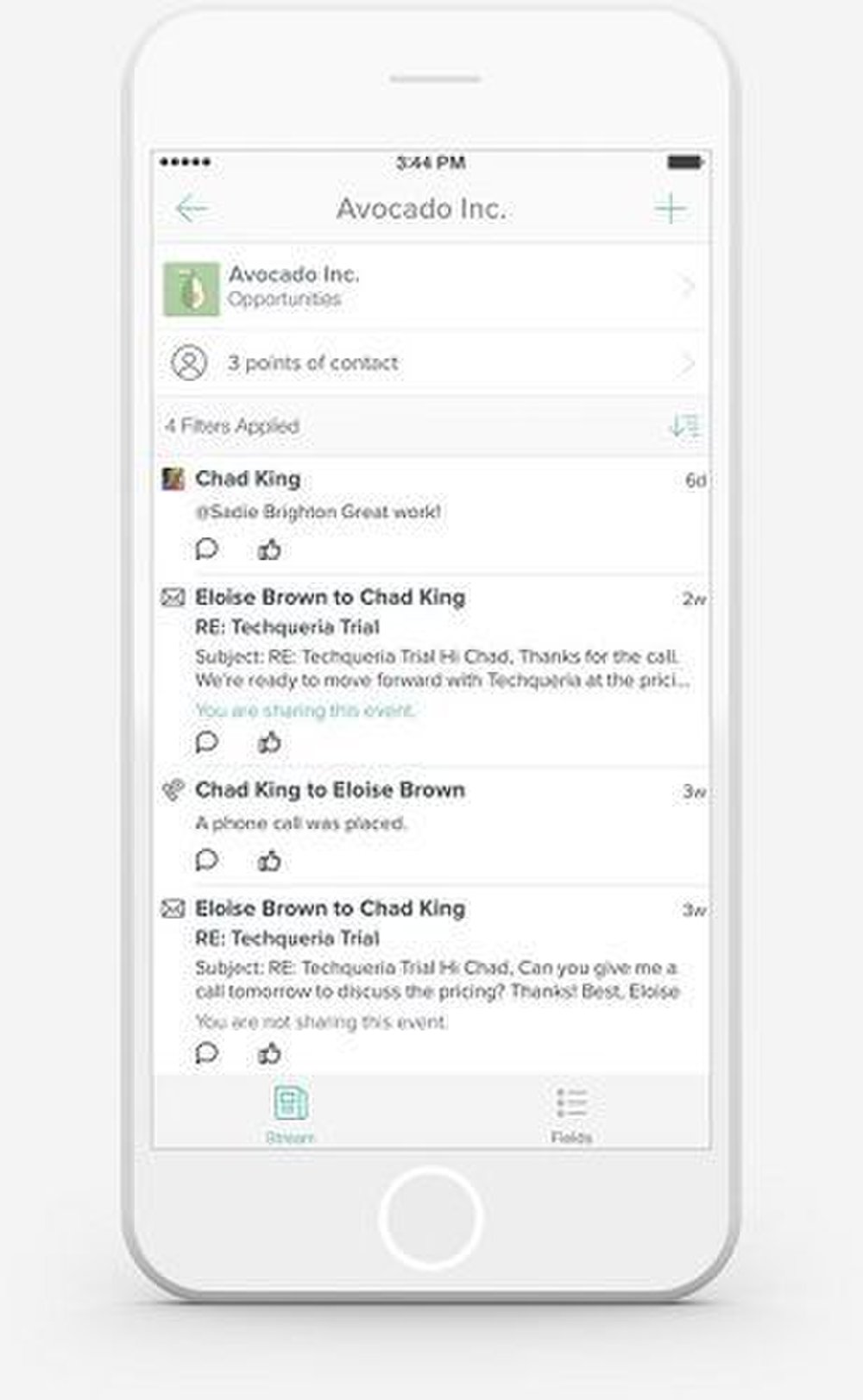 You can access this program in mobile apps as well as desktop programs.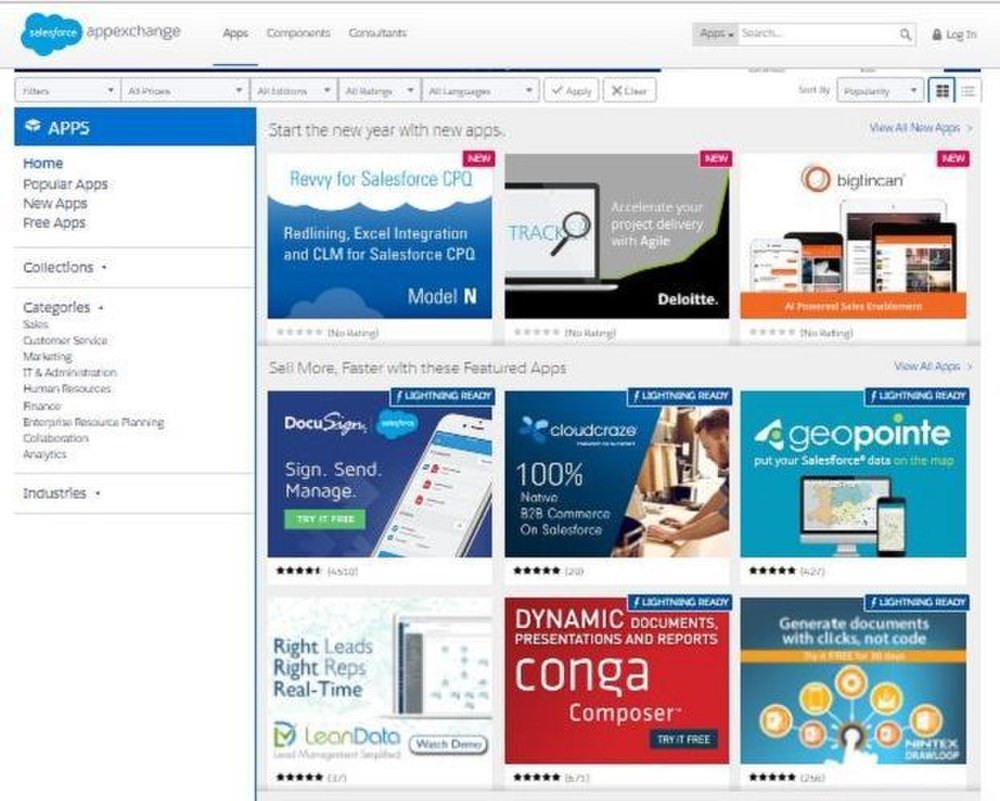 Over 300 apps are available for this software, so you can add and grow your program as needed.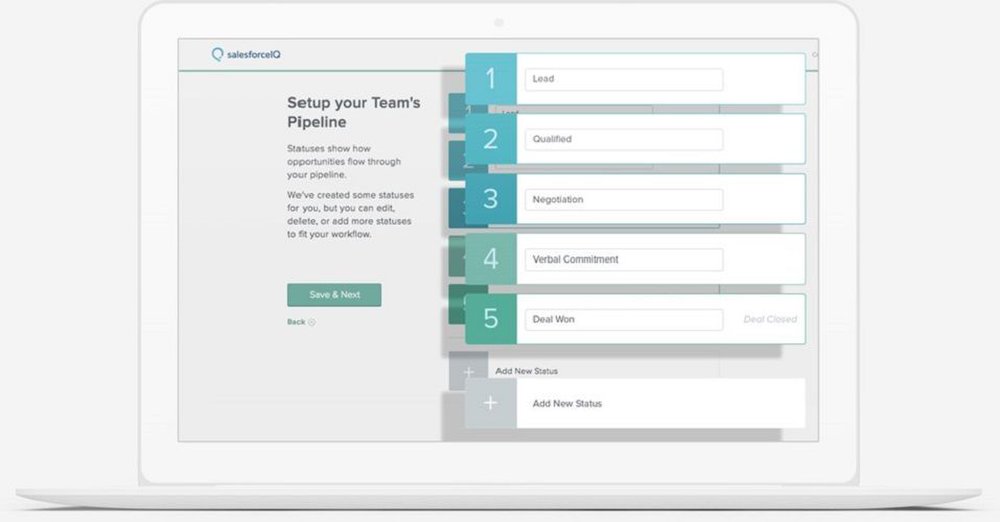 Customized sales pipelines are available to help you keep track of new and existing leads.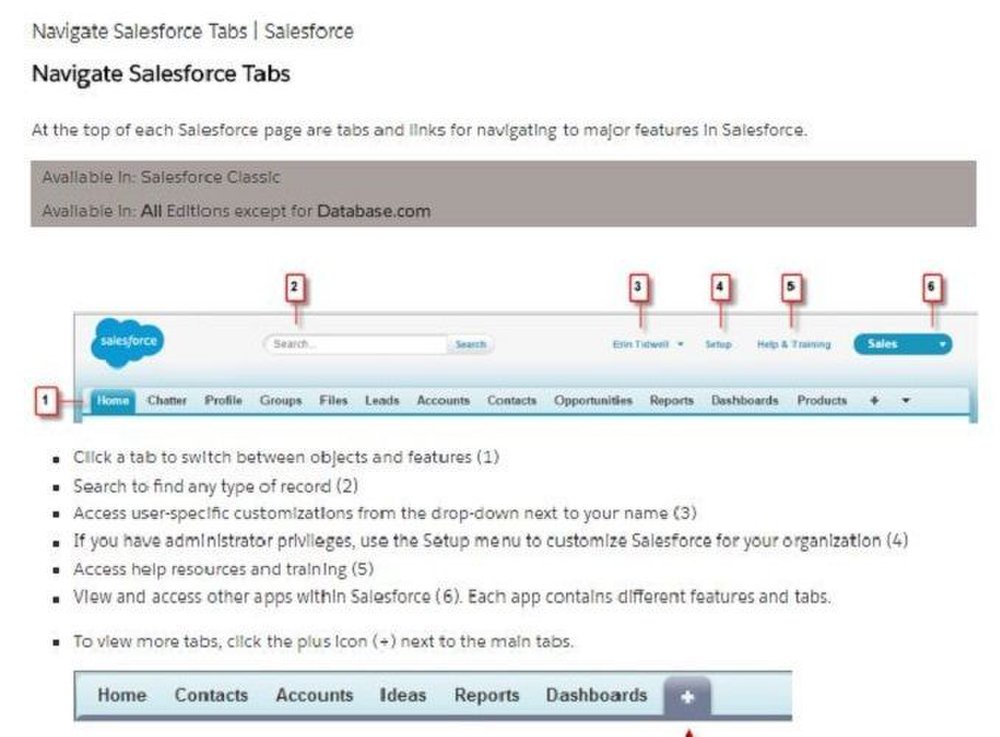 Helpful images guide you through tasks in the program.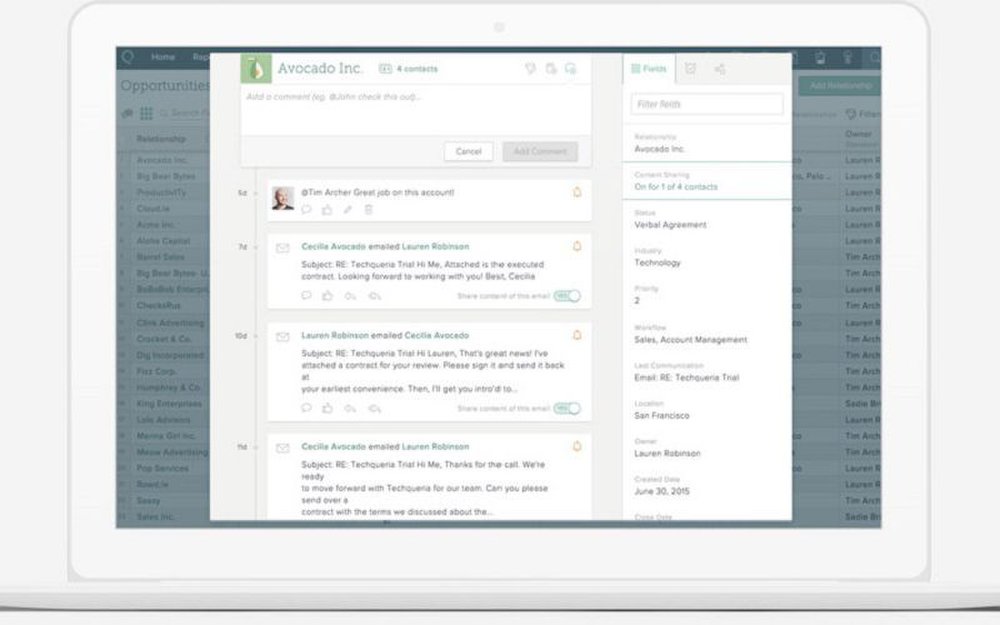 Your staff can communicate with each other about contacts or sales deals using the in-program messaging system.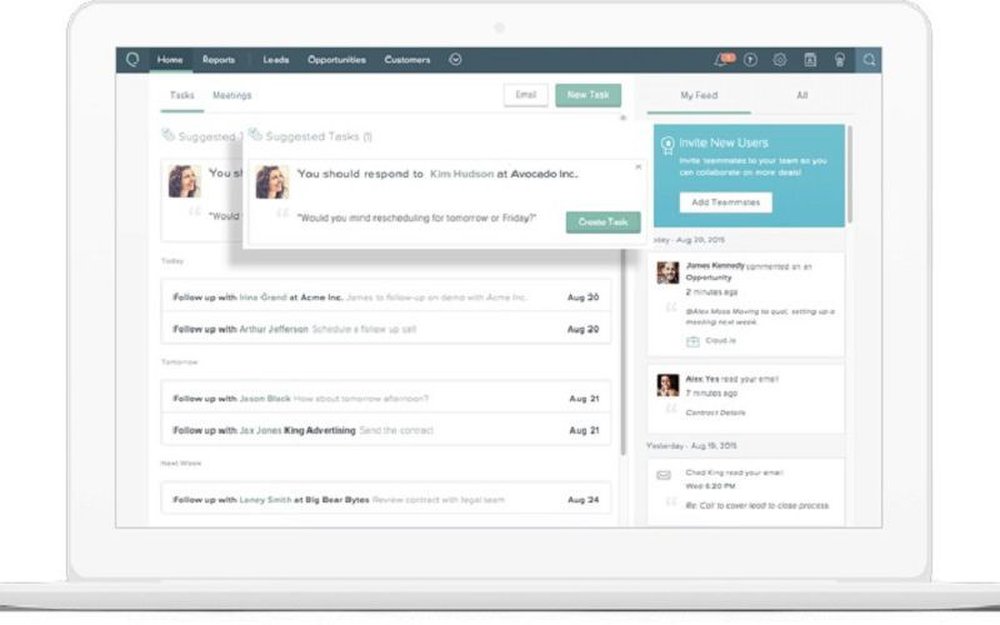 You can create tasks and assign them to specific employees.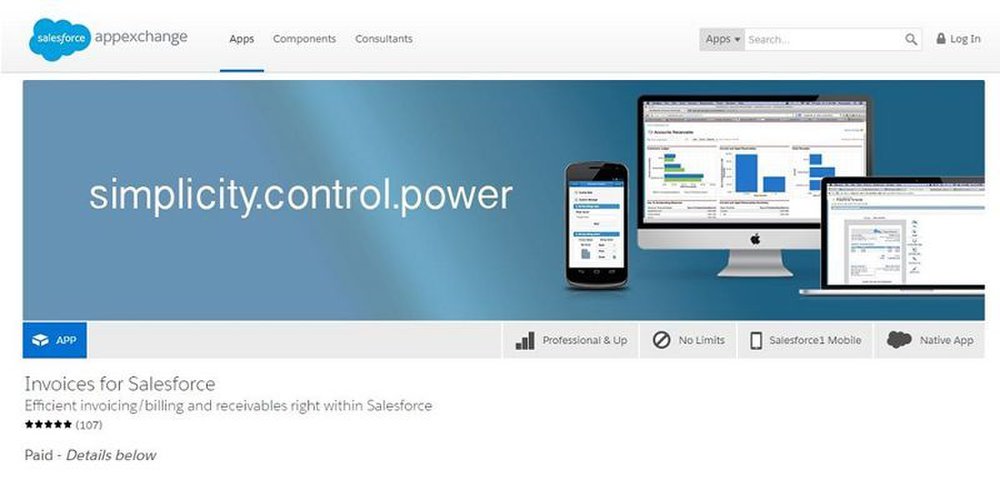 If you need more features than what comes with the CRM program, you can integrate it with various apps to expand the software's abilities.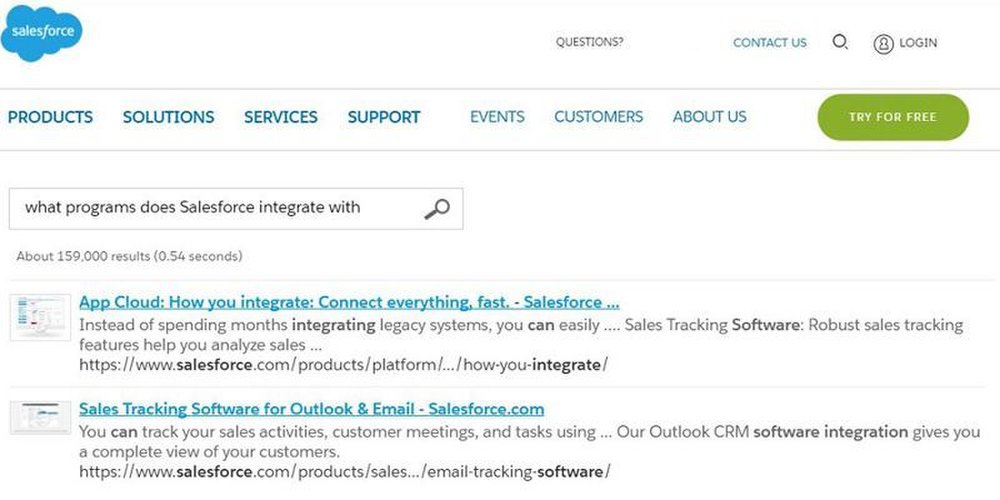 You can search the knowledgebase for help.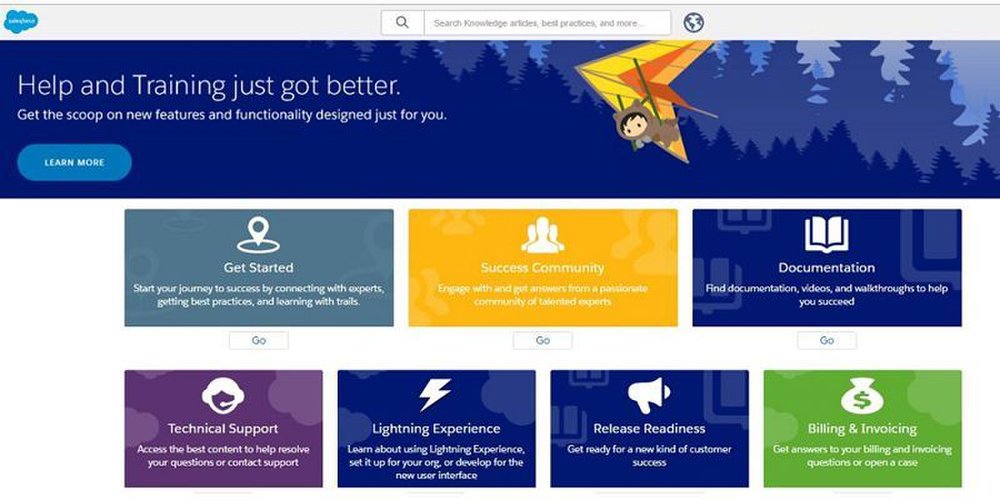 Training opportunities, forums and other helpful documentation are available in the help center.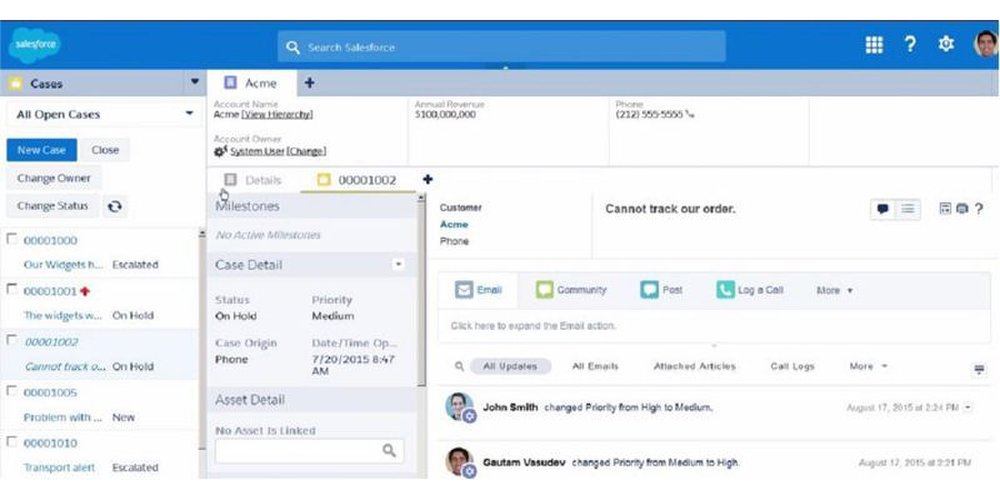 Every screen populates with comprehensive information about your contacts, like priority status and order tracking.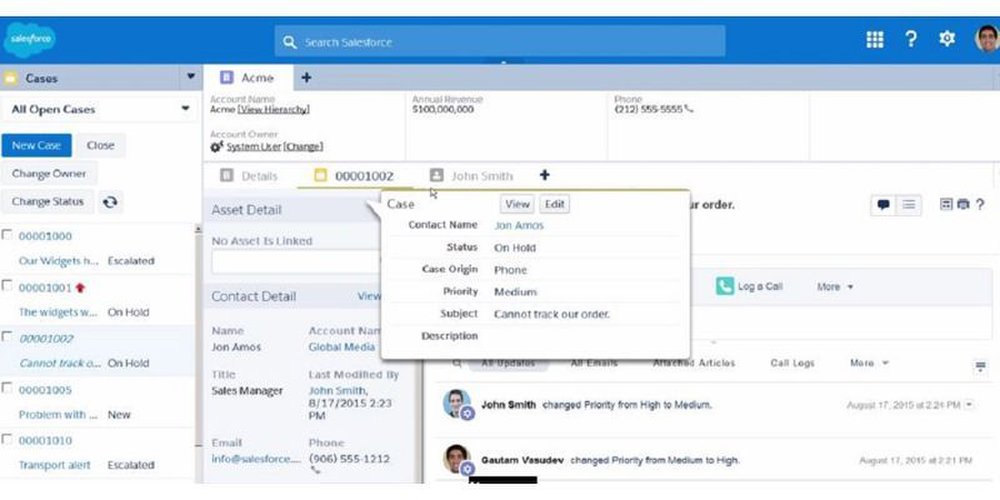 By clicking on specific tabs, you can read more in-depth details on each case.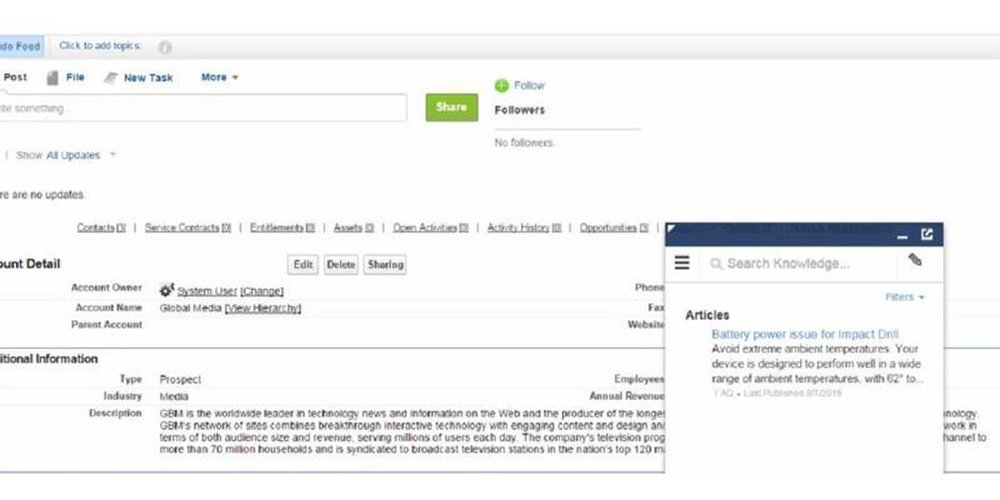 You can integrate the console with your own knowledgebase so your employees can answer your clients' questions quickly.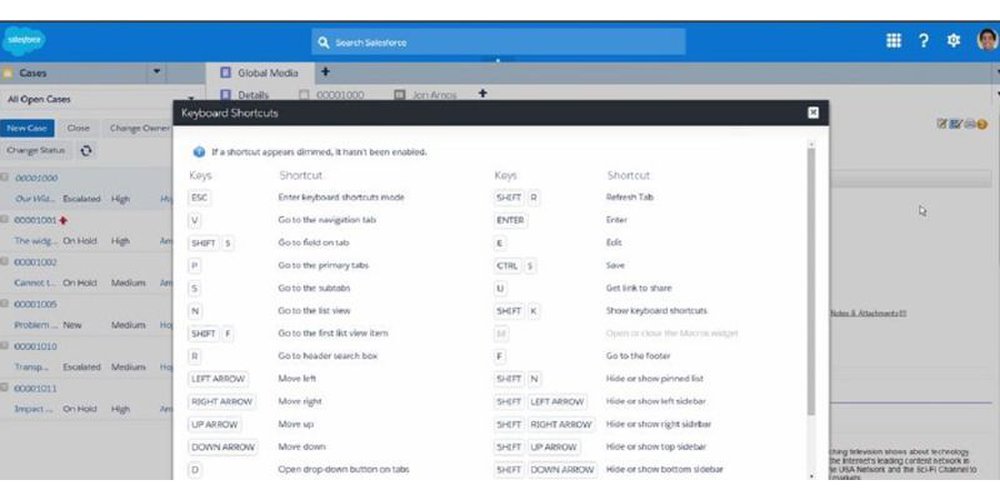 he system's keyboard shortcuts are customizable.
Salesforce is widely thought to be the industry standard for CRM solutions, and we consider it the Best CRM Software Overall. With nearly 20 percent of market share, Salesforce is the name that comes to mind first when you mention customer relationship management solutions. The sheer number of features, third-party integrations and add-on options makes this CRM ideal for large businesses with diverse and evolving needs. Once implementation is complete, Salesforce offers users a beautifully designed product that's speedy, powerful and highly customizable.
View all our recommendations for CRM software on our best picks page.

Salesforce
The Best CRM Software of 2019
The Verdict
For large and growing businesses that require lots of features and want a single ecosystem to address them all, Salesforce is the best option available.
Visit Site ▶
Many companies that adopt Salesforce do so after having outgrown lightweight customer relationship management software. While these solutions work well for small businesses with standard needs, larger businesses often require a higher level of customization and additional features that simply aren't included in out-of-the-box solutions. In addition to offering a rich set of built-in features, Salesforce offers a complete ecosystem of business products, which extend beyond CRM software tools. The ability to build-out complimentary commerce order management systems, automate B2B marketing pipelines and manage field employees while dealing with only one SaaS provider (Salesforce) is a major selling point for some businesses.
While expenses can quickly mount when dealing with a major business software provider like Salesforce, if you're already planning the adoption of multiple business products, a unified approach is worth considering.
Salesforce CRM Platform is a Scalable Powerhouse
Salesforce CRM was built to meet the needs of enterprises and large businesses, but as the SaaS world exploded and small business solutions became more common, Salesforce expanded its scope with streamlined options that were easier and more affordable to get up and running. Today, the CRM giant offers users of every ilk access to powerful business software with plenty of customization options. The pricing scale Salesforce uses makes it easy for growing businesses to build out highly advanced systems, piece by piece, as they grow.
The sheer scalability of Salesforce makes it an excellent choice for companies that are quickly expanding. The Salesforce AppExchange store is one way in which CRM users can build out customizable systems. Through the store, Salesforce offers third-party integrations for thousands of apps and software products that range from in-house Salesforce add-ons to third-party solutions (both paid and free). While other CRM software companies we reviewed have similarly formatted online stores for add-ons, Salesforce's is far more comprehensive than the competition. The company also makes it easy to search based on product name and view industry specific product bundles. Because Salesforce is such a huge company, the offering of industry specific add-ons available is expansive, and there's even a separate section for small business specific add-ons, many of which are free.
Due to the breadth of customization options the implementation process for Salesforce CRM varies drastically, but once the system is set up, users will quickly see it was worth the effort. Thanks to the intuitive design and overall polish-level of the product the learning curve isn't steep for non-admin users. Eschewing the trendy while maintain a modern look, Salesforce CRM keeps the navigation process simple, like it should be. The upper tab-style layout is typical across business and personal software making it intuitive to grasp, and categories like Home, Contacts, Accounts, Leads, Campaigns and Opportunities bear no explanation.
For in-house admins, a little more training may be required, but Salesforce offers excellent admin controls. Setting up different permissions, based on groups or on individual users (some systems only allow for admin settings by group), is simple, as is creating different displays and workflows for various departments/employees. SMB that have even moderate technical expertise and admin experience should have no trouble managing Salesforce day-to-day, onboarding users, or updating permissions.
Lastly, Salesforce offers a major advantage to both organizations that rely heavily on legacy software and those that have unique compliance needs, like those in the healthcare, financial services, or communications fields. Salesforce is large and established enough that the company already offers compliance solutions and integration services, even for legacy and proprietary systems. When you work with Salesforce, the odds that you'll have a use case the company has never heard of or cannot address are extremely slim.
Salesforce Pricing - Structure and Tiers
Salesforce's cloud CRM comes at four different subscription tiers. Lightning Essentials is suitable for up to five users and costs $25 per user, per month. Lightning Professional can be used for all different team sizes and starts at $75 per user, per month. Lightning Enterprise starts at $150 per user, per month, and finally Lightning Unlimited offers top-tier functionality for $300 per user, per month.
Salesforce is a massive product with lots of optional add-ons and customizations, so the subscription costs listed here should be considered jumping off points. It is possible to spend considerably more on this product depending on how much storage you require and how many add-ons you need. Make sure you are clear on how you will be charged for anything not included in your primary subscription fee. There are also additional costs if you opt for training, implementation help, purchase additional products or require more storage space.
Relative to the other customer relationship management products we reviewed, Salesforce is pricy. Many other SaaS products offer free versions of their product as well as low cost entry level subscriptions that can be used indefinitely. While $25 per user, per month isn't exactly price gouging, it's not a realistic long-term option for most SMBs, since only five users are supported at that level. The next level available is a whopping $75 per user, which is significantly more expensive than the competition.

Salesforce
The Best CRM Software of 2019
The Verdict
For large and growing businesses that require lots of features and want a single ecosystem to address them all, Salesforce is the best option available.
Visit Site ▶
Outstanding Features
Users will be hard pressed to find another CRM with as many optional features as Salesforce. In addition to offering all the standard CRM, sales and marketing tools you'd expect, this solution sports beautiful dashboards and high-level reporting and analytics in a customizable package. Here are just a few outstanding Salesforce features:
Comprehensive business ecosystem: Salesforce offers a range of business products that all seamlessly integrate with each other. Businesses can grow with Salesforce and gradually adopt new features as needed. Some Salesforce product categories include the Sales Cloud, Service Cloud, Marketing Cloud, Commerce Cloud, Community Cloud, Quip (a collaboration tool), and Salesforce Platform (for high-level development and customization).
Easy import process: Salesforce makes it easy to get off the ground running by giving users the ability to seamlessly import data from Gmail email, Google calendar, Excel spreadsheets and more.
Popular integrations: One of the biggest advantages of Salesforce is its widespread use, which translates to lots of easy integrations. Through AppExchange, users can peruse dozens of broadly used apps like Jira, Zapier, Outlook and loads of data and development tools, and instantly integrate them with their Salesforce CRM.
Trailblazer community: Nearly every CRM we reviewed had some form of an online community, but Salesforce's Trailblazer community is replete with documentation that's invaluable for admins, making it a real asset. Step-by-step guides on everything from how to create a custom report type to turning on user notifications are available. There's also an extensive user-only forum for direct communication with other admins and users.
User-friendly productivity features: One of Salesforce's greatest strengths is the built-in project management features it offers end users. Once implemented, sales and marketing users as well as managers will find it easy to manage and build out workflows, assign and follow tasks and check off permissions (when built-in by admins) as needed. There are also add-on productivity tools available through the AppExchange store.
Drawbacks
Like many other comprehensive business ecosystems, Salesforce has branded names for nearly every feature and product, which makes figuring out what is included in each subscription needlessly confusing. Contracts with Salesforce can quickly become complicated, and many users complain about a lack of clarity when it comes to what is included and what will cost extra. Users who defect from Salesforce often cite this type of confusion, as well as the expense of purchasing extra storage, as the reason for leaving. It can cost thousands of dollars to implement Salesforce, and while we found the overall end-product to be user friendly, without significant in-house expertise getting started can be a real slog.
Additionally, Salesforce's customer service is seriously lacking, and unfortunately the SaaS provider seems to thwart DIYers at every turn. It's impossible to get information on almost anything without filling out forms, calling, or emailing a representative, and many questions and requests go entirely unanswered. The process for requesting information and the lack of transparency is outmoded, and many ex-customers expressed this sentiment. If you're running a small business, with limited in-house tech support, Salesforce will likely be more hassle and expense than you need.
Editor's Note: Looking for a CRM solution? Click the Compare Quotes button below to have our sister site Buyer Zone connect you with vendors that can help.

Salesforce
The Best CRM Software of 2019
The Verdict
For large and growing businesses that require lots of features and want a single ecosystem to address them all, Salesforce is the best option available.
Visit Site ▶
Ready to choose your The Best CRM Software of 2019? Here's a breakdown of our complete coverage:

Mona Bushnell
Mona Bushnell is a New York City-based Staff Writer for Business News Daily and Business.com. She has a B.A. in Writing, Literature, and Publishing from Emerson College and has previously worked as an IT Technician, a Copywriter, a Software Administrator, a Scheduling Manager and an Editorial Writer. Mona began freelance writing full-time in 2014 and joined the Business.com team in 2017.