As the best payroll software for HR integration, Gusto offers built-in tools for human resources. It handles employee payroll and benefits administration from a single interface while syncing with third-party time tracking and hiring software.
Pros
The payroll services have a minimal learning curve, making it easy for HR teams to manage payroll.
Gusto's hiring and onboarding features assist small businesses with basic HR tasks.
Even the base plan handles complex calculations like wage garnishments, holiday pay and tip credits.
Cons
Aside from automated tax filing, Gusto has fewer workflow automations than competitors.
It costs more to pay international contractors and global workforce payments are not available yet.
Customer support hours and options are less robust than competitors Heartland Payroll and Aspen HR.
Gusto supports your entire payroll process and many human resources (HR) tasks, such as new hire reporting and digital onboarding. Its basic and advanced HR features make Gusto our top pick for full-service payroll with HR integration. Along with third-party integrations, Gusto offers premium plans with time tracking and employee benefits management or you can choose HR add-ons.
Gusto Payroll Software Editor's Rating:
9.2 / 10
Pricing 

9/10

Customer service

8.9/10

Third-party integrations

9.2/10

User interface

9.4/10

Added HR tools

9.4/10
Why We Chose Gusto as Best for HR Integration
While you can expect most payroll services to offer automated or manual payroll processing and basic support, not all systems integrate with existing HR tools. That's where Gusto stands out. While some competitors charge for integrations, Gusto connects to 21 time tracking tools and dozens of performance management, hiring and learning platforms. Its native HR tools and ability to sync with third-party apps make Gusto the best online payroll service for HR integration.
Gusto payroll subscriptions simplify hiring and onboarding with custom offer letter templates, document storage and e-signature capabilities. From your Gusto account, you can run background checks on applicants or provision Gmail or Microsoft email addresses for new hires. New team members can use their employee self-service portal to enter payroll details and sign documents so that they're ready to hit the ground running on their first day. 
For small businesses wanting built-in HR features, Gusto doesn't disappoint. We were impressed with its Plus plan, which has native time tracking tools, an applicant tracking system (ATS) and a software provisioning service. At this level, you can customize your paid time off (PTO) policies and automatically sync them to your work calendar. Moreover, HR can manage performance reviews and employee surveys. 
Gusto's health insurance broker integration means you can connect your existing employee benefits program to Gusto's payroll and HR system. Notably, Zenefits charges $5 per employee monthly for this flexibility. Alternatively, Gusto offers several types of insurance and benefits. These add-ons range from commuter benefits and 529 college savings plans to life and health insurance. 
Several software applications offer discounts for new Gusto subscribers. Before choosing a payroll provider, view Gusto's App Directory to see if your current tools integrate with Gusto and check out the latest deals on accounting, point-of-sale and attendance platforms.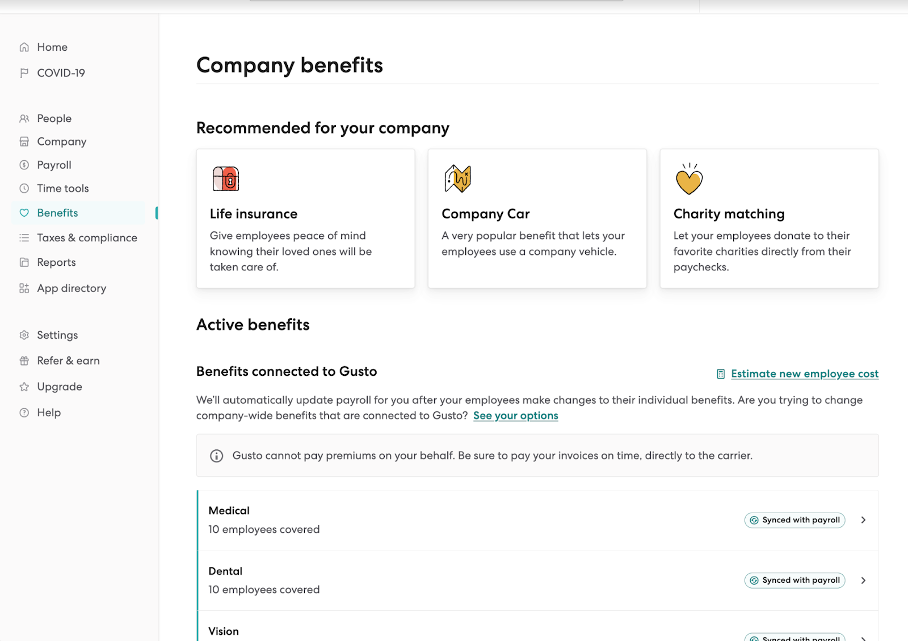 See active benefits or find new solutions in your administrator Gusto account. Source: Gusto
Ease of Use
We were impressed with the system's web-based user interface during user testing for our Gusto Payroll review. The homepage shows reminders and upcoming alerts that Gusto also sends via email. However, we were disappointed that we couldn't customize the screen by moving around the widgets, a feature offered by Paychex and ADP Workforce.
Although Gusto doesn't have a mobile app for employers, we tested our Gusto account in a web browser on a tablet and smartphone. The site is mobile-responsive, so we can pay employees and view payroll reports from different devices. 
We liked how straightforward adding bonuses or incentives was and seeing the calculations change in real time. Plus and Premium users can also reimburse expenses, which is excellent for handling one-off payments. We also liked the ability to add a personal note to pay stubs and comments displayed on employee emails. It's a nice personal touch and something offered by several rivals, including iSolved and Paychex. 
The payroll system also has an autopilot feature. Automated payroll is a great option for small businesses with salaried employees. But one issue we found was that we had to click on a different page to pay contractors. This wasn't a dealbreaker. Yet, the full-service payroll provider Zenefits lets you make unlimited contractor payments from the same screen. [Explore pricing and payroll features in our Zenefits review.]
Gusto Features
Gusto subscriptions include many payroll and HR tools, all easy to find and use. Its full-service payroll software helps your HR team process payroll and maintain compliance while ensuring timely tax filing. 
Integrations
Gusto's payroll software integrates with far more programs than several rivals. It connects with the popular expense management tool Expensify and 21 accounting platforms, including QuickBooks, FreshBooks, Xero and Sage Accounting. HR teams can integrate Gusto with collaboration systems like Asana or Slack. Plus, it works with 21 third-party time tracking services, ideal for restaurants using When I Work or startups relying on OnTheClock. 
Payroll Processing
Similar to competitors, Gusto's payroll software allows employees and contractors to enter bank details and withholdings. You can enter pay rates and deductions for health benefits on the backend. You input hours worked or sync your payroll system with a time tracking app during each pay period. Gusto also supports bonuses, commissions and tip credits. 
Not all payroll services can calculate the FICA tip credit tax incentive. Gusto helps restaurants claim tip credit and provides a year-end report so that you can claim the credit on your business tax return.
Since Gusto allows unlimited payroll runs, it's possible to process payroll on an irregular schedule, ideal for paying freelancers or part-time workers. Likewise, the automated payroll (AutoPilot) option works best for salaried staff.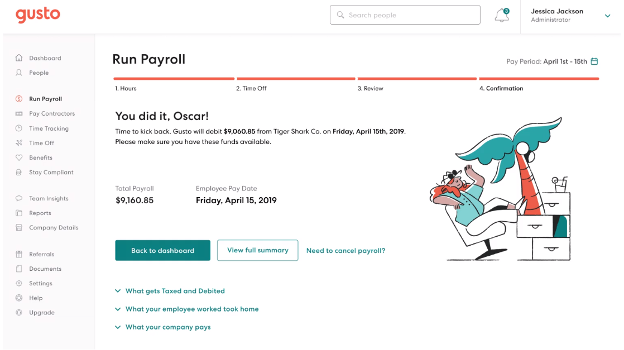 You can view the funds to be withdrawn, cancel payroll or see a full summary after processing payroll. Source: Gusto 
Payment Options
All payroll providers, including Gusto, support direct deposit. You can print paper checks using personalized or blank check stock. Also, employees can use payroll cards (prepaid debit cards). Unlike ADP, Gusto does not provide them. Instead, workers can apply for Gusto Spending Accounts, which allow companies to pay employees via direct deposit.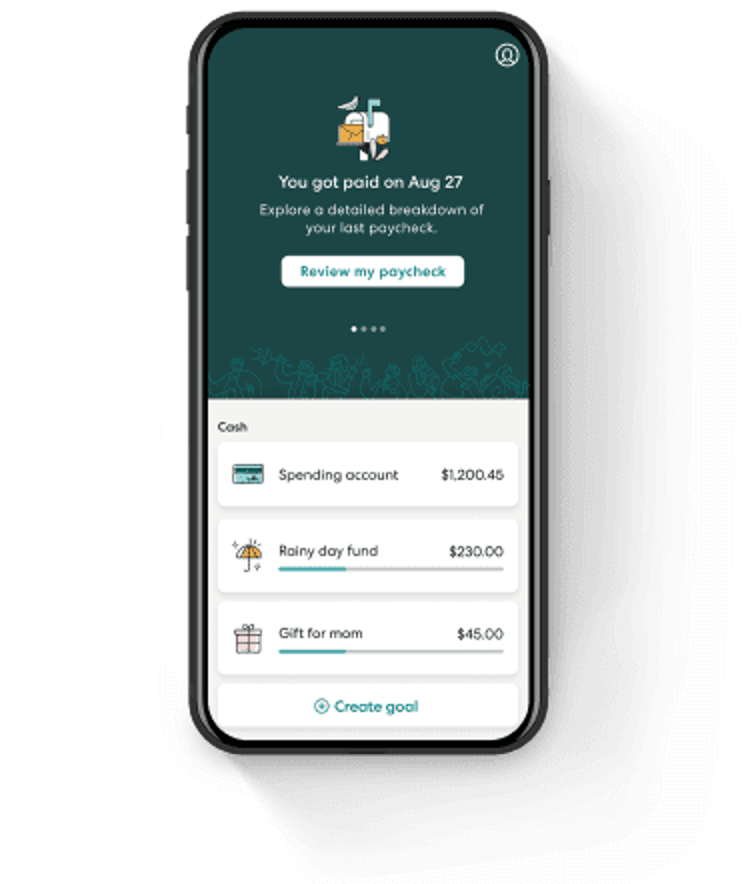 The free Gusto Wallet app lets employees view pay stubs and create savings goals. Source: Gusto
Payroll Taxes
Most full-service payroll companies provide automated federal, state and local tax filing services. But some charge extra fees for end-of-year tax forms. We appreciate that Gusto generates annual W2 and 1099 forms automatically for employees and contractors. The payroll service can send digital copies for free or you can print them. Gusto will mail the tax forms for a fee. 

See an overview of your important tax filing dates or click to view tax forms. Source: Gusto
After processing payroll, Gusto debits payroll taxes from your connected account. It files and pays quarterly and annual taxes, including filing tax forms like Form 941. You can view your company and employee payments under payroll history while employees can view tax payments on their pay stubs.
Gusto HR Outsourcing Features
Gusto offers multiple tiered plans that vary in features and price. If you are looking for outsourced HR assistance, you will want to add Gusto's priority support and HR services to your plan for an additional $8 per person, per month. This gives you access to HR experts and resources as well as a direct phone line and email support.
Even without Gusto's add-on priority support, we were pleased to see that Gusto plans come equipped with essential HR capabilities. However, the exact features you have access to will depend on your plan. Here are some HR features you may have access to.
Recruiting and Onboarding
We like that all of Gusto's plans include hiring and onboarding tools. When we tested the software, we were pleased to see that its Plus and Premium plans even include an ATS. While its ATS capabilities might be somewhat basic compared to third-party ATS applications, we found it to be sufficient to track new hires through recruitment. What's more, most competitors we reviewed didn't offer ATS capabilities.
Gusto also features background checks, custom offer letter templates, onboarding checklists, custom document e-signing and secure document storage. On top of that, Gusto can complete and file all the state-required paperwork for each new employee your company hires.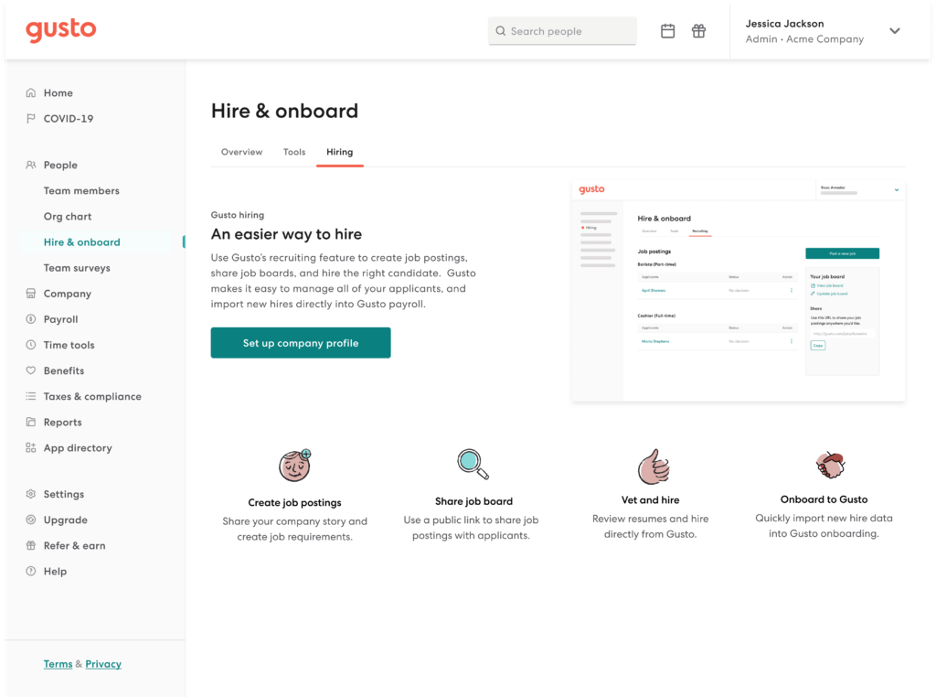 Hire and onboard new employees without leaving the Gusto application. Source: Gusto
Benefits Administration
Several payroll services let business owners manage employee benefits through the platforms. Gusto brokers medical, dental and vision insurance, or you can integrate your existing plans into your Gusto account. However, Gusto only provides coverage for 37 states for most benefits. 
It has pay-as-you-go workers' compensation insurance through AP Intego and a range of add-on HR services, including:
Commuter benefits
Health savings accounts
Life and disability insurance
529 college savings plans
Flexible spending accounts
401(k) retirement savings plans
Gusto can help you craft a desirable healthcare plan for your employees. Source: Gusto
Time and Attendance
An important aspect of managing and paying employees properly is accurate time and attendance tracking. When analyzing the Gusto platform, we determined its time and attendance features to be on par with competitors. For example, many of its plans include time and project tracking, time off requests and approvals and time off calendar syncing. Plans also allow you to set PTO policies and holiday pay, which sync over to payroll automatically.
HR Services
The reason Gusto shines for HR integration, alongside its payroll software, is that it offers a wide range of employee management services, including online offer letters and signature documents, employee directories, organizational charts, anonymous employee surveys and survey trend analysis, compliance help, on-demand access to HR professionals, employee relations advising, custom employee handbooks, job description templates, HR guides and policy templates, harassment prevention training and proactive compliance updates.
In other words, you can get almost everything you'd want in stand-alone HR software in an integrated platform that can also complete all of your payroll tasks.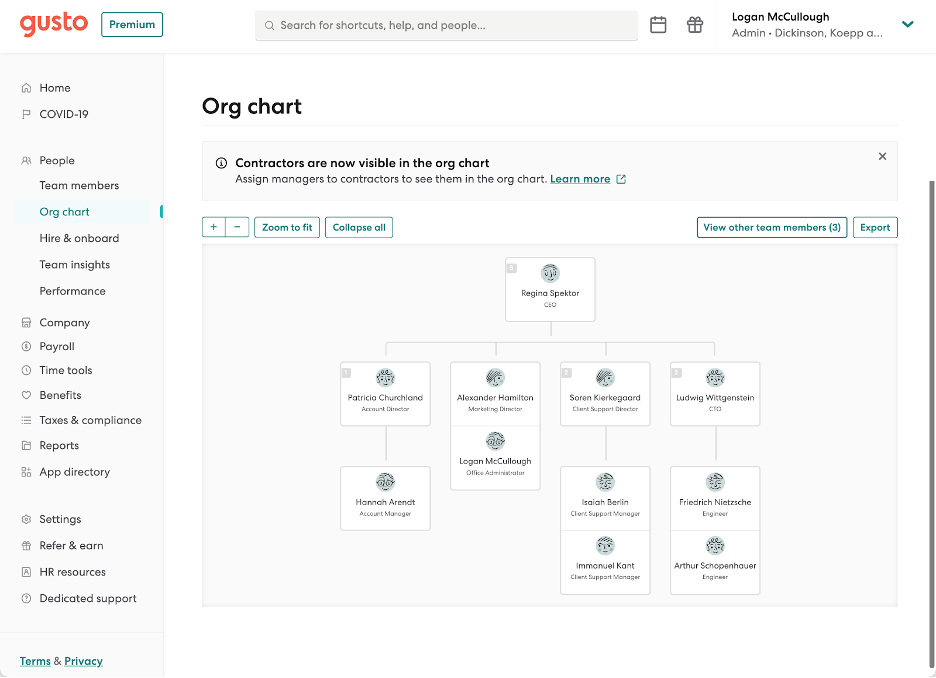 Use Gusto to ensure department accountability. Source: Gusto
Gusto Pricing
On average, a small company with 10 employees will pay $100 monthly for the entry-tier subscription. Like other payroll services, Gusto charges monthly and per-person fees. It has three full-service payroll plans with unlimited payroll runs and automated tax filing. 
All subscriptions allow for contractor payments, although you can purchase a Contractors Only plan if you don't have employees. The packages include workers' compensation and health insurance administration. Higher-tier packages offer more payroll and HR features, such as project tracking and multistate payroll. 
Here's how Gusto's payroll processing plans differ:
Simple: For $40 per month, plus $6 per person, Gusto Simple provides unlimited full-service payroll for a single state. Other features include employee self-service, PTO policies, two or four-day direct deposit, employee onboarding tools, accounting and time tracking integrations, Payroll on Autopilot and document management. 
Plus: This level costs $80 per month, plus $12 per employee. It supports multistate payroll processing and tax filing. It has everything from the Simple package and adds next-day direct deposit, time-off requests, an employee directory and surveys, time and project tracking and workforce costing reports. Gusto's priority support and HR services cost an extra $8 per month, per person. 
Premium: This quote-based package offers the most features, including everything in the Simple and Plus plans. Along with full-service payroll migration, users can access an HR resource center, receive compliance alerts and a direct line to priority support.
Small businesses without employees can simplify contractor payments using Gusto's Contractor Only plan. It costs $35 per month plus $6 per person. Currently, Gusto waives the monthly fee for six months for new payroll clients. With this package, contractors can enter direct deposit information through a self-service portal, and you can run payroll to compensate contractors across all 50 states.
Are you looking for a way to streamline contractor payments but don't have employees? Consider QuickBooks Payroll Contractor Payments. It's only $15 monthly for unlimited payments to 20 contractors. See our Intuit QuickBooks Payroll review for more information.
Implementation/Onboarding
Gusto is one of the easier payroll services to deploy and use. The company provides an overview of the onboarding process with step-by-step instructions for business owners or administrators. Like most online payroll systems, setup involves adding employees, tax and banking information. 
You need to verify your account and sign forms online. Gusto may require additional information to meet banking and financial institution regulations. Also, you select your pay schedule and enter historical pay data. Gusto representatives are available to answer questions or walk you through any processes. 
Likewise, we found onboarding employees during or after the setup process also easy. While configuring Gusto, add their email addresses to their profiles and Gusto sends an invite. You can also wait until later and edit their profile. Once you enter their email address, the employee receives an email from Gusto that allows them to onboard themself. 
Customer Support
We had excellent experiences each time we reached out to Gusto's customer support team and many user reviews state the same. Representatives were patient and knowledgeable. We never waited long for responses or felt pressured to add services or upgrade products. 
That said, Gusto's customer service hours are more limited than ADP and Paychex, which offer round-the-clock support. Gusto representatives are available Monday through Friday between 7 a.m. and 4 p.m. Pacific time. You can email or chat with a help agent but can't call them directly. Instead, Gusto lets you schedule a callback. 
Premium users receive a dedicated customer success manager and expedited support with a direct line to phone and email service. Also, at this level, clients get live, unlimited access to certified HR professionals. Gusto's help center is easy to navigate and articles walk users through each step. But we wish the guides had screenshots, GIFS or videos to break up the long blocks of text.
Limitations
Gusto's HR integrations serve small businesses well. But for growing companies looking to automate repetitive tasks across platforms, Rippling is the better option. It features hundreds of integrations and prebuilt recipes to speed up time-consuming processes. Explore features and pricing in our Rippling review. 
The lack of a mobile app is another drawback. We appreciate the Gusto Wallet app for employees but wish it was more convenient for business owners to process payroll on the go. In comparison, employers can run payroll from iOS and Android devices through the Paychex app. Notably, Paychex offers a voice-activated option as well. Learn more in our Paychex review.  
Methodology
We analyzed dozens of leading payroll service providers to find the best solutions for small businesses. Our investigation involved testing software and interacting with customer service teams. We looked closely at usability, pricing and HR tools. 
To determine the benefits of paperless payroll, we found aspects that made each system stand out. In this case, we paid particular attention to how well Gusto integrated with third-party HR tools like time tracking software and the functionality of native HR features. 
Gusto FAQs
Gusto puts all new payroll clients on two-day payments, but Plus and Premium users can select next-day direct deposits. Also, business owners can change their payment speed to four days if desired. If you run payroll on a holiday or weekend, it will begin processing the next business day.
Gusto uses a redundant banking system so that if one fails or experiences delays, Gusto can fall back on alternatives. It works with leading national banks like JP Morgan Chase and PNC.
Gusto offers an early-access checking mailing beta program available to some customers. It costs $1.50 per mailed check, and team members receive paychecks in five to 10 business days.
Bottom Line
We recommend Gusto for …
Small businesses that want to integrate their current time tracking system with new payroll software.
Companies that need to keep their existing health insurance broker.
HR professionals looking for tools to streamline employee onboarding experiences.
We don't recommend Gusto for …
Business owners that want a mobile app to run payroll or reports from smartphones.
Growing organizations that need hands-on implementation and deployment support. 
Very small teams that require the cheapest payroll solution.