Gusto Payroll Software Review and Pricing
Gusto is one of the best payroll services available, in large part due to its HR tools. The company has built a reputation as a leader in the field of human resources software, and its payroll solution offers a deep slate of add-on HR services. It also integrates with a variety of third-party business software to further customize the system. The vendor is also unique in providing a useful financial management app for employees.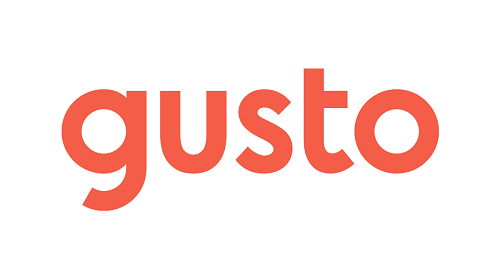 Gusto Payroll Software and Pricing
The Verdict
Gusto is a comprehensive payroll solution that can also handle most of your HR-related needs, which is why it's our choice for the best online payroll service with added HR tools.
Gusto Editor's Score: 9.4/10
| | |
| --- | --- |
| Pricing  | 9.5/10 |
| Customer service | 9.1/10 |
| Third-party integrations | 8.9/10 |
| User interface | 9.5/10 |
| Added HR tools | 9.8/10 |
Why We Chose Gusto as Best for HR Integration
Like many payroll products on the market, Gusto can capably handle all of your payroll processing and payroll tax responsibilities. However, what really makes this platform stand out to us are its human resources add-ons. This cloud-hosted, all-purpose solution combines top-notch payroll services with robust HR software, making it a stellar choice for businesses that need both capabilities and would ideally like it all in one system.
We found Gusto's software easy to use, and we appreciated that the company offers multiple plans that appeal to different business needs. Alongside traditional payroll tools, the HR services include: health insurance administration; time tracking; paid time off (PTO) management; tools to recruit, hire and onboard new employees; and access to certified HR pros who can assist with any HR issue you run into. For these reasons and more, Gusto is our pick for the best payroll software for companies looking for a native HR integration.
The difference between exempt and nonexempt employees may affect whether or not your staff is owed overtime pay. Gusto's HR specialists can help ensure you're classifying and paying team members correctly.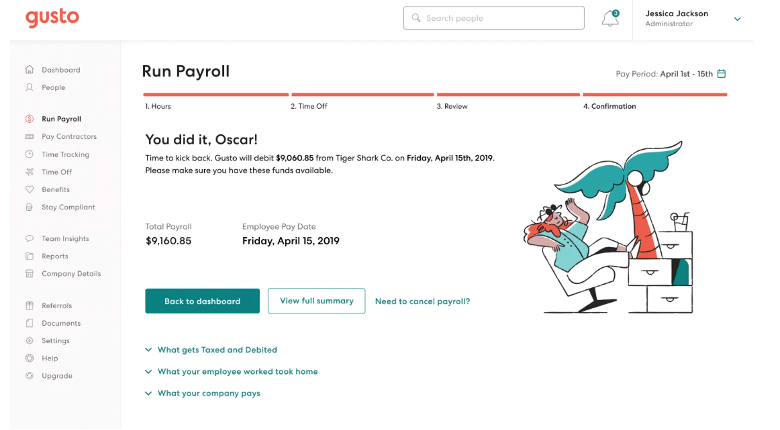 Gusto's intuitive user interface allows you to run payroll in minutes. Source: Gusto
What We Like About Gusto
Gusto boasts not only a powerful and easy-to-use payroll program, but also an integrated suite of HR tools.
Gusto integrates with a wide variety of top business software services.
The Gusto Wallet app is a nice, free add-on to help employees with financial management.
What We Don't Like About Gusto
Gusto's best HR tools are only available in its mid-tier Plus payroll plan and above, not in its entry-level Simple plan.
Although Gusto has a mobile-friendly website, it lacks a mobile app to run payroll on the go.
Gusto doesn't offer a free trial, though you can cancel your month-to-month contract anytime.
Ease of Use
Part of Gusto's appeal is its user-friendliness. The cloud-hosted service doesn't require installing or maintaining any special software; you can access the payroll system from any web browser. The platform is also accessible from any smartphone or tablet, which somewhat offsets the lack of a dedicated mobile app. The homepage prominently features your to-do items, such as Run Payroll and Time-Off Requests. You can easily see or edit employee details and reminders of which contractors need to be paid.
With the Gusto program, you can run payroll within minutes. After logging in, you click on the Run Payroll tab and fill in the number of hours each employee worked, as well as any vacation or sick days taken, bonuses or commissions earned, and expense reimbursements submitted. After clicking Submit Payroll, you'll either receive confirmation that the money is being sent via direct deposit or that you can print paper checks. You can set the system to run on autopilot if you don't have much variation in your payroll each pay period. [Rippling is another payroll service that allows you to process payroll automatically. Read our detailed Rippling review to find out why it's so great for automation.]
Gusto Features
For small business owners, operating a company day to day is difficult enough, let alone dealing with the responsibility of sensitive payroll and HR tasks. Gusto simplifies people management by offering valuable tools for both payroll and HR in one software package.
Payroll Processing
Once you've entered all the necessary information – employee pay rate, hours worked, deductions, and so on – into Gusto, the system automatically calculates the payroll. The only new information Gusto needs each pay period is how many hours each employee worked and any bonuses or commissions earned. We found that payroll can be run in just a few minutes.
You can also take advantage of "Payroll on Autopilot." With this setting, payroll automatically processes each pay period without any additional input from you. You can run payroll monthly as many times as necessary for no extra cost. This flexibility is particularly valuable for employers who have full-time and part-time employees and freelancers, necessitating different pay schedules. We also liked that you'll be charged the same fee for each person you pay; there is no additional cost to pay 1099 contractors versus employees.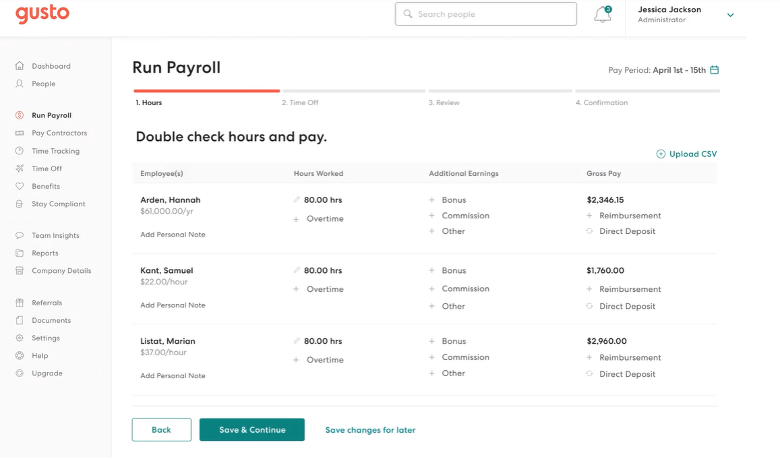 Gusto allows you to run payroll in a few steps. Source: Gusto
Payment Options
Gusto gives you several ways to pay your employees each pay period. For instance, with direct deposit, paycheck amounts are automatically deposited into each worker's bank account. The company also offers an alternative to direct deposit: prepaid debit cards (also known as payroll cards), which you can add funds to on payday. The final option is to print old-fashioned paper checks from your printer. While no special software is needed for this, you will need to buy check stock paper.
Payroll Taxes
Gusto handles all your payroll tax responsibilities and helps prevent payroll discrepancies. The system automatically calculates your payroll taxes and files the completed tax forms with local, state and federal agencies. Gusto also makes all the required payroll payments on your business's behalf. The software also automatically generates all year-end W-2 and 1099 tax forms for employees and contractors. Digital copies of W-2s and 1099s can be sent to each employee and contractor for free.
Paid Time Off
Depending on the service plan you select, Gusto can manage some or all of your tasks related to PTO. Both the Plus and Premium plans can handle time-off requests. With those packages, you can set up vacation and sick time policies and use the software to track employees' accruals and balances. Employees can submit requests for time off in the software, and their managers can approve or deny those requests.
Integrations
Gusto's software integrates with various programs for accounting, time and attendance, expense management, point of sale, tax preparation, business operations, learning and development, hiring, banking, and HR. These programs include QuickBooks, Xero, FreshBooks, TSheets, When I Work, OnTheClock, Deputy, Clover, Shopify and Expensify. Of course, Gusto's best integration is its own – the payroll software seamlessly integrates with the vendor's own HR tools. [See our review of QuickBooks Online and our FreshBooks review to learn more about accounting integrations.]
Gusto Wallet
Regardless of which plan you sign up for, businesses can offer their employees access to the free Gusto Wallet app. Gusto Wallet can be used to deposit paychecks, and it also gives employees several financial management tools to help them track and save their money.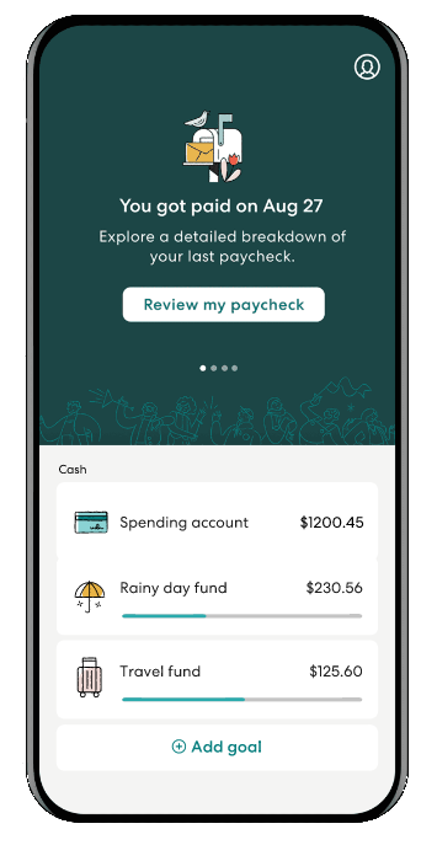 Gusto Wallet brings together paycheck deposits, savings tools and financial management in one mobile app. Source: Gusto
Hiring and Onboarding Tools
All of Gusto's plans include basic hiring and onboarding tools. The software features offer letter templates and onboarding checklists for new hires, and it can also create hiring documents new employees can e-sign. On top of that, Gusto can complete and file all the state-required paperwork for each new employee your company hires.
HR Services
The reason Gusto shines for HR integration is that, alongside its payroll software, it offers a wide range of HR services, including online offer letters and signature documents, employee directories, organizational charts, anonymous employee surveys and survey trend analysis, compliance help, on-demand access to HR professionals, employee relations advising, custom employee handbooks, job description templates, HR guides and policy templates, harassment prevention training, and proactive compliance updates.
In other words, you can get almost everything you'd want in stand-alone HR software in an integrated platform that can also complete all of your payroll tasks.
Additional Services
Other HR-related services available through Gusto include 401(k) retirement plans, 529 college savings plans, health benefits, workers' compensation insurance, health savings and flexible spending accounts, and commuter benefits.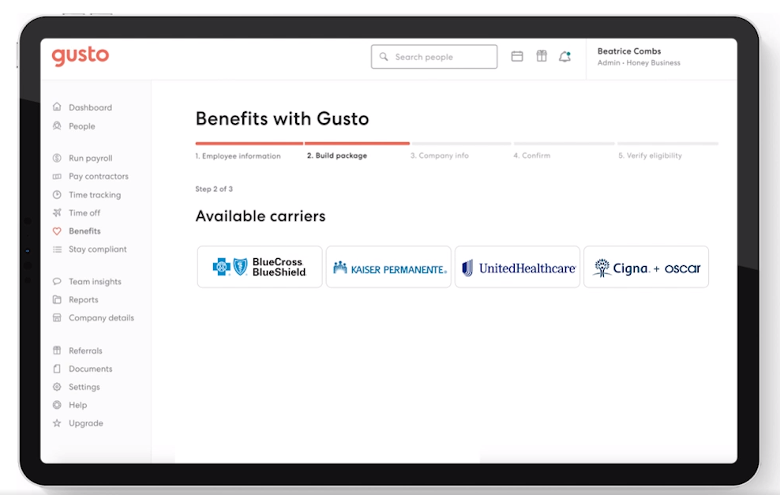 Gusto can help you craft a desirable health care plan for your employees. Source: Gusto
Gusto Pricing
Gusto gives businesses a choice of multiple plans at different price points. While all three options include payroll processing and payroll tax services, only the higher-tier packages include HR features and tools beyond basic hiring and onboarding assistance.
Simple: This plan has a base fee of $40 per month, plus $6 per employee. It includes unlimited full-service payroll across all 50 states, employee self-service, workers' compensation administration, PTO policies, two-day direct deposit, employee onboarding tools, accounting and time-tracking integrations, Payroll on Autopilot, health insurance administration, employee access to Gusto Wallet, and employee offers and document management.
Plus: This level has a base fee of $80 per month, plus $12 per employee. It includes everything in the Simple plan, plus next-day direct deposit, time-off requests, an employee directory and surveys, time and project tracking, and workforce costing reports. For an additional $8 per month per employee, you can add on Gusto's priority support and HR services.
Premium: This is Gusto's most feature-rich plan, and its pricing is customized for each business. The package includes everything in the Simple and Plus plans, more extensive HR support, and on-demand access to HR professionals who can walk you through any questions or issues. It gives you access to an HR resource center that can help you create employee handbooks, job descriptions, HR guides and harassment training. You'll even be assigned a dedicated support team to contact if any problems arise.
Gusto also offers a Contractor Only plan for businesses that only work with independent contractors and freelancers. There is no base fee for this plan – you pay $6 per contractor monthly. This option also allows unlimited payments, gives contractors self-service options and handles all the 1099 form creation and filings.
We really appreciate that there are no contracts with Gusto, and you only pay month-to-month. There are also no setup fees or penalties for canceling the service. This allows you to test the platform and cancel for no charge if it isn't meeting your needs, even though the company doesn't offer a traditional free trial.
Other fees may be incurred for Gusto's added services, which it offers on an à la carte basis. These add-ons include health benefits, retirement savings plans, workers' compensation insurance, 529 college savings plans, health savings accounts, flexible spending accounts and commuter benefits. International payments are also available as an add-on.
Implementation and Onboarding
Based on our experience, business owners and HR professionals won't have difficulty getting set up with Gusto. Although there isn't a free trial, the vendor does offer a demo that gives you a sense of how the software works and feels. You'll find implementation and onboarding straightforward.
Gusto's setup page offers a 12-step checklist for various onboarding tasks. You'll enter information like your company's address, employees, tax and bank information, and pay schedules. If you need assistance but still want to handle implementation largely on your own, Gusto maintains a helpful YouTube channel with step-by-step walk-through videos. Otherwise, reach out to the provider's customer support team for guidance.
Customer Service
To test Gusto's level of customer service, we contacted the company by phone and live chat numerous times to inquire about the software. We found the representatives we spoke to via phone friendly and helpful. At no time did anyone pressure us to commit to the payroll service. Instead, they focused on our needs, listened to our questions, and gave detailed answers that left us with a clear understanding of what Gusto offers and how the platform works.
We also tested Gusto's live chat support. Each time we sent a question, we received almost immediate attention. This contrasts with live chat tools from other companies we evaluated, where we waited a long time before getting in touch with a representative. It should be noted that while you can call, email or chat with Gusto's support team, the available hours are limited if you're on the Simple plan. The Plus package grants you access to support during extended hours, while the Premium level gets you not only that but also priority support – meaning assistance is expedited and you'll have a dedicated customer success manager on your side.
In addition to personal attention, Gusto provides several helpful resources on its website, including a demo of its payroll software. The site includes a help center and answers to frequently asked questions as well.
Limitations
One downside of Gusto is that its entry-level plan, the Simple package, includes fewer features than other services we reviewed. Several rivals offer a broader set of features at similar pricing. If you want more advanced tools, including more of Gusto's desirable HR features, you must upgrade to the Plus or Premium plans. Gusto might not be the most budget-friendly choice, but it could be great value for business owners that really need an integrated payroll and HR management program.
Although Gusto has a mobile-friendly website, it doesn't have a dedicated mobile app for processing payroll. This is an important aspect to keep in mind for business owners or HR professionals who want to do a lot of payroll work on the go. The Gusto Wallet app is meant for employee usage. For a company with a highly rated mobile app that serves both employees and employers, including letting you run payroll, see our review of Paychex.
Methodology
We researched and analyzed leading payroll service providers to find the best products for small businesses. These investigations included demos and free trials whenever possible, a close look at user reviews, and interactions with each vendor's customer service teams. We evaluated each offering's payroll procedures, usability, integrations, reports and HR tools, along with the available pricing plans. To find the best platform for business owners seeking a payroll solution that integrates with HR software, we paid particular attention to HR features and how well one system could serve both HR and payroll needs.
FAQs
How long does Gusto take to pay?
Gusto takes two business days to complete payments, but in some cases, next-day payments are possible. Payments started on a weekend or holiday will begin processing the next business day.
How much does Gusto charge for W-2s?
Gusto charges $2 per person to mail a hard copy to each employee individually. Alternatively, you can deliver W-2s electronically or print them yourself for free.
Does Gusto mail paper checks?
Gusto can mail paper checks to employees and contractors for $1.50 per check. However, they may take up to 10 business days to arrive.
Bottom Line
We recommend Gusto for …
Businesses that want a payroll service combined with a full suite of HR tools.
Companies that want a payroll platform offering plenty of integrations with other business software services.
Organizations that want to provide employees access to financial management help.
We don't recommend Gusto for …
Companies on a budget can do without the HR add-ons.
Business owners or HR professionals that want to conduct a lot of work via a mobile app.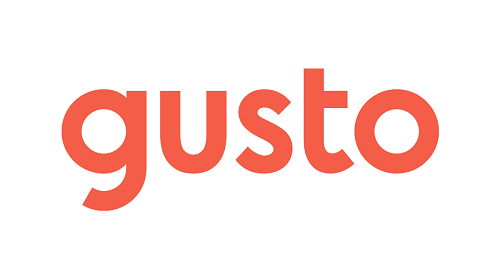 Gusto Payroll Software and Pricing
The Verdict
Gusto is a comprehensive payroll solution that can also handle most of your HR-related needs, which is why it's our choice for the best online payroll service with added HR tools.

Mike Berner is a staff writer at business.com and Business News Daily specializing in finance. Mike has a deep background in the financial world, having written hundreds of articles and blog posts on financial markets, business and investing. He holds a B.A. in economics and a B.B.A. in finance, both from the University of Massachusetts, Amherst. Prior to his writing career, he performed quantitative analysis and research as an economic analyst.