RingCentral Business Phone Service Review
By Chad Brooks
Last Modified: January 8, 2019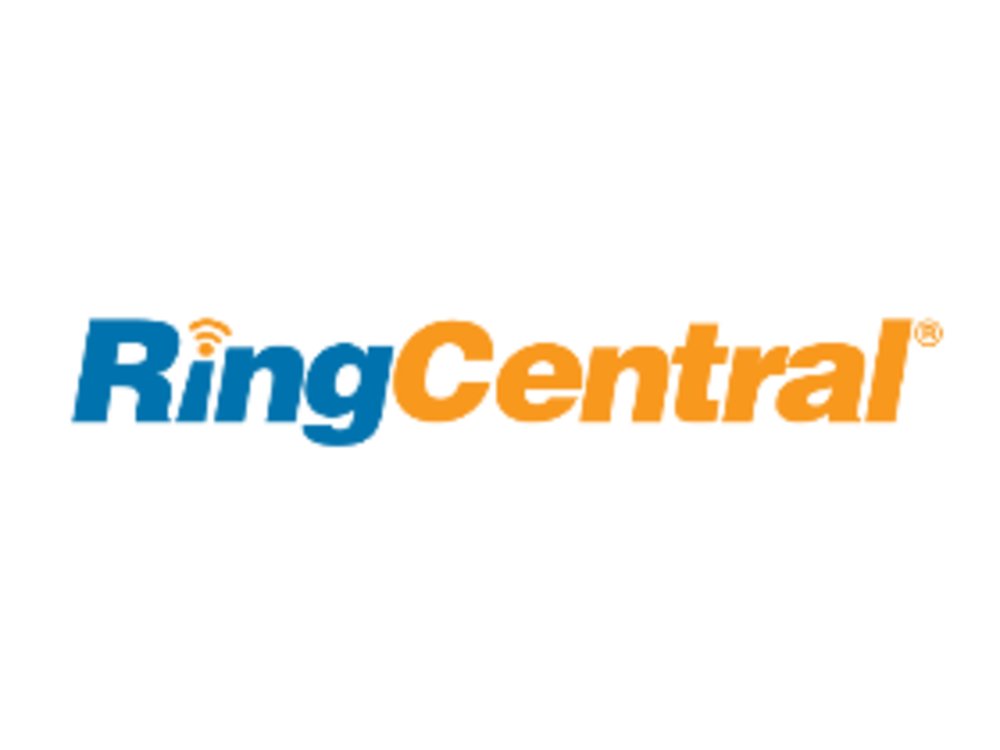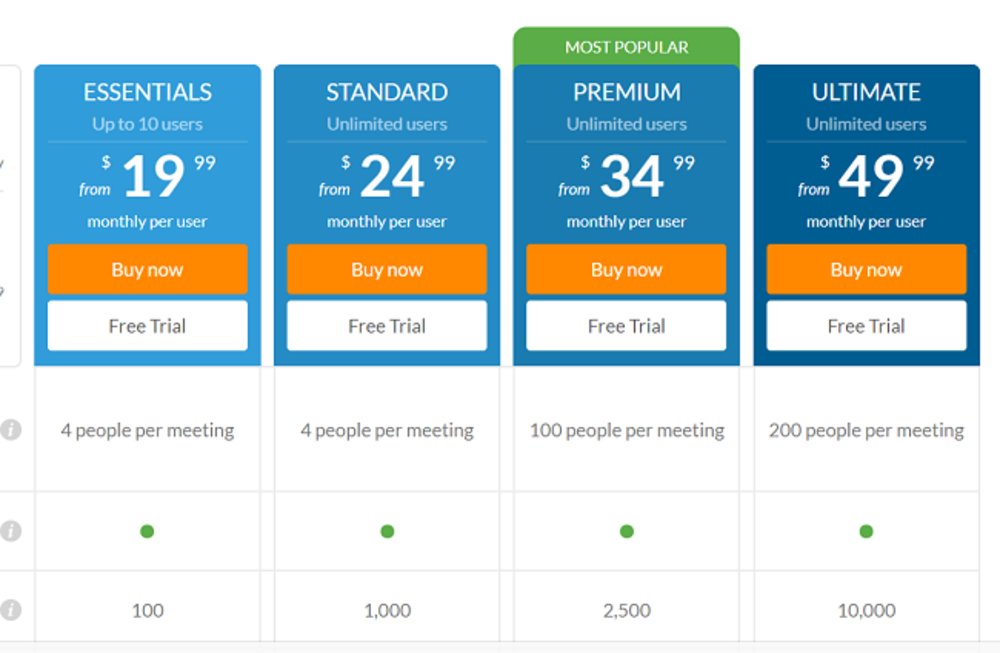 RingCentral offers four different pricing packages, all of which vary depending on how many people are using the phone system.
You can add extra features for additional charges.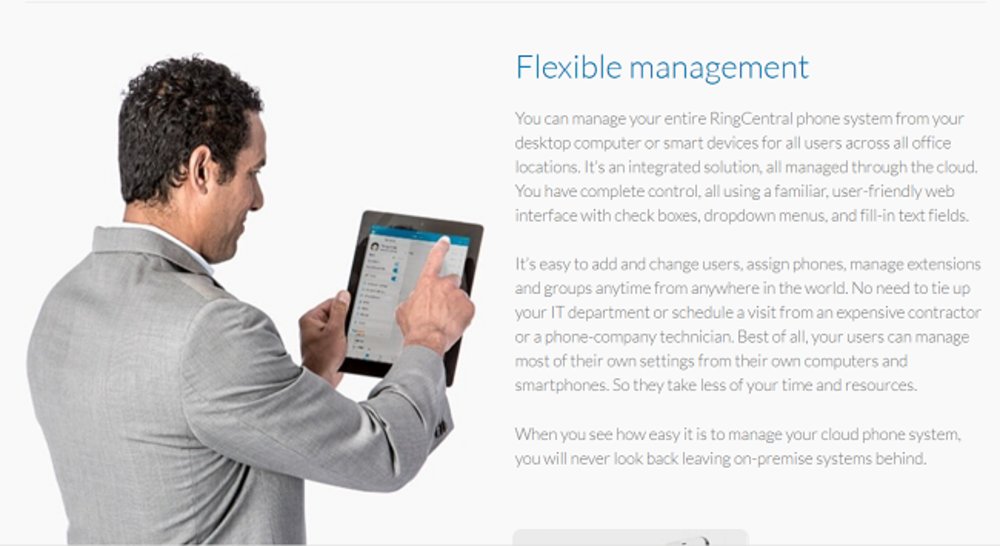 The company offers several options for managing the phone services.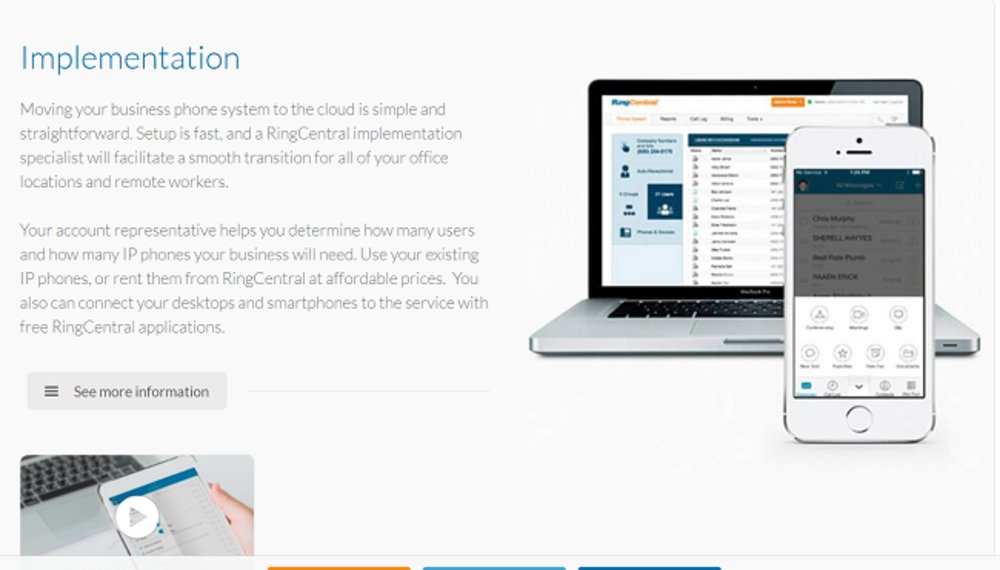 RingCentral's implementation process is straightforward and simple.
When looking for a business phone service, you want one that is reliable and has all the essential features, tools and customer support. You want a system that can handle all of your business phone system needs. This means a system that is easy to use, has a high uptime, and multiple service plans so you can find one that suits your needs and budget. You want to work with a provider that can handle not just your office phone system needs, but contact center and virtual system needs if you have them.
The best business phone services also offer all of the calling, collaboration and mobile tools you may need. These include the ability to forward calls to different devices, voicemail transcription, call recording, CRM integrations, call queuing, auto attendants, IVRs and extension dialing. You can read why we believe RingCentral is the best business phone service below.

RingCentral
The Best Business Phone Systems of 2019
The Verdict
RingCentral is our choice as the best business phone service because of its ease of use and wide selection of features. It is also our selection for the top conference calling service within a phone system because of its support for up to 1,000 callers.
Compare Quotes ▶
Why RingCentral?
RingCentral is our choice as the best business phone service because it's a robust cloud-hosted VoIP phone system and a great option for businesses of all sizes. The system offers nearly every calling, collaboration, and mobile feature and tool businesses would want from a phone system. Since it is housed in the cloud, there is no equipment to install, and RingCentral takes care of all the maintenance and upgrades. Add in its conference calling, contact center solutions and virtual services for a complete selection of phone system services. RingCentral Office offers four different service plans that vary in price and included features.
View all our recommendations for business phone systems and conference call services on our best picks pages.
Competitive Pricing and Terms
RingCentral offers a multiple service plans that can fit the budget of a wide range of businesses. The service is available in four different plans that vary in price and features. All of the plans include unlimited calls in the U.S. and Canada, unlimited business text messaging, access to mobile apps for iOS and Android devices, HD voice, visual voicemail, voicemail-to-email, file sharing, instant messaging and chatrooms, 24/7 customer support, and integrations with Microsoft, Google, Box and Dropbox. Here is how each plan differs.
The cheapest option is the Essential plan, which is available to businesses with 10 or fewer employees. This plan is $29.99 per user per month and includes 100 toll-free minutes and video meetings with up to four participants at a time.
For businesses with 2-99 employees, the Standard plan is $34.99 per user per month and includes everything in the Essentials plan, as well as 1,000 toll-free minutes, a multilevel auto-attendant, call logs and online faxing.
The Premium plan, for businesses with 2-99 employees, is $44.99 per user per month and includes everything in the Standard plan, plus 2,500 toll-free minutes, video meetings for up to 100 people, automatic call recording, multisite support, custom app development and deployment, single sign-on, voicemail transcription to text, and integrations with Salesforce, Zendesk and Desk.com.
The most expensive option is the Ultimate plan, which costs $59.99 per user per month and includes everything in the Premium plan, plus 2,500 toll-free minutes and video meetings for up to 250 people.
Prices drop by $2 to $10 per user, depending on the plan, for businesses with more than 100 employees.
You have the option of paying month to month without a contract or signing a multiyear contract. The benefit of the contract is a per-user discount. For example, if you sign a contract and choose to pay annually instead of monthly, you save 33 percent per user.
Businesses have the option of buying or renting phones from RingCentral. Desk phones from RingCentral range from $80 to $400 each. They can be rented for $5 to $21 per month.
RingCentral offers all users a 30-day risk-free trial.
RingCentral Features
RingCentral has an extensive set of features and tools. Overall, the service includes more than 50 calling, collaboration and mobile features.
The service offers all of the standard calling features businesses are looking for in a phone system, such as caller ID control, one-touch calling, call recording, call flip, call park, call screening, intercoms, paging, call logs, message alerts, missed-call notifications, auto receptionists, multilevel IVRs, call reports, on-hold music, answering rules, extensions and the ability to forward calls to multiple devices.
There are several voicemail options, including traditional voicemail, voicemail-to-email, visual voicemail and voicemail transcription to text.
The system integrates with a number of popular programs, including Box, Desk.com, Dropbox, Google, Microsoft, Okta, Oracle Sales Cloud, Salesforce, ServiceNow and Zendesk.
Among the collaboration tools are audio and video conferencing, presence, instant messaging, and Glip, a dedicated team workspace where employees can communicate, share files and assign tasks.
The RingCentral mobile app, available on iOS and Android devices, lets employees make and receive calls from their business lines, send and receive faxes and texts, set up and join conference calls, check voicemail, change their individual settings, and receive notifications.
RingCentral also offers a softphone. This lets employees make and receive calls from their computers. These calls can be made from computers in the office or laptops outside of the office that are connected to the internet. To use the softphone, all you need to do is plug in a headset or use the computer's speakers and microphone. You can also use the softphone for conferencing and online faxing. In addition, when using the softphone, you can switch calls automatically to your desk phone or mobile device. Other features available with the softphone are the ability to listen to voice messages while the caller is saying them, send callers text-to-speech messages and record calls.
For businesses needing contact center service, RingCentral allows you to tack those tools on to your RingCentral Office plan. The contact center offerings include IVR, call distributors, outbound dialing and preview, and progressive and predictive dialers. The contact center services are available in three plans: Basic, Advanced and Ultimate.
Businesses that want a business phone system but don't need a robust traditional system can use RingCentral Professional. This is a virtual service that connects customers and clients who call a main business number to an employee's cell or home phone.
RingCentral Meetings is the company's newest offering. This allows businesses not interested in the phone system to access the company's collaboration tools. RingCentral Meetings includes the ability to host online meetings with up to 100 participants. Features include screen sharing, HD video and team messaging. The service works on computers and mobile devices.
Conference Calling
In addition to being our top choice for a business phone service, RingCentral tops our list of the best conference calling services within a phone system.
Each user has access to their own conference bridge. This means that each employee can host unlimited conference calls with up to 1,000 participants. You don't have to worry about limiting your guest list or running out of minutes. The 1,000-caller limit is significantly higher than the thresholds of the other phone systems we reviewed. Employees can also host conference calls at the same time.


RingCentral's conferencing service is reservationless, which means you can hold calls instantly at any time. While you can still schedule conferences in advance, this gives you the option of hosting an impromptu meeting when the need arises.


Those who host a conference call can manage the meeting via the RingCentral online portal. From the portal, you can see who is on the call and mute callers when necessary.


When you are hosting a call, you can record your conference free of charge and listen to it later. You can also share your recordings with anyone who was unable to attend the conference.


When you set up your conferencing preferences, you can select "enable join before host," which lets the call begin and continue without you or another host being present. You can also enable settings that lock the call once it has started and everyone has joined. This means that no one else will be able to enter your call. In addition, you can enter lecture mode, which lets you mute all the attendees' lines at once. Your guests can still hear you, but you or anyone else in the call will not be able to hear them. This is a useful feature for large meetings where there could be a lot of background noise.


You can send invites via Microsoft Outlook or your email provider. You simply click the Invite With Email tab, and RingCentral generates an email with the dial-in number and the participant access codes.


If you are hosting a call with participants located outside the U.S., they can dial in using local numbers. RingCentral offers local numbers in more than 50 countries.


RingCentral makes it easy to join conference calls from mobile devices. The meeting host can tap a button on their phone to instantly join the conference. This saves you the hassle of entering the dial-in number and host access code. Meeting participants can also easily join by tapping their text message invitation, so they don't have to enter the meeting phone number or access code either.
The biggest missing feature from RingCentral's conference calling service is operator-assisted calls. With this option, you'd have a representative from the service to set the call's itinerary, greet callers and take down their contact information, moderate Q&A sessions, and provide transcripts. If your company hosts large meetings that need this type of dedicated attention, you will need to find a provider that specializes in conference calling services.

RingCentral
The Best Business Phone Systems of 2019
The Verdict
RingCentral is our choice as the best business phone service because of its ease of use and wide selection of features. It is also our selection for the top conference calling service within a phone system because of its support for up to 1,000 callers.
Compare Quotes ▶
Ease of Use
RingCentral is a cloud-hosted system that doesn't require any special equipment or wiring.
All you need to use the system is a high-speed internet connection with enough bandwidth to handle the number of calls your business makes. RingCentral recommends that you use a high-speed DSL, cable, or fiber optic connection with dedicated upload and download bandwidth for voice of at least 90Kbps for each voice line.
You don't need a dedicated IT team to maintain this system. RingCentral handles all of the maintenance and upgrades.
Part of what makes RingCentral such a solid business phone solution is its reliability. It boasts a 99.999 percent uptime, the highest possible for cloud-hosted phone systems. This means the service is down for just a handful of minutes each year.
The business phone system provider has 17 data centers worldwide. Should one center have a problem or be shut down, customers will have no loss of service because the data will be instantly transferred to one of the other centers. Each data center is monitored 24/7 and staffed by onsite engineering specialists and security guards.
RingCentral allows number porting. Businesses with an established phone number can transfer the number over to RingCentral after signing up for the service. When transferring numbers, businesses choose a temporary number to use until the porting process is complete. RingCentral says the time it takes to transfer a number depends on your previous provider, but the process typically takes 2-4 weeks.
You control the system entirely from the online portal. Once logged in to the portal, administrators can assign employees numbers and extensions and create ring groups. Employees can also log in to change their own personal settings and make calls from their computers using a softphone.
Users are encouraged to set their mobile phone as a forwarding number. By doing this, you won't miss any calls should your business lose power or its internet connection. All calls will automatically be forwarded to a mobile phone in those situations.
Customer Support
The customer support we've received from RingCentral has been hit or miss. During our research, we contacted the company multiple times by phone, email and live chat, posing as a business owner interested in phone service. While most of our interactions have been positive, we did have a couple of calls and chats that were less than helpful. We noticed that our most recent interactions with the company had significantly improved from our first calls and chats, which we view as a positive.
In our recent interactions with RingCentral, all of the representatives we dealt with were extremely helpful. They answered our calls immediately and provided in-depth answers to all of our questions. They also highlighted points we hadn't thought to ask about. By the end of our calls, we had a clear understanding of how RingCentral works, all the features it offers and its price points.
The RingCentral website includes a wide array of valuable information, such as FAQs, videos, case studies, webinars and whitepapers. The company provides phone support 24/7 to RingCentral Office users with two or more users. Phone support to RingCentral Profession and RingCentral Office plan members with just one user is available between 8 a.m. and 9 p.m. EST Monday through Friday.
Drawbacks
Some of our initial interactions with the customer support team left a lot to be desired. At that time, the representatives had a hard time answering our questions and left us more confused about the service than enlightened. However, since those first calls, we have contacted the company close to a dozen other times. Each time, we found the service improved. We find it comforting to know that the support team has improved on the areas where we thought it fell short before.
We were also concerned with the number of complaints filed against RingCentral with the Better Business Bureau. As of June 2018, 221 complaints had been filed against the company over the past three years. Of those, just 72 were resolved to the satisfaction of the complainants. Despite the complaints, RingCentral is BBB accredited and has an A+ rating. Such a high rating means that the company is addressing all of these complaints, and while it might not be able to provide everyone with the solution they demand, it's at least attempting to resolve the issue to everyone's satisfaction.
Editor's note: Looking for a business phone system? Click the Compare Quotes button below to have our sister site BuyerZone connect you with vendors that can help.

RingCentral
The Best Business Phone Systems of 2019
The Verdict
RingCentral is our choice as the best business phone service because of its ease of use and wide selection of features. It is also our selection for the top conference calling service within a phone system because of its support for up to 1,000 callers.
Compare Quotes ▶
Ready to choose your The Best Business Phone Systems of 2019? Here's a breakdown of our complete coverage:

Chad Brooks
Chad Brooks is a Chicago-based writer and editor with nearly 20 years in media. A 1998 journalism graduate of Indiana University, Chad began his career with Business News Daily in 2011 as a freelance writer. In 2014, he joined the staff full time as a senior writer. Before Business News Daily, Chad spent nearly a decade as a staff reporter for the Daily Herald in suburban Chicago, covering a wide array of topics including local and state government, crime, the legal system and education. Chad has also worked on the other side of the media industry, promoting small businesses throughout the United States for two years in a public relations role. His first book, How to Start a Home-Based App Development Business, was published in 2014. He lives with his wife and daughter in the Chicago suburbs.