EZ Texting Review and Pricing
EZ Texting is a well-executed, feature-packed text message marketing platform. What makes the platform stand out to us against its competitors is how intuitive it is. New users inexperienced in marketing or not confident with technology should be able to get up to speed quickly. It has native integrations with HubSpot, Constant Contact, Squarespace, Shutterstock and Mailchimp. The company has over 150,000 loyal clients, and it's our choice as the text messaging platform that's the easiest to use.

EZ Texting and Pricing
The Verdict
EZ Texting is the most user-friendly text messaging platform we've reviewed, with an impressive range of built-in marketing features. However, it can be pricey, and you'll need a working knowledge of Zapier to get it to work with other software.
EZ Texting Editor's Score: 8.2/10
| | |
| --- | --- |
| Pricing | 8/10 |
| Ease of use | 8/10 |
| Functionality | 9/10 |
| Segmentation | 8/10 |
| Customer service | 8/10 |
Why EZ Texting Is Best for Ease of Use
From the get-go, EZ Texting is simple to use. Its developers assumed that users will have no prior knowledge of how to use a marketing platform when they were designing the interface. There are prompts everywhere telling you what you need to do. There is no more user-centric system than this. Additionally, this is a fully featured system that is comparable to other leading text message marketing platforms.
On its website, there is lots of information written in plain English. But because using the platform is so intuitive, you probably won't need it. We also really appreciate the sheer volume of industry-specific content the company provides regarding how to make money with text messaging.
When reviewing the best text message marketing services, we considered many different factors, including price, built-in features, integration with other software, ease of use and customer service.
What We Like About EZ Texting
The many built-in features and tools add value to a business.
It's easy for those with little experience in marketing to get up to speed quickly.
EZ Texting has by far the best template library we've seen.
It offers numerous integration options.
What We Don't Like About EZ Texting
Unused text messaging credits don't roll over to the next month.
It has only a handful of native third-party app integrations. Over 3,000 others are available, but they require a working knowledge of Zapier.
The per-text rates can be higher than those of some competitors.
Ease of Use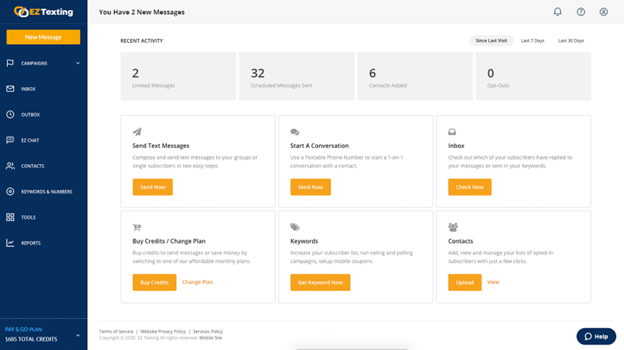 The EZ Texting dashboard is simple to understand and navigate. The company has adopted a clean and minimalist design for its dashboard, and it works very well. We could tell that a lot of thought has gone into the user experience on the platform. When testing out the various features, we needed fewer clicks to get where we wanted and consulted the learning center the least compared to other systems. We like how some of the related tasks and features are bundled together logically.
If you are switching from another provider, you shouldn't have many issues. Uploading your contacts to EZ Texting is quick. There's a custom CSV (Excel-type) template that you can upload. You can also grab contacts directly from Constant Contact and HubSpot.
The online learning center is impressive. There are a dozen short videos that walk you through the features of the platform. There's a thorough "getting started" section that is very helpful. And we love the 22 sections containing industry-specific text marketing advice for businesses ranging from bars and nightclubs to wedding service providers.
There are direct integrations with top CRM software, like HubSpot, and highly rated email marketing software platforms, such as Constant Contact and Mailchimp. The software can also integrate with web design platforms Squarespace and Shutterstock. Additionally, you can connect to more than 3,300 other third-party apps via Zapier. For business owners who want to develop their own integrations, there is a REST API with thorough documentation.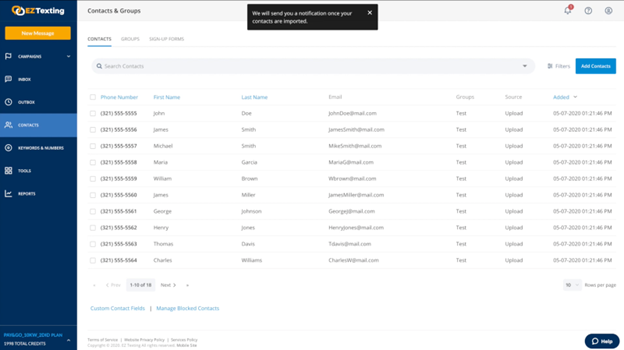 EZ Texting Features
EZ Texting offers a number of valuable features and tools.
Keyword Selection
If you offer five different types of products, for example, you could choose a keyword for each one with EZ Texting. Then ask your customers to text you the keyword or keywords they're most interested in when they subscribe. We found it easy to add new keywords to EZ Texting and set an automated reply for when someone new joins.
Drip Campaigns for New Subscribers
Email drip campaigns, where you send a sequence of messages to subscribers over time, work really well. You can do exactly the same with SMS drip campaigns using EZ Texting. Select "Drip campaign" from the "Campaign" drop-down menu. Create a new campaign and add one or more groups of subscribers to it (you can add more later if you want). Set the length of time between when someone subscribes and when they get their first drip message and subsequent messages. You can add trackable links to drip campaigns to monitor which subscribers visit your website as a result of getting a message.
Bulk and Recurring Texting
You can reach a large audience quickly with EZ Texting's easy-to-use bulk texting option. We like that you can select the group or groups you want to target and personalize text messages with contact fields like first name and last name for greater engagement.
Messages can be sent immediately or scheduled for later. EZ Texting also allows you to choose to turn a bulk message into a recurring message – something not all platforms provide.
According to Zipwhip, 98% of text messages are opened, compared with just 20% of emails.
Text-to-Landline
You can set up your existing landline number to receive texts. By doing so, your messages will appear in your EZ texting inbox when a customer messages your landline.
Two-Way Conversation Tool
Each platform we reviewed has a great inbox function, but EZ Texting's is the best. Start a two-way conversation by clicking the "New Message" button. This button is on permanent display – no need to navigate through a menu. Search for the person you want to message by name or number. Then write your message and send it.
We were impressed how you can also add emojis and pictures (MMS only) from a panel above the message box. Additionally, you can directly access templates, a handy shortcut most other platforms lack. If you write something new that you really like and want to use again, you have the option of saving it as a template in the message box.
When anyone texts you, their messages appear in your inbox together with your entire conversation history with that person.
MMS Support, Photo Library and Image Editor
MMS messages boost shareability and engagement, and MMS is built into the EZ Texting platform. MMS messages have room for up to 1,600 characters as well as pictures, GIFs, and audio and video clips. When comparing MMS messages and SMS messages, MMS messages often get higher response rates.
You can choose from up to 20 million Shutterstock images to use in your MMS messages. We also like the Canva-like function that allows you to create branded announcements, invitations and promotions. There are also MMS design templates you can choose to edit.
QR Codes
QR codes on EZ Texting are very flexible. When testing the platform, we found that all you have to do is select "Tools" from the navigation menu then select "QR code generator." You can create QR codes that do the following:
Create a new text on a user's phone containing a keyword they can then send to you to opt in.
Direct a user to a webpage, perhaps one with a special offer or a loyalty program.
Input your number into a user's phone so they can call you.
In a study by The Drum and YouGov, 75% of consumers indicated that they will use QR codes in the future.
Delivery Reports
EZ Texting's marketing analytics provides a level of detail beyond what most businesses actually need, but it's not as comprehensive as other platforms. You can track opt-in and opt-out levels, clickthrough rates from URLs included in text messages, reply rates, bounce rates, and more for specific campaigns and time frames.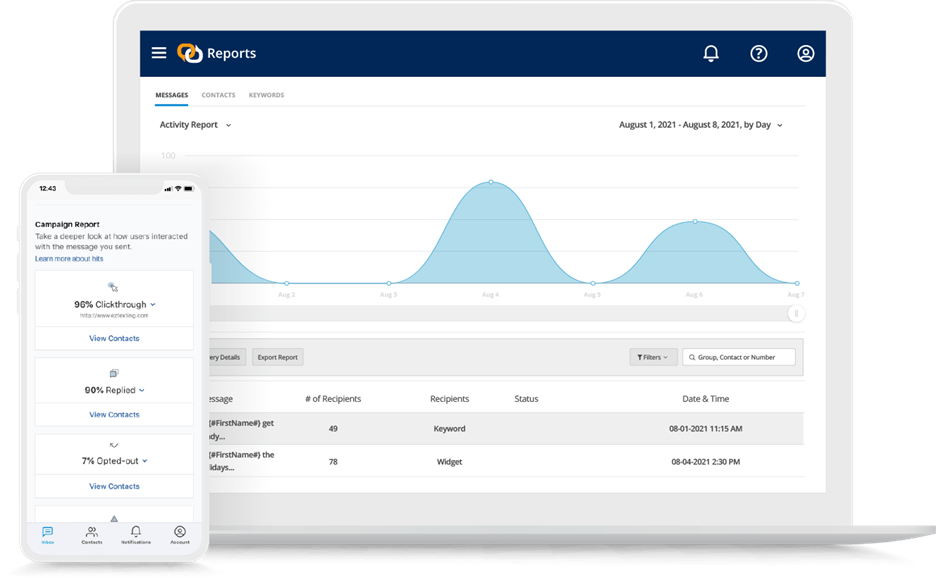 EZ Texting Pricing
EZ Texting has four service plans, all with two-way texting.
Plan
Price per month (paid annually)
Users
Keywords
Textable numbers
A2P numbers
Features
Value
$24 ($19)
1
1
1
0

Unlimited contacts
Custom data fields
List segmentation
Opt-out management
Text forwarding
Message template library Keywords
Auto replies
Text scheduling Integrations
Zapier integration
Mobile app Teammate Manager

Essentials
$36 ($29)
2
3
2
0

Everything in Value
MMS messages
Shutterstock photos for MMS
MMS image editor
Web sign-up forms
Link shortener and tracking Analytics

Premium
$61 ($49)
3
6
3
1

Everything in Essentials
Recurring texts
Drip campaigns
API access

Custom
$374 ($299)
Custom
Unlimited
Custom
Custom

Everything in Premium
Managed accounts
Custom plans may be better for …
Businesses that text in significant volumes.
Franchises.
Companies with multiple locations and/or departments.
Agencies managing multiple clients.
You get 200 inclusive texts per month regardless of the plan you choose. EZ Texting charges the following for additional texts:
| | | |
| --- | --- | --- |
| Annual credits (month) | Annual cost | Cost per credit |
| 18,000 credits (1,500) | $483.60 | $0.03 |
| 30,000 credits (2,500) | $828.00 | $0.03 |
| 60,000 credits (5,000) | $1,670.40 | $0.03 |
| 120,000 credits (10,000) | $3,292.80 | $0.03 |
Price-wise, EZ Texting does not fare well once you start sending 2,700 texts per month or more. Sending the maximum number of texts on the most expensive service plan costs $0.056 per text when all standard costs are considered, which is significantly more than the $0.012 per text that Textedly charges, as you can read about in our Textedly review. Unused credits do not roll over to the following month.
Here are some other charges:
Additional numbers: $25 per number per month
Additional users: $20 per user per month
Additional keywords: $25 per keyword per month
EZ Texting offers a 14-day free trial with 50 messages and one keyword.
Implementation and Onboarding
We found signing up for EZ Texting to be quick and hassle-free. At sign-up, you will be asked for your name, contact details and password to get started. You don't need to provide a credit card. It assumes you want the free trial, but you can select any plan.
Your account will then be immediately activated. You will also receive an email from the company with links to its "Getting Started" section, a video on how to send your first message in less than five minutes and links to the help center.
We like that you don't have to download anything to use EZ Texting. It's all done from within a standard web browser. You can't customize the dashboard, but that's true of all the services we reviewed.
You can add extra users to your EZ Texting account via the Teammate Manager function for $20 per user per month.
If you have multiple locations or departments, you can create additional user accounts for the people in those locations or departments to use. Use keywords like the location of a branch so that, when someone subscribes, they're put in the right account holder's texting list.
Customer Service
You can contact EZ Texting's customer service team between 9 a.m. and 5 p.m. ET on weekdays via telephone, email and web chat, but it is difficult to contact someone. We tried the web chat a couple of times during our trial and received very quick replies, although you do often have to go through a chatbot first before being connected with a human being.
Limitations
We'd like to see an automated appointment reminder feature. EZ Texting is not the only provider that lacks this feature. There is a Zapier integration that can do this, but, if you don't know how to use Zapier, you're stuck unless you pay a developer to help.
Cost is also a potential disadvantage. Depending on your texting volume, texts can get expensive, and they don't roll over to the next month. Adding additional users and keywords to an account is also costly.
While the amount of support material offered on the site is impressive, it would be great if there were human support during off-hours. We're sure that customers such as restaurants and bars would value that.
Methodology
We spent several weeks researching the top text messaging services to determine the best solutions. As part of our analysis, we looked at ease of use, features, pricing, customer support and integrations. To determine the text messaging service that is easiest to use, we specifically examined how clear onscreen instructions were for each function, the level of online support documentation for new users, and integrations with other popular software.
EZ Texting FAQs
Is EZ Texting HIPAA-compliant?
To be HIPAA-compliant, you should never use EZ Texting to text a patient's medical condition. That's because SMS messages are unencrypted and may go to the wrong number. EZ Texting recommends that medical professionals use its service for generic appointment reminders, promoting open days and improving staff communication.
Is EZ Texting free with Constant Contact?
EZ Texting offers a 14-day free trial when you sync your lists with Constant Contact. Standard charges apply thereafter.
What are EZ Texting credits?
You can use EZ Texting credits to send out SMS and MMS messages from the platform. One SMS message is equivalent to one EZ Texting credit, and one MMS message is equivalent to three credits.
Bottom Line
We recommend EZ Texting for …
Small businesses for which ease of use is more important than price.
Small business owners with very little experience in marketing.
We don't recommend EZ Texting for …
Businesses that send tens of thousands of messages per month.
Service-based companies that want to send automatic appointment reminders by text.

EZ Texting and Pricing
The Verdict
EZ Texting is the most user-friendly text messaging platform we've reviewed, with an impressive range of built-in marketing features. However, it can be pricey, and you'll need a working knowledge of Zapier to get it to work with other software.

Mark Fairlie
Contributing Writer
Mark Fairlie has written extensively on business finance, business development, M&A, accounting, tax, cybersecurity, sales and marketing, SEO, investments, and more for clients across the world for the past five years. Prior to that, Mark owned one of the largest independent managed B2B email and telephone outsourcing companies in the UK prior to selling up in 2015.