EZ Texting Review
By Business.com Editorial Staff
Last Modified: March 21, 2019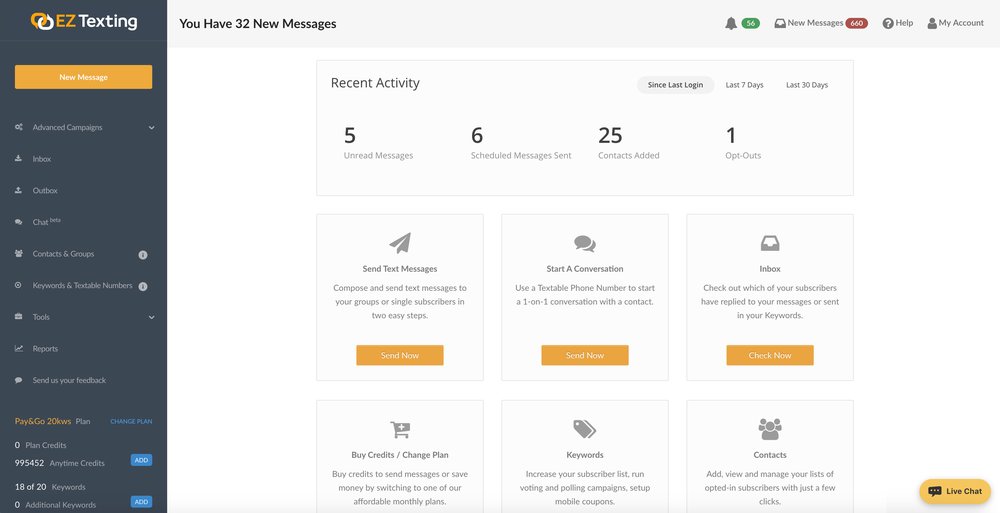 The EZ Texting dashboard is well organized and makes sending online texts easy.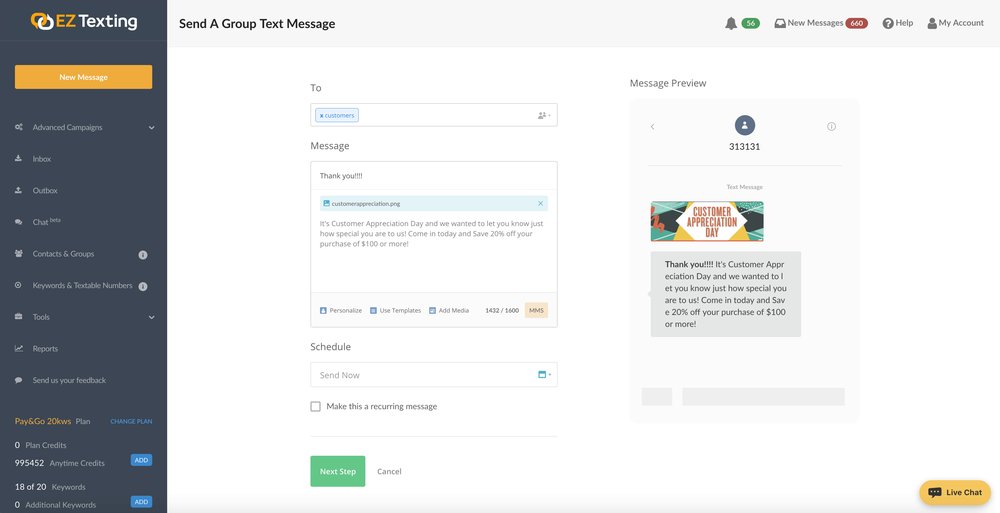 You can easily compose a text message to send to your customers. On the right, you can see how your text message will appear.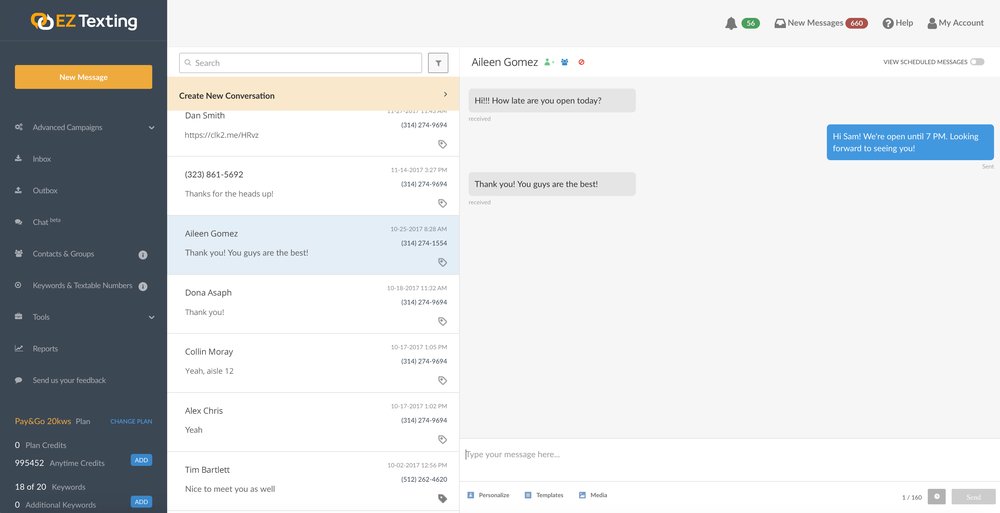 You can use EZ Chat to communicate with your customers.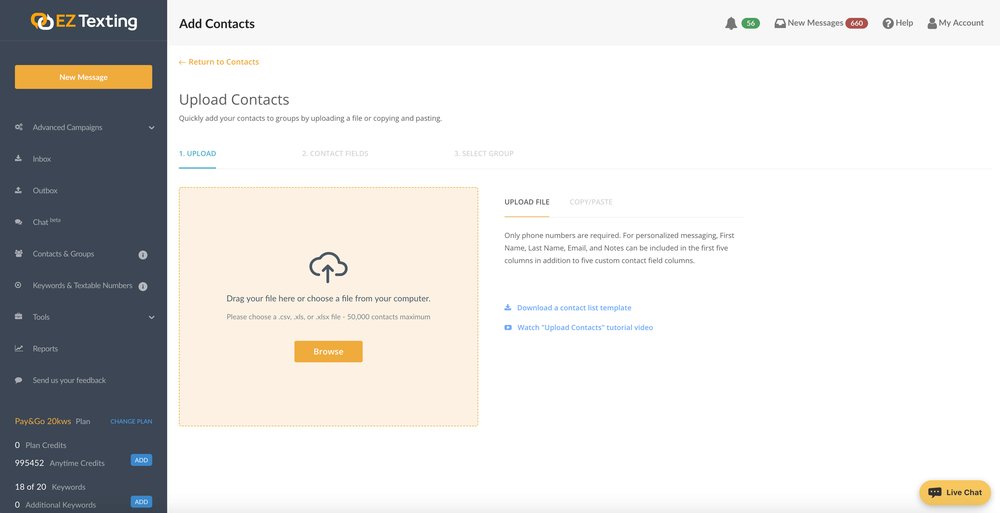 It is easy to upload contacts in the online dashboard.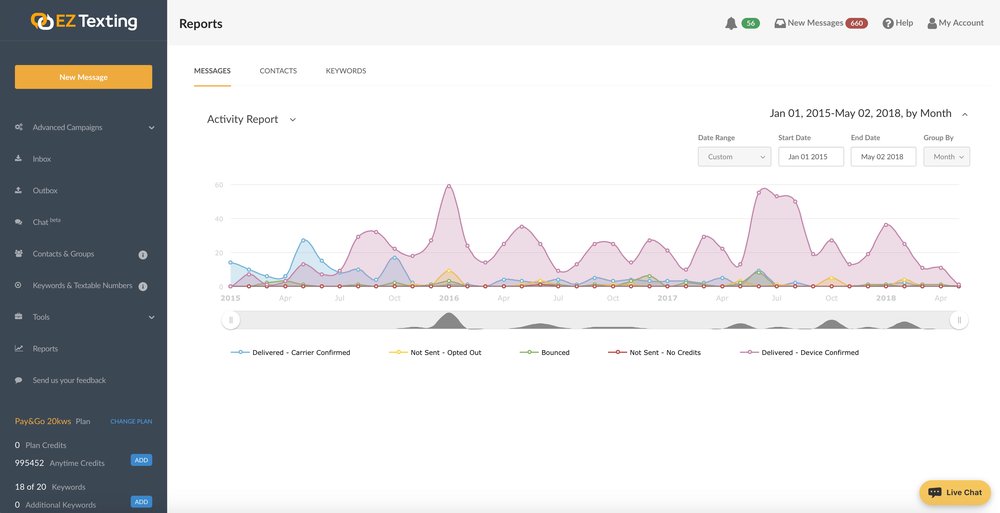 EZ Texting stats let you see the texts sent, messages received and current contact counts as well as other analytic data.
From a features standpoint, EZ Texting performs quite well. It contains all of the necessary features to jump-start a mobile marketing campaign and present it in a simple and intuitive form. You can personalize messages to fit your text message marketing campaign's design and add an unlimited number of groups and contacts. EZ Texting makes tracking groups easy, with keywords and group sorting. You can also schedule messages to be sent far in advance, for example, in August you can plan and schedule a campaign for sales in November.
This SMS service provider offers most of the reporting tools we looked for; it is only missing the delivery-notification function. Delivery notification alerts you when messages are successfully sent, so you do not waste your message allotment on spam accounts or wrong numbers. EZ Texting does offer keyword reporting, a report few other services on the lineup offer. Keyword reports help you find the most popular keywords to draw customers in.

In the event that you encounter an issue or are uncertain how to proceed in creating an effective mobile marketing campaign, you can request assistance from EZ Texting's support representatives via phone, email and live chat. For additional assistance, you can navigate to the knowledgebase, which is accessible from any page by clicking the Help button at the top-right corner of the screen. This took us to a database of instructions for performing various tasks in EZ Texting. The tutorials provided are by no means comprehensive, but they offer step-by-step instructions on using basic features and also discuss some aspects of the service with regards to mobile marketing. For example, there is one article that discusses keywords and how they can benefit your mobile marketing strategies.
EZ Texting is a service that helps you control your mobile marketing campaigns. The tools and resources provided by this text message marketing service are easy to find and easy to use.

Business.com Editorial Staff
The purpose of our community is to connect small business owners with experienced industry experts who can address their questions, offer direction, and share best practices. We are always looking for fresh perspectives to join our contributor program. If you're an expert working in your field – whether as an employee, entrepreneur, or consultant – we'd love to help you share your voice with our readers and the Business.com community. We work hard to only publish high-quality and relevant content to our small business audience. To help us ensure you are the right fit, we ask that you take the time to complete a short application: https://www.business.com/contributor/apply/ We can't wait to hear what you have to say!