Ooma is the best business phone system for companies that are concerned about ease of use because it's effortless to configure, has straightforward desktop and mobile apps, and provides analog phone support.
Pros
It's easy to connect analog phones, paging systems and fax machines.
Ooma provides a toll-free number and 500 minutes per account.
The VoIP and call center plans are affordable.
The systems can be up and running in just 15 minutes.
Cons
The VoIP phone service integrates with fewer third-party platforms than competitors do.
The vendor doesn't offer team collaboration tools, like file sharing or chat rooms.
SMS and video conferencing features don't come with the entry-tier plan.
Industry-leading voice over Internet Protocol (VoIP) systems provide basic and advanced features, allowing companies to make and receive calls over an internet connection or Wi-Fi. Ooma is the easiest business phone service to use, implement and deploy. It offers pre-provisioned hardware, an Express Setup Assistant and 24/7 customer service. Learn why Ooma Office earns a spot on our list of the best business phone systems and why it stands out for usability.
Ooma Office Editor's Rating:
9 / 10
Pricing/value

9/10

Features

8.5/10

Customizations, add-ons and integrations

8.5/10

Ease of use

9.5/10

Customer support

9.5/10
Why We Chose Ooma for Ease of Use
The Ooma Office platform earns high ratings for ease of use due to its simplicity, including its intuitive mobile apps and responsive customer support. Ooma Office is featured alongside other solutions on our list of the best business phone systems because we love that users without technical experience can configure VoIP phones and key features. We like how the Express Setup Assistant provides step-by-step instructions for adding new users, creating a virtual receptionist and reviewing add-on services. 
Ooma is a natural choice for small and midsize businesses that are switching from a landline to VoIP phone service because it works with existing devices, including hardwired intercom and paging systems. An Ooma Office base station lets you use a physical desk phone or fax machine with your VoIP phone service. Ooma also sells preconfigured IP phones so a small team can deploy new services quickly.
We appreciate that the mobile and desktop apps have a streamlined user interface and prioritize business-critical features so new users don't feel overwhelmed with multiple screens to click through. Most people can complete tasks such as answering incoming calls or sending a digital fax without additional training. Even so, Ooma provides easy-to-understand documentation for advanced features such as call queuing and call parking. Overall, Ooma shines brighter than rivals when it comes to usability.
Ooma has come a long way in a short period of time when it comes to the expansion of its small business phone system. Initially, this system was a great way to bridge the gap when old office landline systems that relied on analog phones and VoIP. Ooma has evolved so much since then. However, despite that evolution, we like how Ooma has stayed true to its roots, which is providing a small business phone system that is simple to get up and running and ultimately use. It is now a major player in the VoIP market for small businesses, rivaling its competitors like RingCentral and Nextiva. 
Use the Ooma Office iOS widget for one-click access to your call logs, keypad and voicemail. You can call or listen to messages without opening the mobile app.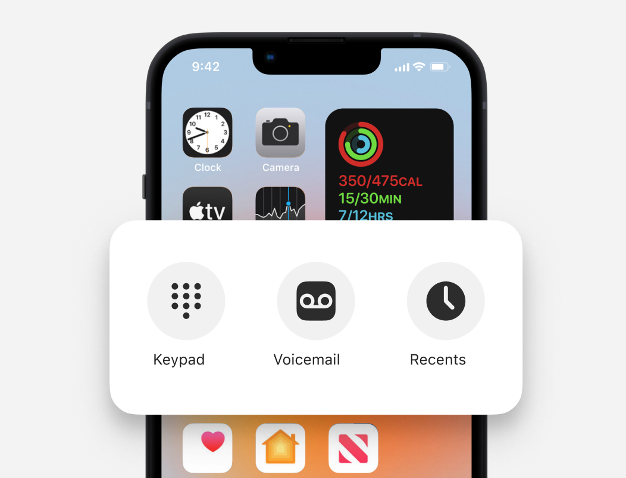 When testing the app, we like how you can customize the location of Ooma's iOS widget for a shortcut to your mobile app's most-used functions. Source: Ooma
Ease of Use
Ooma's user interface is straightforward regardless of how you access the service. The mobile app has an especially clean look. Users can choose between light and dark modes, and recent updates to the smartphone applications include new icons, making it easier to see if callers are from your shared, personal or company contact list. We also appreciate the new functionality that shows which ring group a customer called, which is perfect for small teams answering multiple lines. 
The admin dashboard, Ooma Office Manager, is far less complex than those of other business phone platforms we reviewed. It works in a browser, with tabs for viewing call and fax logs, managing extensions and numbers, and accessing account information. All options appear in a drop-down list when building call flows for your virtual receptionist. This makes it clear how your VoIP service handles inbound calls. 
We also like the integration tab on the desktop app; you simply click the program to connect and log in to the third-party service. Then, your contact lists from Microsoft and Google will sync. The Ooma Office Chrome extension is convenient too. It helps employees stay focused, thereby boosting business productivity. In addition, with the Pro and Pro Plus plans, you can answer two calls at once when using the Ooma Office desktop application. Keep reading to find out the other ways Ooma sets itself apart from rivals when it comes to ease of use.
We were impressed with how reliable Ooma Office is. Since January of 2022, the company has only reported one day of unscheduled downtime. This is a sign to us that your system will be up and running when you need it most.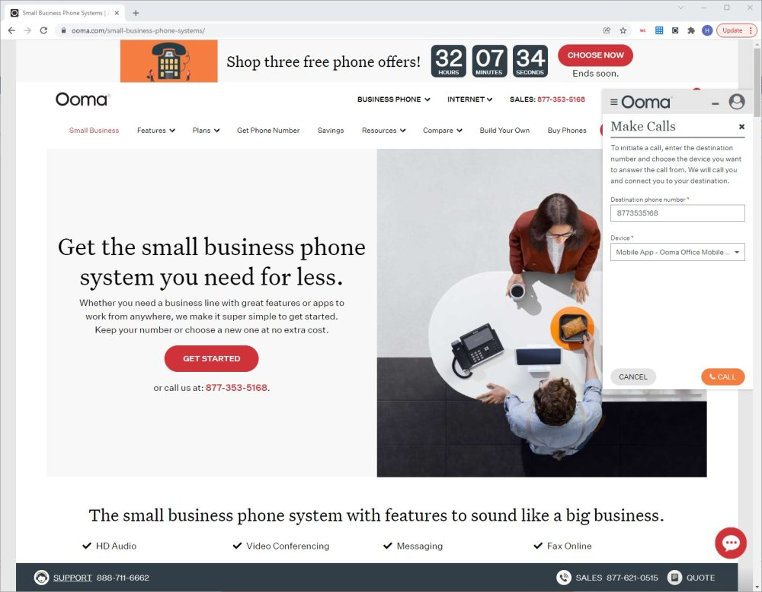 You can start a call or text a co-worker right from your browser. Source: Ooma
Ooma Features
We love that Ooma's business phone service includes more than 50 features in its entry-tier plan, Office Essentials, while Office Pro adds video conferencing, calendar integrations and voicemail transcription. We have been impressed with the growth in this area over the past several years. While Ooma used to have a more limited feature set, the tools it now offers rival many of its competitors. Explore the tools we tested for our Ooma Office review below.
Virtual Receptionist
An auto-attendant feature is common with VoIP services, but call flow editing tools vary in complexity. While competitors provide sophisticated editors for intricate routing rules, Ooma offers a straightforward tool with tabs for business and after-hours actions, basic information and settings. The virtual receptionist allows users to establish a dial-by-name directory and create custom messages for incoming calls.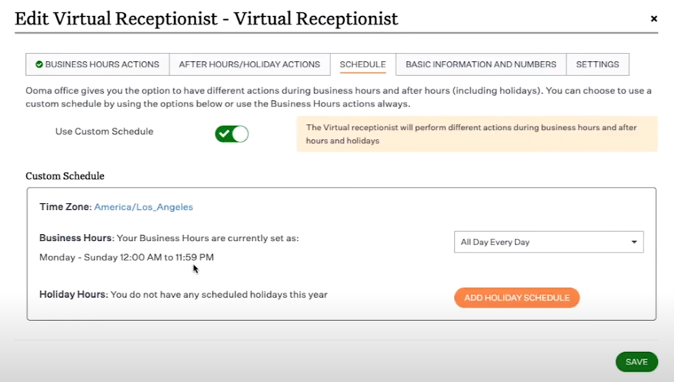 When using the platform, we found getting the auto-attendant up and running very simple. Once operational, we like how you can quickly direct callers to the right department.  Source: Ooma
Enhanced Call Blocking
With the rise in spam and robocalls, many VoIP systems provide call blocking, but the effectiveness depends on the database used to identify spam. We like that Ooma relies on an extensive dynamic database with more than 2 million known spam numbers. Users also can block up to 1,000 individual numbers.
Caller Info Match
Similar to Nextiva's call pop feature, Ooma's Caller Info Match displays information for outgoing and inbound calls. Companies with a customer relationship management (CRM) program can pull up data about their contacts. The tool also searches LinkedIn, Facebook and Google to find information connected to the person's phone number. If you're looking for a phone system with a built-in CRM tool, see our review of Nextiva.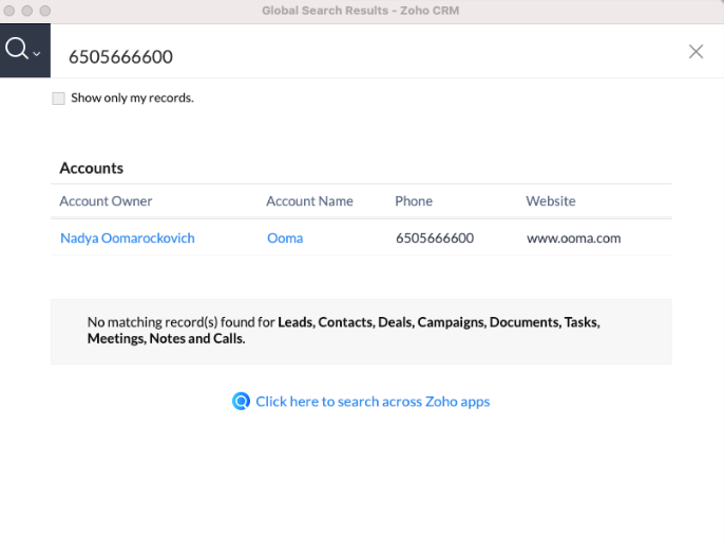 View customer details in a preview window before calling or answering the phone. Source: Ooma
Voicemail Transcription
Many types of phone systems offer this feature on base or midtier plans, allowing users to read voicemail transcriptions from their email or the softphone app. Ooma automatically transcribes voice messages and forwards them to your email. The email body contains the transcription, and an audio file is attached. 
Still prefer to listen to voicemail messages? Speed them up by 1.5 times or twice the average speed to save time, and use Ooma's bulk-delete options to remove up to 25 messages at once.
Overhead Paging
Although modern-day phone system providers let users page individual or department lines, few still offer support for physical paging systems. We appreciate that Ooma does, and it even provides plug-and-play paging capabilities. The function requires an overhead paging adapter that plugs into the paging system. Administrators can set up a multicast paging button from the Ooma Office dashboard.
Ring Groups
Many multiline phone systems let users set up ring groups, which allow several users to answer calls coming into one line or extension. We like that with Ooma, you can record a custom ring group greeting and choose from simultaneous or sequential options. By ringing all lines simultaneously and then moving to another subgroup sequentially, the Ooma Office Pro and Pro Plus subscriptions ensure you don't miss calls. With these plans, you can also see, before you answer, which line your customer called.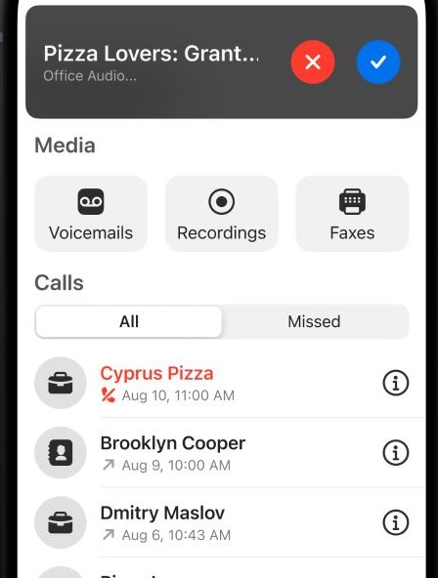 Ooma helps you personalize your greeting by showing the ring group for each caller. Source: Ooma
Faxing
Ooma provides internet faxing capabilities with all plans, whereas competitors such as GoTo Connect and RingCentral don't offer it with base subscriptions. Users can easily send digital faxes through a Google Chrome extension or the Ooma Office Manager. The system also supports analog fax machines connected to Ooma's base station or a Linx device via a phone cable. The service is compatible with most traditional fax machines.
Video Conferencing
Video conferencing features are becoming standard in VoIP systems, especially as companies look to unify communication channels. Ooma's online meeting platform supports 25 to 100 participants for four- to 12-hour conferences. These time limits are higher than what Nextiva offers, and Ooma allows more users than Dialpad does. However, the system lacks advanced video conferencing features such as breakout rooms and whiteboards. See our Zoom review to learn why it's the best phone system for video meetings.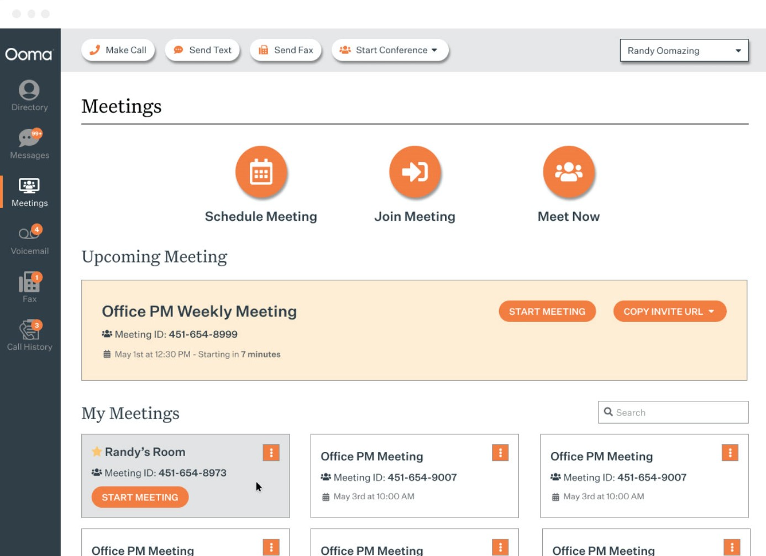 Manage your video conferences through the intuitive Ooma Meetings dashboard. Source: Ooma
New Additions
Most recently, Ooma has added several new features to its platform. Online Bookings lets users create custom web pages that are linked to their online calendars. This can be shared customers or other contacts when meetings need to be scheduled.
Additionally, Ooma users can send one text message to multiple people via the desktop app. There is also a new team Team Chat offering that lets employees quickly communicate with each other, messaging templates, and new CRM integrations with Zoho and Freshdesk.
Pricing Plans and Subscription Costs
Ooma's ease of use extends to its pricing. The vendor's website has interactive tools that walk you through choosing one of its business phone service plans. The company offers the most transparency of all providers we evaluated, giving detailed breakdowns of service plan tiers and links to more information for all features. Pricing starts at $19.95 per user per month, making Ooma less expensive than fellow top-rated VoIP services, like RingCentral, Nextiva and 8×8. And you receive the lowest price with monthly billing; no contract is required. 
All Ooma business phone subscriptions include more than 50 features, including ring groups, a virtual receptionist and hold music. Regardless of whether you use an IP phone or a desktop app, you can make unlimited calls in the U.S., Canada and Mexico. Furthermore, all versions support conference calling; you get a free conference bridge and conference number. Ooma Office Pro adds video conferencing and call recording, whereas Ooma Office Pro Plus has call queuing and a Salesforce integration. 
We like that Ooma also provides a complimentary toll-free phone number and 500 toll-free minutes with its small business plans. This is a great perk, considering Dialpad charges an additional fee for toll-free numbers and 8×8 and Vonage don't include any toll-free minutes.
Compare Ooma Office subscription options with the chart below. 
Service plan

Price (cost per user per month)

Features

Essentials

$19.95

Call forwarding
Virtual faxing
Call parking
Apps for mobile devices
Virtual receptionist
Call flip
Hunt and ring groups
Call transfer

Pro

$24.95

Everything in Essentials, plus:

Hybrid ring groups
Call recording
Voicemail transcription
Call, fax and message analytics
Text messaging 
Four-hour video meetings with 25 participants
Microsoft 365 and Google Workspace integrations
Desktop app

Pro Plus

$29.95

Everything in Pro, plus:

Microsoft Dynamics 365 and Salesforce integrations
Video recordings
Hot desking
12-hour video meetings with 100 participants
Find Me, Follow Me
There are also Ooma Enterprise options, which traditionally support large businesses. However, small and midsize companies with higher call volumes will appreciate the advanced features, like skills-based routing and real-time reporting tools. The vendor's Standard, Enhanced and Call Center plans for the Enterprise product range from $19.99 to $49.99 per user per month. These prices align with those of upper-tier VoIP service packages from Nextiva and 8×8. (See the specific costs in our 8×8 review.) However, the Ooma Enterprise plans and phone rentals require a one-year agreement.
Ooma also sells phone equipment and analog adaptors for a one-time fee. Ooma offers nearly 20 different phones to choose from. Prices start at $59.99 for an IP phone and go up to $399.99 for a Yealink conference phone. Because Ooma pre-provisions devices, meaning they're configured to the user's account and preferences, your team can plug in the phones and immediately start calling. This is another indicator of Ooma's impressive ease of use. [Want more plan customization options? Check out our review of Vonage, our top pick for businesses interested in add-ons.]
Implementation/Onboarding
The Ooma implementation and onboarding process is simpler than those of several other business phone systems we reviewed. The preconfigured IP phones are a big help for small teams. Use Ooma's CSV template to enter details for up to 20 VoIP phones, and import the file to your Ooma Office Portal. Ooma can configure hardware and ship it within 24 hours of purchase. 
Alternatively, your team can download softphone apps for cell phones and desktop devices. Most users can set up their system in 15 to 20 minutes. Ooma's setup wizard, the Express Setup Assistant, walks you through three steps to add your employees as users and configure their accounts. Based on our experience with installation, most non-IT teams can easily install this phone system without help from customer service. On the other end of the spectrum, our review of GoTo Connect explains why the Ooma rival is well suited for IT-driven use.
Although Ooma lacks the expansive selection of online webinars and training sessions offered by 8×8 and RingCentral, Ooma's features are simple and require less training in most cases. We also like Ooma's user-friendly how-to guides for admins and users, some of which include step-by-step tutorials with screenshots. 
Customer Support
We love that Ooma provides 24/7 live customer service with all subscriptions. Users and admins can reach the customer care team through online chat in the Ooma Office Manager portal or via a toll-free phone number. Ooma's customer support agents can help with billing and installation questions or refer users to the right training resources. Enterprise users have access to a dedicated support team and white-glove onboarding. 
Our communications with Ooma were positive, with fast responses to our online chat requests. The agents could answer questions about how the system works and explain the features of each service plan.
Like the resources from competing systems, Ooma's knowledgebase is comprehensive. In most cases, the setup and use are intuitive, so little instruction is needed. However, we would prefer to see more visuals in the tutorials and guides. Also, while Ooma has a community forum, the business section could be more active. 
Limitations
Although we recommend Ooma for its ease of use, the system is missing some features we liked on other phone systems, such as built-in messaging channels and advanced video conferencing tools. Users can't share a whiteboard with team members, co-annotate documents or share files. If your staff works remotely and needs tools like these, check out our RingCentral review.  
In addition, Ooma doesn't offer features that use artificial intelligence. The system transcribes voicemails but lacks call and meeting transcripts, and it doesn't create automatic summaries and action items. In contrast, our review of Dialpad highlights that the system's voice intelligence tools can help small businesses capture key details from conversations. This is an extremely valuable function.
Methodology
When searching for the best business phone solutions, we assessed the usability, pricing and features of dozens of platforms. While evaluating different services, we interacted with customer support and used self-service tools. To determine each product's level of usability, we looked at how long it took to set up the system as an administrator and user. Then, we examined mobile and desktop apps to determine how easy (or hard) it was to complete simple and advanced tasks. To learn what other factors we considered, see our guide to choosing a phone system.
FAQs
Yes, you can use Ooma with a smartphone. You can download Ooma's softphone apps for iOS and Android devices to use Ooma from your cell phone. The program lets you make and receive calls, check voicemails and join video meetings.
Yes, Ooma is good for small businesses and home offices. You can use your desktop and cell phone to communicate with customers or install an adapter to continue using your home phone.
Google Voice is a natural addition to Google Workspace plans, but Ooma Office works better for brick-and-mortar businesses with on-site, hybrid or remote employees. It's a full-featured cloud phone system that stands out for its ease of use and excellent customer support.
Bottom Line
We recommend Ooma Office for …
Retail and service businesses that want overhead paging and faxing.
Small teams that are looking for wireless and wired hardware.
Companies that are transitioning to VoIP from landlines.
We don't recommend Ooma Office for … 
Organizations that want business and voice intelligence tools.
Businesses that need unlimited international calling.
Companies with complex call-routing needs.