Ooma Office Review

Jessica Elliott
business.com Contributing Writer
Updated Nov 07, 2022
Industry-leading cloud-based phone services offer intuitive mobile apps and web portals, allowing companies to set up quickly and onboard new users. Ooma Office is the best business phone system for ease of use, thanks to its Express Setup Assistant, pre-provisioned hardware options and 24/7 customer service. It's also an excellent solution for brick-and-mortar companies switching from landlines to Voice over Internet Protocol (VoIP) services. Ooma supports overhead paging and sells devices to connect existing analog phones to the VoIP system.

Ooma Office
The Verdict
Ooma Office is our top choice for the best business phone system for ease of use because it's effortless to configure, has straightforward desktop and mobile apps, and provides analog phone support.
Not sure if Ooma is right for your business? Check out our roundup of the best business phone systems to find the right solution.
Ooma Office Editor's Score: 9.2/10
| | |
| --- | --- |
| Pricing/value | 9.3 |
| Features | 9 |
| Customizations, add-ons and integrations | 8.7 |
| Ease of use | 9.8 |
| Customer support | 9.1 |
Why We Chose Ooma for Ease of Use
Ooma Office earns the highest ratings for ease of use due to its simplicity, responsive customer support and intuitive mobile apps. Overall, we found Ooma's desktop apps and online portal to be the easiest to use. The Express Setup Assistant provides step-by-step instructions for creating new users, configuring call flows and reviewing add-on services.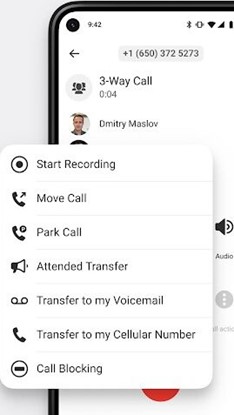 Likewise, the mobile and desktop apps have a streamlined user interface and prioritize business-critical features so that new users don't feel overwhelmed with multiple screens to click through. Ooma also preconfigures IP phones purchased through the company, including custom special functions and programmable buttons. Alternatively, businesses can use their analog telephones and fax machines by buying an Ooma Office base station that connects up to four devices or wireless Linx adapters.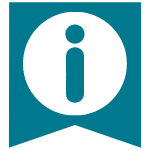 Did you know? Ooma can be used anywhere with a high-speed internet connection, including international locations. It doesn't charge for calls to the U.S., but you will pay per-minute rates for calls to numbers outside of the U.S.
What We Like About Ooma Office
It's easy to connect analog phones, paging systems and fax machines.
Ooma provides shared text message boxes. 
The call center plans are affordable.
What We Don't Like About Ooma Office
The desktop app is available only on the Pro plan.
It doesn't offer team collaboration tools like file sharing or chat rooms. 
Mobile users can't share screens during a video meeting.
Ooma Ease of Use
Ooma's user interface is straightforward regardless of how you access the service. The mobile app has a clean look, making it easy to navigate between calls, texts and contact lists. It gives all users access to call-handling tools, such as parked call, attended transfer, and transfer to email. There's no need to memorize icons, as Ooma displays the text for the feature. We like that there's enough space on the screen so your team members won't inadvertently tap the wrong button. 
The admin dashboard, Ooma Office Manager, is far less complex than other business phone platforms we reviewed. It works in a browser, with tabs for viewing call and fax logs, managing extensions and numbers, and viewing account information. All options appear in a drop-down list when you're building call flows so that you can select the appropriate actions.
We like the integration tab on the desktop app: You simply click the program to connect and log in to the third-party service. Once complete, your contact lists from Microsoft and Google will sync. 
Ooma Features
Ooma offers more than 35 office features on its entry-tier plan, and Ooma Office Pro adds video conferencing, calendar integrations and voicemail transcription. We also looked at the Enterprise packages because the prices are similar to other providers' mid-tier plans. You get customer relationship management (CRM) integrations, advanced call flows and call-monitoring features at the Enterprise level. 
Virtual Receptionist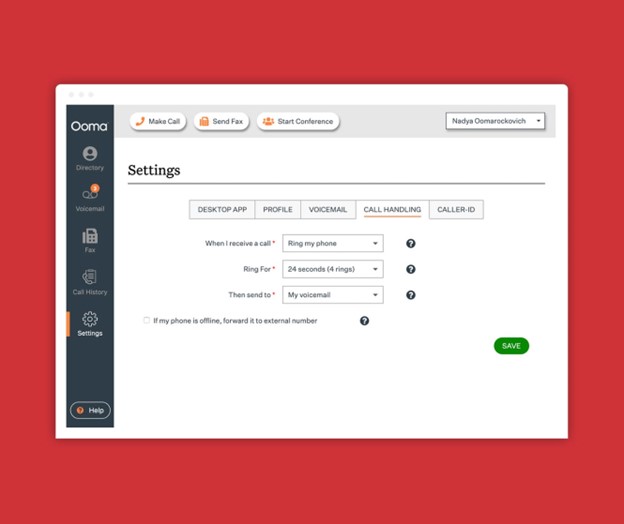 This feature is common in business phone systems. While other competitors provide advanced call flow editors for complex routing, Ooma offers a straightforward tool with tabs for business and after-hours actions, basic information, and settings. When trying out the platform, we saw how users can create custom messages to provide callers with general business information and set up a dial-by-name directory. It also offers menu options with English, Spanish and French support.
Enhanced Call Blocking
With the rise in spam and robocalls, many VoIP systems provide call blocking. But the effectiveness depends on the database used to identify spam. We like that Ooma relies on an extensive dynamic database with more than 2 million known spam numbers. Users also can block up to 1,000 individual numbers.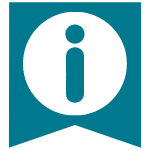 Did you know? As an admin, you can upload a CSV file with blocked numbers to save time.
Voicemail Transcription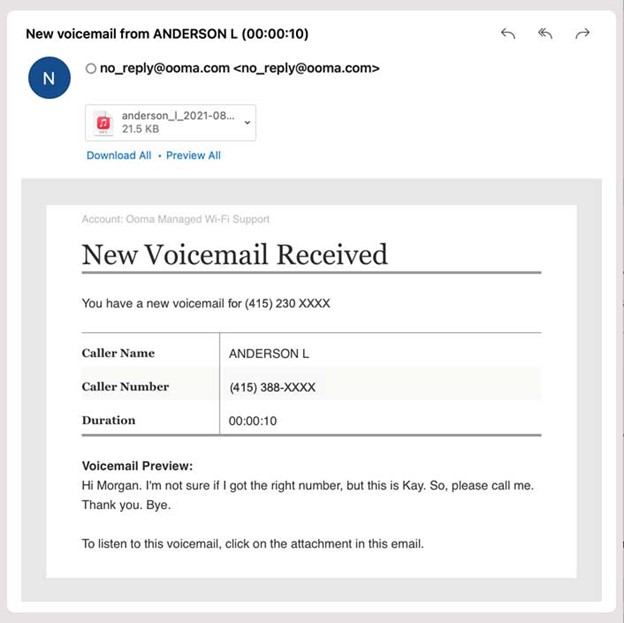 Many types of phone services offer this feature on base or mid-tier plans, allowing users to read transcriptions from email or the softphone app. Ooma automatically transcribes voice messages and forwards them to email. The email body contains the transcription, and an audio file is attached. 
Overhead Paging
This feature isn't typical in internet-based phone systems; many providers let users page individual or department lines but don't provide support for physical paging systems. While connecting a paging system to VoIP service may be possible, the workaround is often complex. Ooma, though, provides plug-and-play paging capabilities. It requires an overhead paging adapter that plugs into the paging system. As an admin, you can set up a multicast paging button from the Ooma Office dashboard.
Ring Groups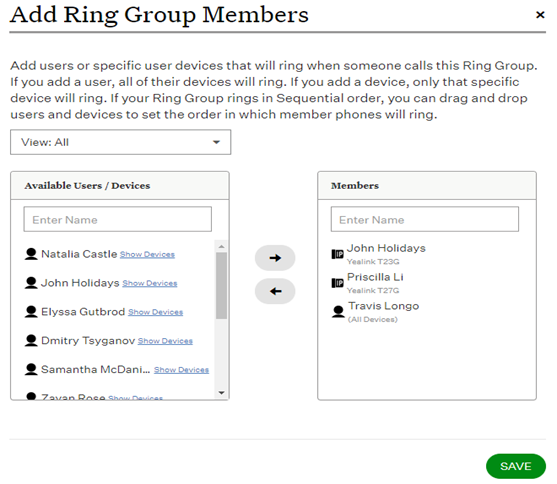 Many providers let users set up ring groups to send calls to multiple department phone lines. Ooma doesn't specify any ring group limits, unlike what we found in our review of Dialpad. We found it incredibly easy to add new groups and configure options, such as the ring duration for each extension. We also like that admins can add devices to the ring group, which is perfect if your company has multiple employees using the same phones.
Video Conferencing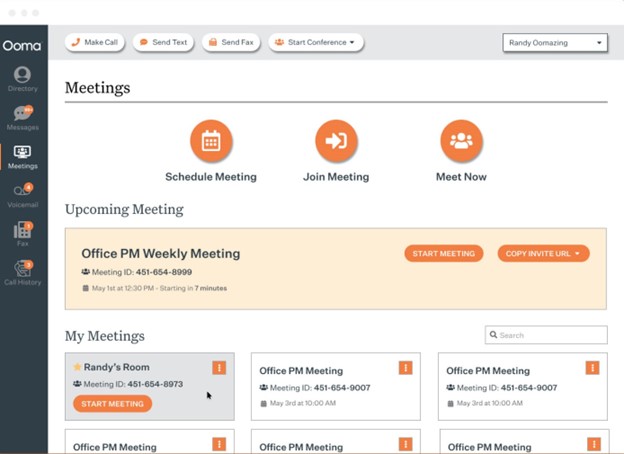 This feature is becoming standard on VoIP systems, especially on mid-tier plans. Ooma's meeting platform has fewer features businesses use for productive video conferences and a lower participant capacity than what we found in our review of 8×8 and our Nextiva review. But Ooma doesn't set time limits and allows more attendees than Dialpad. The video conferencing tools have in-meeting chat, optional password protection, and screen sharing, and you can set up recurring meetings.
Faxing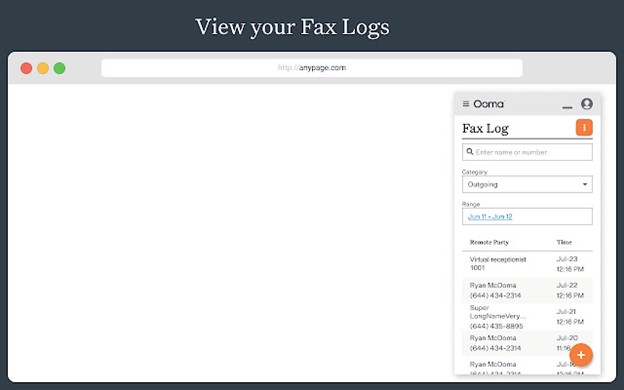 Ooma provides internet faxing capabilities with all plans, whereas our review of RingCentral and our GoTo Connect review revealed that they don't offer it on base plans. As an admin, you can enable virtual faxing on any user extension and view fax logs for anyone on your team. Your team members can send faxes and view personal records through the Ooma Office Manager. All incoming faxes go directly to the user's email as a PDF file. The system also supports analog fax machines connected to Ooma's base station or Linx device via phone cable. Ooma says its service is compatible with most analog fax machines.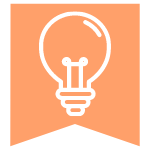 Tip: Use the Google Chrome extension to access faxes, call logs and voicemails without leaving the webpage.
Ooma Pricing
Ooma's ease of use extends to its pricing. The website provides a handy quiz that walks you through the process of choosing a business phone system. Unlike most VoIP platforms we reviewed, Ooma doesn't require an annual contract to secure the lowest prices; both its small business packages have month-to-month pricing. However, Ooma does require a contract for the two enterprise plans, and phone rentals also require a one-year agreement. 
All subscriptions have more than 35 business phone features, including mobile apps, virtual receptionist, call park, ring groups, hold and transfer music, voicemail, and call logs. Ooma Office Pro adds video conferencing and call recording. Ooma Enterprise has hot desking and call monitoring, whereas RingCentral users must get the Premium plan for these features, which costs $7 more per user per month.
Here's how Ooma's four service plans differ.
Ooma Office: This package costs $19.95 per user per month for a local number and unlimited SMS messaging and calling to the U.S., Canada, Mexico, and Puerto Rico. It also has a free audio conference bridge for 10 attendees, internet fax, overhead paging and intercom features.
Ooma Office Pro: This package costs $$24.95 per user per month and includes everything from Ooma Office plus enhanced call blocking, audio and video conferencing with 25 participants, call recording, and voicemail transcription.
Ooma Enterprise: This plan costs $27.99 per user per month with a contract and has all the Pro features along with unified communications as a service (UCaaS) tools, such as attended transfer, CRM integrations, instant messaging and shared line appearance. It also supports call barge, whisper and monitor.
Ooma Enterprise Call Center: This plan costs $49.99 per user permonth with a contract and includes all the Enterprise features. It adds call center tools like a graphical call flow builder, queue-based estimated wait times and positions, and an abandoned-call counter. 
Ooma also provides a complimentary toll-free phone number and 500 toll-free minutes with small business plans. This is a great perk, considering Dialpad charges an additional fee for an 800 number, and 8×8 and Vonage don't include any toll-free minutes. Ooma also sells hardware for a flat price or monthly lease. 
Options include the Ooma expansion base station ($99.99), Ooma Linx ($49.99), Ooma IP phones (starting at $59.99) and a Yealink conference phone ($399.99). Phone devices are pre-provisioned, meaning they're configured to the user's account and preferences, allowing admins to plug in the phones and immediately start calling. 
Ooma Implementation and Onboarding
The Ooma implementation and onboarding process is one of the best of all the business phone systems we reviewed. The preconfigured IP phones are a big help for small teams. Ooma can pre-provision hardware and ship it out within 24 hours of purchase. Alternatively, your team can download the mobile app and access the web portal immediately after signing up. According to Ooma, most users can set up their system in 15 to 20 minutes. 
The setup wizard walks you through three steps to add your employees as users and configure their accounts. Based on our experience with installation, most non-IT teams can easily install and configure their phone system without help from customer service. However, we appreciate how easy it is to get support from the app, toll-free number or live chat.
Although Ooma lacks the expansive selection of online webinars and training sessions offered by 8×8 and RingCentral, Ooma's features are simple and require less training in most cases. We like Ooma's how-to guides for admins and users, which include step-by-step tutorials with screenshots. There is also an Ooma community forum, where you can find answers to less common issues. 
Ooma Customer Support
Unlike RingCentral and Dialpad, Ooma provides 24/7 live customer service with all subscriptions. Users and admins can reach the customer care team through online chat in the Ooma Office Manager portal, a toll-free phone number, or live chat on the website. Ooma's customer support agents can help with billing questions and installation or refer users to the right training resources. 
Our communications with Ooma were positive, with fast responses to our online chat requests. The agents were able to answer questions about how the system works and explain the features of each service plan. 
Ooma Limitations
Although we recommend Ooma for its ease of use, the system does lack some features we liked on other phone systems, such as built-in collaboration tools and advanced video conferencing features. Users can't whiteboard with team members, co-annotate documents or share files. Ooma doesn't provide breakout rooms or dedicated team chat rooms either. Check out our RingCentral review to learn about tools for teamwork. 
Ooma also doesn't offer features that use artificial intelligence. While it transcribes voicemails, it doesn't provide call or meeting transcripts or create automatic summaries and action items. For more sophisticated tools, consider Dialpad, our top pick for a business phone system with voice intelligence.
Methodology
After considering all of the top business phone systems and spending dozens of hours comparing features, customer support and mobile apps, we narrowed our list down to our top picks. We used each phone system and support center to set up basic call flows. Our research helped define the best use cases for each service. For ease of use, we specifically looked at how simple it was to get the system up and running as well as to get users acclimated with its features and tools.
FAQs
Will my mobile device work for Ooma Office?
Yes. Ooma Office provides mobile apps for iOS and Android devices. Simply install the softphone app and log in to your account, and you'll be able to access your phone system's features, like voicemail, contacts and text messaging.
Can I use Ooma Office internationally?
If you are traveling outside of the U.S., you can make free calls to the U.S., Canada, Mexico and Puerto Rico with Ooma Office. You can also make international calls, which incur a per-minute fee, or choose from several international calling plans. 
How do I manage my Ooma account?
You can access your Ooma account settings through the Ooma Office Manager. It's a web portal, so no downloads are necessary. 
Bottom Line
We recommend Ooma Office for …
Brick-and-mortar businesses that want overhead paging and faxing.
Small teams looking for wireless and wired hardware.
Companies transitioning to VoIP from landlines.
We don't recommend Ooma Office for … 
Organizations that want business and voice intelligence.
Businesses that need unlimited international calling.
Companies with complex call-routing needs.

Ooma Office
The Verdict
Ooma Office is our top choice for the best business phone system for ease of use because it's effortless to configure, has straightforward desktop and mobile apps, and provides analog phone support.

Jessica Elliott
business.com Contributing Writer
Jessica is a technology writer specializing in business communications, marketing and customer management tools. She analyzes software and breaks-down complex subjects, helping leaders make strategic decisions.