Salesforce Service Cloud is a feature-packed call center software platform that, when connected to a CRM (especially Salesforce's CRM), gives companies everything they need to manage post-sale calls and messages fast to keep customers happy.
Pros
With Service Cloud, supervisors have more tools at their disposal to improve agent productivity and customer satisfaction than with any rival platform.
Thousands of native features and third-party apps in Salesforce's marketplace means no provider can match Service Cloud's functionality.
Service Cloud isn't bundled with a voice-over-internet-protocol (VoIP) platform, so you're free to pick your own call provider.
Cons
It costs $75 per month, per user, to offer live chat on your website through Service Cloud.
Salesforce insists on annual contracts, which auto-renew, except for a basic monthly package.
To take full advantage of Service Cloud's omnichannel functionality, you'll pay a minimum of $150 per user, per month.
Salesforce's Service Cloud is a sophisticated, feature-packed blend of inbound/outbound call center software and customer relationship management (CRM), with a focus on helping companies deliver world-class after-sales support. Supervisors benefit from an advanced combination of training programs, live monitoring, sentiment analysis tools and more. Agents, on the other hand, get to use an intuitive system that helps them at every stage, from on-screen, artificial intelligence-driven reply prompts to "Next Best Step" suggestions. No other platform offers such a broad suite of workforce management and engagement tools, all designed to help your business deliver excellent customer service. Plus, no competitor comes close to Service Cloud in terms of native and third-party app functionality.
Salesforce Service Cloud Editor's Rating:
9.4 / 10
Pricing

8/10

Built-in features

10/10

Integrations

10/10

Ease of use

9/10

Call routing options

10/10
Why We Chose Salesforce Service Cloud for Improving Customer Service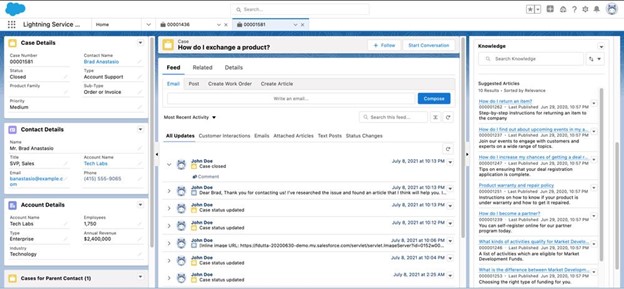 The screen for each customer case clearly outlines everything your team needs to know to help the client. Source: Salesforce
The core Salesforce product, its CRM platform, helps companies maximize sales opportunities. Service Cloud is the next step, designed to keep customers happy once they've made the purchase.
No call center platform has more features (native and third-party) than Service Cloud or the ability to customize them to work together in the way you want. These features help call center agents provide customers with the best possible service, whether over the phone, text, email or digital messaging. When a customer reaches out, all the information an agent needs to conduct a great conversation is on their screen in real time. You can also take advantage of very well-executed AI suggestion tools, intelligent scripting and in-call supervisor intervention when required.
We like how Service Cloud takes self-service very seriously since customers today are increasingly looking to online help centers for information. Service Cloud helps you construct a knowledge base for your business to direct customers via the interactive voice response (IVR) system or digital messaging. This reduces the demand and wait time for speaking with agents, improving the experience of those who really do need to talk to someone.
Service Cloud is an all-around, accomplished solution for any company wanting to look after its customers well, making this Salesforce product our pick for the best call center software for businesses aiming to improve their customer service. While there is no better platform for companies with high-value clients who have complex needs, this is a less ideal option for organizations with simple needs and budget constraints.
Ease of Use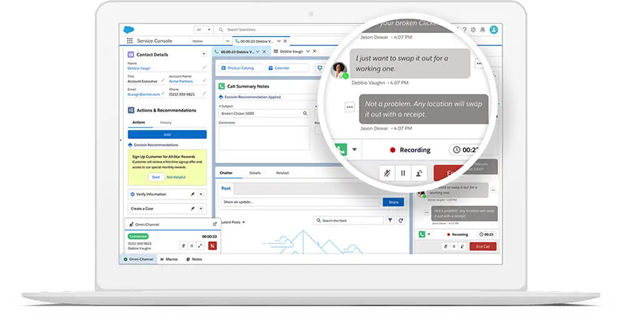 The agent dashboard includes voice, digital and CRM data. Source: Salesforce
Someone with a reasonable degree of skill and confidence in software setup should be able to configure Service Cloud how they like. However, Service Cloud is a multifaceted, complicated product, so it might be better to hire a consultant to install it, set up the dashboards, arrange call routing and connect the platform to your other apps and VoIP system. This will cost you money but save you a lot of time. All that said, once Service Cloud is up and running, it's very easy to use.
Service Cloud uses screen real estate well. Across the top navigation bar is a tab to the platform's home page and a tab next to it with "Cases." When an agent clicks on "Cases," they can see the work that has been assigned to them. From there, they can click on one of the case numbers to be taken through to the case history page. Agents can drag and drop components in any order they want onto this page. On the page by default are the case details, customer contact details of the customer involved, interaction history, links to relevant knowledge base articles (or Einstein AI articles, if subscribed to this add-on) and more.
There are thousands of native and third-party apps available for Service Cloud, enhancing the platform's usability further and allowing it to fit in flawlessly with other business software you use. There's a well-developed section for developers with documentation messaging, chat, knowledge and voice components.
Like other call center software providers, Salesforce is beginning to embrace no-code integrations. With the vendor's MuleSoft Composer, you can generate automated workflows and streamline customer service and technical support operations without any coding required.
Features and Services
Below are some of the call center system features that stood out to us in Salesforce's Service Cloud.
Access to Live Customer Information and AI Assistance
For existing Salesforce customers, the integration between the vendor's CRM and Service Cloud is superbly executed. In addition to screen pop-ups showing caller names (when the data can be matched), users can see a customer's full history, including previous orders, previous contacts, existing order tracking and information on any maintenance agreements, subscriptions or warranties they currently benefit from. Just having this history in front of an agent eliminates one of customers' main gripes — having to explain from the start why they're calling again.
The Einstein AI tool provides further assistance but at an added cost. It transcribes calls and messaging sessions automatically to understand conversation flow better. It builds up that information over time and uses it to provide suggestions to agents on statements and approaches likely to get the best outcome. There's also a dynamic suggestion tool providing agents with suggested responses to live customer questions when on a call.
Call and Message Queuing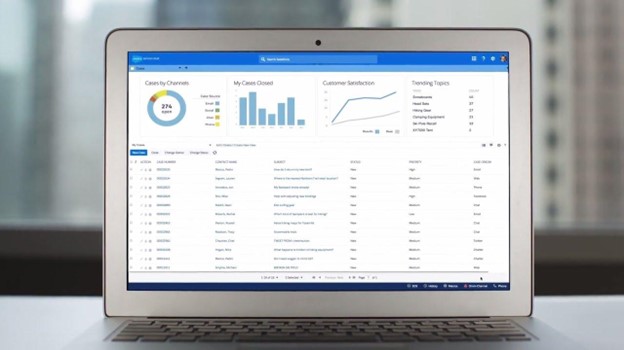 Supervisors can access charts in various forms to analyze call data. Source: Salesforce
Supervisors can set up bots to handle the start of customer service and technical support interactions if the conversation begins by text message, email, social media and more. The system will then pass the interaction onto the right agent when appropriate. Einstein AI can even predict future issues and devise strategies to retain particular customers mid-conversation.
The omnichannel routing feature within Service Cloud is generally stellar. You can prioritize calls or messages by account (for example, making sure bigger spenders get through faster) and choose who receives certain jobs based on agents you've assigned particular skills to.
Management Tools
Salesforce's omnichannel supervisor dashboard gives supervisors an overview of agent availability, outstanding workload (and the nature of that work) and call/message queues. The routing algorithms spread work as evenly as possible across teams to balance workloads and give time for agents to deliver the right attention to each customer. To ensure service standards are maintained, supervisors can use the platform's workforce management tools to predict which staff and how many people they'll need to cope with demand.
Supervisors can check team and individual call volume, how long it takes to answer and more data points. They can also track many of the same aspects on nonvoice channels like text messaging, social media messaging and private messaging apps. A sentiment analysis function is a great way for supervisors to get a sense of how conversations are going.
Supervisors can also listen to live calls and barge in when necessary to help their agents. With Einstein AI enabled, the platform identifies key points in phone conversations to provide analysis on keyword usage.
For example, you can set the platform to listen for keywords like "billing problem," "overcharged" and "delivered late." The system will collect these calls for later monitoring if required. Einstein also keeps track of metrics like general call structure to judge whether a call can be considered successful.
Self-Service Feature for Customers and Agents
Many customers now prefer trying self-service options before contacting a company when they have an issue or a problem. This is why it's great Service Cloud allows you to build online knowledge bases for clients containing blogs, videos, product-specification downloads, webinars and more. Once your knowledge base is live, you can alert customers to it via either the IVR system or nonvoice digital channels, such as live chat or SMS. This is an important feature and one Salesforce handles well.
Integrations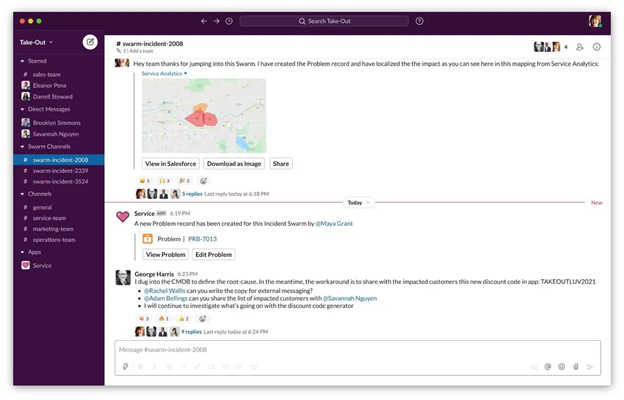 Salesforce integrates seamlessly with Slack. Source: Salesforce
For more than 20 years, businesses using Salesforce products have benefited from a significant ecosystem of native apps. These features have been built to meet identified customer needs. But in addition to this, there are more than 4,000 prebuilt, third-party integrations in the vendor's AppExchange, giving users a level of functionality that is unrivaled by competitors.
Users can access apps that provide additional service and support dashboards and allow agents to: communicate in multiple languages via live chat; survey software that gets customer feedback after every interaction; utilize advanced omnichannel lead and case assignment tools that prioritize leads' match cases by agent skill and smooth complaint escalation; and take advantage of sector-specific programs, such as Vlocity for healthcare businesses.
The more complex your business, the more likely you are to find the functionality you need either within Salesforce or its AppExchange.
If you're confident with application programming interfaces (APIs) and software development kits, we suggest checking out our review of Twilio Flex. That product is a better bet if you want to build your own platform and not rely on Salesforce or third-party developers to provide the functionality you need.
Pricing
It's appealing to see a package priced at a very competitive $25 per user, per month, but you'll likely need to spend a lot more to access Service Cloud's best features. The options break down as follows.
Essentials ($25 per user, per month, billed annually; different price for monthly billing option): Get end-to-end case management, service console apps, a knowledge base for agents and computer telephony integration, collaboration tools, productivity tools, live chat (with limited functionality), self-service for customers, customizable reports and dashboards, cross-selling and upselling functionality, Outlook and Google Apps integrations, email templates, per-user data and file storage.
Professional ($75 per user, per month, billed annually): Access everything in the Essentials tier, plus customer service contract and entitlement tracking, order management, page and field customization by agent and enhanced roles and permission access.
Enterprise ($150 per user, per month, billed annually): Enjoy everything at the Professional level, plus advanced case management (routing inquiries to the correct person automatically), partial data sandboxing, a Salesforce identity (single sign-on for all your enterprise apps) and advanced process automation.
Unlimited ($300 per user, per month, billed annually): On top of everything in the Enterprise package, take advantage of the Premier Success Plan (Salesforce's enhanced customer service and account management) and multiple sandboxes.
There are extra fees for specific add-ons that you should keep in mind as well.
The web service API costs $25 per user, per month, on the Essentials level, but it's free on Enterprise.
The live AI-driven chatbot costs $75 per user, per month, with Enterprise, but it's free with the Unlimited package.
Field service tools (appointment booking, work orders and inventory/product tracking) cost $50 per user, per month.
Digital engagement tools (the ability to access web chat, mobile messaging and more) cost $75 per user, per month.
Einstein AI (the AI-driven customer service tool) costs $50 per user, per month.
Given the platform's priciness, we appreciate that Salesforce offers a free 30-day trial for Service Cloud, which seems fully featured during this period, and includes the ability to upload your own customer database to put the system through its paces.
Salesforce's contracts are generally on an annual basis. You may be able to get discounts on plan prices the more users you sign up and the longer you commit.
Implementation and Onboarding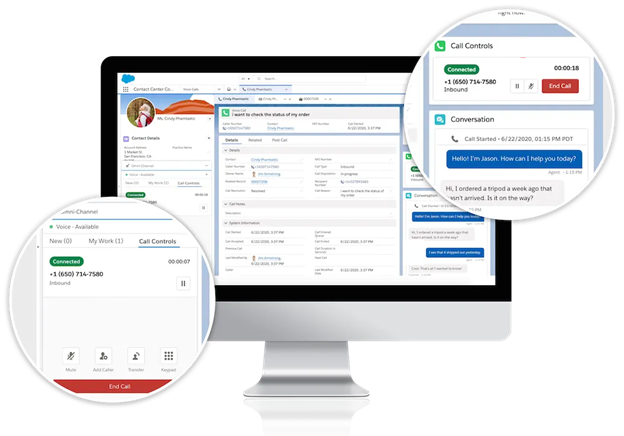 During a live call, the conversation can be recorded. Source: Salesforce
Service Cloud is complicated to set up, but it's notable that Salesforce doesn't require businesses to use the Salesforce CRM or other products to operate it. The call center software is a stand-alone product that can be installed in a matter of hours — provided you have the right skills. First, you'll import your data to the Service Cloud and set up the routing paths (where calls go and what priority they're given). Second, you'll customize dashboards for your agents, supervisors and other users. Then, you'll automate workflows to lighten workloads and (if you've added it on) put Einstein AI to work to manage cases, monitor service standards and carry out omnichannel routing.
While the steps are straightforward, there is much to do to get the platform up and running, so, as noted above, it may be worth hiring an external Salesforce developer and installer to set up the system precisely how you want it.
Customer Support
Salesforce's customer service and technical support teams are available 24/7 by phone, live chat and online ticketing. But there's a caveat: Phone support is only available to businesses that purchase their Premier and Signature customer services plans (except for Security Level 1 issues). In other words, like with rival Twilio, you have to pay extra for enhanced customer service. For example, to get the Premier offering, you pay 30 percent of your net license fees to access phone support, developer support and expert coaching. The Signature support package adds on an account manager and proactive account servicing, but it requires custom pricing.
Available at no cost, Salesforce's online knowledge base and customer information section is by far the most comprehensive of all the platforms we reviewed. While most of the videos, articles and guides cover wider aspects of Salesforce's products, there is extensive help available for users of the Service Cloud product. You can sign up for upcoming events and webinars and access the vendor's Success Center to help you optimize your usage of the platform.
We like that further help and training support are available via Trailblazer.me (the provider's online community), and you can reach Salesforce's own team via their Marketing Cloud channel. There is also a separate online community where administrators can interact with each other.
In our experience with Salesforce, we found the vendor's customer support team quick to respond on live chat and very open and clear with their answers.
Limitations
Salesforce's Service Cloud is an excellent call center system deserving of much praise. But many small businesses selling uncomplicated products or services won't require the platform's high level of functionality and will end up paying for features they never use. Read our RingCentral Omnichannel CX review for a simpler and perhaps more suitable option.
For those especially concerned about costs, Service Cloud's user charges can easily run into hundreds of dollars a month per user. $150 per user, per month, to access the omnichannel features is a lot of money. Further compounding the expense is that to get enhanced customer support or other add-ons, you have to shell out even more money. For a more budget-friendly option, check our review of GoTo Contact Center.
Methodology
To help small businesses choose call center software, we examined the top products on the market. In each case, we evaluated the system's usability, features and setup process, along with the vendor's pricing structure and customer support options. We took into account inbound and outbound communication functionality, the availability of integrations, reporting tools and self-service capabilities. We participated in demos and free trials whenever possible to better understand the software. To find the best call center system for businesses seeking to improve their customer service, we paid close attention to features that make customer communications more efficient and impactful.
FAQs
The Salesforce Service Cloud is a blended omnichannel customer service and support platform either integrated with a CRM or to which you upload your existing customer database. Although it can be used to cross-sell and upsell to customers and power outbound telemarketing campaigns, its primary function is to help companies get better at customer service.
The difference is that Salesforce Sales Cloud is a product used to improve sales and sales agent productivity through better and more efficient workload management, whereas Service Cloud is used to communicate with customers post-sale when they need support and advice.
The main benefit of Salesforce Service Cloud is that it's an efficient and elegant solution to managing customer communication over the phone, email, text message, social media, messaging apps (like WhatsApp), email and video calling. It helps customer service and technical support teams handle demand better and enable quicker resolution of queries and complaints.
Bottom Line
We recommend Salesforce Service Cloud for …
Companies that have already invested in Salesforce products and are used to how the vendor's systems work
Businesses selling subscription services, providing service-level agreements or whose clients regularly place new orders with them
Organizations that want to choose which telecommunications company they use to route calls
We don't recommend Salesforce Service Cloud for …
Companies with low volumes of inbound calls and messages
Businesses with limited budgets
Organizations whose customers rarely contact them after they've made a purchase