GoTo Contact Center, built on the proven GoTo Connect VoIP platform, is user-friendly, plug-and-play call center software packed with features that help small businesses take charge of omnichannel customer service and technical support.
Pros
For the price, GoTo Contact Center offers more features and inclusive minutes than all of the other platforms we reviewed.
The user interface is straightforward for administrators, supervisors and agents.
GoTo Contact Center has an outbound dialer and the ability to load customer numbers into the Campaign section on the dashboard.
Cons
The coaching and learning tools are quite sparse, and there's no real gamification for incentivizing agents.
Too many of the features are locked, with only administrators granted access.
The integrations and customization are limited.
Looking for more options?
Check out The Best Call Center Software In 2023 business.com recommends.
GoTo Contact Center is our pick for the best call center software for small businesses because it's a multifaceted platform — part business phone system, part call center, part customer relationship management (CRM) system — that is extremely easy to use and competitively priced. In addition to managing your inbound and outbound phone calls, GoTo Contact Center excels at handling two-way text messaging, social media private messaging, messaging apps such as Facebook Messenger, live chatbots on your website, and video chat.
GoTo Contact Center is an out-of-the-box solution, so you just download the vendor's apps, connect your equipment to GoTo's VoIP system, and enter your settings, and you're good to go. With GoTo Contact Center, you're well equipped to provide omnichannel support to your customers without much money or time.
GoTo Contact Center Editor's Rating:
9 / 10
Pricing

10/10

Built-in features

7/10

Integrations

8/10

Ease of use

10/10

Call routing options

10/10
Ease of Use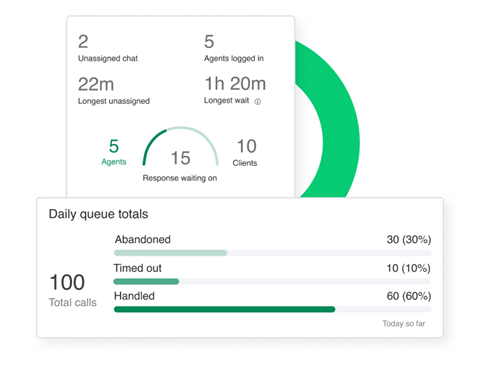 GoTo Contact Center users benefit from an uncluttered interface throughout the system. Source: GoTo
The screen layout across the GoTo Contact Center platform is attractive and minimalist. Labels use plain English, and the hierarchy of functions is logical and clear. It's evident that the user experience was a primary consideration in the creation of this system, which means business owners can rest assured that their teams will find the program straightforward and intuitive to use.
GoTo divides users into three groups: administrators, who construct the call center and its digital infrastructure; supervisors, who oversee teams and get access to real-time analytics and reporting; and agents, who have their own contact-focused dashboard.
Via the system overview dashboard, administrators can create call queues, chat queues (for digital channels), campaigns (uploaded contact lists), chat assistants (live chatbots for your website) and surveys. They can also register and assign other administrators, supervisors and agents from their dashboard. Admins can configure the caller experience, too, based on options selected using the interactive voice response system.
Dashboards for supervisors and agents show all major functions on the left of the screen at all times. From there, users can access their home screen dashboard, phone functions, inbox (for text, social media and messaging apps), conference calls with colleagues, voicemails, contacts database and work management tools (shown on the screen as "More…"). Whenever users click a particular function, the information and controls on the right of the screen change.
The work management tools that agents and supervisors see are different, but for both, GoTo keeps all functionality within the same window on the app or browser version of the platform. This centralization of features really speeds up operations, since you don't have to click multiple tabs to access different services.
There are roughly 30 app integrations in the GoTo marketplace — far fewer than on rival platforms — limiting how much you can enhance Contact Center's usability. The other issue is that you need to have GoTo Connect's Premium plan (as opposed to a GoTo Contact Center plan) to access them. Apps range from standard CRM plugins to specialized apps for different sectors (e.g., dentists, vets and law firms) and compliance. [For a call center with hundreds of integration options, see our RingCentral Omnichannel CX review.] 
GoTo also has a small but growing developer API platform, which offers workflow integrations for meetings, screen pop-ups, click-to-call, analytics, client messaging and campaign management.
Features and Services
GoTo Contact Center has all the call center software features a small business needs to provide customer service and technical support via different communication channels.
Agent Dashboard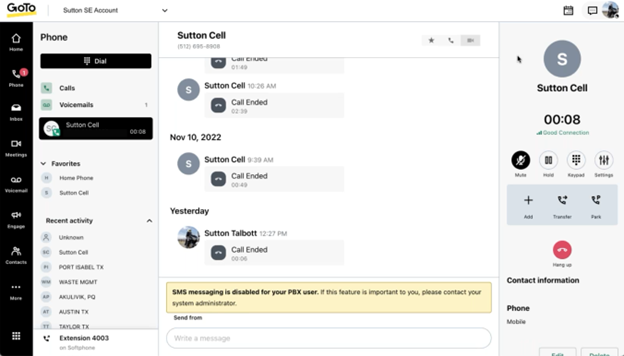 GoTo Contact Center makes it easy for agents to handle calls and queues. Source: GoTo
With GoTo Contact Center, agents benefit from many handy, time-saving productivity features, like the ability to send a pre-saved text message to a customer if they call and there's no answer. Likewise, if an agent reaches a customer's voicemail, they can use the program to deliver a pre-recorded generic message, allowing the agent to quickly move on to their next task.
Whether agents are in the "Phone" or "Inbox" area, they can see the contact history with a customer on their screen at all times. In the Inbox section, the layout is similar to that of a two-way messaging app like WhatsApp, so it has a pleasing familiarity and simplicity from the first time you use the platform.
One particular function we liked is that agents can hear an announcement about which queue a customer is coming from before being connected. You can also set up wrap-up time for agents to make notes on a call when it's completed — a feature agents themselves can switch off during times of heavy demand.
Supervisor Dashboard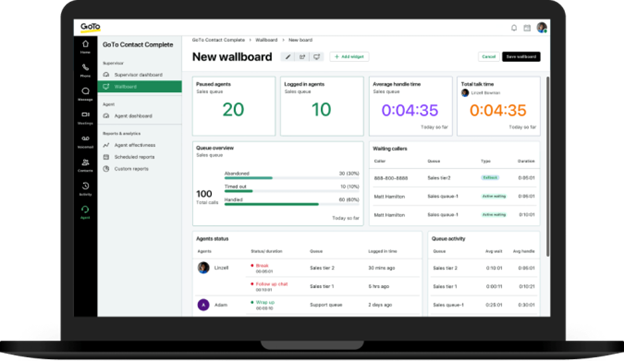 Supervisors can update main displays around your office via the "wallboard" feature. Source: GoTo
With GoTo Contact Center, supervisors can monitor the call queue, campaign, agent and caller information. They can also use drag-and-drop controls to generate new activity logs and reports. At any point, supervisors can select a live call and listen in, whisper (where the agent hears the supervisor but the customer doesn't) or barge (where both the agent and customer can hear the supervisor). During training, supervisors can temporarily give trainees the power to listen in on calls. Listening to live calls is an important step in preparing a new agent to deal with customer questions and complaints themselves, so business owners will really appreciate this ability.
One feature we really like is that if, for example, you want to get in touch with missed callers or call existing customers on a sales campaign, supervisors can upload lists for outbound calling campaigns. We also like that, via the "wallboard" function, supervisors can send information to displays around your office, showing data such as the current level of customer demand.
Work Management Tools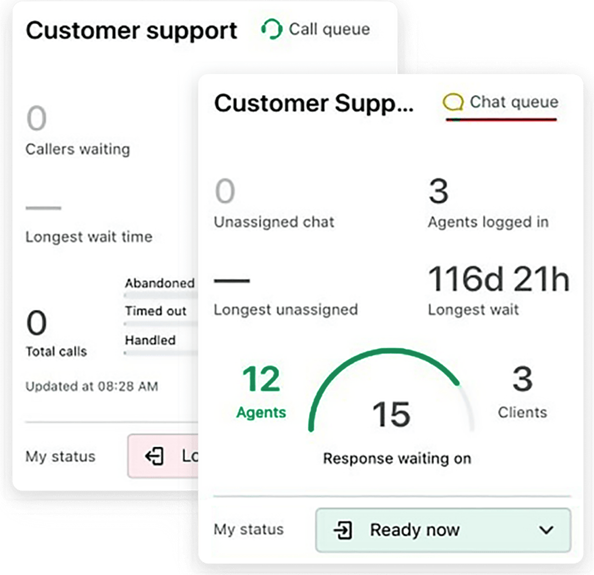 Agents can assign themselves to queues if a supervisor doesn't. Source: GoTo
Supervisors can group calls according to whether they should be answered in turn or assigned to the agent who's most likely to resolve the customer's issue in one session. The latter is known as intelligent call routing, which requires you to first assign skills to your agents. For instance, you can note that an agent has knowledge of a particular product or the ability to speak a foreign language.
When lines are very busy, administrators can set up queue callbacks, which allow customers to keep their place in line but disconnect the call. When an agent becomes free, GoTo Contact Center's dialer calls the customer and connects them to the agent. [Read related article: How to Win Customers Over the Phone]
GoTo allows both agents and supervisors to assign queues, thereby increasing efficiency. On their dashboard overview, agents can see which queues they're assigned to in a drop-down box. To the right of the drop-down box is a button that allows them to see other queues and log themselves into the ones they choose. If an agent spots a customer who's not assigned to a queue, they can take ownership of the case to speedily resolve the customer's issue. During busy times, supervisors can open their directory of agents and put one or more into a specific queue to handle the demand.
Analytics and Reporting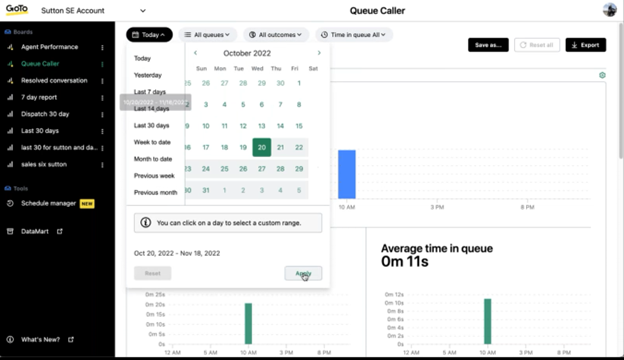 Supervisors can access analytics and reports directly from their dashboard. Source: GoTo
In terms of analytics, supervisors can see daily call queue totals, current inbound queue calls, agents live and on pause, longest calls and longest wait times. There are five options supervisors can select from to get a more granular view of individual queues, campaigns, chats, agents and callers. Agents can also see their general activity statistics for the day, week or month, whereas supervisors can view metrics for both teams and individuals. Supervisors can run reports on agents to determine how many calls they handle, their average time on the phone, and how many calls they miss.
We like how GoTo's simplified analytics portal makes it easy for supervisors to extract the information that's most likely to affect the performance of the team or particular individuals. From the drop-down menus at the top, you can choose the time period, the queues and the outcomes to analyze. Every time you run a report, you can schedule it to be generated regularly and add it to the menu options on the left of the screen for easy access and updates later on. You can also program the system to email the results to you.
The "Total calls by outcome" graph toward the bottom of this page is especially impressive. The system breaks down call outcomes into four categories: evicted, timed out, handled and abandoned (when a caller hangs up before being connected to a live agent). You can drill down into each of these categories and, if you want, create a campaign list that you can upload to the dialer for your agents to call back.
Pricing
There are two main plans for GoTo Contact Center. The company stresses that these are "starting" prices and that the actual costs are based on your business's specific needs.
Core: For $33 per user per month when billed annually, businesses can get call queues, interactive voice recording, web chat, Facebook integration and standard reporting.
Complete: For $55 per user per month when billed annually, businesses can get everything in the Core package, plus advanced reporting and management tools.
Companies also have the option to purchase GoTo Connect's Premium plan, which combines the vendor's Standard business phone system package with its call center offerings. That pricing starts at $43 per user per month when billed annually. Notably, if you want your call center software to dial out as well as route incoming calls, you can do so with the Connect Premium plan, which offers blended services. However, this feature is not currently available with the stand-alone Contact Center packages.
In terms of bang for your buck, GoTo Contact Center's $33-per-user-per-month Core package is comprehensive and well priced. In comparison, Salesforce offers a cheaper plan for $25 per user per month, but as you can see in our Salesforce Service Cloud review, that package is rather limited in features. Even GoTo's Complete plan, which costs $55 per user per month, is a great value. Fortunately, GoTo offers a 14-day trial so you can figure out whether the Contact Center system is right for you and which features you need.
Implementation/Onboarding
You can set up separate queues in GoTo Contact Center and assign agents to the queues based on skills. Source: GoTo
We appreciate that you can operate GoTo Contact Center via a web browser or download the native agent and supervisor apps for Windows, Mac and Android. To download the apps, however, you need to be set up as an administrator. Additionally, only admins can create queues, and if you're on the Complete plan, your campaign controls the settings.
The implementation process also includes setting up queue callback, custom pause reasons, queue priority management, end wrap time, agent queue access limits, and customizable permissions for agents and supervisors. Subscribers to the Complete plan can also add chat tags and pre-saved text messages at this point.
Administrators control who has access to certain features beyond those specific to their role, which can be a pain point at times. Still, the initial setup process is quite simple and doesn't take much time at all.
Tip: A key aspect of delivering efficient customer service is availability via online channels. Call center software providers that facilitate omnichannel communication, as GoTo does, make it easy to respond to inquiries on social media and other digital platforms.
Customer Support
GoTo provides 24/7 customer service and promises to answer calls within two to three minutes. For support requests by email or voicemail, the vendor aims to respond within 24 hours. This compares very well against other call center software providers' customer service, and we love that GoTo doesn't charge extra for quality support as some of its competitors do.
The GoTo online knowledgebase is fairly big, and there are plenty of guides on how to administer apps, phones, faxes and other system features; information on how to manage your account; and a special section on integrations. There's also extensive documentation on how to set up your network and secure it. We were happy to see a section that takes you through setup, analytics and other aspects of using the software. Other resources include articles, agent guides, supervisor guides and instructional videos.
Limitations
It's surprising that, although agents using GoTo Contact Center can interact with customers by phone, text, messaging apps, social media, live chat and video chat from the same interface, email isn't an option. It's also disappointing that GoTo lags its rivals in adopting artificial intelligence (AI) tools, which some providers use to facilitate data-driven routing for calls and messages. If AI is important to you, consider reading our review of Five9.
Another downside is that some features — such as the ability to set up polls and surveys — are limited to administrators. Quite often in businesses, the admin team is separate from sales, marketing and customer service team members, so this issue could present a roadblock. Of course, this limitation may not be problematic for small businesses where teams and employees have more distinct roles. Still, it would be great if supervisors had a bit more control.
Finally, although GoTo does offer APIs and SDKs, they are rudimentary compared with many of the other systems we reviewed. Therefore, the opportunities to integrate Contact Center with other apps and business software you use are not as great as with some other vendors. Check out our review of Twilio Flex for an alternative call center option that is ideal for businesses that want to develop their own tailored solution.
Methodology
We researched and analyzed many call center platforms to identify the best products on the market. This investigation included participating in free trials and demos whenever possible. For each system, we evaluated its features, ease of use, implementation process and drawbacks. We also examined each vendor's pricing, plans, add-ons and customer service. Specific features we looked for included inbound and outbound calls, management tools, reports and integrations. For small businesses specifically, we sought call center software that was reasonably priced, simple to set up and use, and comprehensive enough to not require many add-ons.
FAQs
To set up GoTo Contact Center, visit app.goto.com and sign in to your account as the administrator. Then, download the apps for the supervisors and agents, install the apps on employee terminals, and download softphone apps onto these computers. Then, configure call queues, campaigns and other features.
GoTo Contact Center costs start at $33 per user per month when billed annually. The vendor will ultimately give you custom pricing based on your company's specific needs.
The GoTo headquarters is in Boston.
Bottom Line
We recommend GoTo Contact Center for …
Companies that need inbound and outbound call and message routing at a reasonable price.
Businesses that want to handle customer service and technical support more efficiently.
Organizations that want out-of-the-box call center software.
We don't recommend GoTo Contact Center for …
Companies that require very tight integration with separate CRMs.
Businesses that want extensive customization abilities.